We use affiliate links. If you buy something through the links on this page, we may earn a commission at no cost to you. Learn more.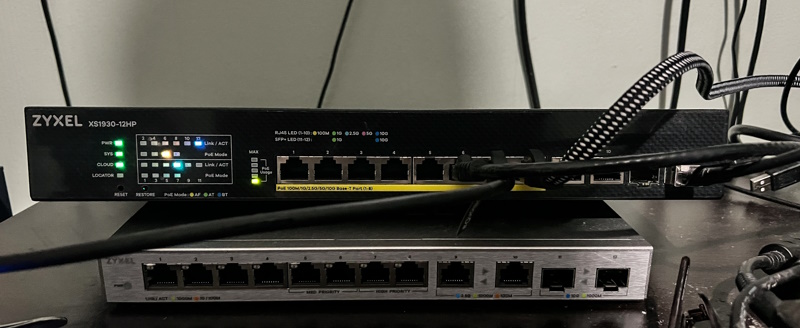 REVIEW – Most of the Gadgeteer readers that follow my reviews must know that I am a certified gadget nerd. What you might not know is that when it comes to the network in my home, I am on a quest to replace as many of the devices in my home with ones that have network connectivity, and I also have "the need for speed". I currently have a 1GB/1GB connection from my ISP, and I plan to upgrade to 2.5G soon since my ISP is now offering 2.5GB and 5GB connectivity. Internally on my network, I am adding 10G devices and some 2.5GB devices. Recently, I added a 10GB network switch, but other than its 4 x 10G SFP ports, all of the other ports are 1GB. So, imagine my excitement, when Zyxel Networks offered their Zyxel Networks XS1930-12HP Multi-Gigabit Switch that features 8 POE ports, but more importantly, the 8 ports are multi-gigabit so I can connect 100M/1G/2.5G/5G/10G to any port. Time to jump in and get nerdy!!
What is it?
The Zyxel Networks XS1930-12HP Multi-Gigabit Switch features 8 x Multi-Gig ports with POE and 375W power,  2 x 10G Copper ports, and 2 x 10G Fiber ports. This is a managed switch that can be accessed directly via an ethernet cable, the Nebula app, or the Nebula web management site.
What's in the box?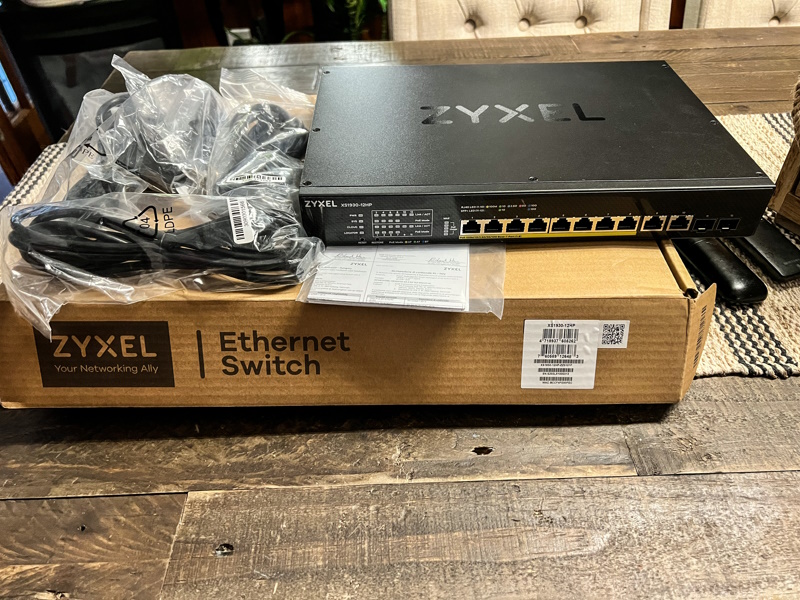 1 x Zyxel Networks Multi-Gigabit Switch
1 x AC Cable for Multiple Regions
1 x Rack Mount Kit
1 x User Guide
Hardware specs

Design and features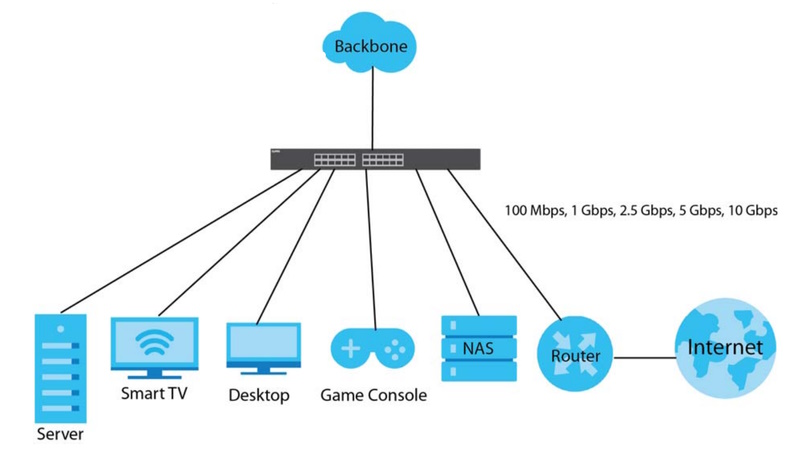 Supports Multi-Gigabit for 100M/1G/2.5G/5G/10G connections
View the port speed instantly with a unique and intuitive 5-color LED
Offers 60-watt (802.2bt) PoE++ to each port with a large power budget of 375W
Supports NebulaFlex: switch between standalone and license-free Nebula cloud management flexibly
Smart Managed feature set with L3 static route
The Zyxel Networks XS1930-12HP Multi-Gigabit Switch switch comes with twelve 10Gbps ports — including eight Multi-Gig PoE++ ports. There are also 2 SFP+ ports. Otherwise, it looks like a conventional business switch in a metal body with the ability to rack mount. It has a built-in power supply and uses a standard power cable. It has vents and fans on the sides for airflow. All of the network ports are located on the front as well as the LED status indicators, and on the back, there is the AC power port and a grounding screw terminal.




Setup

Nebula App
This Zyxel Networks XS1930-12HP Multi-Gigabit Switch is a managed switch locally from a desktop, with a web interface, or a mobile app. You can use the app to set up and monitor the switch on your network, which is the method I chose since I already had a Zyxel Access Point registered in the app.
Here are some screenshots from the app:
Performance
First, here is what the blinking LEDs on the Zyxel Networks XS1930-12HP Multi-Gigabit Switch mean: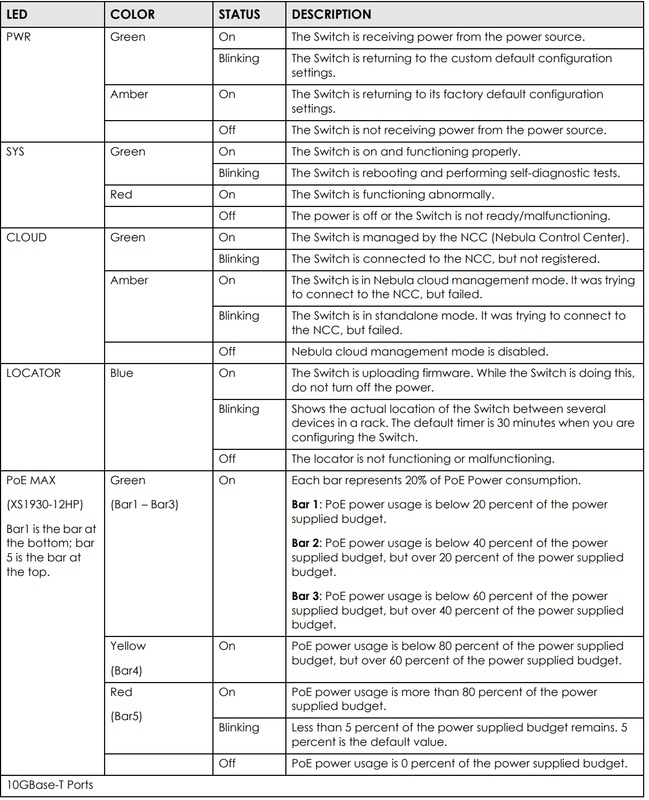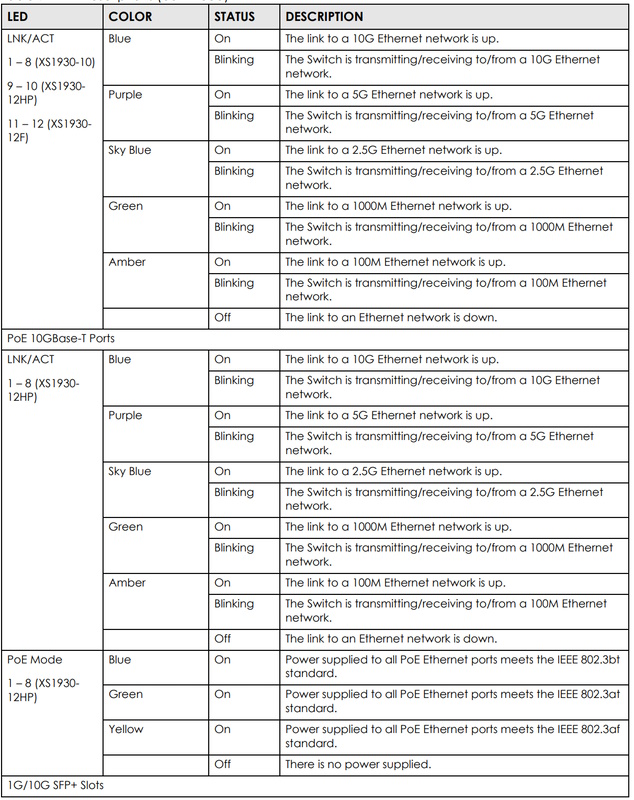 The switch is set to DHCP by default and gets its IP from the existing router. If it does not get an IP from the router then it is supposed to eventually switch to a default static IP. Once I initially used the web app to set up the switch, I was unable to log in from my desktop afterward. I could use the IP to get to the login screen, but it would not accept the default login credentials. The login page includes instructions and a link to direct me to log in via the web browser to the Nebula/Zyxel management console: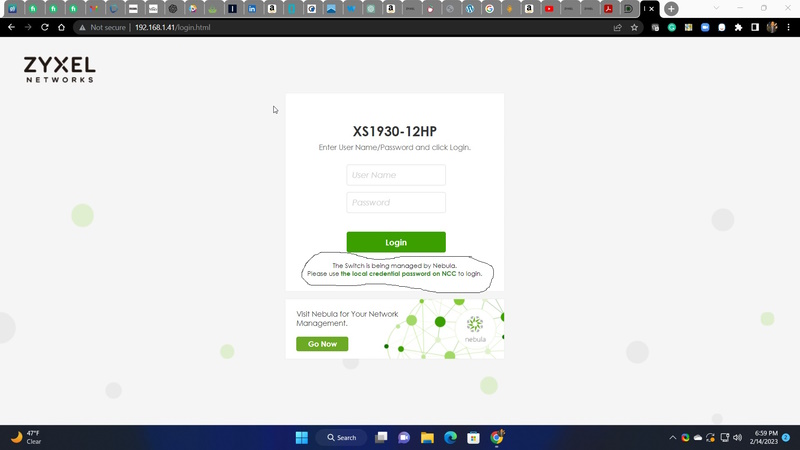 So I followed the instructions and used the web browser Nebula web interface. Here are some screenshots from that environment: (As I mentioned, I also have a Zyxel AP. Both are managed via Nebula)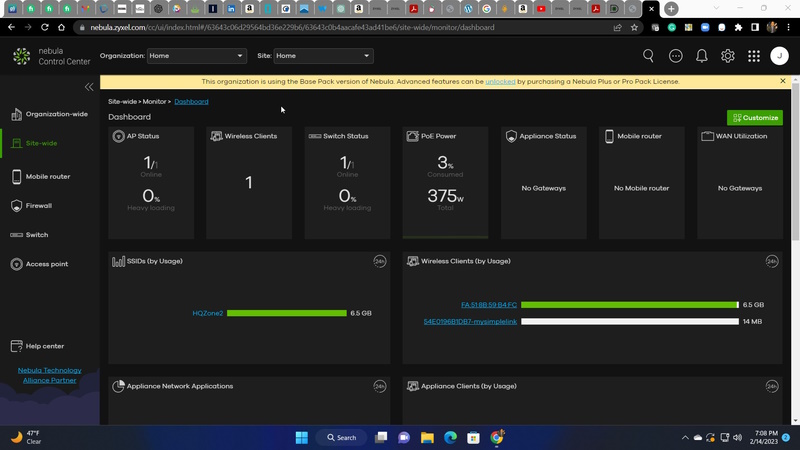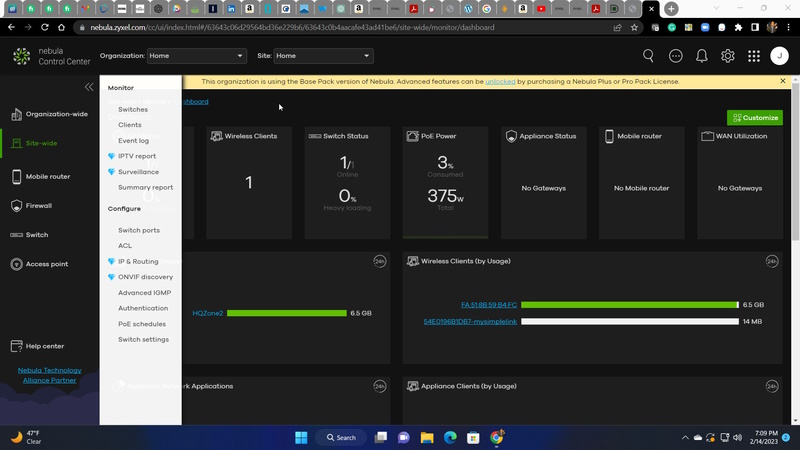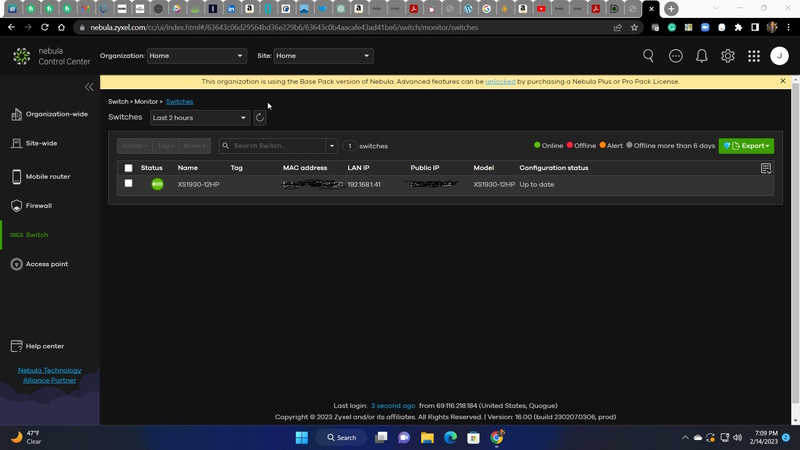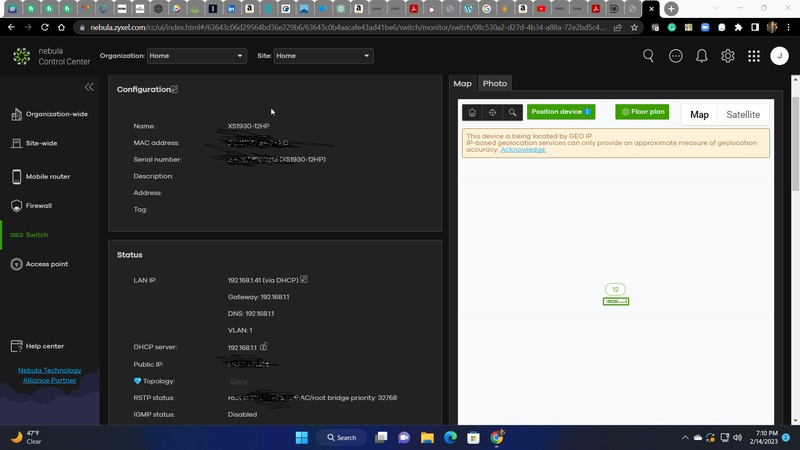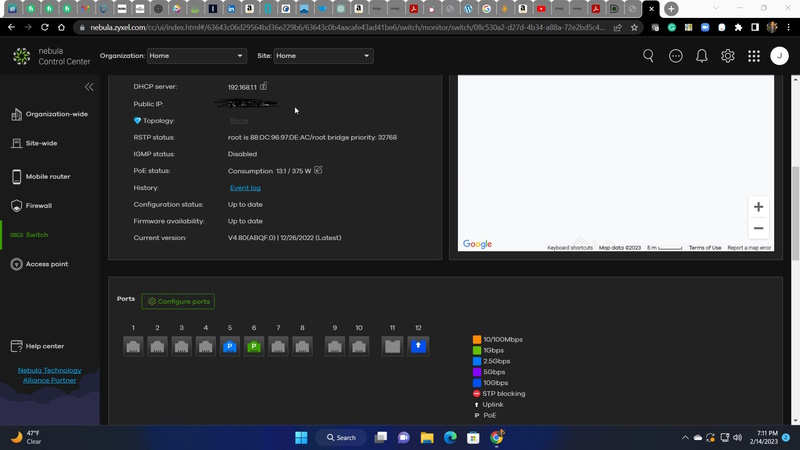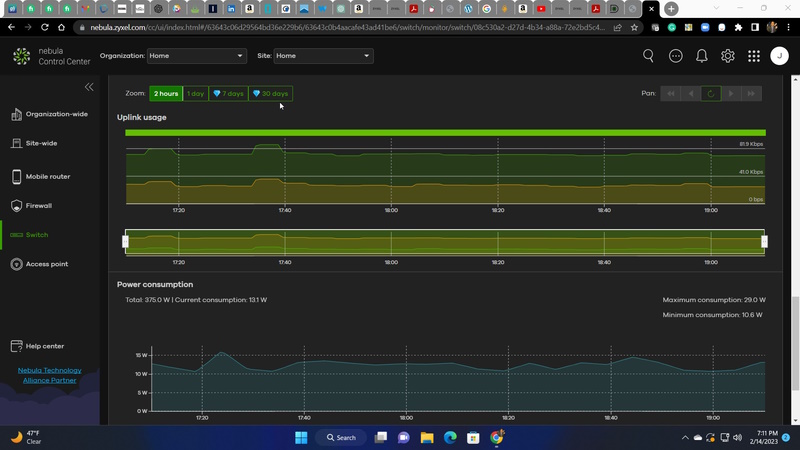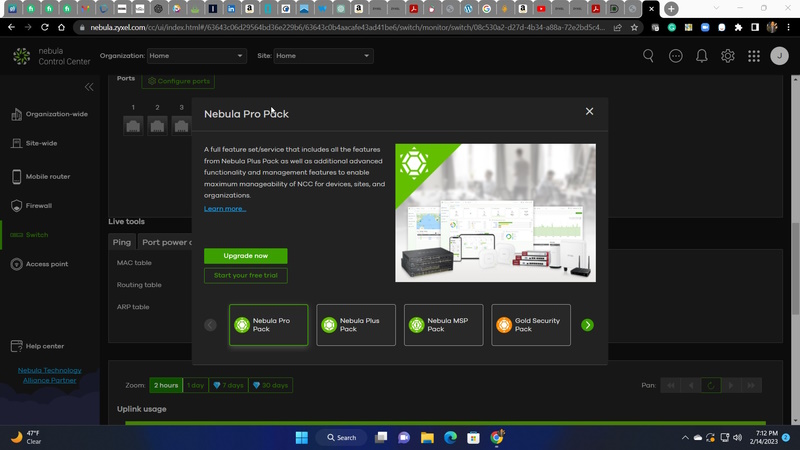 The next thing that I wanted to test was the network speed to the internet via this Zyxel Networks XS1930-12HP Multi-Gigabit Switch that is connected via a 10G SFP+ cable to another 10G switch and then to the router and modem. My connection to my ISP is 1GB/1GB.
The first test was done on a PC connected to the Zyxel switch via a CAT7 ethernet cable.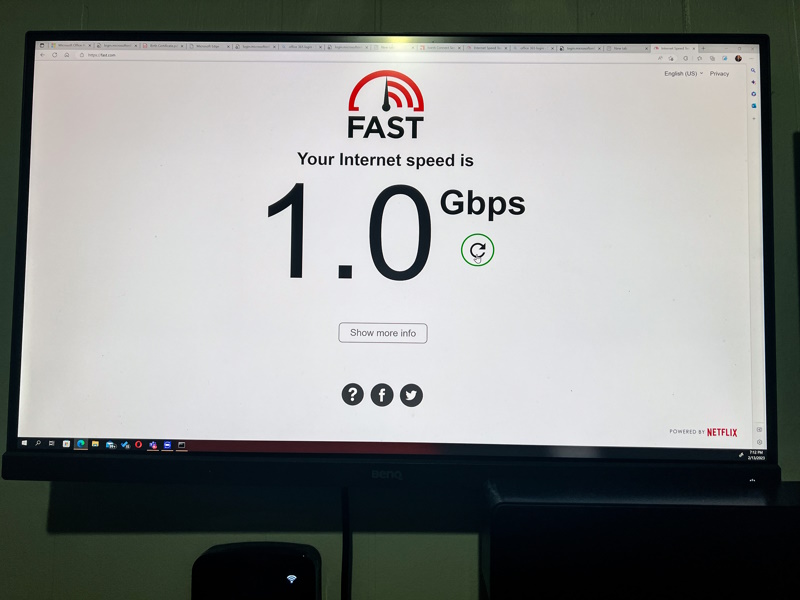 This next test was conducted on a different PC connected via CAT7 ethernet about 30 feet away: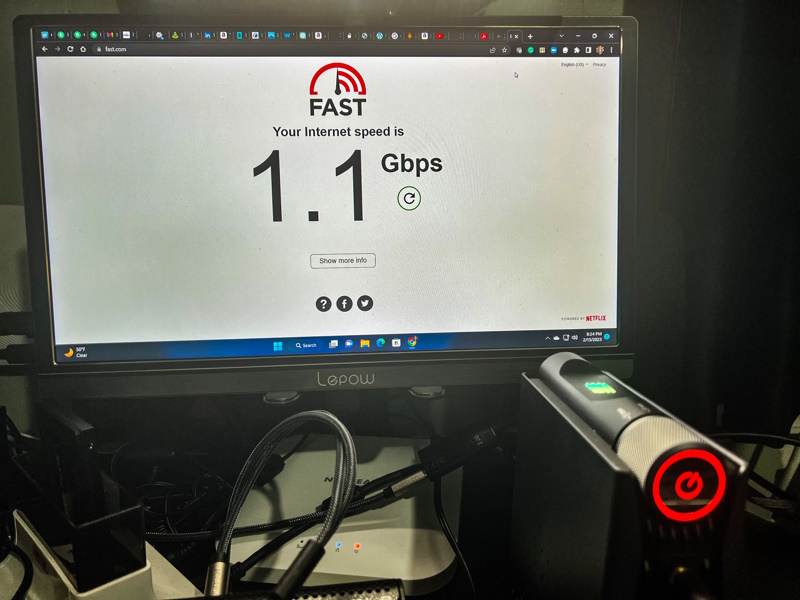 This is a wireless test using my iPhone via a Zyxel POE Access Point that is connected to the Zyxel switch: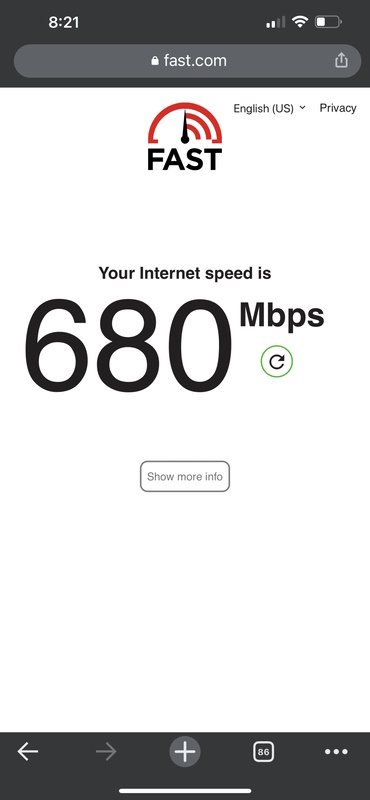 I do plan to conduct additional testing once I buy and install a new NAS with a 10G network port. The goal is to have as many 10G network devices on my network as possible and to have the speed of other devices maximized. I will also upgrade the connection to my ISP soon to 2.5G.
What I like
It is well built
The POE ports
The multi-gigabit auto-negotiating capability of the 8 ports
The SFP+ ports
The switch management capability and the portal to do so
It is full-featured and highly configurable
It is relatively quiet
What I'd change
Final thoughts
The Zyxel Networks XS1930-12HP Multi-Gigabit Switch is a full-blown business-oriented switch with more features than I can describe and even more than I have ever heard about. While its feature set is more than possibly any homeowner would need for a home, it is great if you have it if you are upgrading your network to 10G. It is a really great switch, and the 8 POE ports mean that I can get rid of multiple POE adapters for my devices with the POE capability. Then there is the great network speed auto-negotiation that offers the full range of connectivity from 100M to 10g. If you need to set up VLANs or if you need to configure specific ports, you can do this because this switch offers it all. I think that this switch will work great for any small or medium-based business/network. This is my second Zyxel network device and I am thoroughly impressed. Well done!!
Price: $999.99
Where to buy: Amazon
Source: The sample of this product was provided by Zyxel