We use affiliate links. If you buy something through the links on this page, we may earn a commission at no cost to you. Learn more.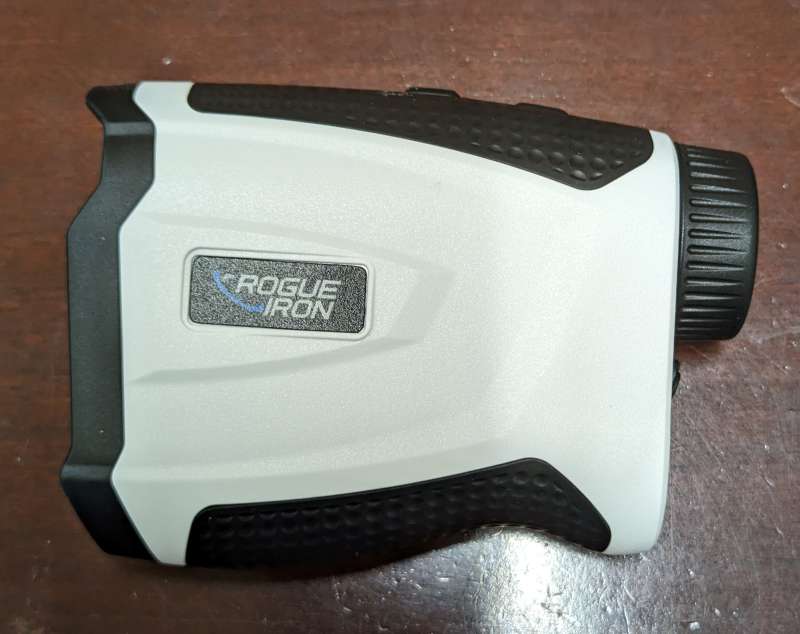 REVIEW – Besides being a gadget lover I am addicted to disc golf. I started playing in 2018 and have been hooked ever since. An important aspect of the game is knowing how far you are from the basket. Miscalculate the distance and you could throw the disc too short or too long. Let's see if the Rogue Iron Factor Disc Golf Rangefinder can help me up my game.  
What is it?
The Rogue Iron Factor Disc Golf Rangefinder is a laser range finding device made specifically for disc golf which uses feet for measurements. If you play normal golf you can change it to display in yards or meters as well. The Rogue Iron Factor Disc Golf Rangefinder not only tells you how far away from the target you are but it also tells you the elevation and slope in degrees so you can compensate for your power or disc selection accordingly.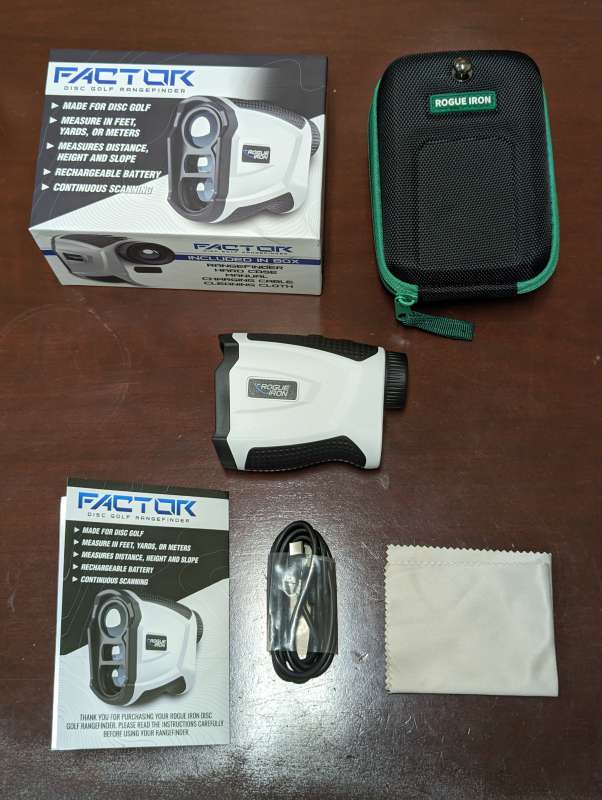 What's in the box?
Rogue Iron Factor Disc Golf Rangefinder

USB-C charging cable

Hard case

User manual

Cleaning cloth
Hardware specs
Weight: 5.6 oz

Magnification: 6.5 x 24mm

Battery: Built in lithium Ion

Unit of measure: Feet, yards, meters

Dimensions: 4" L x 1.5" W x 3" H

Display data: Battery level, distance, vertical height (elevation), and slope in degrees

Continuous scan capable

Angle ranging scope: -90 to 90 degrees

Laser: Class 1, wavelength 905nm

Field of view: 6.5 degrees

Objective lens diameter: 24mm

Eyepiece lens diameter: 13.2mm

Ranging error: ±0.5 M/Y at distances up to 700 m/y
Design and features
The Rogue Iron Factor Disc Golf Rangefinder only has two buttons on the top which are power and the distance unit button. With the unit on you hold the power button and the distance unit button for three seconds to change to yards and then meters and back to feet. The USB-C charging port is located in the back under the eyepiece. On the right side under the black checkered panel is a magnet that can securely attach it to a steel pole or golf cart frame. The eyepiece has a knob that you can rotate to adjust the clarity of the image.
I do wish the Factor had a lanyard loop so that you could secure it with some paracord or a gear keeper to really be sure not to lose it or forget it on the golf cart. The included case seems very capable of protecting the rangefinder and along with a zipper, it has an elastic string loop that you can use as well to keep the case closed. It does make getting the Factor out a little quicker since you don't have to use the zipper. 
Performance:
Above all, any rangefinder has to be accurate otherwise it's just an expensive paperweight. The Rogue Iron Factor Disc Golf Rangefinder is extremely accurate and was spot on when I focused on different objects. Below is the view from my office with no zoom.  
Looking at the trees on the left the 6.5 x 24mm zoom is quite usable and makes targeting a breeze. My phone's camera had a hard time focusing through the lens so I was only able to get a few usable pictures. My camera could not pick up the reticle and display information as well as focus on the distant object I was aiming for. When I look through it the reticle and info are very clear and easy to read.
I took the Rogue Iron Factor Disc Golf Rangefinder to a golf driving range and it was spot on to the flags there as well using yards. On the disc golf course the top band on the basket was the easiest part to aim at and in those cases was only a foot off at most which makes sense since you measure to the pole usually.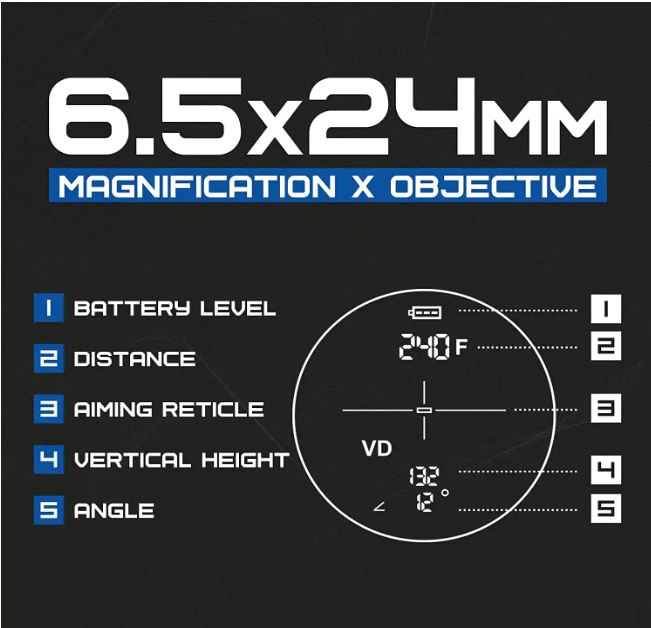 Knowing the distance without guessing was great but what is a game changer though is the vertical height or elevation and angle information. So on a basket that was 200 feet away but with a vertical distance of 50 feet I knew I had to throw the disc hard enough to reach a 250 foot flat shot or even a little harder to get pin high when before I was just guessing. As an added benefit it's nice to have it for those nature appreciation moments on the course. My son used it to look at some bald eagles we spotted and a few deer that we saw in the woods.
What I like
Accurate

Built in battery

Lightweight
What I'd change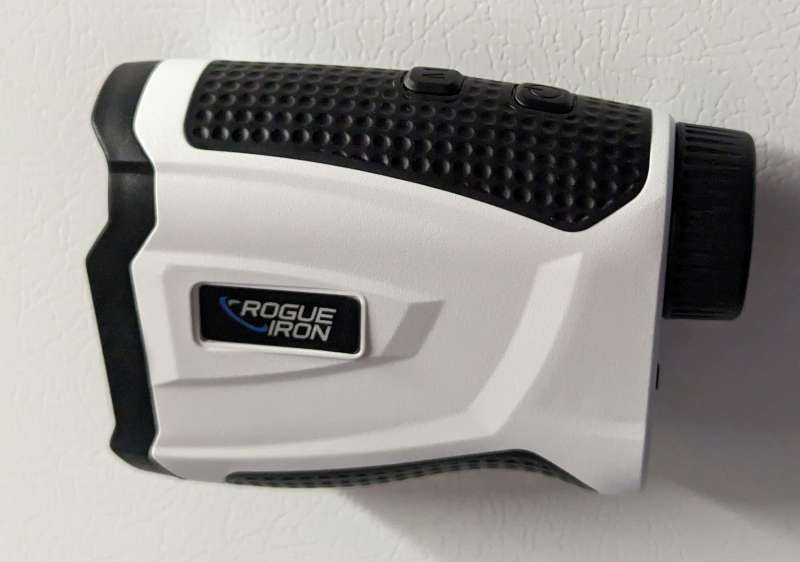 Final thoughts
I love it. The Rogue Iron Factor Disc Golf Rangefinder takes the guesswork out of ranging the basket. I noticed that before using the Rogue Iron Factor I tended to overestimate how far my drives were and therefore underestimate how close I was to the basket so I would come up a little short or not take elevation into account. Now I know exactly how far away I am and it has helped lower my scores. The Rogue Iron Factor Disc Golf Rangefinder is very reasonably priced compared to others on the market so if you've been thinking about getting one you can't go wrong with the Rogue Iron Factor Disc Golf Rangefinder.
Price: $89.99
Where to buy: Rogue Iron website or Amazon
Source: The sample for this review was purchased by me personally.