We use affiliate links. If you buy something through the links on this page, we may earn a commission at no cost to you. Learn more.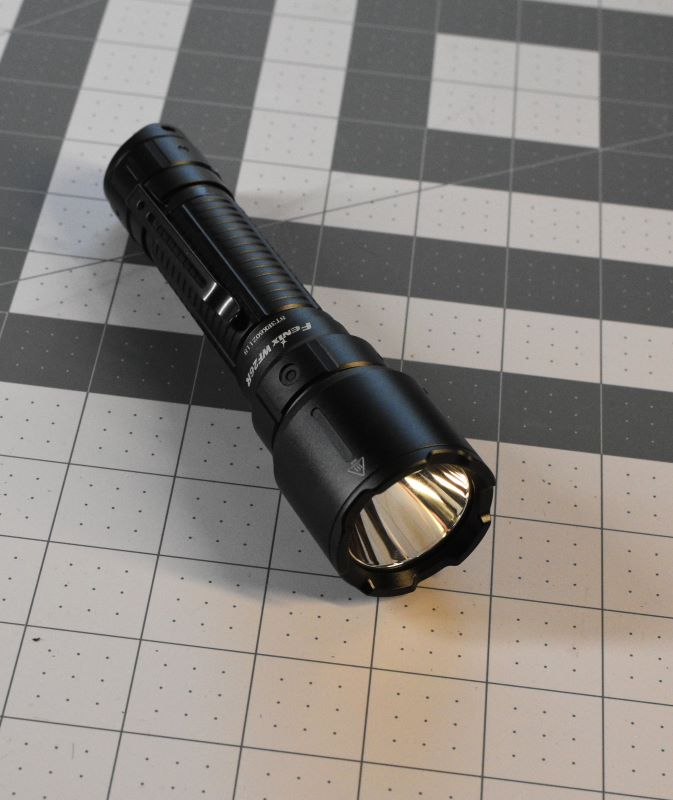 REVIEW – I like flashlights. If you're reading this, then I guess you do too. I've always been a sucker for Fenix flashlights. A couple of EDC-sized ones I own have taken a beating but still work great after all these years. Now Fenix is introducing the new WF26R (rolls off the tongue, don't it), a duty flashlight with a charging cradle that can be mounted pretty much anywhere, so it's always ready to go. Flashlightgo sent me one to review. Let's check it out.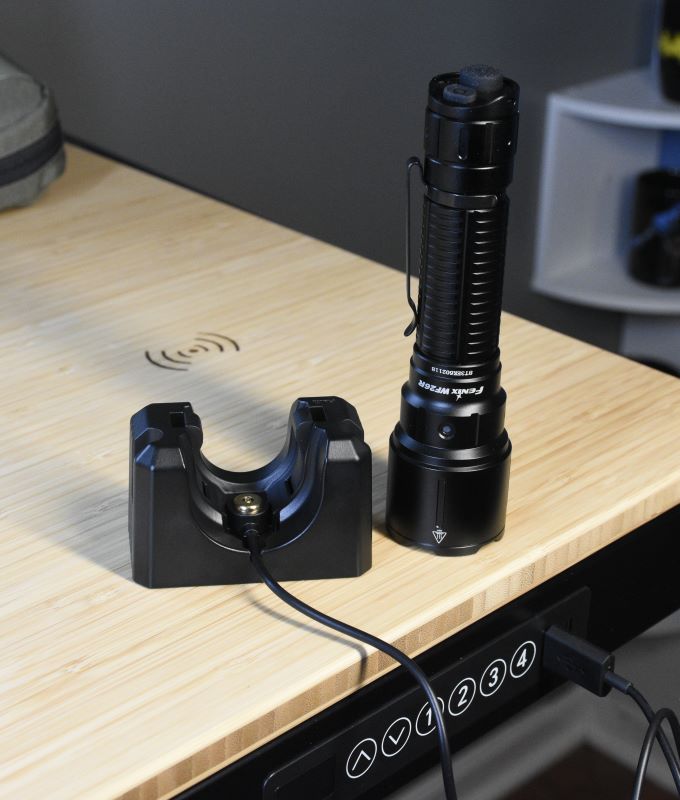 What is it?
The Fenix WF26R flashlight is a heavy-duty, high-performance fistful of daylight you can trust to light your way.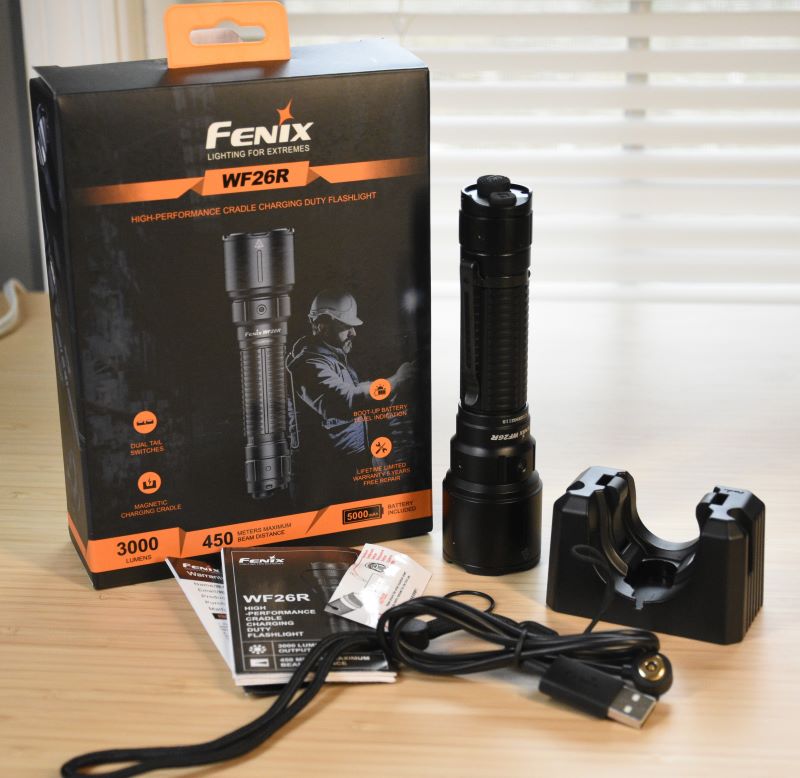 What's in the box?
Fenix WF26R flashlight
Charging cradle
Magnetic USB charging cable
Lanyard
Extra O-ring
5000 mAh 21700 Li-ion battery (installed)
User manual
Warranty card
Hardware specs
Luminus SST-70X-W LED with a lifespan of 50,000 hours
Output modes:

Turbo: 3000 Lumens, 2.68 hours, 1476 ft (accumulated runtime)
High: 1000 Lumens, 2.78 hours, 866 ft
Med: 350 Lumens, 8.93 hours, 509 ft
Eco: 30 Lumens, 44.13 hours, 154 ft
Strobe: 3000 Lumens
SOS: 100 Lumens

Mountable charging cradle with removable magnetic charging cable
Battery level indicator

Solid green light: 100-85%
Flashing green light: 85-50%
Solid red light: 50-25%
Flashing red light: 25-1%

Dual tail switches
Size:

Length: 6.14 inches
Head diameter: 1.59 inches
Body diameter: 1.05 inches
Weight: 7.83 oz
Design and features
The Fenix WF26R duty flashlight is made from aircraft-grade aluminum so it's light and tough. Fenix says it passes a 1.5-meter drop test. They're probably right. My kids have borrowed it a couple of times and it still works. They obviously dropped it while they were skateboarding at night in the street in front of our house.  The only damage I saw was one little ding on the head. It has a waterproof rating of IP68 meaning it can survive 6 feet of full submersion for a minimum of 30 minutes. So don't worry about rain, mud, or puddles.
I was happy to see the Fenix WF26R was a traditional form factor. It's much easier to use one-handed than the TK35UE V2.0 I'd reviewed in the past. No, it's not a sexy beast, but it's so much more user-friendly. I will say there was no holster included with the WF26R like there was for the TK35UE V2.0, but it does have a pocket clip.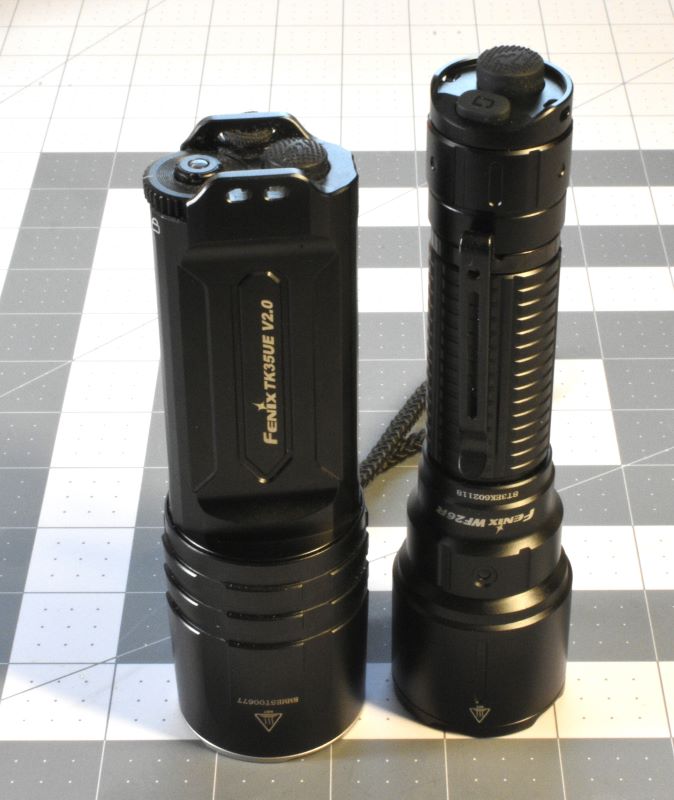 I think my favorite feature is the dual tail switches. The larger one turns the flashlight on and off while the smaller one cycles through the modes; eco, medium, high, and turbo. No double clicking, click once then press and hold, rapid triple tap. In fact, the only time you need to press and hold is to access the strobe or SOS. I like this.  I don't use either mode and don't want to have to cycle through them when using the WF26R.  It also remembers the last brightness setting so no cycling is necessary if you've previously set it where you want it.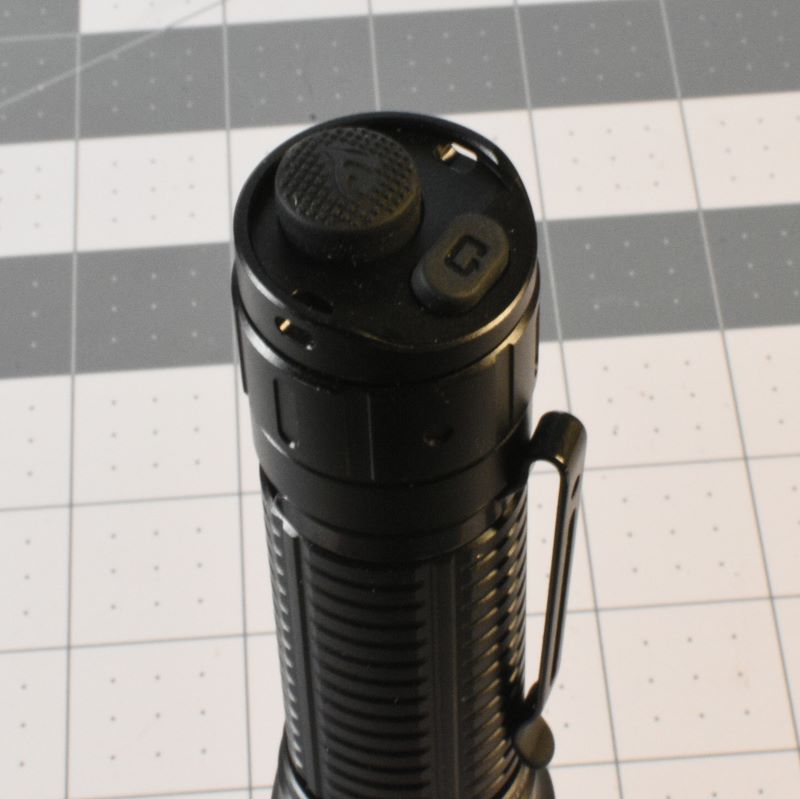 The Fenix WF26R flashlight comes with a charging cradle that uses a magnetic USB cable AND the battery is included! The TK35UE V2.0 required 2 batteries which weren't included so this was a nice surprise. AND, you don't have to purchase a separate charger because the battery is charged IN the flashlight.  Another point for the Fenix WF26F.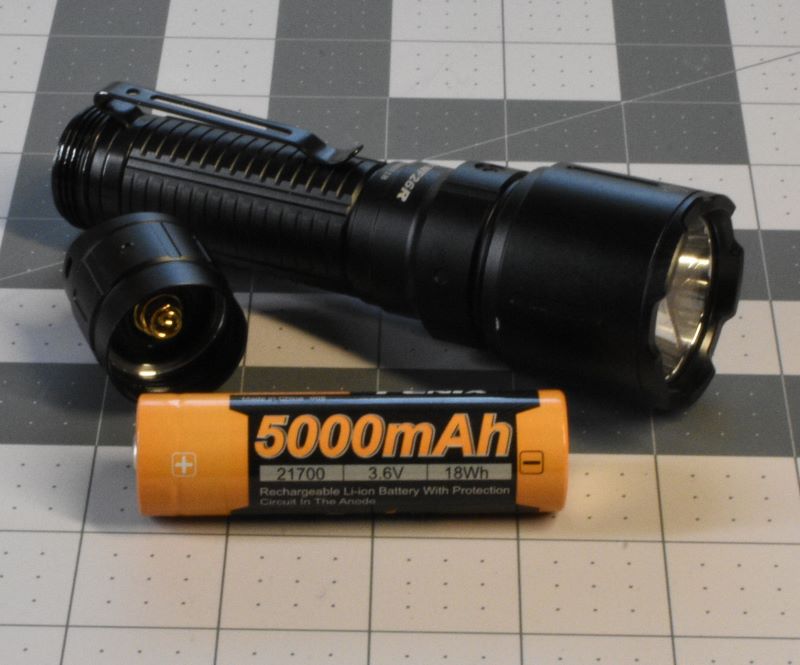 The cradle itself isn't really much to speak of. It's a plastic mount for the WF26R with spring-loaded clips to lock the flashlight in place. So stick it on a wall, in your truck, on a desk, really anywhere you can reach a USB charger with the magnetic charging cable.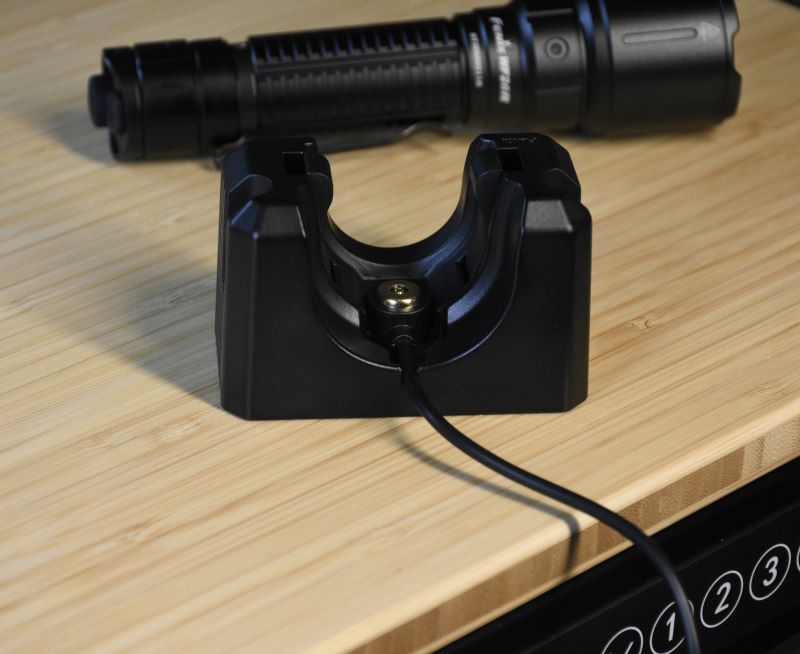 To charge the WF26R flashlight you really only need the cable. Do you see the little brass-colored button?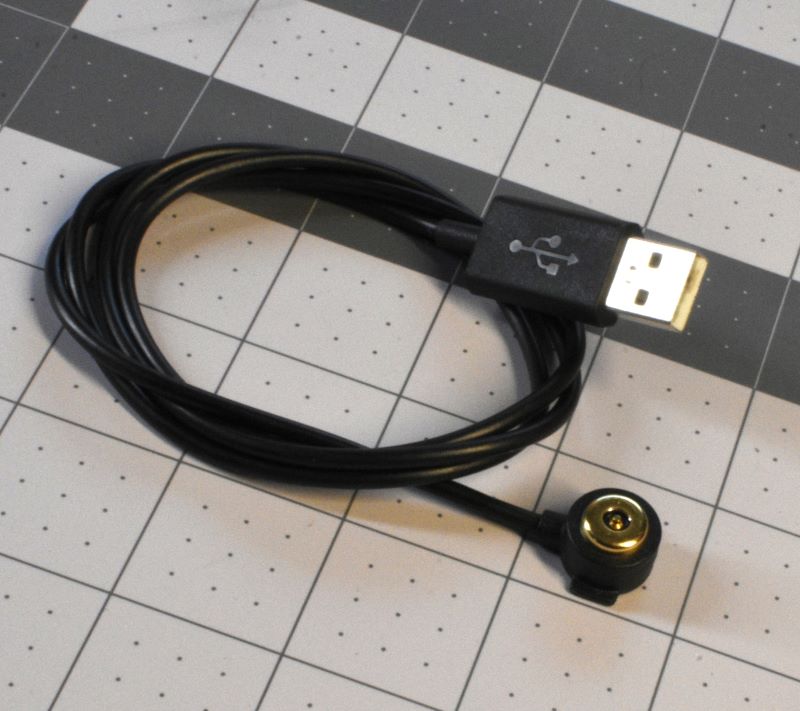 It magnetically connects to the brass dot on the flashlight.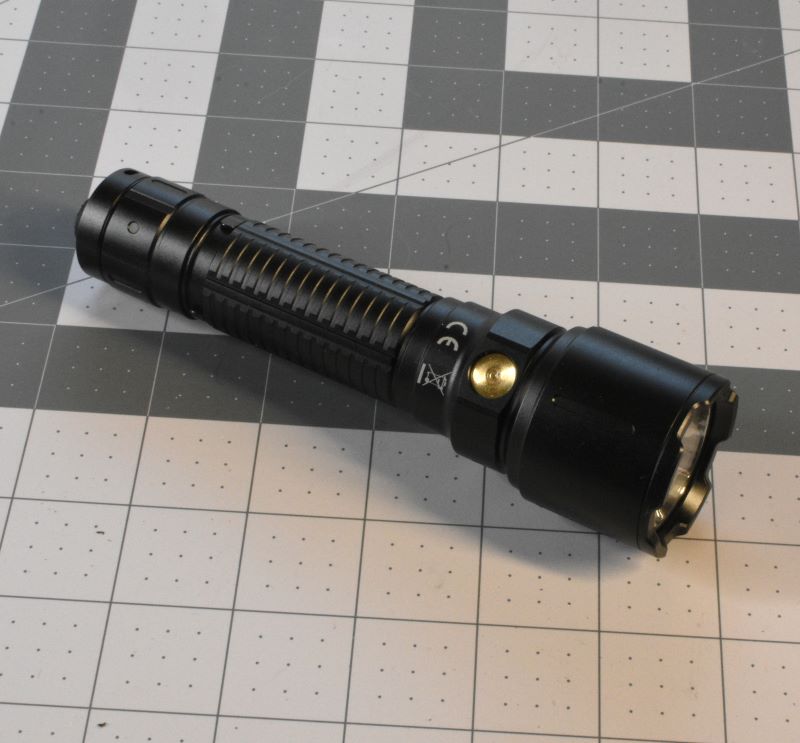 But isn't nicer that the cable slides into the cradle so you can just pop the flashlight in?  I thought so too.  You will need to supply your own screws or whatever you want to use to stick it wherever you decide. No screws, velcro, double-sided tape, or bubble gum is included.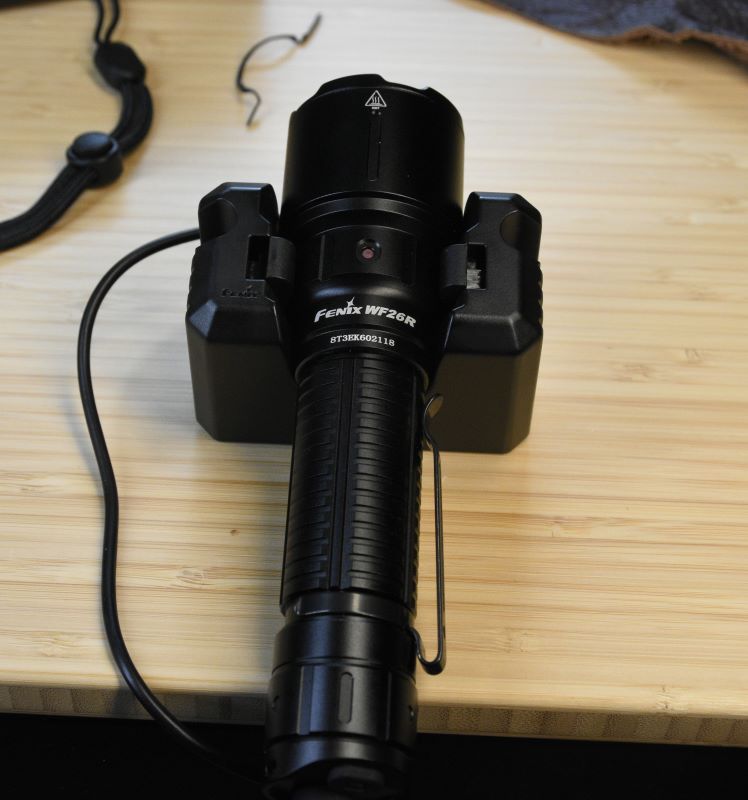 Performance
The Fenix WF26R flashlight has a pretty good runtime.  I decided to just turn it on one morning and see just how long it would go. Since I work from home, I switched it on Turbo mode at the crack of 8:30 AM and then got to work. After a few hours, I noticed it drop in brightness then a few hours later it did it again. At 4:30 PM, it would occasionally blink 3 times but was otherwise still operating. According to the manual, it was stepping down from Turbo mode and High mode due to the heat.  It's smart enough to know that if it gets hotter than 60 degrees C/ 140 degrees F, it lowers its output.  Pretty slick. For the nerds like me out there, I included the chart below to give you an idea of the runtimes. I was pretty impressed that the WF26R ran for 8 hours and was still going.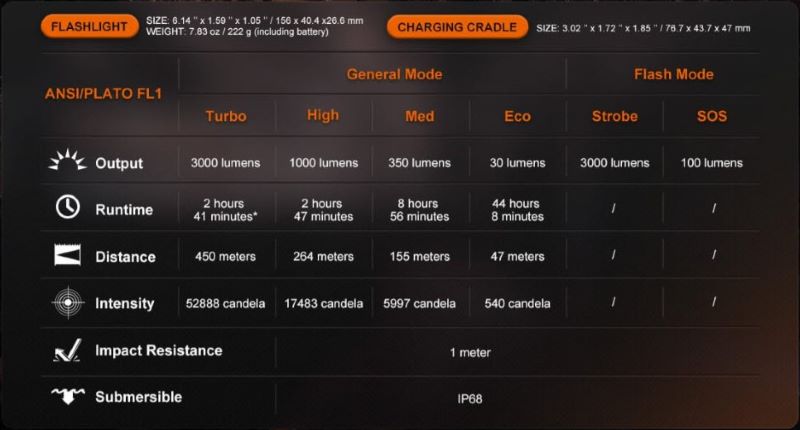 I made a short video demonstrating the modes here. Please be warned there are strobe effects.  Also, I'm still trying to figure out how to film in a dark setting so please be kind.
What I like
Dual tail switches
Run time
Form factor
Battery and charger included
What I'd change
Final thoughts
I like the Fenix WF26F duty light flashlight so much better than the other Fenix flashlight I reviewed. It's much easier to operate one-handed. There was nothing else one would have to purchase to use it straight out of the box. I love that with the dual tail switches, I don't have to remember any crazy button press sequences to get the mode I want. If you're looking for a duty light or just something bigger than an EDC light, add the Fenix WF26R to your roster. I think you'll be happy with it.
Price: $129.99
Where to buy: Flashlightgo
Source: The sample of this product was provided by Flashlightgo.