We use affiliate links. If you buy something through the links on this page, we may earn a commission at no cost to you. Learn more.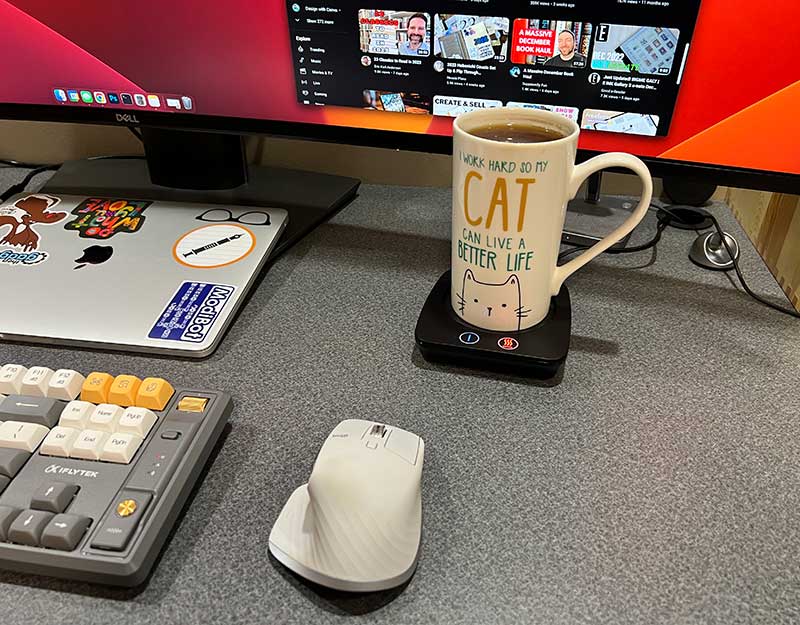 REVIEW – I make a large mug of hot tea every single morning which I carry down to my basement office. I'm a sipper, not a chugger, so my large 22 oz mug of tea cools off quickly. That means I trudge up the stairs at least 2 times to rewarm the tea in the microwave before I drink the whole mug of tea. Can the VOBAGA Cup Warmer save me from running and up and down the stairs? Let's find out.
What is it?
The VOBAGA Cup Warmer is a cup warmer for your hot beverages like coffee, tea, and cocoa in a glass, ceramic, or stainless steel cup.
What's in the box?
Design and features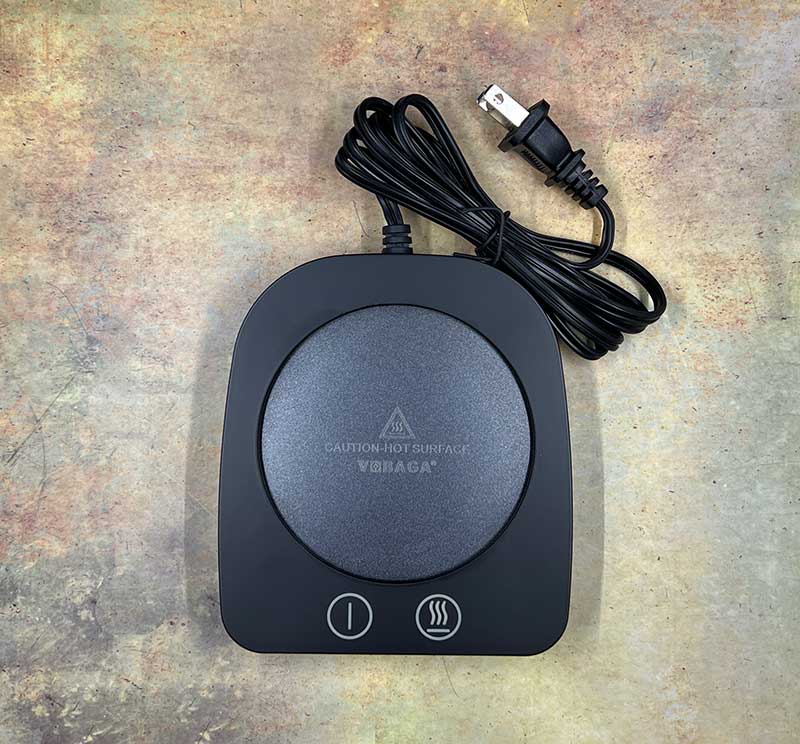 The VOBAGA Cup Warmer is made of plastic with two touch control buttons and a 3.75 inch diameter heated surface where you place your cup. I think the hot surface is aluminum, but it's hard to tell. A magnet does not stick to it.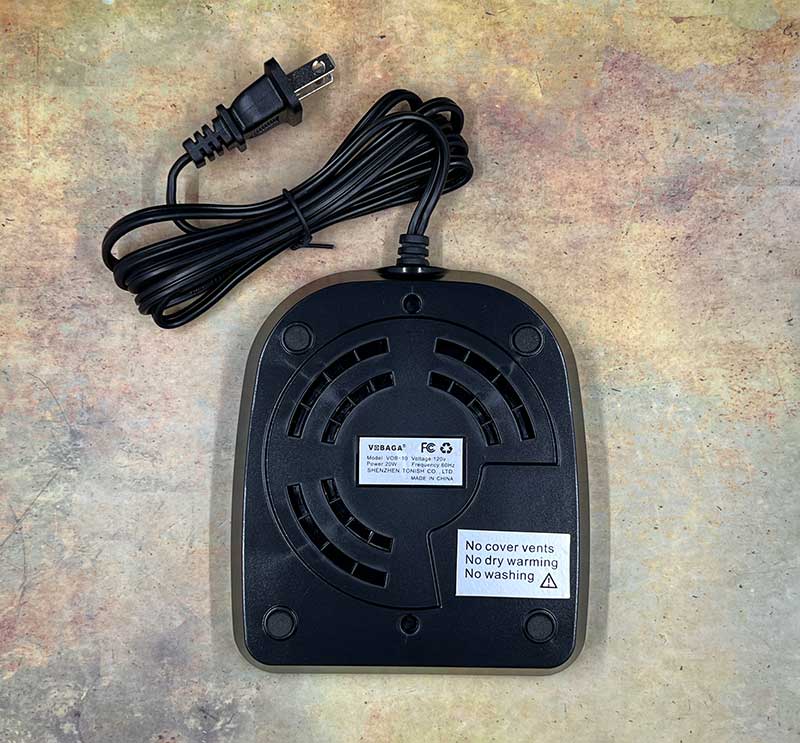 The bottom of the base has vents, rubber feet, and a two-prong 1.4 m/5.51 ft cord.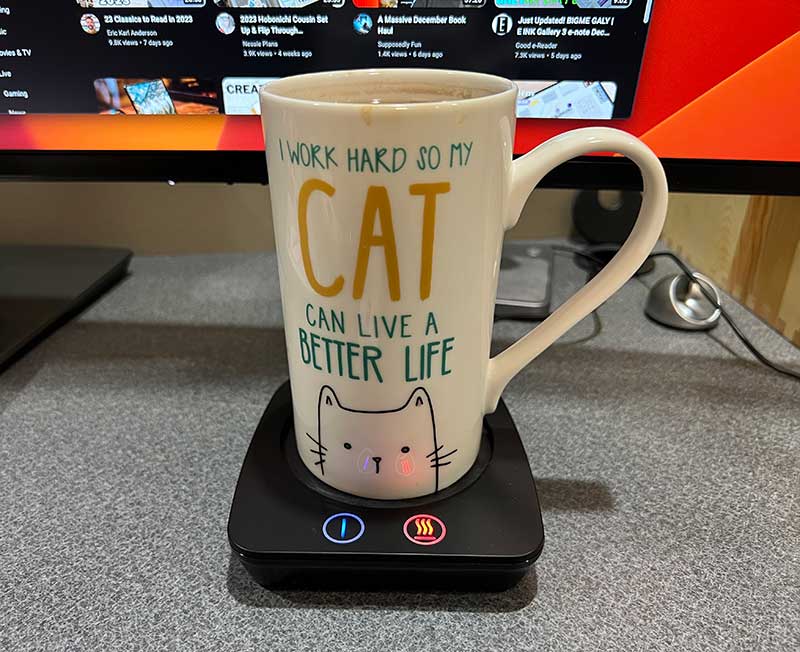 Setup is as easy as plugging the VOBAGA Cup Warmer's cord into the wall and placing your cup of hot tea, coffee, cocoa, etc. on the cup warmer. Then you can press the power button on the left to begin the warming process. By default, the cup warmer will heat to the hottest setting which you can see by the red status LED on the button on the right.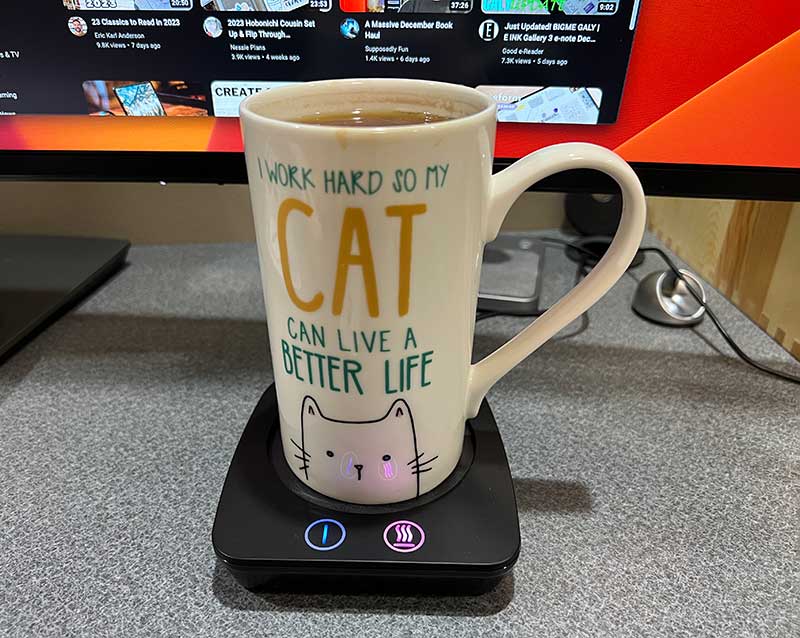 If you tap the heat level button on the right, it will switch to the lower heat level and the LED will turn pink.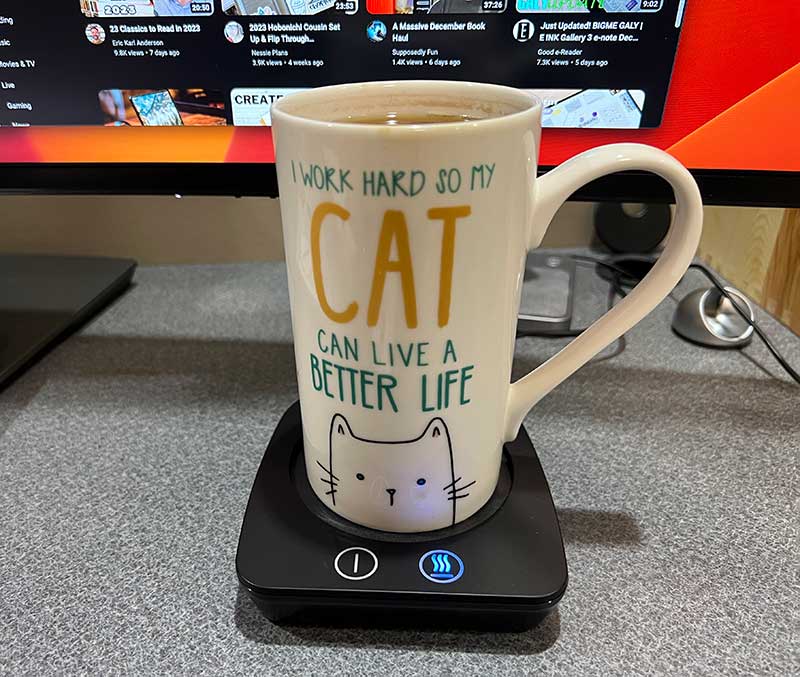 If you press the heat level button again, it will change the LED to blue which basically turns the cup warmer off. You can do the same thing by pressing the power button and it will turn the other button blue and once the surface has fully cooled, both buttons turn off.
The warmer will also turn off automatically after 4 hours of use and it has a standard UL1026 certification for safety.
But the question is, does the VOBAGA Cup Warmer really keep the contents of your cup hot/warm?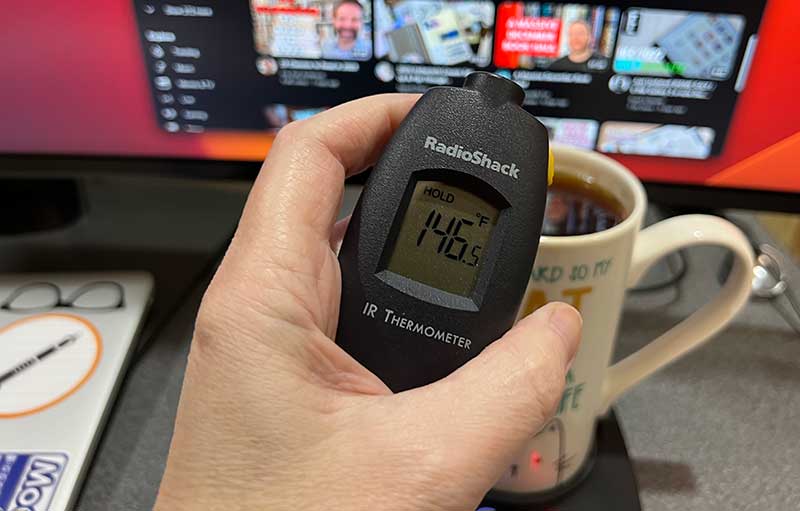 I set out to test the cup warmer by using an IR thermometer. I started out with a newly made full mug of tea. I  decided to test the temperatures without using the VOBAGA Cup Warmer just to see how it naturally cooled over time.
8:15am 144.5° F
8:30am 126.5° F
9:00am 100° F
9:15am reheat in microwave to 150.5° F
9:45am 114.5° F
10:00am 102.5° F
Note that these temps were not with a full mug, I was drinking it while testing. So I started with a full mug and the last reading was before the last few ounces of tea at the bottom of the mug.
The next morning, I used the same mug and made a new full cup of tea, and performed the same test. This time I placed the mug on the VOBAGA Cup Warmer and turned it to the highest heat setting.
7:45am 144.0° F
8:00am 129.5° F
8:15am 122.5° F
8:30am 117.5° F
8:30am cup warmer base 212° F
8:47am 114.5° F
9:00am 111.5° F
9:15am 109° F
9:45am 107.5° F, cup warmer base 208° F
Both testing sessions started out with the mug of tea at about the same temperature. You'll notice that the temperature cooled quite a bit faster without using the cup warmer. I realize that my testing wasn't all that scientific, but it was obvious to me that the VOBAGA Cup Warmer did keep my mug of tea warmer for longer than without using it. But it didn't keep it hot (by my definition). For me, I like my tea at about 144.0° F.
I do realize that this device will work better with mugs that have a wider base than a mug that has a narrow base. More contact with the heated surface will make a difference. The initial heat of the liquid in the cup also makes a big difference. The VOBAGA Cup Warmer will not heat up a cold beverage. It's just designed to keep an already hot beverage from becoming cooled quickly.
What I like
Simple to use
Keeps hot beverages warm longer
What I'd change
Even more heat would be nice
Final thoughts
The VOBAGA Cup Warmer is a simple device that is designed to keep your beverage warmer for longer. It does work as designed, but I do wish it were able to keep my beverage at a much warmer temp than it does. That said, it has allowed me to drink an entire mug of tea without needing to run upstairs to reheat it in the microwave.
Price: $25.99
Where to buy: Amazon
Source: The sample for this review was provided by VOBAGA.