We use affiliate links. If you buy something through the links on this page, we may earn a commission at no cost to you. Learn more.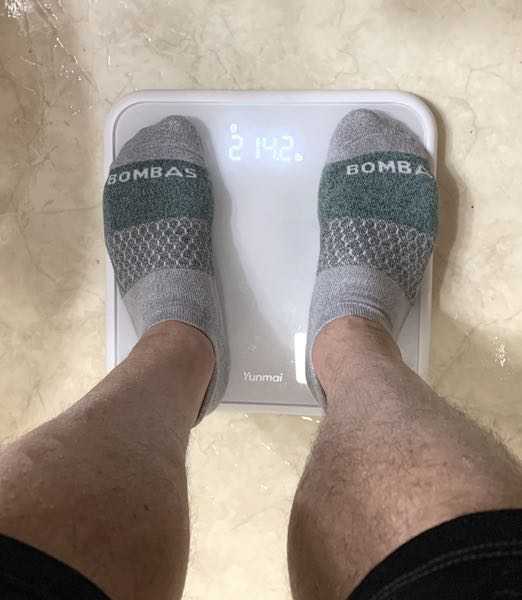 REVIEW – Get rid of that old scale! Digital scales are the future, my friends, and the Yunmai Smart Scale 3 is a good one. It's simple, functional, and effective on its own and gets even better when you pair it with the app for ongoing tracking of your progress & deeper biometrics info. Let's learn more. To the review!
What is it?
The Yunmai Smart Scale 3 is a digital scale that provides 13 different body metrics to measure your health.
What's in the box?
You'll get the Yunmai Smart Scale 3, the instruction book, and a USB-C charging cable.
Hardware specs
300 mm by 300 mm surface
Supports  body weight up to 150 kg
600 mAh Lithium Ion battery
USB-C charging port
Up to 75 days of operation on a single charge
High Precision Bioelectrical Impedance Analysis (BIA) chip technology
Design and features
The Yunmai Smart Scale 3 is a good looking bathroom accessory. The white-on-white is unobtrusive enough that it won't clash with anything in your decor.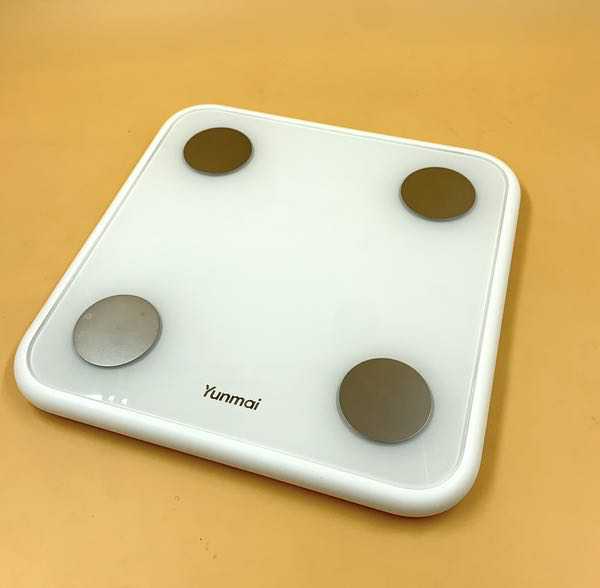 It's also got a bit of style to it with that inset glass top and beveled edge. This compact unit measures in at 12″ by 12″ by 1″, so finding a space for it isn't a problem.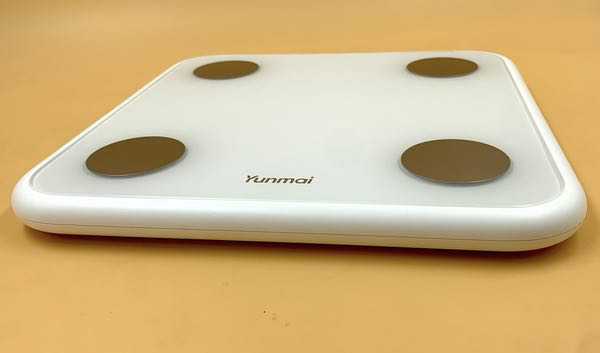 Flip it over and you'll find rubberized nonslip footpads and a power button. You can turn it off if you're moving it or something, but draining the battery ain't a thing. This unit is rechargeable via a USB-C cable (included with purchase), and will last between 75 and 100 days of regular use betwixt power ups.
One note on those feet: you'll want this on a hard surface like a tile or linoleum floor. Hardwood would be fine too. I found that the measurements get wonky if it's on carpet or soft surface where the weight isn't equally distributed between the pads.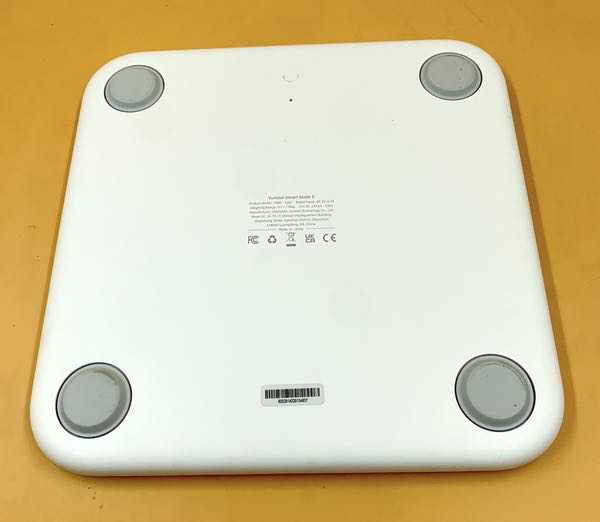 The Yunmai Smart Scale 3 uses a combination of sensors and technologies to calculate 13 different body metrics if you're connected to the Yunmai app, or just body weight and body fat percentage if you're not. Those metal sensor disks are the key…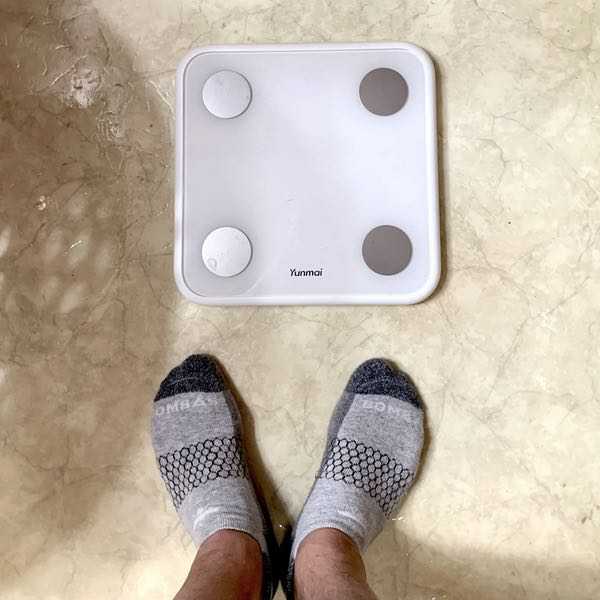 You'll want to step to the scale and make sure you're feet are placed in the same position over the left and right sets of sensors for optimum accuracy.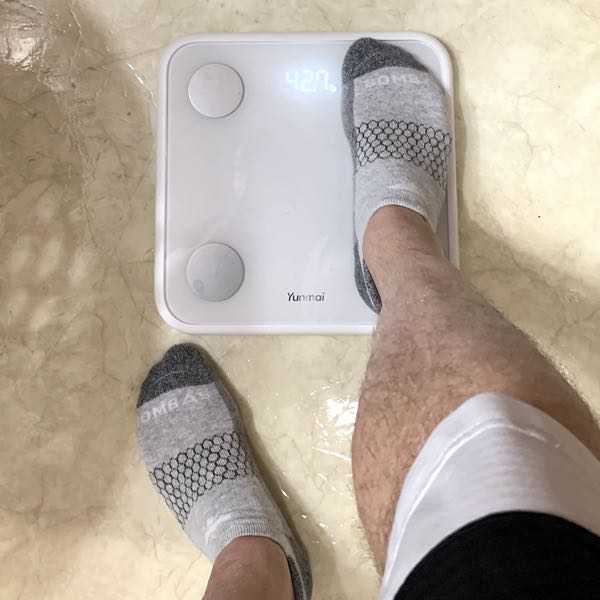 You'll see the LED pop up, and the dash indicators tell you that the scale is doing it calculation thing.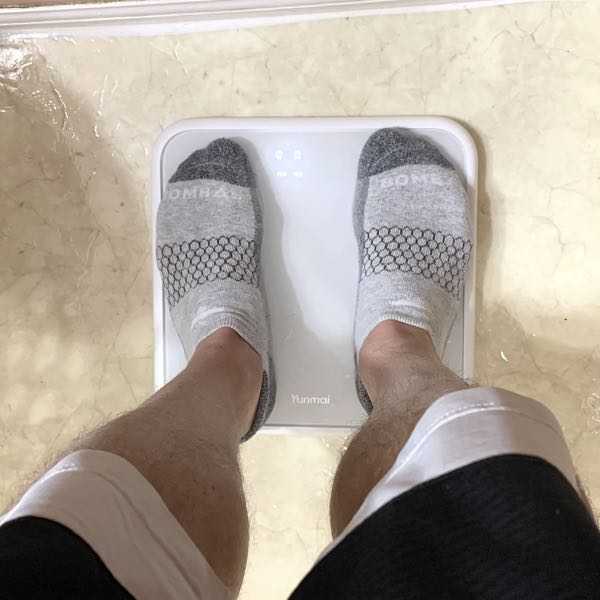 Over the course of three seconds the scale gathers the biometrics data…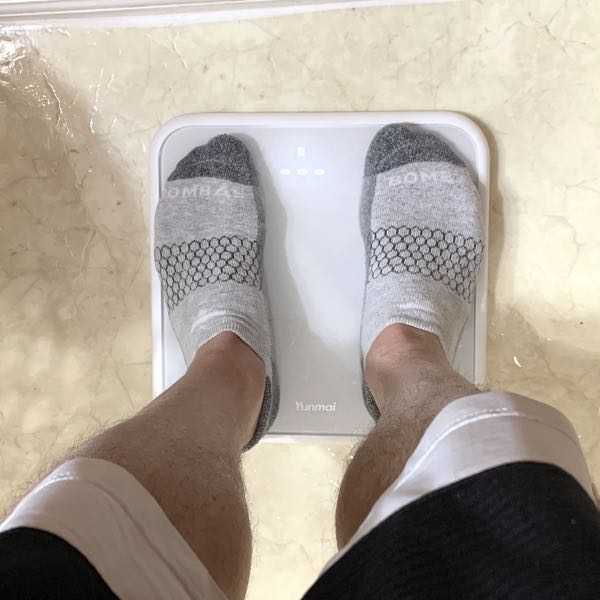 … and you get your result.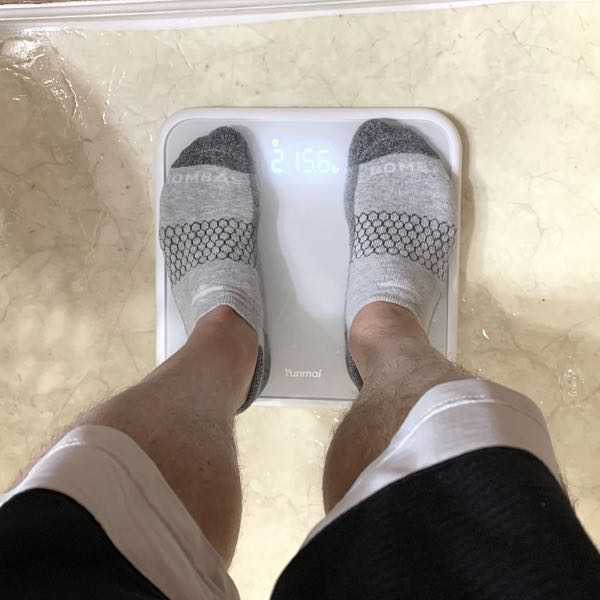 If you don't have the app connected you'll get your weight and body fat percentage. That's calculated every time you step on the scale.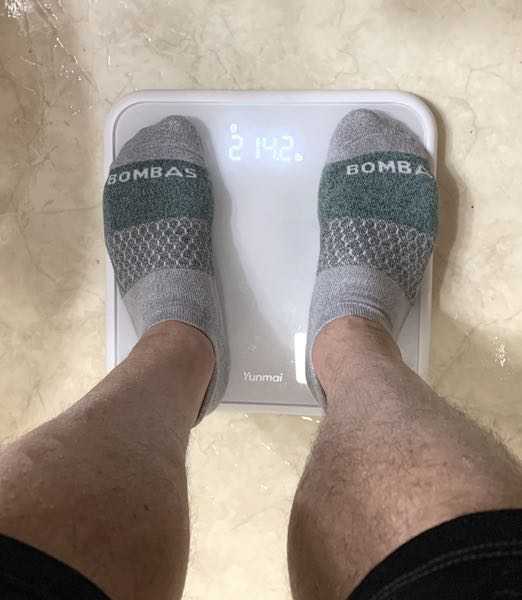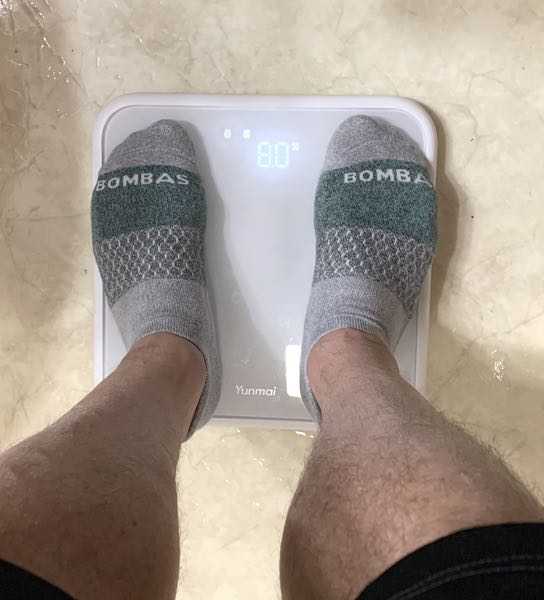 But the app is where you'll find the extra biometrics and historical data to work with if you're interested in doing in-depth monitoring of your weight-related biometrics.
The Yunmai app is set up specifically for their devices, and loading up and pairing the app is easy. You'll provide some basic info for your profile (name, age, height, gender) and you're ready to start.
We're looking at my home screen here, which shows my last weigh in data as well as historical tracking graphs and my goal weight.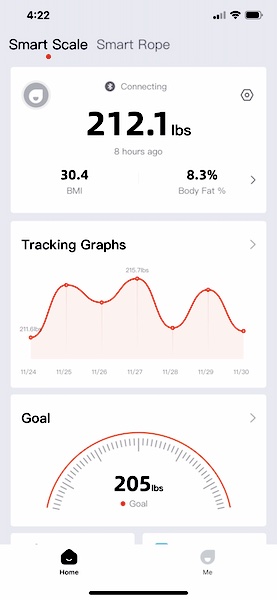 I'll fire up the app and step on the scale to get a reading.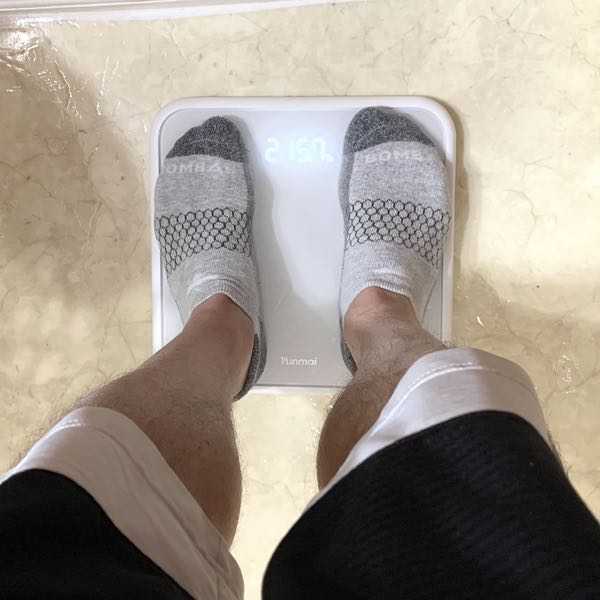 The app will then automatically download the data via Bluetooth…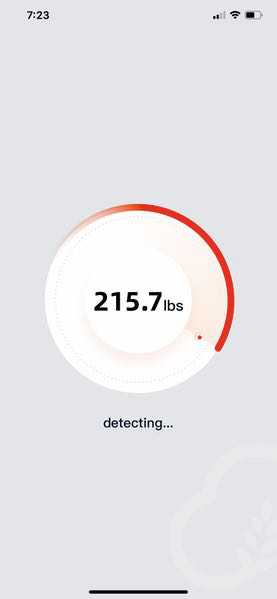 … and you'll get all the details. It starts with a "Body Condition Score," followed by an indicator of the difference from your last measurement, and then a whole bunch of metrics.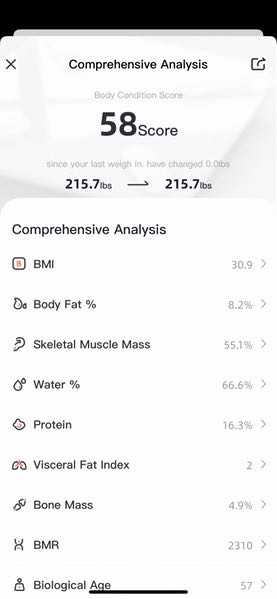 The list of metrics gathered is as follows:
Total Weight
Body Mass Index (BMI)
Body Fat %
Skeletal Muscle Mass
Water %
Protein
Visceral Fat Index
Bone Mass
Basil Metabolic Rate
Biological Age
Fat Weight
Body Fat Mass Index
Fat Free Mass
Tapping on any of the metrics on that home screen brings you to a more detailed presentation of the data, using sliding scales to show your current status.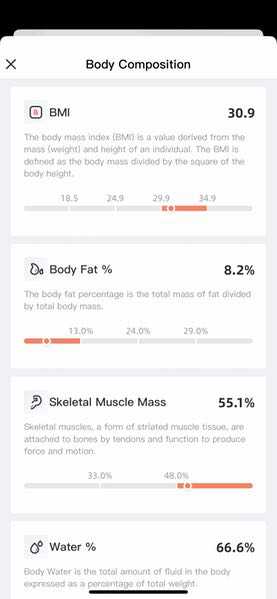 Your scores are paired with a sliding scale that uses a color bar to indicate good or bad ranges… I think. It's not really clear in the documentation, but my secondary research points towards green generally being a good score while orange indicates that there is work to be done.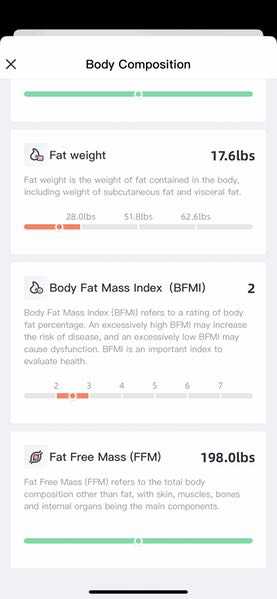 Based on what I can gather, these results roll up to the overall "Body Condition Score." I don't know exactly how that is calculated, but I have seen that number move a bit between 58 and 61 in my own tests based on the results of the day. Lower body fat percentage, the higher the score.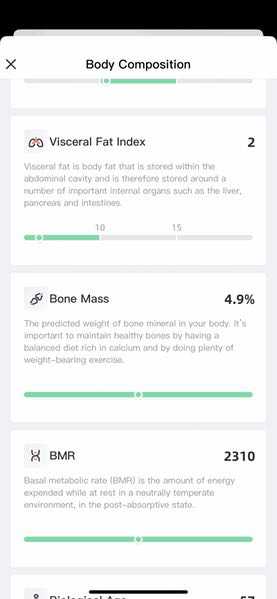 While you may need to do some research to properly leverage the individual data, the ongoing tracking data provides a great visualization. Accessible from the home screen, this scrollable chart shows changes in weight by day, by week, by month or by year that you can use to track your progress.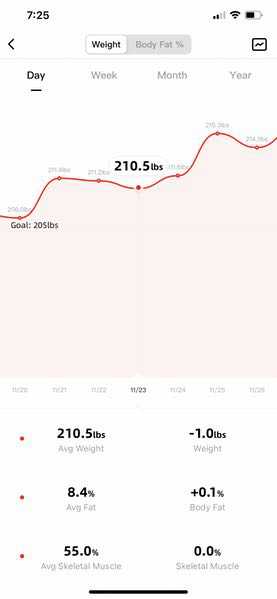 Here's the data set represented by week.  The 6 metrics below the time graph represent average weight, fat, and skeletal muscle during the time period and the change from the previous time segment (day, week, month). You can swipe back and forth the scale to see specific days as I have here.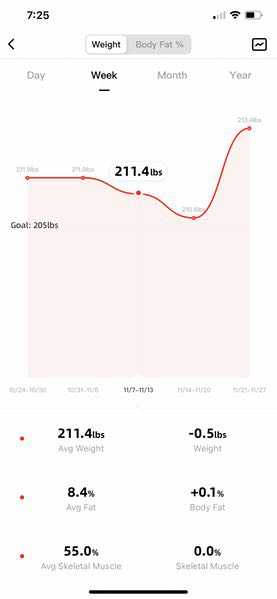 You can switch to body fat percentage over that time period. I'm doing a lot of weight training these days, so it looks like my weight is going up but my body fat percentage is slowly dropping.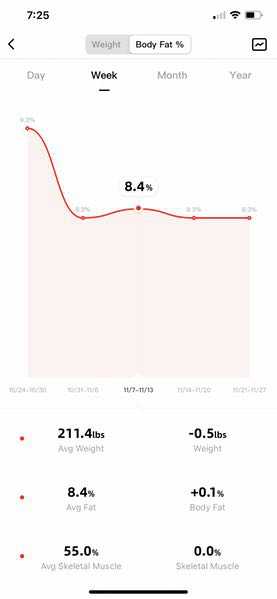 Here's the monthly view of the same data. Sadly the other metrics are not accessible on a time scale like this, but you can tap that chart icon on the upper right hand corner of the screen to pull the details on any particular day.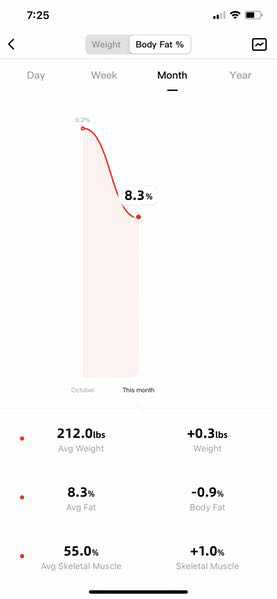 Another neat feature of the app is that you can set it up for multiple family members. You can choose to look at individual data (like myself or my son, shown here). It will also identify if someone else steps on the scale and ask you to confirm who is taking a measurement in the app!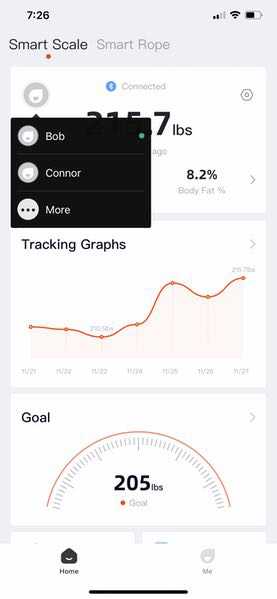 Additional app features include:
Changing the measurement units
Setting timed reminders to get on the scale, including options for multiple times per day if desired
Option to connect to Apple Health or FitBit
"Athlete Mode" for high-activity users
Set target goals for your weight loss
Performance
The Yunmai Smart Scale 3 delivers a two-tiered user experience that works extremely well as a standalone device or paired with the Yunmai app.
The basics are excellent. The device itself is simple, unobtrusive, and straightforward to use. The glass surface is easy to clean. The display is bright and clear. The battery life on a single charge is outstanding at 2+ months. I also did some basic weight testing with 5, 10 and 25 pound weight plates that all registered true on the measurements. Nothing to complain about here.
Pair the device with the app and you have an equally simple & intuitive experience. Just open up the app and step on the scale. The app itself is simple and uncomplicated, and you don't need any advanced study to get up to speed quickly on the basics. The tracking graphs are very useful to measure progress over time, and you can use one device/app for multiple family members. All good there.
My only nitpicks with the app are the detailed biometrics. The information is all there, but I wish there was a bit more documentation or guidance to help understand the measurements to better understand what good looks like. I had to do some research on my own that I think would be better served with support within the app itself. Heavy data consumers might also like to see the ability to map any one of those metrics over time on the same tracking graphs.
I should also note that the Yunmai product page provides an overview of the array of sensors used to calculate some of the more advanced biometrics (like skeletal muscle mass). I don't have the expertise in this area to comment on the validity of the data, but the various sources I checked are careful to note that home-based BIA technologies — especially on inexpensive devices — can see a degree of variation in these sorts of measurements.
What I like
Simple and effective design
Valuable tracking data over time
Excellent usability with the app
What I'd change
More guidance/help documentation would be useful to help understand the metrics
Final thoughts
There's a lot to like about the Yunmai Smart Scale 3. It's a great price for a Bluetooth-enabled digital scale with advanced biometrics measurements. The app is excellent as a tool to help you measure your progress. I wouldn't hesitate to recommend this one to family and friends.
Price: $49.99
Where to buy: Yunmai and you can find a selection of their other scales on Amazon
Source: The sample of this product was provided by Yunmai.