We use affiliate links. If you buy something through the links on this page, we may earn a commission at no cost to you. Learn more.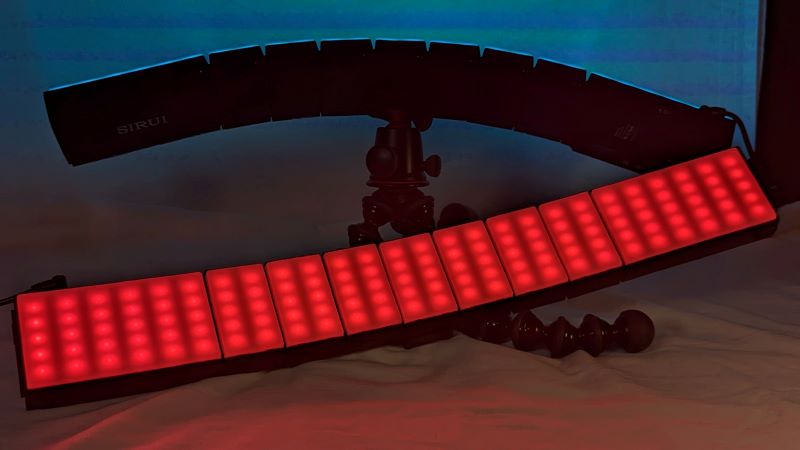 REVIEW – I've been wanting to up my game when it comes to photography so I've been researching lighting equipment that I can fit into my small home office. I need something that offers versatility and portability. I think I've found it with the Sirui Dragon Series Bendable RGB Panel Light B25R kit. Keep reading if you're interested to see if it fits the bill.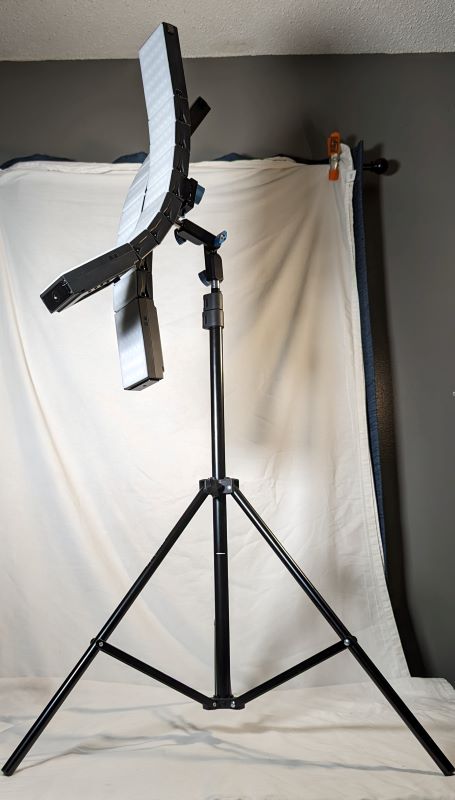 What is it?
The Sirui Dragon Series Bendable RGB Panel Light B25R kit contains two 25-watt bendable continuous LED light strips and can be powered with the included power adapters or rechargeable batteries. Also included with the kit is a bracket allowing you to option of mounting both lights side by side to a single light stand.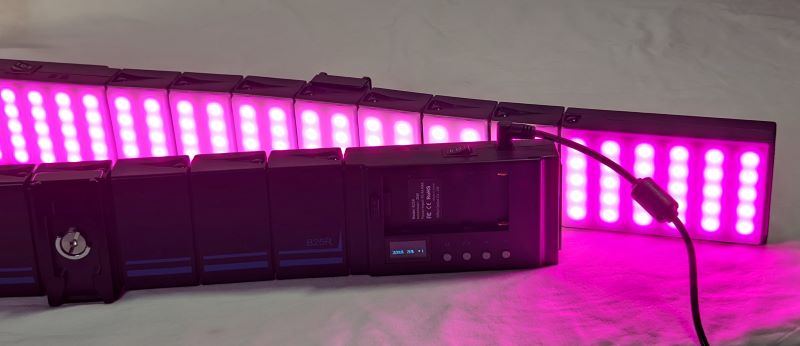 What's in the box?
2 – Sirui Dragon Series Bendable RGB Panel Light B25R in the kit
Connector bracket
2 – Power supply
Warranty card
Card with QR codes for the Sirui website and social media links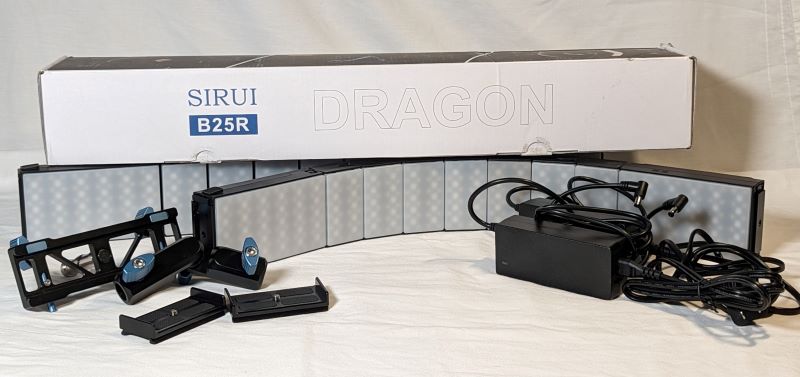 Hardware specs
Size – 583mm x 75mm x 32.3mm/22.95in x 2.95in x 1.27in
Weight – 960g / 2.12lbs
Power – 25W
Power adapter – 9V 4A
Color Temp Range – 2700K ~ 8500K
Special FX – 16 modes
Television Lighting Consistency Index – 98
Color Rendering Index – 96
Working temp – -10⁰ C / -45⁰ F
Control method – Control panel or App
Bluetooth control distance – 15m / 49 ft
LUX – .5m 2000 lux
Design and features
The Sirui Dragon Series Bendable RGB Panel Light B25R is a strip of 9 LED panels, working in concert, to act as one lighting fixture. Each section is connected by a hinge allowing the whole unit to bend and flex, giving you versatility in its application. Bending it forward, you can almost get 90⁰. Bending it backward, you get considerably less, but I don't really see that as an issue.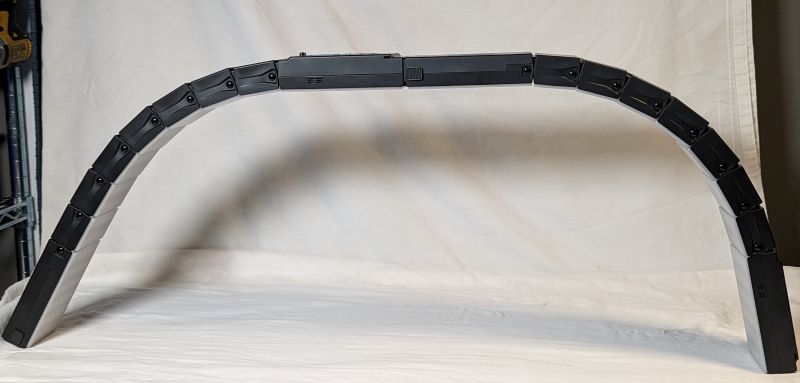 The strips have three ¼" threaded holes, one on the back and one on either end, giving you a few mounting options.  They also have channels on the ends that allow you to connect 2 or more of the Sirui Dragon Series Bendable RGB Panel Light B25Rs together to form one long strip. You will still need a power adapter for each of the B25Rs in that configuration, however.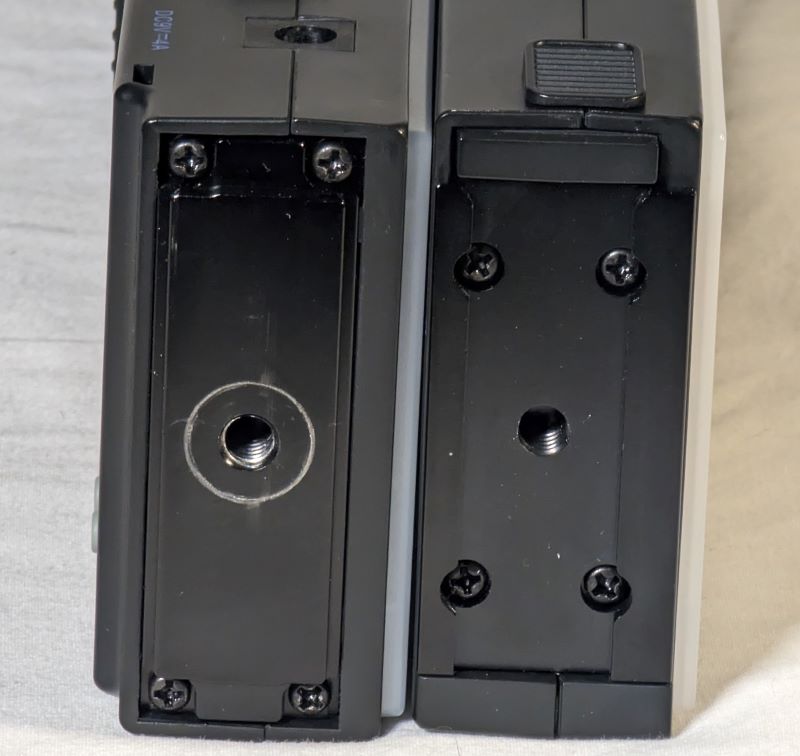 There is a control panel on the rear of the light which consists of a double throw rocker power switch, a display, four control buttons, and a battery compartment. The power switch allows you to run the Sirui Dragon Series Bendable RGB Panel Light B25R using either the power adapter or battery power. On top of that, you can also charge a battery with it as long as it's an NP-F970 battery.  I don't have any so I couldn't test that.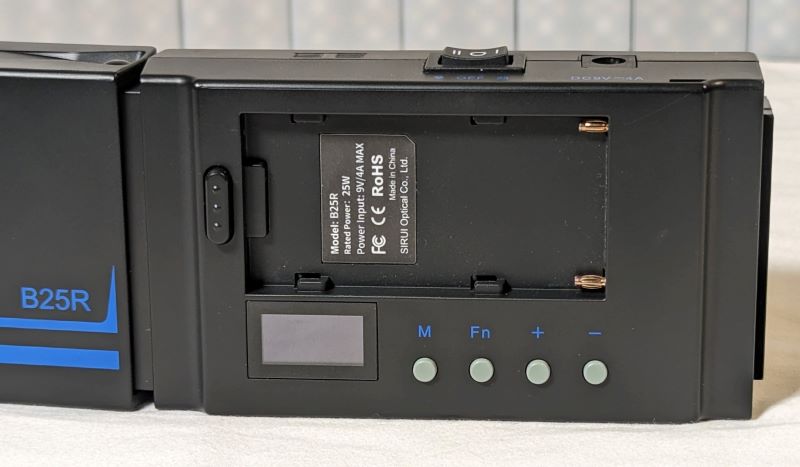 You can do everything you would want to with the operator buttons if you wanted to. To determine what the buttons do, you'll need to visit the Sirui website to download the User manual since one isn't included in the box. I mean it has Mode, Function, +, and – buttons to access every option the B25R offers, but after trying to stumble my way through the menus with the tiny display and buttons, I opted for the Sirui Light app, available for both Android and IOS devices.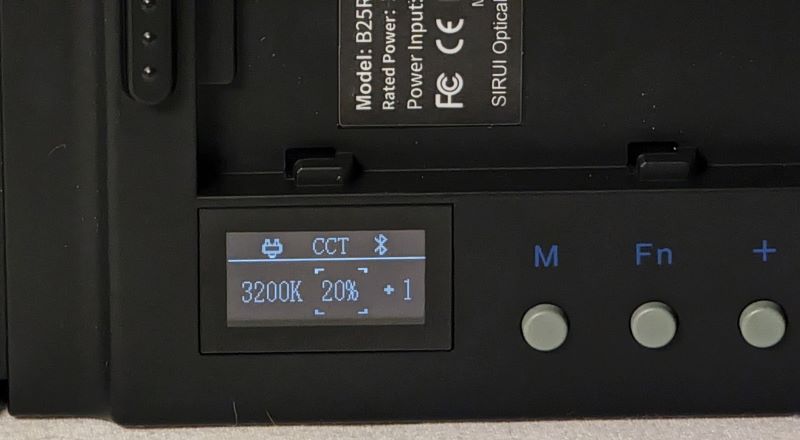 When I first started testing these lights, the link on the website went to the manual of another device so the app was the best way to operate the lights.  That has since been fixed, but I still prefer the app.  The downside would be if you are using your phone as your camera.  You'll either need to use a dedicated camera and your phone or two phones, tablets, or whatever. Not really a big deal but thought I would mention it.
The Sirui Dragon Series Bendable RGB Panel Light B25R can produce light from 2700K all the way to 8500k color temperature with varying brightness levels, and with the app, that can be accomplished with a swipe of your finger.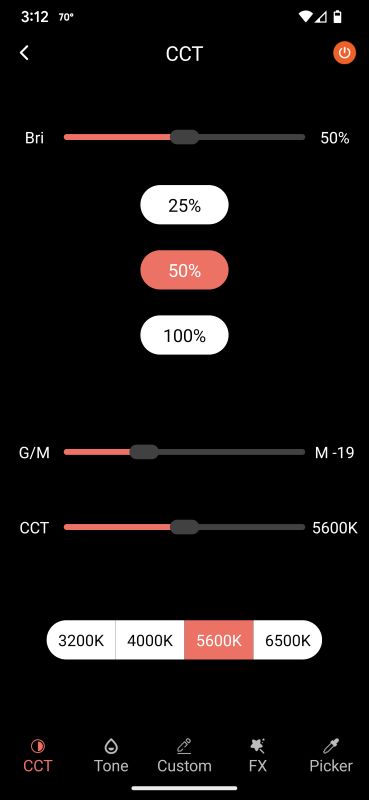 As for color itself, there are some presets you can choose from, or you can use a color wheel and choose your own color.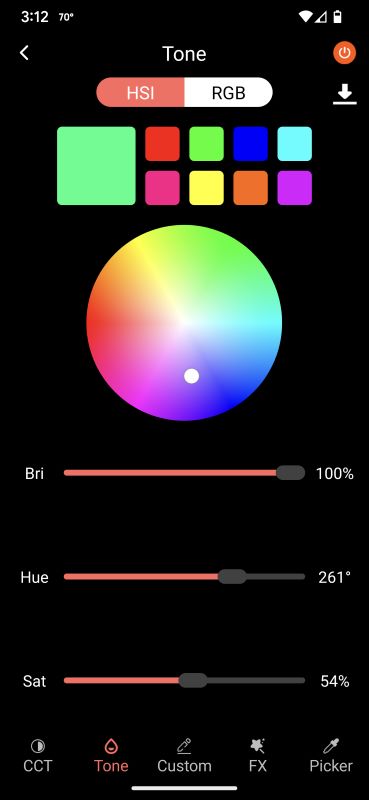 As if that weren't enough, there's also a picker option that uses your phone's camera. Just point at an object of your choosing and touch Pick up and voila! Now the light is that color.  Too cool!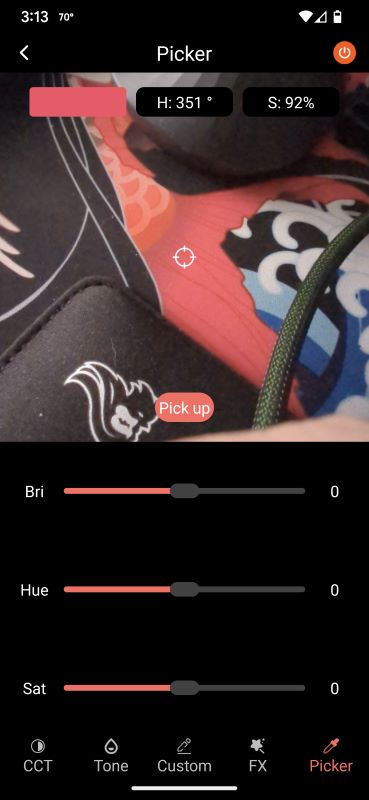 The B25R also has 16 different special effects options, each with three separate speeds, which are actually more like display options.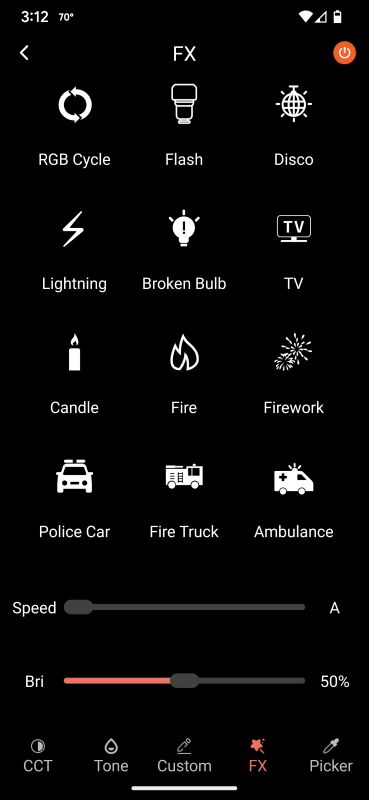 Here's a chart from the manual that can show it better than I can explain it.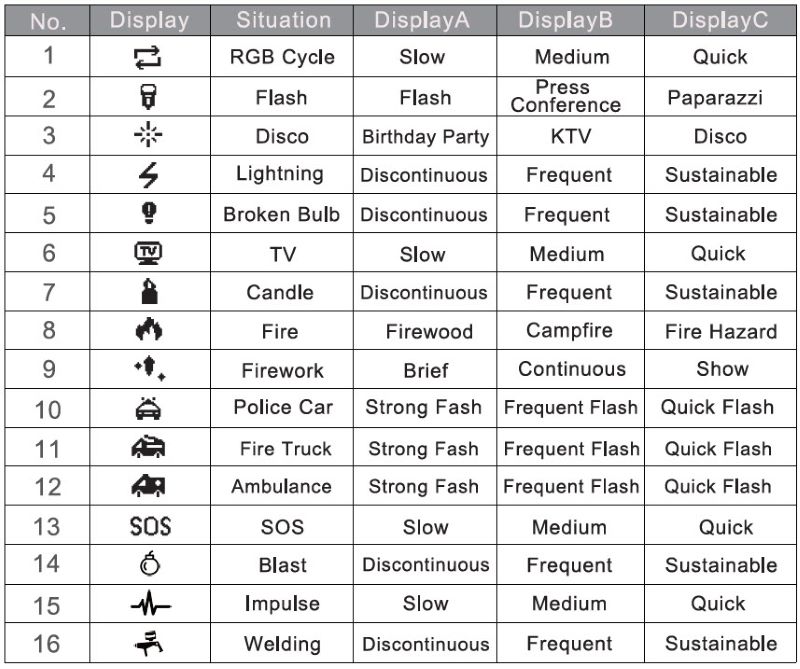 In the manual, it lists a Light Preset mode so you can save some custom settings but only in CCT, HSI, or RGB modes. Saving a CCT setting must only be available using the operator panel.  I don't see the option to save that preset in the app, but HSI and RGB presets can be done from there.
Setup
The setup for Sirui Dragon Series Bendable RGB Panel Light B25R is fairly simple. They attach to almost any ¼" threaded light stands. You can connect two of them end to end to make a long strip, although it probably wouldn't be wise to use the mounting holes on the ends to mount them to stands.
I could be wrong, but I don't think they could deal with that force where the two meet. If you buy the kit, you can mount them side by side on a single stand.  I would suggest using a weight on your stand if you plan on running them up high, just to play it safe.
The manual controls are ok in a pinch, but you'll certainly want a copy of the manual. The tiny display is nice to have but the icons and text are small, making it hard to see what mode it's in. At least, that was my experience. The app is much nicer.
To pair the B25R to your device, you'll need to press and hold the M button to turn off Bluetooth. I originally didn't have the manual, so I just tried a few different combinations and was able to get Bluetooth running. After that, the app detected and connected to the Sirui Dragon Series Bendable RGB Panel Light B25R quickly.
You'll see B25R-XXXX, where XXXX is four numbers. I'm assuming they are part of the Bluetooth address since the 2 lights in my kit differed by the last 4 numbers in the app. You can then select and control each light individually or group them together to use them in tandem.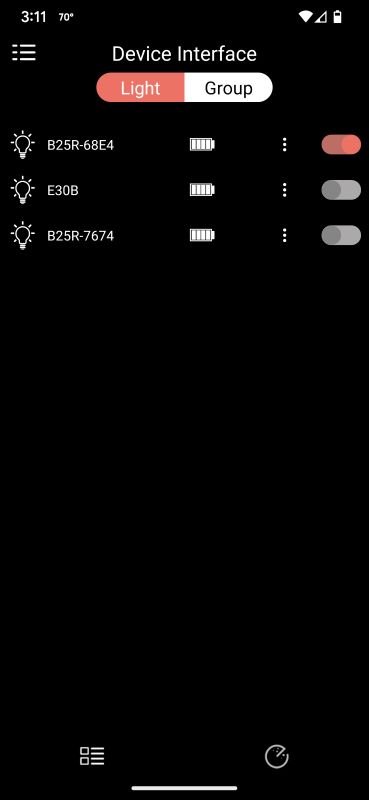 Performance
The Sirui Dragon Series Bendable RGB Panel Light B25R was great to use with the app. With all the color and special effects options, I can see using these often for photography and video creation. And since they're LEDs, they should last a lot longer and run cooler than other options.
The only issue I have while using the B25Rs is the sliders in the app can be finicky. I don't know if it was because of my sausage fingers, but if the sliders were bigger, I think it would work much better.
I made a video of the Sirui Dragon Series Bendable RGB Panel Light B25R functions.
What I like
Tons of lighting options
Multiple mounting options
Power options
The app
What I'd change
Add a manual to the box
Make the sliders in the app larger
Final thoughts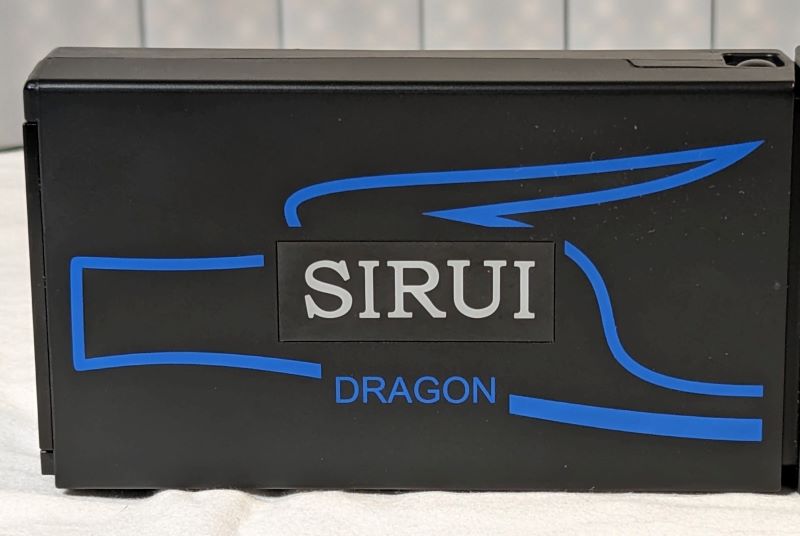 The Sirui Dragon Series Bendable RGB Panel Light B25R is fun to use and oh-so versatile. I can see myself using these often. There's so much it has to offer and is easy to set up and use. If you're any type of content creator, check them out. I'm sure most of you are more imaginative and could make something out of this world with them.
Price: 1 light – $199, $159 currently on sale, The Kit – $399, $319 currently on sale
Where to buy: Sirui
Source: The review sample was provided by Sirui.