We use affiliate links. If you buy something through the links on this page, we may earn a commission at no cost to you. Learn more.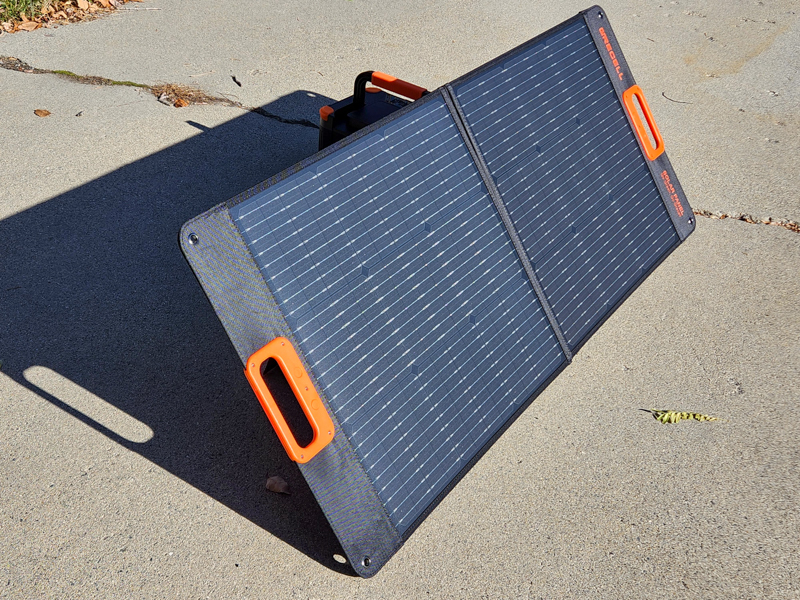 REVIEW – The many "solar generators" we review here at the Gadgeteer are only as good as long as their battery charge lasts, unless you pair them with a good solar panel set. Whether you're setting up a solar generator system for an RV or cabin, or around your own house, or as a backup option in case of power outages, solar panels can be the key ingredient to a good system. I recently reviewed the GRECELL T-500 power station, and GRECELL offered to send the 100 watt version of their Portable Solar Panel system to me to review after the T-500, so here we go!
What is it?
The GRECELL 100W Portable Solar Panel is a solar panel that folds up for portability and unfolds to soak in up to 100 watts of solar energy in order to charge up a power station battery such as the GRECELL T-500 (though you can use pretty much any battery of your choice with the right adaptors as long as they support the voltage range this system outputs). It's dust and water-resistant and supports a wide operating temperature range, so you can use it in all sorts of applications. There are higher wattage options available as well from the product link at the end of the review, though I didn't have the chance to review them. They look very similar with 4 panels instead of two.
What's in the box?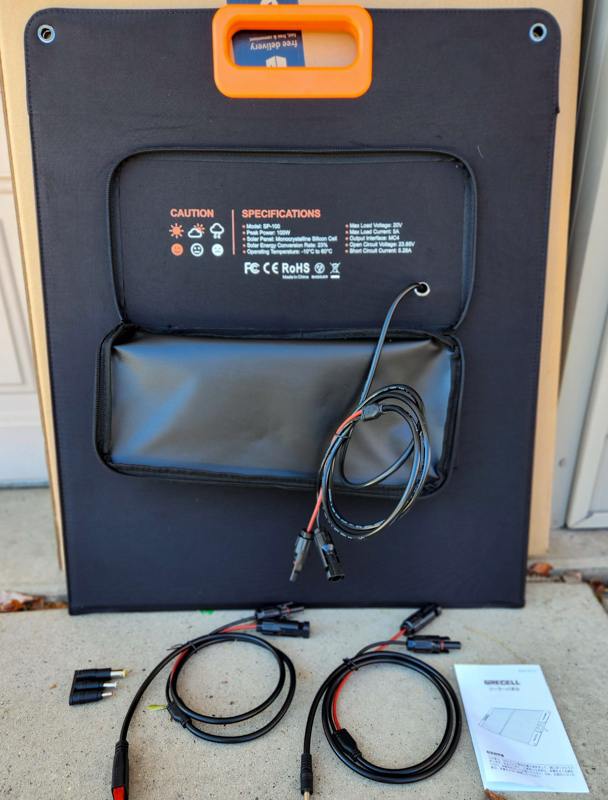 100 W 20 V Foldable Solar Panel
1 x MC-4 to Anderson Cable
1 x MC-4 to DC 5.5*2.1mm Cable
1 x DC 5.5*2.5 mm adaptor
1 x DC 5.5*2.1 mm to 7.9*0.9mm Adapter
Hardware specs
Cell construction: Monocrystalline Silicon Cell
Cell Efficiency: 23.5%
Maximum Power: 100W
Power Voltage/Power Current: 20V/5A
Open Circuit Voltage/Short Circuit Current: 23.85V/5.25A
Connector Type: MC4
Folded Dimensions: 25.2*21.1*2.5in
Unfolded Dimensions: 50.5*21.1*0.2in
Weight: 10.3 lbs / 4.67 kg
Operating and Storage Temperature: 14°F to 140°F (-10°C to 60°C)
Design and features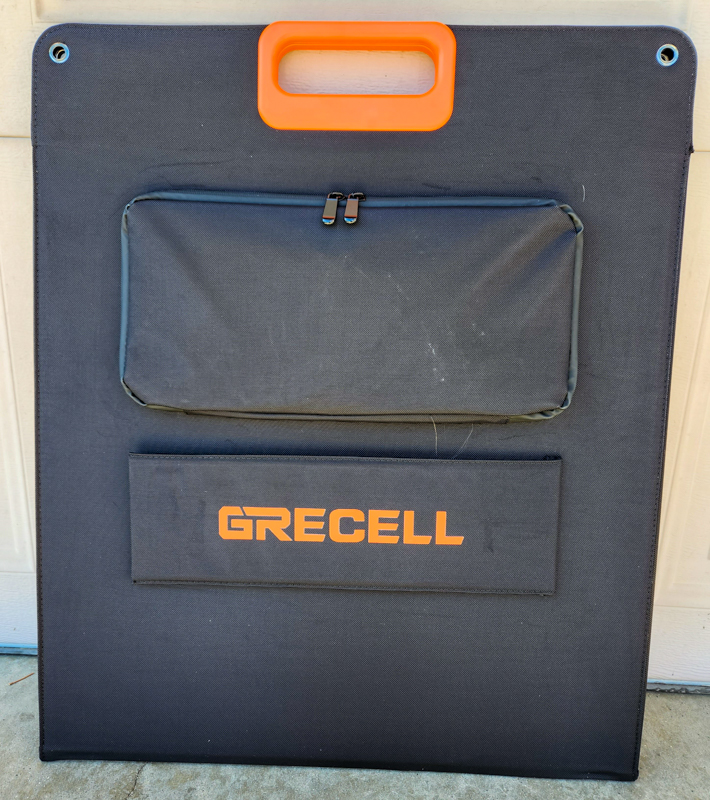 The GRECELL 100W Portable Solar Panel is a rigid thin square shape with a built-in plastic handle (actually two handles on each end that come together when folded up. The entire construction feels secure, and a handy zippered pouch holds the MC4 power connectors (and extra adaptors).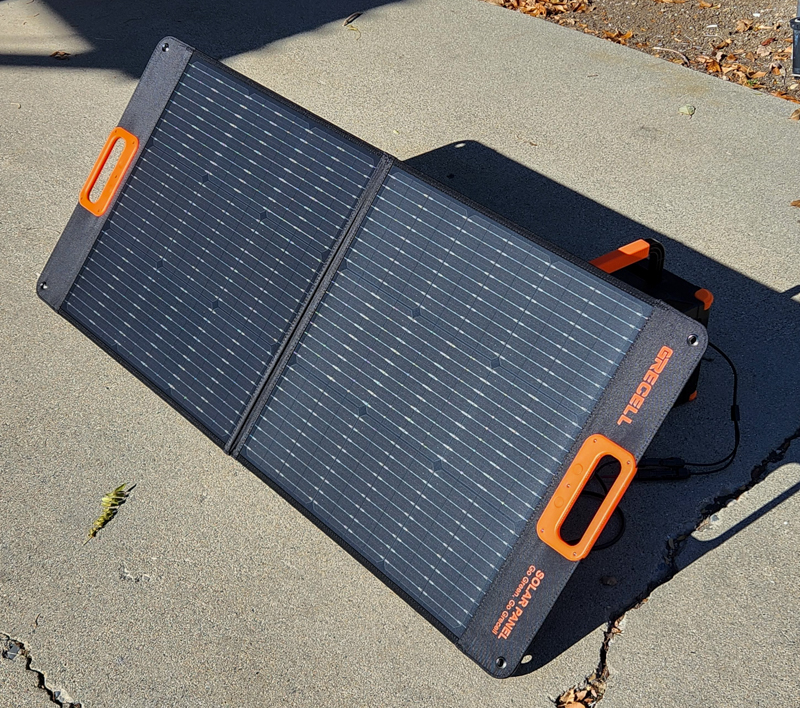 When unfolded, the solar cells start drinking in sunlight. Grommets on the 4 corners could be used to mount the panel to something like a vehicle or wall/roof. The panel can be adjusted slightly to a better angle towards the sun (by moving the kickstands closer or further from the panels.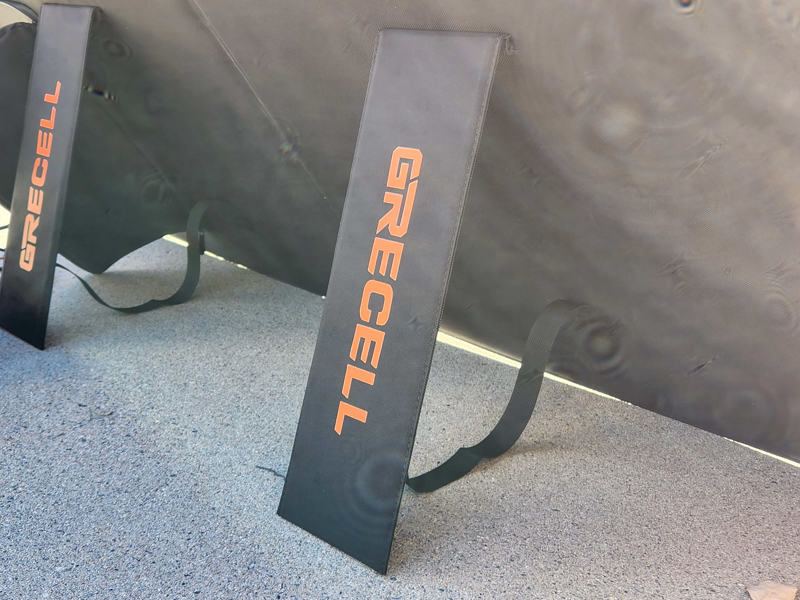 Above are those kickstands, you can see how I've angled the solar panels for this particular winter day while testing.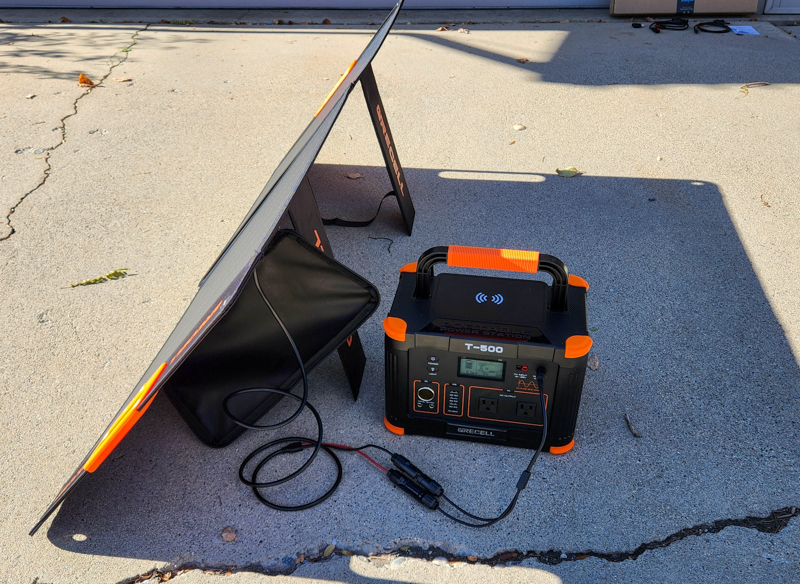 The connections are on the back when deployed, and are easily plugged into your power station. The MC-4 or Anderson connectors are the most commonly used ones that I've run across so far, but a couple of DC tips are also included for other solar generator brands, GRECELL boasts compatibility with 98% of power stations (though I'm not sure what data they used to reach that marketing claim).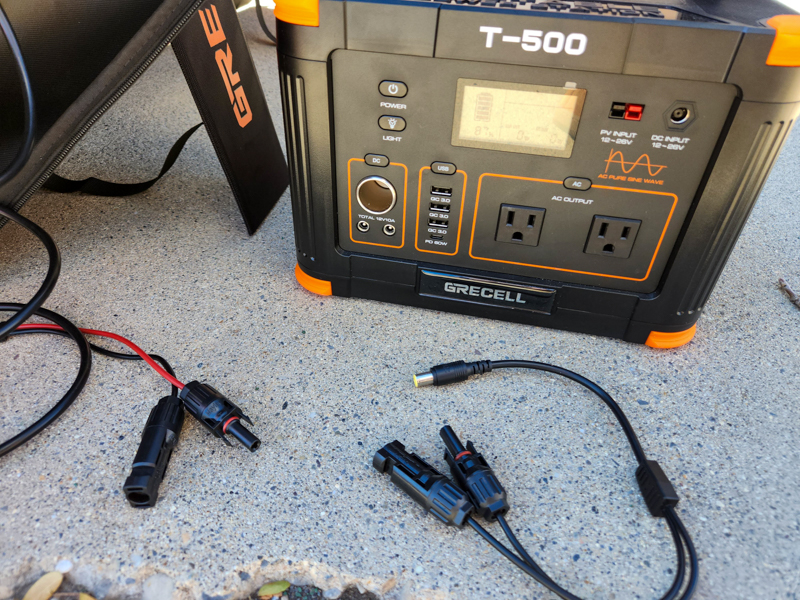 Another nifty trick with the MC4 connectors is that you can hook multiple solar panel units up to a single solar generator battery unit (instructions in the manual cover how to connect the panels to each other and to the solar generator properly).
Performance
Having tested and used a couple of solar panel systems in the past, I was expecting anywhere from 25 to 75 average watts, especially since I was testing on a winter day when the sun was much lower in the sky than in summer. I was pleasantly surprised to see the wattage jump right to 100+ watts and then hover around there nonstop.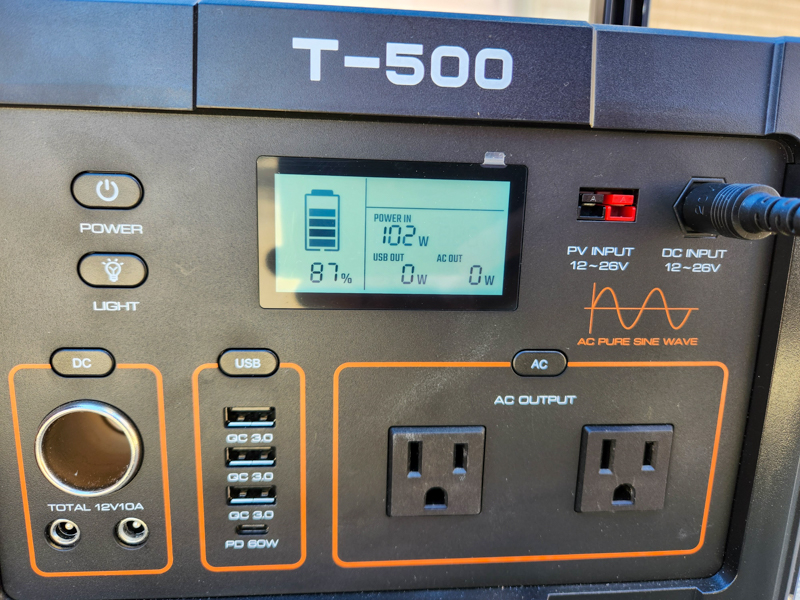 The GRECELL 100W Portable Solar Panel is the first I've used to actually hit it's claimed performance numbers. Paired with the GRECELL T500, I'm now set up for unlimited outdoor power on adventures or camping, as long as there's sun.
What I like
Great performance
Easily portable and quick to set up
I like the MC-4 water resistant connectors a lot that GRECELL uses, they seem better than some of the other options I've tried
What I'd change
I do like seeing USB-A and USB-C connectors on solar panels so you could just use them directly instead of requiring a "solar generator" battery, but I think the most practical application would usually be to couple the solar panels to a generator, so this isn't a big deal for me.
Final thoughts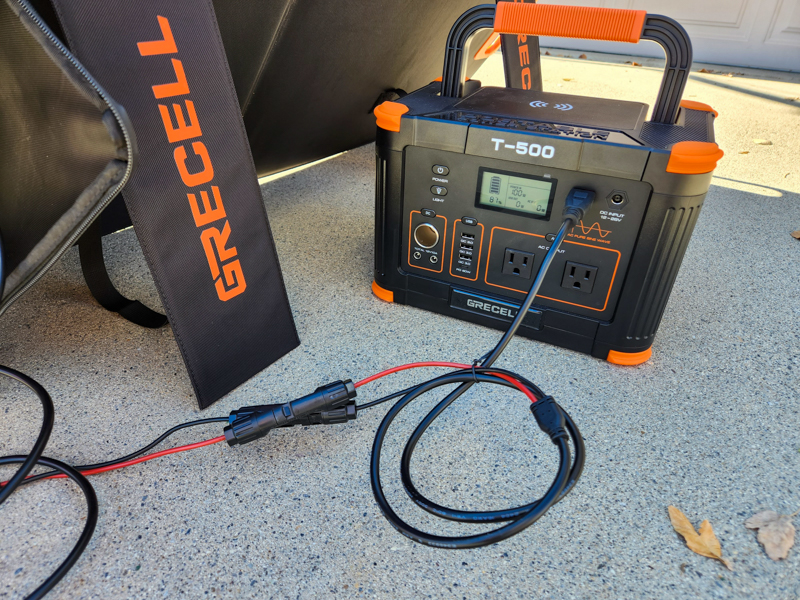 I'm excited to use the GRECELL 100W Portable Solar Panel for some southern Utah adventures next year, setting it up at camp near Zion's or Arches National Parks,  and watching movies on a projector and outdoor screen at night is always a blast. We've had a couple of power outages over the last few months as well, and solar panels + solar generators like this are great for keeping some essential things running. The price seems competitive with others on the market currently, two thumbs up from this writer.
Price: $199.99
Where to buy: Amazon (Use code: YFIBPQVE to save 5% + instant 20% discount clip coupon)
Source: The sample of this product was provided by GRECELL