We use affiliate links. If you buy something through the links on this page, we may earn a commission at no cost to you. Learn more.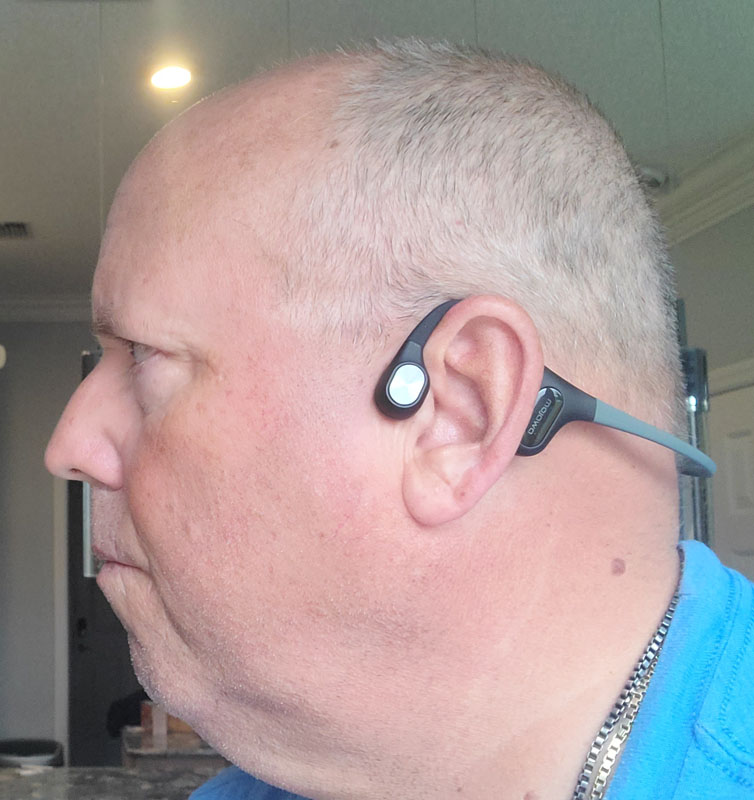 REVIEW – Just about a year ago, I reviewed the Mojo 1 bone conduction headphones from Mojawa. It was my first experience with bone conduction headphones and I was impressed.  Mojawa released Mojo 2 – the next generation of their headset.  Let's check out what's changed and what hasn't.
What is it?
The Mojawa Mojo 2 is a bone conduction headphone that uses transducers to transmit sound into your ear through the bones on the side of your head.  The benefit is that there is little to no sound leakage and your ears are open.
What's in the box?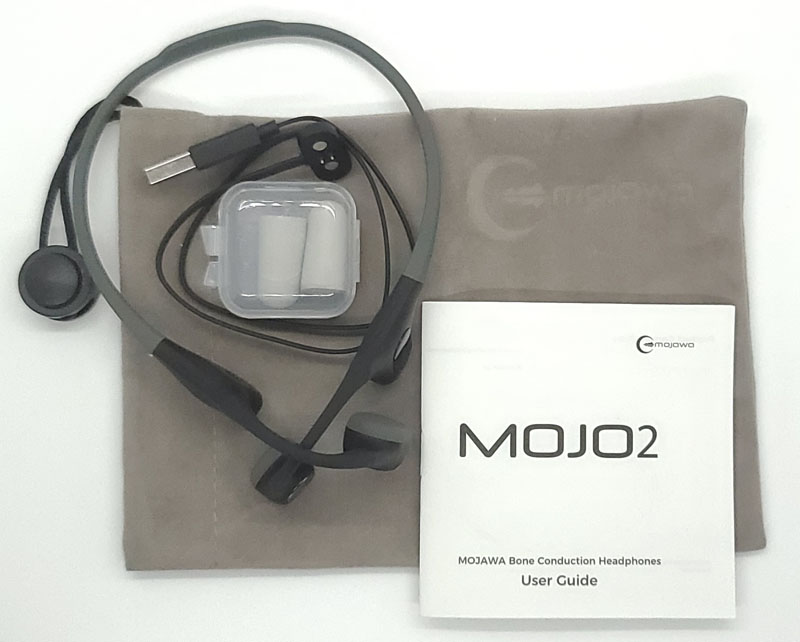 Mojawa Mojo 2 bone conduction headphones
USB magnetic charging cable
User guide
Foam earplugs (if you want to eliminate outside sounds)
Cloth carry pouch
Hardware specs
Weight: 26g
Materials: Soft silicone, UV and nano-coating, full titanium body
Water resistance: IP67 – Complete protection against ingress of dust and airborne particles. Protection against water and liquids, up to and including immersion in up to one meter of water.
Power: 130mAh Lithium Ion battery, 8-hour playtime, 80-minute charge, 5-minute quick charge for a 50-minute playtime
Noise cancelation: Yes, electronic noise cancelation
Bluetooth version: 5.2
Colors: Black, white, red (not currently available), blue (not currently available)
Design and features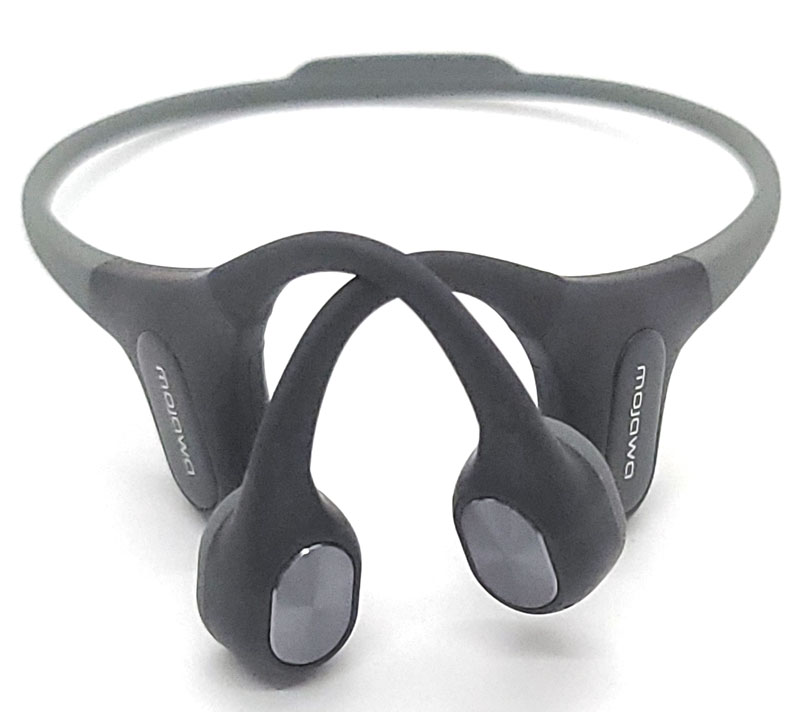 The Mojawa Mojo 2 bone conduction headphones are styled like most other similar headphones.  They fit behind your head and over the top of your ears, resting just ahead of your ear opening.  This is where the magic happens as the transducer imparts vibrations into your bones where it is transmitted directly into your ear.  If you've never tried bone conduction headphones, the effect is a little freaky, but cool.
Mojo 2 changes the design aesthetic, removing almost all the physical buttons.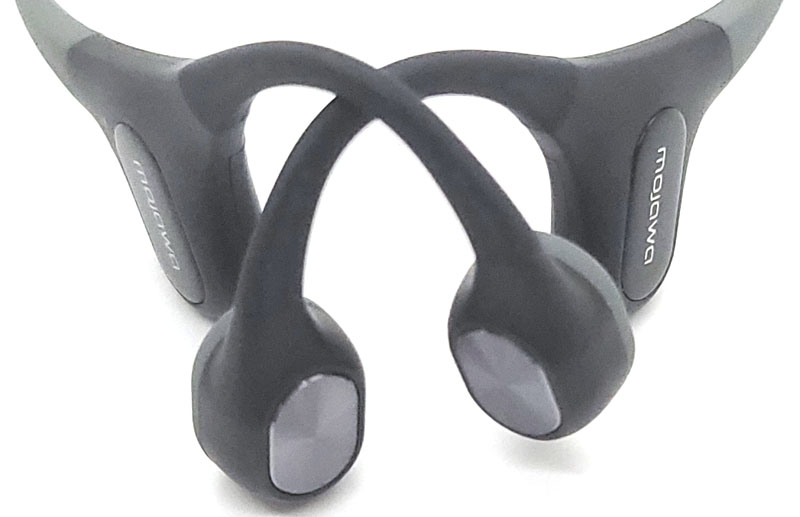 The silver ovals on the outside of the transducer are stylish.  The one on the left side is a physical button.  Tapping it does the following:
Press 1 time: Play/pause; answer a call; hang up a call; cancel a call when dialing
Press 2 times: Play next track; reject a call; invoke voice assistant
Press 3 times: Play previous track
Other functions available when handling multiple simultaneous calls
The right one is decorative.  But, look behind that.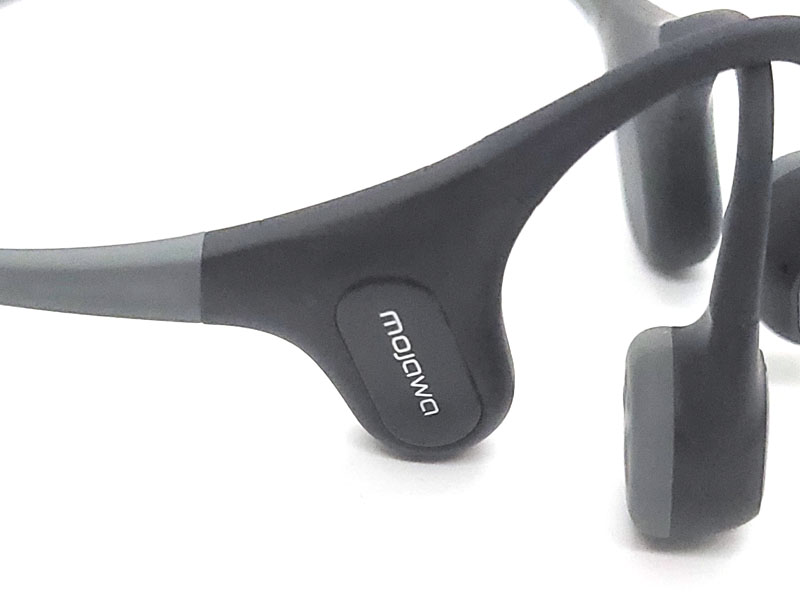 There is a glossy Mojawa logo on both sides.  The left logo is decoration.  The right one is a hidden volume control.  Sliding your finger up or down raises or lowers the volume.  The speed at which you slide dictates how quickly the volume changes.  Slide really slowly – make a small volume adjustment.  Slide quickly  – change the volume in larger steps.  Slick.  Those are the only two controls on the entire headset.
In addition to being the volume control, the Mojawa logo also illuminates for various reasons.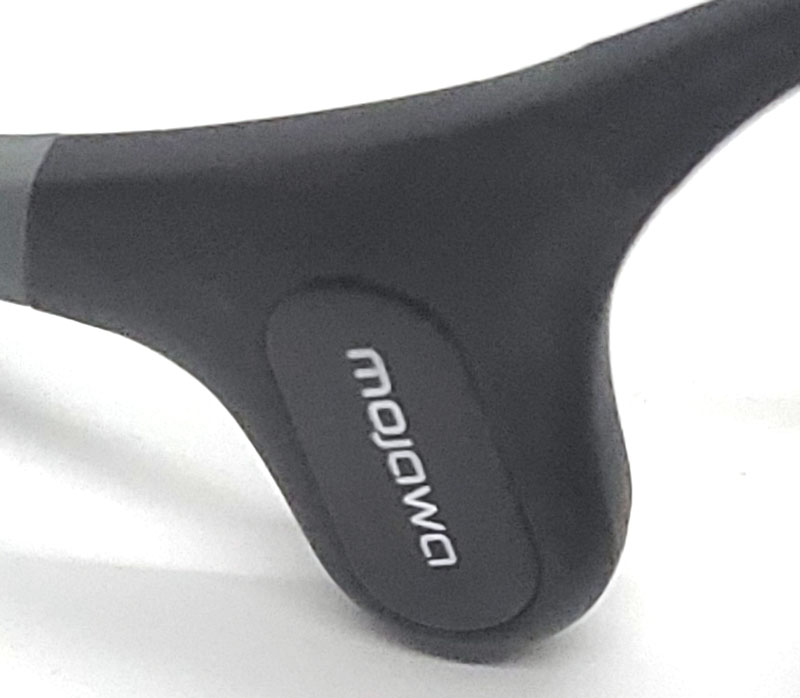 Lights up briefly when powering on
Flashes slowly when not connected
Flashes quickly when pairing
Lights up briefly and then turns off when paired
Flashes slowly when charging at medium capacity
Flashes quickly when rapid charging when the battery is low
When in use:

Flashes three times quickly – low battery
Flashes three times slowly – very low battery
On the inside of the logo lobe, we see the two-pin magnetic charging port.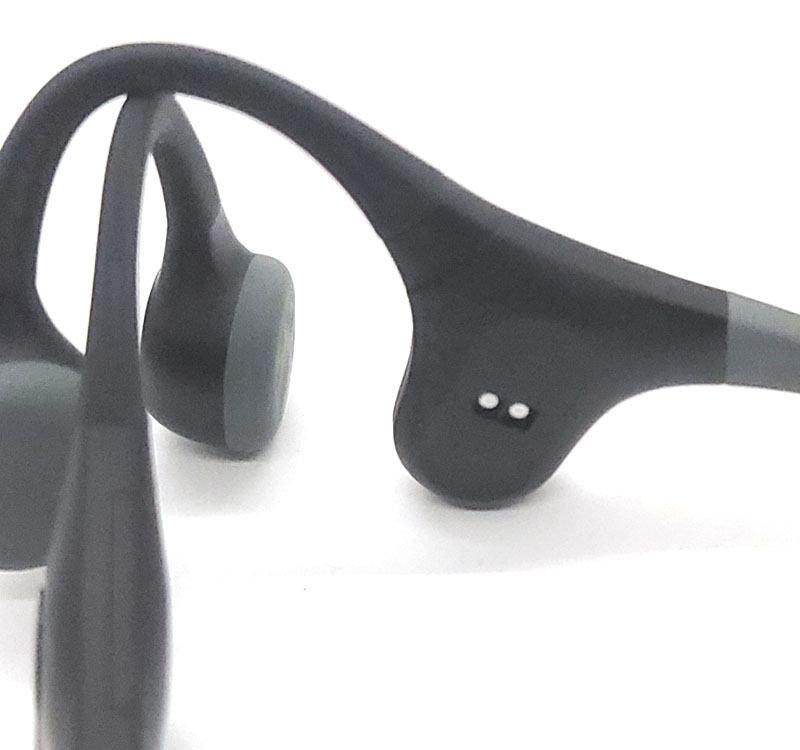 The pins on the USB charging cable align with the contacts when you orient the charging cord vertically.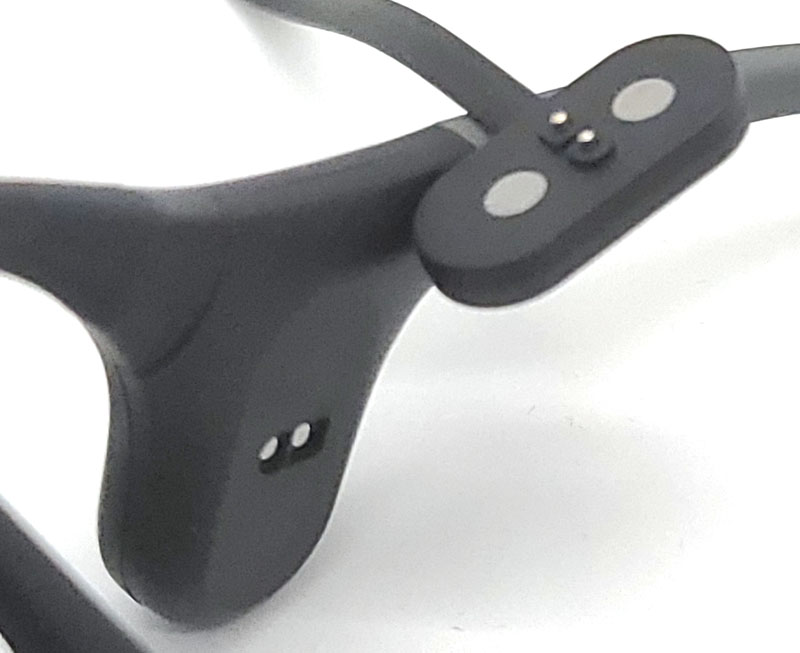 When you get it close, magnets snap it into place.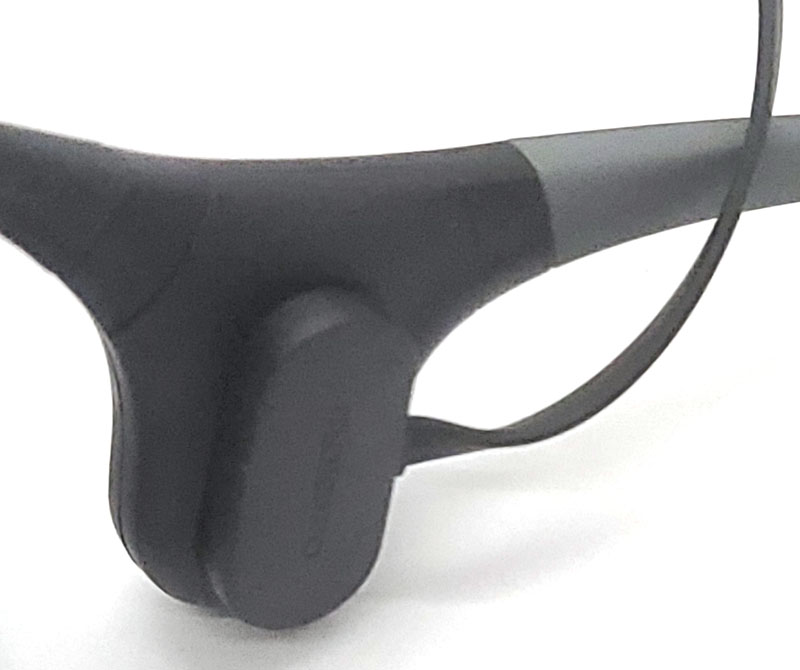 Once again, it is a proprietary charging cable.  Can't the magnetic charging headphone people come up with a standard?  Please?
Setup
Seeing up the Mojawa Mojo 2 bone conduction headphones is straightforward.  After charging them, I turned on the headphones and my phone found them immediately and asked to pair. Easy Peasy.
Performance
Good looks and slick functions are great, but when it comes to headphones, it's all about the sound. These sound good, really good.  They are a step up from the Mojo 1 model, which also sounds great.  Bass response is improved and they just sound good.  I was impressed with how little sound leaks from these.  Even at louder volumes, it is nearly impossible for anyone around you to hear them.  That's important, especially if you're using them to handle a phone call.  I should also mention that phone calls sound spectacular on both ends.
One thing that happened when I reviewed Mojo 1 was the inevitable questions/comments from readers about whether this was just a knockoff of Aftershokz – now known simply as Shokz.  As it happens, I also have a pair of Shokz OpenRun Pro bone conduction headphones here from our 2022 Father's Day gift guide.  Sounds like time for a test.
Let's compare features.  Shokz has a slightly longer battery life.  The Mojawa Mojo 2 bone conduction headphones have better water resistance.  Both are incredibly comfortable – great for all-day wear. Both look great.  It all comes down to sound.  I started playing music simultaneously on both the Mojawa Mojo 2 and Shokz OpenRun Pro headphones. I tried closing my eyes and swapping them, but I always knew which was which.  I formed an opinion about which sounded better, but I assumed I was biased.  What to do?  I know!  I'll enlist the services of my lovely wife!
Since she had never used either one and didn't know which was which, it made her the perfect blind tester.  With the same music playing on both headsets, she kept flipping back and forth A/B/A/B, and ultimately, she handed me one and said that this pair sounded…more full.  Better bass and just better overall sound.  One pair was perhaps a 6/7 on a scale of 1-10 and the other was 8/9. And, she agreed with my potentially biased assessment of which sounded better.  That cemented it for me.  The better-sounding pair by a very slim margin, at least to our ears is…the Shokz OpenRun Pro.
I need to point out that this wasn't an easy test.  It took multiple swaps for both of us, and the difference wasn't great.  Why is that important?  If you look at the Shokz website, the OpenRun Pro sells for $179.99.  On Mojawa's website, the Mojawa Mojo 2 bone conduction headphones are on sale for $99.99 – 45% less than the Shokz.  That's a huge difference in price for a relatively modest difference in sound.  That makes the Mojo 2 a bargain in my book. Even at full price, they're still 17% less than the Shokz OpenRun Pro headphones.
One thing I don't like is the volume of the prompts.  When you turn on the headphones, a voice says, "Power on", and then, "Connected".  When you turn them off, it says, "Power off".  The volume level is loud – really loud.  And, there doesn't seem to be a way to change it. I turn them on before I put them on and turn them off after I take them off.  It is that annoyingly loud.
What I like
Great sound, but could use a little more bass
Slick controls
Good looks
Great water resistance
Good battery life
What I'd change
I hate proprietary charging cords, but I get it so it is water resistant
I'd like a little more bass response
The power on/off and connected messages are too loud and can't be changed
Final thoughts
The perpetual question on almost all non-Shokz bone conduction headphones seems to be: aren't these just Shokz knockoffs?  I don't really understand that as nobody accuses Sony of knocking off Bose or any other headphone manufacturers.  The Mojawa Mojo 2 bone conduction headphones are its own product and a darn good one at a terrific price. If pricing is a consideration to you, (and to at least some point, isn't it for everyone?), then Mojo 2 bone conduction headphones are worth a listen.  They come with a 30-day money-back guarantee, so it is risk-free to try.
Price: $99.99 currently on sale from $149.99
Where to buy: Mojawa and Amazon
Source: The sample of this product was provided by Mojawa.