We use affiliate links. If you buy something through the links on this page, we may earn a commission at no cost to you. Learn more.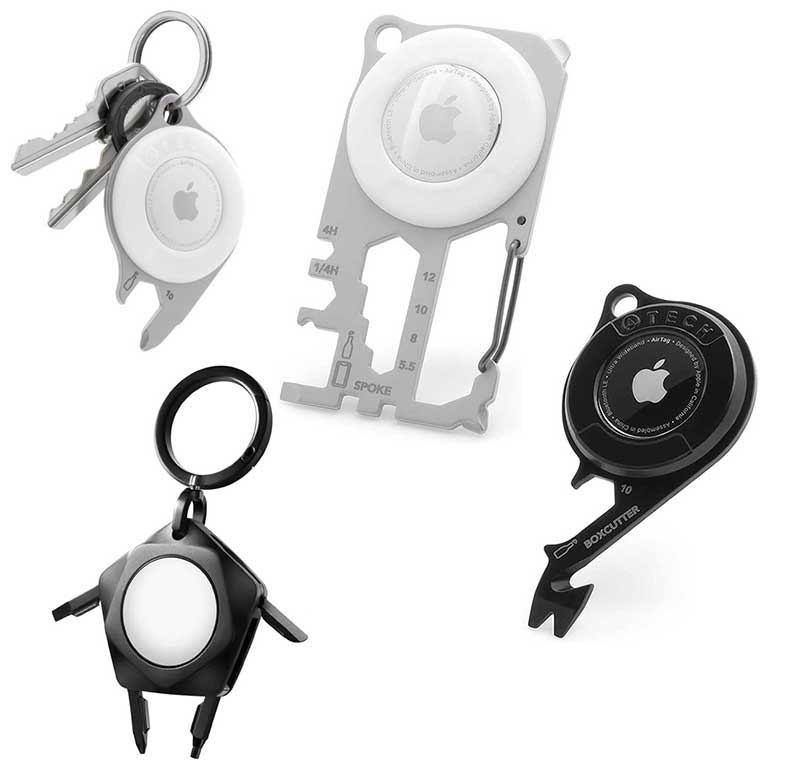 NEWS – AirTags are useful tools for keeping track of your gear. These tiny disks from Apple work with Apple's Find My app on your phone, iPad, or Mac to show where that tag is even if it's miles or continents away from you. Cool right? Many people use them to keep track of their luggage while traveling. In and of themselves, these inexpensive gadgets are great but really only have one function – tracking. But you can add to their functionality with these 4 special cases from Pitaka and ATECH that turn them into multi-tools. At least 3 of them do.
Pitaka PitaTag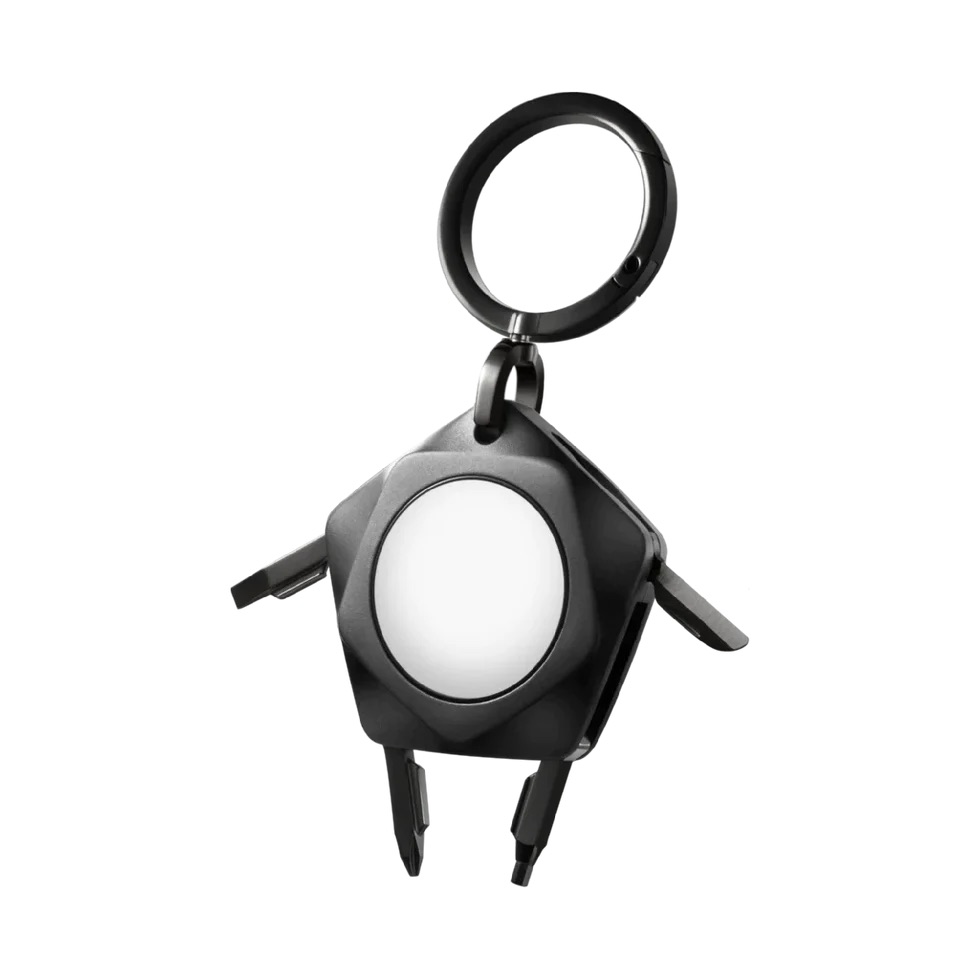 I wrote a Pitaka PitaTag review back in June so you can click that link to go find out all the details, but this one is more of a novelty than a truly useful tool. The PitaTag case looks like a person when you unfold the tiny tools which include a less-than-useful microscopic knife and slightly more useful screwdrivers. The PitaTag is available from Pitaka or Amazon for $59. Yeah, don't buy it. I just included it here because it fits the category of what I'm writing about. Much better options are below. But if you're looking for a great iPhone case (they are my favorites…) then do check out Pitaka.
ATECH AirTag Multitool 10-in-1 Ultra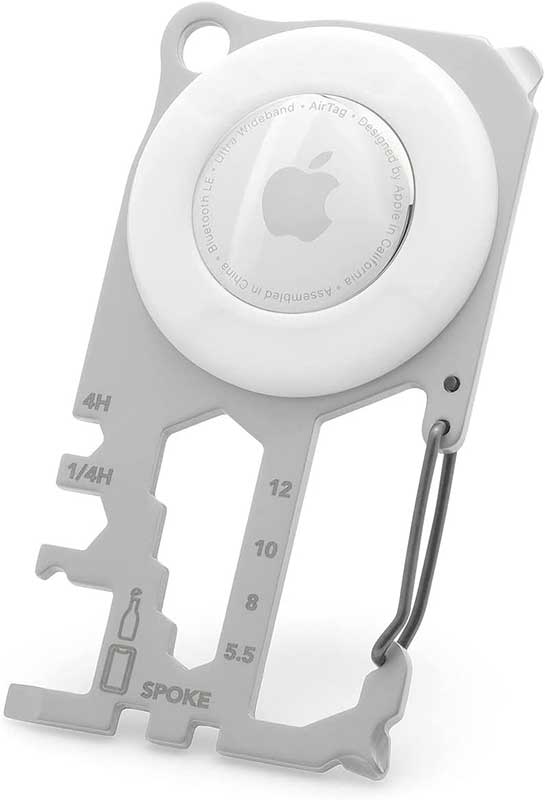 This case holds your AirTag and gives you 10 tools including a gate clip that you can use to attach this tool/AirTag combo to your backpack or other bags for easy tracking in case of theft or accidental loss. What do you get? This stainless steel multi-tool features a keychain loop, carabiner, 3.5/4mm spoke wrench, 4mm hex wrench, 1/4H hex wrench, 5.5/8/10/12mm hex wrench, Phillips screwdriver, flathead screwdriver, bottle opener, phone stand, a bicycle spoke wrench. Want one? It won't break your wallet at only $39.99 from Amazon. Oh, it also comes in black.
ATECH AirTag Multitool 5-in-1 Box Cutter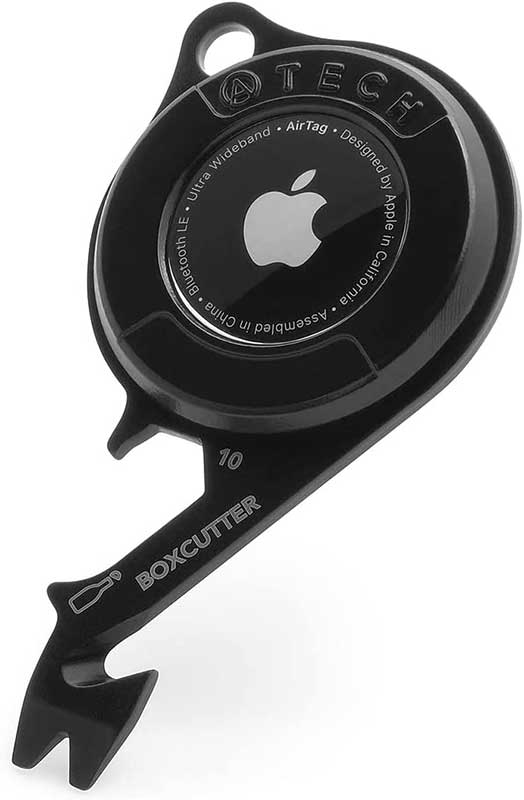 Let's stick with ATECH because they seem to be the leader in AirTag multi-tool cases. This one is their 5-in-1 Box Cutter case. It is also available in black or silver and is made of stainless steel. It features a keychain loop, 10mm hex wrench, bottle opener, box cutter, nail puller, and a bicycle tool. This one is $29.99 from Amazon.
ATECH AirTag Multitool 4-in-1 LITE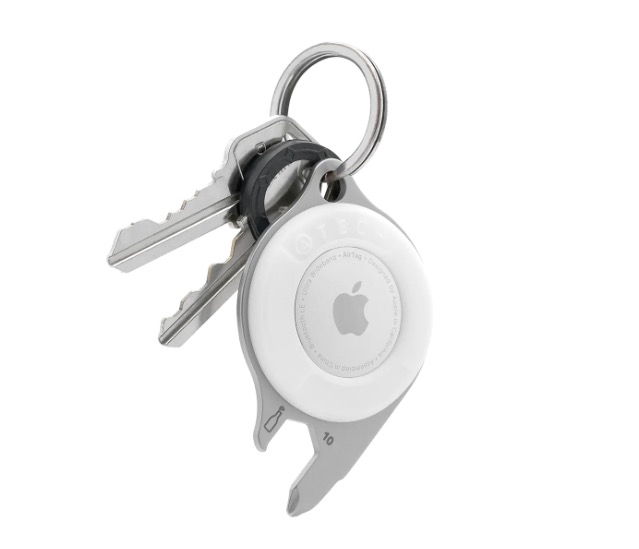 For a truly minimalist multi-tool, we have the ATECH LITE AirTag holder. Like the others, it's made of stainless steel, comes in black or silver and this one features a keychain loop, 10mm hex wrench, bottle opener, Phillips driver, and a bicycle tool. It's the same price as their 5-in-1 at $29.99 and you guessed it, it's available on Amazon.
Here's my question for you. Do you use AirTags? What kind of cases/holders do you use for them? Leave your answer in the comments below!