We use affiliate links. If you buy something through the links on this page, we may earn a commission at no cost to you. Learn more.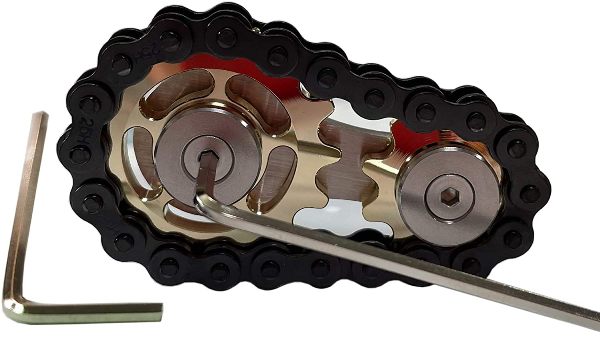 NEWS – Do you have a lot of nervous energy and love using fidget toys? The Bitopbi Sprocket and Chain fidget toy would be a great addition to your collection. This cool little toy (made for teens and adults) looks like a miniature bicycle chain and sprockets. You can spin it between your fingers, run it along a surface, or take it apart and put it back together (the description says that it comes assembled).
This fidget toy is made from stainless steel and carbon steel and measures 2.36 in. x 1.42 in. x 0.47 in. (60 mm x 36 mm x 12 mm).
Some of the reviewers have stated that the toy is smaller than they expected and that the gears are a little rough around the edges or that the washers are loose. Others don't have those issues. But most seem to enjoy using it. I don't have this toy but I do find gear toys fascinating so I may get this for myself in the future.
The Bitopbi Sprocket and Chain fidget toy is available on Amazon. It comes in different colors:
Black chain + silver gears: $22.99
Black chain + colorful gears: $22.99
Black chain + gold gears: $22.99
Silver chain + silver gears: $23.66
This would make a great stocking stuffer for those of you thinking about gifts for the holidays!