We use affiliate links. If you buy something through the links on this page, we may earn a commission at no cost to you. Learn more.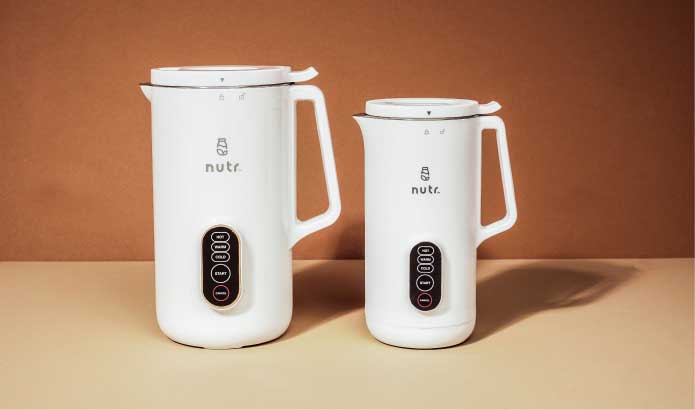 CROWDFUNDING NEWS – Before I started making my own nut milks, I used to buy almond, soy, and coconut milk from the grocery store. These store bought milks had sketchy ingredients, and I would often waste part of the carton due to forgetting it was in the fridge and most of the packaging was not recyclable. That all stopped when I started making nut milks with the Chefwave Milkmade, but that unit takes up a lot of space on my kitchen counter. The Nutr plant-based milk maker is easier and more compact. Their 2nd gen Nutr is currently on Indiegogo and is definitely worth checking out. But do it quickly because their campaign is ending in only 12 hours.
What is it?
The Nutr looks like a pitcher, but it's actually a specially designed blender with a heating element that can blend nuts like almonds, soy, coconut, pistachios, walnuts, peanuts, etc into plant-based milks.
Why do I like it?
They recently sent me their first-generation Nutr to review and I love the size compared to the Chefwave. That said, the original unit can only make 1-1.5 cups of milk at one time, so it's fine for one person, but not for a couple or a family. The Nutr 2.0 comes in two sizes. The smaller size can make up to 350mL/1.5 cups, and the larger version is 600mL/2.5 cups.
I'll be posting my review of their first-generation unit in the next day or so and already like it quite a bit even though it has some caveats which I'll mention in the review. But from what I'm seeing in this campaign, they have addressed all of my minor complaints in this new version so I can already tell you that I can recommend it.
Where can I find more info?
The Nutr 2.0 plant-based milk maker campaign ends on 10/28/22 and they have already passed their funding goal of $10,000 by more than 6 times. You can pre-order a Nutr 2.0 plant-based milk maker starting at $215. After the Nutr 2.0 plant-based milk maker campaign ends, rewards are estimated to start shipping in January 2023. Visit their Indiegogo page for all the details.