We use affiliate links. If you buy something through the links on this page, we may earn a commission at no cost to you. Learn more.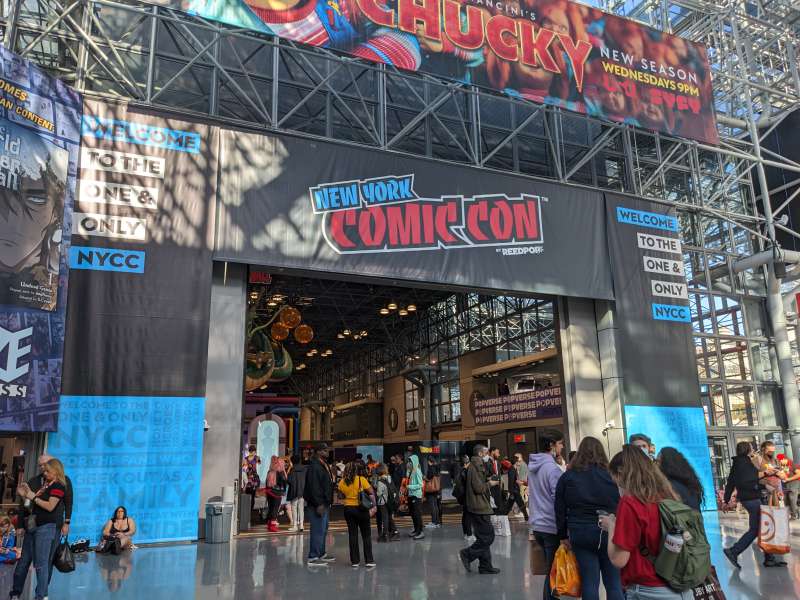 ARTICLE – October, is the most wonderful time of the year! Along with cornfield mazes, scary hayrides, and colorful foliage, it's time for my most favorite thing of all, the New York Comic Con (NYCC)! Along with 200,000 other fans, I returned to the Jacob K. Javits Convention Center in New York City for the 2022 Comic Con, and boy was it worth it! From the show floor to the unique vendors to the crazy cosplay, we covered it all during NYCC this year.
This was the second NYCC since being canceled in 2020 due to the COVID pandemic and the con was back in full force. Major exhibitors like Marvel and Funko, who sat out NYCC 2021, returned while big publishers like Image and Dark Horse were still no-shows.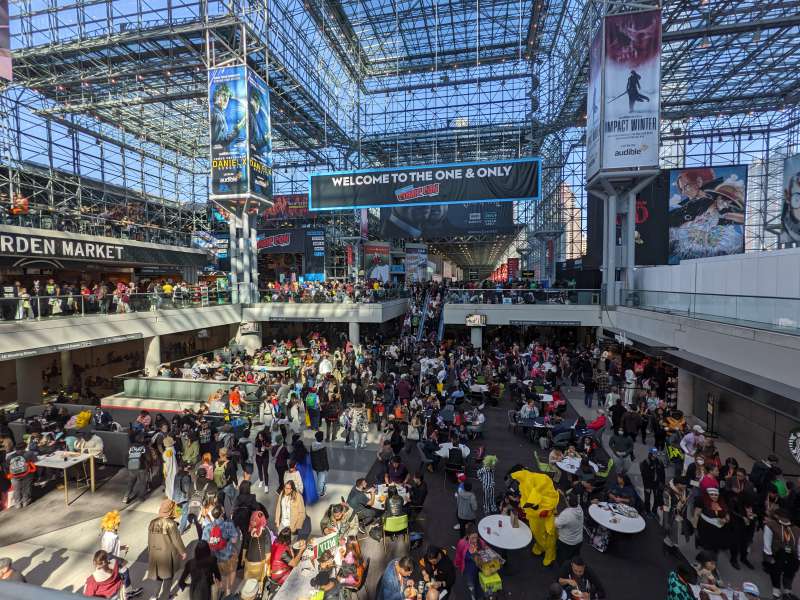 There were mask restrictions put in place, but enforcement was pretty lax over the four days the con was held. If there was any hesitation to returning to the crowded elbow-to-elbow lanes of the main show floor it wasn't apparent to me as people jam-packed the Javits Center to see their favorite pop culture properties. The lines were long, the kids were excited, and there was no shortage of cosplay body paint as people tried their hardest to make this NYCC feel like it did in the COVID before-times.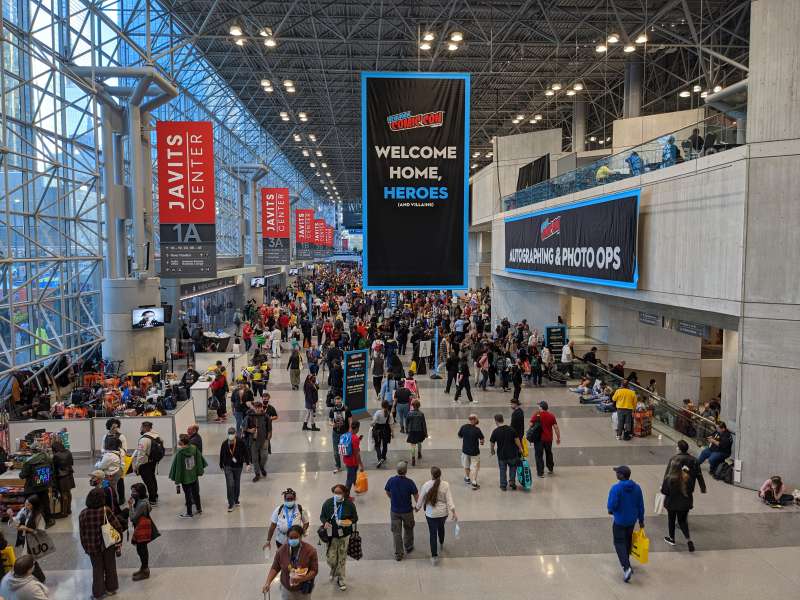 To get a sense of what it was like to be on the floor of NYCC this year check out the walk-through video we did on the busiest day of the con.
All the old standbys were back including celebrity photo ops, autographs, tabletop gaming, panels, and tons of amazing art. The aisles were a lot wider, reducing booth space on the floor but since the Javits Center was significantly expanded recently it felt like there were just as many exhibitors as in past years.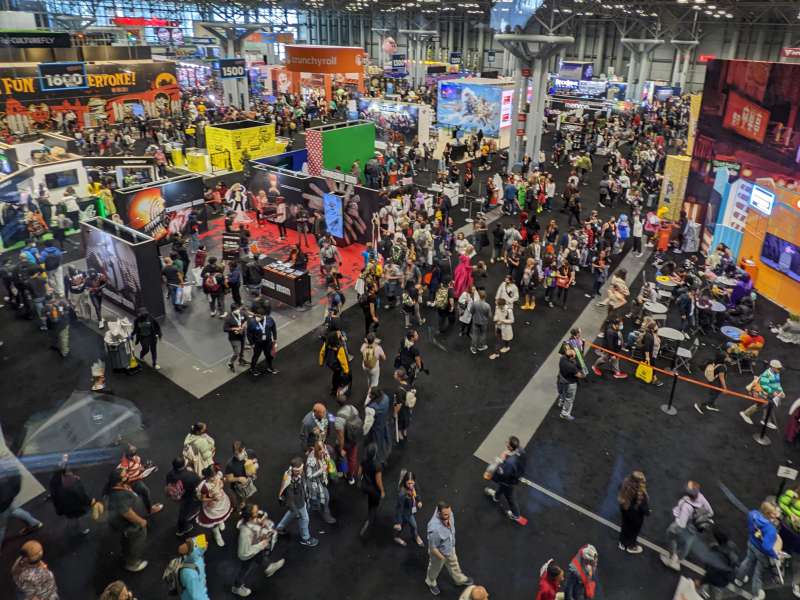 The long lines for the panels definitely attested to the fact that there were at least as many attendees as in previous years.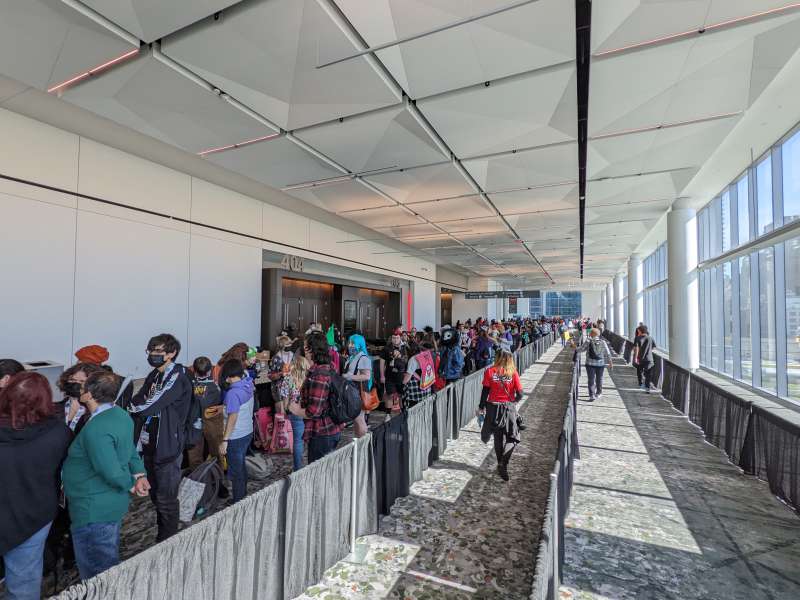 Artist Alley, where talented artists set up booths to sell their amazing art, was easily the most crowded I've ever seen. Even with the widened walkways, people were packed in trying to pick up pieces from their favorite artists.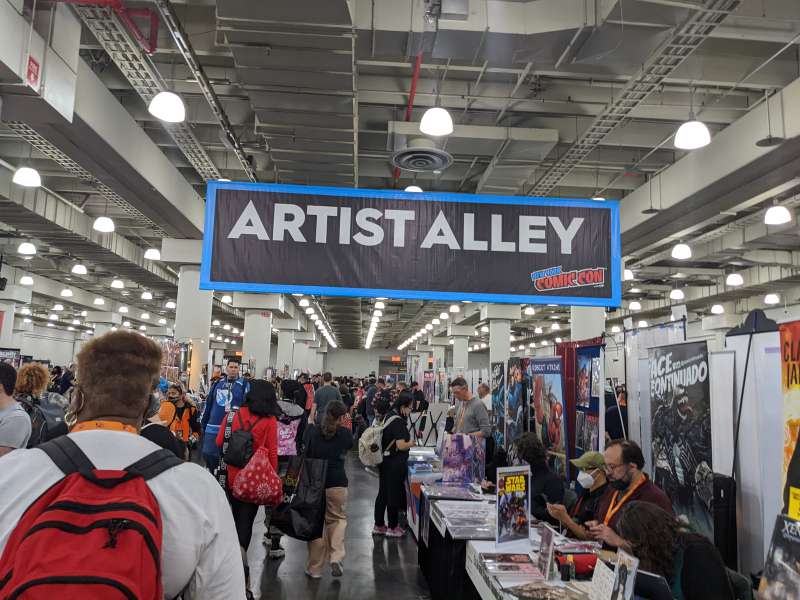 With the return of the crowds, Thursday was pretty much the only day when there weren't any lines for the delicious food trucks lined up outside the Javits Center.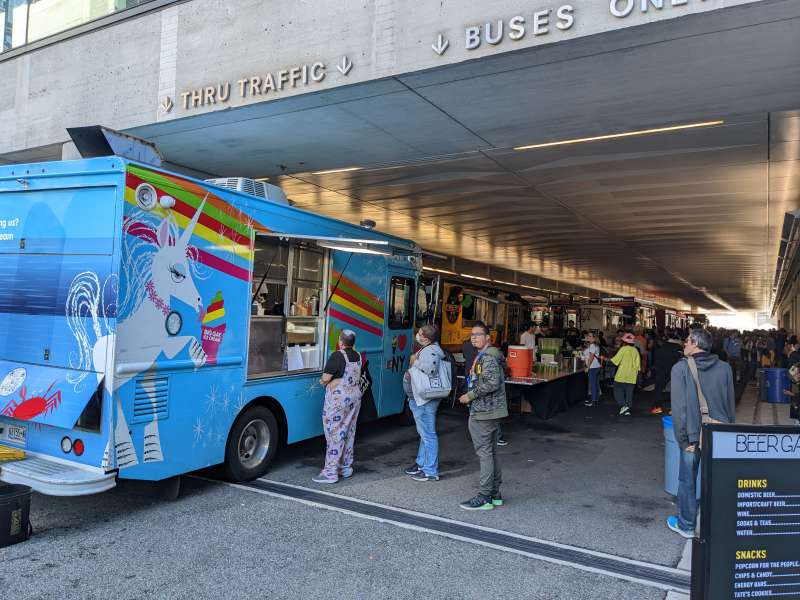 On the main show floor, it was great to see the return of the Marvel stage which has always functioned as the de facto center of NYCC.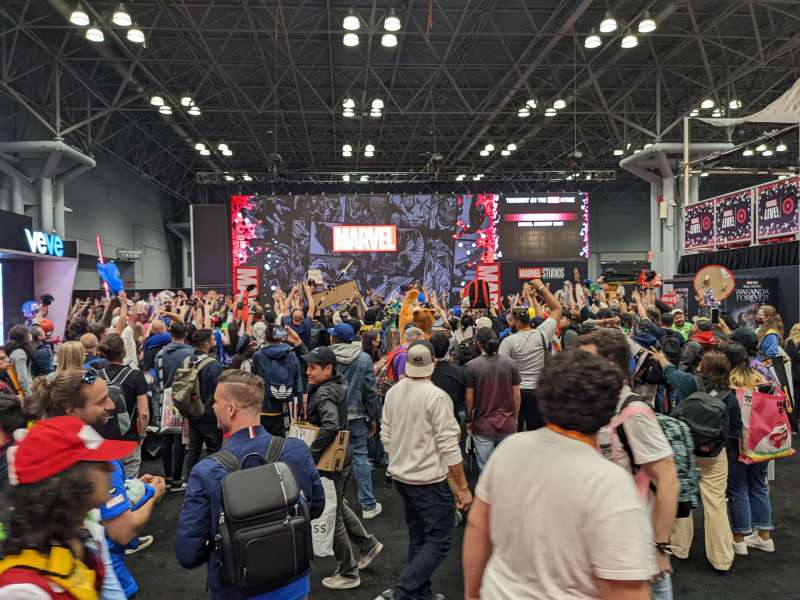 There's always something going on at the Marvel stage and the mini cosplay competitions and hourly giveaways are fan favorites. The stage is also where Marvel Studios promotes its latest productions. This year costumes from Ms. Marvel and Moon Knight were on display.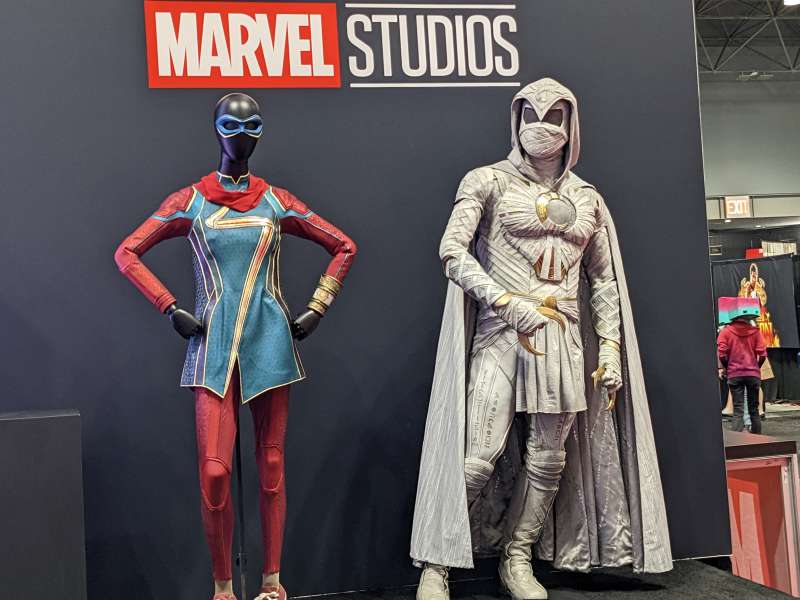 The Marvel stage abuts the official Marvel Store which features tons of officially licensed Marvel clothing and merchandise.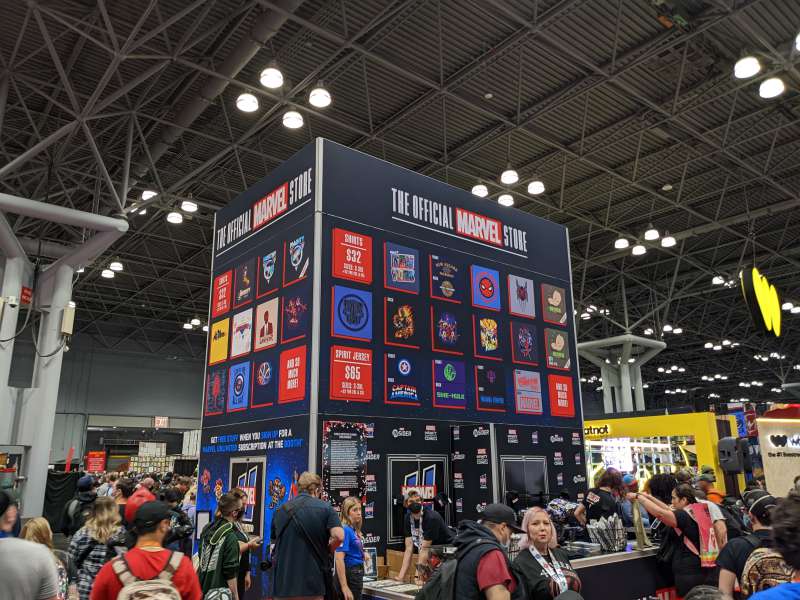 Along with Marvel, Toei Animation made a big return this year. There's nothing like a giant inflatable Monkey D. Luffy from their popular manga and anime One Piece to let people know that NYCC is as big as ever.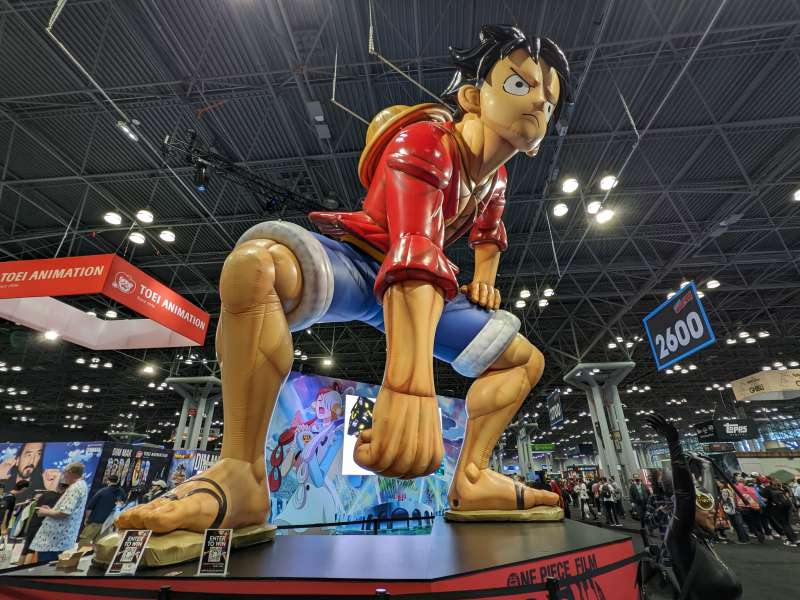 Nickelodeon was back as well with a few major experiential marketing highlights like this one for Monster High.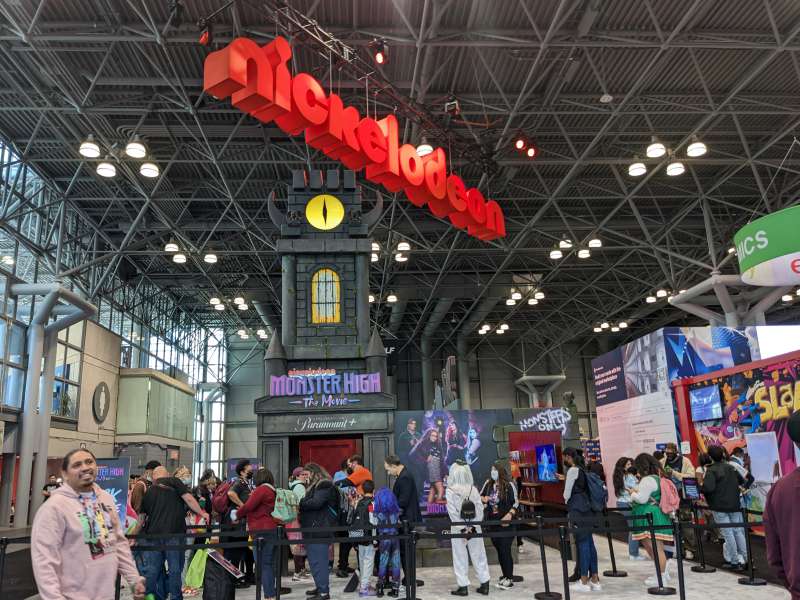 The only experiential part of Funko's return to NYCC though was waiting in the long lines for their exclusive Pop! Vinyl Figures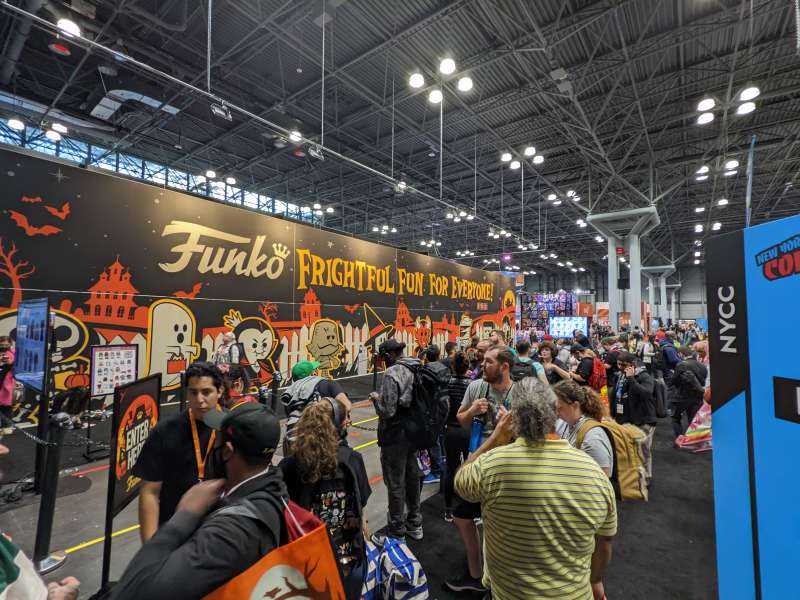 The inside of the Funko store was pretty cool though and designed to look like a haunted house.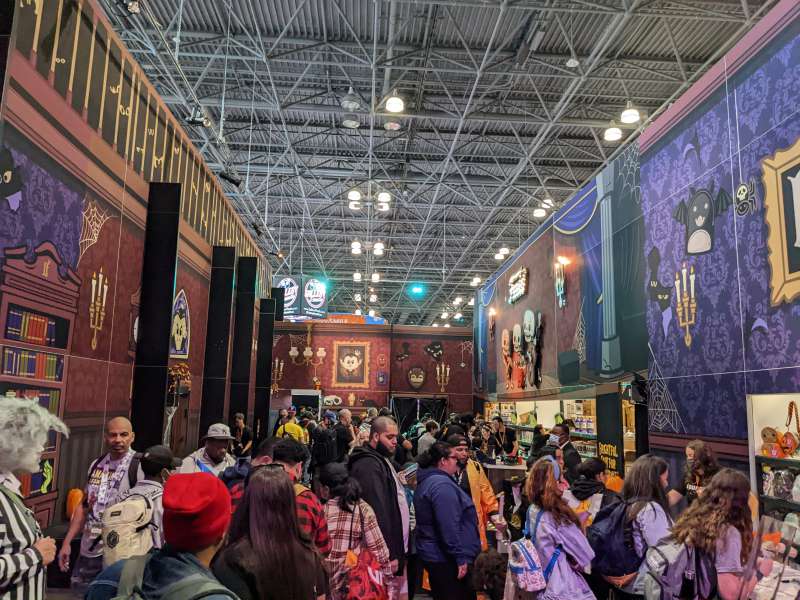 Conveniently, eBay set their booth up right next to Funko's which made it really easy to flip those NYCC exclusives.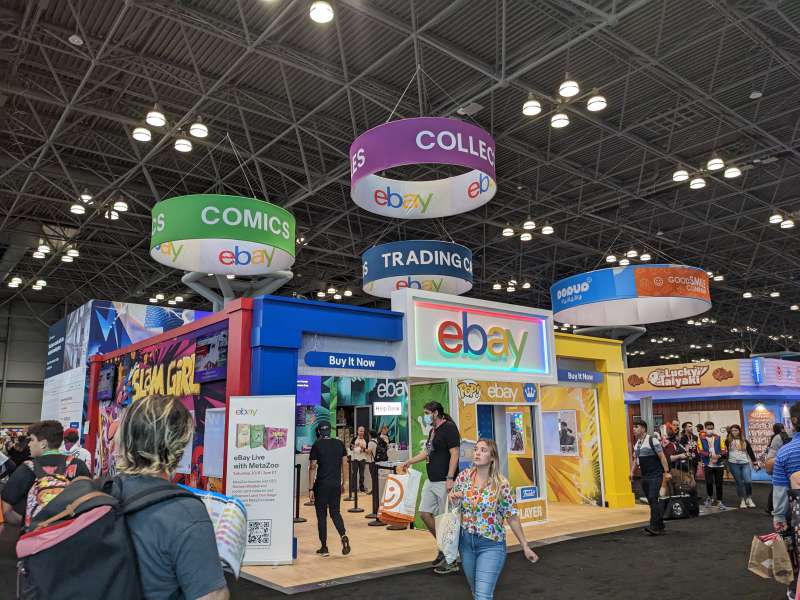 Other experiential marketing booths at NYCC this year included a haunted forest that drew a lot of attention for Paramount's Teen Wolf.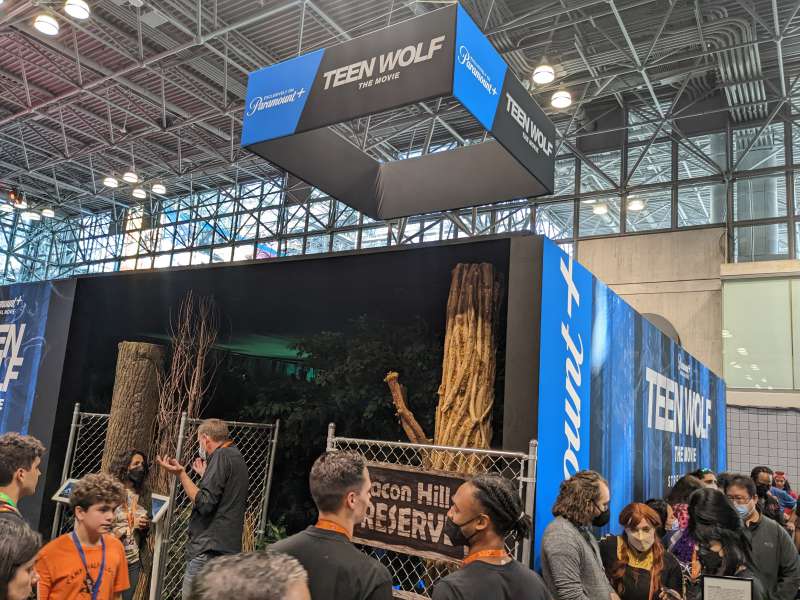 And HBO Max had an incredibly cool high-tech experience promoting DC's Titans.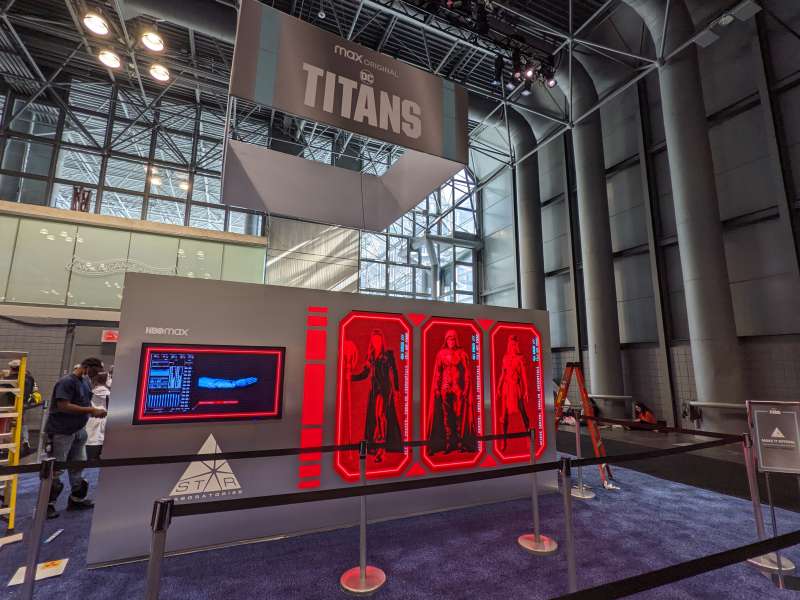 There weren't as many outdoor experiences though and even fewer geared specifically for kids. The only one we found was a mini car track also sponsored by HBO Max and DC.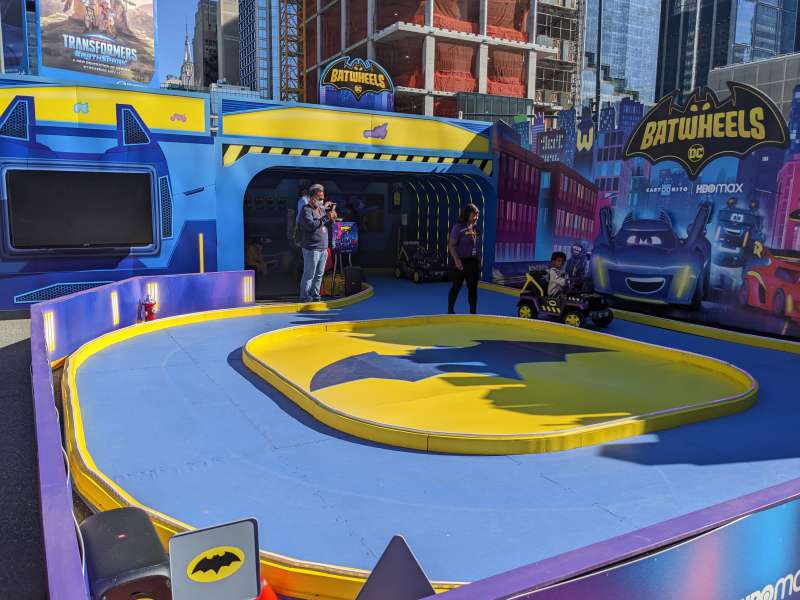 Aside from the major content producers, old standbys like the big t-shirt sellers made it easy to replenish my wardrobe selections.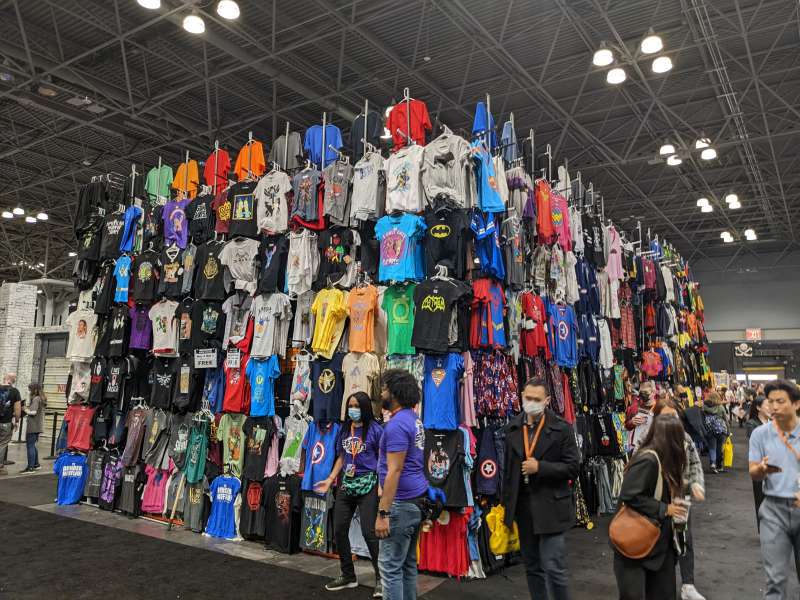 NYCC doubled down on their t-shirt game this year by having a screen printer on-site to make custom-designed shirts while you waited.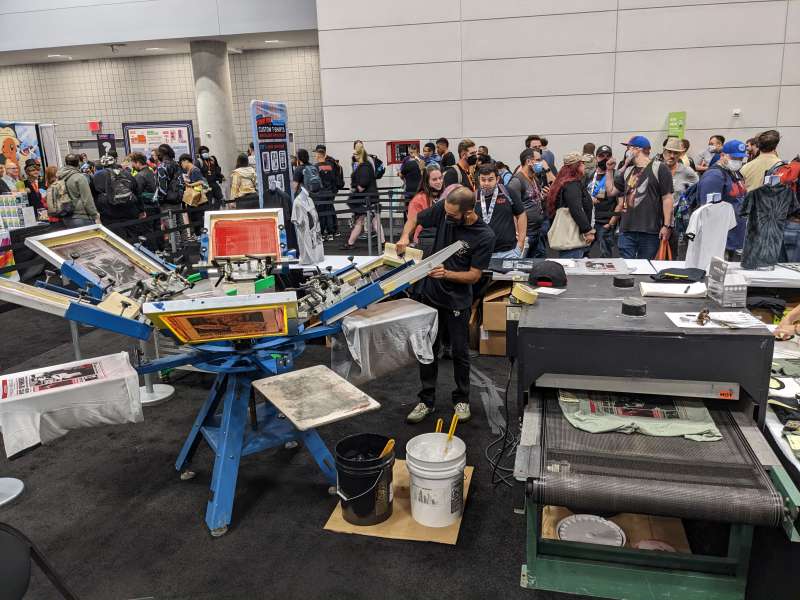 Along with custom t-shirts there was plenty of custom art to be found on the main show floor as well as Artist Alley.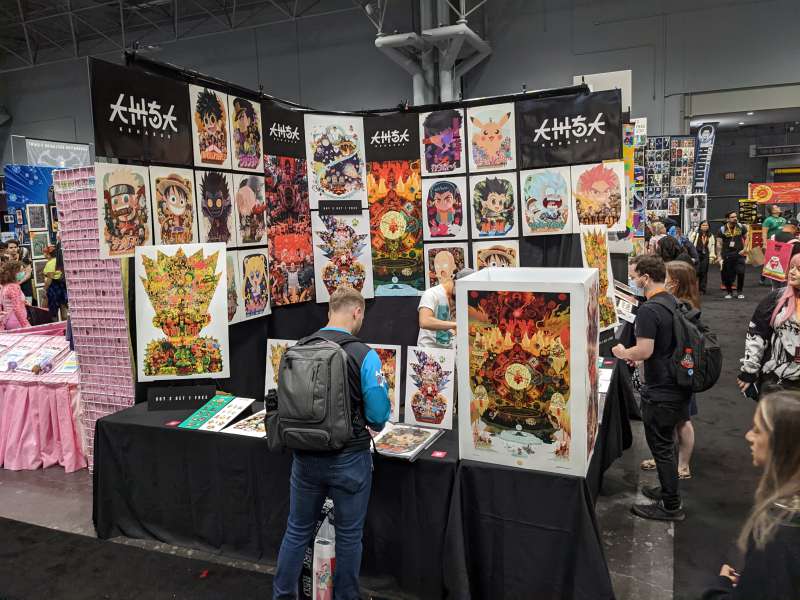 All kinds of pop culture-themed art was available to buy, often at great show discount prices.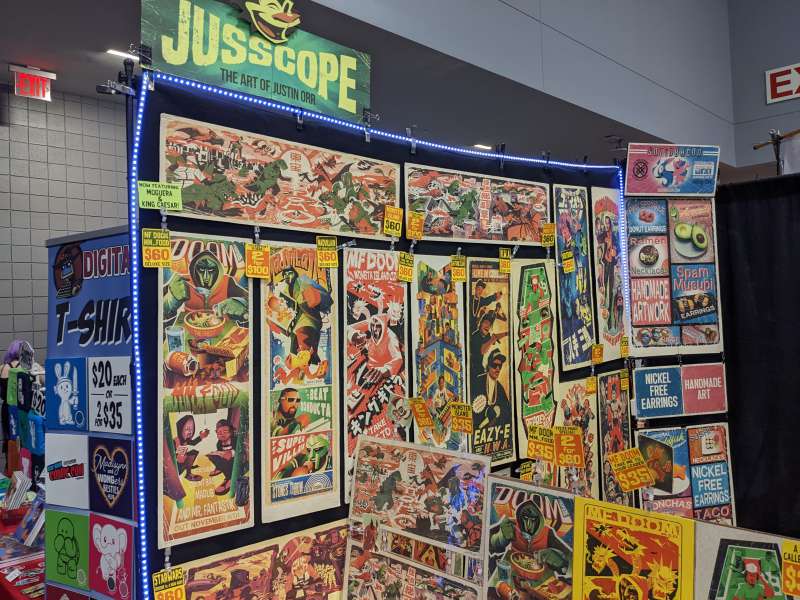 Mashups like science-fiction-themed Ukiyo-e Japanese art are things you can only find at places like NYCC.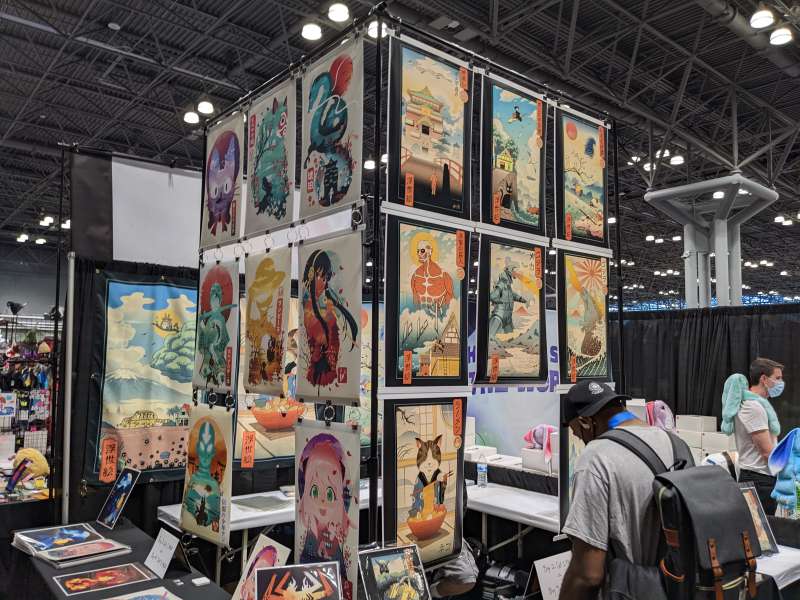 Different starships are a great source of inspiration for a lot of artists at NYCC.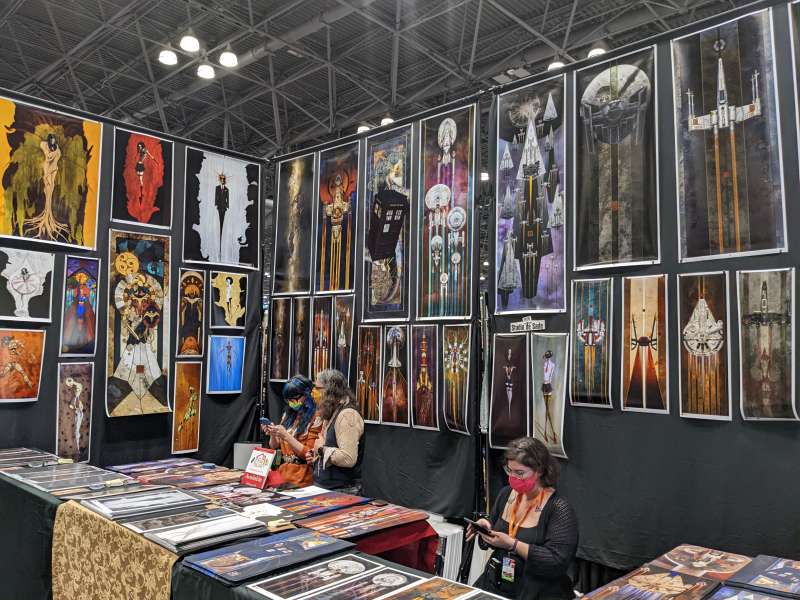 Fantasy location travel posters have really grown in popularity over the years to the point where you can pretty much find a travel poster for any imaginary location these days.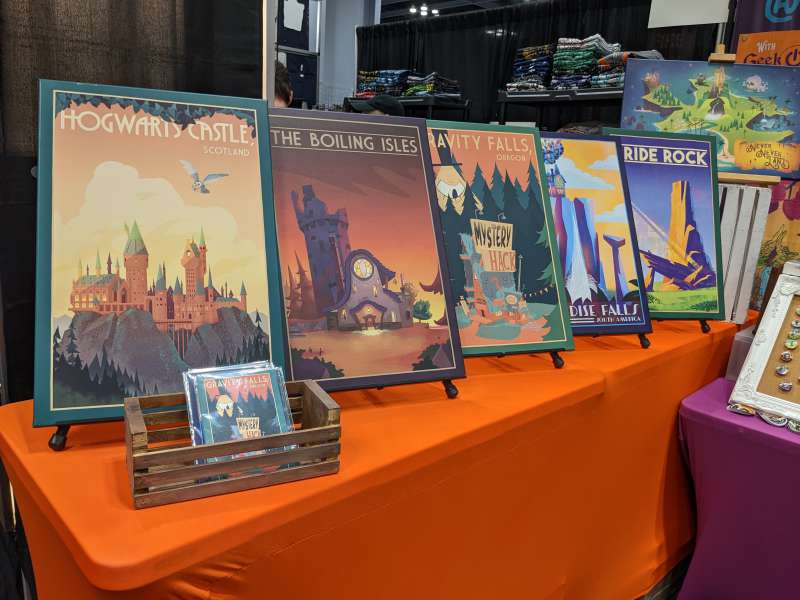 And of course, if you have deep pockets there are plenty of opportunities to pick up original one-of-a-kind pieces from some of the most successful artists like Alex Ross.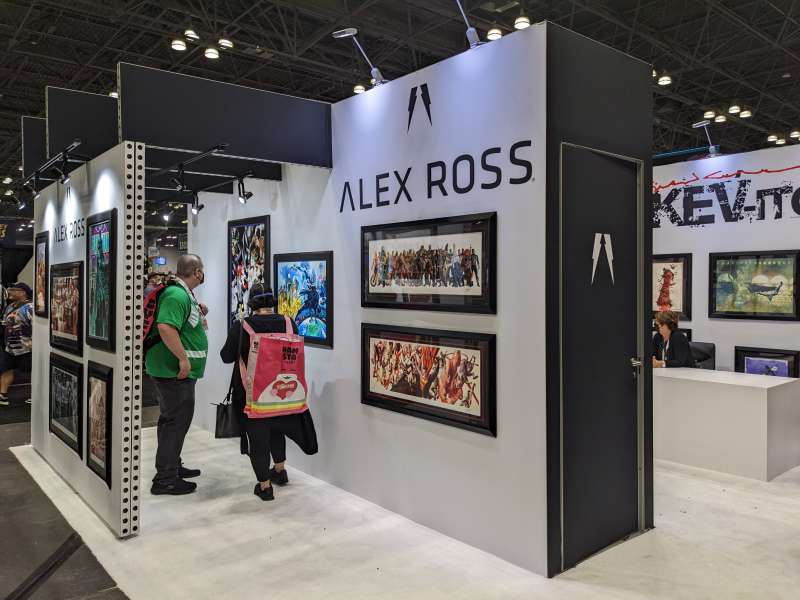 It wouldn't be a comic con without high-end custom dice for sale.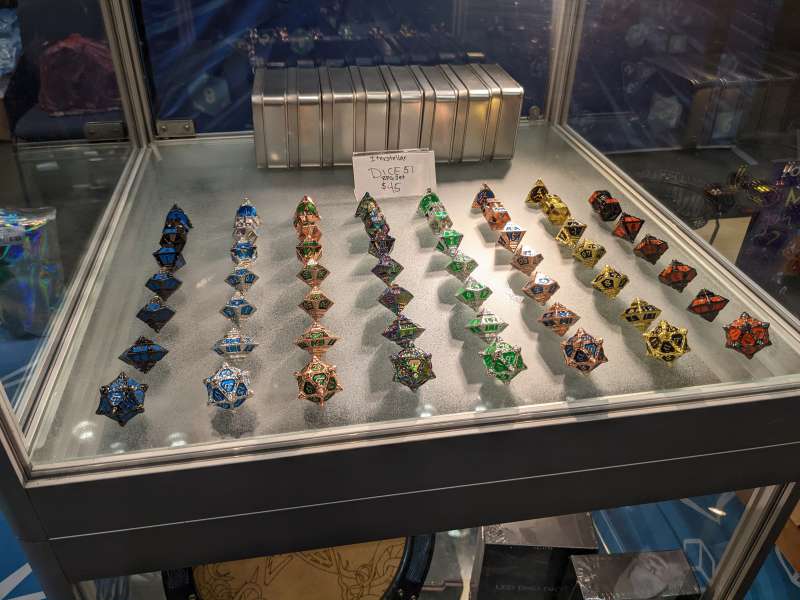 But cheaper dice options can also be found for sale with just a little effort.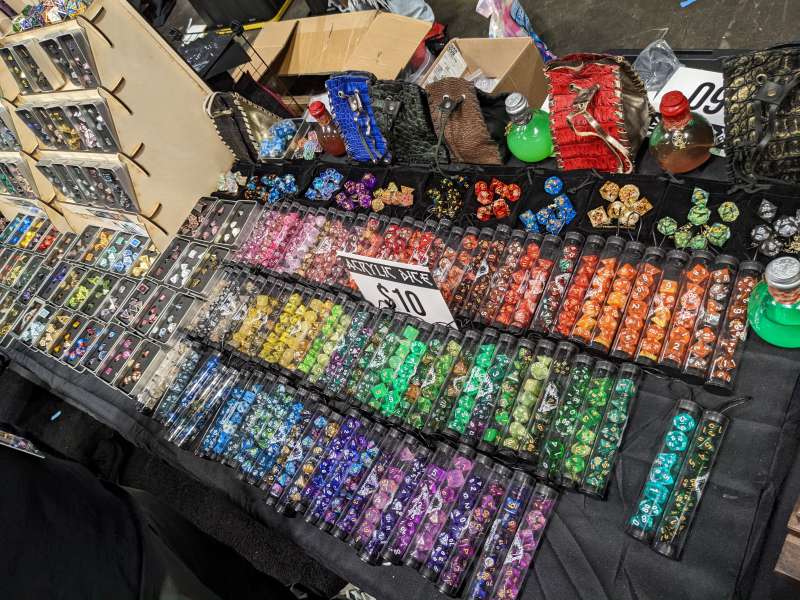 Action figures are everywhere at NYCC, you can even find life-sized ones like this Darth Vader.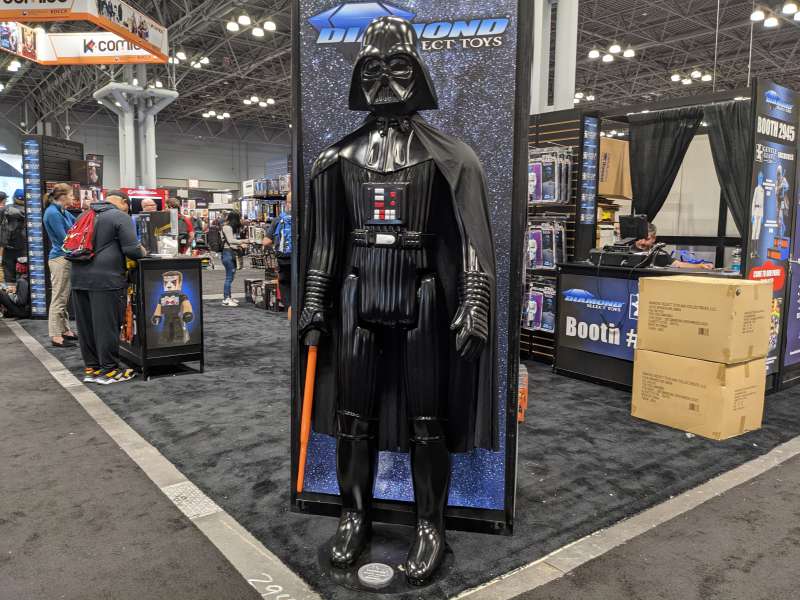 If you need figures that can fit on your desk though, every major character and variant can be found with a little work.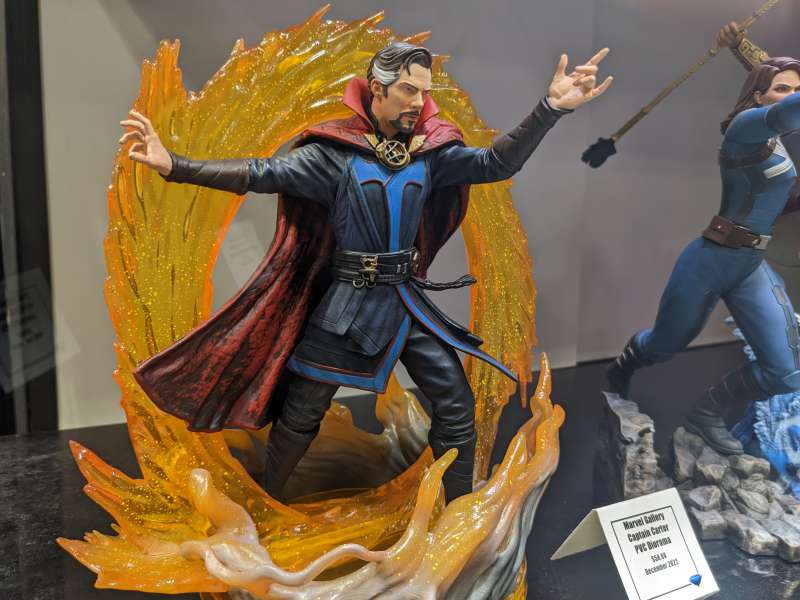 Special edition figures may cost a bit more, but the good thing is that haggling is allowed.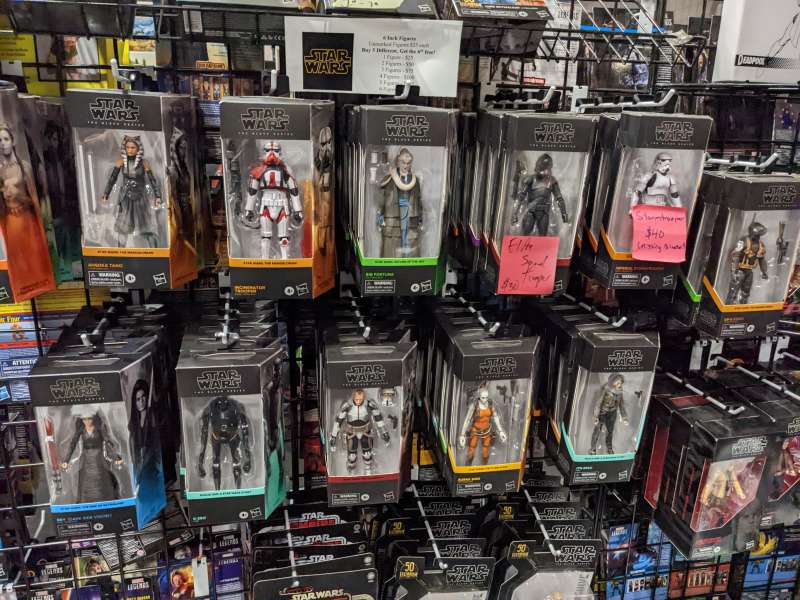 Although even with some haggling that original in-box Voltron model was still out of my price range.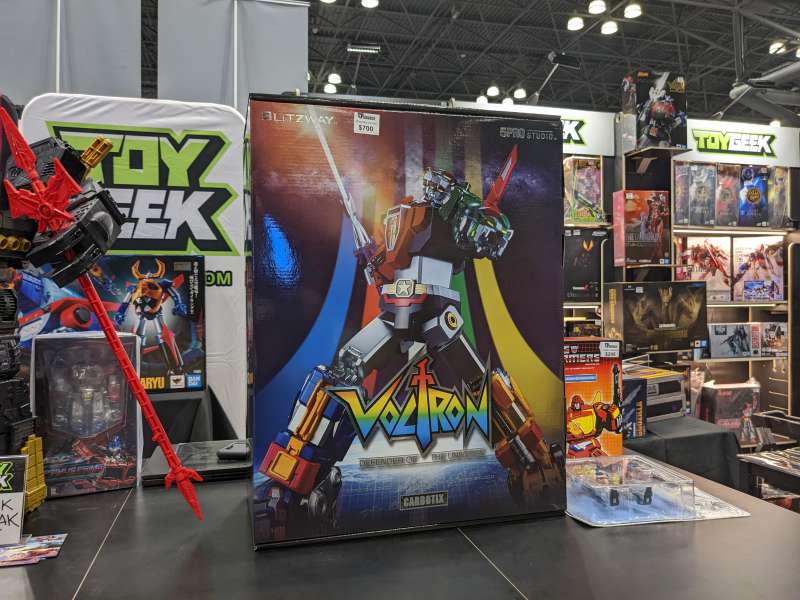 The return of the Tamagotchi was as surprising as it was exciting for a lot of nostalgic digital pet lovers.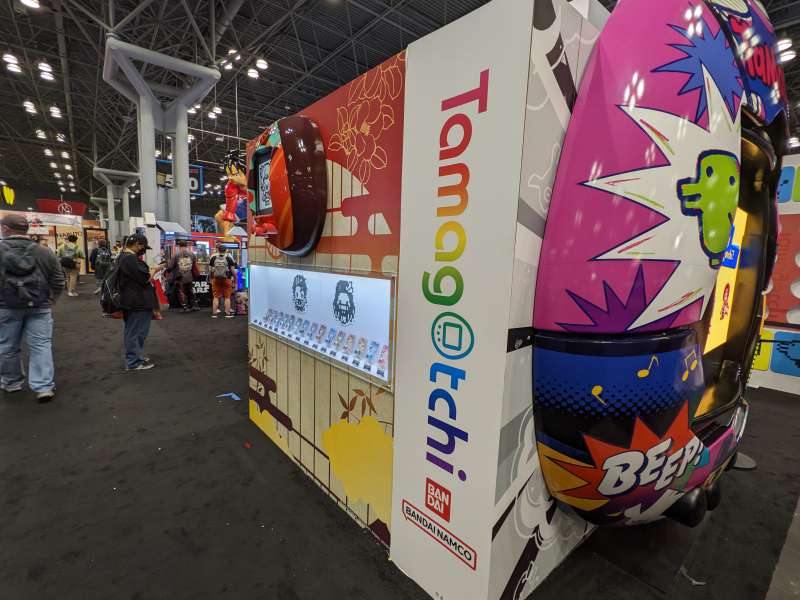 The Tabletop Gaming area was separate from the main floor this year with its own vendors and experiences.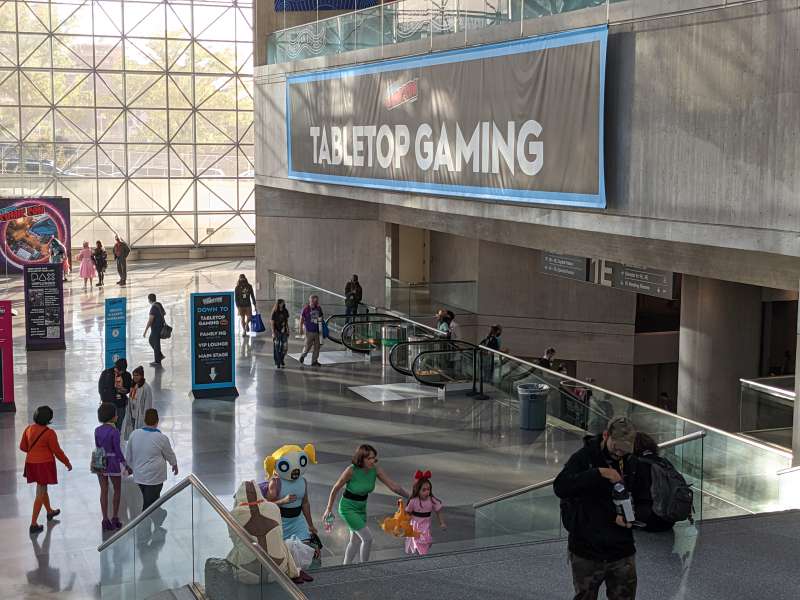 The best part of the Tabletop Gaming area was being able to sign out and play any of over a hundred games that were available.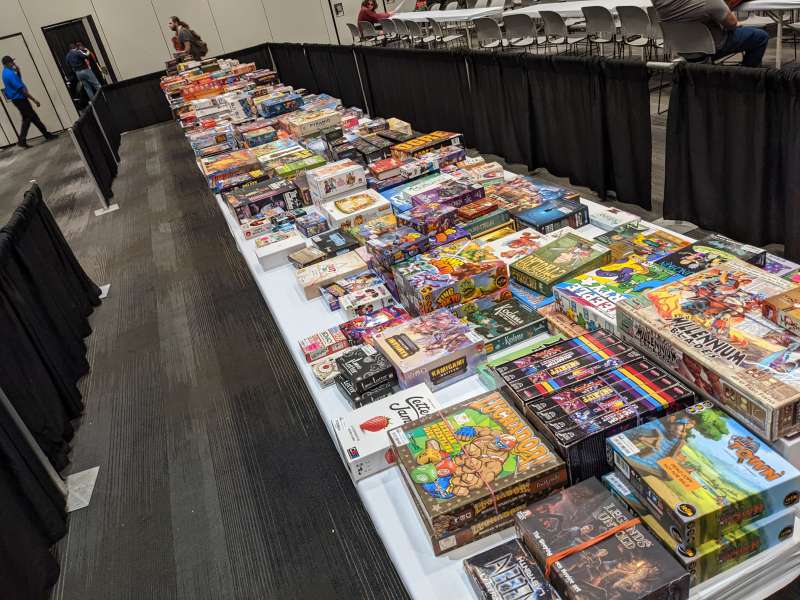 There was even a whole area set up for people to learn how to play Dungeons & Dragons in a safe supportive space.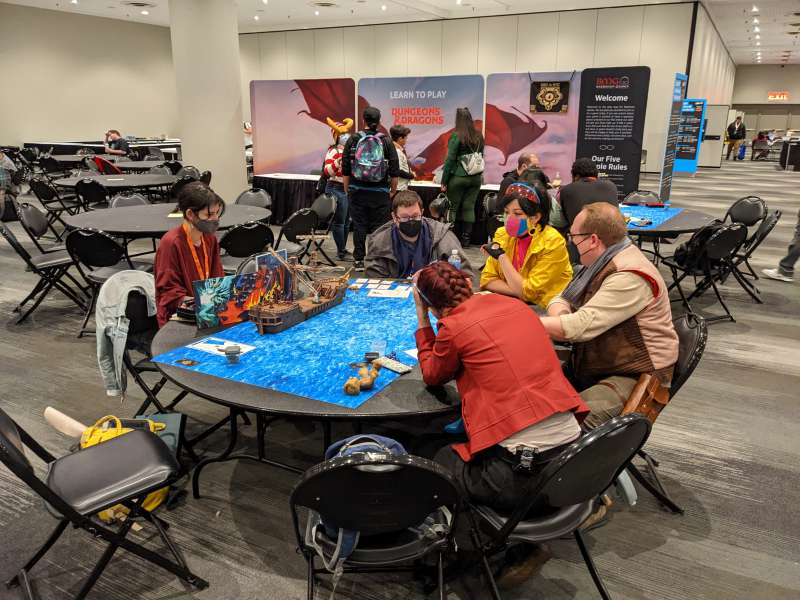 If tabletop gaming wasn't your thing, there was a whole section filled with free-to-play old-school video games.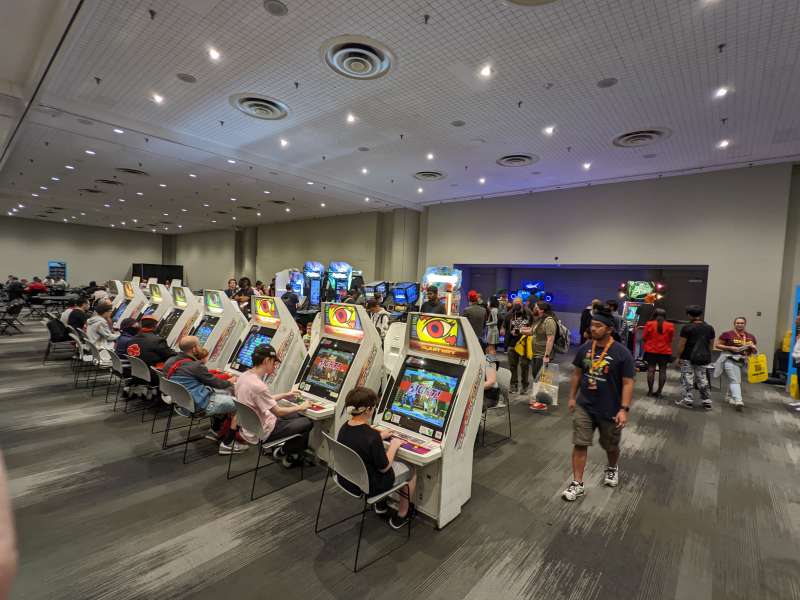 There were plenty of chances to play board games on the main show floor as well.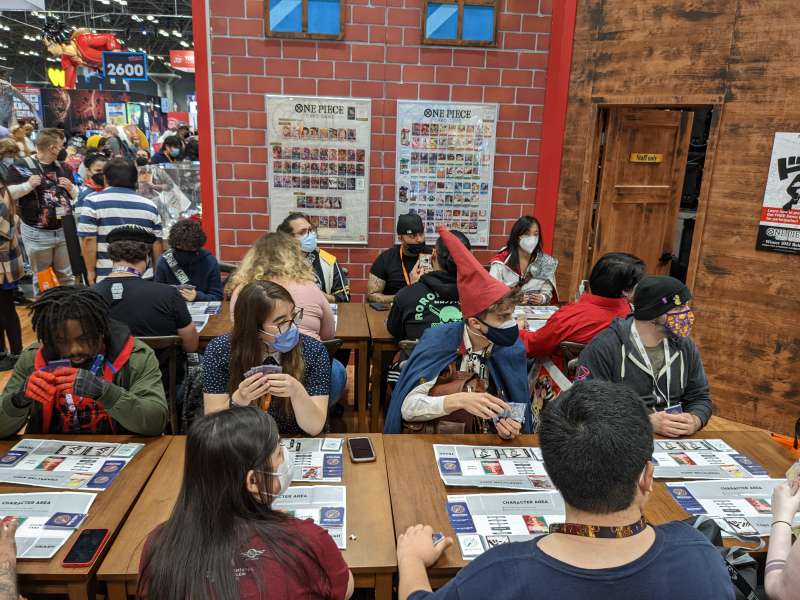 This year the PC gaming area was expanded a bit to allow more players to join in the fun.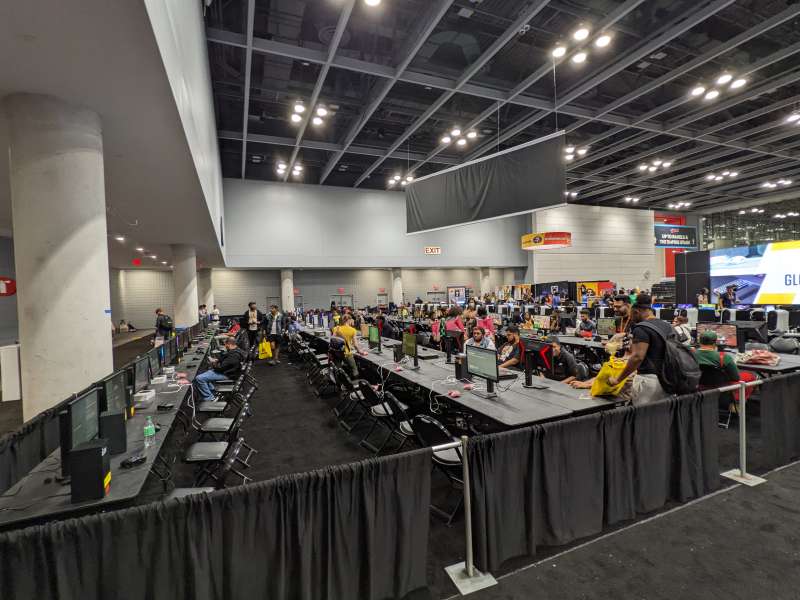 For IRL shooter thrills the 501st Legion provided brave rebels a chance to slap leather against a Stormtrooper for charity.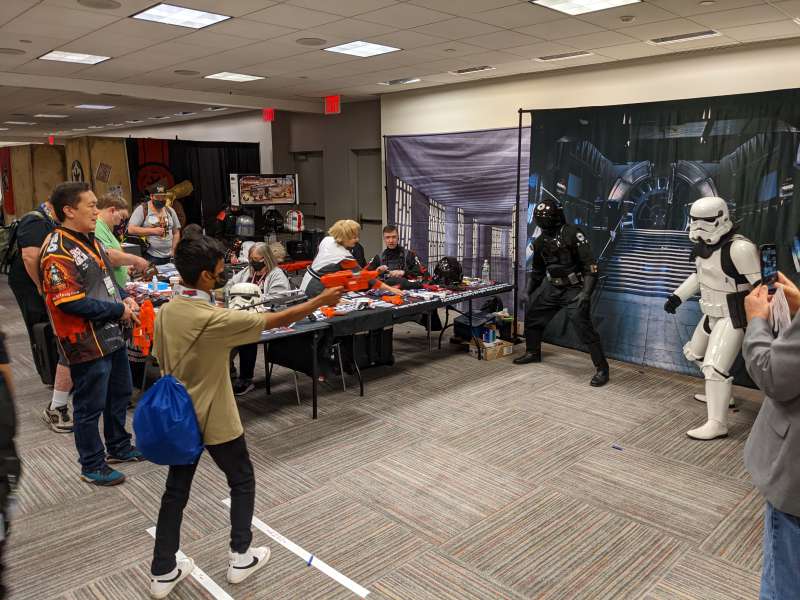 If seeing actual movie props is your thing, NYCC had the venerable time-traveling Delorean to be featured in the new Back to the Future Musical next year.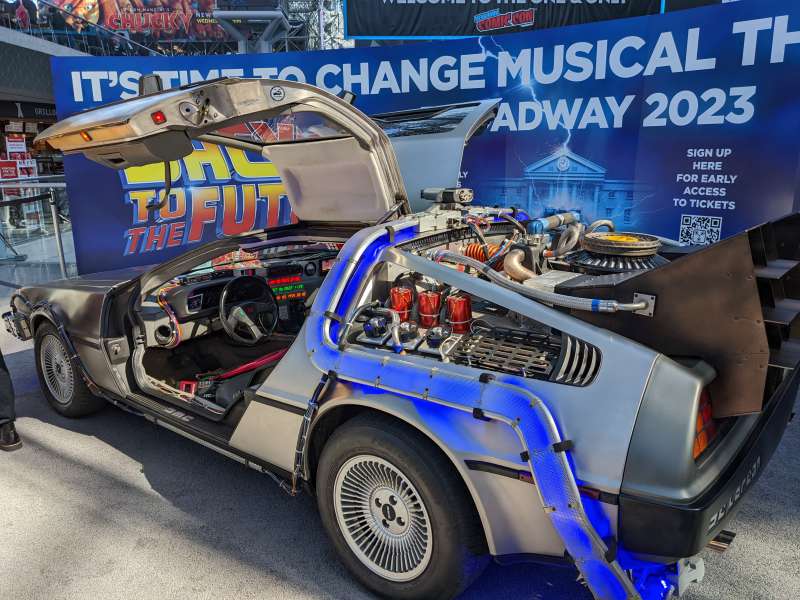 Some prop replicas were available for purchase like this Loki crown, Eye of Agamotto, and Moon Knight blade.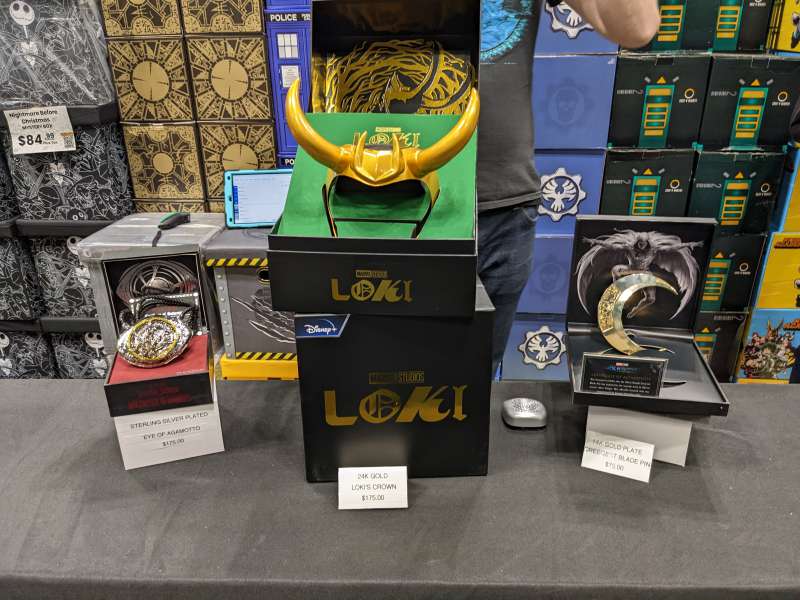 Or you could nab your own Sorting Hat from the Harry Potter series.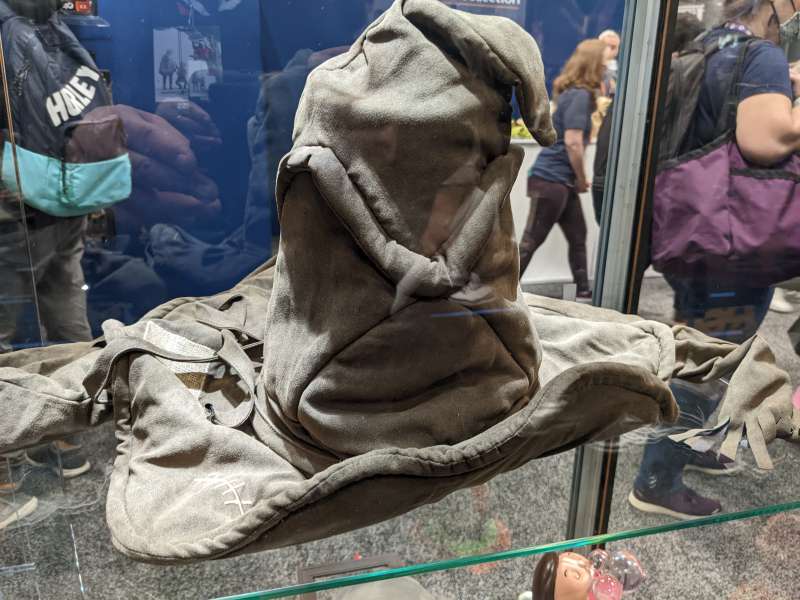 The book publisher aisles weren't as expansive as in previous years, but there were still a few author signings and giveaways to make it exciting.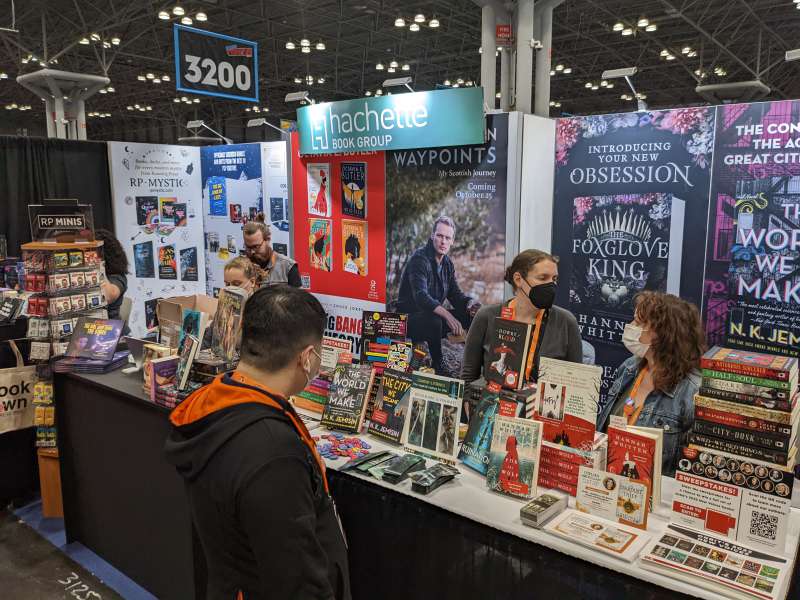 And what would any comic con be without actual comics?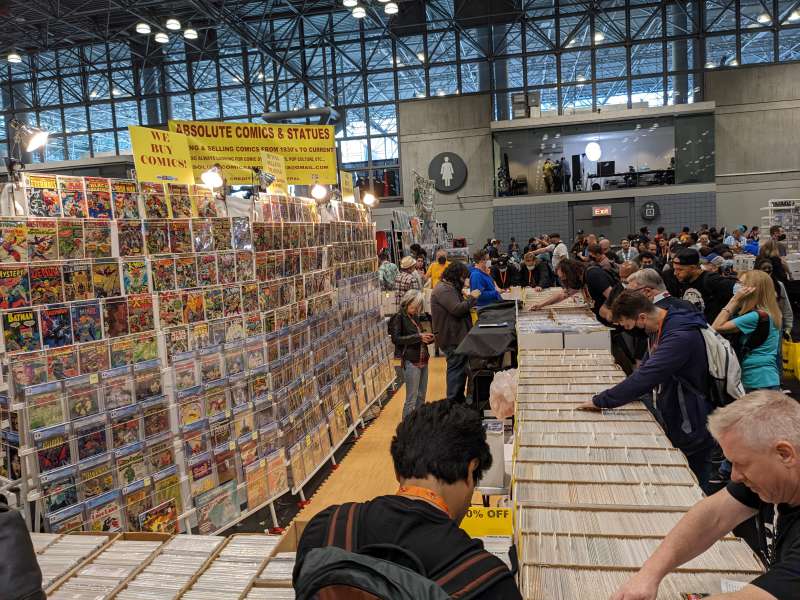 Taking time to browse the stacks is how all of this started and there's always a good chance that you'll find that one issue you've been looking for at NYCC.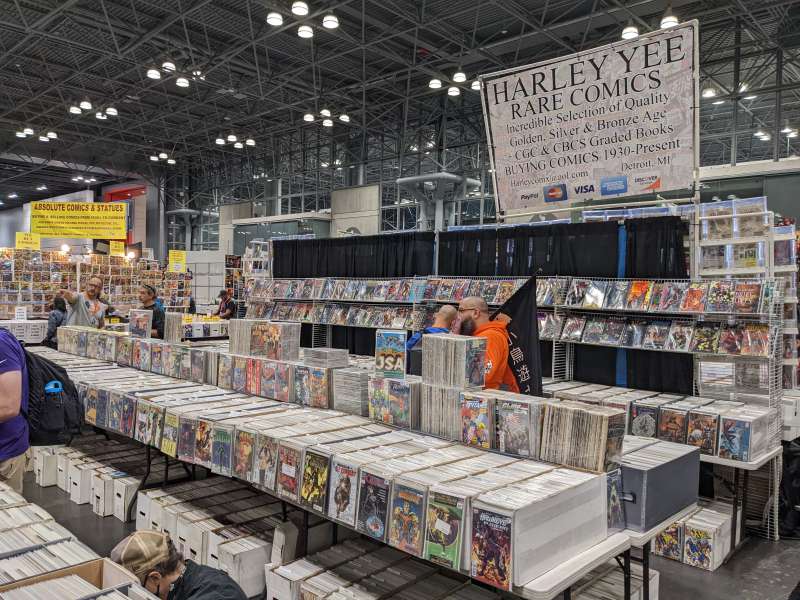 There were panels on everything from how to break into the comics industry to this one on cosplaying advice.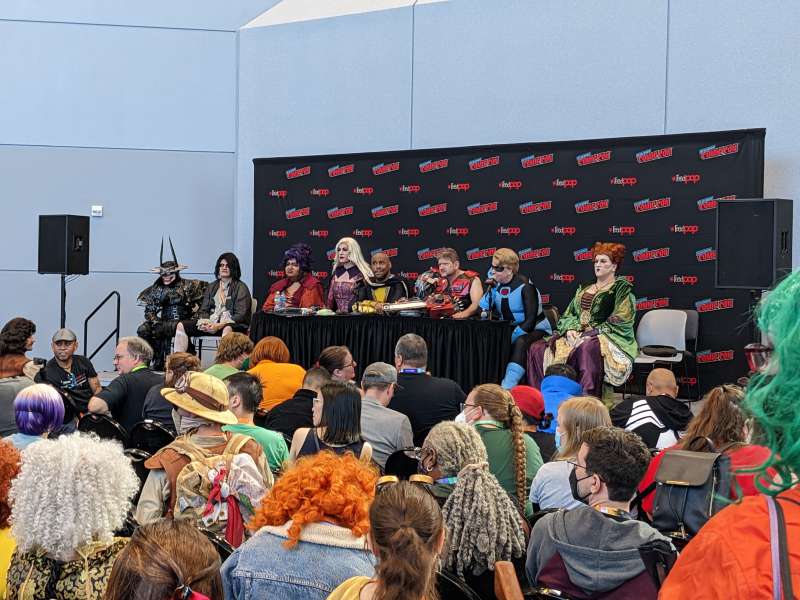 NYCC Vendors
One of my favorite parts of NYCC is taking a day just to check out all of the new vendors selling their sci-fi, comic, fantasy, and pop-culture-themed wares. This year we found a few cool first-time vendors along with some really great comic con veterans.
Scorched Design
This was the first NYCC for the husband and wife owners of Scorched Design. Specializing in "nerdy home decor," as they described it, owners Jennie and Jeremy have been making laser-engraved items like slate coasters, doormats, and wall art.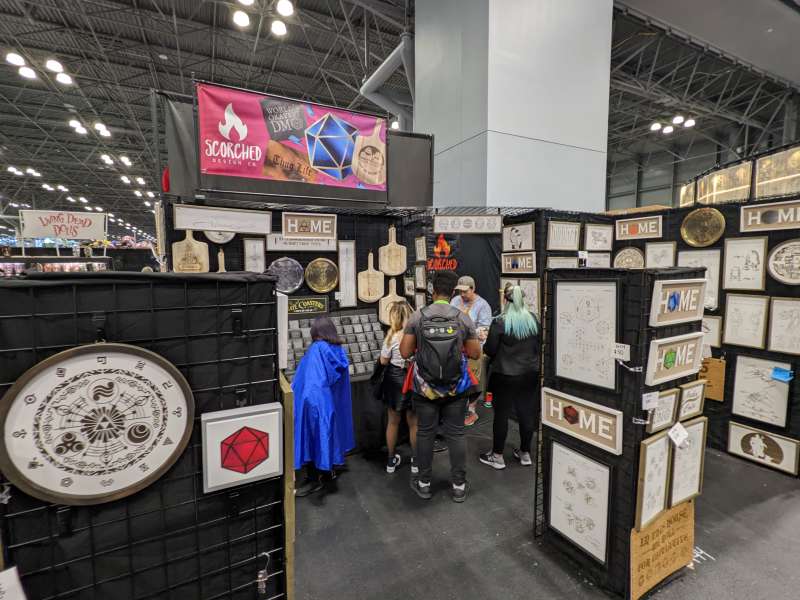 Started during the pandemic lockdown, Scorched Design has been making the convention circuit for about two years now selling their uniquely themed and custom-made items.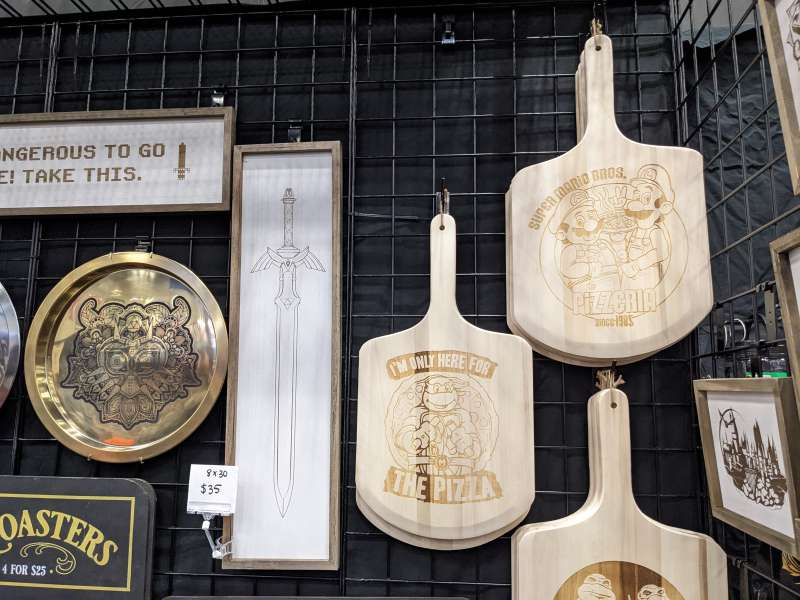 Check out the Scorched Design website here.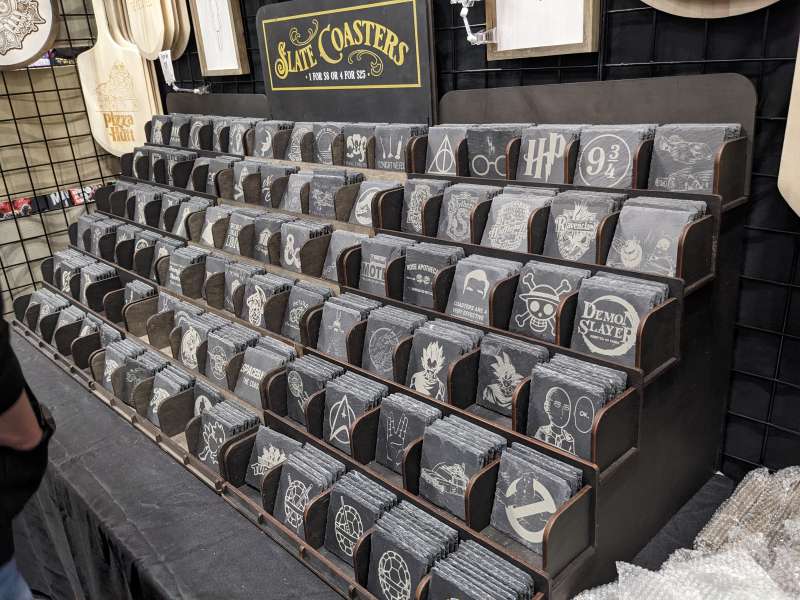 Seventh Ink
Another NYCC first-timer, Seventh Ink is run by owner Matt Johnson out of Tampa, Florida. Creating all of the art himself, Matt's designs feature a lot of stylized skulls on t-shirts, patches, and stickers.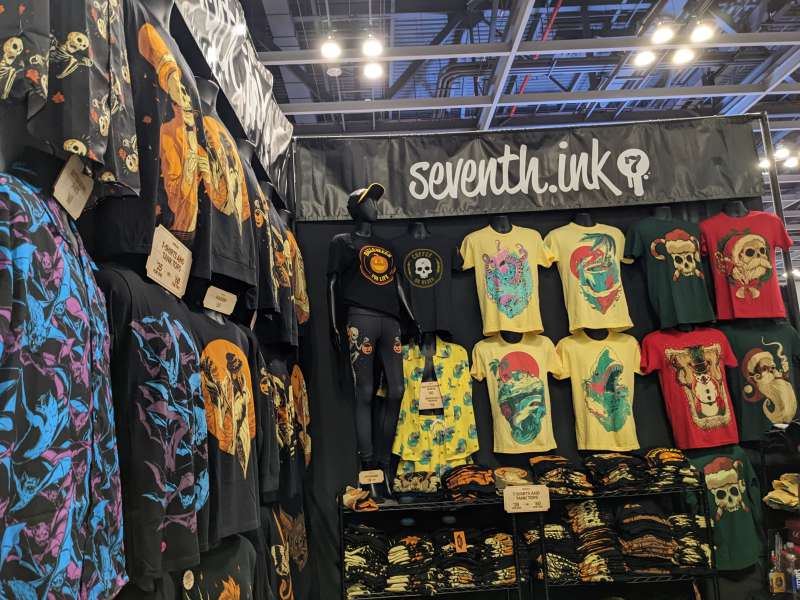 My favorite Seventh Ink patch and t-shirt both feature my new mantra, "Coffee of Death." The designs of Seventh Ink are perfect for the comic con audience as well as for the Halloween season.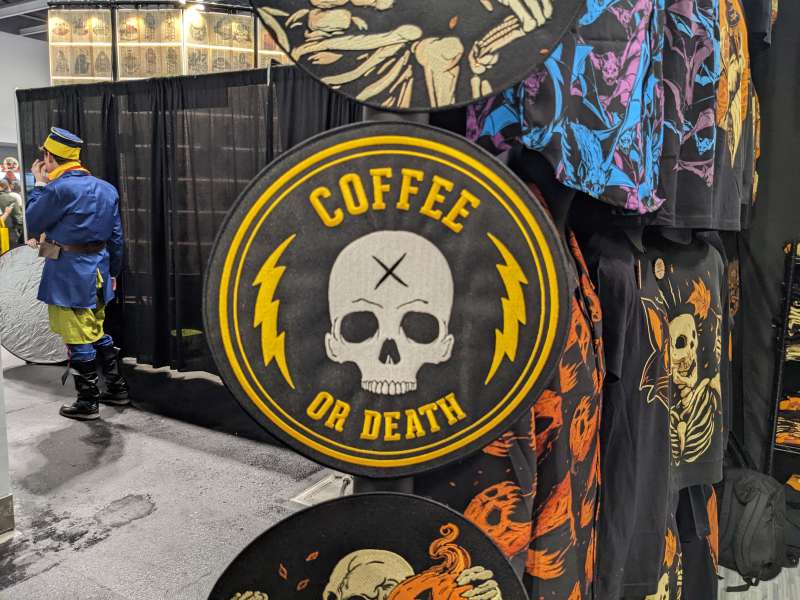 Check out the Seventh Ink website here.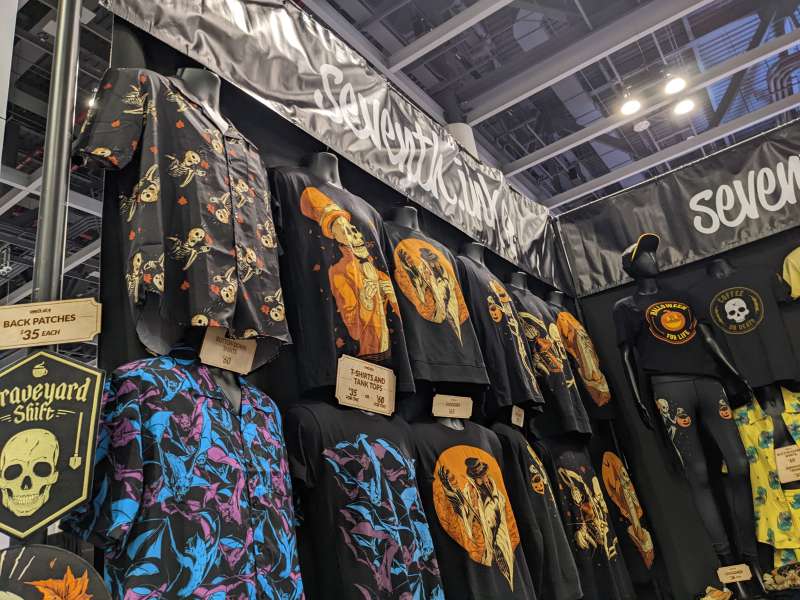 Moby Fox
The team at Barcelona-based Moby Fox also set up at NYCC for the first time this year. Selling officially licensed Apple Watch bands featuring collections from Marvel, DC, Star Wars, and even NASA Moby Fox's leather and silicone bands were pretty popular items.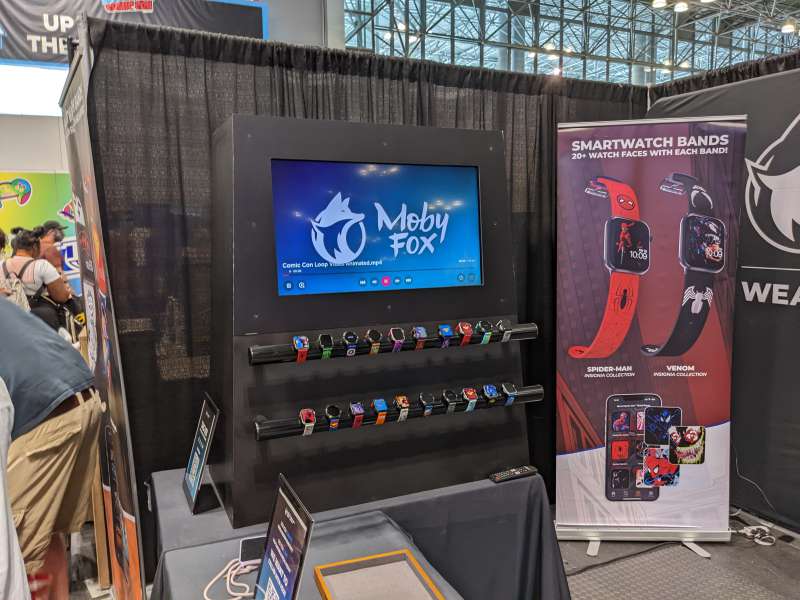 To enable their bands to fit every Apple Watch, except for the first generation, each one comes with a number of different connectors.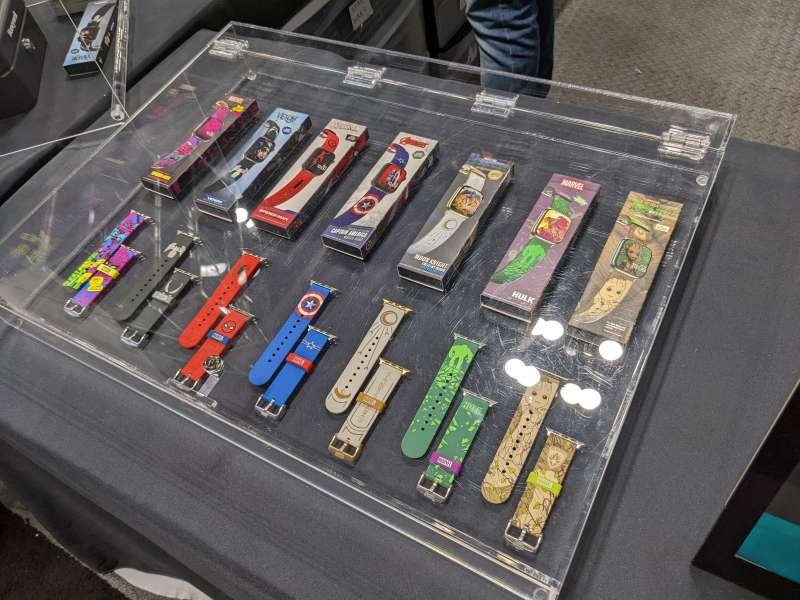 Check out the Moby Fox website here.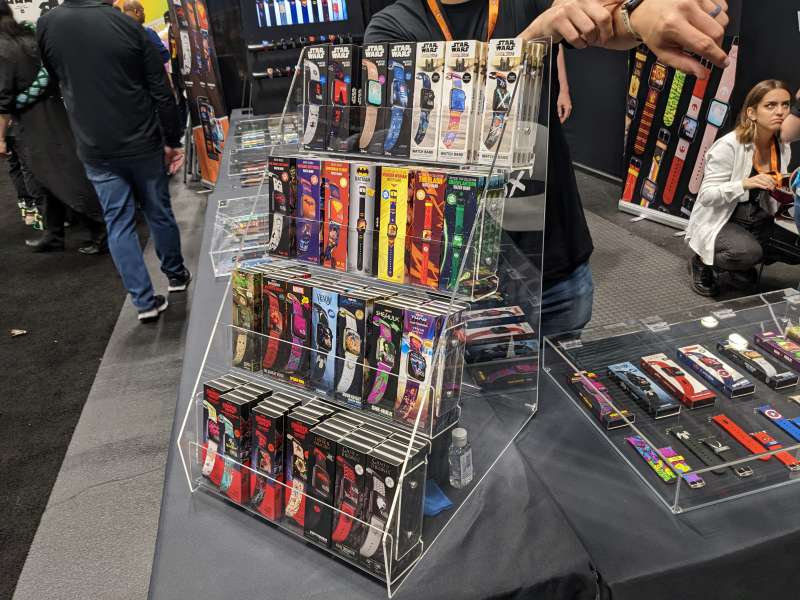 Baz LLC
Founded in 2017 and coming to NYCC for the last three years, Baz LLC sells some very interesting wood hair pins, puzzles, stamps, and custom pieces. All of the pieces are handcrafted by owners Jeff and Lee Baz from over 100 wood species from around the world.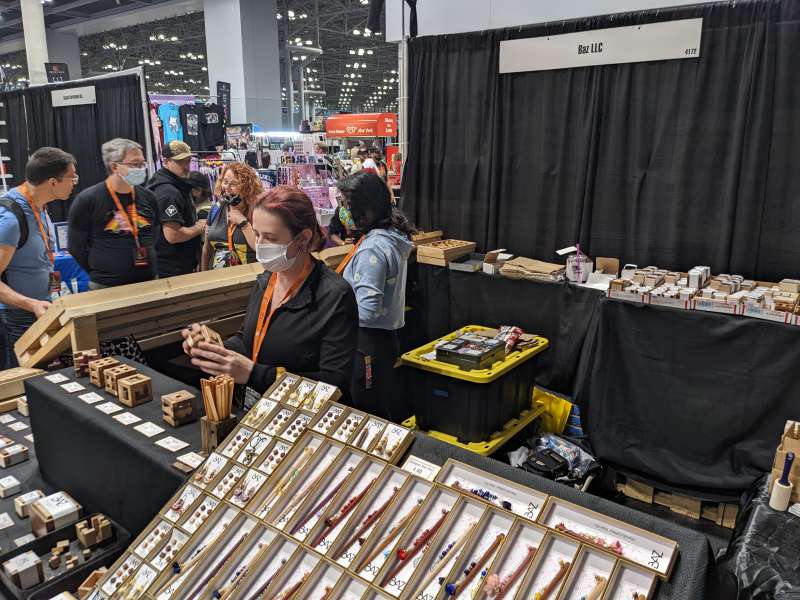 The chopsticks from Baz LLC all have cute sayings on them and are expertly made to have a Japanese taper.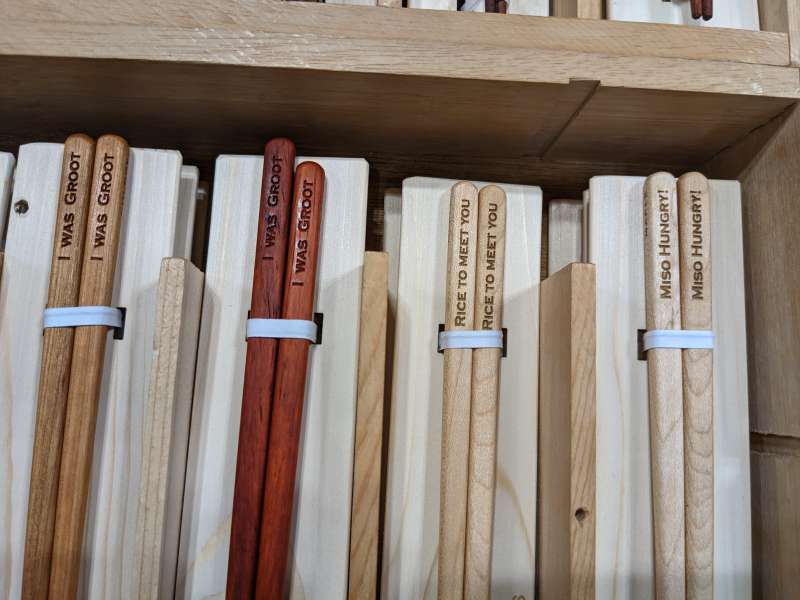 Check out the Baz LLC website here.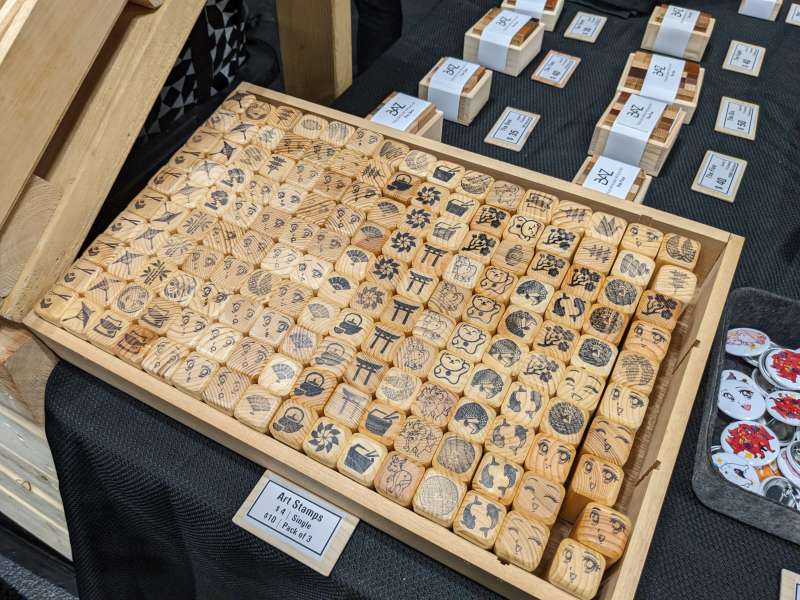 Concrete Jungle
Featuring the amazing sculptures of artist Steve Cartoccio, Concrete Jungle has some of the most detailed, meticulously designed rap-inspired statues ever seen.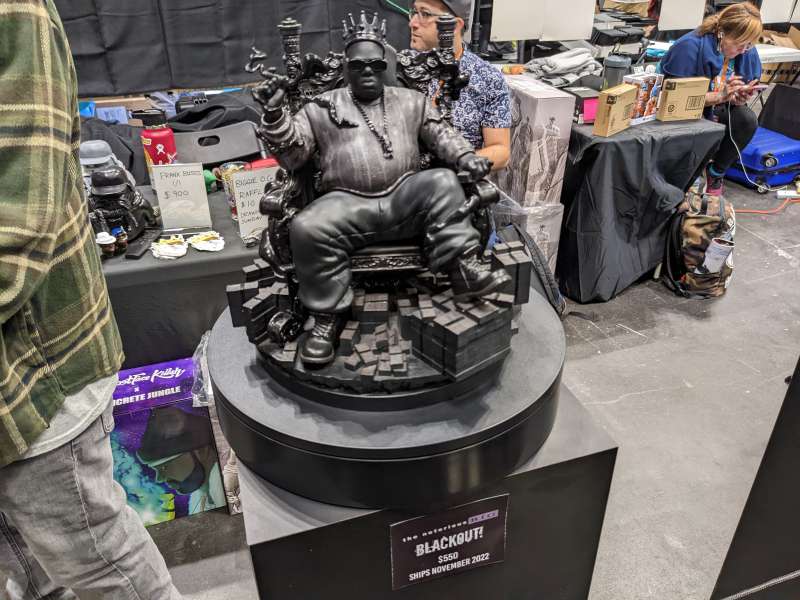 Depicting legendary rappers like The Notorious B.I.G., Sean Price, and Ghostface Killah in fantastical poses, the statues from Concrete Jungle even include interchangeable heads for each character.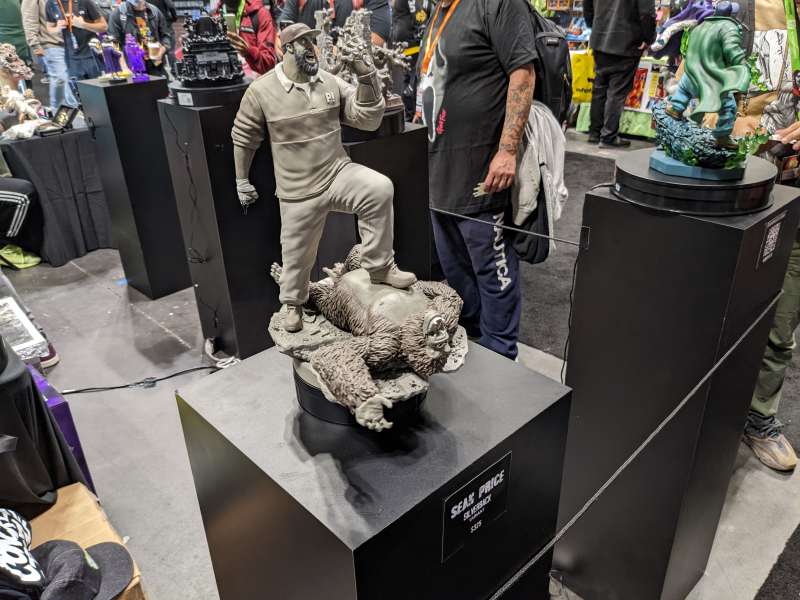 Check out the Concrete Jungle website here.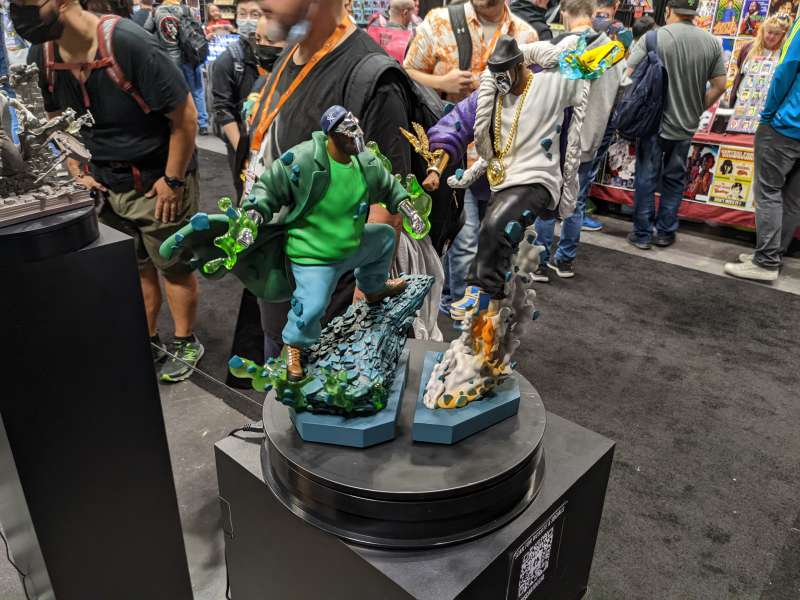 Gundam Base
The snap-together models of the Gundam universe by Bandai are a big draw for anime and manga fans alike.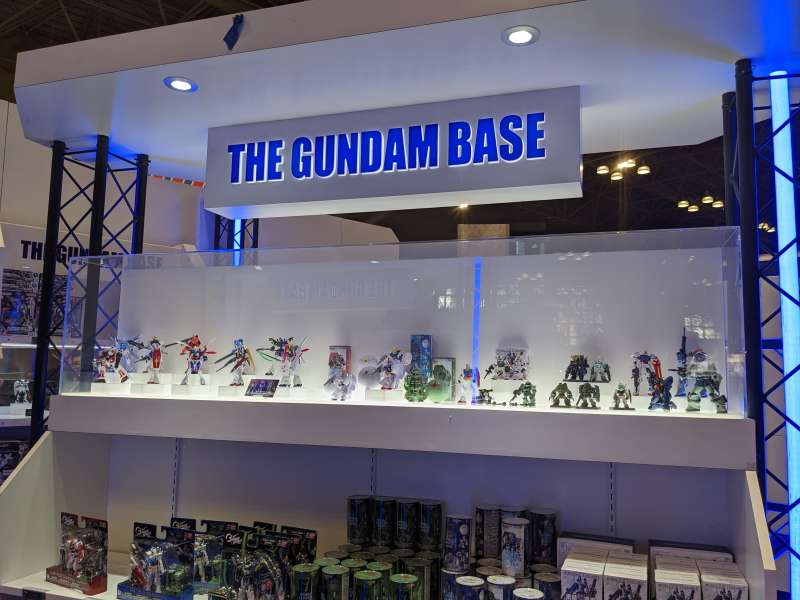 For NYCC this year Gundam Base had two models exclusively for sale at the con only. Once the units they had on hand sold out they'd never again be available.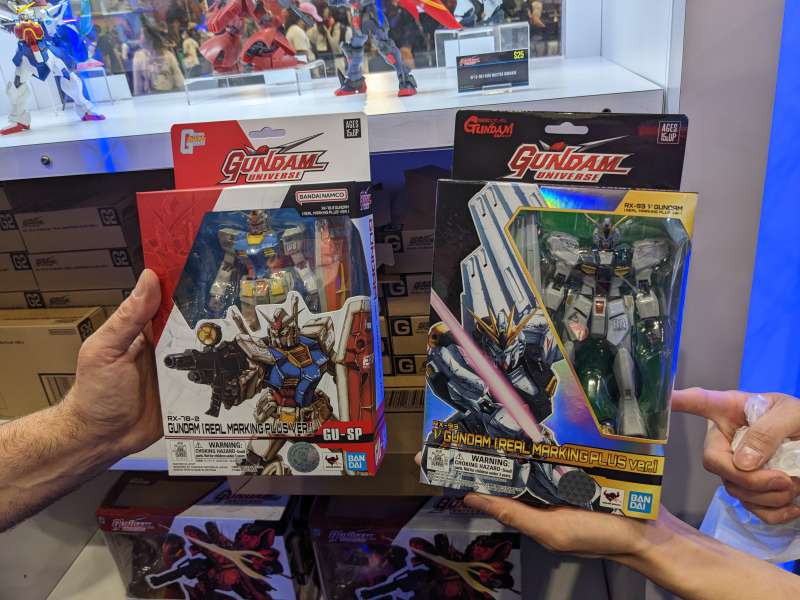 Check out the Gundam Base website here.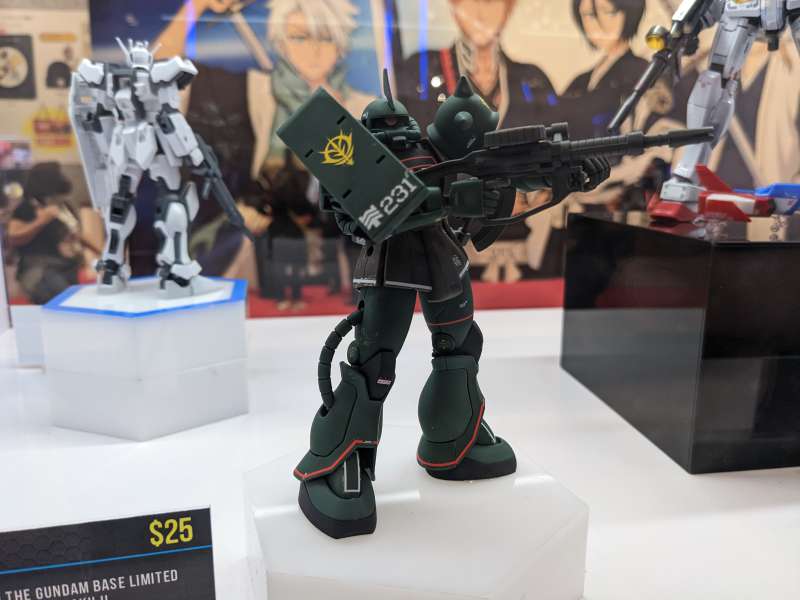 Moleskine
Journals are a guilty obsession of mine, so the Moleskine booth is always a priority when at NYCC.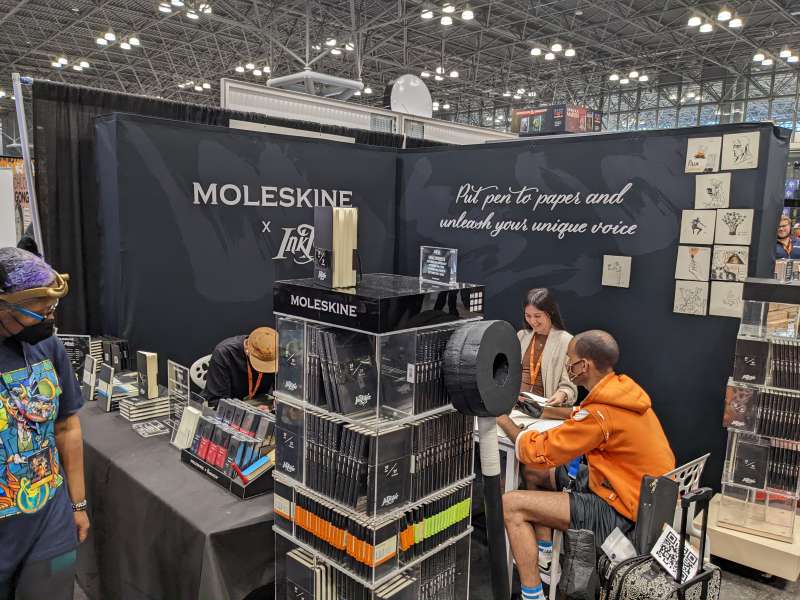 Moleskine had all of their standard journals on sale as well as their Inktober Custom Edition Sketchbook promoting a month-long art challenge created by artist Jake Parker. Despite my best efforts to resist, I picked up both a new journal and an excellent Moleskine Kaweco Ballpen.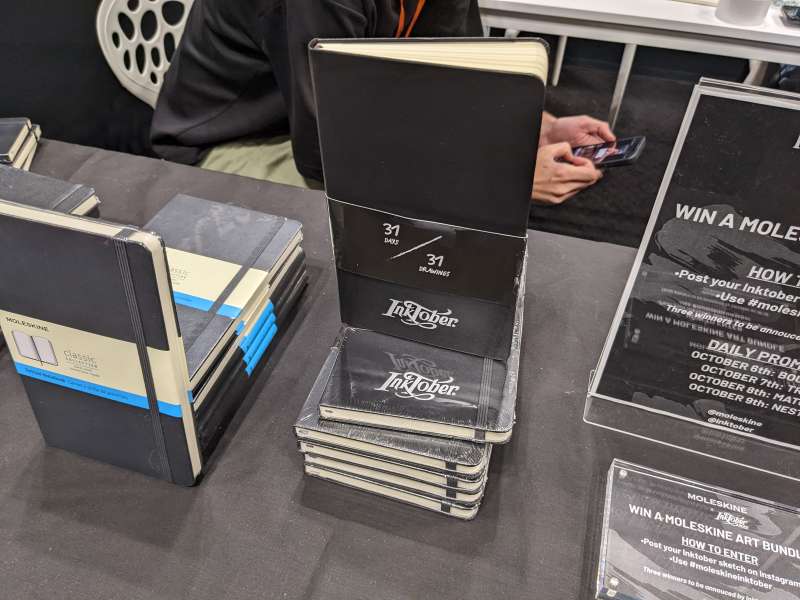 Check out the Moleskine website here.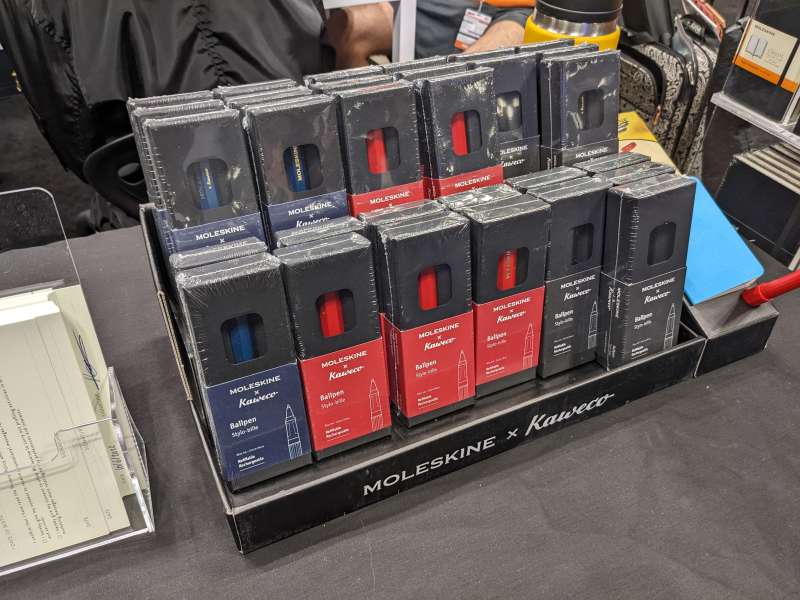 Nite Owl Workshop
Crafted from fleece and foam, the adorable characters at Nite Owl Workshop have been making appearances at NYCC for the past eight years. Started back in 2012 and based in Lexington, Kentucky, the creator behind Nite Owl Workshop crafts plushies for just about every sci-fi, comic book, and fantasy property you can imagine.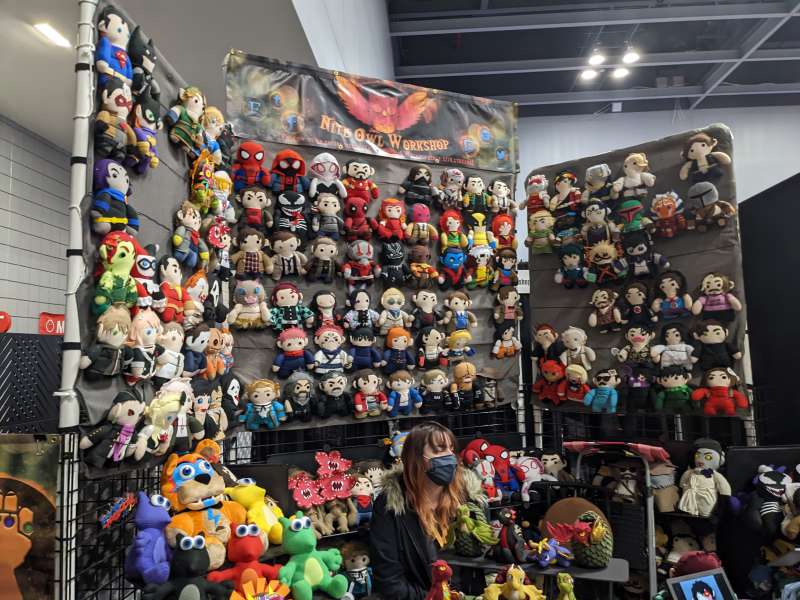 Check out the Nite Owl Workshop website here.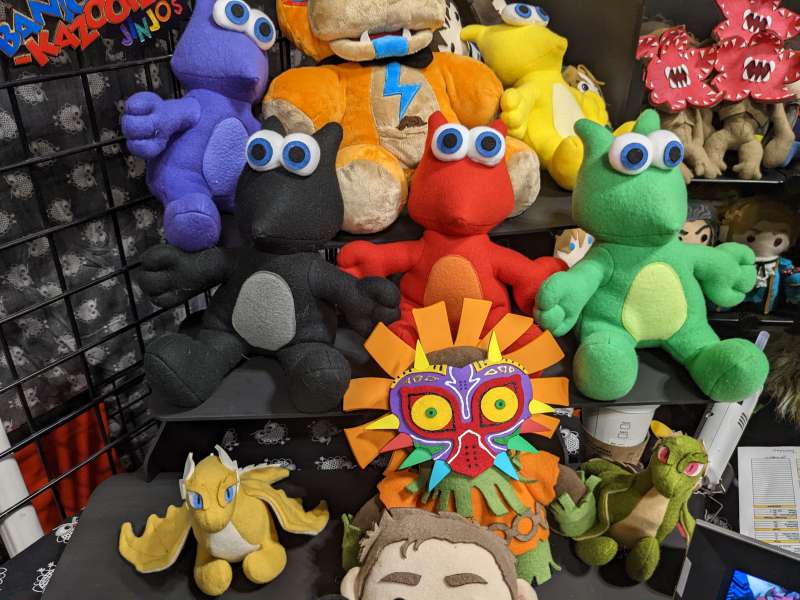 Denuo Novo
Specializing in high-end collectibles, Mark from Denuo Novo gave us a great tour of their amazing helmets.
Check out the Denuo Novo website
here
.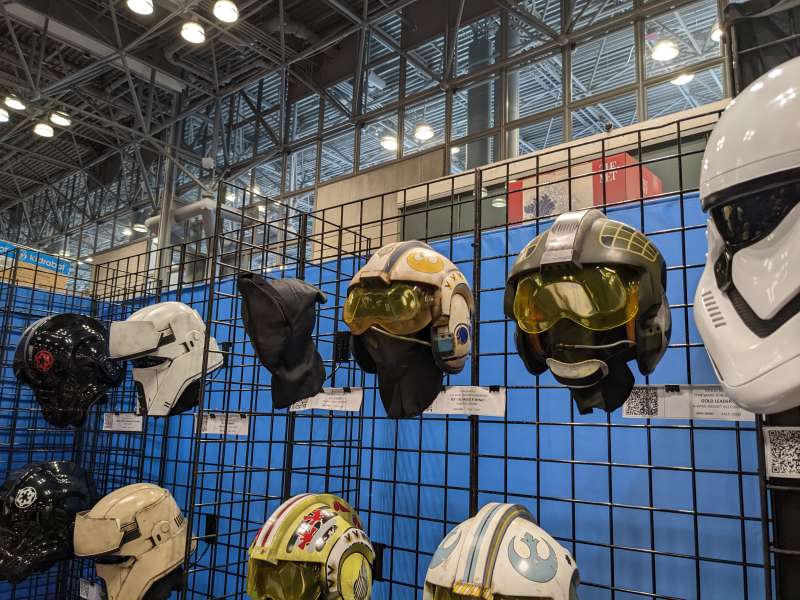 Handmade by Robots
Although they look like handwoven plushies these vinyl figures are made to look as though they've been made by robots as we discovered when interviewing the Handmade by Robots team.
Check out the Handmade by Robots website
here
.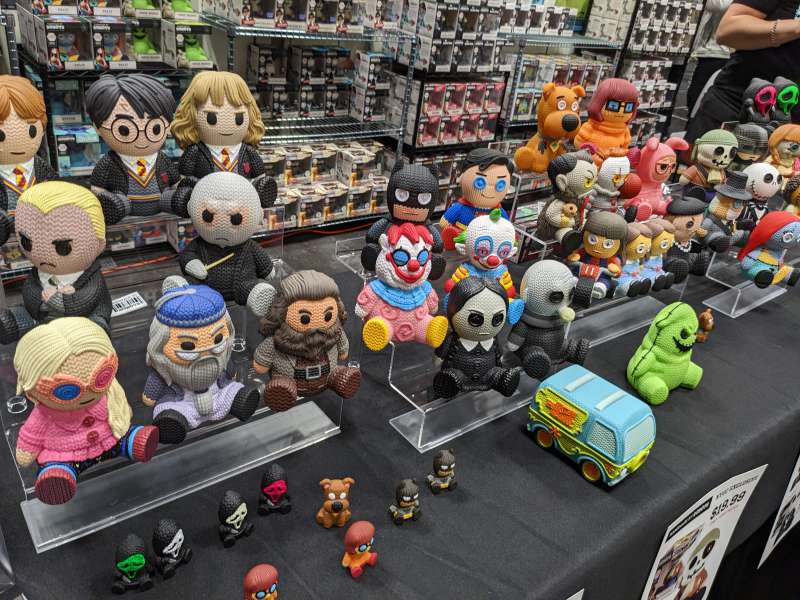 Hero Within
If you've ever dreamt of being a crew member on a Star Trek universe Starship, Tony Kim at Hero Within is the man to see. Tony won't be able to actually get you onboard a ship, but he can definitely help you dress like you belong on one with the customized Star Trek apparel we found at his booth.
Check out the Hero Within website
here
.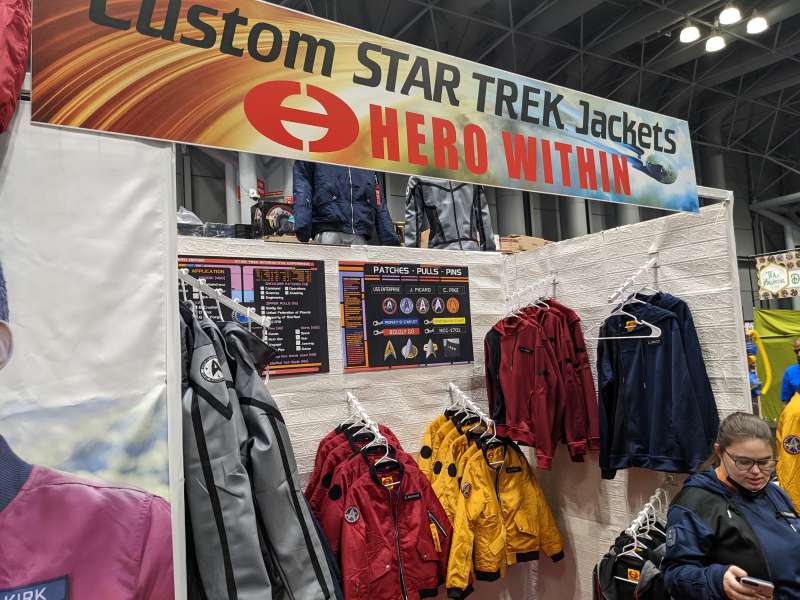 Nakatomi, Inc
One of my favorite artists at NYCC is Tim Doyle, owner and principal artist of Nakatomi Inc. With bright colors and a distinctive art style, the pop culture-inspired art of Nakatomi always draws people to their booth at NYCC. We were lucky enough to catch Timothy in between fan surges to talk with us a bit.
Check out the Nakatomi website
here
.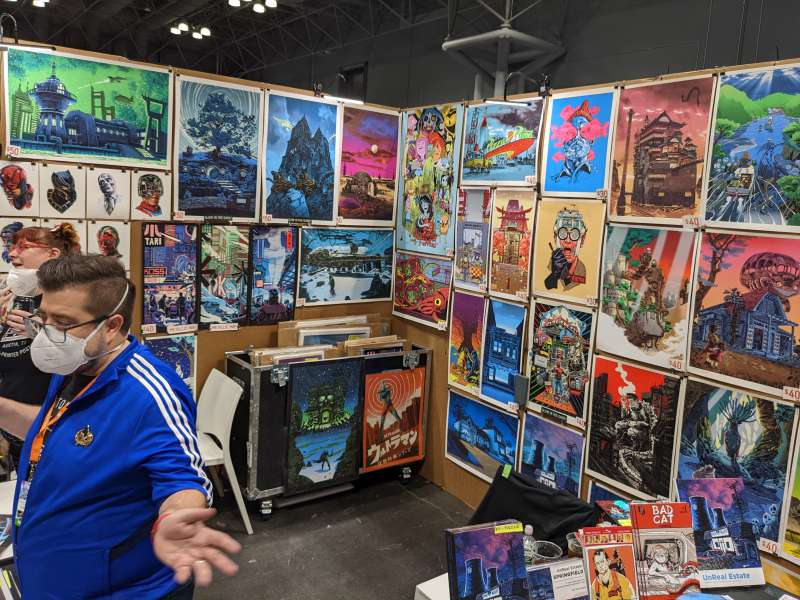 Playmobil
Stopping at the Playmobil booth has definitely become a tradition since they use NYCC to reveal their exclusive special projects for the next year. This NYCC was no different and Ed from Playmobil gave us a glimpse of the new Klingon Bird of Prey coming out in 2023.
Check out the Playmobil website
here
.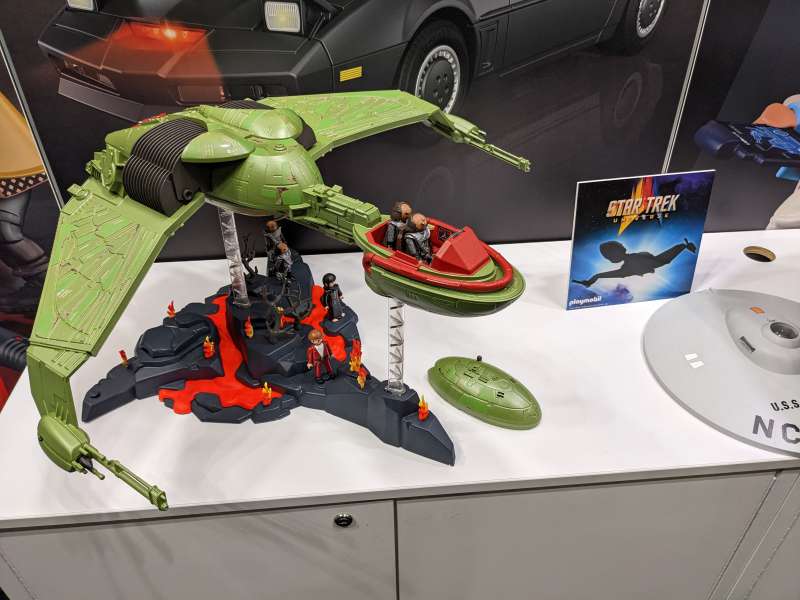 NYCC Cosplayers
There were so many excellent cosplayers at NYCC this year, some were even Fantastic like this Reed Richards and Thing.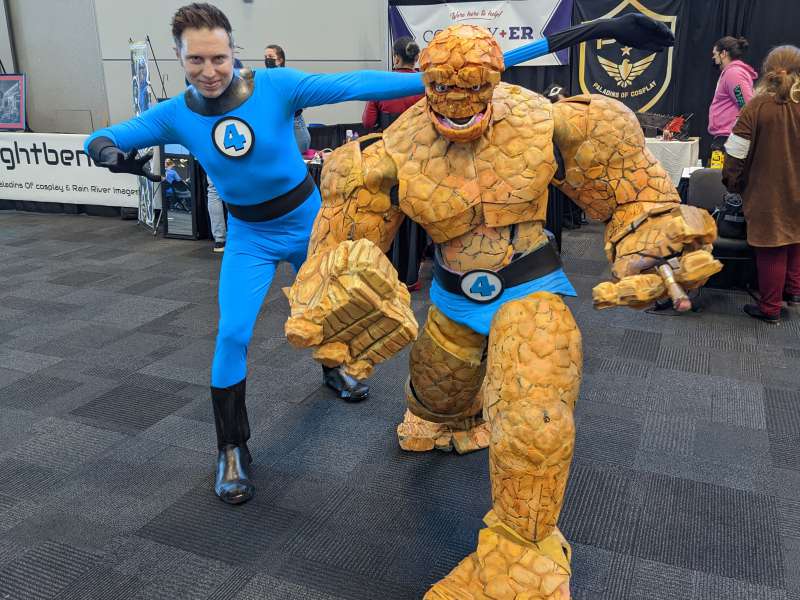 We would've gotten away with it if it weren't for these meddling kids and their excellent Scooby Doo cosplay.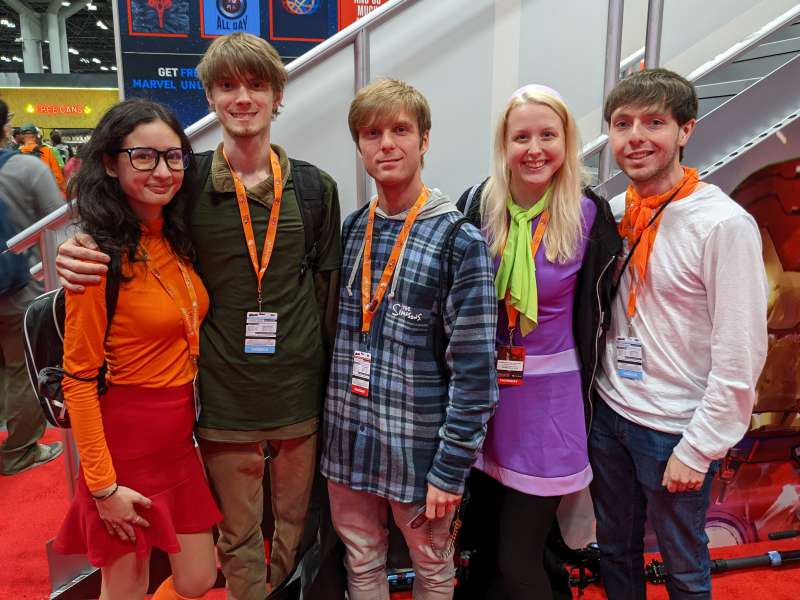 These Judge Dredds are the law.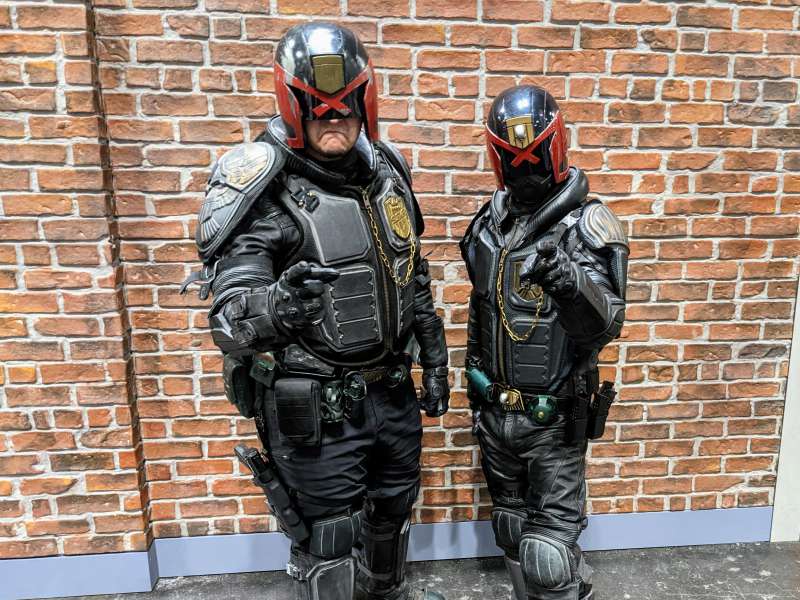 Never a shortage of Princesses at NYCC.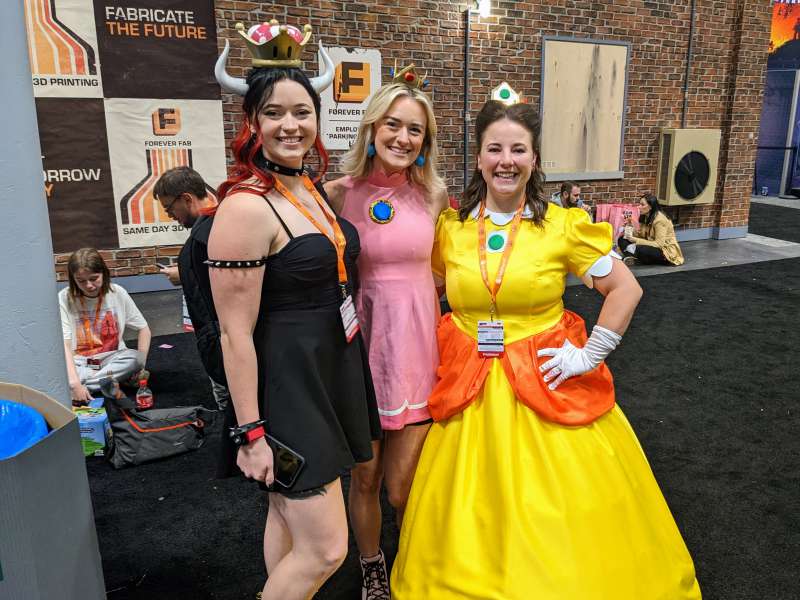 It's like Waldo wasn't even trying. We must've caught him on his lunch break.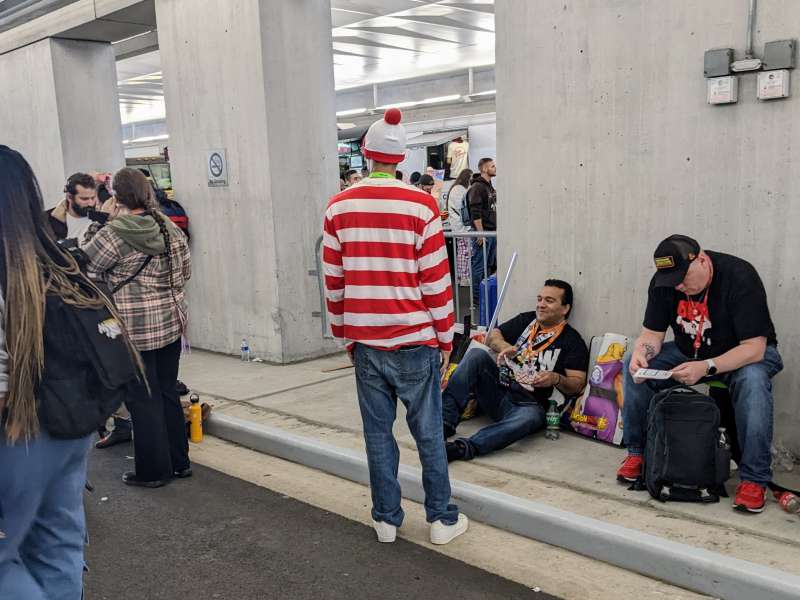 This simple but effective Louise cosplay from Bob's Burger was too cute not to include.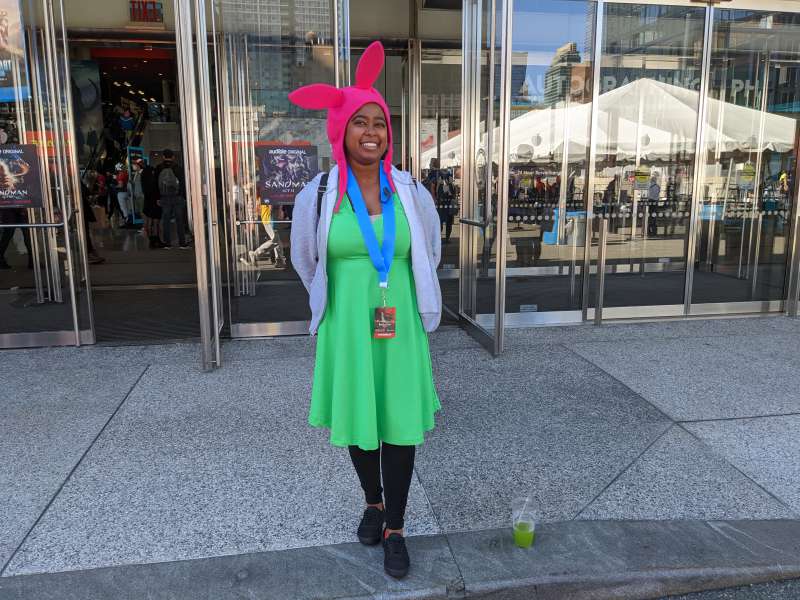 The Cosplay Zone at NYCC was a great place to find some amazing interpretations of favorite heroes, especially these from DC's Dark Nights: Metal universe.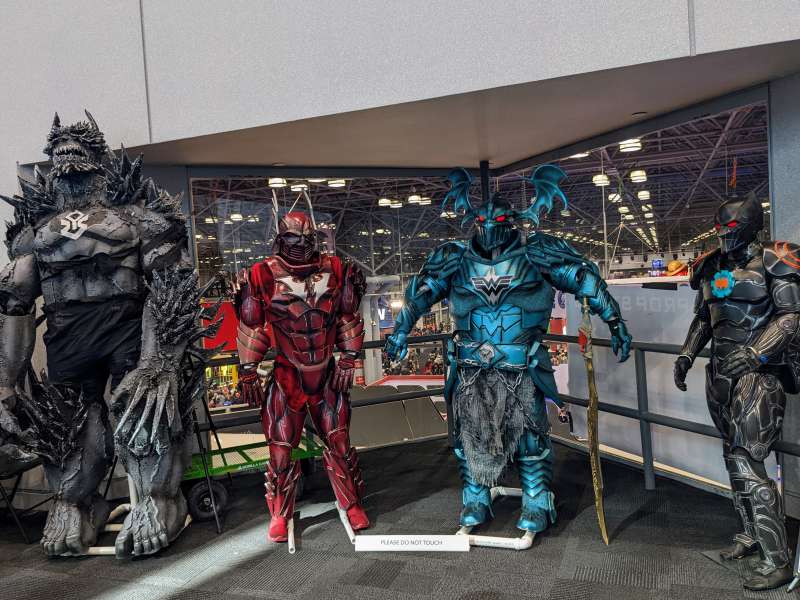 Even a barbarian needs the right setting to really pull their look off properly.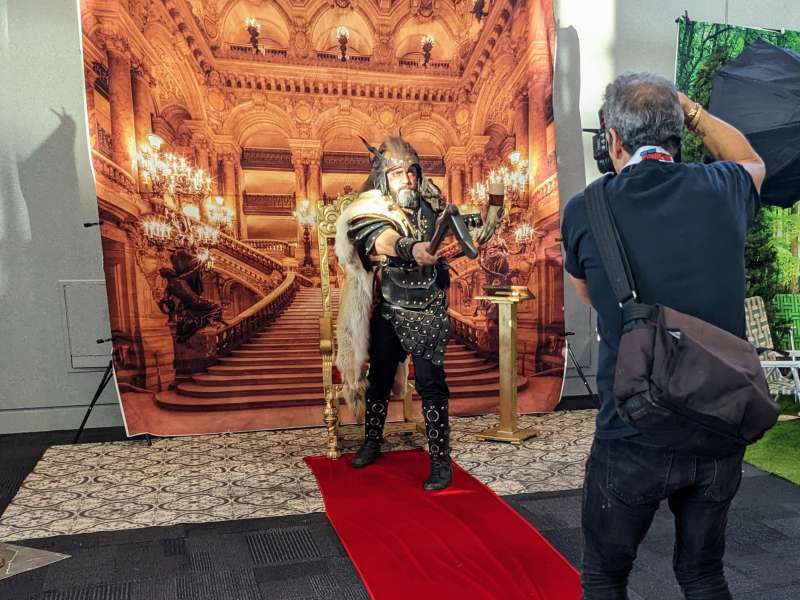 The Sorting Hat did well with this family.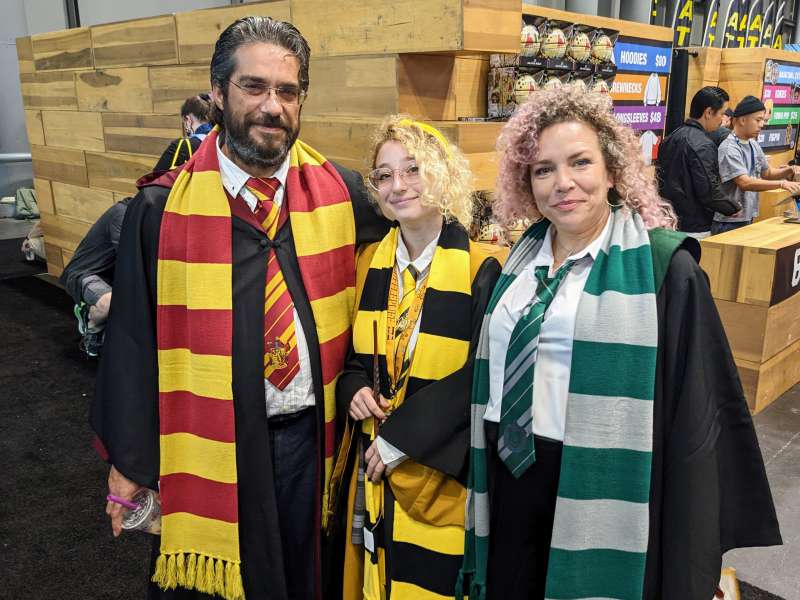 Oh yeah! These Macho Men spent a while trying to out Slim Jim each other.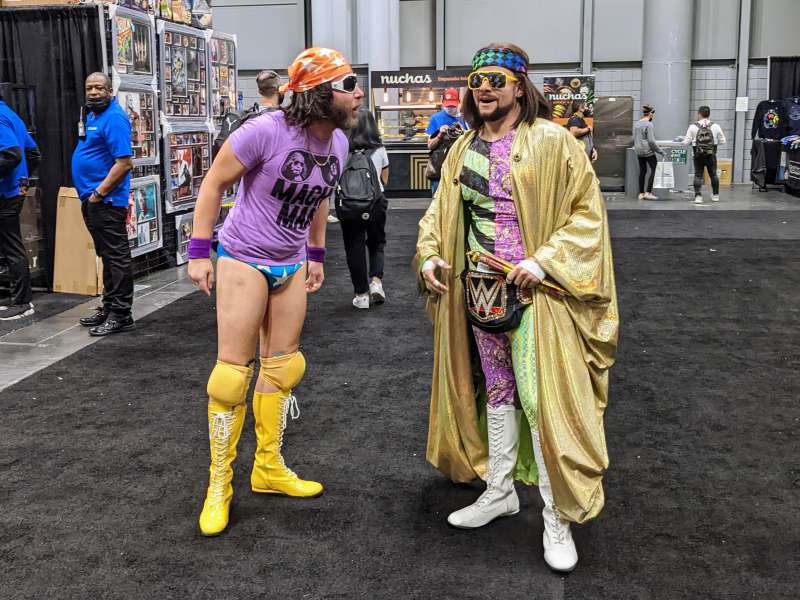 Always a lot of Batmen at NYCC, but this version from the new movie was accompanied by the new Catwoman and Commissioner Gordon.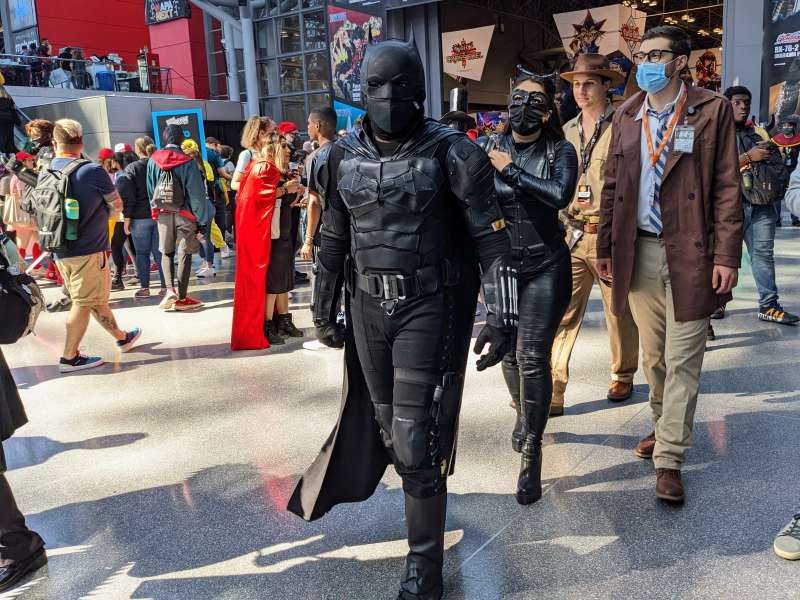 It's nice to see the old gods coming back, like this Zeus from Thor: Love and Thunder.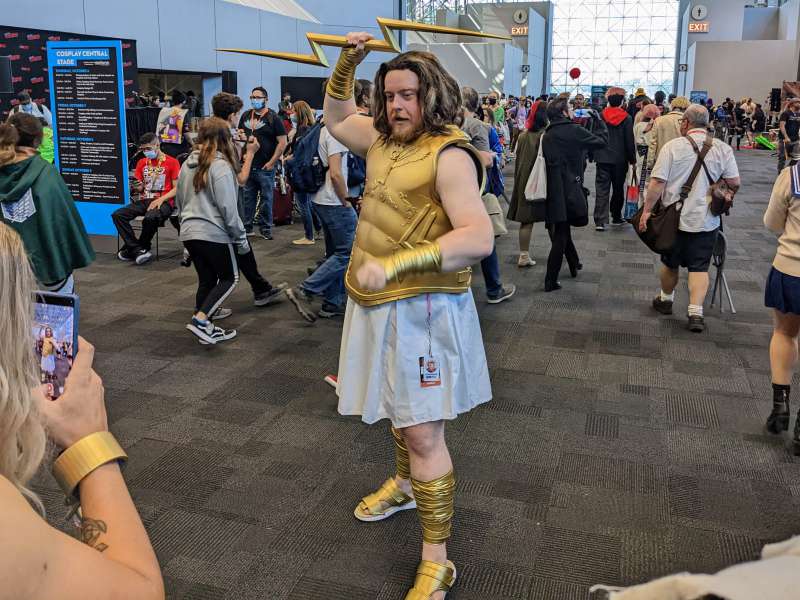 Well done Sith cosplayers will always try to force choke the photographer.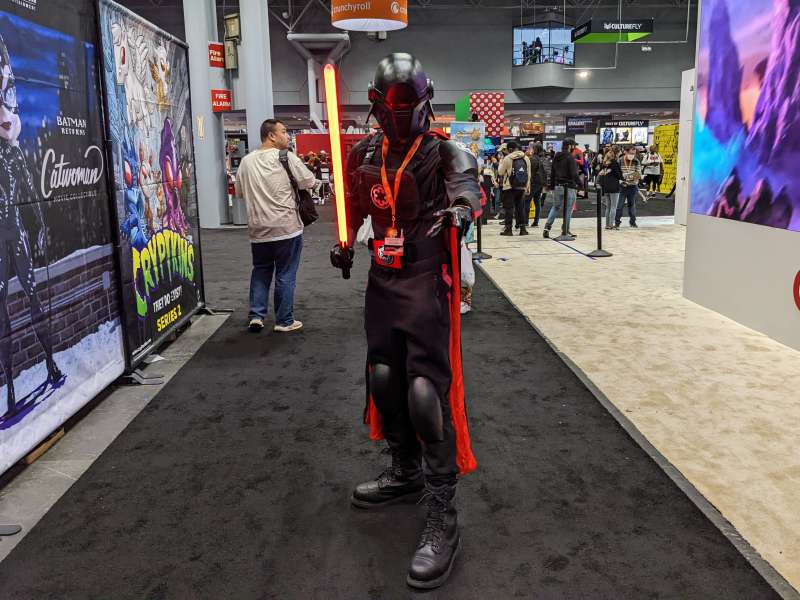 Silent Hill villains are always unsettling, especially when they don't speak and just stare at you.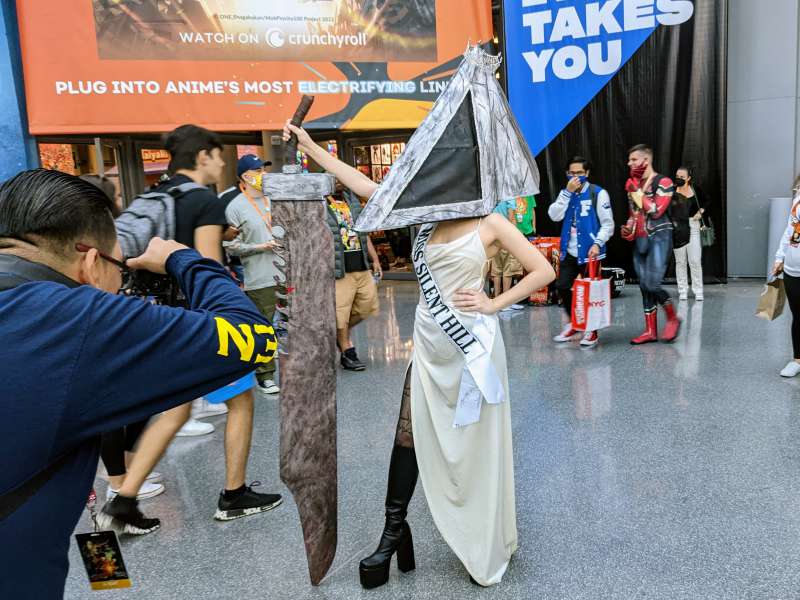 Mystifying everyone around him with his levitation display, this Dr. Strange spent a few hours searching through millions of possibilities for how NYCC would turn out this year.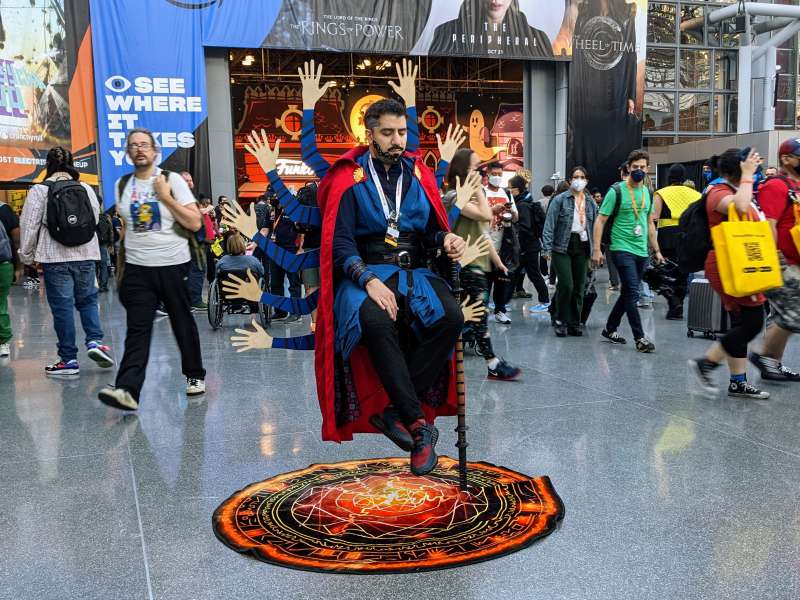 Original cartoon versions of He-Man and Skeletor really did have the power.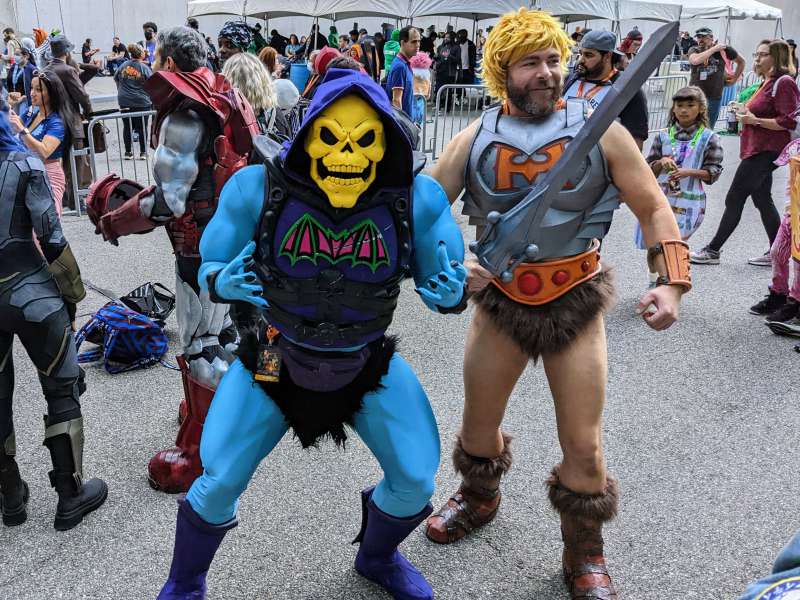 This Martian from Mars Attacks only spoke in "Acks" and creeped out a lot of NYCCers.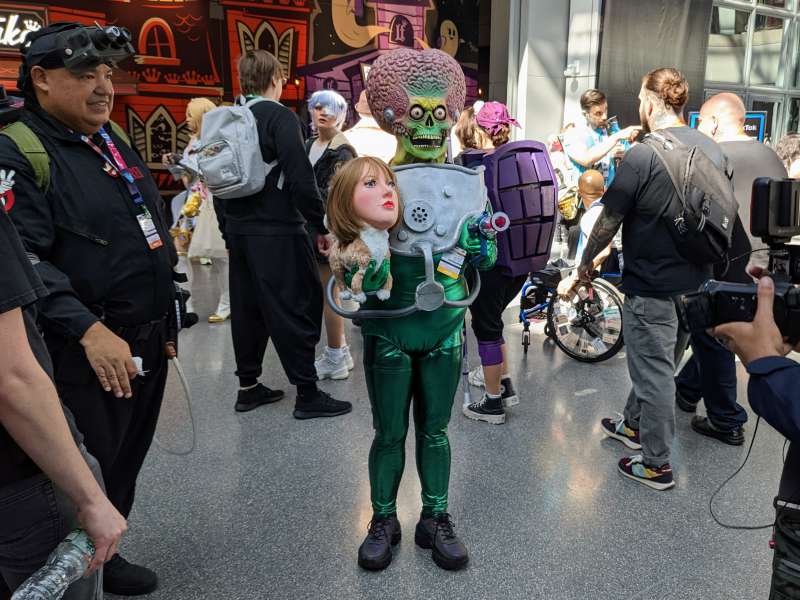 Some costumes literally are painted on, like this custom-made CatWoman.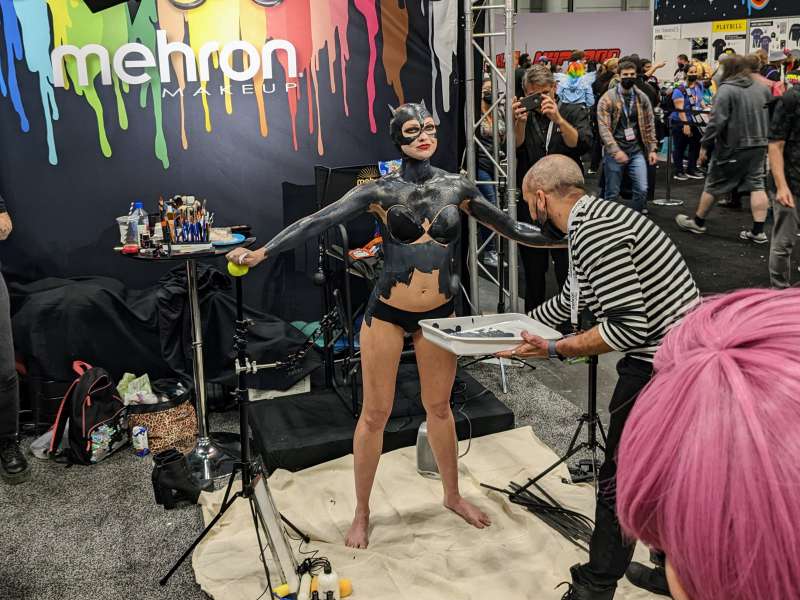 Pickle Rick looked terrified of his new buddy Chainsaw Man.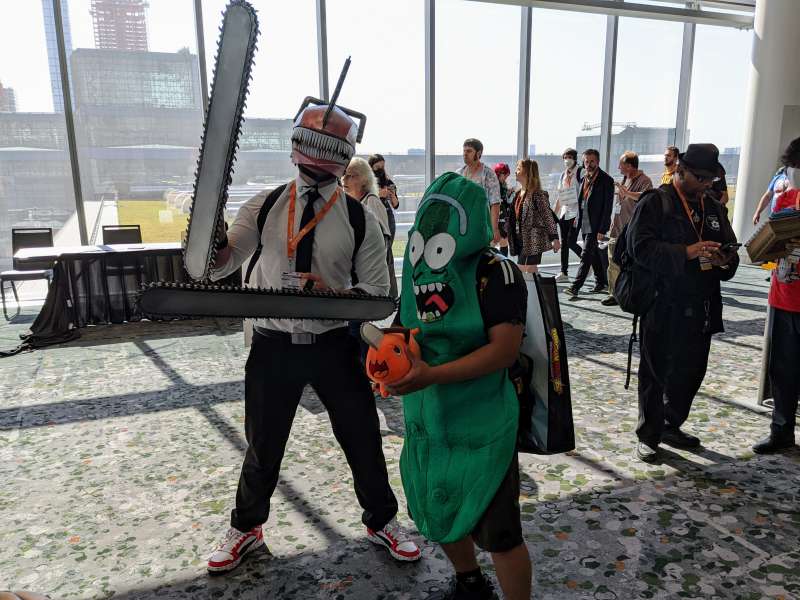 Woody and Buzz sure do have a friend in each other.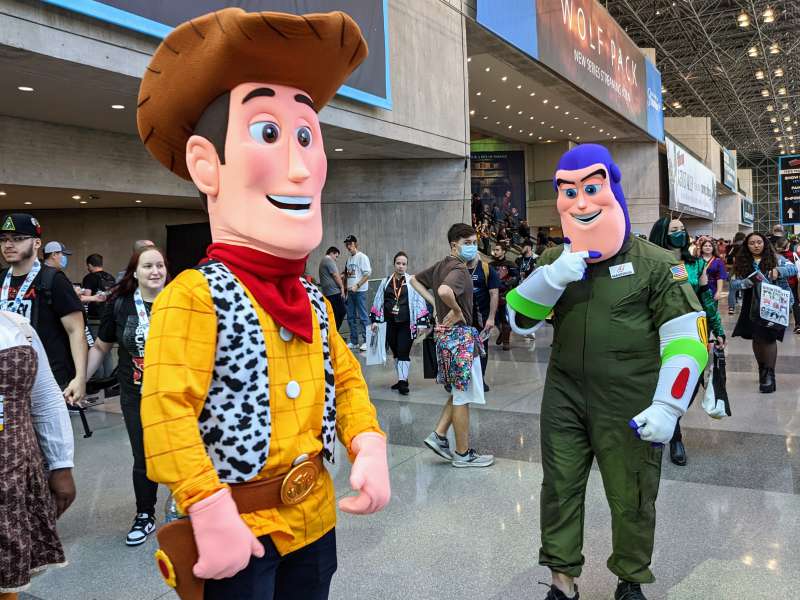 Variants and major Marvel characters all have a place at NYCC.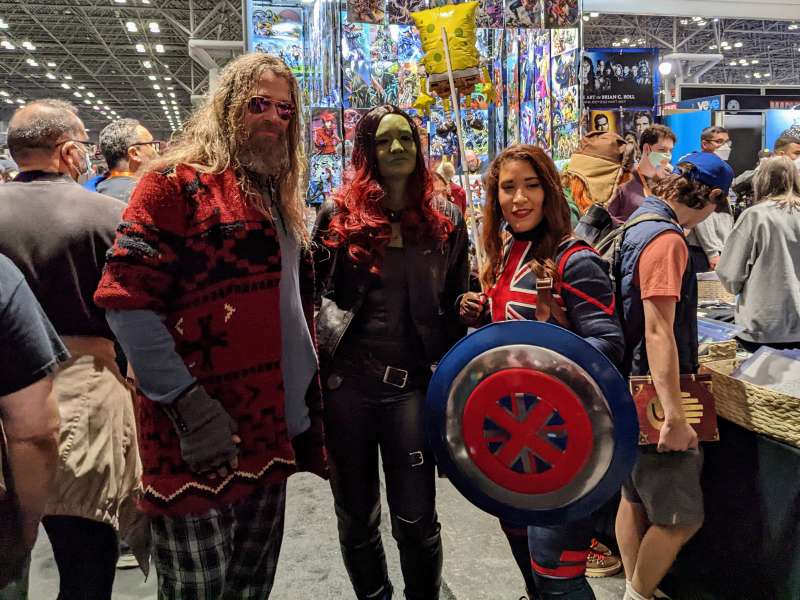 Mr. Freeze was one cool customer in the cosplay area.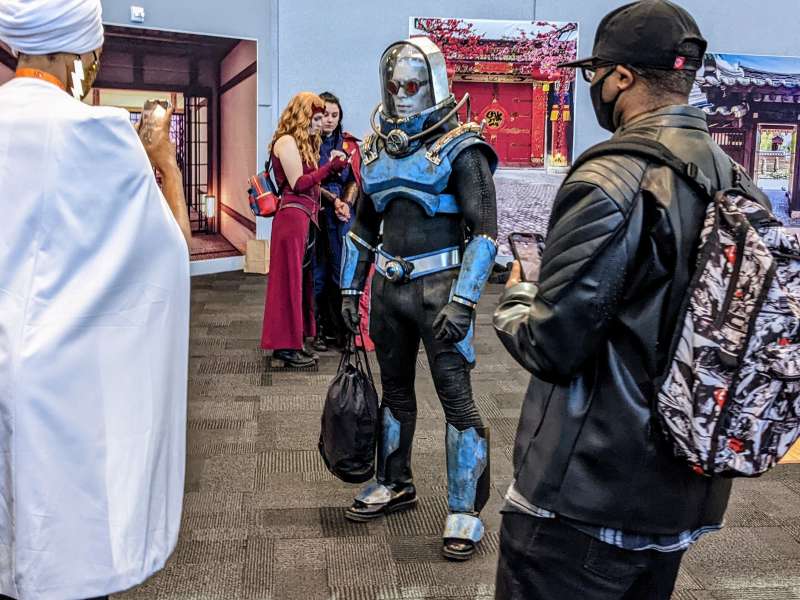 We caught this brave knight suiting up for another walk-through of the show floor.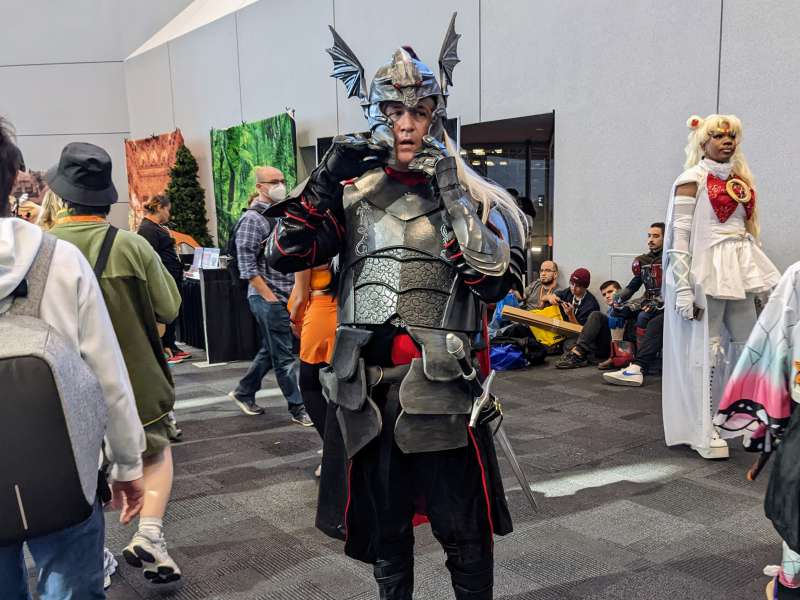 Only at NYCC will you find Mortal Kombat's Scorpion getting ready to fight a homemade Iron Man.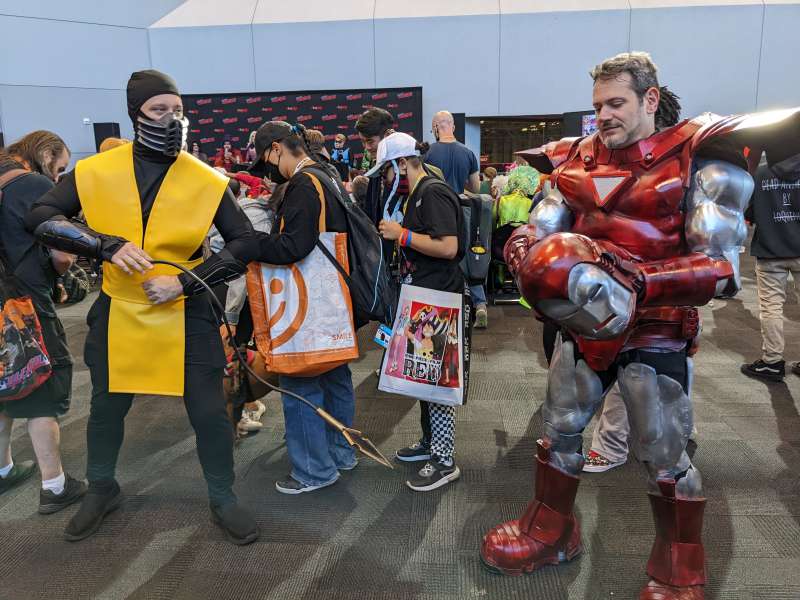 It's rare to see a well-done Dr. Doom, so catching these two variants together was a bonus.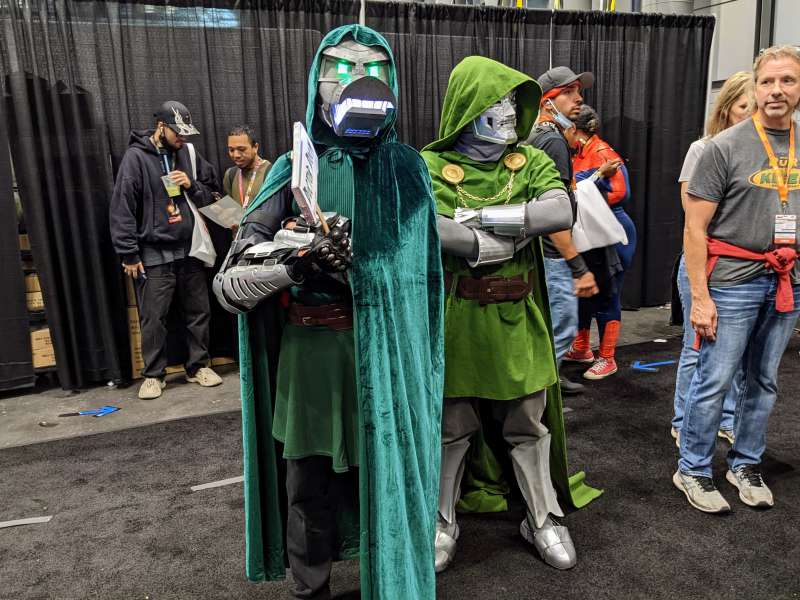 Five Nights At Freddy's is just as popular as ever, both as a game and cosplay option.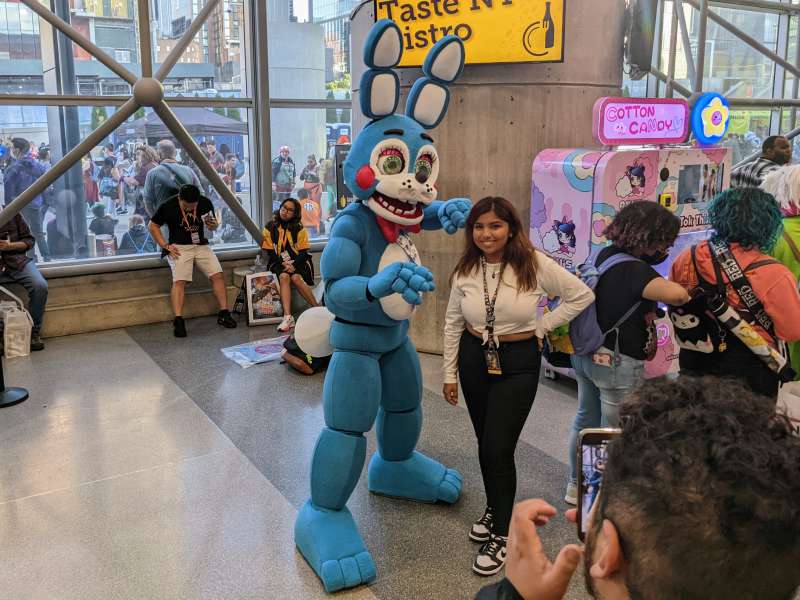 New characters like Starlight from The Boys have been gaining in popularity.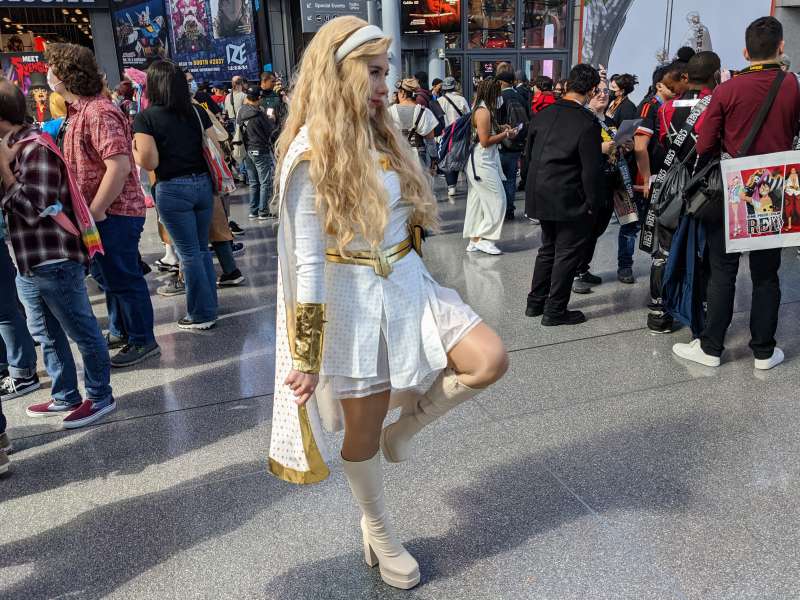 Couples that cosplay together stay together they say and this happy Han and Leia seem to prove it.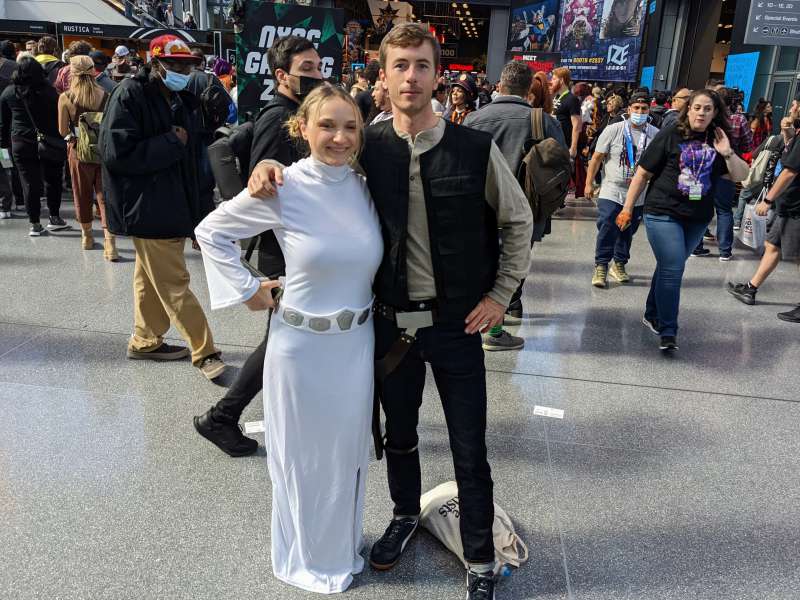 Although this recreation of the Darth vs Obi-Wan battle wasn't as loving.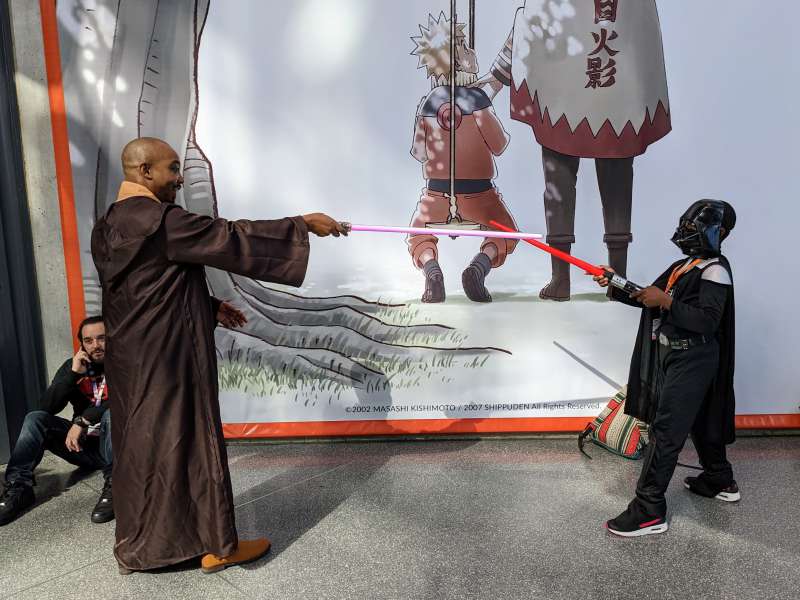 Cosplayers are a funny bunch and this team carried their melted buddy Iceman around with them in a Ziploc all day.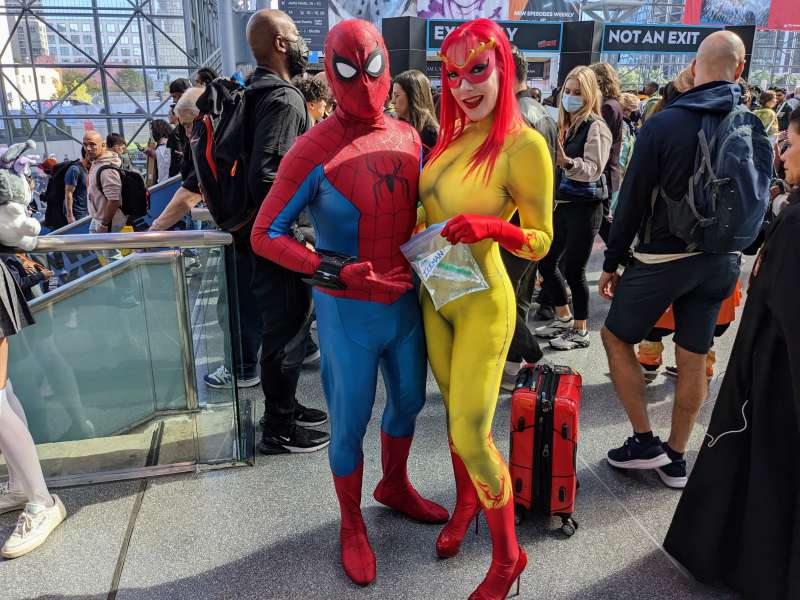 Antiheroes like the Red Hood are just as happy to pose for pics as the "good guys" are.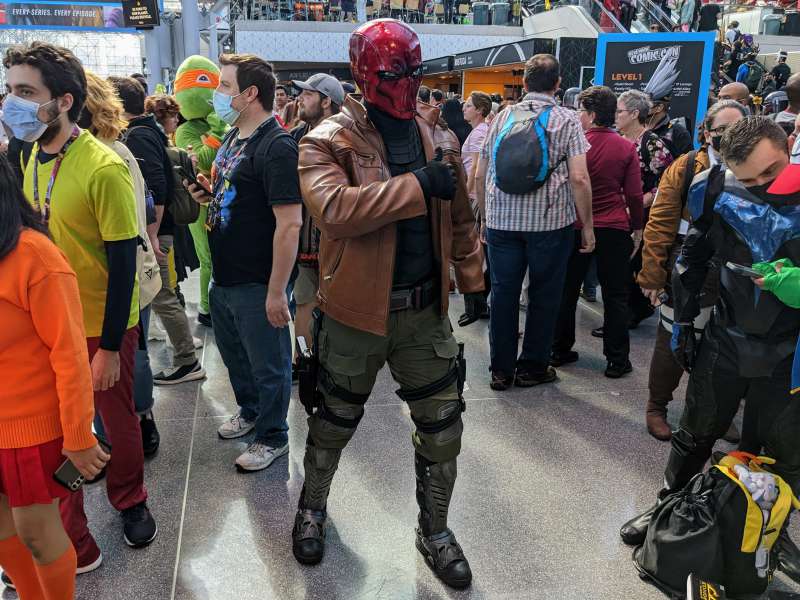 Avengers will always be a stalwart of NYCC cosplayers.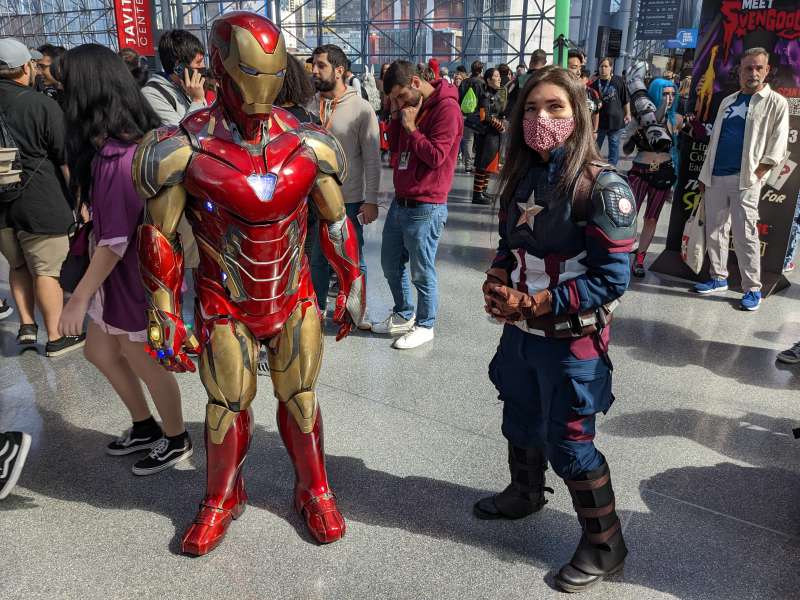 Nothing like a parade of Mandalorians to bring order to the chaos of NYCC.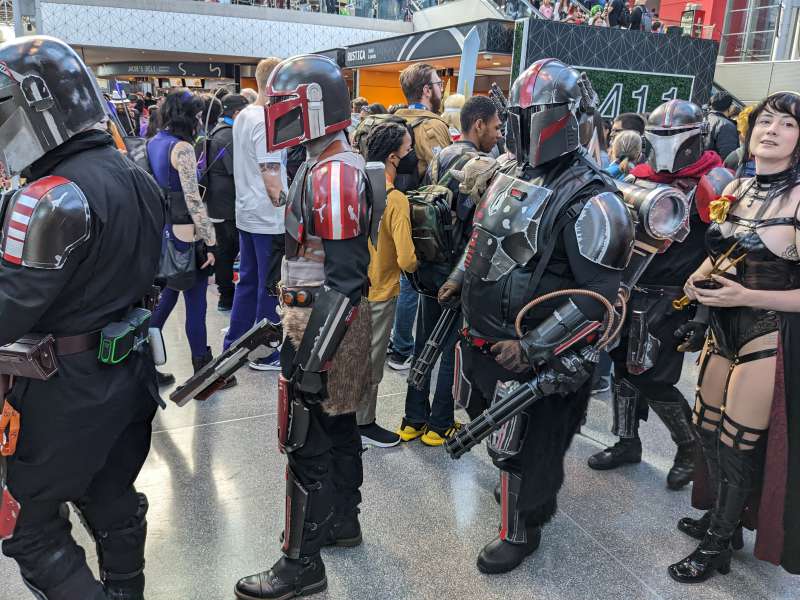 The great Konshu was a lot nicer to the NYCC fans than he usually is to Moon Knight.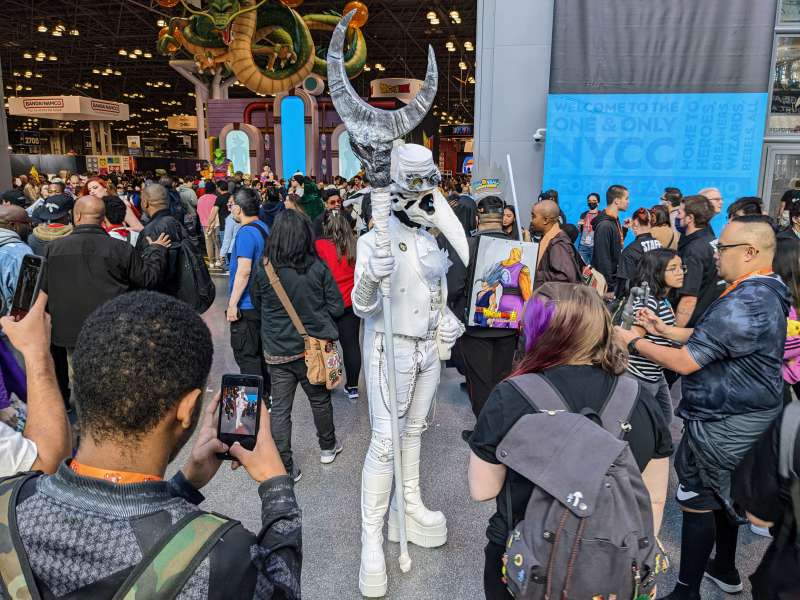 Meetups are a super fun part of NYCC and make for great photo ops.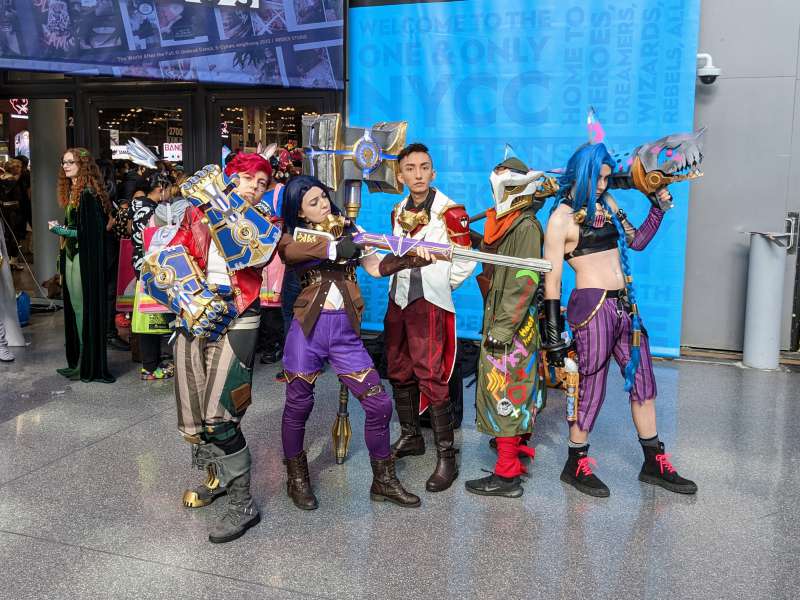 It was fun to see all of the innovative different takes on Moon Knight.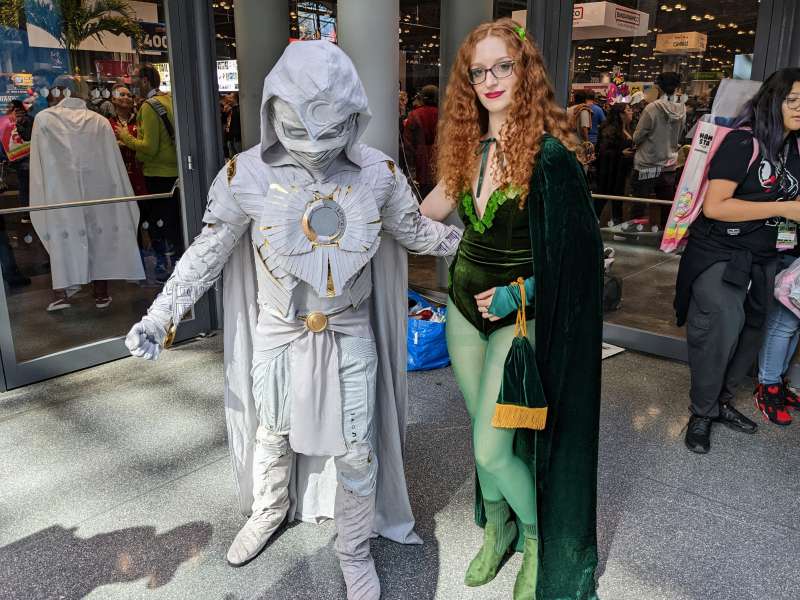 This Juggernaut was as fun as he was imposing.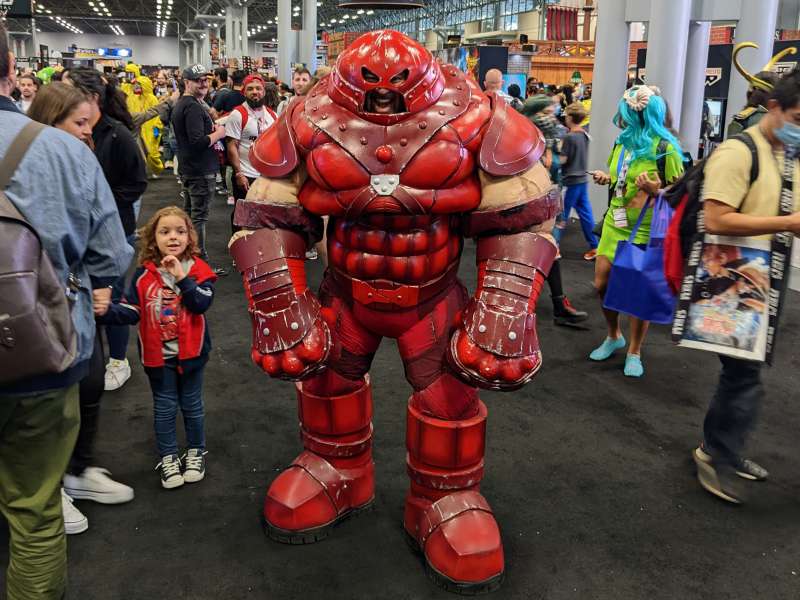 Turns out Moon Knight isn't the only imposing figure clad in white when Kingpin is around.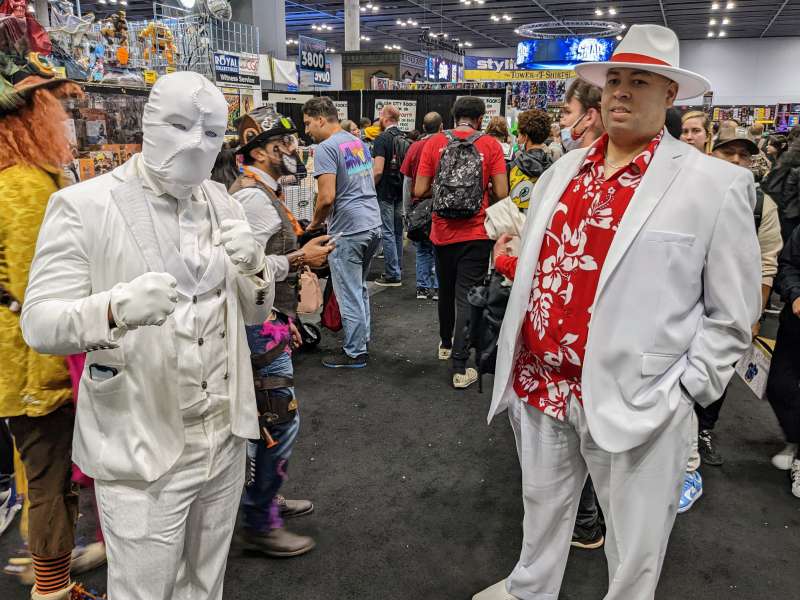 Mando and Baby Yoda, while not as popular as last year, still were able to attract fans.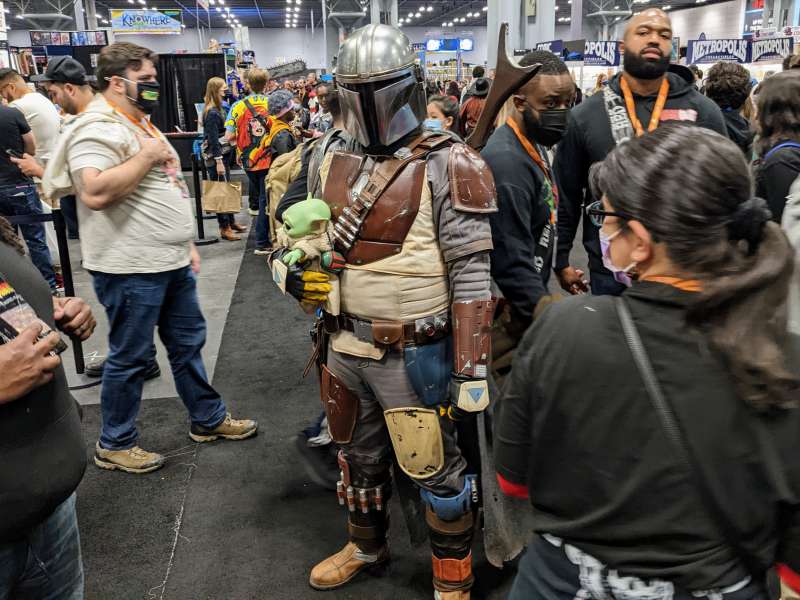 The crew from Aliens easily won the best team cosplay award in my book.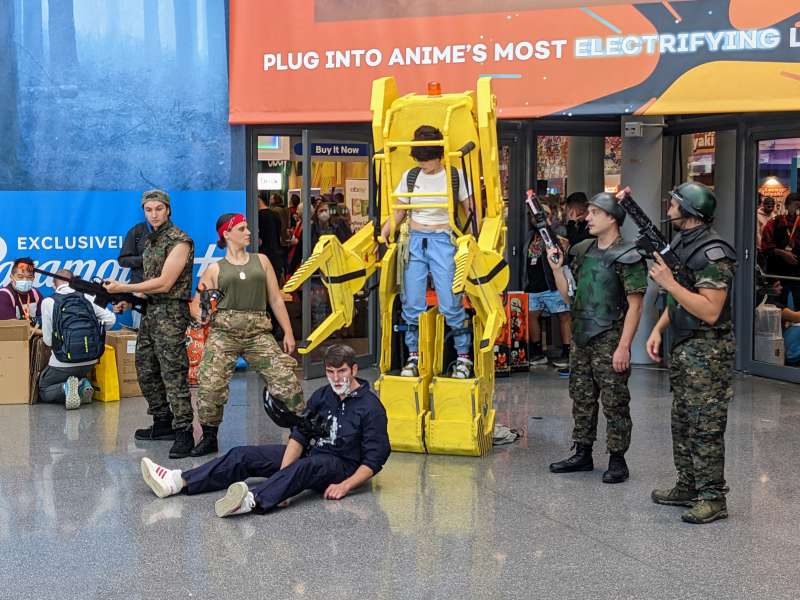 Spider Gwen and her companion were having a lot of fun posing for friends.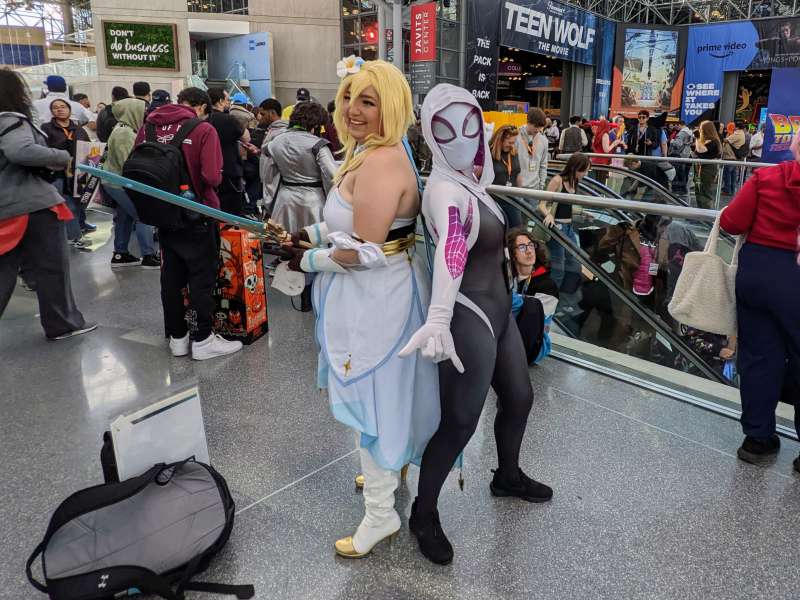 This Deadpool hanging out and mashing up Spiderman Homecoming, Overwatch, and I think Hello Kitty cracked us up.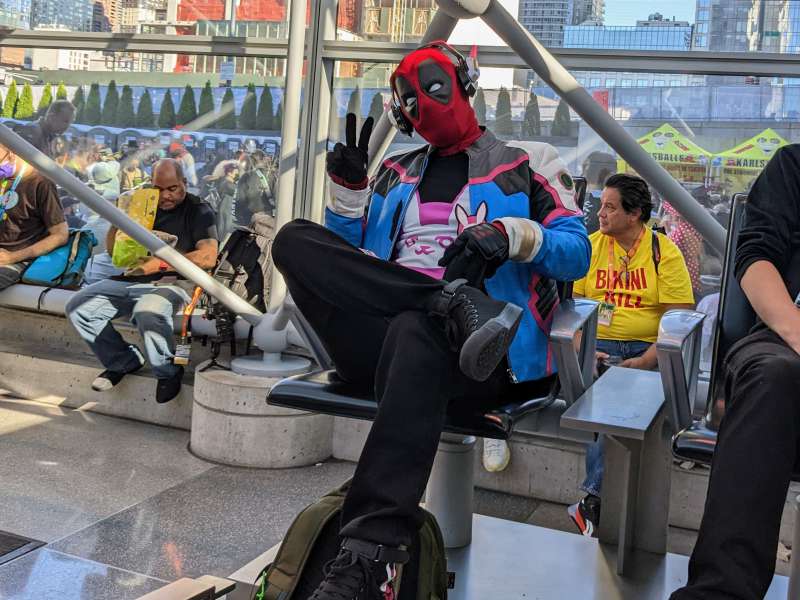 Nobody likes Candy Corn, but it's hard not to like this guy's version.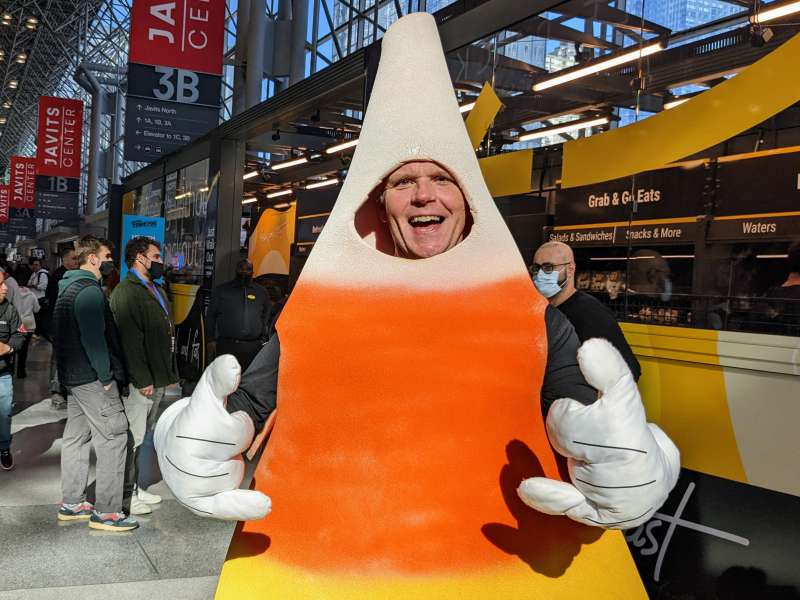 The best cosplay costumes are often ones like this, unique, expertly crafted, and with floating thunderclouds.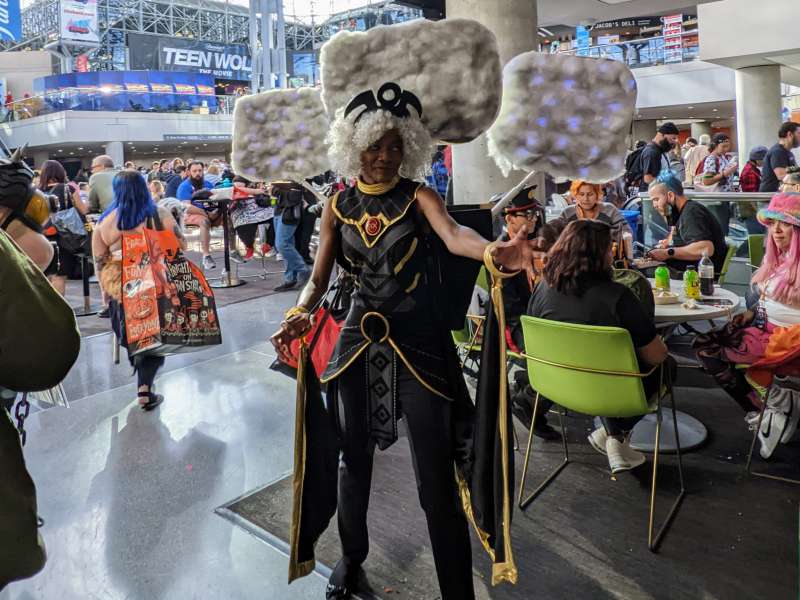 Funko Cat Woman and what looks like a Day of the Dead inspired Bat Woman made the rounds by the Funko booth.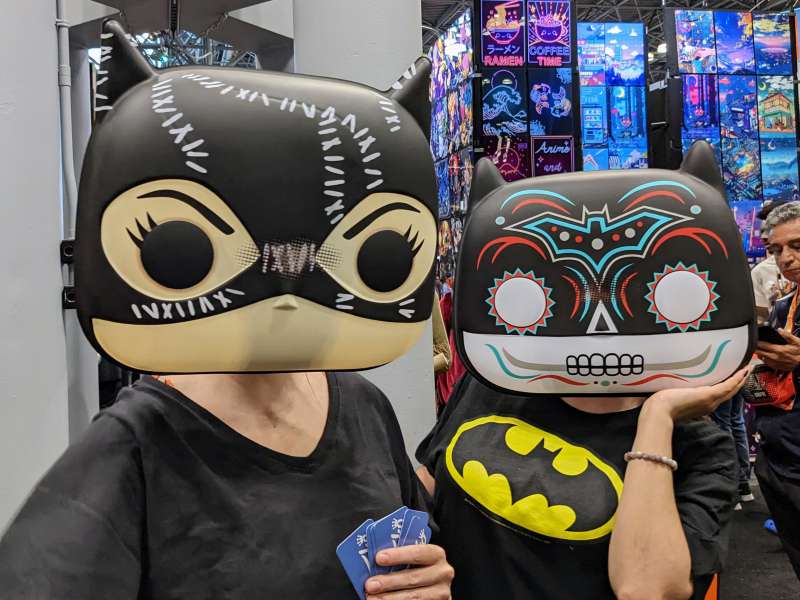 Funko Pennywise is only slightly less terrifying than the movie versions.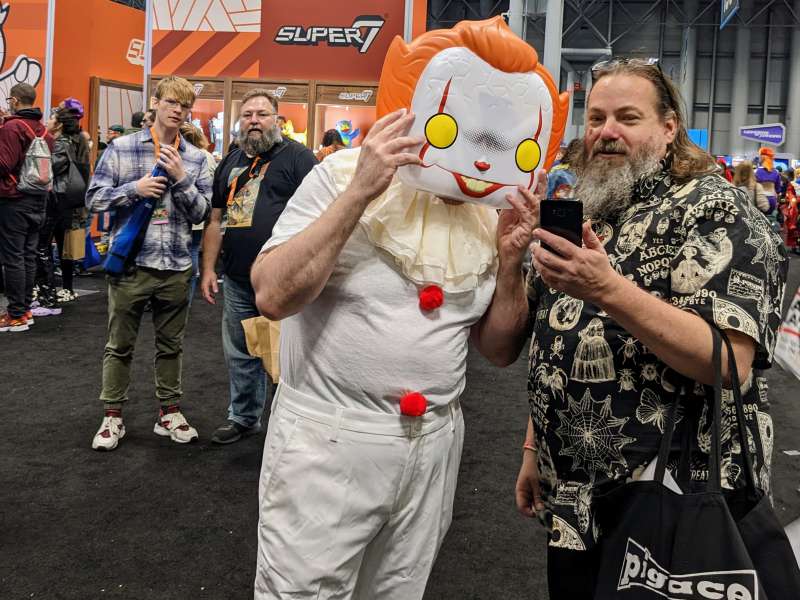 I really hope this Funko Ursula doesn't get eaten by that scary-looking Demogorgon lurking behind her.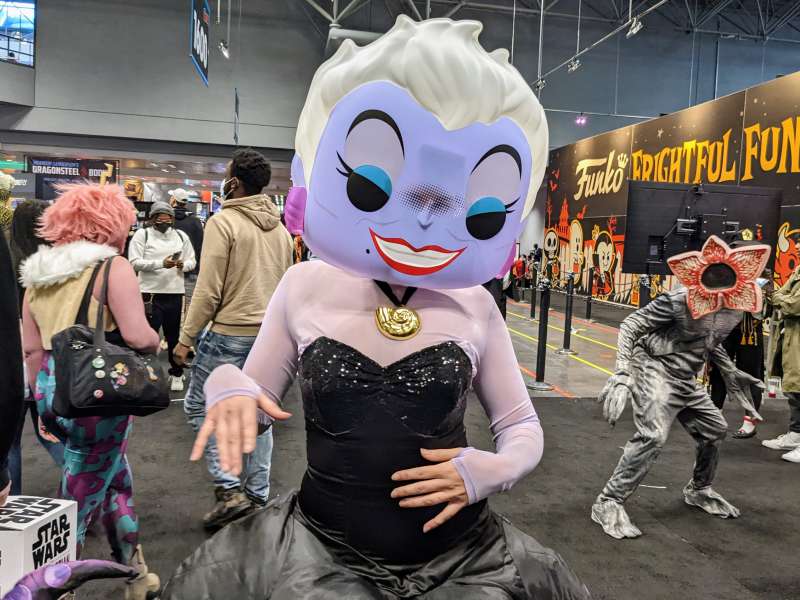 Some duos just work so well together.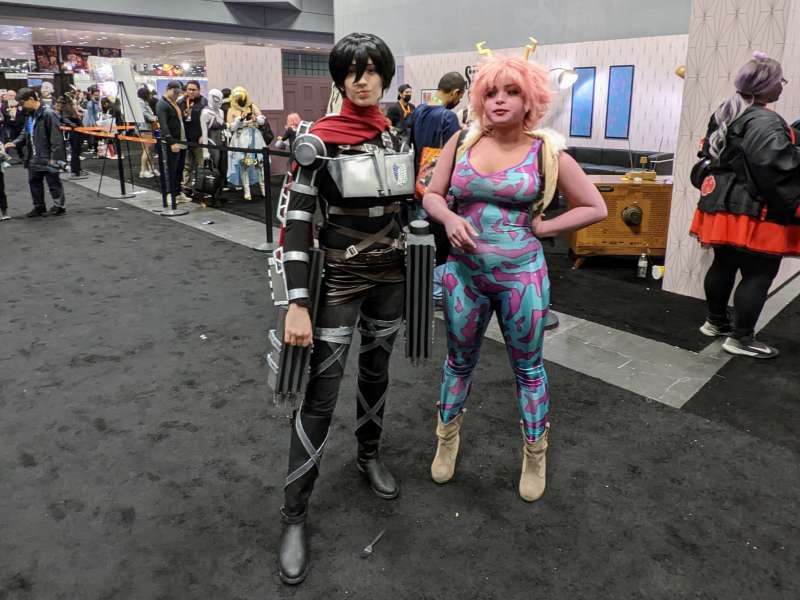 Old-school Scarlet Witch or just cosplaying the Halloween costume from WandaVision?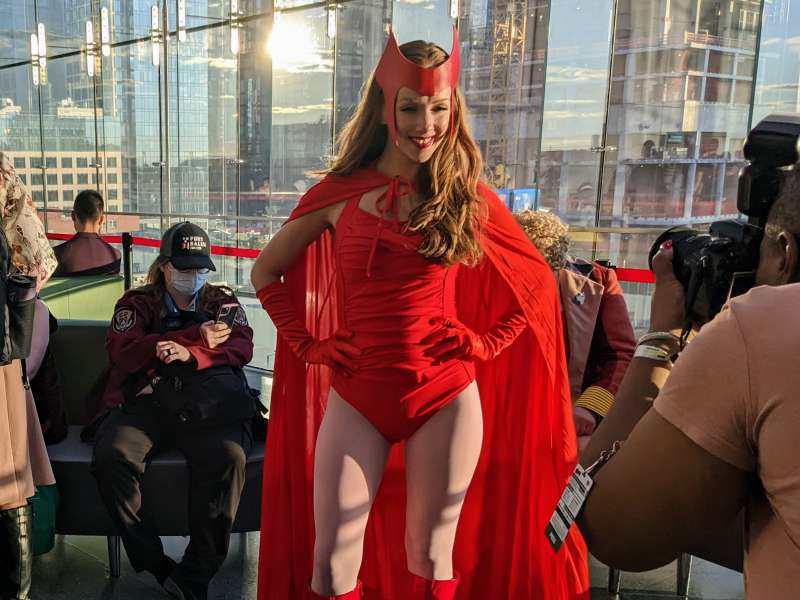 So many anime characters and so much confusion for me as to who is who.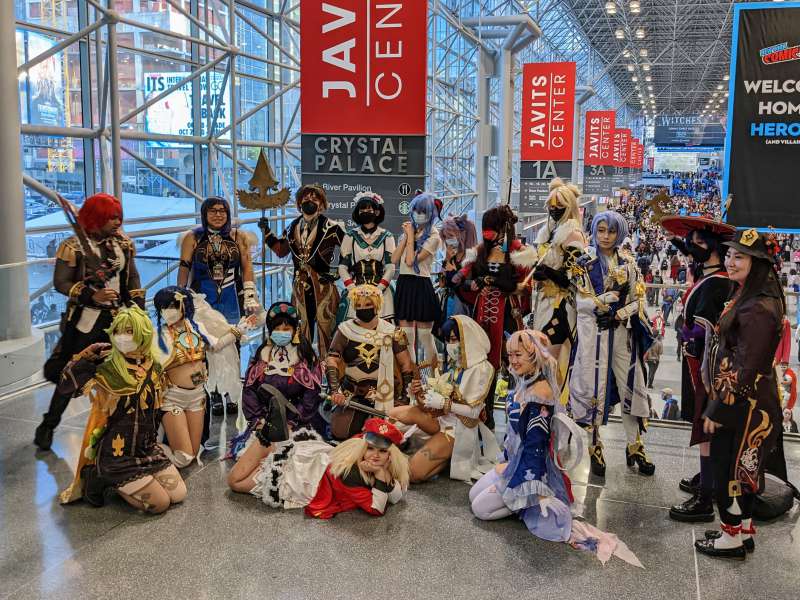 It was nice to see Loki out there making friends.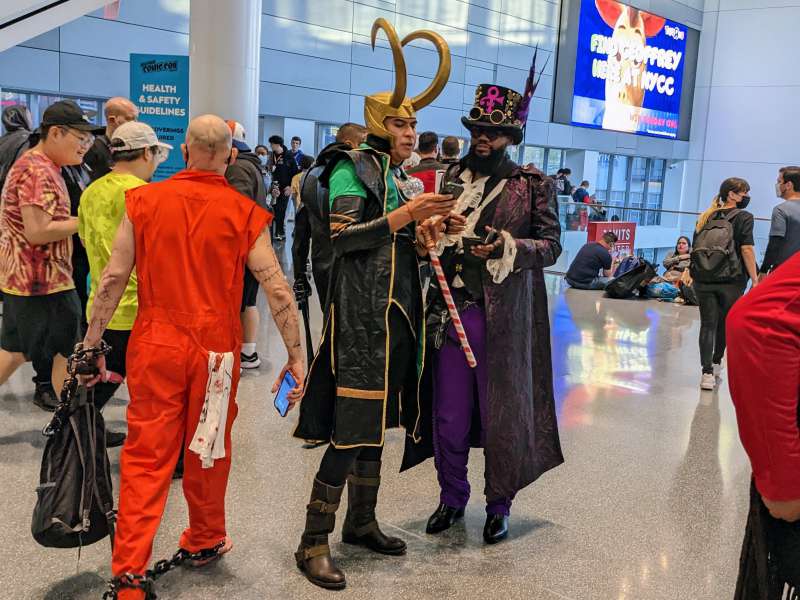 We spotted this outstanding Metroid cosplay a few times but this was the only time we were able to catch her without her helmet on.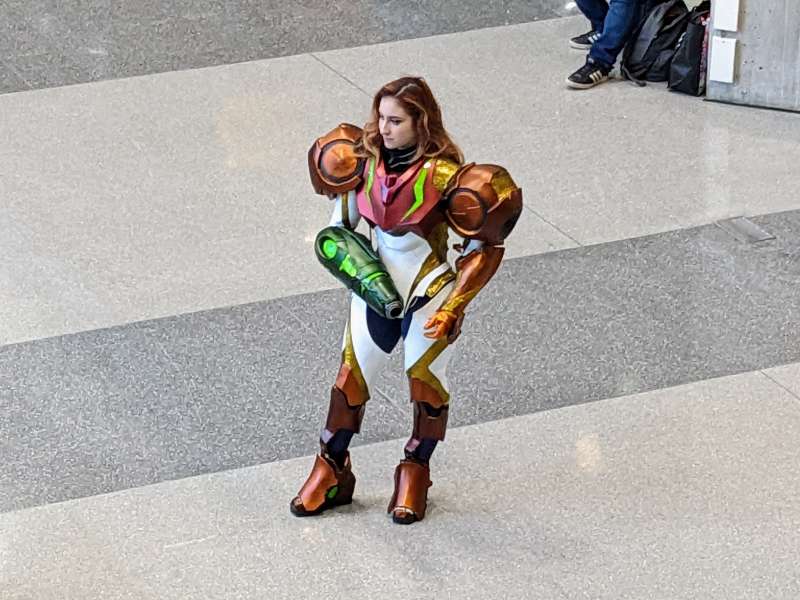 Moon Knight was a popular choice this year due to the success of the Disney+ show.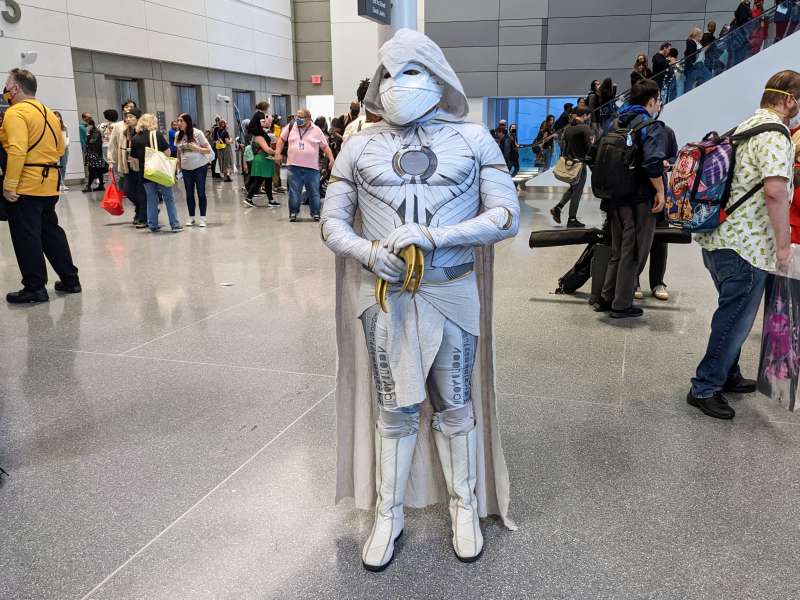 Always great to see the Dread Pirate Roberts and Buttercup making their way through the crowd.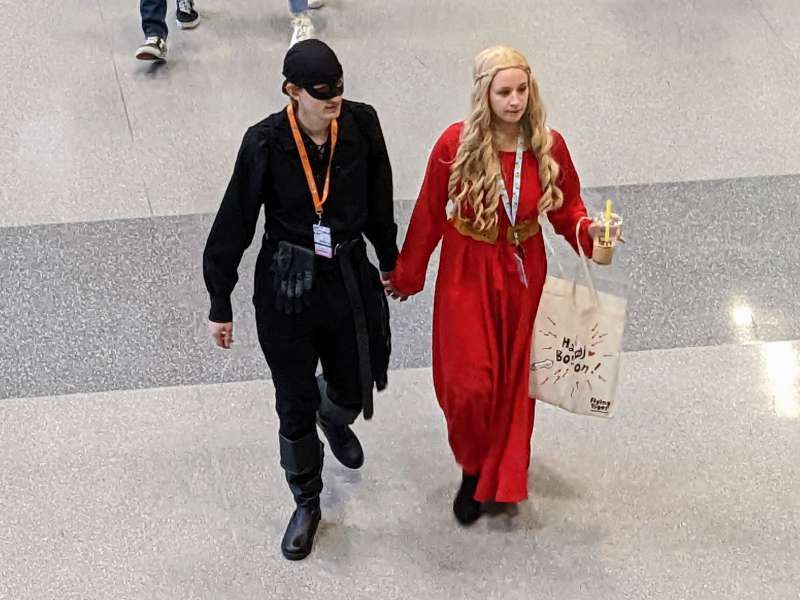 This uncanny Ron Swanson had us doing double takes every time he walked by.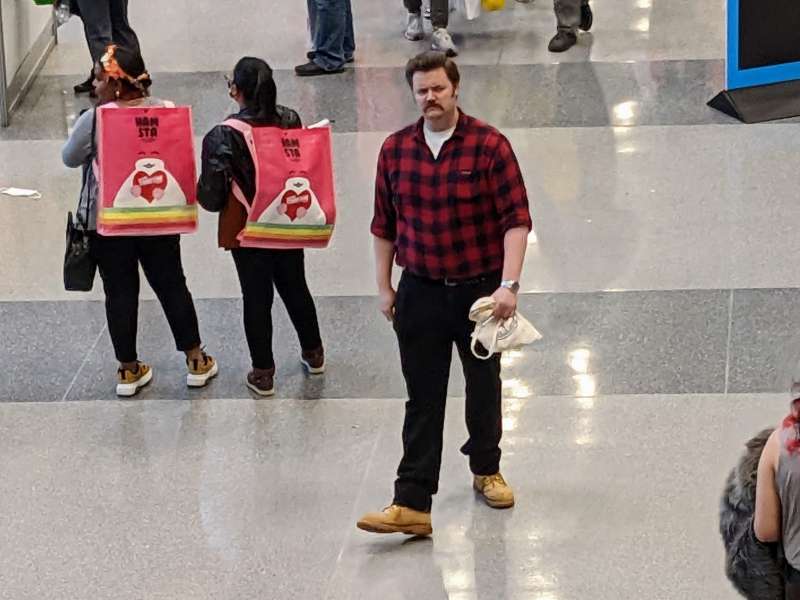 Vash the Stampede, an anime gunslinger, commands respect and photo ops.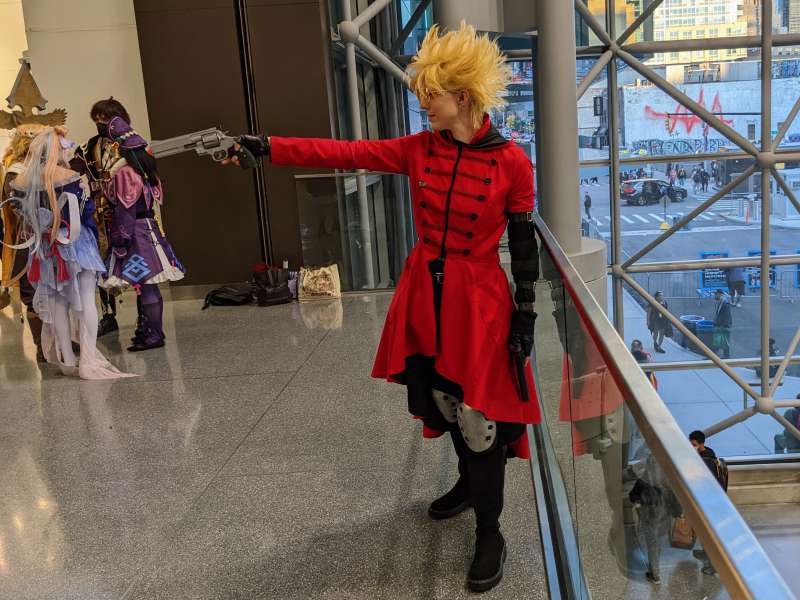 This M.I.B crew was patrolling the con with what looked like a defeated alien in tow.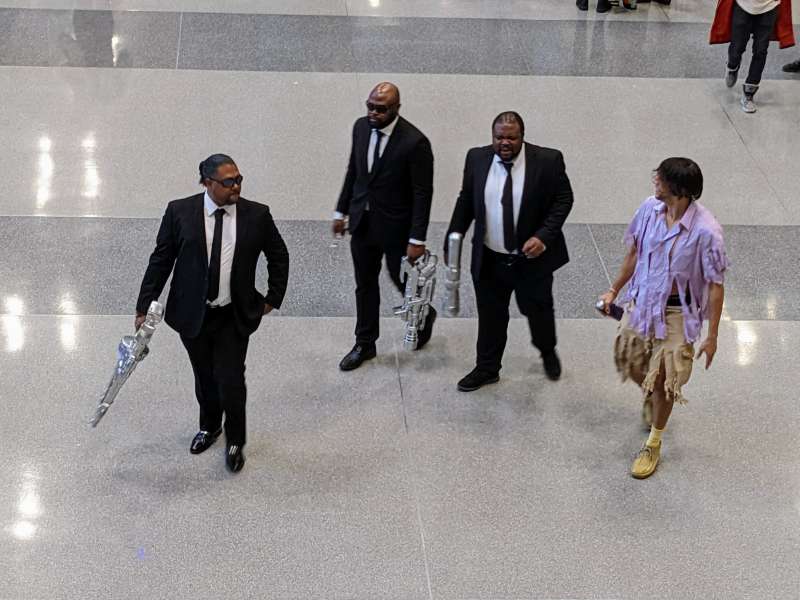 Anime characters are so difficult for me to keep track of, at least I hope these are anime characters.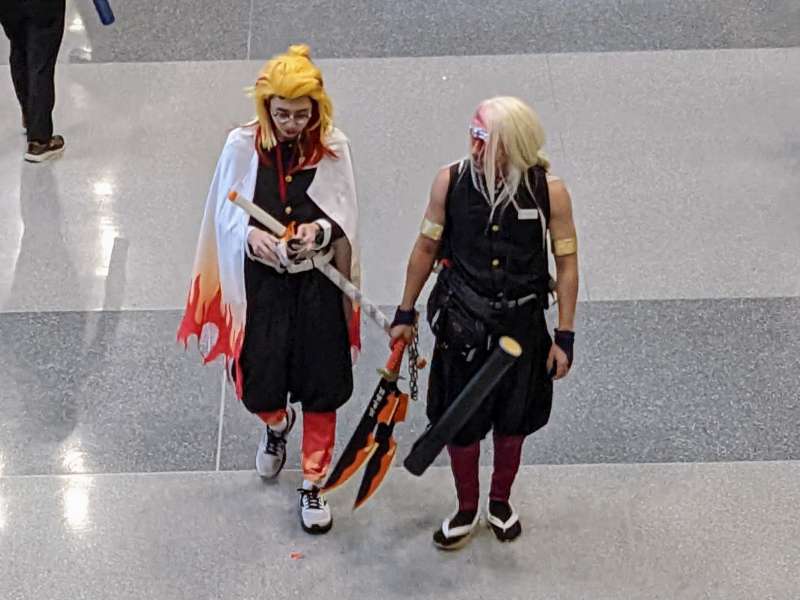 Wednesday Adams gets a helping hand from the trusty Thing.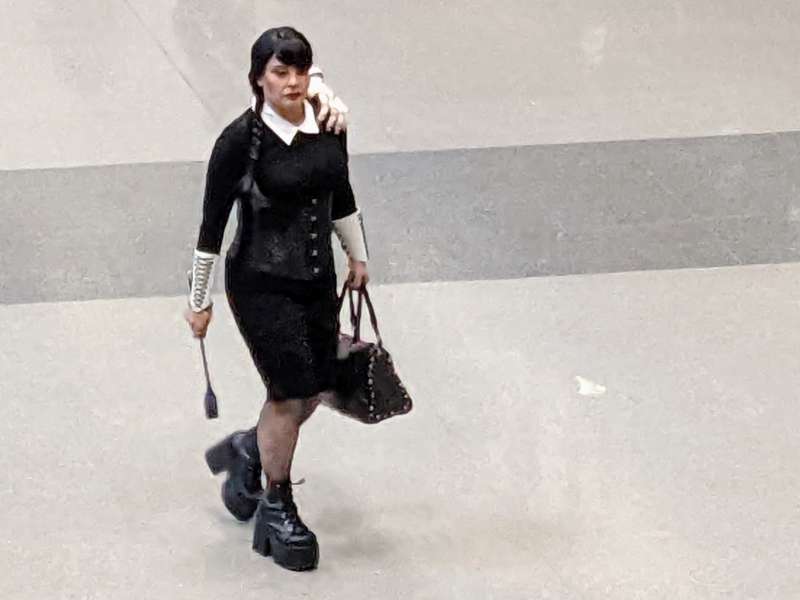 There were several Doc Octopi this year and since the popularity of Spider-Man: Into the Spider-Verse it was cool to see new variations.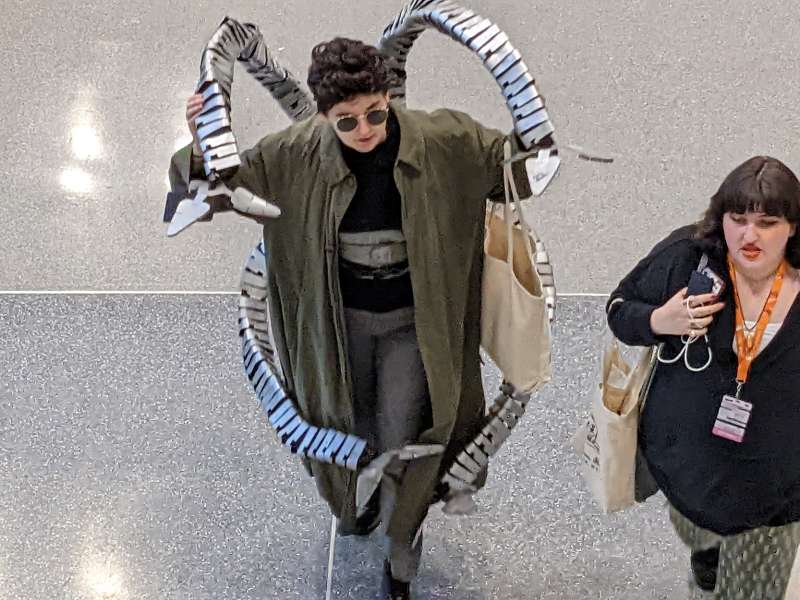 Some cosplay team-ups are as confusing as they are cool.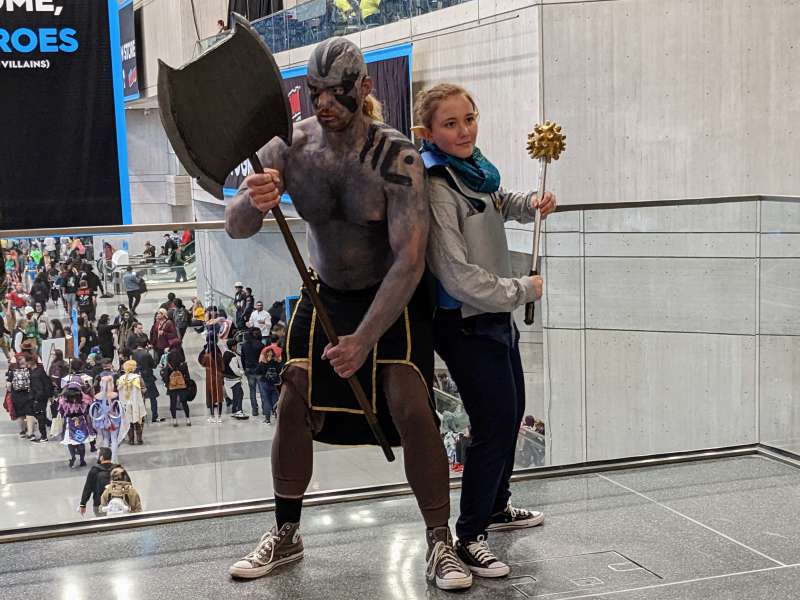 Female Loki was a popular costume last year and it was great to see a few still making the rounds.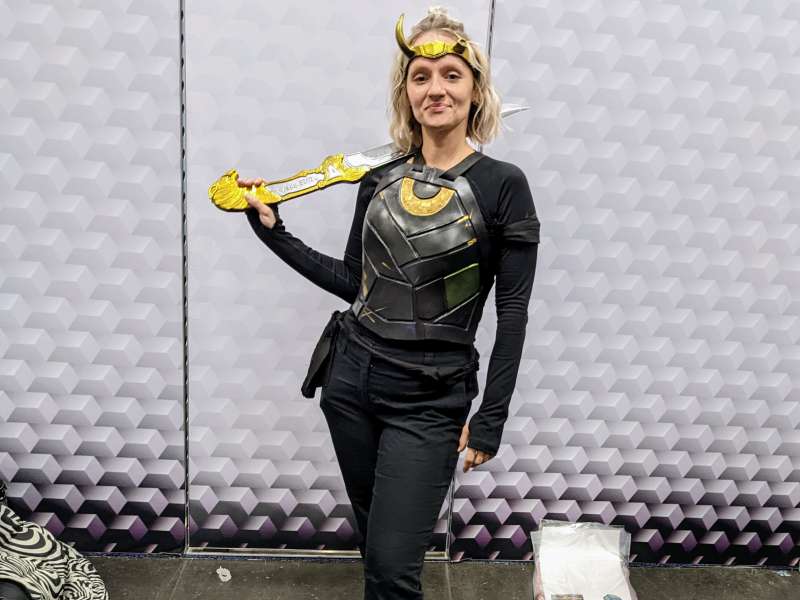 Some costumes are downright scary in how realistic they are.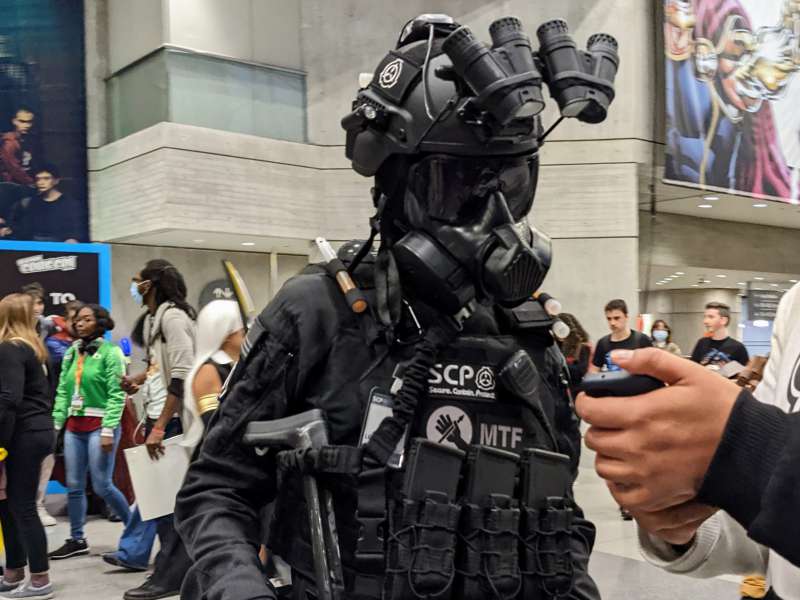 Mandalorians are never too busy to answer important texts while on patrol.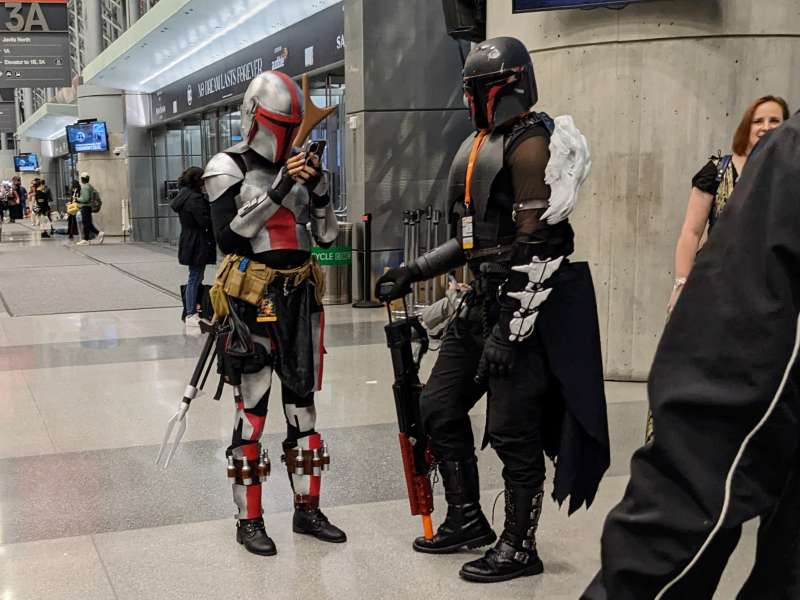 And almost as an omen of what is soon to come, even jolly Saint Nick took time out from his busy schedule to make an appearance at NYCC 2022.