We use affiliate links. If you buy something through the links on this page, we may earn a commission at no cost to you. Learn more.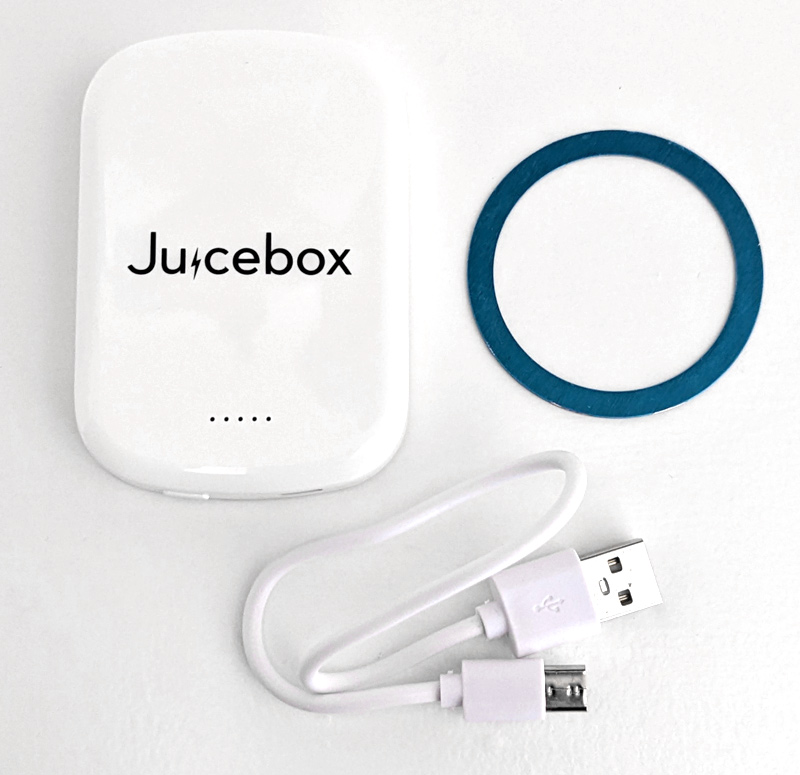 REVIEW – When my kids were little, I carried juice boxes with me everywhere.  You know what I'm talking about, right?  Those little boxes of apple juice or fruit punch were critical in keeping the savage little rag-a-muffins at bay when they turned cranky. Fast forward to years later and I get just about as cranky when I run out of power on my gadgets, and a little box of fruit punch just won't do. So the Juicebox MagSafe Wireless Battery Pack caught my eye with the 'juicebox' name, but does this little battery pack take a bite out of those annoying low battery indicators?  Let's find out.
What is it?
The Juicebox MagSafe Wireless Battery Pack is a slim battery pack that adheres directly to your device that is MagSafe or Qi compatible, provides wireless charging of up to 15W, and provides a 50-75% charge.
What's in the box?
The MagSafe battery pack
1 Mag ring adapter, with 3M adhesive
USB-C charging cable
Hardware specs
| | |
| --- | --- |
| Wireless charging output: | 5W / 7.5W / 10W / 15W |
| Wireless charging compatibility: | MagSafe, Qi |
| USB input/Output | PD 20W (max), 9V 2.25A |
| Battery capacity: | 5,000 mAh |
| Battery energy: | 19Wh 3.8V |
| Input/Output surge protection: | yes |
| Temperature protection: | yes |
| Pass-through charging: | yes |
| Weight: | 4.8 oz |
| Dimensions: | .4 inches thick, 2.5 inches wide, 3.5 inches tall |
Design and features
When you hold the Juicebox MagSafe Wireless Battery Pack in your hand you feel the smooth plastic housing, with rounded edges, and it's very light considering it holds a 5,000 mAh battery. On the front, you'll see the 5 indicator lights.  The 4 lights on the right are white and they show you how much battery you have left (1 light = 25% charge, 2 lights = 50% charge, etc).  The 1st light on the left will show either red (not providing wireless charging) and green (wireless charging is being provided).  When you place the charger on your device nothing will happen until you press the only button on the charger, which is on the bottom edge. Single pressing that button will activate the battery level lights and show you either the red or green light indicating whether or not you have activated the wireless charging feature.  When you want to turn the Juicebox off you can double press the button, or simply remove the Juicebox from your device and after 45 seconds it will turn off.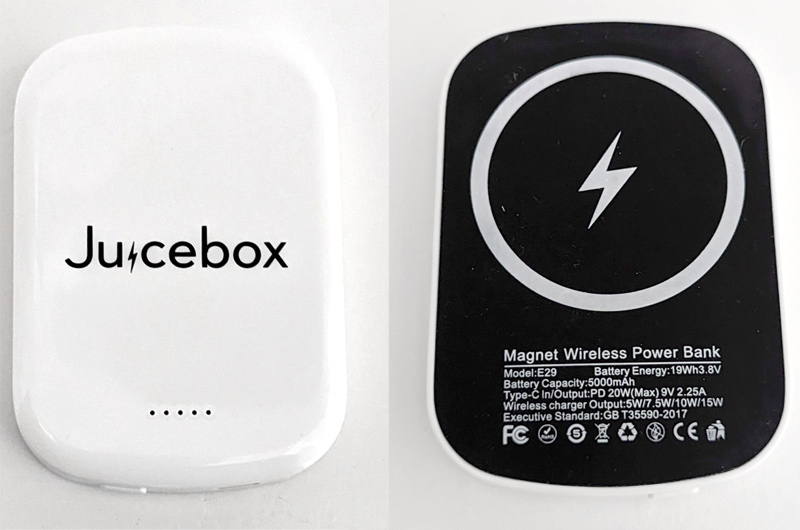 Beside the button along the bottom edge, you'll find the sole USB-C port that can be used to charge the Juicebox, as well as provide wired power out to other devices, just like you would with any other power bank. On the back of the Juicebox MagSafe Wireless Battery Pack, you'll see the round charging pad that you line up with the wireless charging spot on your phone.  Also coming with the Juicebox is a round, blue, magnetic metal ring with 3M adhesive on the back. This is the ring that you can use to adhere (using the 3M adhesive side) to any device that is Qi compatible but may not be MagSafe compatible, and the magnetic ring will be what the Juicebox attaches to.
Performance
So my Pixel 6 is MagSafe compatible, which means I didn't need the blue ring adapter.  The Juicebox MagSafe Wireless Battery Pack automatically attached to the back of my phone and began wirelessly charging. The Juicebox can provide up to 15W wireless charging, and my Pixel can wirelessly charge at 12W, so although wireless charging isn't nearly as fast as my 30W wired charger at home, it worked pretty well. However, I have a thin flexible rubberized cover on my phone and the Juicebox provided wireless charging through it, but it wouldn't stay attached very well to the magnets in my phone.  It slid off pretty easily because the cover was preventing a strong magnetic connection.  So if I wanted the Juicebox to attach to my phone and not fall off, I had to remove the cover.  Not ideal, especially when you are running around on the go and take the Juicebox with you for the day.  Having to take the cover off and hold it in your pocket while your phone charges is a hassle.  Here are some pics of the Juicebox on my phone with and without the cover, respectively: (see the green light, indicating wireless charging activated.)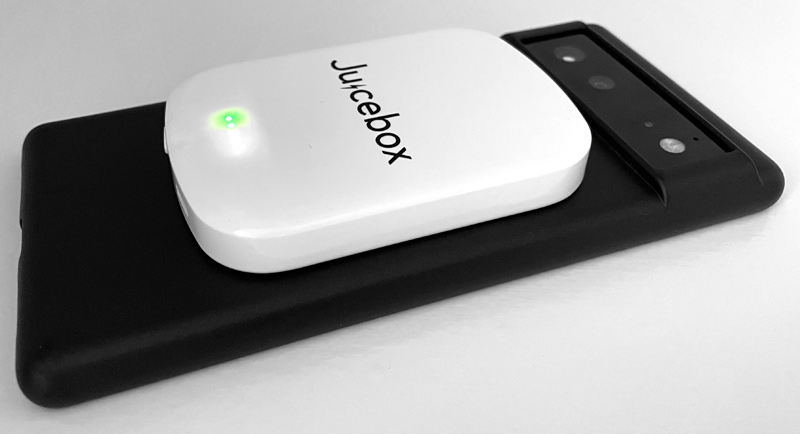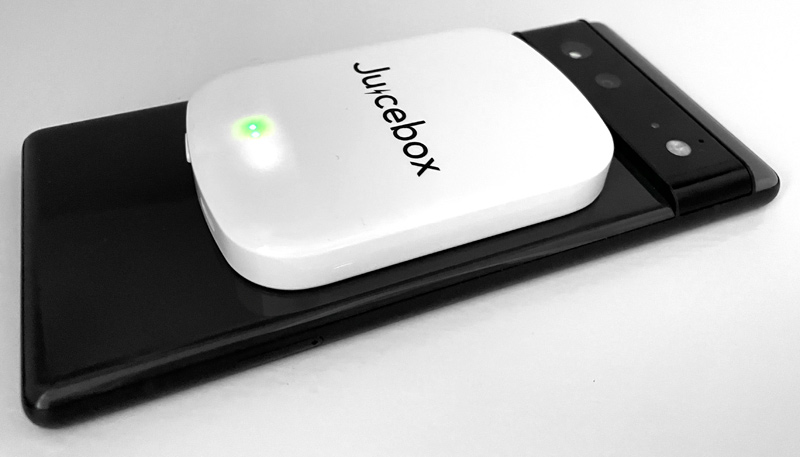 Now, I was determined to make the Juicebox MagSafe Wireless Battery Pack work with my phone while the cover was on and provide a strong magnetic connection, so as any good resourceful gadgeteer would do, I spit-balled a solution.  I could have simply attached the blue ring adapter to my phone with the 3M adhesive side, and then put the cover back on, therefore providing a strong magnet (the ring) that could hold the Juicebox in place through the cover.  But I don't like adhering things to my phone.  Call me a purist.  So I had an epiphany! I took the blue magnetic ring adapter and put it inside the cover with the magnetic side facing the back of the cover (see pic below).  Then I simply taped the ring in place and, boom, it stayed in place where I needed it, and the Juicebox strongly attached to the ring with the cover on.  The tape looks pretty sketchy for sure, but nobody sees it because it is inside the cover.  Shhhhhhh!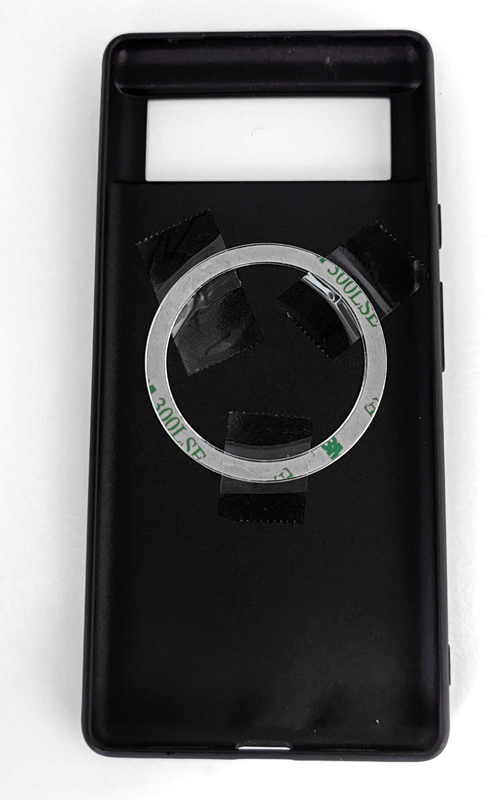 Another neat feature of the Juicebox MagSafe Wireless Battery Pack is that you can be using it to wirelessly charge your device and plug in another device via a wire to the USB-C port so that you can charge 2 devices at the same time. Nice. I have done that a time or 2 with my wife, who plugged her iPhone into the USB-C port using a USB-C to lightning cable.
Having said that, the Juicebox won't last long charging 2 devices at one time.  If you simply use the Juicebox as any other power bank by connecting a cable to the USB-C port to charge your device, then it will act like any other 5,000 mAh power bank.  But if you use wireless charging and wired charging at the same time then it will drain the Juicebox pretty fast.  Juicebox states that if you just use the wireless charging feature you will be able to charge your cellphone anywhere from 50% to 75%, depending on the phone.  My experience was closer to the 50% number so the most charge I was able to get on my Pixel 6 was around a 50% charge and the Juicebox was empty.
What I like
Slim, portable design
Magnetic connection to my phone was great, staying solidly in place
Fair price for the utility of what it provides
What I'd change
I wish it provided more than a 50% charge before dying
Final thoughts
If you are going to purchase the Juicebox MagSafe Wireless Battery Pack, then I think you need to be prepared to accept that it is designed to serve a very specific purpose. The whole point of this power bank is to be portable enough to take with you for the day when you are away from your charging cable at home, and you just need to get a little battery boost to make it for the rest of the day, assuming that your phone has wireless charging built-in. That's what it's designed for.  There are many types of power banks out there, some of them very small and portable with large capacities that you can throw in your bag, along with the charging cable you'll need.  But the Juicebox is great if you just want to slide it in your jeans pocket and have it ready in the event you need a little boost at the end of the night to make sure you have enough battery to call an Uber to get home.  So is $50 a fair price for a power bank that does that?  You'll have to decide if that fits your lifestyle.  For me, I keep it sitting next to my wallet and keys, and I grab it on my way out the door for a day of fun.
Price: $50.00
Where to buy:  Juicebox website
Source: The sample of this product was provided by Juicebox.