We use affiliate links. If you buy something through the links on this page, we may earn a commission at no cost to you. Learn more.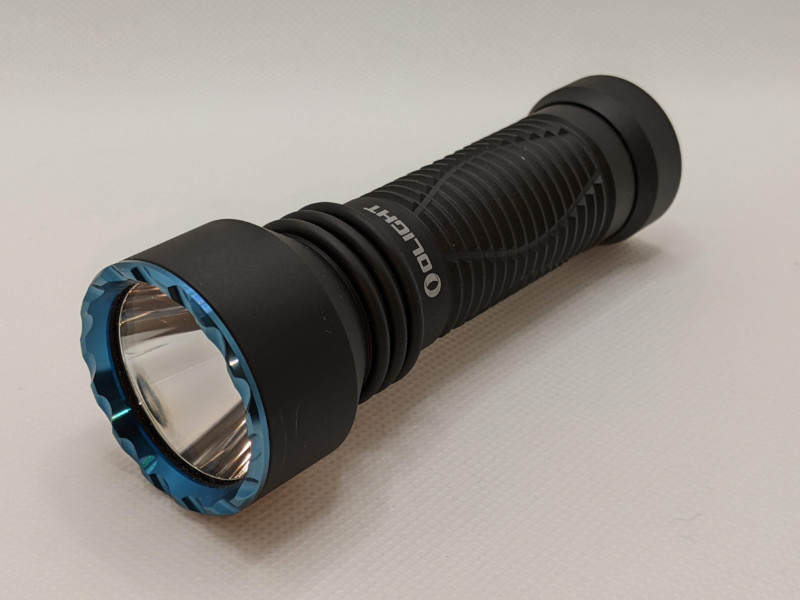 REVIEW – The Olight Javelot flashlight is a new model from Olight. It's a specialist. It does bright, in spotlight fashion. If you need medium to long range bright illumination from a relatively small, easy to carry light, this may be the one (or another one) for you. Olight includes a durable plastic holster for the light and it is a nice way to carry a powerful light that is a tad too big for my pockets.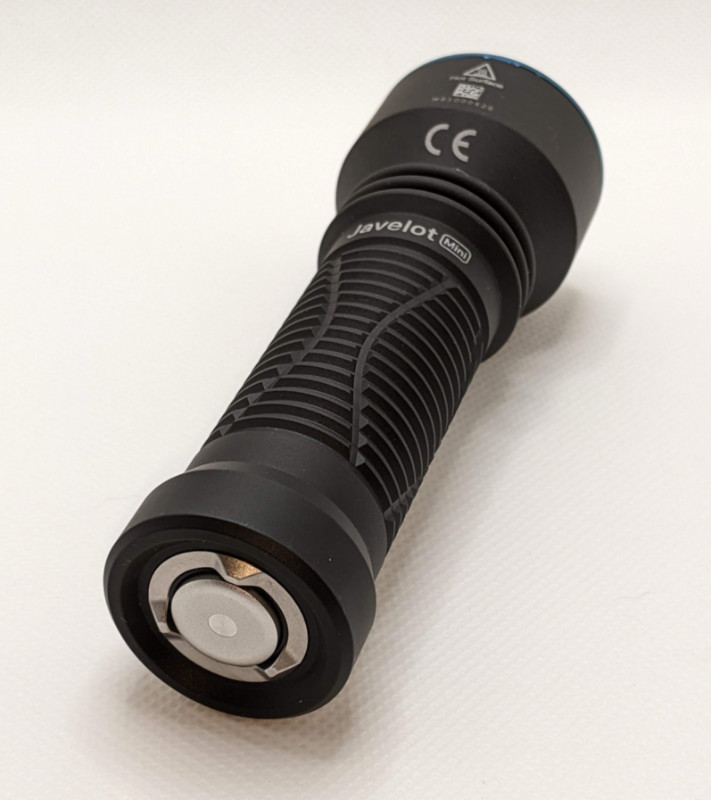 What is it?
The Olight Javelot flashlight is a palm-sized, rechargeable, bright, LED spotlight / flashlight for EDC.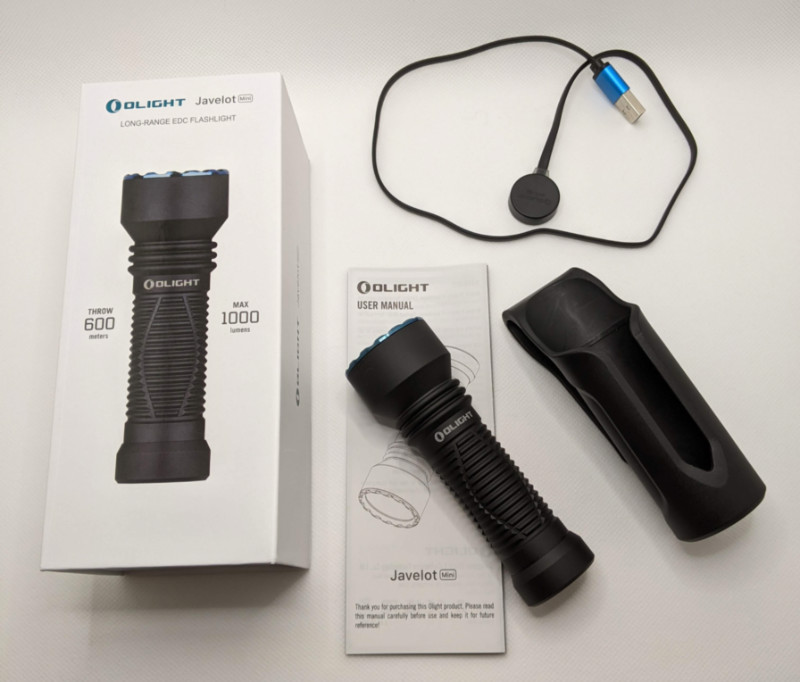 What's in the box?
Olight Javelot flashlight
Charging cable – USB-A to magnetic tail cap contact
Durable plastic 'Quick Clip' holster
Instruction manual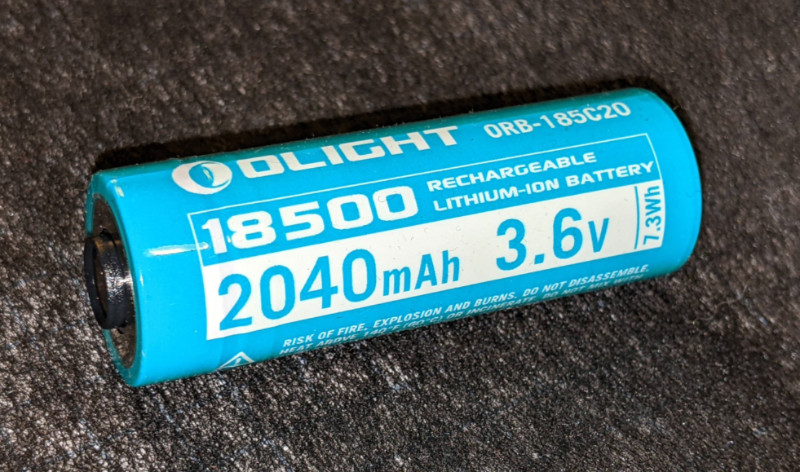 Hardware specs
Size 18500 Lithium ion battery
Battery specs: 2040mAh 3.6V
Charge time: 3.1 hours if fully depleted
All metal, aluminum alloy construction
Two light modes: 200 lumen, 1000 lumen
LED charge indicator in charging cable
Tail cap switch
Magnetic tail cap
IPX8 rated (OK for water splashes or brief immersion)
1.5 meter drop impact rated
Weight: 5.43 ounces
Length: 4.53 inches
Diameter: 1.57 inches (at widest point)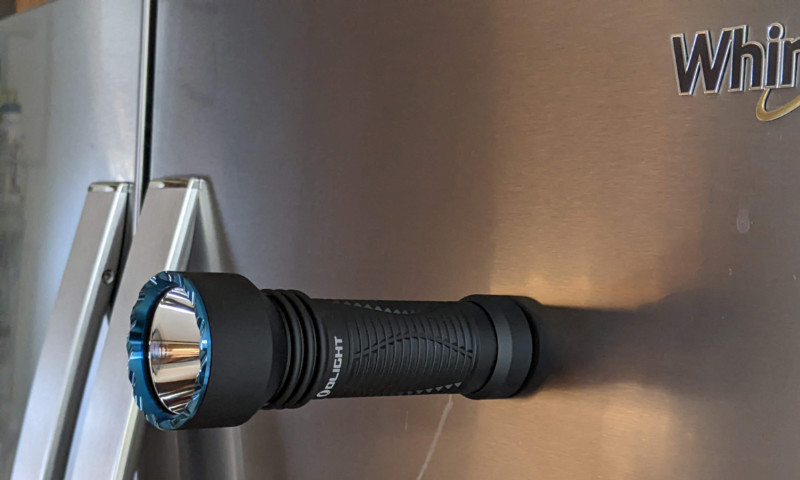 Design and features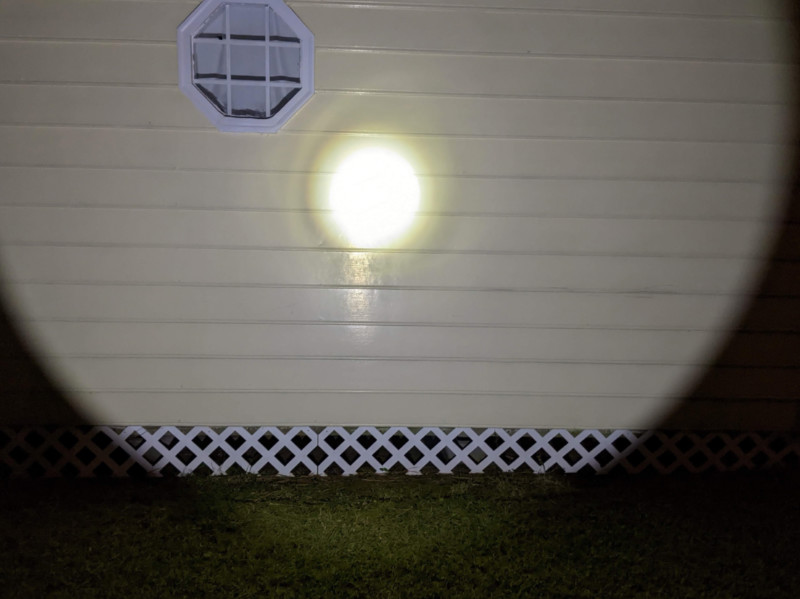 The Olight Javelot flashlight throws a spotlight-type beam. It projects a very bright center of light with a semi-sharp edge and a margin of halo visible at closer ranges, and a large, circular, semi-sharp-edge spill beam surrounding the center beam.
The Javelot flashlight vibrates when the power level is low. This feature is new to me and is not in other flashlights I own or have reviewed. The flashlight vibrates once every 5 minutes when the light reaches 30% battery level. It vibrates twice a minute when the battery gets to 10%. When the battery is at 5% power there is a triple vibration every 10 seconds.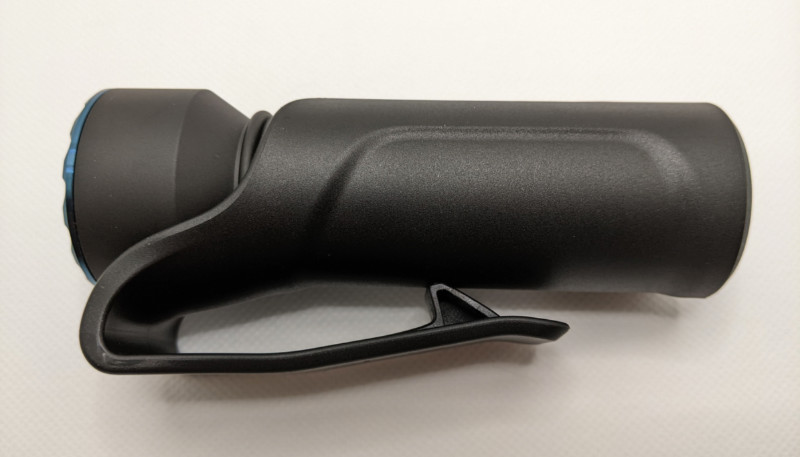 The Quick Clip holster has a hollow bottom, so the light can be operated while in the holster. It can also be charged in its holster.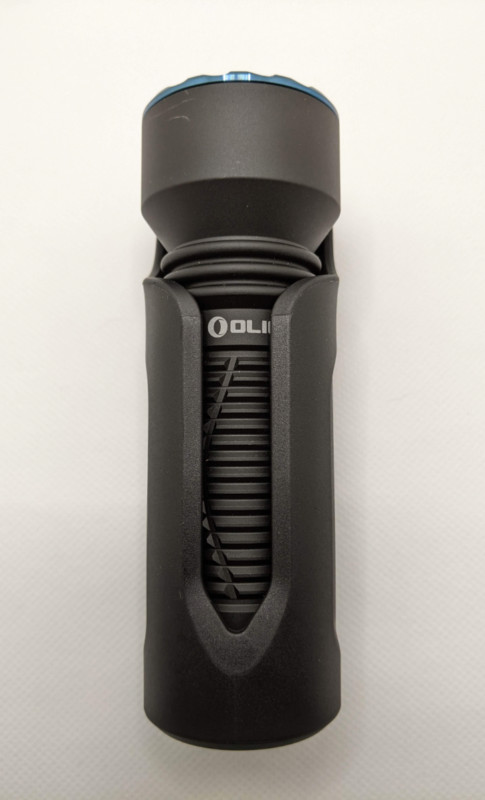 The Olight Javelot flashlight's fit in the holster was pretty tight at first and if the holster came up in my hand when I reached for the flashlight I could operate it just fine through the hole in the holster. After I used the Javelot for a while and had probably unholstered and re-holstered the light 15-20 times, the light came out of the holster pretty well.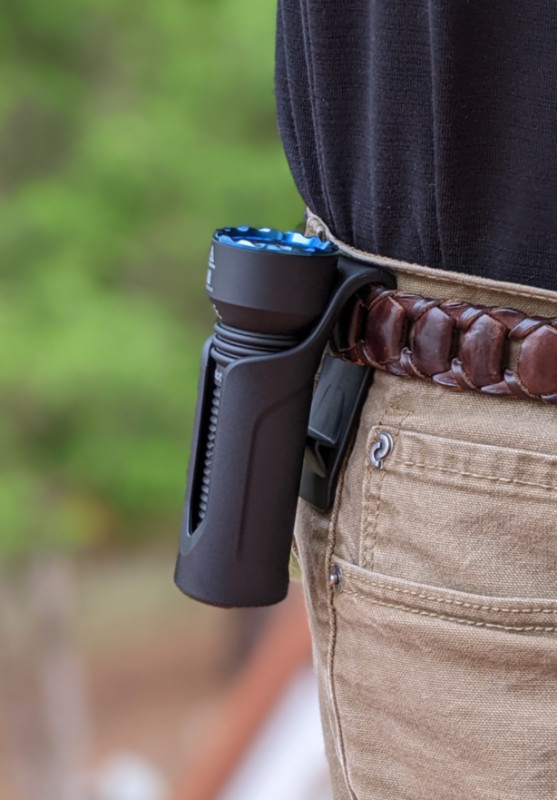 The flashlight is unlikely to come out of the holster during most normal work or recreational activities. If I were canoeing I'd probably secure the light in a backpack. With a lot of effort, I can now forcefully shake the Olight Javelot flashlight out of its holster, but I could not when it was new.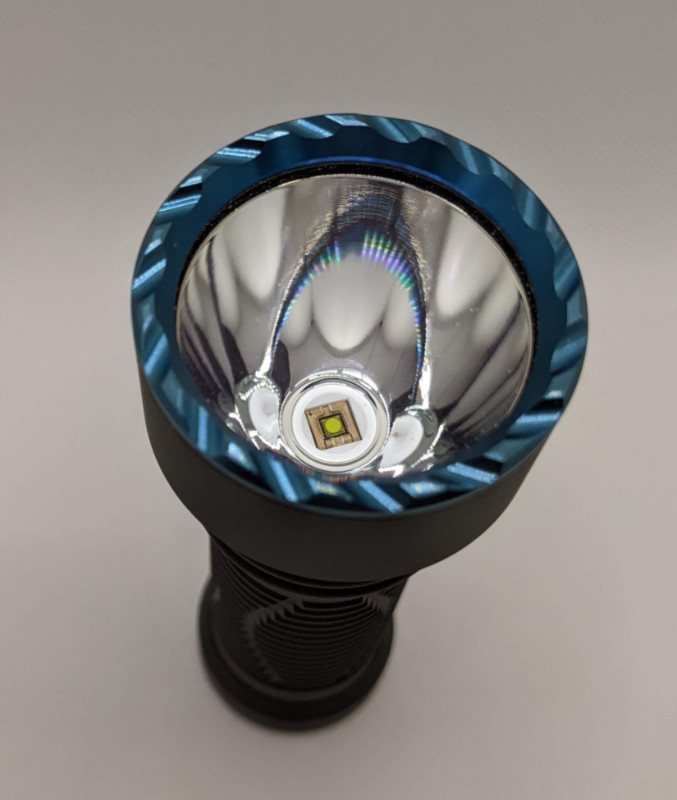 Setup
There is a plastic tab on the bottom of the battery inside the tail cap, and a clear, plastic lens protection cover is on the front. I opened the tail cap to remove the battery tab and peeled off the lens protector. I then charged the light with the supplied cable with its magnetic end that contacts the tail cap of the flashlight. Charging took about 3 hours. The manual states that a fully depleted battery can take 3.1 hours to fully charge.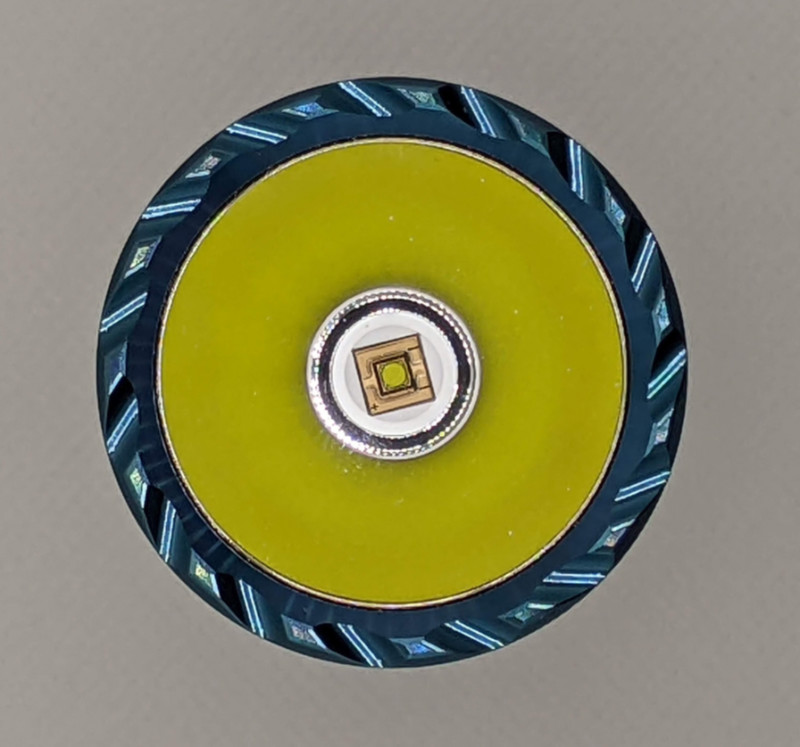 Performance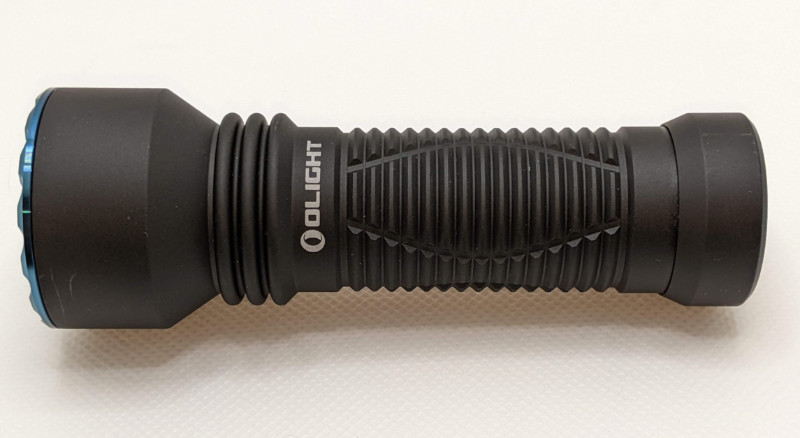 The grip area for the Olight Javelot flashlight not only feels good in the hand but is not slippery with sweaty or wet hands. It is not rubberized but is a part of the design of the light.
Olight uses its own excellent designs for the grip area of its flashlights and has thankfully skipped the traditional shallow, cross-hatch etched grips of older lights, which doesn't really contribute to grip traction.
The Olight Javelot flashlight may well be impossible to drop due to slippage.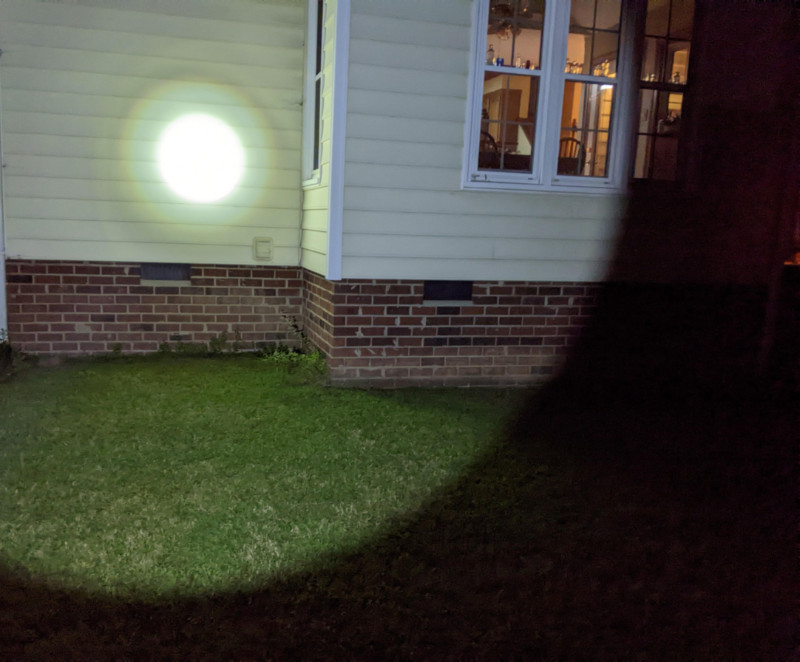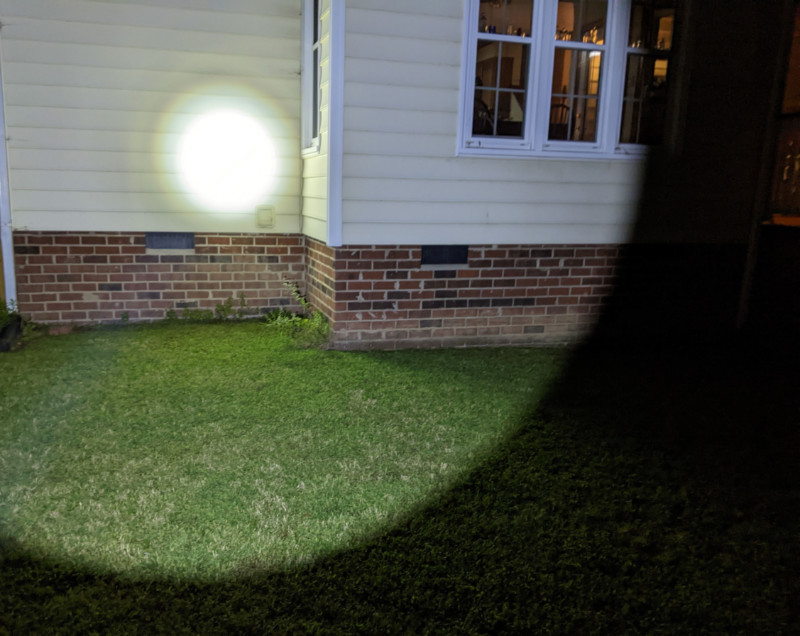 The Olight Javelot flashlight has two light level modes, 200 and 1000 lumens. That's it. No strobe, no Morse code 'SOS'. Two modes, bright and brighter. The simplicity of this light is a strong point. I wish it had a lower light mode or two because the light is mighty bright for close-up tasks. I found myself using the spill part of the beam to see things within arm's reach. The central bright spot of even the 200 lumen mode is blinding when illuminating something up close. The Javelot also makes too much light to use for an unobtrusive walk through a dark house at night. Now, if you think there's an intruder, this is your light!
I held the beam against my belly to let only a little light escape for some walks through dark indoor areas. Hey – It has a belly warmer feature. We should tell Olight.
If I were camping I'd carry the Javelot flashlight for times I need its brightness and long distance throw, and I'd have an extra light with lower lighting modes for situations when they are more appropriate. I'd want 2-3 lights when camping anyway.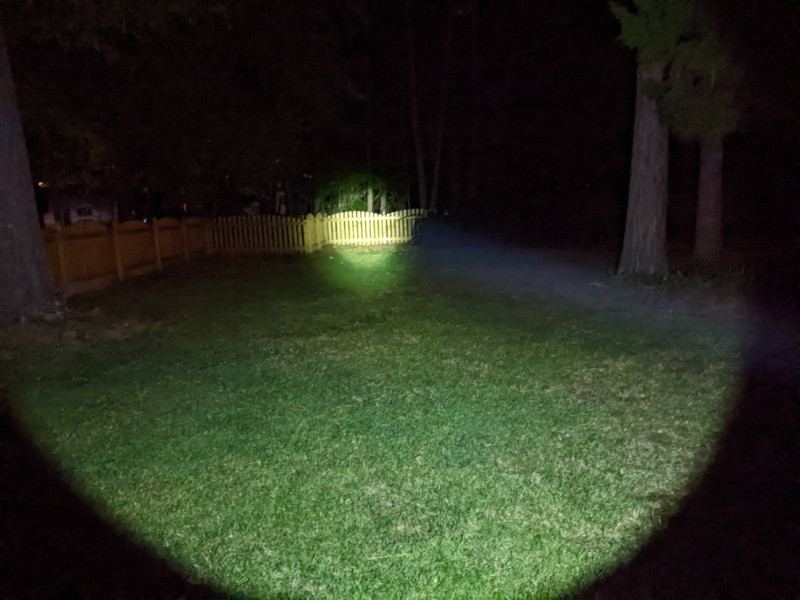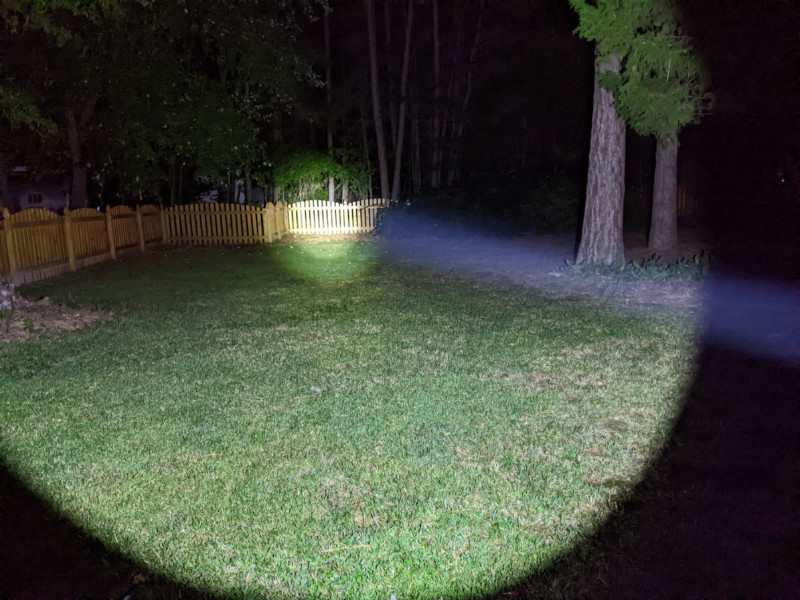 I seldom comment on or seriously test flashlight beam distance claims since that is mostly marketing and highly subjective. The Olight Javelot flashlight throws a tight, bright beam a good long way. My fence is about 65 feet away in these photos. If you need to see something a mile before you get to it, the Javelot will definitely help you get to it.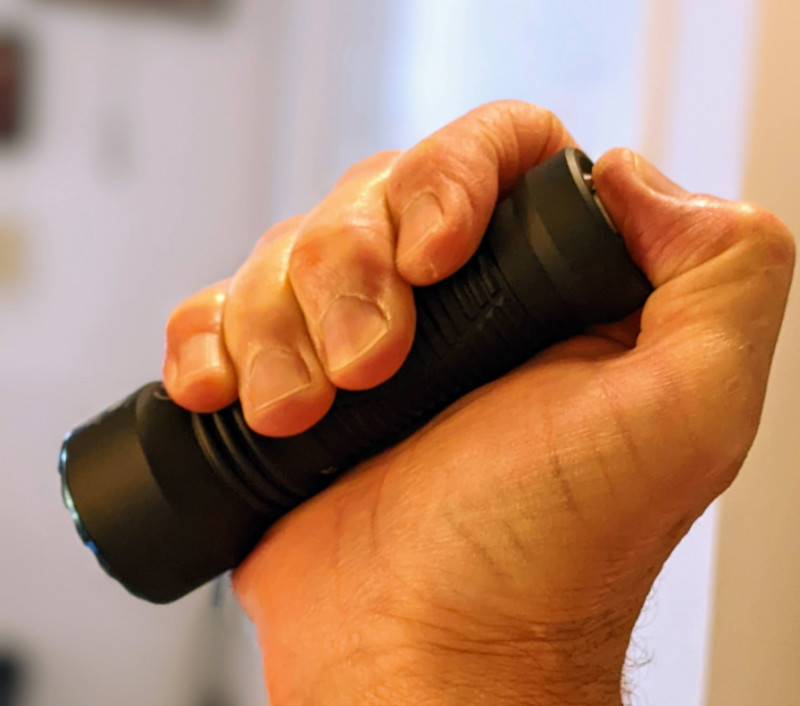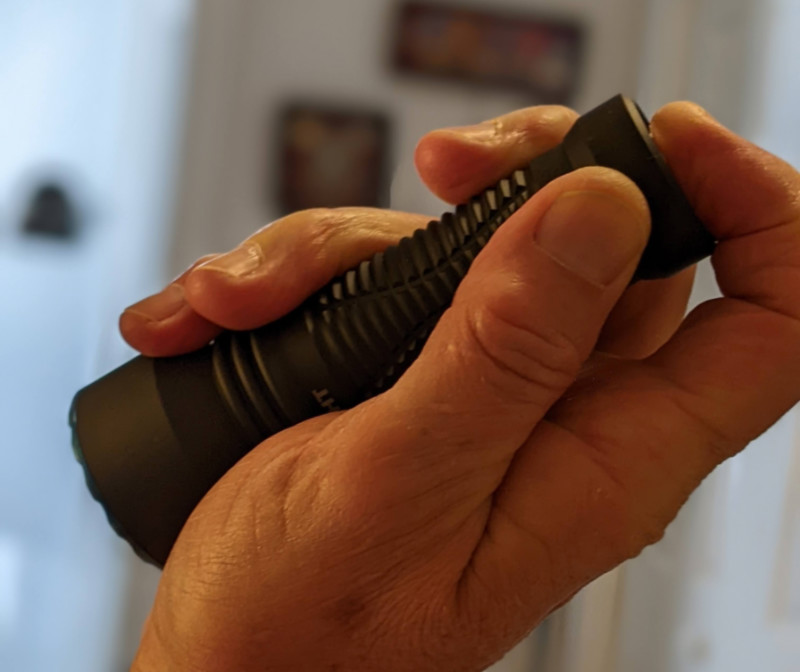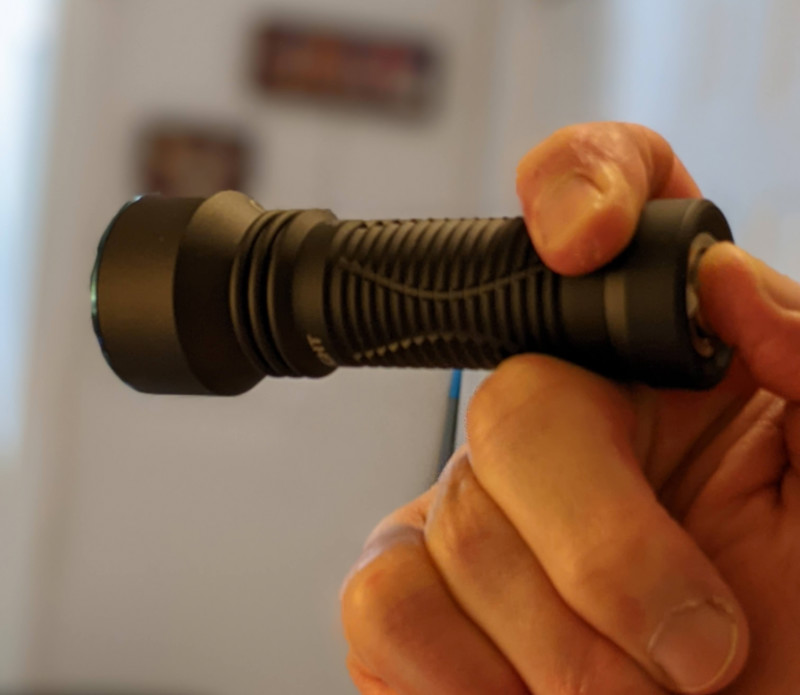 These are the 3 ways I can comfortably hold a flashlight with a tailcap switch. The 200 lumen mode requires only a gentle touch on the switch and my thumb is fine with that.
A light hold on the switch turns on the 200 lumen function in momentary mode. A quick half-press on the switch turns on the 200 lumen beam to stay on until the switch is pressed again. A full press of the switch until it clicks, turns on the 1000 lumen beam and that mode can be turned off with a full or half press.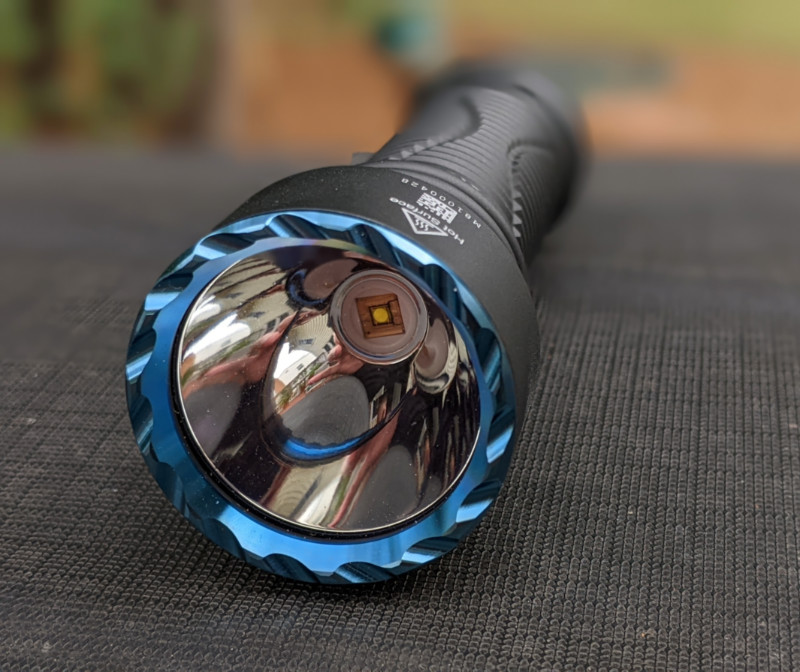 What I like
Comfortable, no slip grip surface.
The holster is handy and better than pocketing this light.
This light is bright or brighter.
If a spot beam is preferred, this one is a spotlight.

What I'd change
I wish it had a low light mode which would be better for up-close tasks.
My hand likes  barrel mounted switches more than end-cap switches.

Final thoughts
The Olight Javelot flashlight throws a very bright spot of light a good distance away. It is no toy. The Javelot is professionally built, well-constructed, and finished.
Price: $99.99
Where to buy: Olight
Source: The sample of this product was provided by Olight.