We use affiliate links. If you buy something through the links on this page, we may earn a commission at no cost to you. Learn more.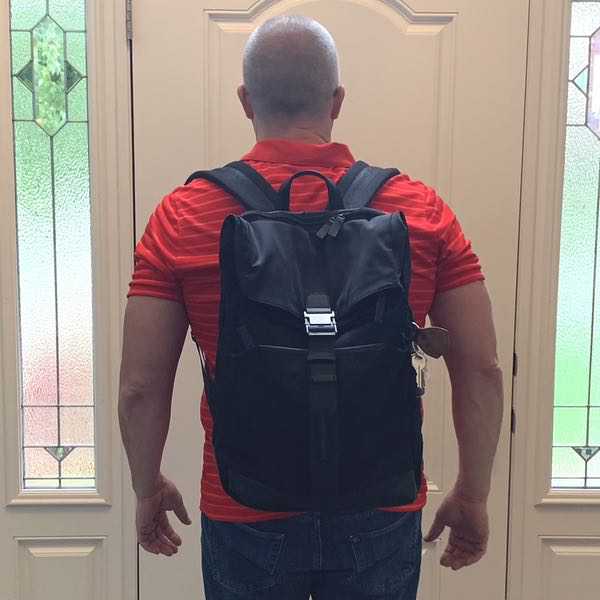 REVIEW – Going back the office requires a new backpack and fresh style. Enter the NayoSmart Herman Osborn Roll Top Backpack! This is a pack that sports some innovative design elements and materials to upscale your daily commute (or road trips). How does it do? To the review!
What is it?
The NayoSmart Herman Osborn Roll Top Backpack is a rolltop-style laptop backpack for work or travel.
Hardware specs
430 mm tall by 270 mm wide by 140 mm deep
20 Liter capacity
1.38 KG total weight
Design and features
The NayoSmart Herman Osborn Roll Top Backpack boasts green-on-black or black-on-black color scheme as shown in my tester. Whatever you choose, the simple lines and clean exterior make for a good looking bag.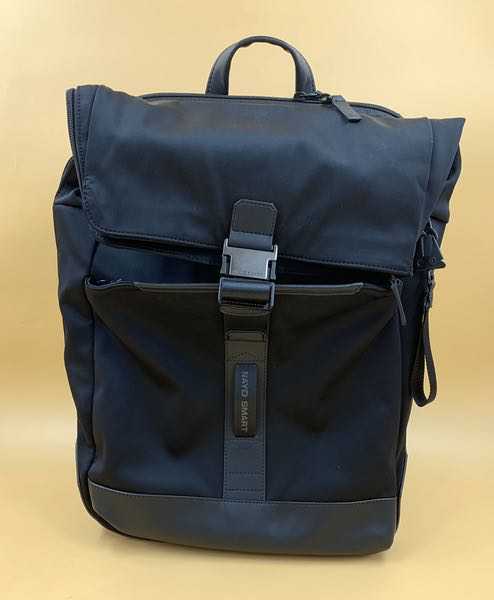 Here's a side profile view, unpacked. The 20 liter capacity hits that daypack sweet spot: it's big enough for your laptop and gear as an office bag, but small enough to be used for travel or day trips. It will work great as a carry-on as well.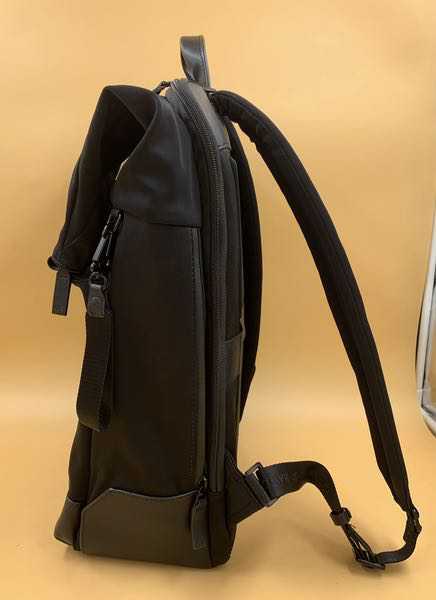 There's a lot to cover in this review, so I've broken it down into three parts. We'll start with construction & build quality, followed by the design walkthrough, and finish with my impressions of the bag's performance. There will be many, many pictures!
Construction & Build Quality
The primary material is a soft Lycra blend that, according to NayoSmart, is both scratch- and wear-resistant in addition to being waterproof. It's a good material that gives the bag a more upscale feel. The PLU leather is a synthetic product. You won't mistake it for natural leather, but it feels good and holds up well. A big chunk of that PLU leather is used in the base of the NayoSmart Herman Osborn Roll Top Backpack to add extra protection when you put the bag down.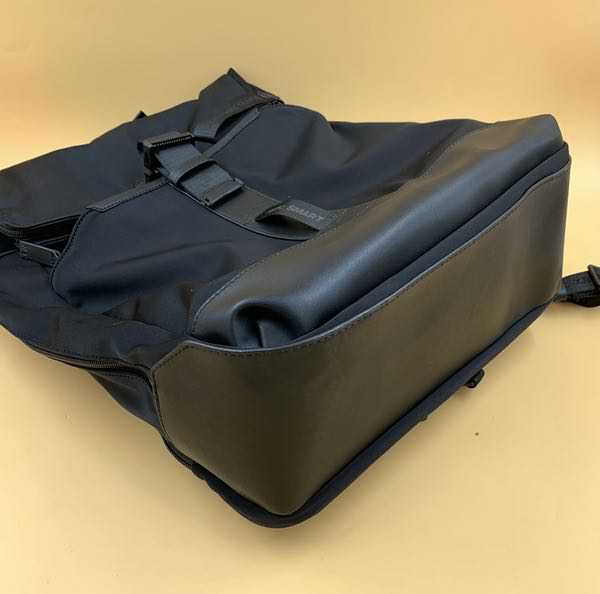 Custom metal hardware is used throughout the build with some beefy plastics here and there. It's all solid. You'll find some really nice detail work throughout, like the excellent finishing on the shoulder strap adjustments shown below: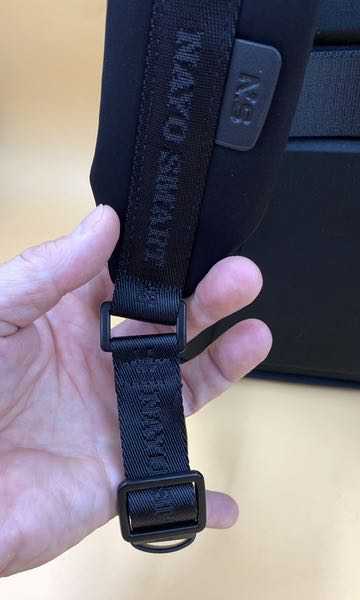 NayoSmart states that their zippers were designed "with in-depth cooperation with well-known zipper brand YKK." I don't know exactly what that means; I don't see a YKK label anywhere. But the zips feel good and operate well. The only concern I have here is that the external zips don't have any additional waterproofing, which will impact the overall water resistance of the bag.
The showpiece hardware on the NayoSmart Herman Osborn Roll Top Backpack is a fancy buckle on the front face that secures the roll top. The top half is metal and the bottom half is heavy plastic. You'll squeeze those sides on the plastic bit and pull to open the buckle. It's a solid buckle, but it is tough to operate one-handed.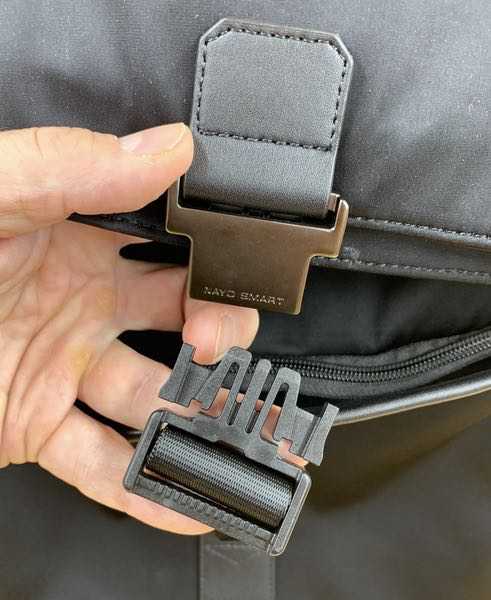 You've got nice padding in the generous laptop & tablet compartments, including soft linings to keep your devices from getting scratched up.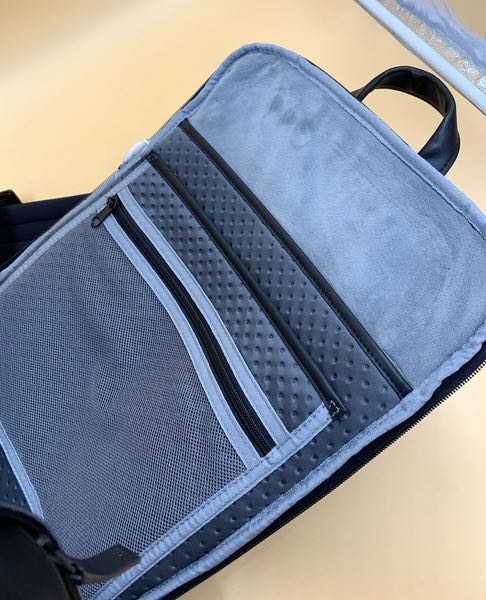 Overall I think the build quality is pretty great on this bag, considering the price point. Assembly looks tight, and there's quite a bit of customized detail work that levels up the overall feel of the bag.
Layout and Design
The NayoSmart Herman Osborn Roll Top Backpack is labeled as a "roll top" design, but it's really a "fold over" situation. Like a rolltop, the main compartment is a sleeve that extends 5-6″ above the height of the bag.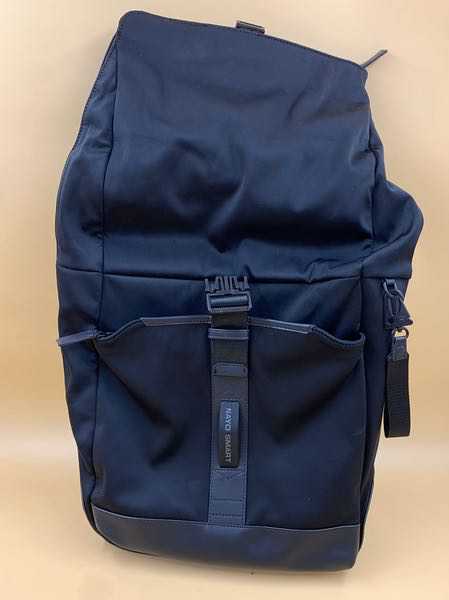 Unlike a rolltop, however, you don't actually roll down the top to seal/cinch the bag. You fold it over and clip it into the buckle on the front face. There is a little bit of strap adjustment in the front buckle, but not much.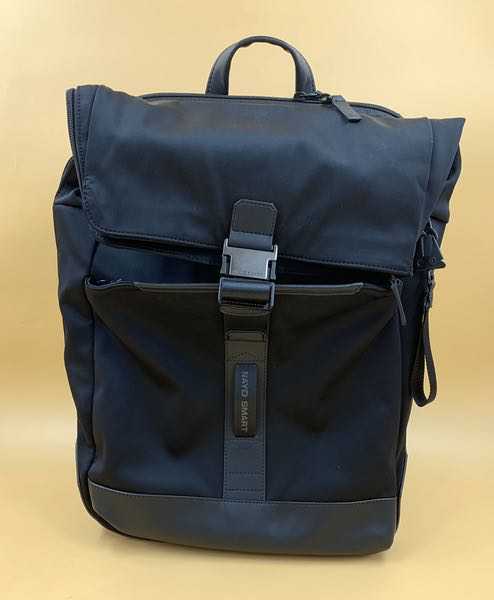 That's not to say that the available space in the bag is bad, but the net effect is that you lose the benefits a traditional roll top provides for creating a waterproof & expandable space.
There is a generous 10″ by 10″ pocket on the front face of the bag that unzips from the top. You have to open that front buckle to get to it. That's good for security, but not ideal if you're looking for a quick grab space for keys, sunglasses, and whatnot.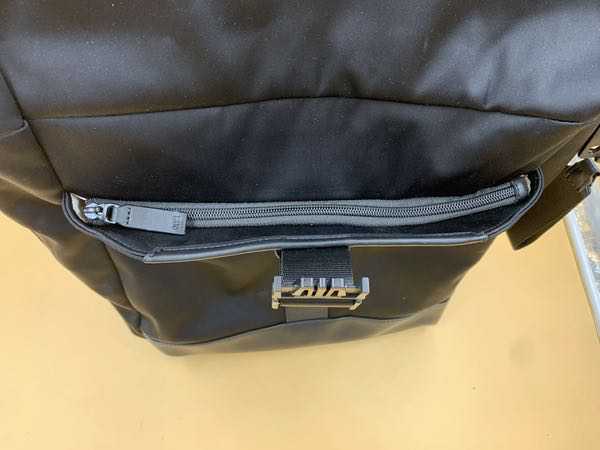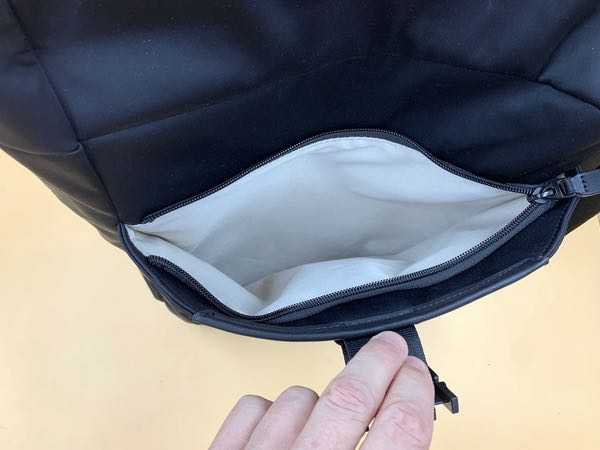 The NayoSmart Herman Osborn Roll Top Backpack's main compartment has an L-shaped zipper that runs across the down one side of the bag. It's also got a gusset on the open side so your stuff doesn't topple out when you have it open.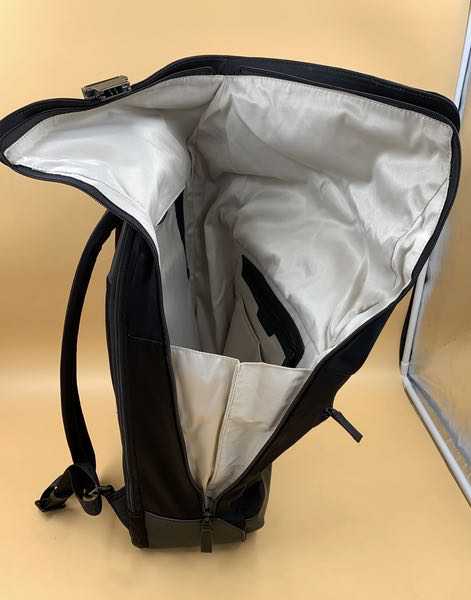 There are two generous drop pockets and an 8″ by 9″ zip pocket on the front face of the main compartment for small stuff.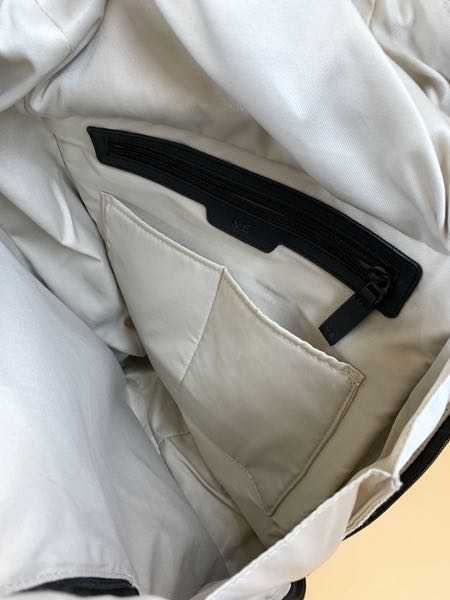 The only other access to the main compartment while the "rolltop" is closed is a u-shaped flap that you get to from the laptop compartment. More on that is below.
Working our way around the side of the bag, you'll find a side zip that opens to a plastic-lined pocket that NayoSmart claims provide insulation for cold drinks. You can get a can-sized beverage in there or a 16-ounce bottle, but it won't fit bigger hydration bottles. That pocket is sealed across the bottom to prevent leakage into the main compartment.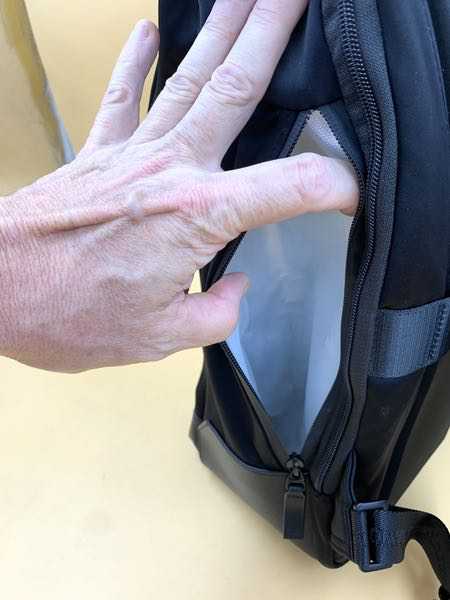 You'll also find an external metal ring with a removable key lanyard. The key lanyard is nylon with a sturdy metal clip that matches the style of the NayoSmart Herman Osborn Roll Top Backpack.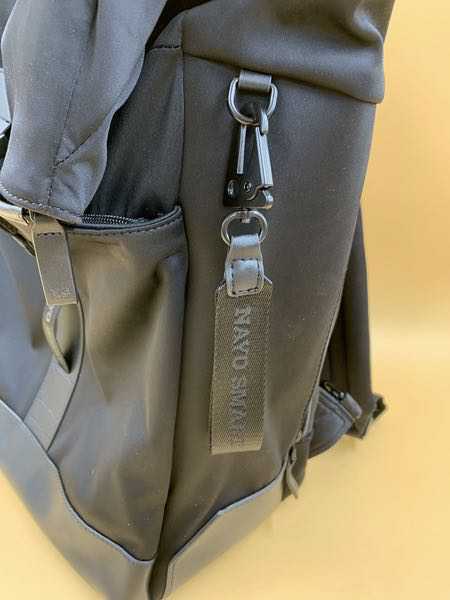 There's also a loop of fabric on the front of the bag for hanging a bike light or a carabiner for attachments.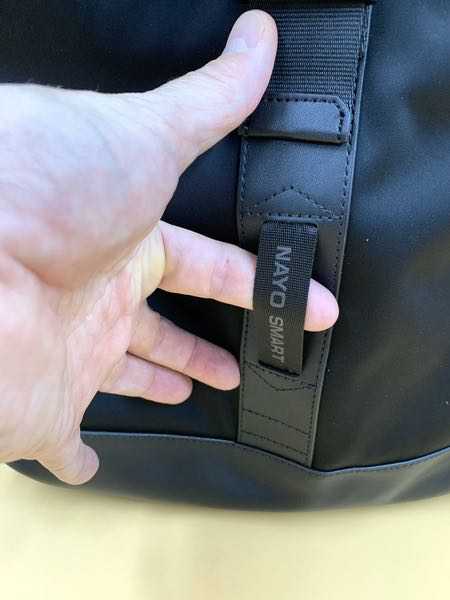 The laptop compartment is completely independent of the rest of the build. Access comes from a dual-zip arrangement with zips that run *almost* to the bottom of the bag, falling just short of a full clamshell-style opening. The laptop and tablet pockets are generously oversized. There's also an 8″ by 10″ elastic mesh pocket on the front face of the sleeve for cables, adaptors, and power bricks.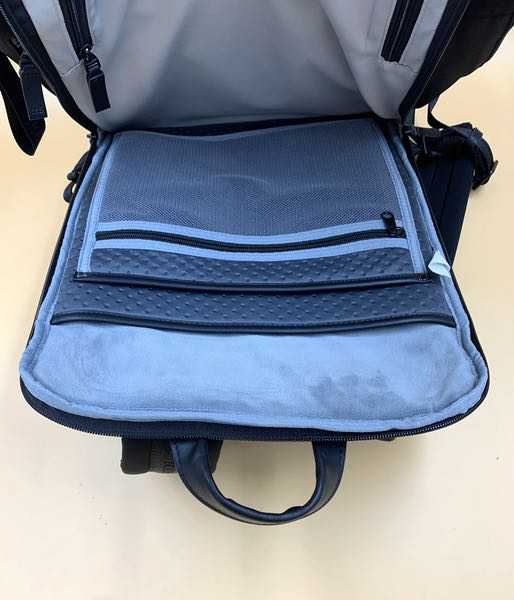 Opposite the sleeves in this chamber is that U-Shaped flap that allows you to get into the main compartment.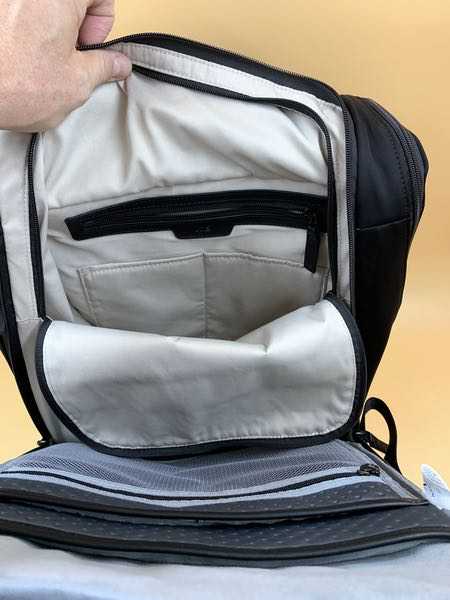 The carry system is nicely padded with what NayoSmart calls a "high tech decompression carrying system." Basically, that means that the back panel is set up around four pads with low-profile padded carrying straps.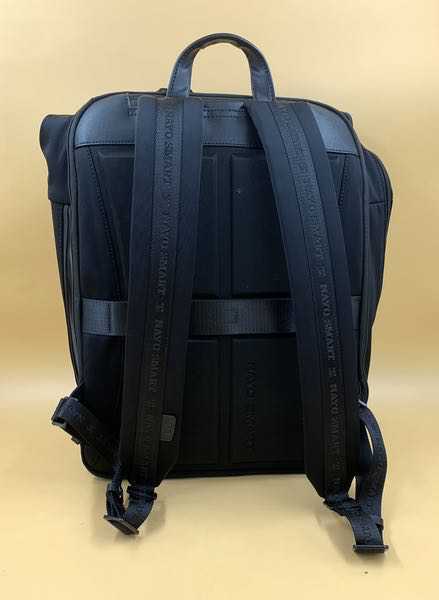 The NayoSmart Herman Osborn Roll Top Backpack has a luggage pass-through strap, and a nice PLU leather grab handle. Behind these straps sits another "secret mezzanine" (NayoSmart's words) pocket that closes with a magnet. There's no additional seal or fabric flap here to protect the contents from wet conditions.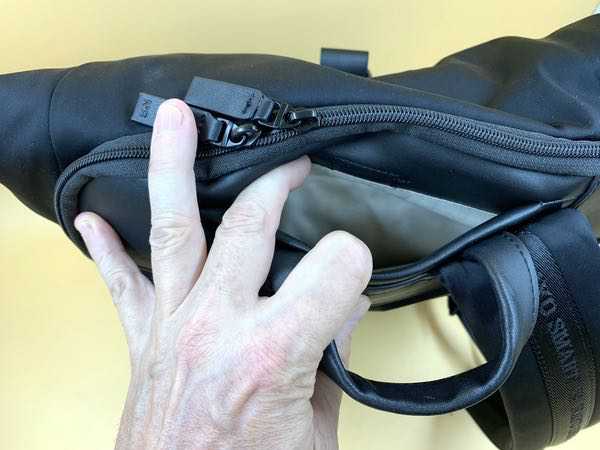 Performance
The NayoSmart Herman Osborn Roll Top Backpack is a mix of some pretty great design features and some elements that could use a bit of refinement.
When it comes to daily carry, this bag is ridiculously comfortable. The rigging and padding are outstanding with good adjustment and nice balance. I have no complaints about hauling this bag around on the daily.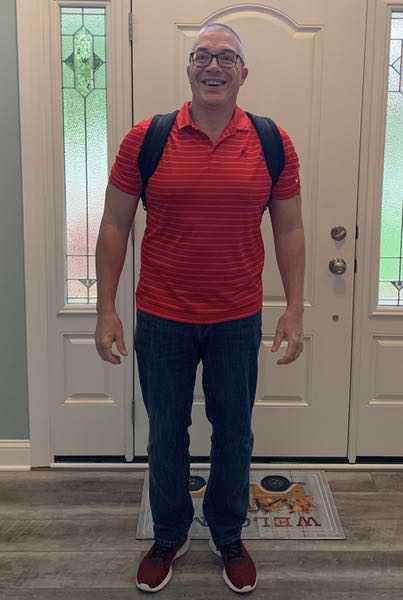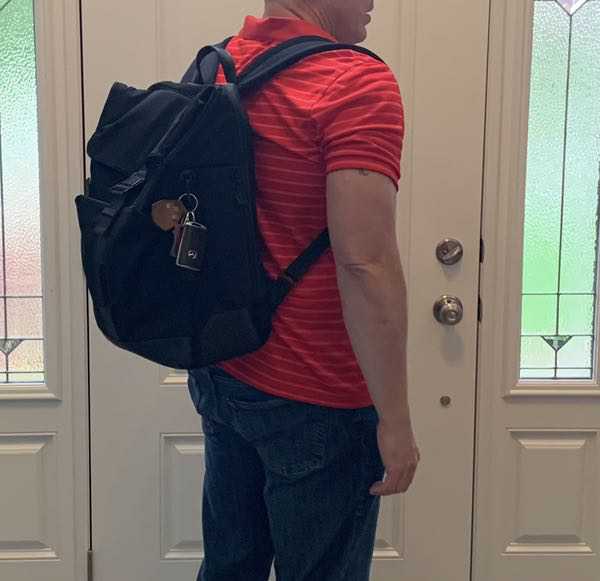 For sizing reference, I'm 5'10" and 195 pounds.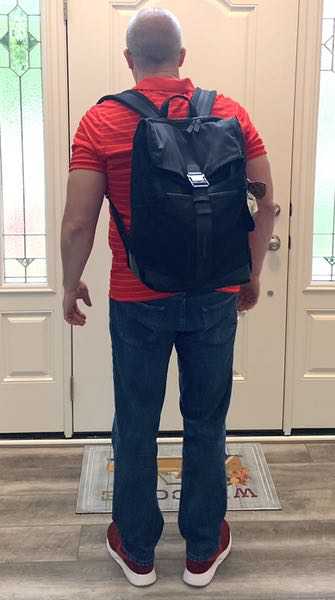 The NayoSmart Herman Osborn Roll Top Backpack will stand up by itself, even when opened up to get to the goodies. That's a handy feature if you're traveling and/or working in open spaces.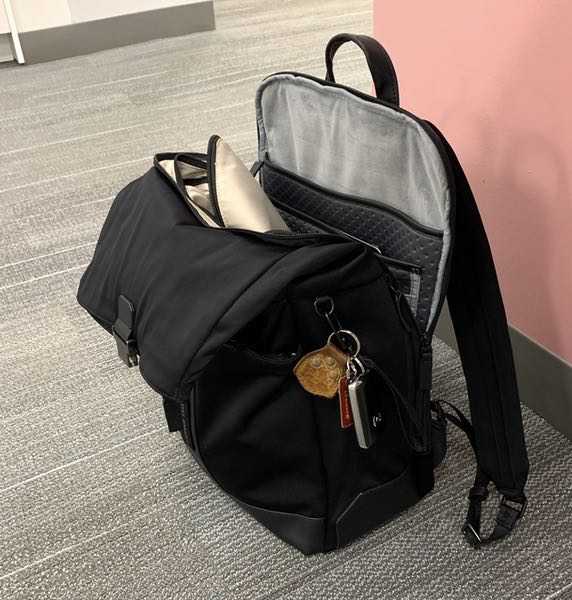 The laptop/tablet area is also excellent. Generous proportions, good padding, easy access, capacity for larger devices… it's all good there. My 16″ MacBook Pro fits in the laptop compartment with a ton of room to spare. I have an iPad Air in this pic, but the tablet compartment easily handles my 12.9″ iPad Pro with the Smart Keyboard.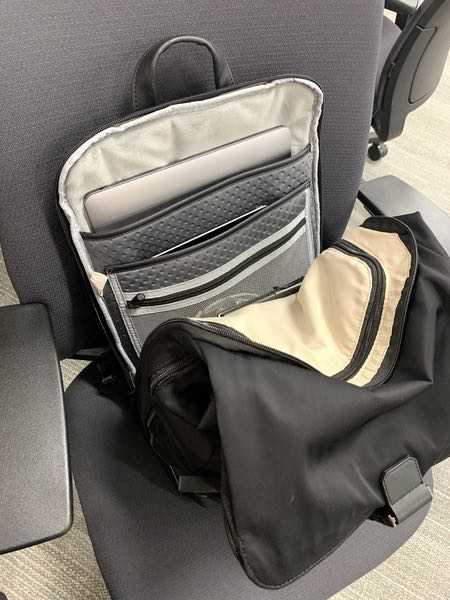 The "rolltop-that's-not-a-rolltop" design is a bit of a drag. You really can't take advantage of that extra 5-6″ of length on the main compartment because it has to be folded over. This means you're fighting with extra material that gets in your way (along with that buckle and that long zipper) to get into the guts of the bag.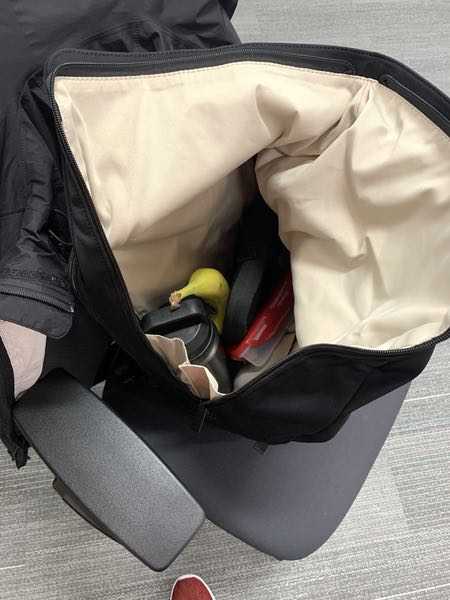 It's actually easier to get into the main compartment from the laptop area as I show here. This works great when I have the bag at my side at my desk, by the way!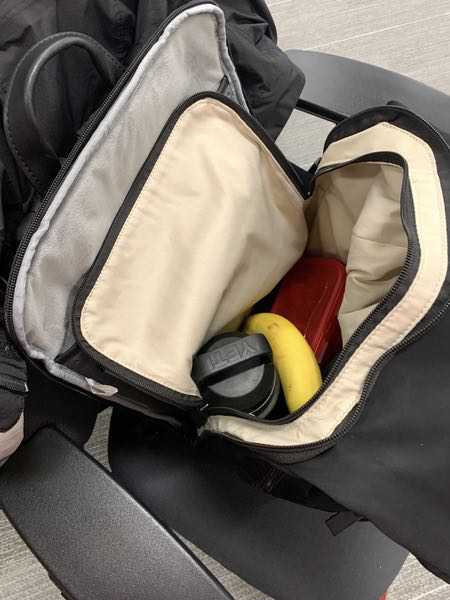 The insulated side pocket doesn't allow for big hydration bottles (I kept my Yeti in the main compartment). That hard-ish plastic lining also made it tough to work with given the relatively small opening on that side of the bag. I did not find the insulation to be particularly good at keeping things cold.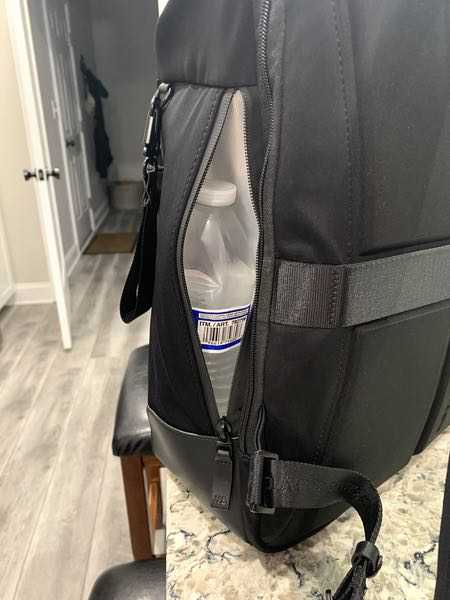 I mentioned the concern about waterproofing on the zips, and there are two specific areas I'm watching. One is that "secret" pocket on the rear/top of the bag with the magnetic closure. The other is the pocket on the front face. See that piece of fabric that's sticking out just behind the buckle? I'm concerned that could be a water trap in a heavy downpour.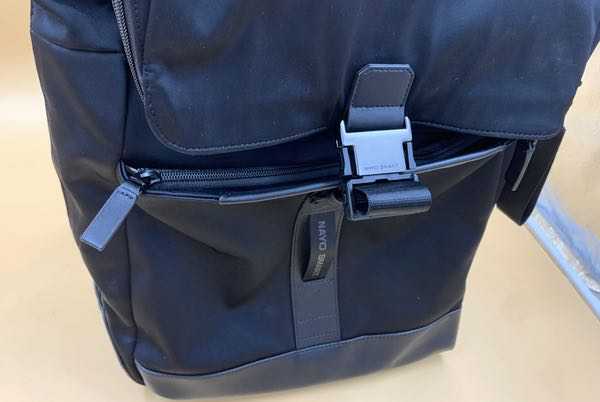 I will say that, while the whole "rolltop" thing bugs me, I do think that the NayoSmart Herman Osborn Roll Top Backpack takes full advantage of every inch of space in the layout. The layout is an elegant and simple combination of spaces and pockets that provides just enough places to sort out your tech, your essential bits, and your extras. It's very easy to live with on a daily basis.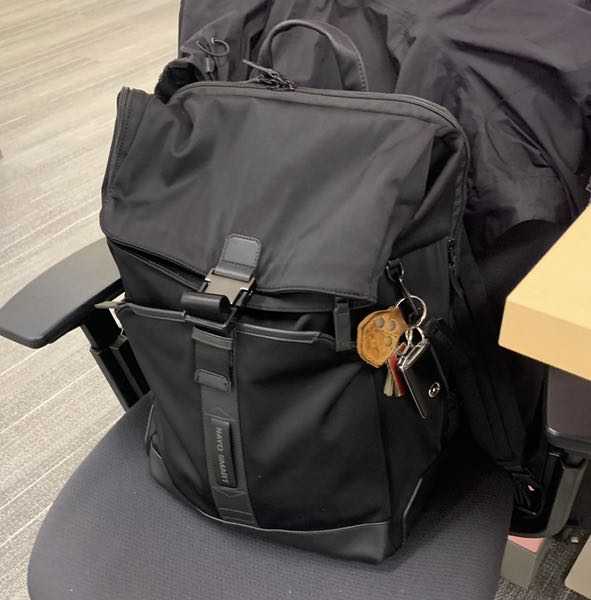 What I like
Very comfortable to carry
Generous space & good organization layout
Excellent laptop/tablet area
Good looking design works great for work or travel
What I'd change
"Rolltop" design is not very effective
Bottle pocket is small with questionable insulation
Advertised as waterproof, but I'd avoid heavy downpours
Final thoughts
There may be a few odd bits in the design, but I think the NayoSmart Herman Osborn Roll Top Backpack is a winner. It's got great looks, excellent storage for your devices, and is really comfortable to carry. It's a very good work commuter or carry-on bag. Given the quality of the build, I also think it's a pretty great deal at the current price.
Price: Currently on sale for $115.00
Where to buy: NayoSmart.com
Source: The sample of this product was provided by NayoSmart.