We use affiliate links. If you buy something through the links on this page, we may earn a commission at no cost to you. Learn more.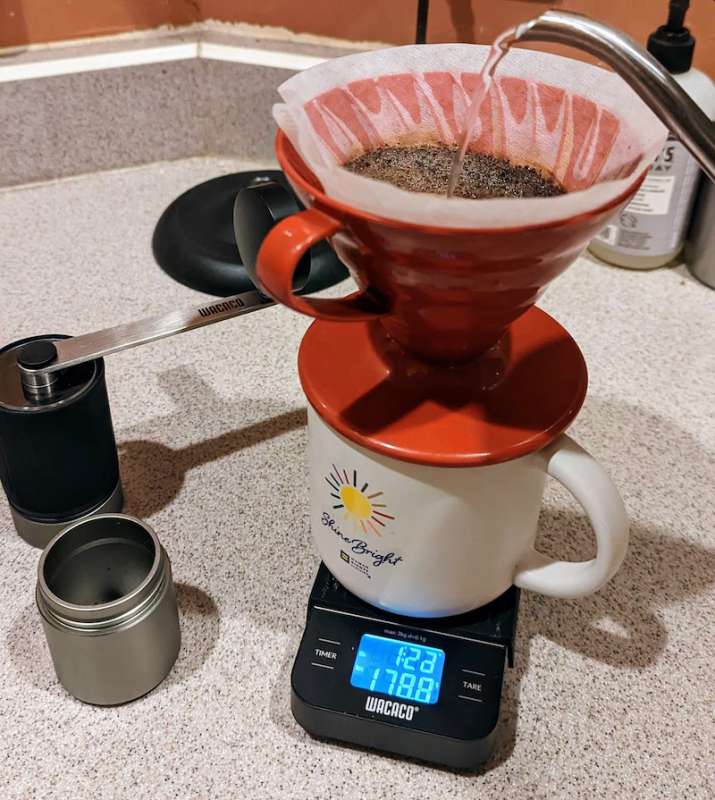 REVIEW – Are you looking for the best hand coffee grinder? Perhaps the best coffee scale and timer? The Wacaco Exagrind and Wacaco Exagram may have you covered.  These compact, effective, and well-built pieces lead the way not only in home coffee brewing, but also in the emerging movement known as "trail coffee." or the ability to make coffee just about anywhere. Wacaco is perhaps best known for its compact espresso makers, the Picopresso, Nanopresso, and Minipresso.  The two pieces reviewed here complement the espresso makers well in both function and aesthetic, but are also designed to stand alone. Let's see how they do. 
What are they?
The Wacaco Exagrind is a portable hand coffee grinder with micro adjustments, quick grind, and a steel cut burr.  The Wacaco Exagram is a portable battery-powered scale and timer designed to complement any coffee setup.  
What's in the box?
Wacaco Exagram scale

Exagram scale

Silicone cover

Manual

 

Wacaco Exagrind hand grinder

Exagrind grinder

Manual

Travel bag

 
Hardware specs
Wacaco Exagram scale

Dimension

124x77x24 mm,  4.9×3.0x0.9 in

Weight

128 g, 0.28 lb (without batteries)

Materials

ABS, Stainless Steel, Silicon

Weighing Range

0.3g~2 kg, 0.006~4.4 lb

Scale Interval

0.3g~999.9g d=0.1g

1kg~2kg d=1g

Max. Count Up Time

29 minutes and 59 seconds

Auto. Power Off

After 5 minutes

Display

Backlight LCD. Dim light after 90 seconds.

Unit

g/oz

Power Source

1.5Vx2 AAA batteries

Wacaco Exagrind hand grinder

Dimensions

143x53x67 mm, 5.6×2.1×2.6 in

Weight

464 g, 1.0 lb

Materials

Stainless Steel, Aluminum, ABS, and silicone.

Burr

Ø38mm, Stainless Steel 420

Clicks per turn

30

Adjustment per click

33 microns

Loading capacity

20g max

Warranty

2 years
Design and features
Wacaco Exagrind hand grinder:  First off, this grinder feels very substantial in your hand. High quality materials and a solid build give this grinder a very comfortable feel.  The smooth aluminum base and grind cup, gnarled texture on the bottom of the grind chamber, and black silicon above feel nice in your hand.  The diameter of the grinder is comfortable in all but the smallest hands.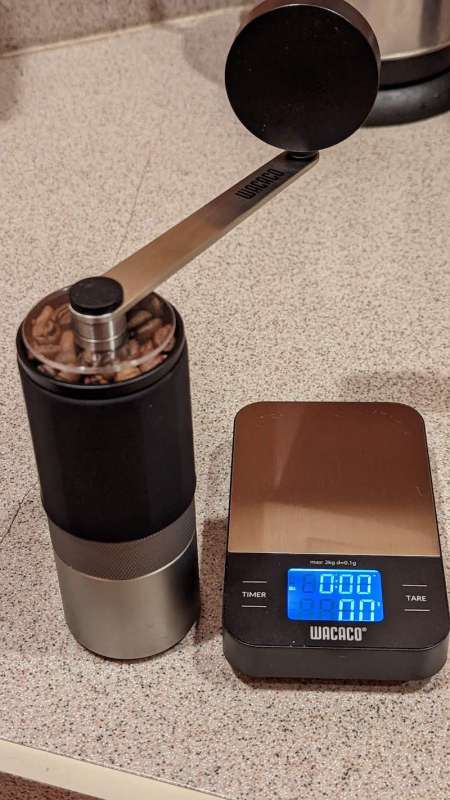 The handle also serves as the cap for the grind chamber.  Few grinders in this price range offer this range of adjustability, with 33 microns of adjustment per click.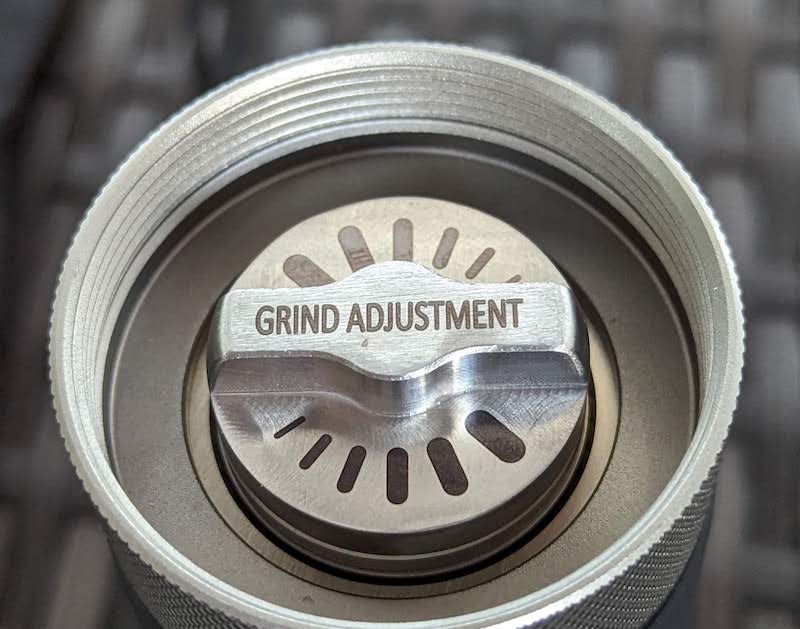 And adjustment is easy – just turn the dial on the bottom of the grinder.  Speaking of the grinder, it's a 38m diameter cut stainless steel burr, which grinds smoothly and uniformly, but quickly.  It's a nice balance.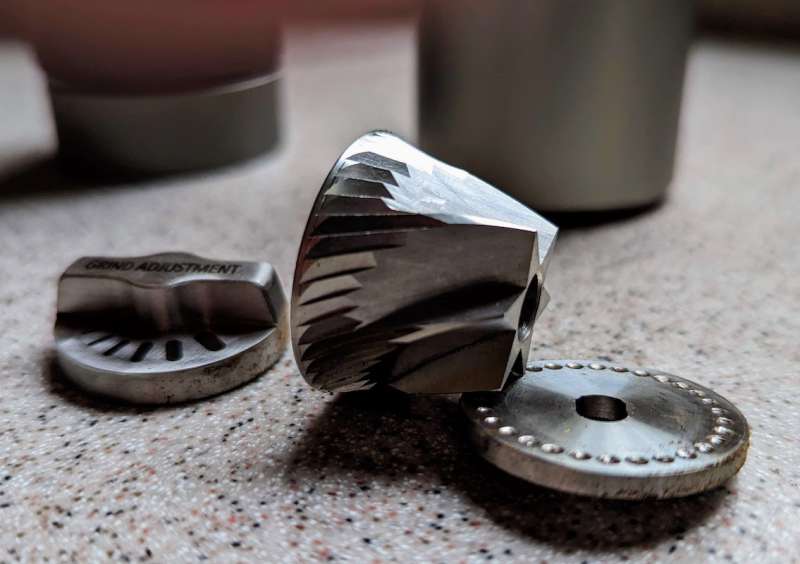 A travel bag is included for making coffee on the go. 
Wacaco Exagram scale:  The design of the Exagram scale matches that of the rest of the Wacaco line, but can also stand on its own.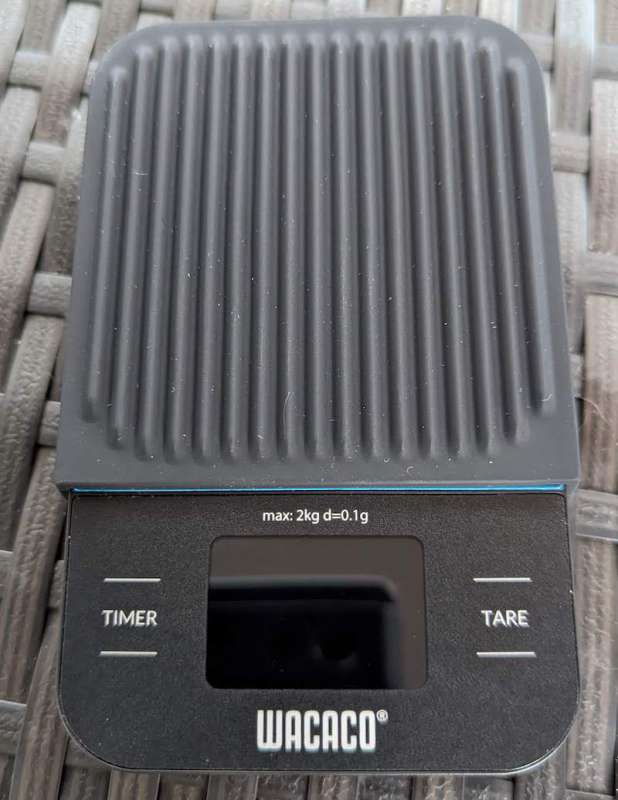 The power button is on the bottom, which at first I found odd. It seems like a small problem, but I didn't like picking the scale up to turn it on.  But then I realized that it's designed so that you just have to push down on the top and it pushes the button from the bottom – what I thought was a design oddity turned out to be design brilliance.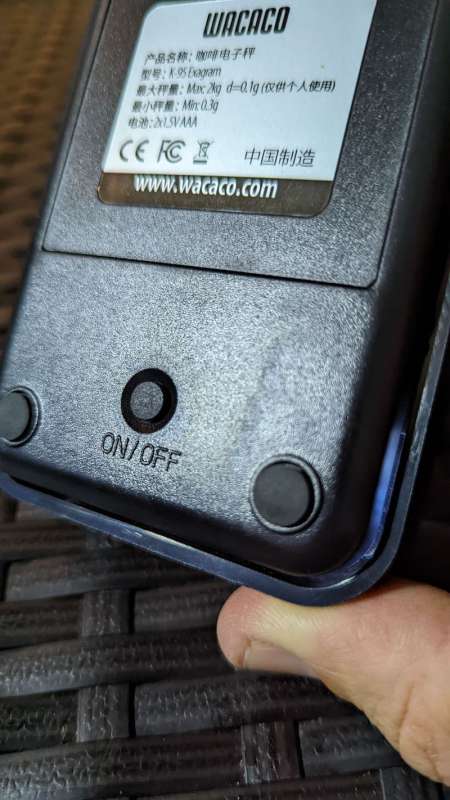 The rest of the controls are very intuitive.  A button for the timer – single press to start and stop, press and hold to reset. And a tare button.  The one odd bit of user design is in order to change the units of the scale, you double press the timer button and not the tare button. The scale features a stainless weighing platform, and also includes a silicon cover to make clean-up a bit easier. The scale is very compact and works great for a coffee cup, but if you are using it with a larger pour over carafe or anything like that, it might be a bit small.  But keeping it compact ties in with the portable nature of the Wacaco line. 
Performance
Wacaco Exagrind hand grinder:  I like to make big cups of coffee, usually with a Hario V60 and an electric burr grinder.  I usually grind 30g of coffee and brew with 465g of water.  I was a little nervous when I realized this grinder could only handle 20g of coffee, which would mean 310g of water – kind of a small cup.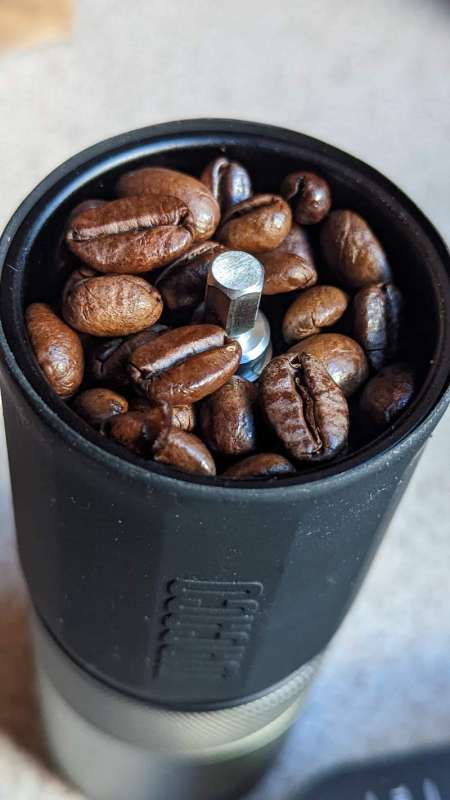 This makes sense when you realize Wacaco is a company largely focused on expresso, but that's not what I'm using it for. I was surprised – after two weeks of testing, I came to really like the smaller cups.  The water boils quicker (there's less of it), and I can grind the coffee in about 40 seconds.  When hand-grinding 30g of coffee in one of my other grinders, it seems to take forever. I actually find myself looking forward to grinding with the Wacaco.  For me, the ritual of making coffee is a big part of the experience, and I get to enjoy that more often with a smaller cup.  Plus, the coffee doesn't get cold since I drink it faster. So the smaller grind capacity is actually good (for me, at least).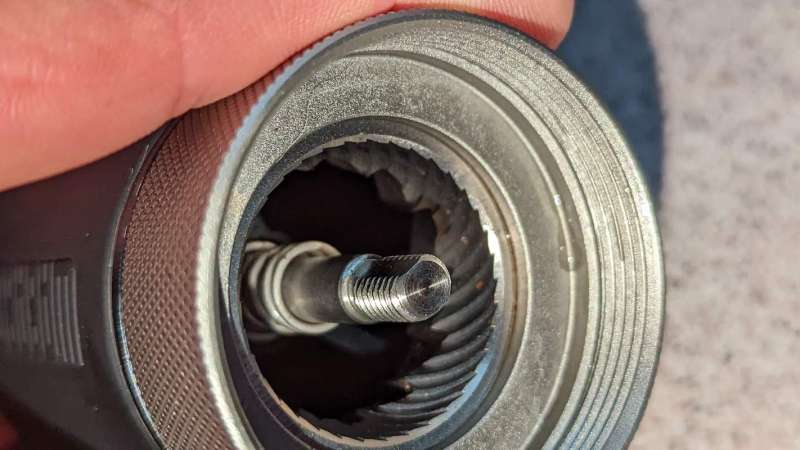 But how does it grind?  It grinds very well.  It excels on the smaller end of the grind spectrum – no wonder for a company focused on espresso.  But it's capable of grinding coarsely if french press is your thing.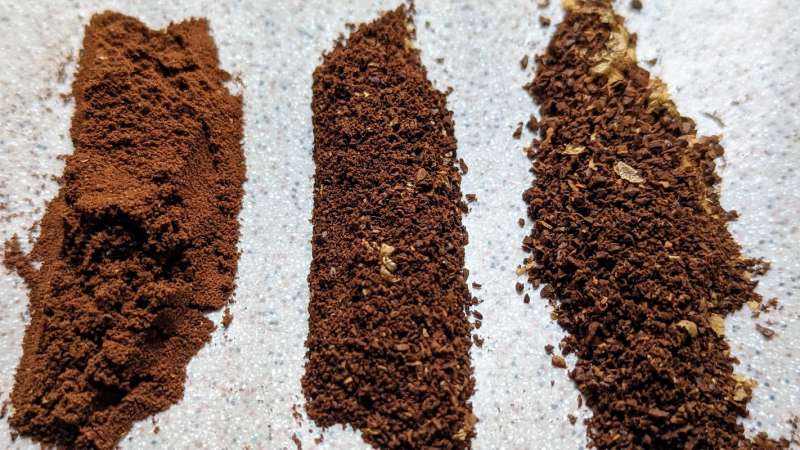 It's quick, easy to use, and creates a cup full of brightness and even sweetness.  There are only two downsides, and they are pretty small. First, the small grinder makes for a small target to pour beans into.  I usually end of spilling a few.  Second, the silicon sleeve on the top of the grinder can ride up when grinding.  It seems like it's just a friction fit and not glued or otherwise secured. 
Wacaco Exagram scale and timer: Previously, I'd been using a standard kitchen scale and kitchen timer for my coffee brewing.  This was adequate, but using the Exagram made me realize what I was missing – largely, an immediate scale response. My kitchen scale always seemed to be a second or two behind as I pour water into the V60, often making me overshoot by a few grams.  The Exagram has an almost immediate response and to a tenth of a gram, which lets me brew to the exact ratio I want. The backlit display is great, especially when making coffee early in the morning in a dim kitchen.  The display is bright and easy to read, even with bleary morning eyes.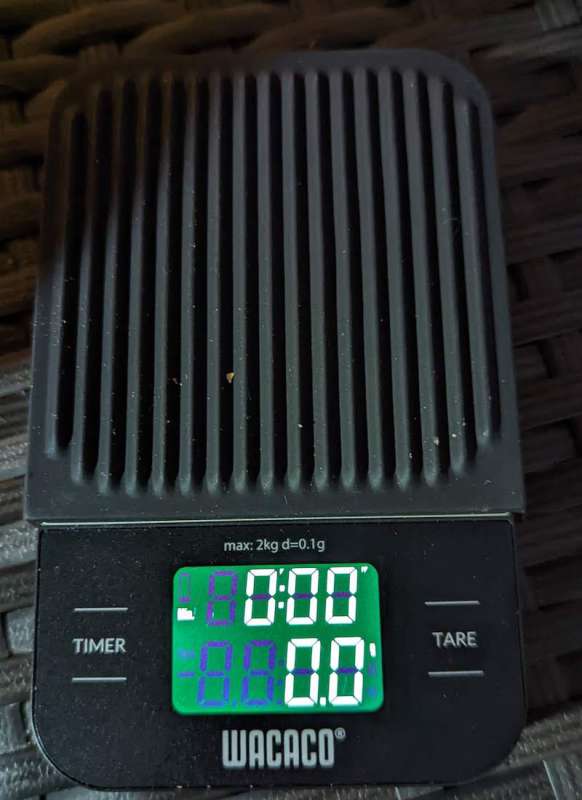 The silicon cover is a nice touch, but I ended up not using it.  It did not fit very snuggly and looked a little sloppy.  I just prefer the black and stainless look, and that is easy to clean with a quick swipe of a sponge. I also found myself using the Exagram not only when brewing coffee, but also when roasting coffee – where you also need a scale and timer.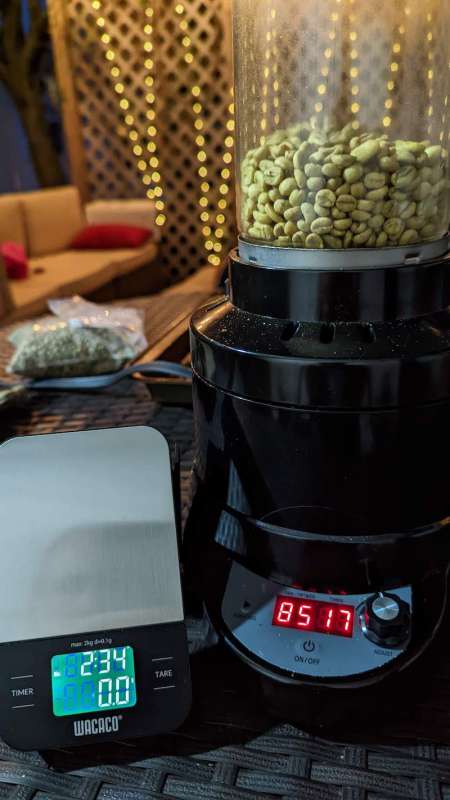 The only downside to the Wacaco Exagram is its size.  It's pretty tiny, which may be an advantage if you take it with you a lot, but if you are brewing into a carafe or anything larger than a mug or cup, you may find the screen in the shadow of your vessel. One other slight nitpick – it did not come with batteries. Five years ago, this would have been the norm, but it is increasingly common for devices that use batteries (2 AAA in this case) to include them in the packaging. 
What I like
Wacaco Exagrind hand grinder

Very pleasant to use

Bright cup with balanced sweetness

Feels nice in the hand, good ergonomics

Quick and quiet

Travel bag included

Good value – great grinder and a good price

Wacaco Exagram scale and timer

Immediate scale response

Bright backlit display
What I'd change
Wacaco Exagrind hand grinder

Capacity might be a little small for some users (20g)

Silicon sleeve can ride up while grinding

Can be a bit messy to load with whole beans

Wacaco Exagram scale and timer

It's a bit small for anything larger than a cup

Silicon sleeve flares at the bottom and can look sloppy

Batteries not included
Final Thoughts
If you already use any of Wacaco's expresso or coffee makers, the Exagram and Exagrind are great accessories that will complement in both use and look.  But they are also great products on their own, especially if you want the ability to make good coffee anywhere you can heat water.  They are well-built products and are enjoyable to use and both have become my daily drivers when making coffee.  Be sure to also check out our other coffee and coffee gear reviews.
Price:  Exagrind $119.90 (usually less on Amazon)
             Exagram $34.90
Where to buy: Exagrind  Wacaco or Amazon
                            Exagram Wacaco or Amazon
Source: The sample for this review was provided by Wacaco.