We use affiliate links. If you buy something through the links on this page, we may earn a commission at no cost to you. Learn more.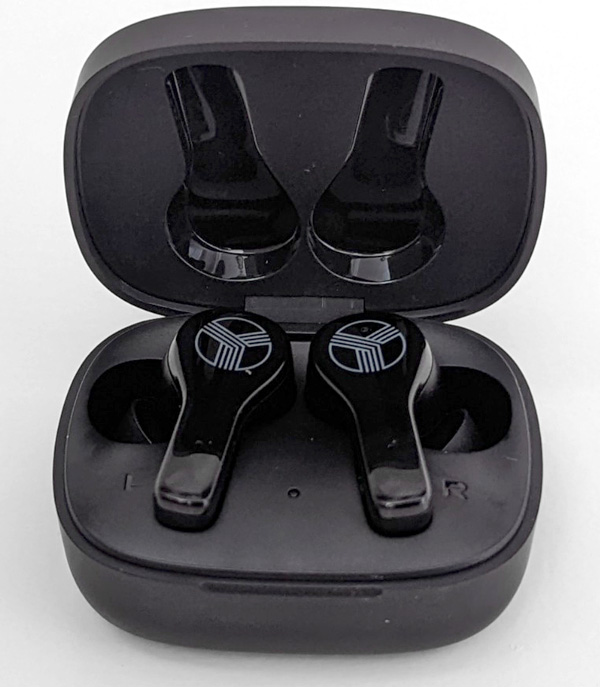 REVIEW – I used to find myself with more portable power bank chargers than you can shake a stick at (thanks to my dad for that little euphemism).  I mean, I have them everywhere, in every shape and size, because you never know when you might need one, right?  I can now say that I might possibly have more wireless earbuds/earphones than power banks.  Maybe.  I mean, it all shapes and sizes, scattered everywhere. I even have another TREBLAB product that I reviewed here at the Gadgeteer, the X3 Pro over-the-ear earbuds about 2 years ago. The $39.97 WX8 earbuds are the in-ear type of earbuds, with touch controls, so I was interested to see what type of technology improvements that TREBLAB WX8 true wireless earbuds brought to the table.  Let's find out!
What is it?
TREBLAB WX8 true wireless earbuds are wireless Bluetooth earbuds that come with a carrying/charging case.
What's in the box?
Treblab WX8 earbuds
portable charging case
3 sizes of silicon eartips
USB-C charging cable
manual
Hardware specs
Playtime:

Up to 7 hours + 4 additional charges with Charging Case

Charging Time:
1 hour
Bluetooth:
5.1
Battery:
Earbud (each): 40 mAh

Charging Case: 300 mAh

Signal Range:
33 feet / 10 m
Frequency Response:
20 Hz – 20 kHz
Driver:
6 mm diameter
Noise Cancelation:
Passive Noise Isolation
Phone Calls:
2 mics
Water Resistance:
IPX8
Voice Assistant:
Siri, Google Assistant
Color:
Black
Earbuds (each) Dimensions:
1.33 x 0.76 x 0.94 in
Charging Case dimensions:
2.24 x 1.77 x 1.11 in
Earbuds (each) weight:
0.16 oz
Charging Case weight:
1.28 oz
Warranty:
1 Year
Design and features
The form factor as you can see from the pictures is in-ear earbuds that hang from your ears. The outside of of each TREBLAB WX8 true wireless earbud is a flat surface where you interact with the earbuds via touches.  In my experience, the touch interface on earbud products has gotten better over time.  The first touch-interface earbuds I tried were frustrating and susceptible to stray unwanted touches.  The touch interface on the WX8 earbuds works very nicely, and the touches are very similar to what you probably already experience with other touch interface earbuds when trying to pause music, answer calls, etc.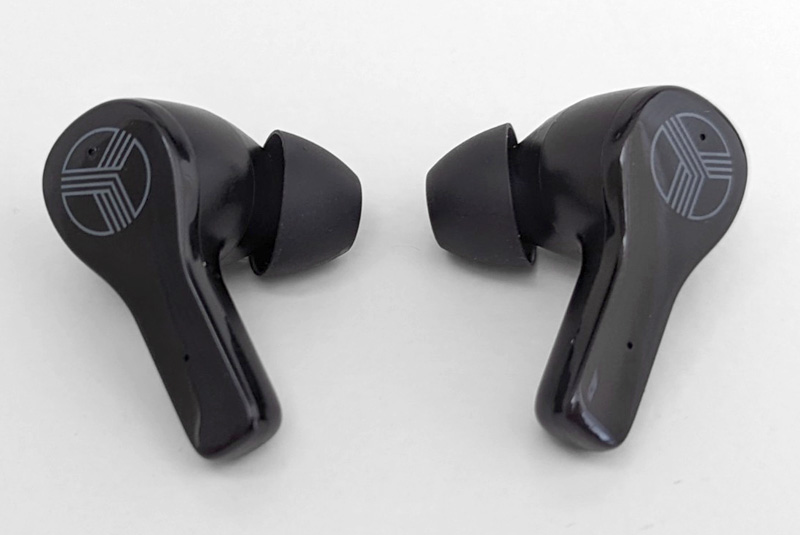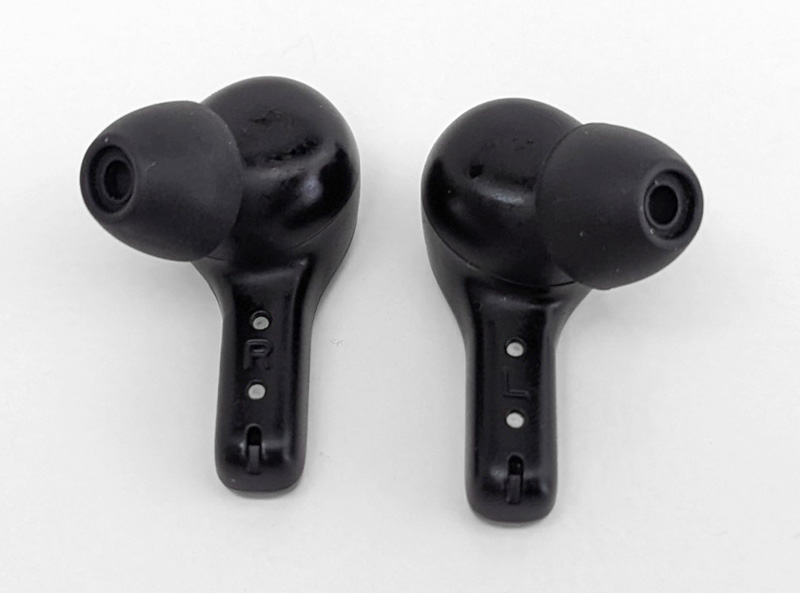 The TREBLAB WX8 true wireless earbuds come with 3 sizes of silicon tips for your ears.  I found 1 of the sets to fit nicely in my ears, and they generally stayed put when wearing them during the day, walking the dog, etc.  I never had a big problem with them falling out.  The charging case is nice as well.  They claim that you can charge your earbuds 4 times using a fully charged case, and I confirm that I was able to do that. The charging case is also very small in size, so it is very easy to carry in your pocket if you wanted.  When you remove the earbuds from the case they automatically turn on and connect to your phone, and when you place them back in the case they automatically turn off, as you would expect. The bottom of the charging case is flat, and that allows you to use one of the main selling points of the earbuds, which is being able to charge the case via a wireless charging pad.  I confirm that the wireless charging works great, although it takes me a little longer than the purported 1 hr of time it takes to charge the case fully.  I found that it took me around 1.5 hrs to do that.  But in any event, that isn't anything to quarrel over.  But if you don't have a wireless charging pad you can still plug them up to a USB-C cable via the charging port on the back of the case.
Now, the charging case only has 1 indicator light on it to show you how much charge is left in the case.  This is not the first time I have seen a gadget show up with only 1 indicator light on it, and I still don't like that.  Call me old-fashioned, I would like at least the standard 4 indicators.  But, I can get over that I suppose, and perhaps this is the way of the future and everyone will start doing this on their gadgets, who knows?  But the one complaint I have with this charging case, which is kind of a big deal to me, is that the indicator light is on the inside of the case, not the outside.  (You can see it sitting between the earbuds in the picture at the top of this review) I can't figure out why they did this.  You have to have the lid open to see the light and get an idea of what the status is. That seems like a design mistake to me.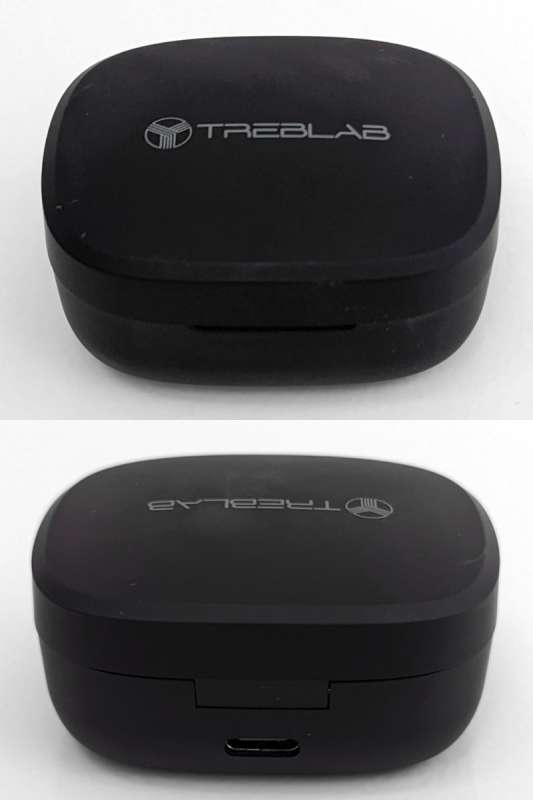 The last feature I'll mention is that the WX8 earbuds come with IPX 8 water resistance.  Now, that is the highest level water resistance you can get, and you're supposed to be able to swim underwater and still use them.  I did not try that, but that is a pretty nice feature for those of you who need that kind of water resistance.  But I will say that I can't imagine they would stay put in my ears if I tried to swim the pool in them.  Maybe splashing around in the pool a bit would be fine, but these things aren't over-the-ear or behind-the-head earbuds. So how useful is the IPX 8 rating? You can decide.
Performance
As far as the audio experience with the TREBLAB WX8 true wireless earbuds, I have no complaints.  They say I am supposed to get 7 hrs of listening, and I would agree that is about right.  They are plenty loud, and the sound to me was solid, with a good balance between highs and lows. The silicon tips give me a good seal in my ears so that listening to music is pleasant. I will also say that the noise canceling to block outside noise is pretty solid as well.  However, you won't get any kind of ambient sound feature to let in background noise when you need it.  But at this price point of $39.97, I wouldn't expect that feature.  It also has voice prompts to tell you when the earbuds are connected, when they are running low on battery, etc, which seems to be standard fair these days.
The main complaint I have with the TREBLAB WX8 true wireless earbuds is going to be significant for some people.  I found that making phone calls with them is not that great.  Because I have so many earbuds from other manufacturers I was able to test this out to make sure that I wasn't being overly critical. The WX8 earbuds provided disappointing performance when it came to phone calls compared to every other set of earbuds I have, even compared to the TREBLAB X3 Pro earbuds I got 2 years ago. Maybe I am expecting too much from a $39 set of earbuds, but everyone I talked to using them struggled to hear me clearly.
What I like
Charging case is great
Price is great
Sound quality is solid and a pleasant experience
What I'd change
Making phone calls is not good
Final thoughts
The price is great for the audio experience that you get with the TREBLAB WX8 true wireless earbuds.  I find myself using them a lot when I go for a walk or walk the dog. The IPX 8 water resistance is going to be a big plus for those folks who are around water alot and want that peace of mind. But if you want to be able to make phones with these earbuds, you might want to look elsewhere. You can make a quick phone call in a pinch with the WX8 earbuds, but if you want to use them often throughout the day to make calls, skip these and spend a little more money on other earbuds. Heck, the X3 Pro earbuds from TREBLAB are a better choice for that, although a little more expensive.
Price: $39.97 (on Amazon) or $49.97 (on TREBLAB's site)
Where to buy: TREBLAB and Amazon
Source: The sample of this product was provided by TREBLAB.