We use affiliate links. If you buy something through the links on this page, we may earn a commission at no cost to you. Learn more.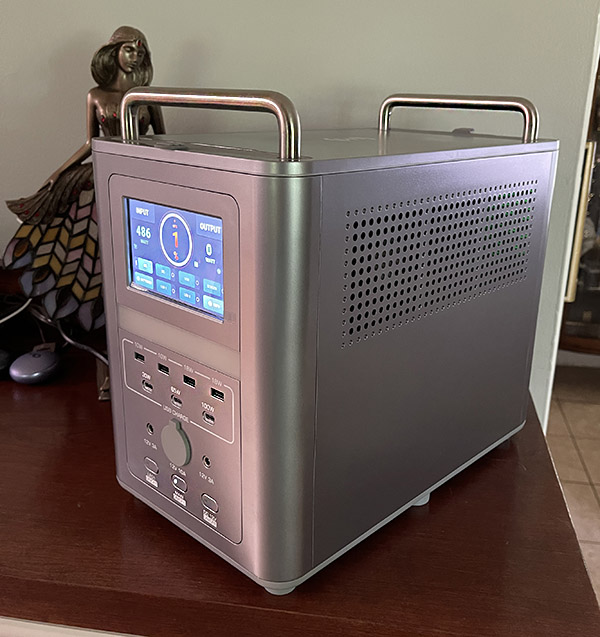 REVIEW – Since our last hurricane in Central Florida, I've become interested (my wife says obsessed) with battery power stations. These mini "generators" can power almost any device in your home (depending on their size and power) when the power goes out. You might think, "Well, any gas generator can do that!" True, but gas generators are noisy, require buckets of gas, and are notorious for not working after sitting for a long time. And if that's not enough, they can poison and even kill you if they are run too close to living areas. Fun, huh?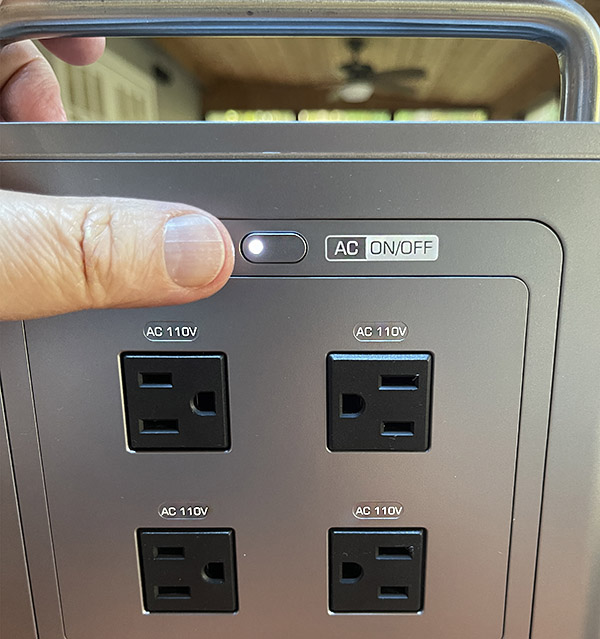 It's now 2022 and the world of off-grid power needs is changing—for the better. Enter the new LemiPower 1536Wh LiFePO4 Power Station (currently seeking funding on Kickstarter). It's powerful, quiet, portable, and safe. Battery power stations can be used anywhere indoors in complete safety. As gadgets go, it's one of the more useful you can own.

What is it?
The LemiPower 1536Wh LiFePO4 Power Station is a massive battery generator that can power many appliances, gadgets, and almost anything that requires power to run. The LemiPower LiFePO4 has the most outlet ports I've yet seen: 4 x 110V AC ports, 4 x USB-A ports, 3 x PD USB-C ports, 2 x 12V DC ports, and a DC 12V car cigarette port. Wireless charging is also included. That's a total of 14 ports!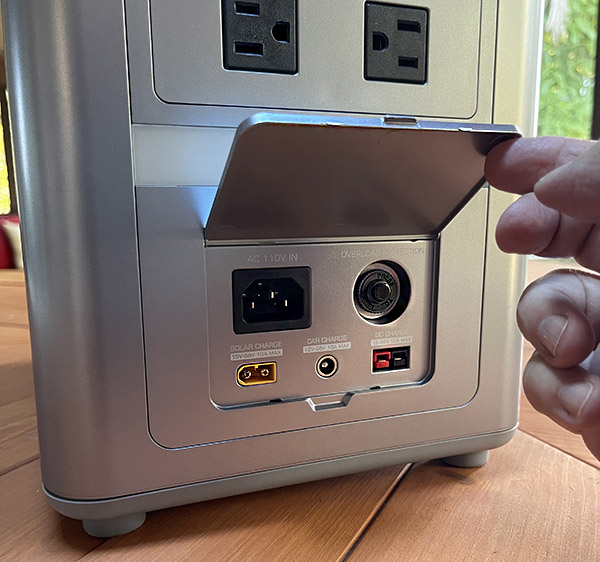 Charging inputs can be 110V (from a home wall outlet), car, DC or solar. Solar inputs use the standard MC4 connectors. Although LemiPower states (via their Kickstarter campaign) that solar panels will be available, I've yet to see them so I can't comment about them.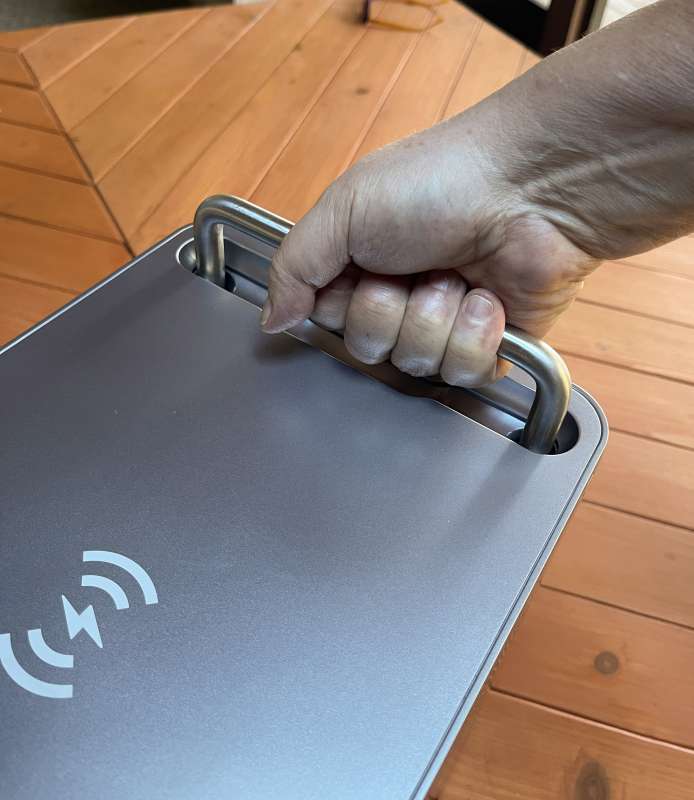 Although the LemiPower LiFePO4 is portable and weighs way less than any gas generator, it's still one heavy beast at 38.5 lbs. Two pop-up handles make carrying easier. Part of the weightiness comes from its lithium-iron phosphate batteries. More on that later.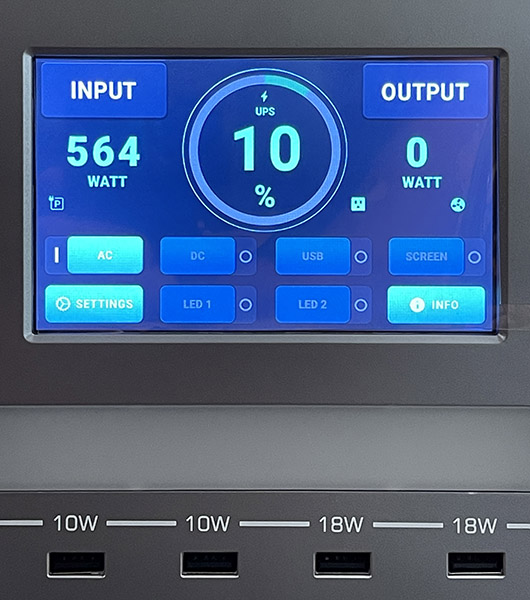 Besides the abundance of power ports, the LemiPower LiFePO4 has a large LED color touch-screen that provides necessary information. Touch-screen buttons can turn any port on or off, as well as show how many watts are being used depending on the connected gadget. There's a settings button that lets you set language, temp. units, backlighting, date/time, stuff like that. There is also an info button that shows the status of input/output, firmware, model numbers and future tech support info—which is missing from my pre-manufactured unit.
Other LED buttons are AC, DC, USB, and LED light control for the built-in lights on both ends. These lights can light up a small room in a power outage.

Specs
Capacity: 1536Wh (51.2V/30Ah)
Battery type: LiFeP04 soft-pack
Input ports—
AC: 100-120V, 500W max
DC:12-36V, 10A max (x2)
Car: 15-58V, 10A max
Solar Panel: 12-36V, 10A max
Output ports—
AC port: (4) 1500W continuous. 3000W peak
USB-A port (4) 2x10W; /2x18W
USB-C port (3) 30W/65W/100W
DC port (2) 12V, 3A
Car port (1)
Wireless charging (1)
Weight: 38.5 Ib.
Dimension: 1.2 ft. x 8.5 in. × 1 ft.

Design and features
At first glance, the LemiPower LiFePO4 power station looks like a desktop computer, with its handles and shell design. It does have computer-like controls built in. It's a nice-looking power source—much better looking than some other better-known brands. The exterior is available in white or a silver/gray (reviewed).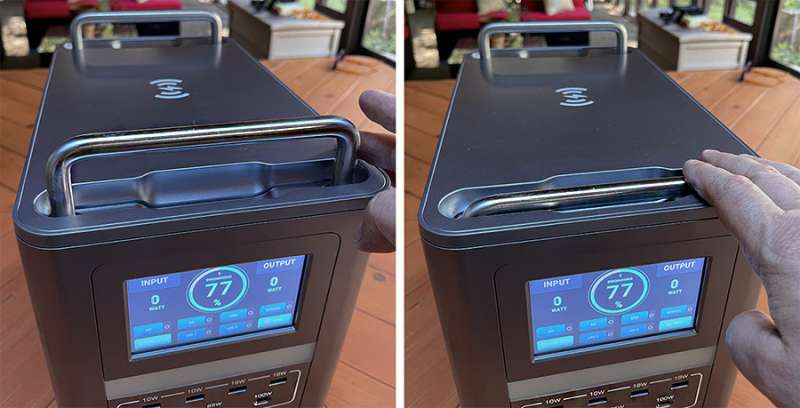 The handles can be hidden, or raised by pressing down on them. It's a clever system. Between the handles sits a wireless charger perfect for smartphones or other devices that support wireless charging. However, I don't use it to charge my iPhone—I prefer the old-fashioned wired charging. The iPhone gets uncomfortably warm for my tastes when wirelessly charging.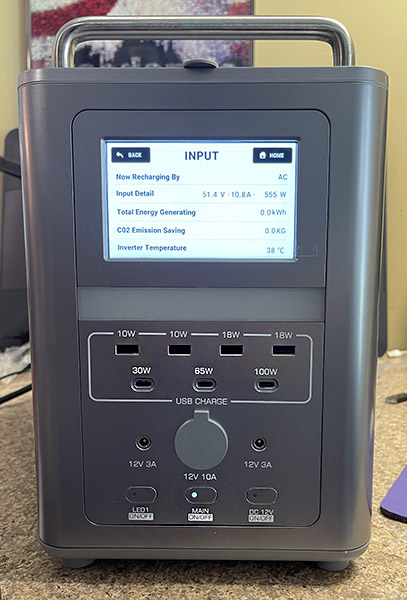 The four USB A ports on the front comprise of 2×10 watt and 2×18 watt ports—perfect for charging older tablets, smartphones and portable Bluetooth speakers. There are also three USB-C ports at different wattages: 30 watt, 65 watt and 100 watt. The 100 watt port is great for fast-charging my 12.9 in. iPad Pro. It's way faster than the USB-C port in my wall outlet.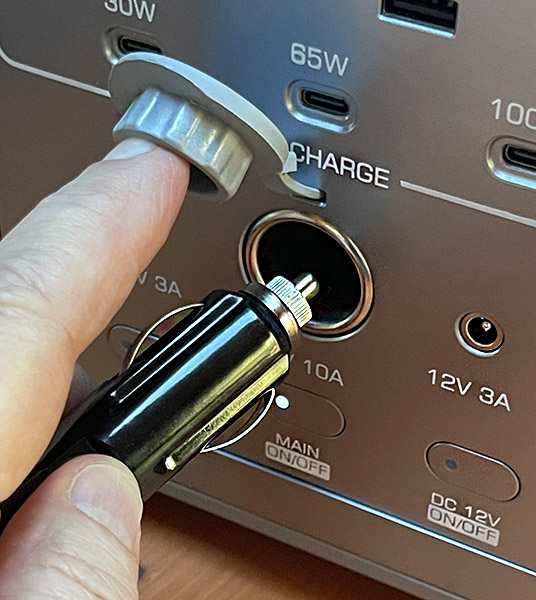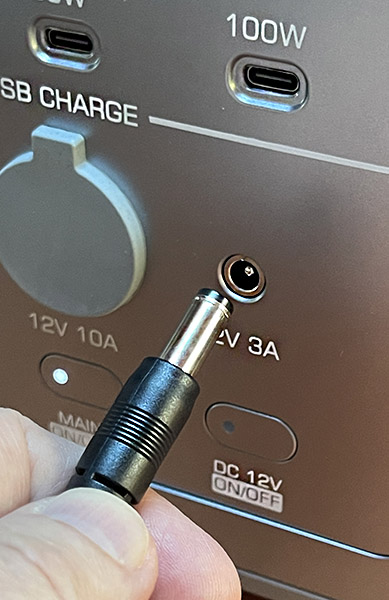 Along with the standard 12V car cigarette lighter port, LemiPower included a couple of 12V 3A ports that can be used for various low-power 12V camping devices such as a fan or small TV.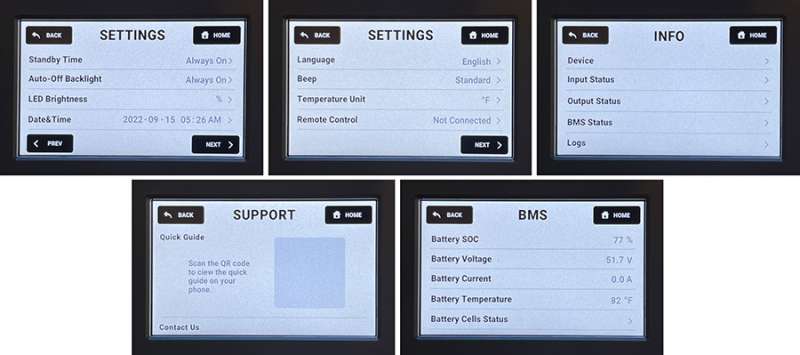 The built-in LED screen exhibits a bunch of info. For instance, if the LemiPower is being charged from a wall outlet, the screen will show you how much time is left—down to the minute. Input and output watt info is shown. While charging my iPad Pro, the output wattage is rated at 6-9 watts (mostly 7 watts). Since the LemiPower is rated at 1,536 watt hours, the iPad Pro can be charged many times over—as can smartphones, laptops and other battery-powered gadgets. Did I say this thing is big?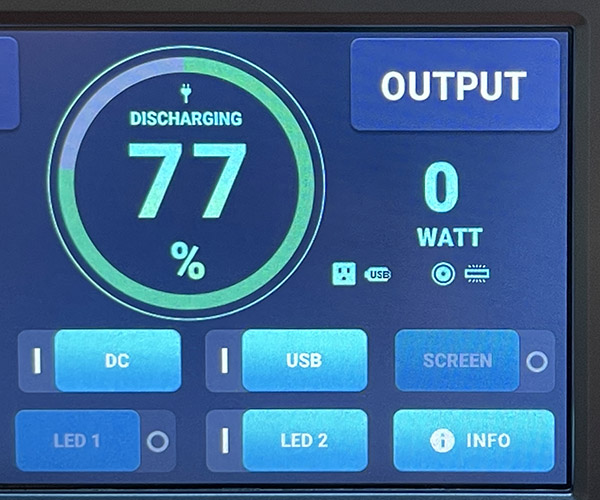 There are many small icons that populate the screen under the input/output sections depending on what is happening. They are more informational than instructing. For instance, if you're using the AC outlets and USB ports, their respective icons will appear. If not, they disappear. This way, the screen only shows you what needs to seen and hides the rest.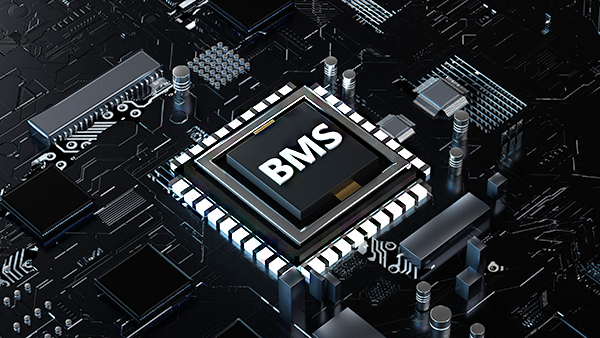 What happens inside the LemiPower 1536Wh LiFePO4 Power Station is as impressive as the outside. As I stated in the Kickstarter crowdfunding item posted earlier, the LemiPower has a lithium iron-phosphate Battery Management System (BMS) built-in providing safeguards to prevent over-charging and other anomalies that can damage the batteries. Even though there isn't the fire hazard of lithium-ion, it is still good insurance for longevity.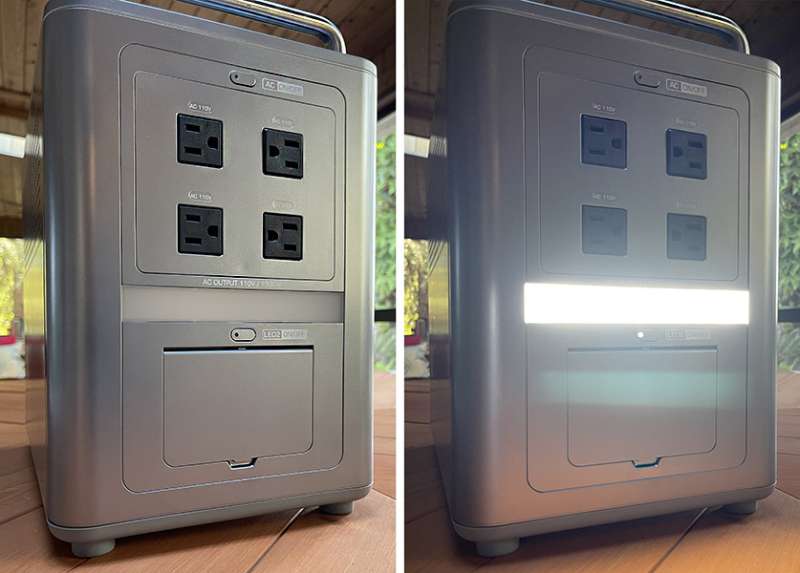 The LemiPower 1536Wh LiFePO4 power station is rated at 5000+ life cycles. That means you can totally drain the batteries to 0% and then recharge the batteries back to 100% up to 5,000 times before you see any degradation in battery performance. Note that because of technology advancements, you will probably replace the LemiPower long before the batteries cease to provide 100% of their power.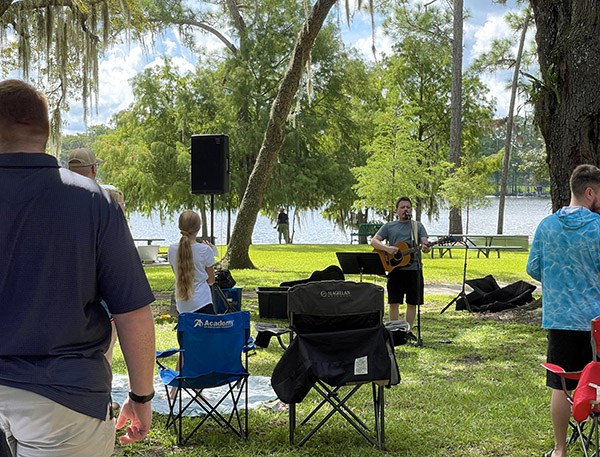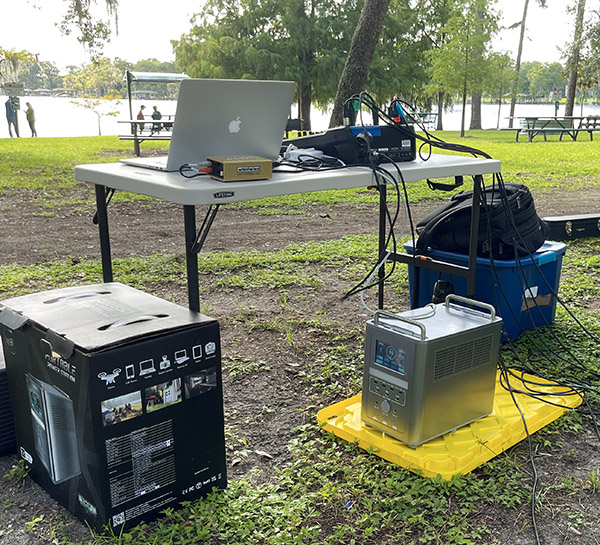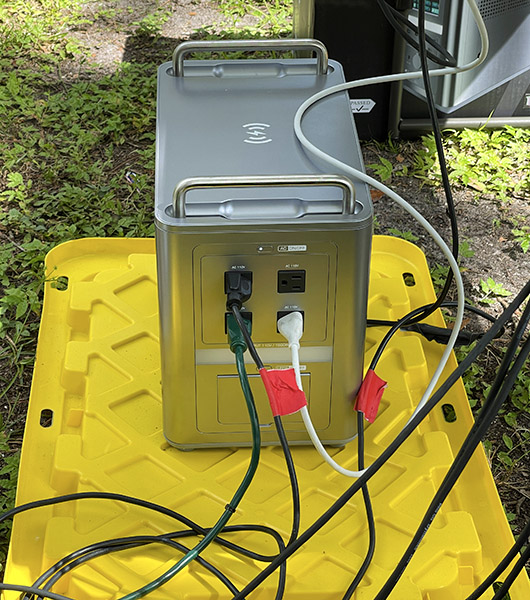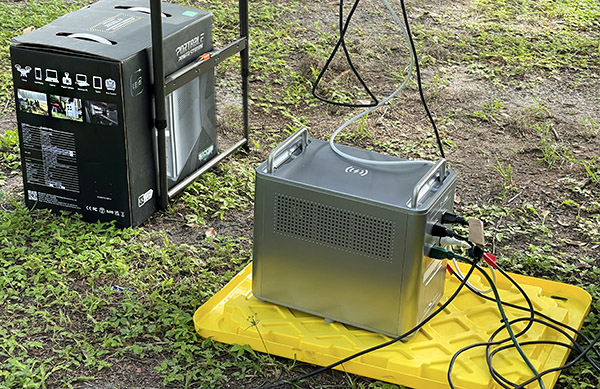 Recently, I was able to put the LemiPower 1536Wh LiFePO4 power station to a real test. Our church held an outdoor service by a picturesque lake that was far away from any plug-in power. In previous years, the church used a gas generator that had to be set as far away as possible to minimize distracting engine noise made during the entire service. This year, the generator would not start so I offered to bring the LemiPower, instead. We plugged the entire sound system (amps, speakers, mics, computers, etc.) into the (fully charged) power station using all four AC outlets. After 2 hours of using amped music and mics for the service, leftover power was still listed at an impressive 75% battery life. The LemiPower was able to be tucked directly under the soundboard table. And there were no gas fumes or engine noise. The staff was impressed!

What I like
Lots of outlets and ports
Large LED touch-screen with easy to read info
Looks like a well-designed desktop computer
Has useful built-in LED lighting

What I'd change
Expensive
It's quite heavy

Final Thoughts
The LemiPower 1536Wh LiFePO4 is an impressive power station with enough power to run most essential appliances you may need during a power outage. But it's more than that. With an incredible array of outlets and ports, it can perform double-duty as a daily source of safe, reliable power for charging various devices no matter the location.
The LemiPower 1536Wh LiFePO4 power station is being promoted via Kickstarter until October 15, 2022. It has far exceeded the required funding with shipping of the product slated for November, 2022.
Note that this review is for a pre-production unit. While it works the same as a retail power station, it is missing both some info and an app that the LemiPower web site promotes. Production units delivered by year's end shouldn't have this issue.
Price: $1,399 US (Kickstarter Early Bird). $2,999 US retail.
Where to buy: Kickstarter
Source: The sample of this product was provided by LemiPower. Read the Kickstarter page for more info.