We use affiliate links. If you buy something through the links on this page, we may earn a commission at no cost to you. Learn more.

REVIEW – Some people don't like flavored coffees. Hikers Brew makes flavored and unflavored coffees. I don't like flavored coffee. But – Hikers Brew flavors are good. I surprised myself that I would revisit the Hikers Brew flavors. After one cup for science, I could have stopped, but I had seconds and thirds of most of the Hikers Brew coffees. I shared some, and my wife had good input as a junior reviewer. 
What is it
Hikers Brew Coffee makes packets of coffee specifically for portability. Each packet makes 2-3 mugs of brew. These are pocketable or packable. (They sell traditional size bags of coffee as well.)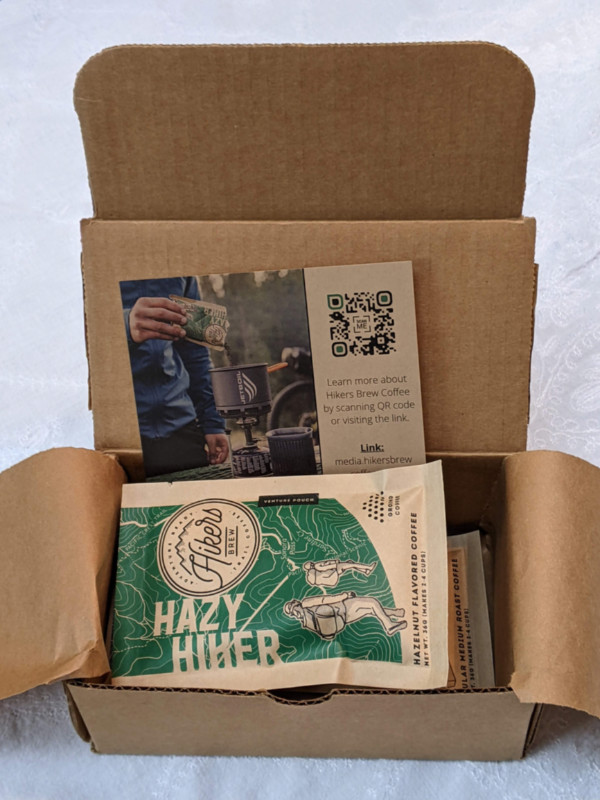 What's in the box
The Six Pack Sampler box contained 6 packets of the various flavored and unflavored coffees from Hikers Brew.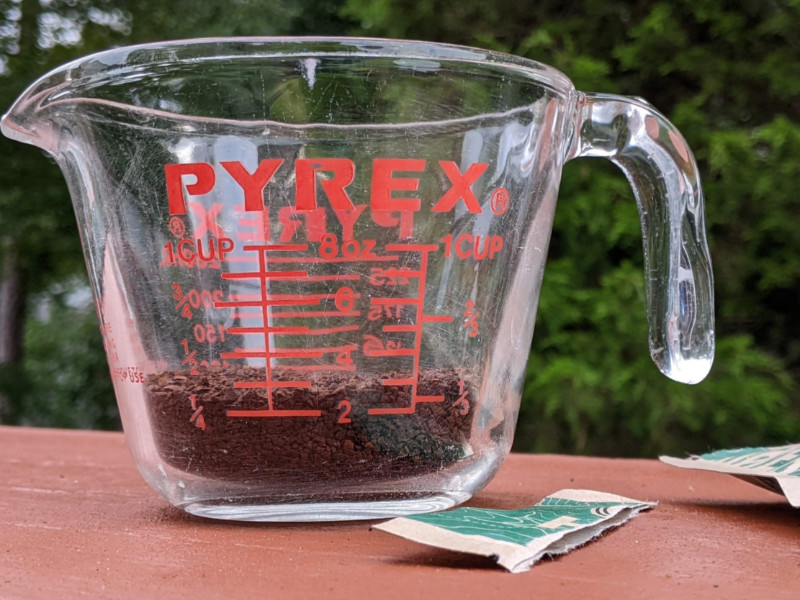 Specs
34 grams of dry, ground coffee per packet
Compostable packets
An 'exhale' vent is in the packets as seen on large coffee bags.
Features
Small, portable, 34 gm 'Venture Pouches' or 12 oz 'Basecamp Bags' are available
With every order, Hikers Brew makes a donation for a tree to be planted.
Smooth taste among all the flavors
Testing and observations
CONTENTS
The packets are marked as '34 grams' but the website says they are 1.5 oz. Each packet I tested contained about 6 tablespoons of dry, ground coffee. At our home, we brew with 2 tablespoons of coffee in either the self-fill Keurig pods or an Aeropress to make a 12oz mug of coffee. So this is enough ground beans for us to make three 12oz. mugs of brewed coffee. The packet says the contents will make 2-4 cups of coffee. It all depends on you and your method.
GRIND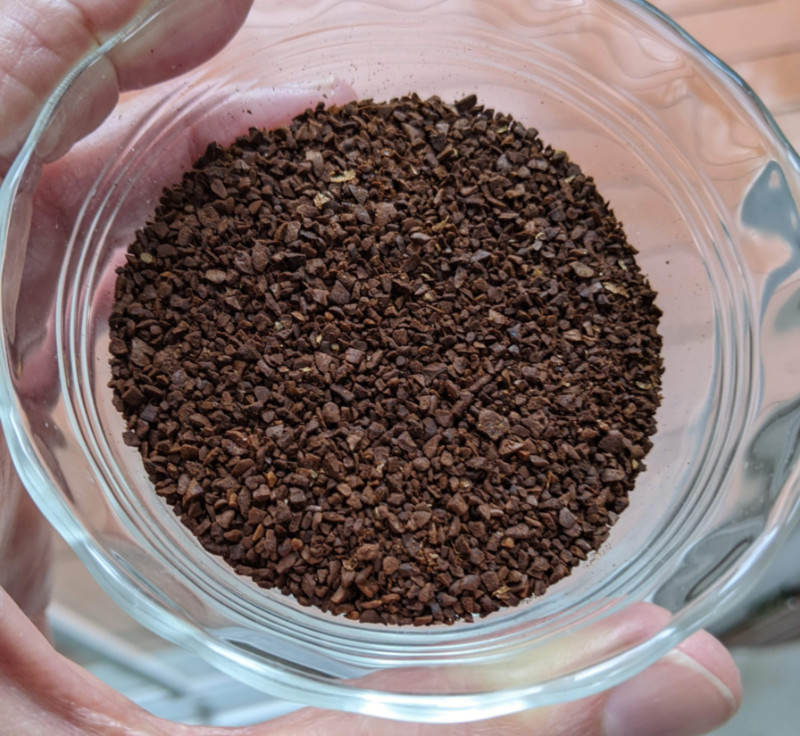 The grind appears to be of a coarseness appropriate for drip coffee machines. If you like it more finely ground you could customize it with your grinder for a finer consistency. 
FLAVOR
Prepare for a quote mark overdose. Hikers Brew makes 2 unflavored and 4 flavored coffees. While my wife and I aren't fans of flavored coffees, these flavored coffees were in the 'Goldilocks' category, or 'just right'. They were not too overpowering and were not flavored by 'chemical trickery', so there were no weird aftertastes. We don't know how they do it but we've had some scary flavored coffee before. These are pleasantly flavored instead of 'whack you in the palate'.
Here are package front and back pictures and my tasting notes for each coffee.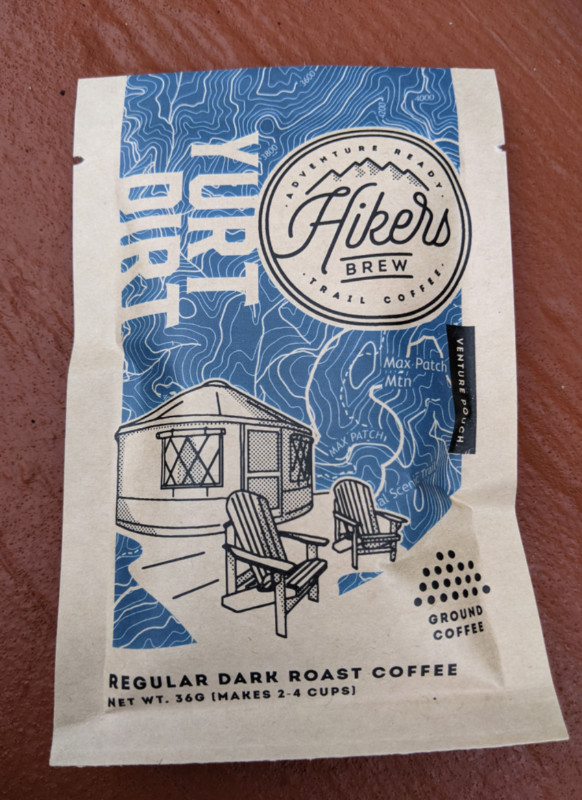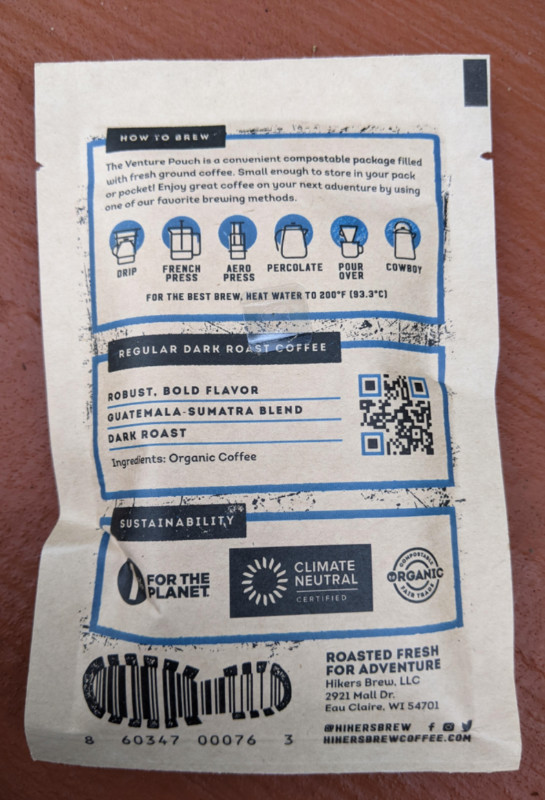 YURT DIRT (Dark roast)
A very smooth dark roast. Not at all acidic. Medium strength without thickness. The brewing style & coffee amount relates. A clean flavor vs. heavy. This was our favorite.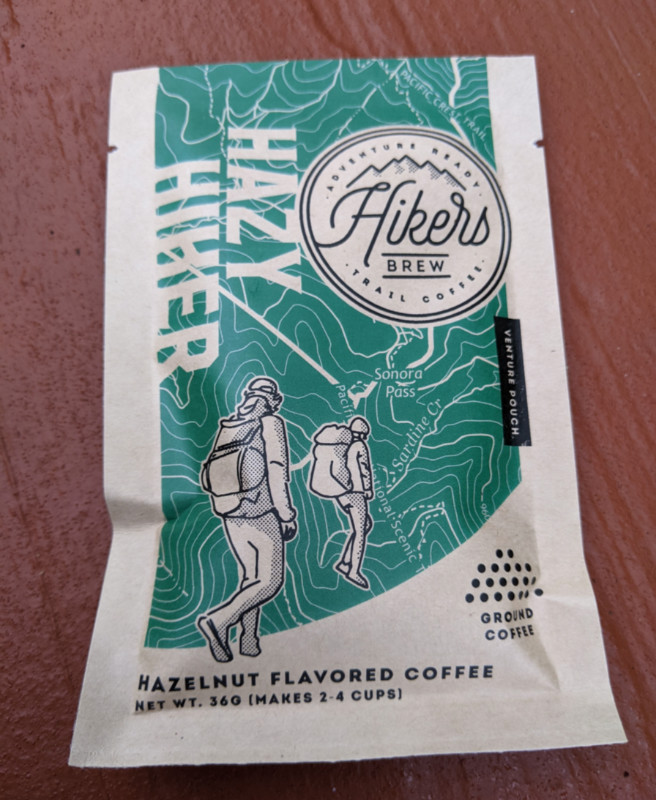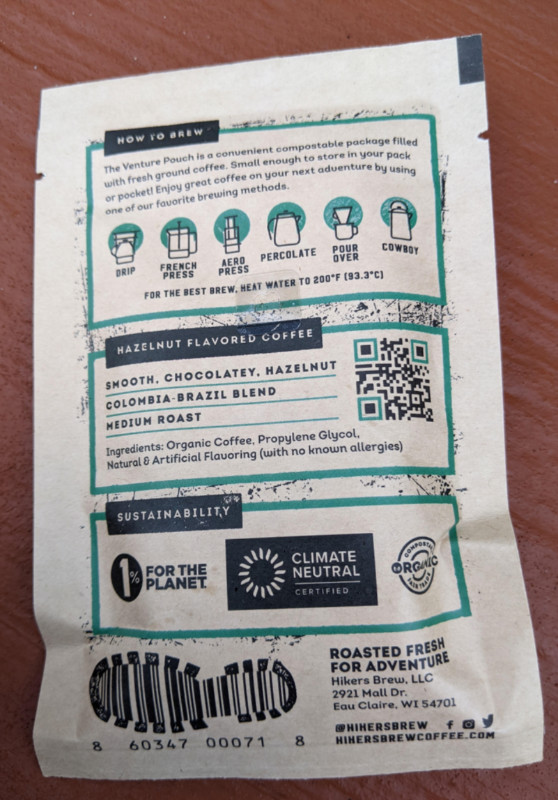 HAZY HIKER (Hazelnut)
This is good, and remember, I don't usually like flavored coffee! Not overpowering. Clearly hazelnut aroma but the smell may be stronger than the taste.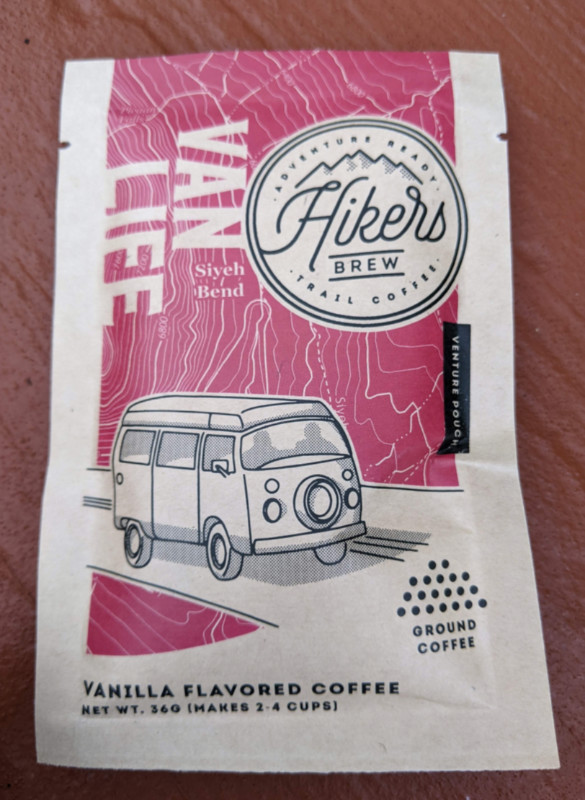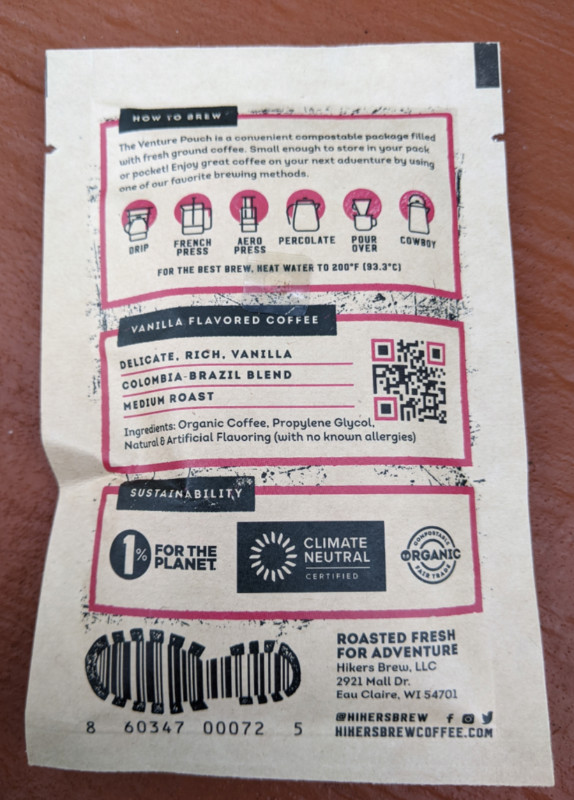 VAN LIFE (Vanilla)
This flavor was not overpowering. There was no chemical fakeness. Didn't love it that much as the cup cooled off, but this is an accurate flavor done well.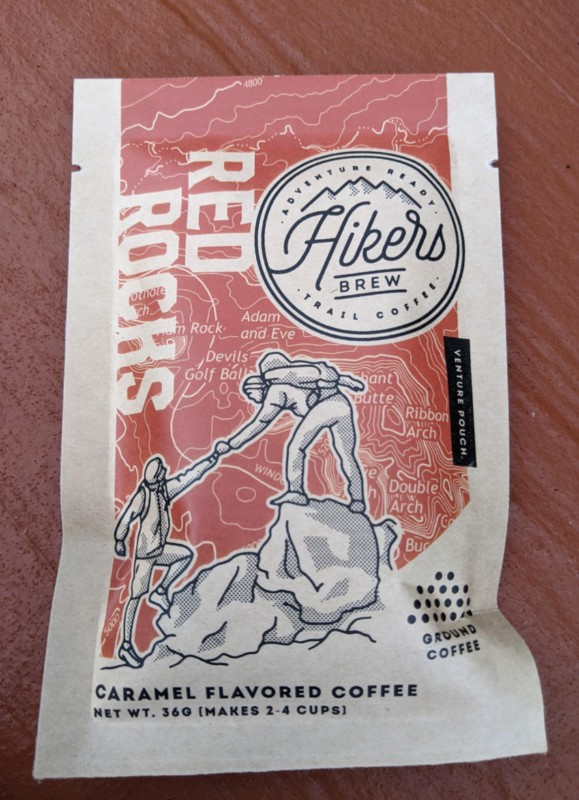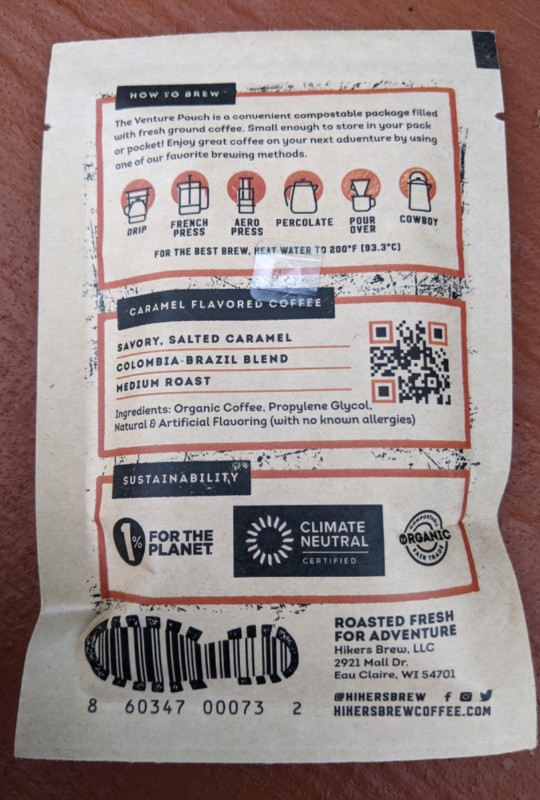 RED ROCKS (Caramel)
We both noticed flavor similarity with this and the Some Mores flavor. The Red Rocks was a less present aroma and flavor and some may like it more for that reason.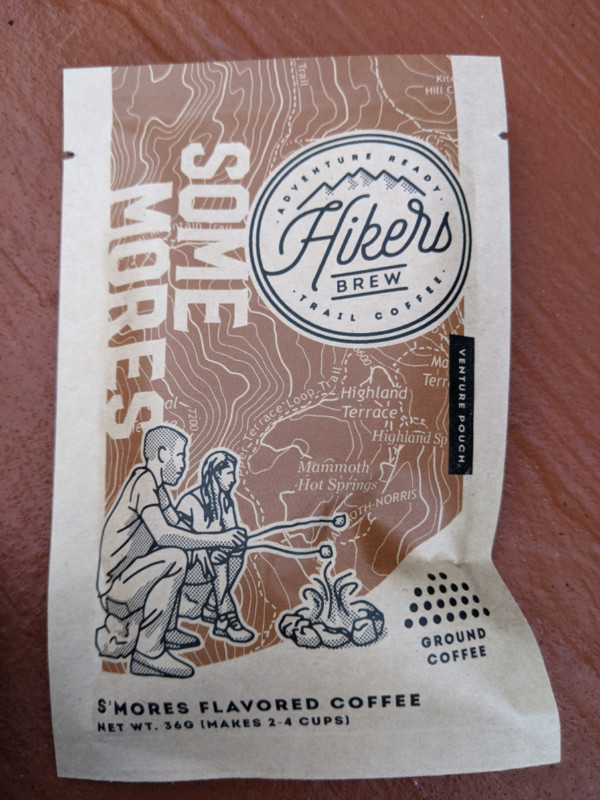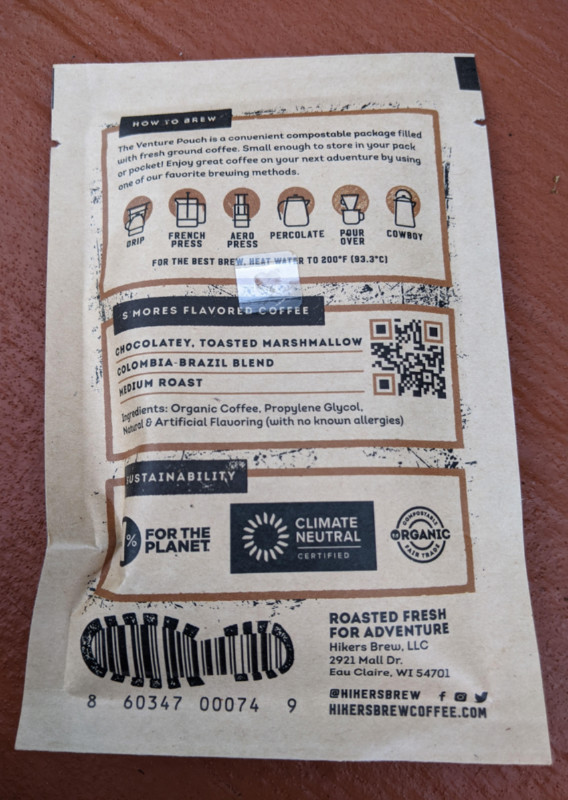 SOME MORES
If s'mores are supposed to taste like graham crackers, chocolate and marshmallow I didn't pick up any of those flavors in this coffee. But I liked it. Maybe enough to have it again. While my wife picked up on a possible toffee aroma, to me, it was coconutty. Again the taste was more subtle than the aroma and both were pleasant.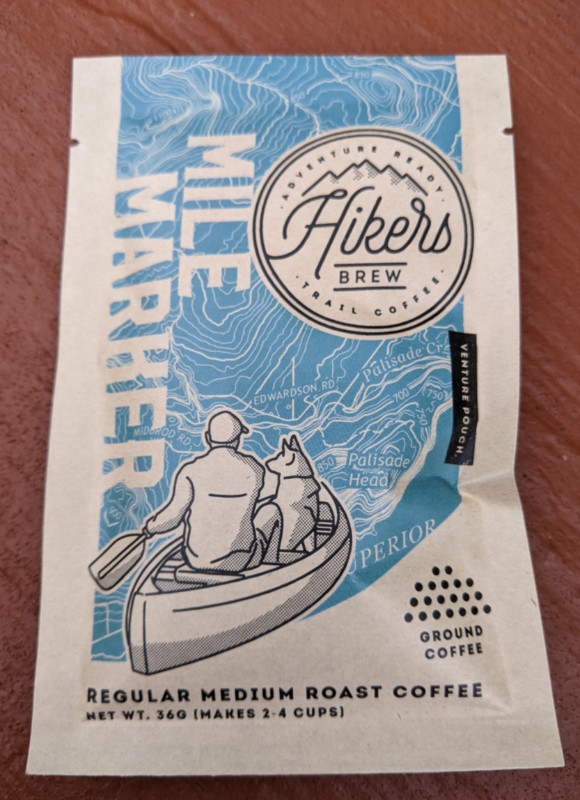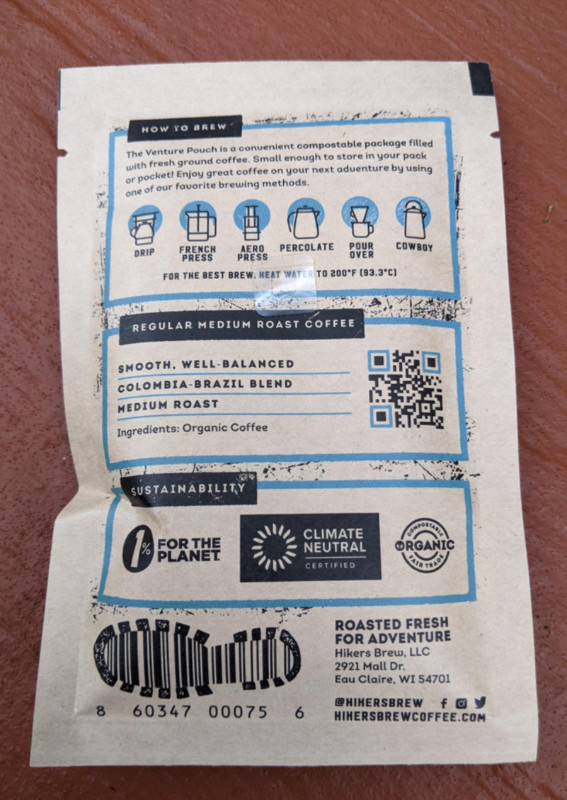 MILE MARKER (MEDIUM ROAST)
This had the 'greenish' coffee bean flavor characteristic of lighter roasts. Those who like lighter roasts will like Mile Marker.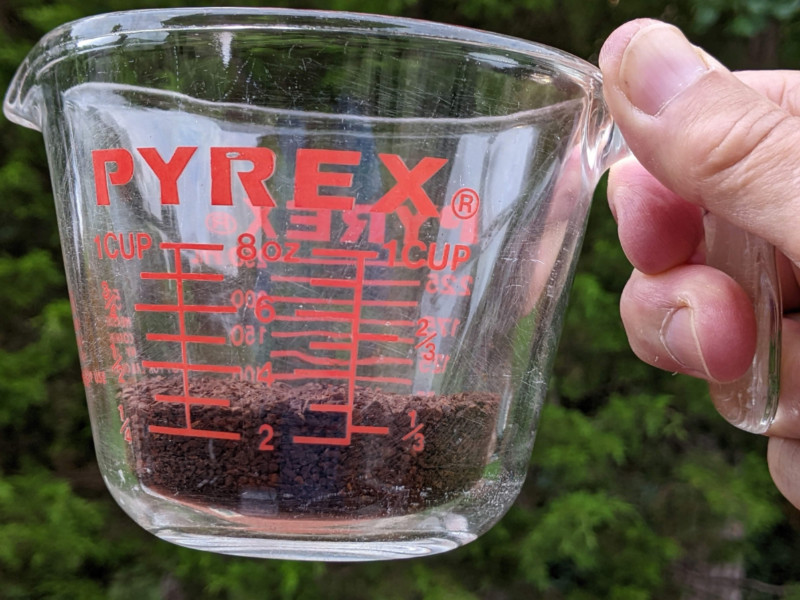 What I like
Packages are compact, easy to carry, and compostable
It's easy to find your favorite flavors with the assortment package
I think it's cool that a tree gets planted after every order. Trees are good. This is great renewability.
What I'd change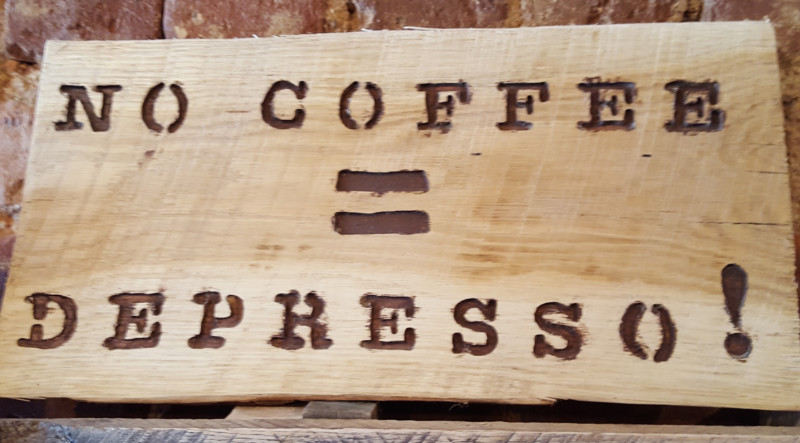 Final thoughts
If you like to make fresh coffee on your outdoor or indoor travels, the convenient Hikers Brew Six Pack Sampler or quantities of any one flavor may be right for you. 
Price: $26.99 for the Six Pack Sampler. $15.99 for the Basecamp Bag
Where to buy: Hikers Brew Coffee
Source: The sample for this review was provided by Hikers Brew Coffee.