We use affiliate links. If you buy something through the links on this page, we may earn a commission at no cost to you. Learn more.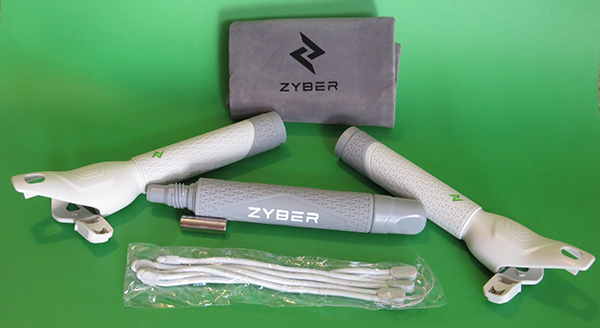 REVIEW – After picking up an Oculus Quest 2 late last year, I have been happily plunking away at Beat Saber, which is by far my favorite game. Not only are there great songs to play with, but it actually gives a decent arm workout after a while of gameplay. I was told about the Zyber 3-in-1 attachment set for the Quest 2 and was curious how that would go along with my favorite VR game, and if the little bit of weight that you can add in would help give a better "workout."
What is it?
The Zyber 3-in-1 is an accessory attachment for the Quest 2 VR system controllers that are used to enhance gameplay.
What's in the box?
2x handle extension grips
2x quick lock buckles
4x 1 oz weight bars
1x extender rod
2x wrist strap
1x user manual
1x storage bag
Design and features
My first impressions of this set of accessories were solid. I say that because the grips with a little bit of weight in them had some solid heft to them. I have plenty of space around me, so smashing into something wasn't going to happen, but a good whack from one of these would definitely send a lamp flying!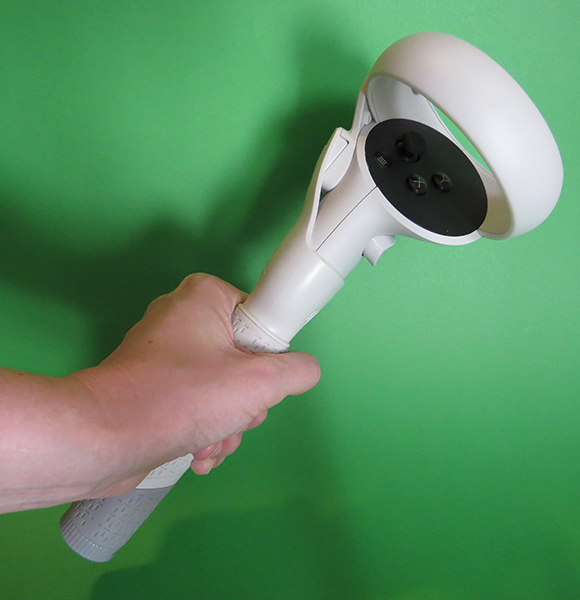 Putting the grips onto the Quest controllers was easy. They are marked with an R or L to designate which it goes on, and with just a little extra effort they slide into place and are secure. I definitely put on the wrist straps because I am paranoid from my Wii days. You can use the wrist straps with the extender as well. When fiddling with the extender, I had to put both controllers on each end and only dreamed there was a game where I could play as Darth Maul and have a double-edged light saber. Maybe one day.
I had to try out golf first since on Amazon, that is what it is advertised for. Everything was perfect; The length of the extender, the feel of the extender in my hand, and weight. The part that wasn't? Every golf game I have played has you hold down a button when you are ready to start swinging. This didn't work out so well with the handle being near the floor! However, if you have a golf game that does not utilize the button press, this would likely work well. Also, if you know of a good VR golf game please suggest it to me so I can try it out!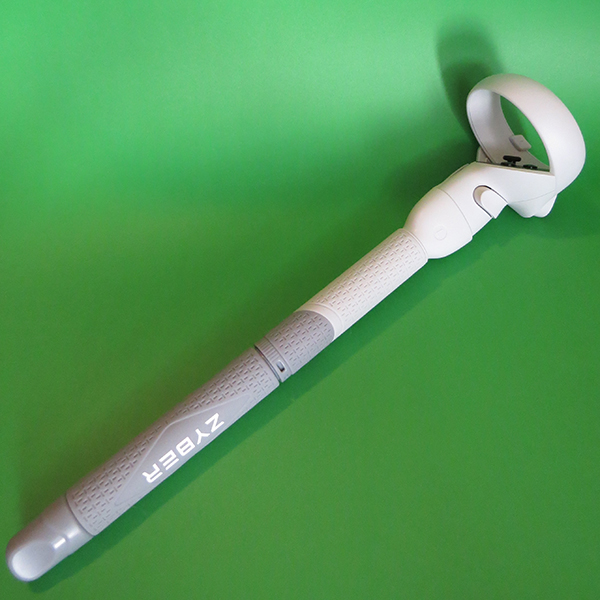 Next up I tried a baseball game. This one was underwhelming with the regular controllers, but it was free so I can't complain. This free game was changed into a load of fun when adding the Zyber 3 in 1 extender. I stayed back from the wall so as to not swing into it, and the heft of the weights in the 'bat' made it seem very realistic while playing. I had a LOT of fun with this one. The experience was good while using both the extension grips and the extender rod.

Last up, I tried Beat Saber, which is my favorite VR game. It took a bit to get used to having some weight, so I needed to remove the weighted inserts to start, but it felt good to not just use my wrist constantly while hitting blocks to the beat. I also really feel that once the weights are put in, it will give me a workout similar to when I started playing Beat Saber. My arms would be sore the next day! Right now though, my wrists get too tired with weights in, so soon enough I will be able to advance to level 2 and add the weights. I wish that there were even more weight options for potential fitness games, but that's not a deal breaker.
I managed to not hit anything, get weird looks from my cats, and get a few workouts in. The Zyber 3-in-1 set attached easily, removed easily, and was stored easily in the included bag. It was very smart to include said bag, because those little weights would have been lost easily by playful cat paws if I had to set them on my desk while not in use.
What I like
Feels good with weight bars in
Hand grips work as intended
Baseball VR games were a blast
What needs to be improved
Would love different weights of weight bars
Final thoughts
Overall, I thought that the Zyber 3-in-1 attachment set went well with the Quest 2 and made playing a few of the games I have a joy. Baseball was by far my favorite, with the ability to swing an 'almost' bat-sized item around, and Beat Saber gave me an arm workout without feeling like a workout. Mini-golf didn't work as well, but that was due to gameplay mechanic limitations and no fault of the Zyber 3-in-1 set. If you are hooked on the Quest 2, or if you have a buddy whose birthday is coming up and is hooked on the Quest 2, perhaps the Zyber 3-in-1 set would be a good choice.
Price: $55.89
Where to buy: ZyberVR.com (Save 20% with code: GADGETEER) and Amazon
Source: The sample of this product was provided by ZyberVR.