We use affiliate links. If you buy something through the links on this page, we may earn a commission at no cost to you. Learn more.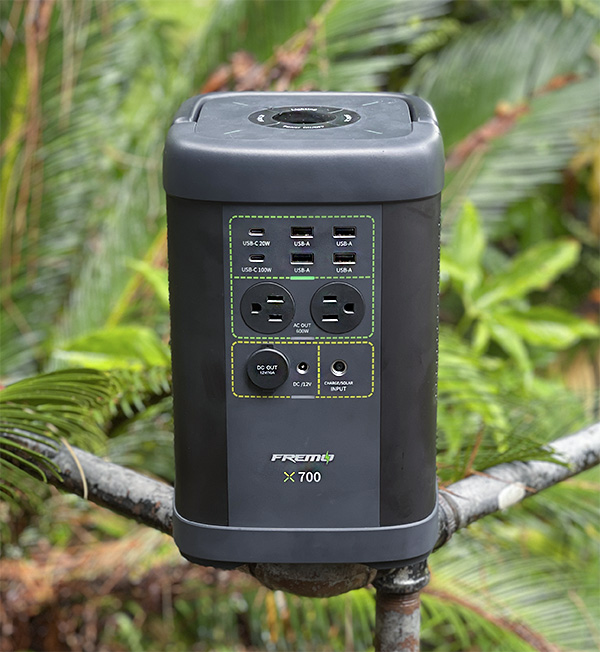 REVIEW – Face it, we all live on electricity—period. And when power is disrupted, we suffer. One thing is certain—power will always go out at one time or another. When it happens, we grab candles, flashlights, and portable radios to ride it out until power is restored, usually an hour or so later. Sometimes, we can lose power for many hours significantly disrupting our lives. What then? Gas generators can be a lifesaver, but can also be overkill unless you're without power for days due to catastrophic events. It's that middle-ground that's interesting. Lately, battery technology has reached the point that battery power stations (sometimes called generators) are a viable option for those outages that are just long enough to become a royal pain. There's now a good selection of power stations available depending only on power requirements and budget. This review covers the new (to the US) Fremo X700 650W LiFePO4, a portable power station with some interesting and clever features.        

What is it?
The Fremo X700 is a compact portable power station powerful enough to run various camping equipment or small to medium-sized appliances. It generates 650 watt-hours with up to 1200 watts of peak power for items that can surge during use.
While most portable power stations are shaped like a horizontal box with a handle, the X700 is vertical which saves table/desk space and helps make it easier to carry. 
It has 10 connection ports: 4 USB A and 2 USB-C (20w and 100w), 2 600-watt AC, single 12V, and single solar charging input. Optional 100-watt solar panels are available (2 can be daisy-chained for a total of 180 watts input).
Instead of the more traditional lithium-ion battery technology, the X700 uses lithium-iron phosphate tech. Lithium-iron is safer and has many more charge cycles during the life of the batteries (more on that later in the review).
The top of the Fremo X700 power station sports a circular LED screen surrounded by buttons that indicate which ports are being used, remaining battery life, inputting or outputting power, and recharge time. The LED screen is not touch-sensitive. Note that the X700 will charge to 80% in 3 hours. 

Specs
Lithium-iron phosphate battery
Dimensions: 11in. x 7.25in. x 7.25in.
Net weight: 17 lbs.
2 AC ports
650W (Surge 1200W) total, 120VAC(60Hz) full sine wave
4 (5V) USB-A ports
USB-C (5V) port
USB-C (100V) port
Car (12V) DC port
AC charge input voltage
AC (solar) up to 180-watt charge input power

 

Design and features
First, let's talk about lithium-iron phosphate vs. the more common lithium-ion. Lithium-ion batteries have more charge cycles than lithium-ion. A charge cycle is a complete battery drain from 100% to 0% and back to 100%. Over time, batteries will only charge to 80% capacity. The X700 has 1700 charge cycles before maximum charges top out at 80%. Most lithium-ion batteries have only 300-500 life cycles before 80%—quite a difference. Lithium-iron is also inherently safer than lithium-ion, which can be flammable given the right (wrong) circumstances.
With the Fremo X700 power station, Fremo has bucked the trend in a few areas. While many portable power stations lack something in the beauty department, the X700 is one nice-looking gadget. Despite its weight,  the vertical design makes it easier to carry. The downside of lithium-iron is that it is noticeably heavier than the equivalent lithium-ion, but Fremo's smaller size makes up for that. 17 lbs. is no big deal for a power station that packs 650-watt hours.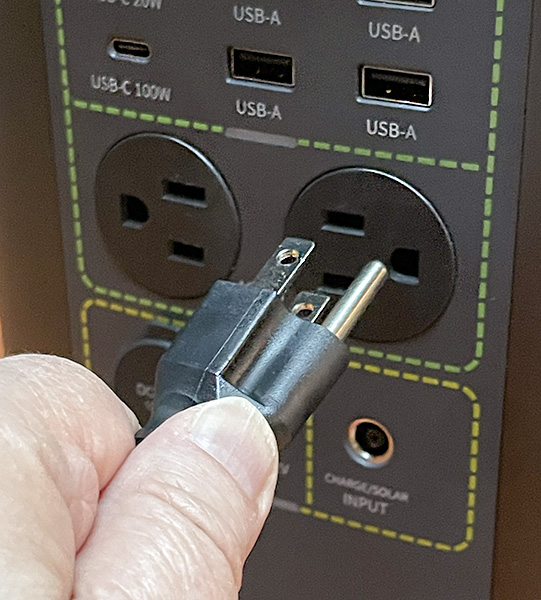 Fremo states that the X700 can power up to 10 devices. While I don't dispute that, the only way that can happen is for those 10 devices to match each port exactly. Chances are, that will never happen.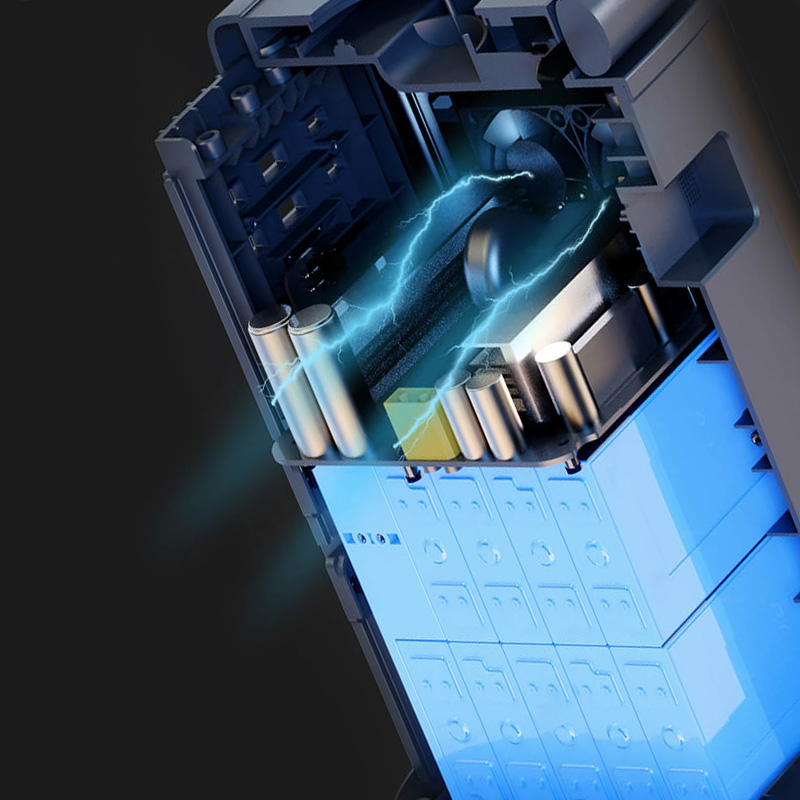 Fremo built the X700 with safety in mind. In addition to the safer lithium-iron batteries, Fremo utilizes a Battery Management System (BMS) which can adjust input and output power depending on conditions. It also controls heat dissipation, and protection against overvoltage, overcurrent, and short-circuiting.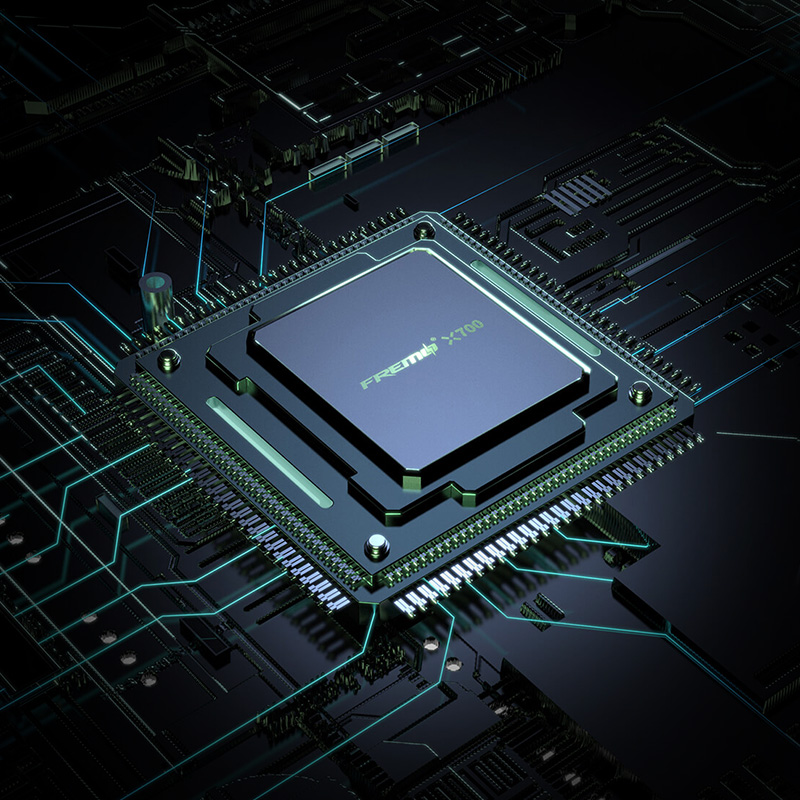 The X700's 650 watts can power various gadgets while off the grid but can power some household items as well during a power outage, such as a CPAP machine (11 hrs), microwave oven (.8 hrs), TV (5 hrs), or an LED light (60 hrs) to name a few. 
The frame of the X700 is aluminum and covered by a tough ABS plastic shell. Fremo states it can be dropped from 3 feet height with no damage. No, I am not testing that claim.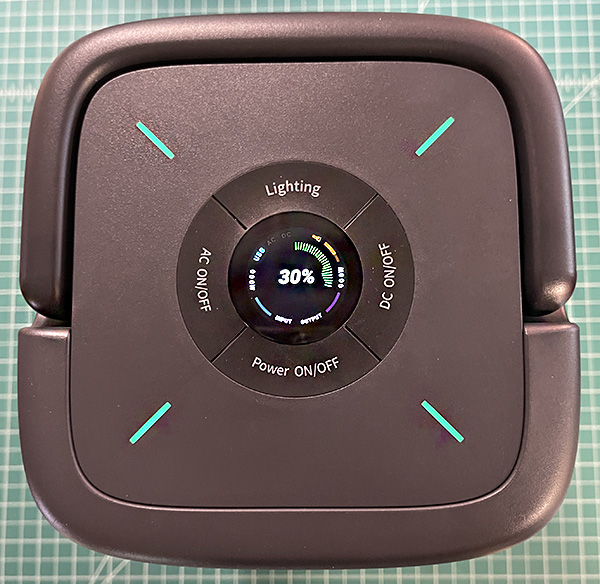 Fremo has sweated the details with the X700 design. The top panel features a circular LED panel in the center that shows battery percentage, USB output (in watts), and charging input. The USB wattage figures are a total of devices. In other words, if you are charging an iPad at 30 watts via USB-C as well as an iPhone at 10 watts via USB A, the screen will show 40 watts. There are other items that the LED panel will show, such as temperature warnings, fan failure, etc.

The circular LED panel has four surrounding buttons: On/off, AC on/off, DC on/off, and a cool built-in flashlight—more on that later. Note that charging via USB automatically powers on the X700. However, AC and DC must be physically turned on before charging.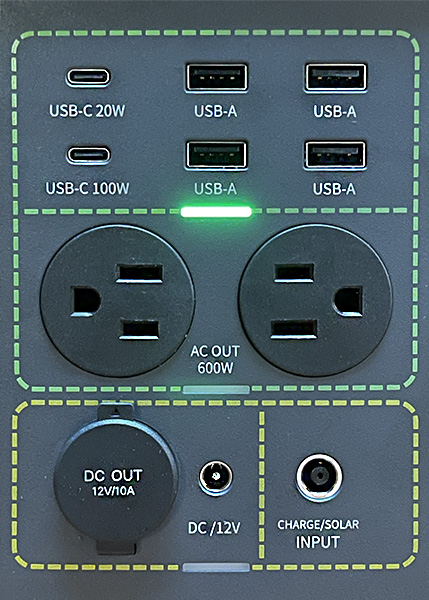 The Fremo X700 power station's front panel houses all in/out ports, divided into 4 sections. The top section contains four 25W USB A ports and two USB-C ports rated at 20W and 100W. The middle section features two 650W (1200W surge) pure sine wave AC outlets. Pure sine wave means that sensitive electronic devices are safe from any electrical spikes which can occur from home wall outlets. So using a laptop or other device while camping off the grid should be worry-free. The bottom panel is further divided into two 12V ports: a car outlet (commonly known as a cigarette-lighter outlet) and a standard 12V port. The last section houses the charging input port via the included power cable.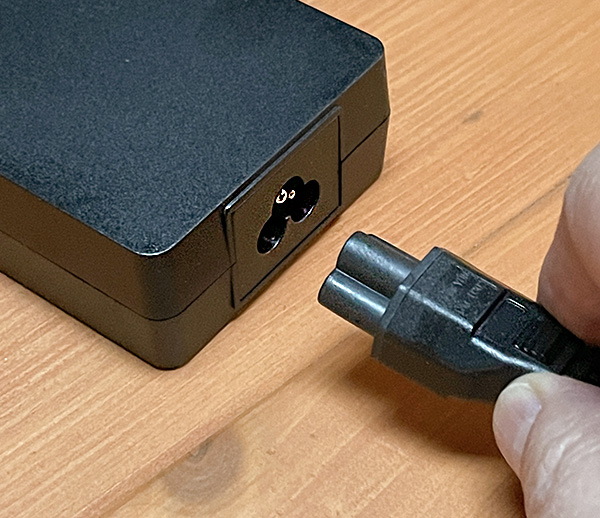 There are two ways to charge the Fremo X700: standard wall outlet using the included power brick or solar powered by optional solar panels.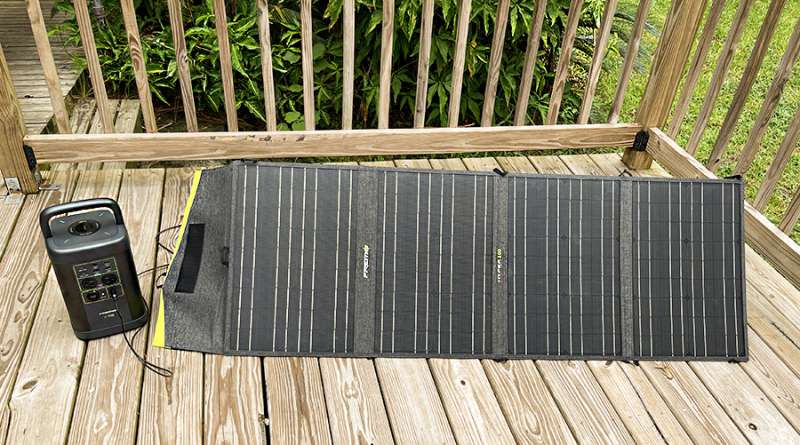 Fremo offers the Hyper 100 solar panel which works seamlessly with the X700. Depending on sunlight and weather, it provides up to 100 watts of charge. I was sent one Hyper 100 panel. It folds up into a handy self-carrying case, and it's surprising how large it is. Even though the sun shines quite brightly in Central Florida where I live, clouds and rain are a constant threat diminishing any available watts for charging. Arid Arizona, we ain't.
Fremo offers an extra-cost carrying bag for the X700 that doubles as a cooler. It seems like a cool (get it?) idea, but I was not sent one, so I can't comment on how well it works or not.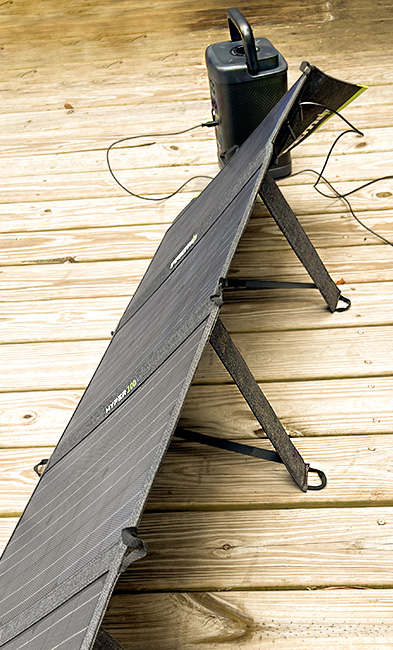 Two Hyper 100 panels can be combined for a total of 180 watts of charging—again, depending on conditions. The panels are weather resistant, but it's not recommended that they be rained on. Ditto for the X700, which is not waterproof.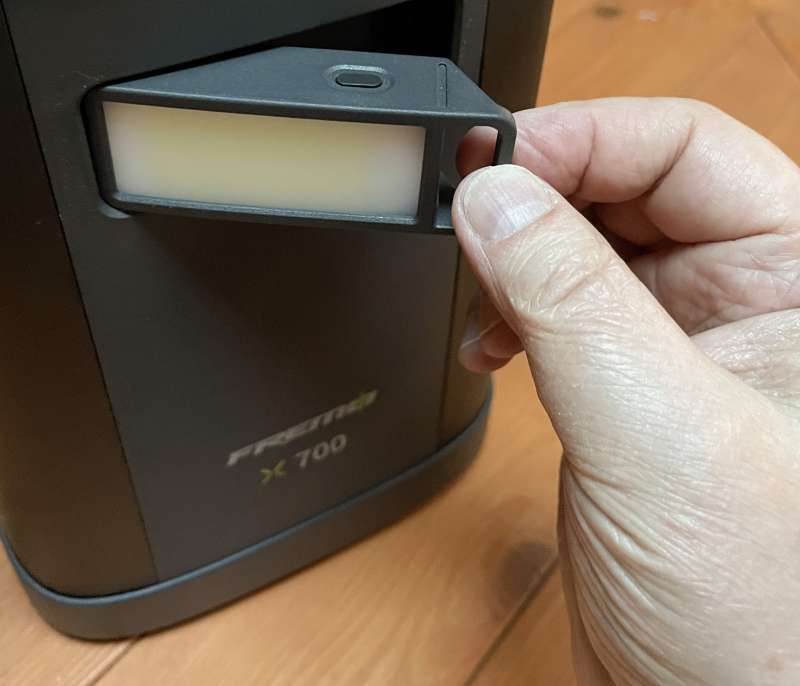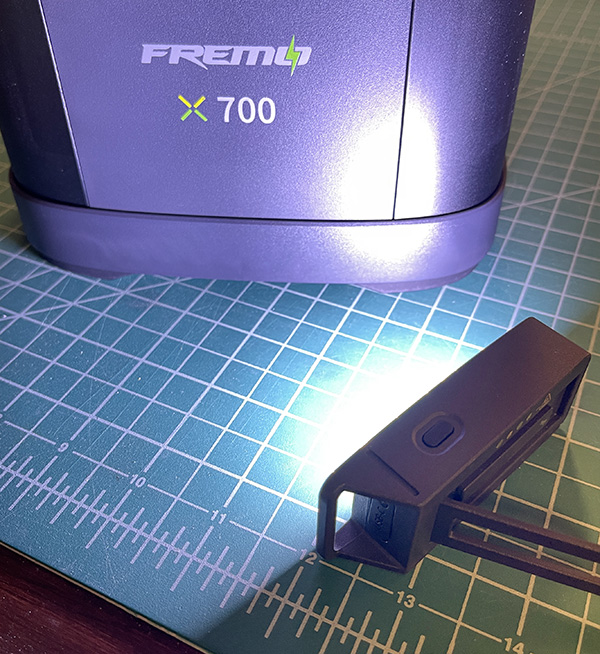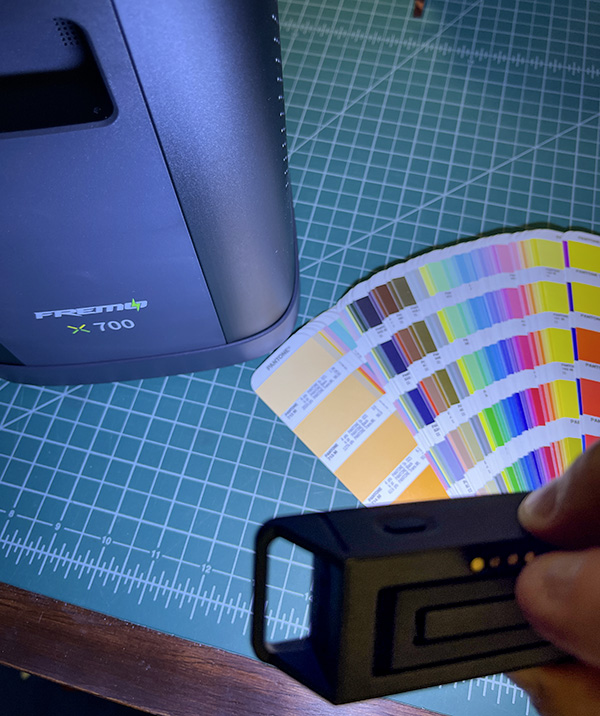 Having said all that, probably the coolest and most unusual feature of the Fremo X700 power station is also its most unnecessary. Let me explain. Many portable power stations include a built-in LED light. While the light can be useful, it basically turns the power station into the world's heaviest flashlight. Fremo made their included light removable. The idea is so simple, it's genius! The light magnetically fits into a slot at the back of the X700. It's a small, but powerful light with two levels of brightness and a blinking SOS mode. There is a small pull-out stand that will prop the light up. The strong built-in magnets permit the light to stick to any magnetic metal surface making it useful for emergency under-the-hood work. I love the simplicity of it.

What I like
The removable light

 

A good amount of power for its size
Not too heavy
Easy to carry
Easy to understand panel
Attractive
Accepts solar charging

What I'd change

Final Thoughts
The Fremo X700 portable power station has a whole lot going for it. It's not cheap, but the price is near the common $1/watt hour norm. The X700's vertical stance and convenient handle give it that perfect balance between portability and available power.
Price: $699.00
Where to buy: iFremo.com and Amazon
iFremo.com coupon code: fremoforyou Customers can use it for X700 and combo packs for an additional discount of $50.
Coupon code: hyper100foryou It can be used for solar panels, with an extra discount of $30.
Source: The sample of this product was provided by Fremo.