We use affiliate links. If you buy something through the links on this page, we may earn a commission at no cost to you. Learn more.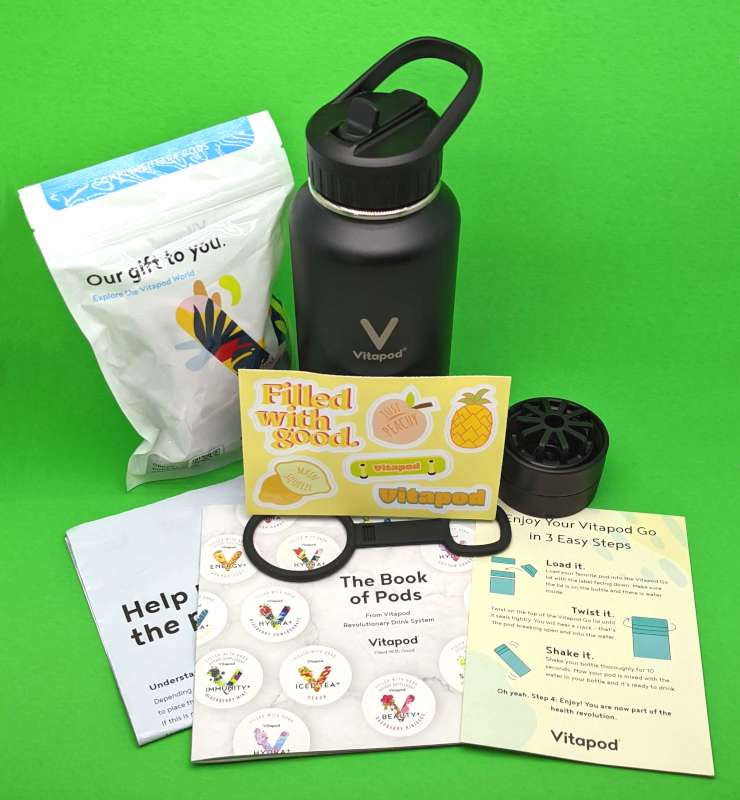 REVIEW – I hate drinking water. I know it's good for me and important to stay hydrated but I hate drinking plain old boring water. I'm constantly on the look out for healthy water additives that taste good without adding lots of unnecessary chemicals and sugars to my body. I had seen Vitapod advertised on Facebook and I loved the convenience it boasted as well as the different flavors with different benefits to them, so when I had the opportunity to review it I jumped at the chance. 
What is it
Vitapod is a all in one water bottle and flavor additive. It uses recyclable pods of powder to add flavor to water on the go.
What's in the box?
I received the starter kit from Vitapod, there are other bundles available and will include different items than the starter kit
10 drink sample pack of each flavor
32oz 18-8 stainless steel vacuum insulated bottle (mine was black, also available in white)
Matte black Vitapod Go
Sports lid
The Book of Pods – flavor descriptions and nutritional facts
Sticker pack
Silicone neck loop for water bottle
Prepaid envelope to mail back used pods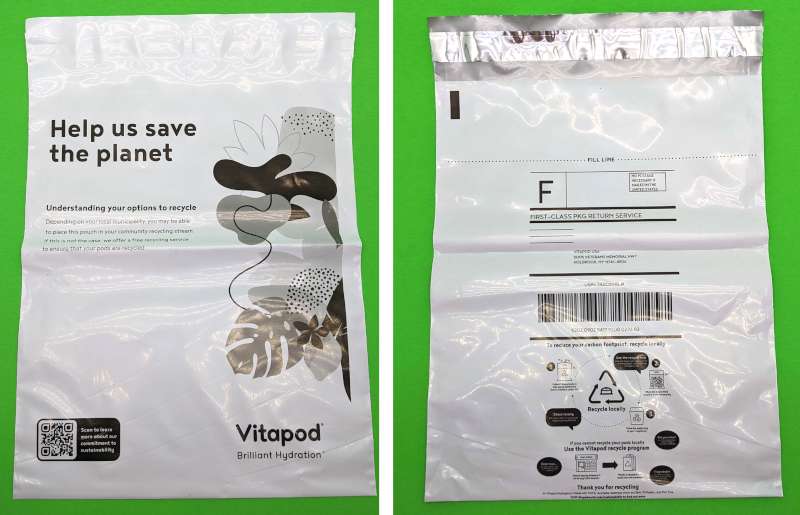 Vitapod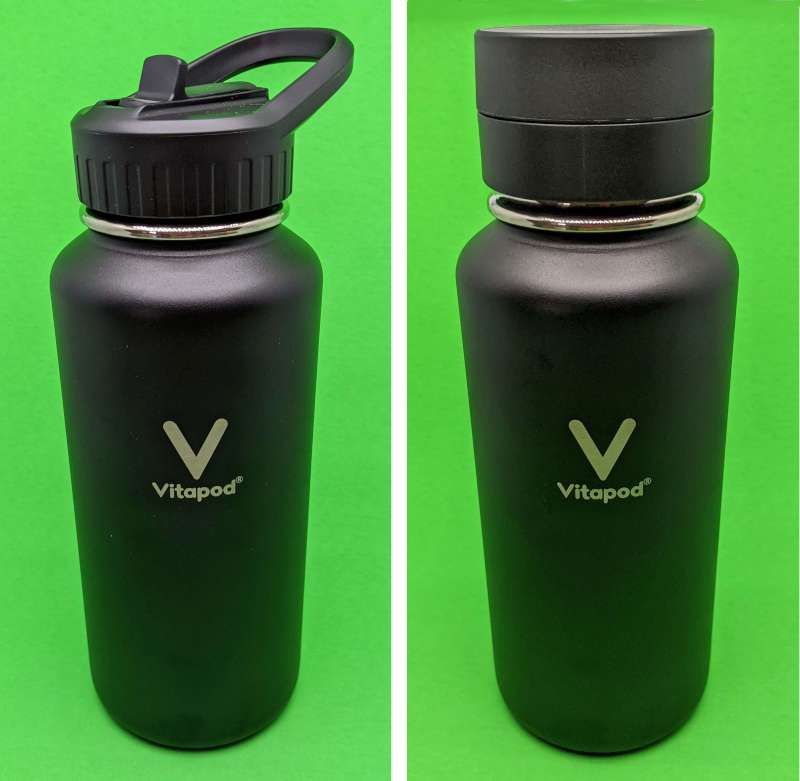 To start off the Vitapod water bottle is awesome. It is solid and has held up well to a month of use. I haven't dropped it yet but the paint has stayed on perfectly without any chipping. It also is super insulated. I can fill it up half way with ice and over 36 hours later my drink will still have ice chunks in it. Granted this is in my air conditioned house but I'm still super impressed. It also doesn't sweat due to the double-walled vacuum insulation so I never had to worry about a puddle under it.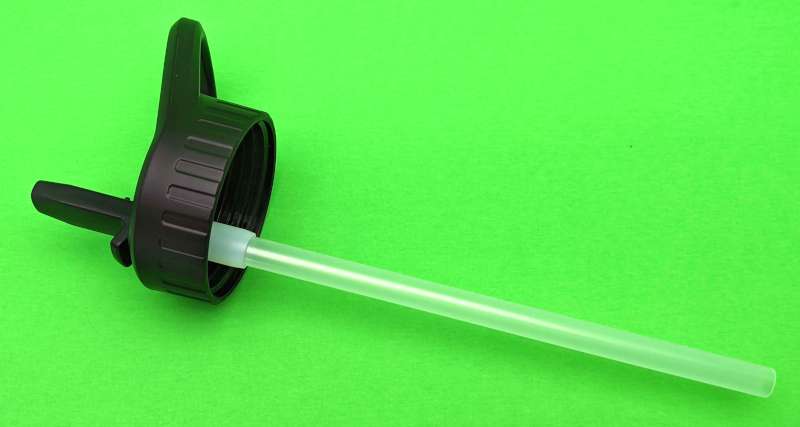 The starter kit comes with two lids, a sports lid with a flip up straw and the Vitapod Go lid which is the lid used to pop open the pods. I love the sports lid. It is super easy to clean as the sipping tip is wide enough to easily stick a straw brush in it and the straw is removable for cleaning as well. However, the sports lid does not work with the pods. You have to pop the pods with the Vitapod Go lid then swap lids once the drink is mixed. It creates extra dishes and means I have to keep around a lid just to use for the pods.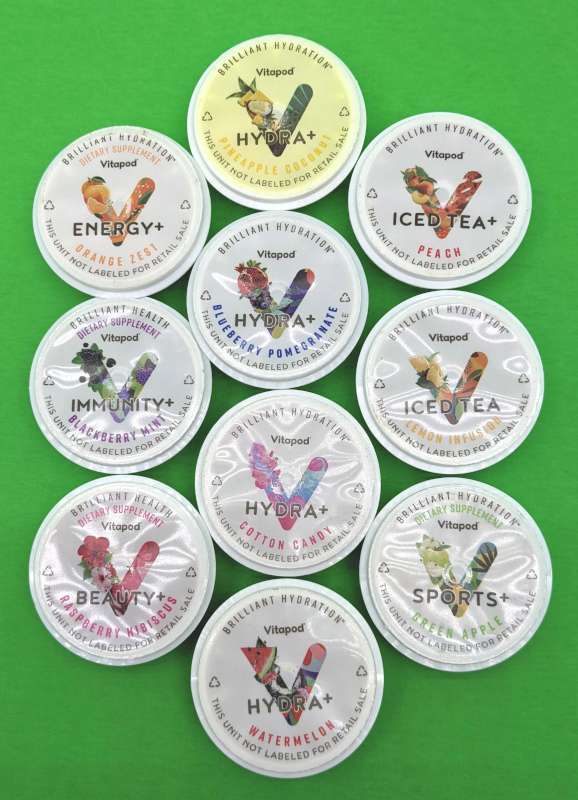 The pods themselves are super cute! About an inch and three quarters in diameter and about three quarters of an inch thick they are super portable and easy to back in a backpack or even slip in your pocket. They are completely recyclable which is amazing as the drink industry is a huge contributor to single use plastics. The starter pack comes with ten different pods so you can sample almost all of their flavors. It seems like they are constantly adding new flavors as well. Just in the time I had this to review they released a new flavor pod so if you aren't interested in the flavors available as of right now it's definitely worth looking again in a couple of months. The starter kit also includes a booklet listing all of the different types, flavors and nutritional values for each of the pods.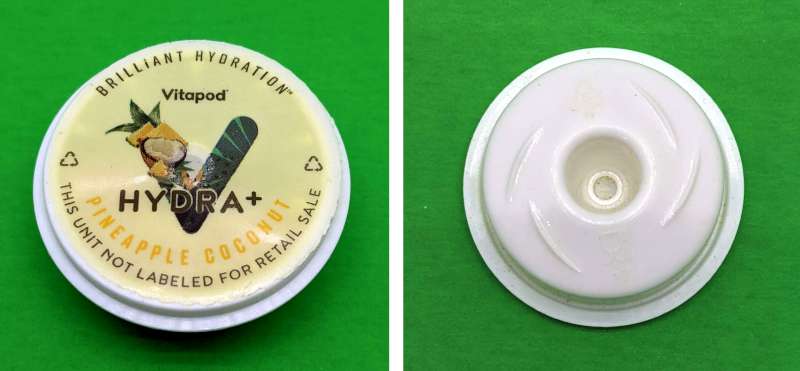 There are eight different categories of flavor pods; Hydra, Hydra+, Iced Tea, Iced Tea+, Energy+, Sports+, Immunity+ and Beauty+. Each category has specific nutritional benefits based on what your body needs. The Iced Tea, Iced Tea+, Energy+ and Sports+ have different levels of caffeine as well for those who need a little afternoon boost. There is too much information to provide it all in this review but I highly recommend visiting
Vitapod
to view all of the different flavors and nutrition facts. You can purchase 30 pods for $40 – $55 depending on the flavor. It is cheaper if you sign up for subscribe and save. This means one bottle cost approximately $1.30 – $1.83 depending on the flavor. This isn't too bad compared to a coffee from Starbucks but it is pricier than other drink additives available.

To use the pods is super simple, fill the bottle with water and select your pod. Screw the bottom part of the Vitapod Go lid to the bottle and insert the pod label down. Once the pod is seated in the cap, screw on the top part of the lid until tight. You will hear a satisfying pop as the pod opens. Shake the bottle to mix the powder in the water and drink up! You don't need to remove the pod until you're done with your drink, you can just unscrew the whole cap to drink or replace it with the sports lid as I did. It is important to note that while I was provided a bottle with the starter kit, it is possible to purchase the Vitapod Go lid separately and use it with your own water bottle. They have a list of compatible water bottles on their site if this is an interesting option for you.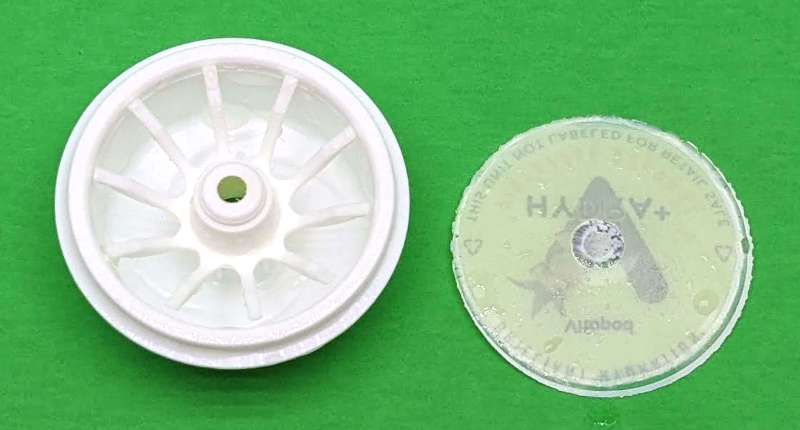 The inside of the pods have small plastic spokes used to pop the seal off evenly when compressed by the Vitapod Go lid system. I just thought it was interesting how it worked.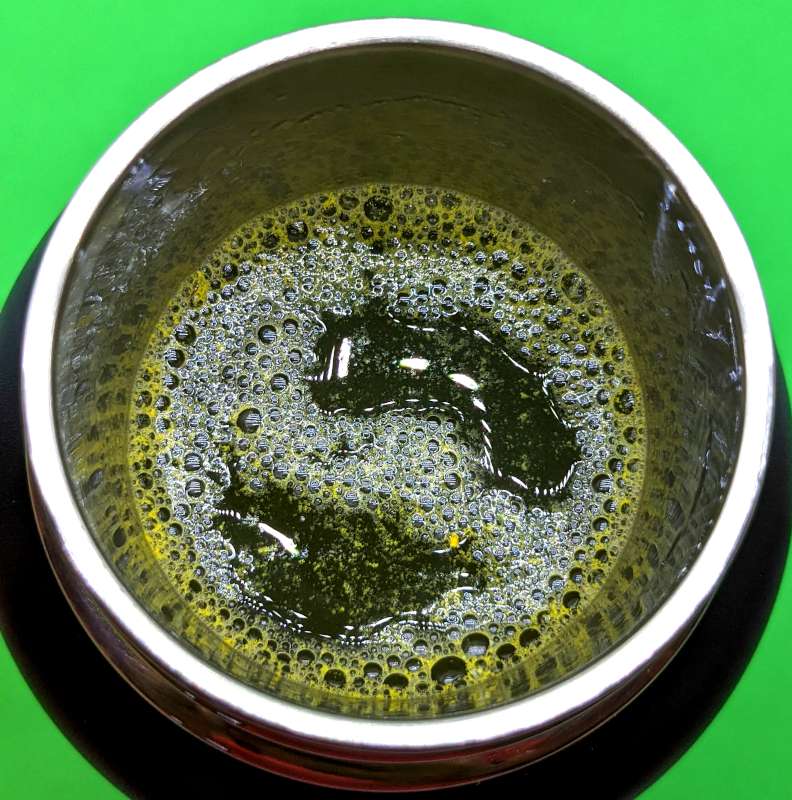 There may be some powder that floats in the top of the bottle and sticks to the straw. It didn't affect the taste for me at all. I tried shaking the bottle longer to incorporate more of the powder but it didn't seem to help much. It's not an issue, just something I noted and is worth keeping in mind when cleaning out the bottle and straw. Overall the flavors are great! They are lightly sweet and not overpowering. It doesn't feel like I'm drinking something super sugary. My personal favorites were the pods in the Hydra+ category. I liked the light fruit flavors and the added electrolytes.
What I like
Eco-friendly! The pods are recyclable!
The sports lid is super easy to clean
The bottle is super insulating
What I'd change
Price
Ability to use the pods with the sports lid
Final thoughts
I absolutely love the concept! It's eco-friendly, convenient and tastes good. The price is pretty high per bottle, but they are nutritionally better for you than other drink powders so it is worth considering the cost vs benefit. The only thing I dislike about the Vitapod system is that the sports lid is a separate item. It'd be nice to be able to crack the pod without having to swap lids each time. But if you're like me and hate drinking plain water, Vitapod is definitely something worth looking into as they provide great health benefits and flavors. I definitely will be continuing to use Vitapods to help keep hydrated.
Price: $35 starter kit plus pods available for subscription or purchase
Where to buy: Vitapod and some of their products are also on Amazon
Source: The sample for this review was provided by Vitapod