We use affiliate links. If you buy something through the links on this page, we may earn a commission at no cost to you. Learn more.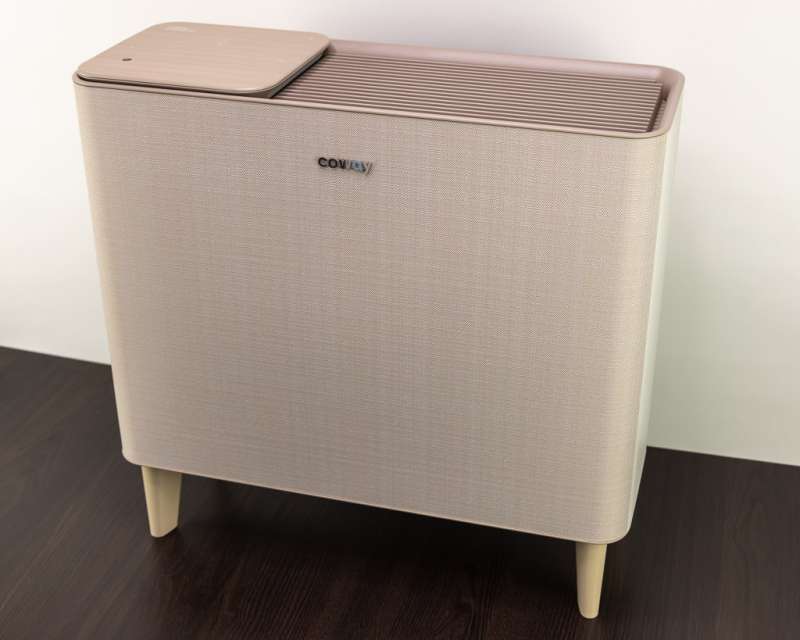 REVIEW – My wife has asthma, so clean air is important for her. Clean air is even more important for me because if the air isn't moving and clean, I have to do something about it. I have several air purifiers, and most of them have been great, however, the Coway Airmega Icon Air Purifier had some features I thought I would really like.
What is it?
The Coway Airmega Icon is an air purifier with a built-in wireless charging pad.
What's in the box?
Coway Airmega Icon Air Purifier
Airmega Icon Max2 Filter
Hardware specs
Room Coverage
2 air changes/hr.* 649 ft2 (60 m²)4 air changes/hr.** 324 ft2 (30 m²)
CADR (Clean Air Delivery Rate)
173 (Smoke), 194.1 (Dust), 235.3 (Pollen)
Filter Composition
Washable Pre-Filter
Max2 Filter Max2 filter (Activated Carbon + Green True HEPA™)
Filter Life Expectancy
Max2 filter (1 Year)
Air Flow Control
Smart Mode (Auto, Sleep, Eco), Fan Speed (levels 1-3)
Noise Level
21.7 dB(A) ~ 49.3 dB(A)
Dimensions (W x H x D)
22.3 x 8.8 x 21.4 in
Product Weight
19.2 lbs
Power Consumption
67 W (Air Purifier 47 W, Wireless charger for Qi-enabled devices 20 W)
Design and features
It's surprising just how much stuff is in the air inside our houses. All you have to do is look at your furnace air filter after a month or two, and you'll be shocked. I'm amazed at how much stuff my vacuum picks up each time I vacuum.
The Coway Airmega Icon Air Purifier aims to take a good portion of that stuff out of the air. Using Coway-engineered filtration technology, the Airmega icon traps and deactivates 99.999% of particles down to 0.01 µm, which is smaller than most bacteria and viruses.
A fabric pre-filter sits in front of the Max2 filter, capturing dust, dust mites, pet hair, and other large particles. The washable pre-filter extends the life of the Max2 filter as well as allows you to clean it as often as needed between filter changes.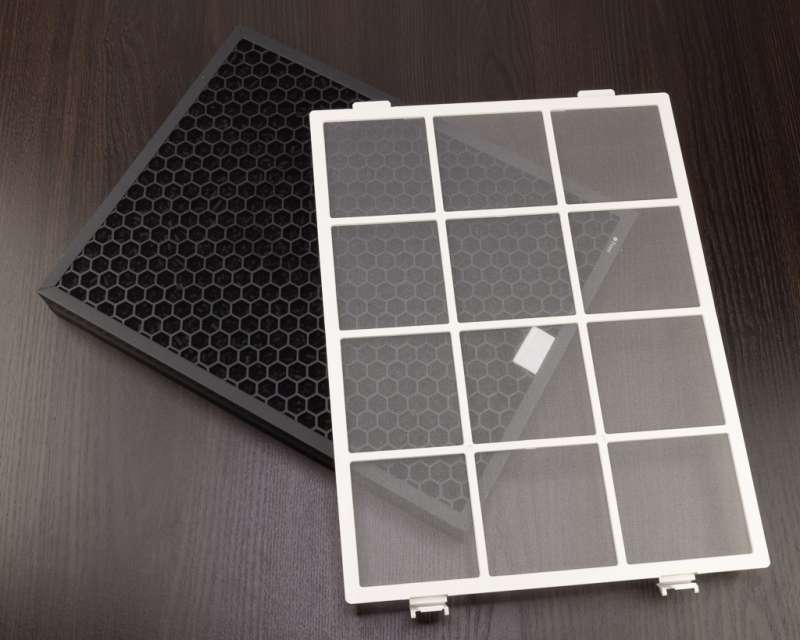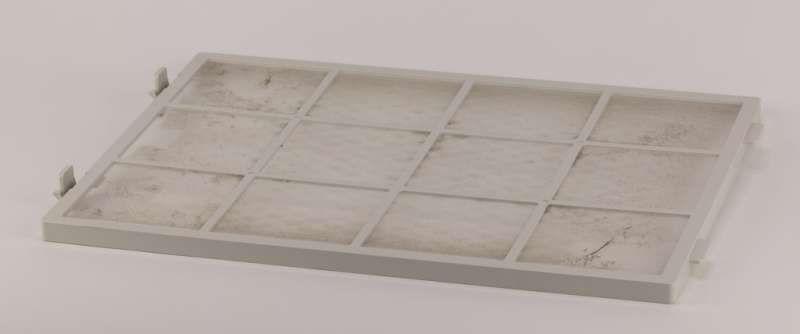 The Airmega Icon used Coway's Max2 filter, which is composed of an activated carbon filter, and Coway's Green True HEPA filter. The activated carbon filter provides powerful deodorization and odor-causing gases. The activated carbon filter is able to filter food smells, cigarette odor, pet smells, and odor-causing gases like nitrogen dioxide (gas stoves and smog), acetaldehyde (commonly produced by building materials), and sulfur dioxide (air pollution).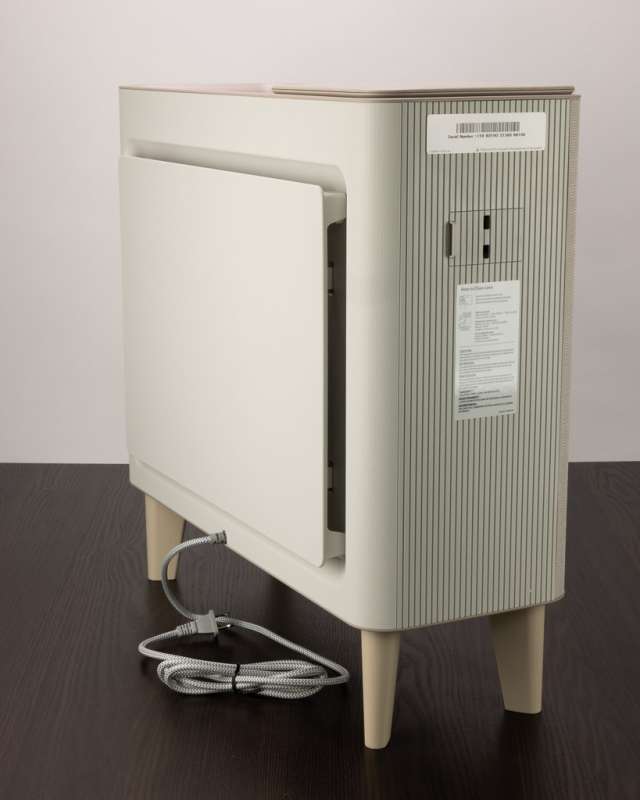 The Green True HEPA filter captures ultra-fine particles like viruses, bacteria, fungi, mold, and pollen. Antimicrobial treatment helps deactivate the spread of contaminants.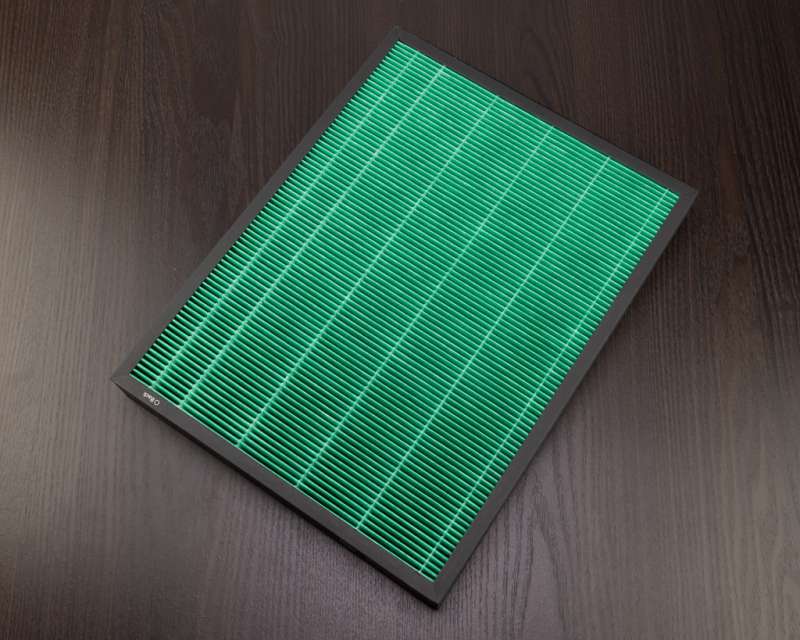 The filter is easy to install via the magnetically attached back cover. The Airmega Icon Max2 replacement Filter costs $89. With an effective coverage area of 649 sq ft, the Airmega Icon is a great addition to my living room.
The control panel is quite nice. The touch panel surface has no crevices to gather dust and is easily cleaned. The panel also features a Qi-compatible wireless charger.  A digital readout also allows you to check the indoor air quality with just a glance.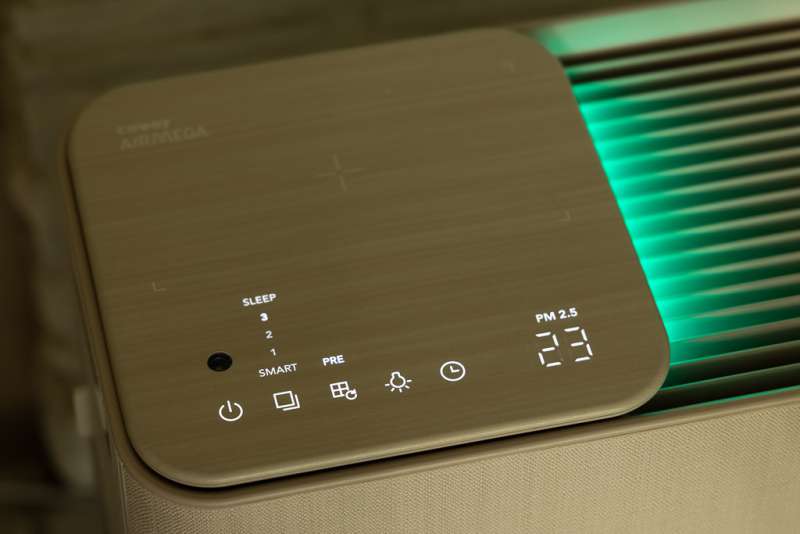 Lights indicate when filters need changing, and the top also indicates air quality with lighting that indicates good, moderate, unhealthy, and very unhealthy conditions in teal, green, yellow, and red, respectively. I purposely covered the sensor to get the "Very Unhealthy Air Quality" photo.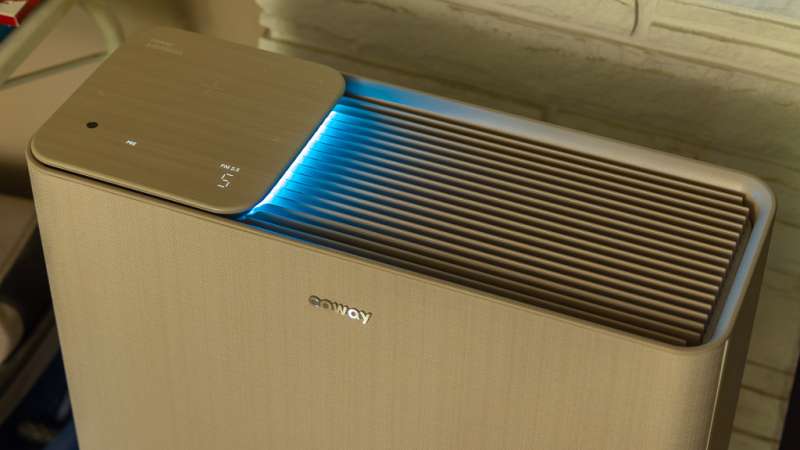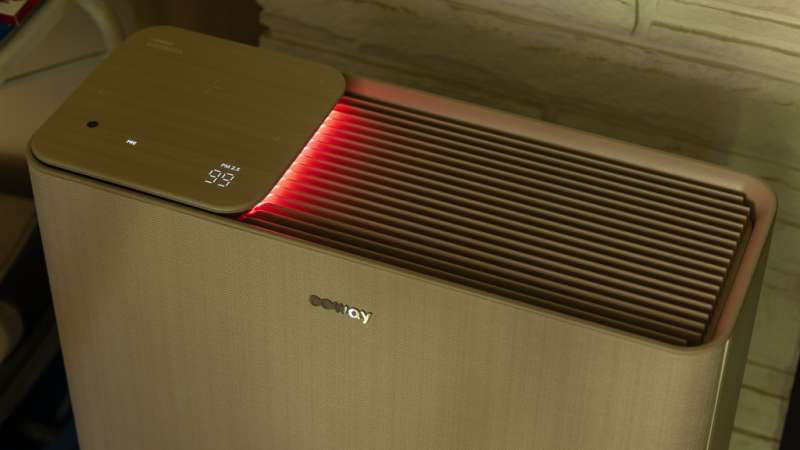 Using the touch display, operating the Airmega is easy. There are three fan speeds (low, medium, and high) as well as a smart mode that enables the Icon to adapt automatically based on air quality. This smart mode also increases energy efficiency.
The Sleep Mode detects when the room has been dark, and the air is clean for three minutes, which then reduces the purifier's noise and power consumption. When the air quality in the room remains purified for 10 minutes or more in Smart Mode, Eco Mode kicks in, turning off the fan to conserve energy. The timer feature schedules the unit to purify for 1, 4, or 8 hours of use and conserve energy.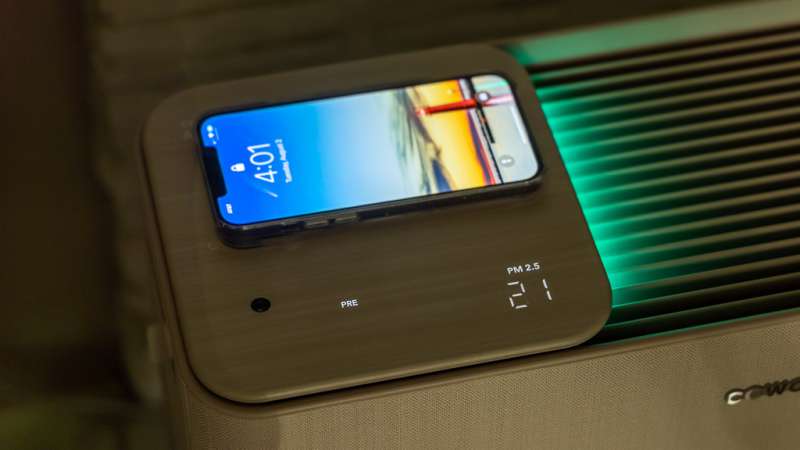 What I like
Tool-free filter access
Washable pre-filter
Wireless charging pad
Very nice cloth-covered cord
What I'd change
Final thoughts
I have really enjoyed the Coway Airmega Icon air purifier. It has worked flawlessly and provided not only clean air but also another charging pad. The Airmega is not only stylish but easy to maintain. I feel confident that it is cleaning the air and providing a safer home environment. My wife is also very happy with it, and as they say, "Happy Wife, Happy Life!"
Price: $649.00
Where to buy: Coway and you can find a variety of their products on Amazon
Source: The sample of this product was provided by Coway.