We use affiliate links. If you buy something through the links on this page, we may earn a commission at no cost to you. Learn more.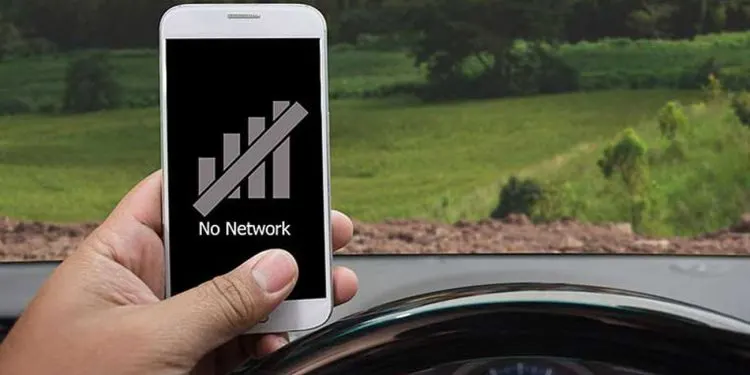 SPONSORED ARTICLE – Who has never had trouble getting a good signal on their smartphone? A weak signal can cause problems with 4G navigation, calls, and SMS. It can be difficult to find the network in some areas, or even in the garage, basement, or one of the rooms of your house. One possible solution to this problem is to use a 4G signal booster. Here are 5 signal boosters that can amplify your existing cellular signal to improve your connectivity.
What Is a 4G Signal Booster?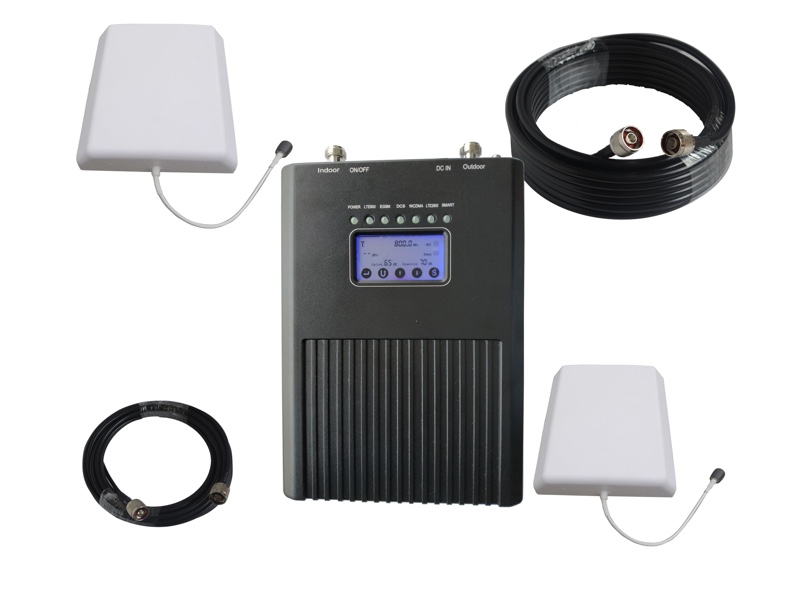 Geographical remoteness, altitude, weather, or wall thickness are all factors that prevent the cellular network from working properly on our mobile devices. When you're on a boat or in a car, the need for a stable connection can be even greater. In many places, there are often problems getting a good 4G signal, let alone 5G networks.
In the post-pandemic era, when landlines are dwindling and telecommuting is becoming more common, connecting to a mobile data network can be vital. In 2022, the easiest solution to any mobile signal problems is to use a 4G signal booster.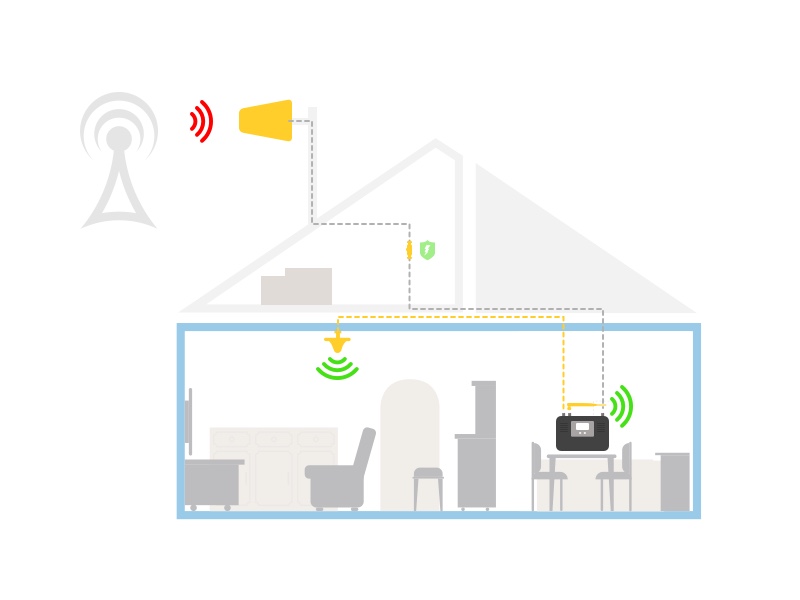 Such a device picks up the mobile network signal and relays it to places where your smartphone's reception is too weak. The signal is received with an antenna, for example, outside the house or apartment, in the garden, on the roof, or on the balcony. Then the booster repeats this signal towards the inside of the walls. You may have heard of dual-band, tri-band, or five-band signal boosters. This corresponds to the main frequencies used in the United States for the 4G/5G mobile networks:
700 MHz band: 4G network
850 MHz band: 3G, 4G and 5G networks
1700/2100 MHz band: 3G, 4G and 5G networks
1900 MHz band: 3G, 4G and 5G networks.
Note that T-Mobile and AT&T have already stopped broadcasting the 3G signal, and Verizon is due to do so by December 31, 2022. Therefore, the information concerning the 3rd generation networks is more of an informative nature. In addition, the list of frequency bands is not complete; in fact, there are many more frequencies in use in the United States. We have just listed the most popular ones.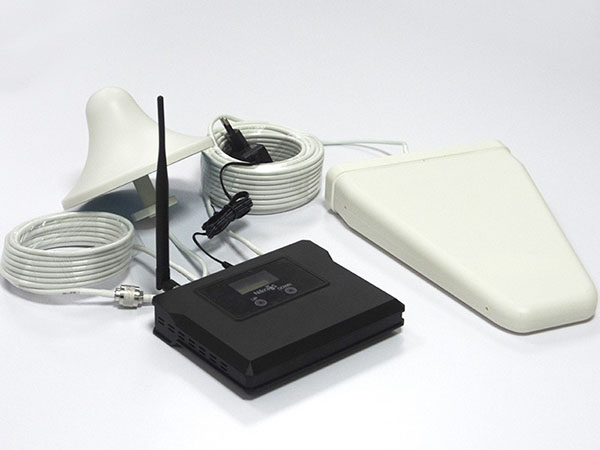 Installing a mobile signal booster does not require special knowledge or professional assistance. You only need to request prior permission. The best repeaters are available as complete kits, including a booster box, a power supply, internal and external antennas, and all necessary cables and mounts. Here is our selection of boosters for mobile phones.
This mobile signal booster supports 5 frequency bands – 850 MHz, 1900 MHz, 700(A+B) MHz, 700(C) MHz, and 1700 MHz, and can spread the signal over an area of up to 3,000 square feet.
The obvious advantage of the booster is its ease of operation: thanks to automatic gain control, the user's involvement in the work of the device is not required.
The kit includes everything you need to assemble and install the device, namely: a booster box; an indoor panel antenna equipped with a 5m cable; an outdoor Omni antenna equipped with a 15m cable; a power supply; a user's guide.
Now, the Nikrans BD-3000-Voice, 3G & 4G PRO booster is sold for 400$ instead of 495$, but note that delivery is not included.
This is an advanced signal booster, as evidenced by LCD setting information display, power-saving standby mode, and automatic gain control which helps avoid interference and self-excitation of the system.
The booster functions at the frequency bands of 850 MHz, 1900 MHz, 1700/2100 MHz, and covers up to 2,700 square feet.
The Nikrans LCD-250AWS kit includes a booster box, an indoor antenna with a 5m cable, an outdoor antenna with a 20m cable, a power supply, and a user's guide. With such a kit you get everything necessary for assembly and fitting of your booster.
Today's price for Nikrans LCD-250AWS is 590$ without shipping.
This booster differs from the previous model in operating frequencies which are 850 MHz and 1700/2100 MHz. If these bands are used by your carrier to transmit 4G and 5G signals, you can save your money, since today the Nikrans LCD-250C+4G kit costs only $340 without delivery.
As for the contents of the kit, it traditionally includes a booster box, two antennas (internal with a 5m cable and external with a 20m cable), a power supply, and a user's guide. All other functions of this model are similar to the previous one: an LCD screen, automatic gain control, and standby mode. The coverage of 2,700 square feet perfectly fits middle-sized places.
This is another dual-band booster with operating frequencies of 850 MHz and 1900 MHz. The coverage area is 3,000 square feet instead of the 2,700 square feet of the previous model, which increases the cost slightly (it's currently $370 without shipping charges).
The kit of NS-3000-Voice, 3G & 4G contains a booster box, two antennas (internal + a 5 m long cable and external + a 20 m long cable), a power supply, and a user's guide.
The booster is also equipped with an LCD screen to guide you through installation and setup, automatic gain control to prevent poor device operation, and standby mode to help save power when mobile is not in use.
Last but not least, the booster on our list that will please those who have to travel a lot by car is the BD-Drive-Voice, 3G & 4G PRO. This booster is intended for installation on vehicles of different types, including trucks, vans, and buses. As a result, all mobile devices in the vehicle will be connected to the improved network.
700(A+B) MHz, 700(C) MHz, 850 MHz, 1700 MHz, and 1900 MHz are the supported frequency bands. Such a variety of frequencies guarantees users a stable 4G/5G signal, you just need to install the booster. It is easy to do it with the complete kit including a booster box, an out-of-car magnetic antenna with a 3m cable, an in-car antenna with a 2m cable, a 12V power adaptor, and a user's guide. The booster is quite small and can be mounted anywhere you like.
This Nikrans BD-Drive-Voice, 3G & 4G PRO booster allows you to always stay connected, even while driving. Its price today is $370. You will also have to pay for shipping.