We use affiliate links. If you buy something through the links on this page, we may earn a commission at no cost to you. Learn more.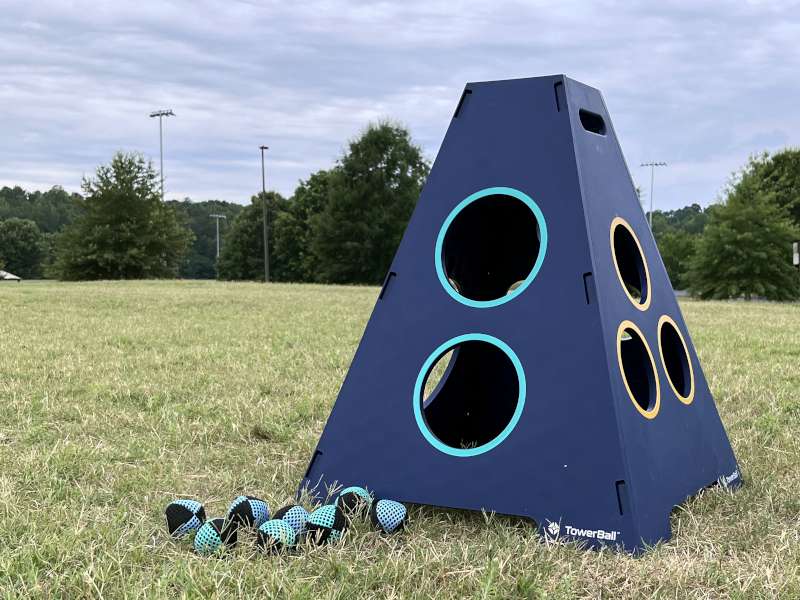 REVIEW – Summer is here!  That means it's time for picnics in the park and barbeques on the beach!  When gathered together outdoors with family and friends for food and fun, it's a great time to put your phone away and pull out a lawn game or two for some friendly competition.  In this review, I'll be looking at a new lawn game from Caliber Games, TowerBall!
What is it?
TowerBall is a casual, group lawn game where the players take turns tossing hacky balls through the holes in the pyramid-shaped tower for points.  There are eight balls, and the tower can be dissembled and put into the carry case for easy transport.  Caliber Games is an American-owned, family business; their mission is "to strengthen families by facilitating shared, in-person play experiences."
What's in the box?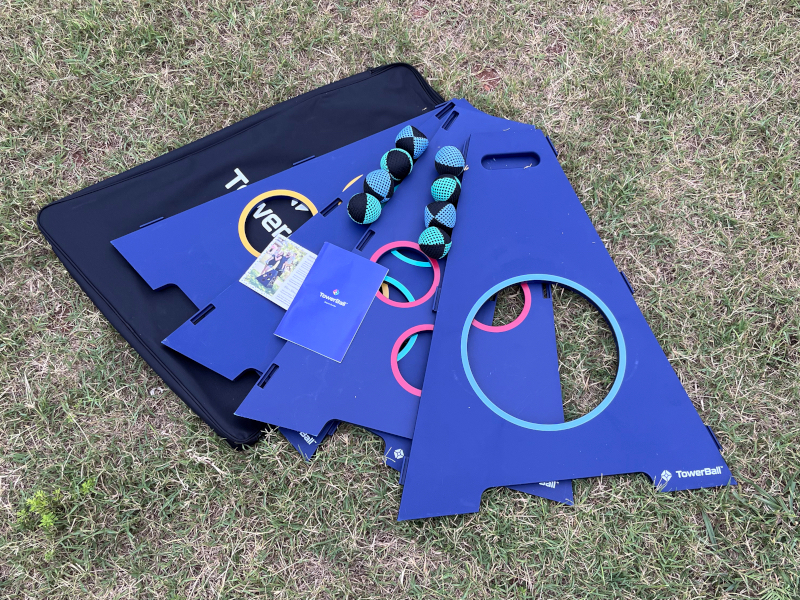 The four panels that make the tower
Eight soft hacky balls (four green and four blue)
Backpack carry case
Support card
Hardware specs
Weight:  15.4 lbs for the tower, 18 lbs for the entire bundle
Dimensions:  The tower is 29 inches tall x 25 inches deep and wide; the balls are 2.5 inches in diameter
Thickness:  Tower panels are 0.5 inches thick
Material:  The tower is polypropylene plastic, the backpack is nylon and cotton, the balls are cotton mesh with plastic pellets inside
Players:  IMHO, this game is ideal for two to four players; Caliber says that up to 16 players can play, but when there are only eight balls, I don't really get that.
Design and features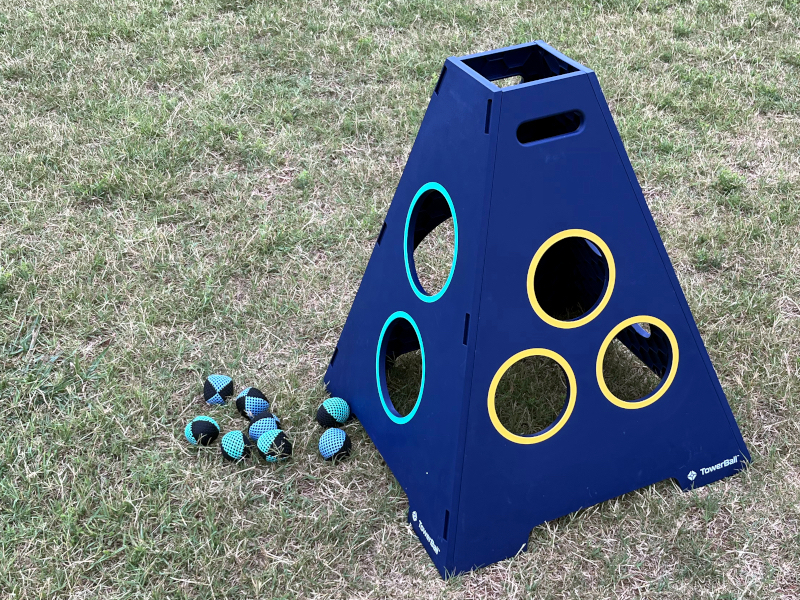 TowerBall is a uniquely-shaped game.  It has four side panels that are assembled together to form a two-and-a-half-foot tall pyramid.  One panel has one hole in it, one has two, one has three, and the final one has four; the more holes on a panel, the smaller they are.  The sides are held together with a simple slot locking mechanism, and the result is a very sturdy tower.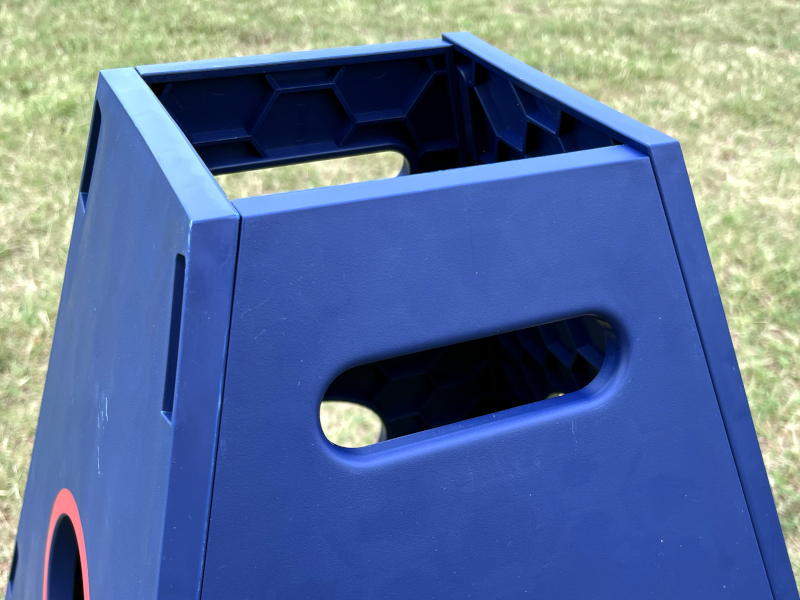 It even has a couple of handles on the top to make it easy to pick it up and move it around.  It's a clean, simple, effective design.
Installation and setup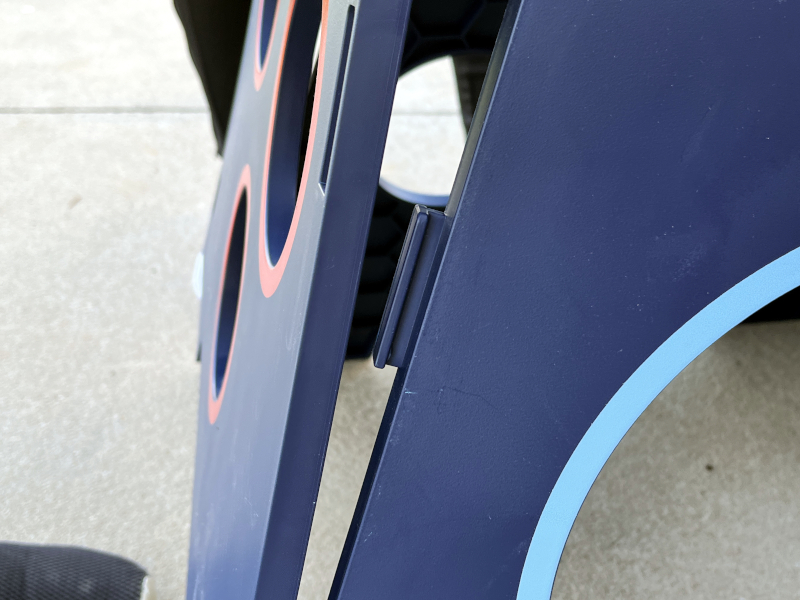 Installation was simple.  Two of the panels have connectors, and two have slots.  All I had to do was fit the panels with connectors into the panels with slots and then slide them up so that they locked in place.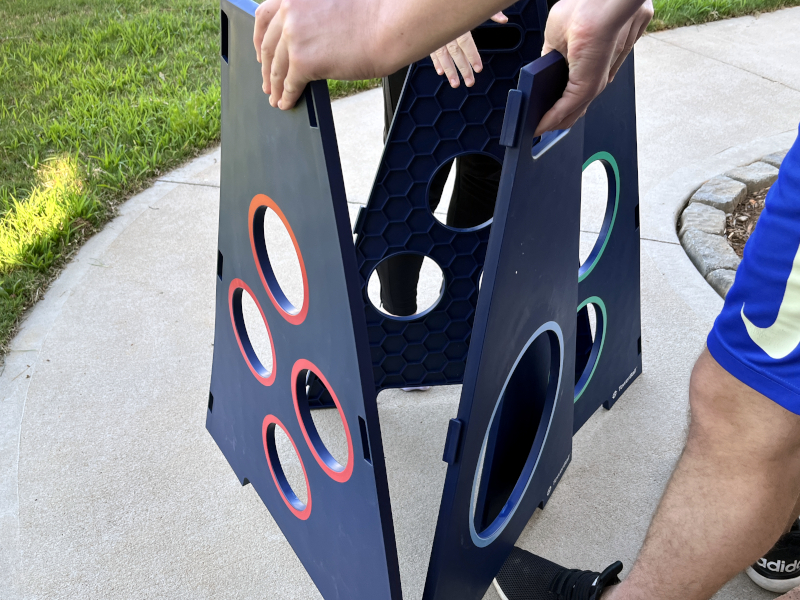 I did this first for two of the panels, then I added the third and finally the fourth.  That's all there is to it.  Once I got the hang of it, I can assemble or disassemble the tower in less than a minute.
Performance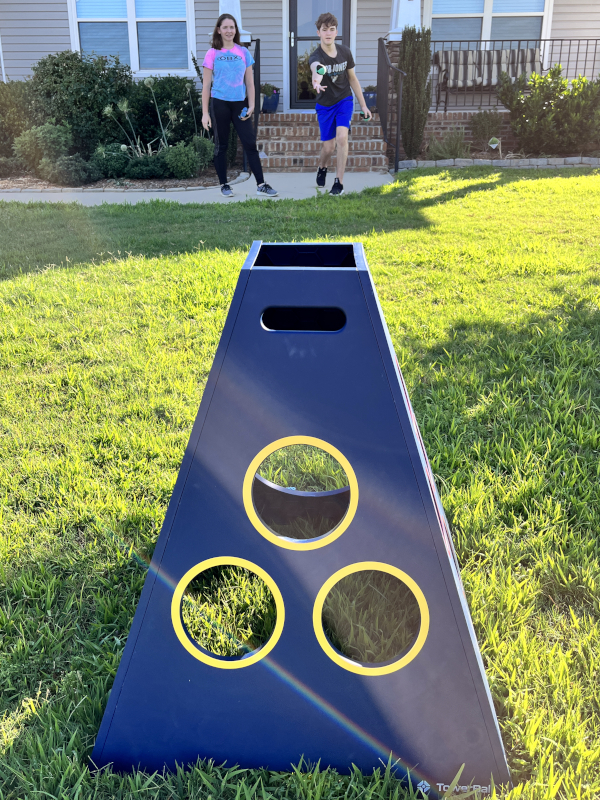 The basic idea of the game is to step away from the tower and take turns trying to toss the balls through the holes.  The details of the game are in the various game modes that you can play.  Caliber includes the rules for three different game modes:  TowerBall Classic, Around the Tower, and HORSE.  In TowerBall Classic, each side throws all four balls at each side and scores points based on the number of holes.  If the side has two holes, for example, then each toss through is worth two points.  Highest total points wins.  Around the Tower requires each side to toss the balls through every hole in as few tosses as possible.  HORSE is the classic backyard basketball game brought back to life for TowerBall.  Players take turns calling trick shots that, if successful, force the opponents to duplicate the shot.  First one to miss five times is the HORSE.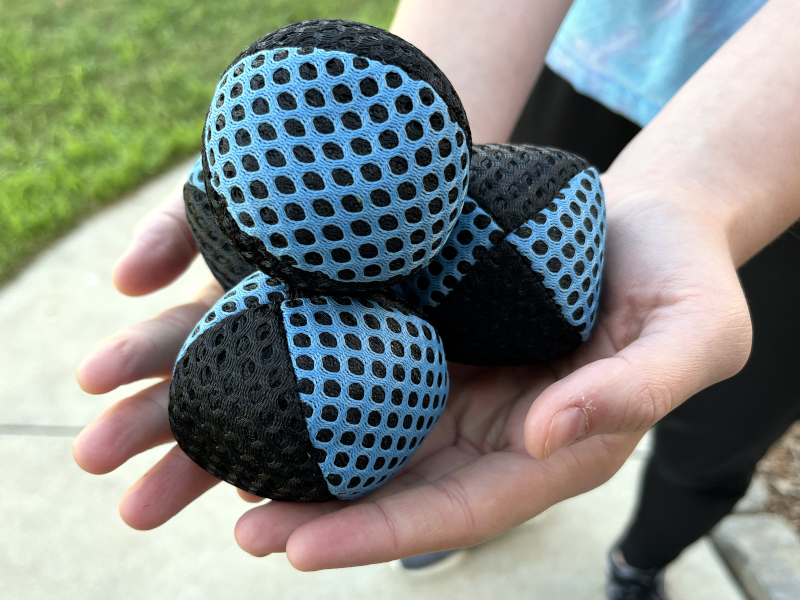 The balls are like small, round bean bags.  Caliber refers to them as hacky balls, and I'm going to guess it's because they are very similar to the hacky sacks that soccer players kicked around back in the 80's.  The cotton mesh seems to be very durable, and I think these balls will last a long time.  I wish that Caliber's website offered a way to purchase a few replacement balls, as I'm sure that one or two will get lost (or eaten by the dog) eventually.  In the meantime, I could pick up a few generic hacky sacks from Amazon.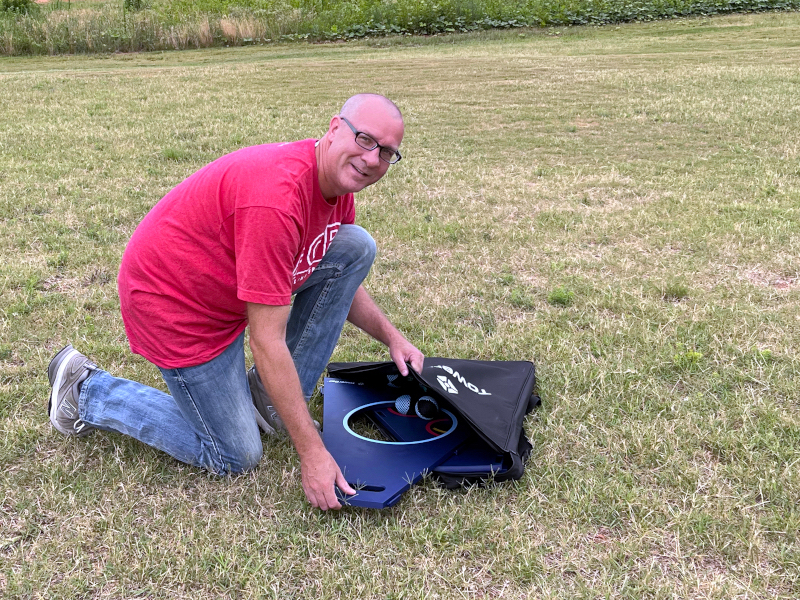 One of the brilliant features of this game is that each of the panels lays completely flat when disassembled.  This allows all four panels to easily slip into the carry case, which has a pair of shoulder straps like a backpack.  There's no designated place for the hacky balls to go; I just have to toss them inside the case once the panels are in.  I wish that Caliber had added a small pouch or pocket on the front of the case for the hacky balls.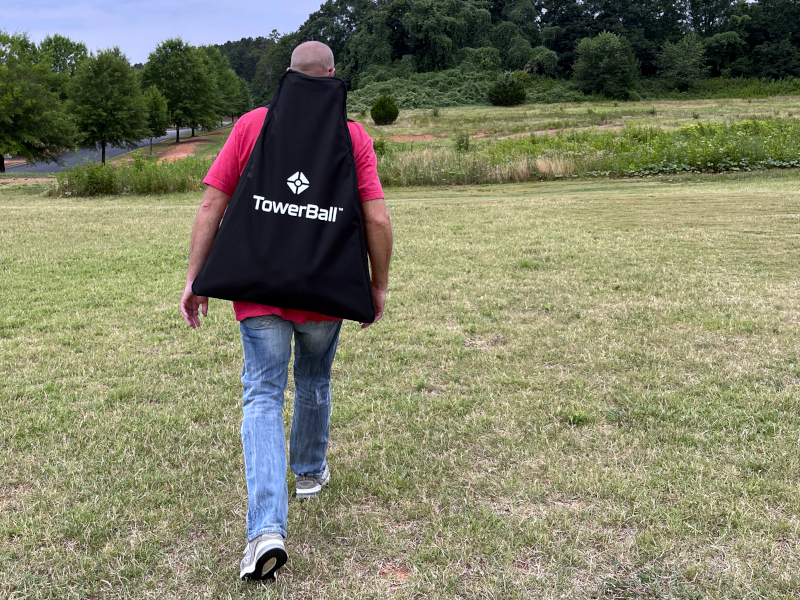 While it may not be as comfortable as one of Osprey's everyday backpacks, it's the perfect way to carry TowerBall from the car to the beach or to a picnic site, especially since the panels really are not all that heavy.  I really appreciate Caliber's foresight to design an easy way to carry this game around.  This design also takes up a minimal amount of space while storing TowerBall in the garage or the shed.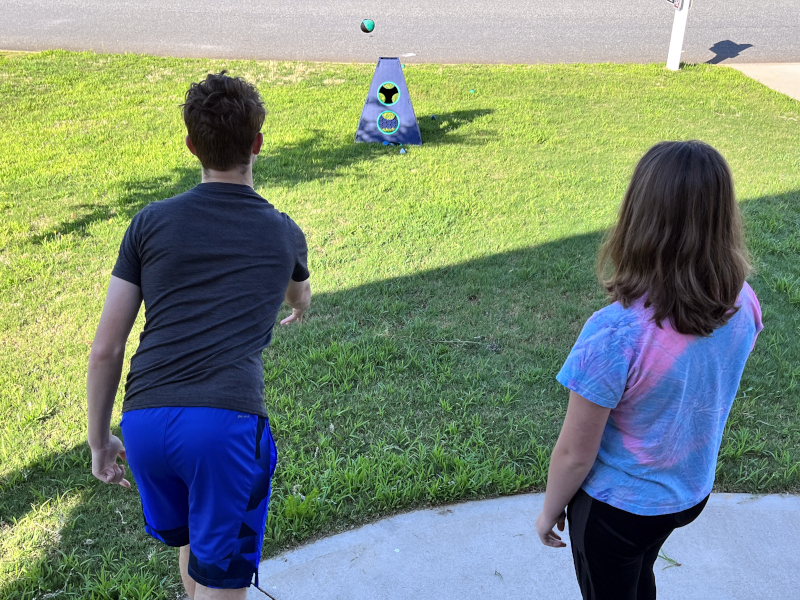 TowerBall is inevitably going to draw comparisons to other well-known lawn games, like corn hole, croquet, and bocce.  While very different, these three games each have an important feature that is missing from TowerBall:  Player interaction.  In croquet, if you hit another player's ball, you can send it.  In bocce, you can position your ball to block the other team's path to the pallino.  In corn hole, you have to avoid knocking the other team's beanbag into the hole.  Unfortunately, there's really no equivalent to this concept in TowerBall, primarily because of the nearly vertical surface of the tower.  On the plus side, however, TowerBall has an equally important feature that is missing from each of these other games:  Flexibility!  While TowerBall comes with pre-defined modes and pre-defined rules, it's a game that's absolutely begging for house rules and creative new modes.  What if you get a ball through the small, square hole in the top?  That's ten points!  What if you can bounce it off the ground and up into the hole?  That doubles your score!  What if you throw overhanded?  That's an extra point!  How about a speed mode, where you compete to get the balls in the holes as fast as possible?  How about a blindfold mode, where you close your eyes while tossing?  How about a monkey-in-the-middle mode, where one player "guards" the tower and tries to stop the other four players from tossing their balls into the holes?  The possible variations of this game are limited only by your imagination, and this is what makes TowerBall amazing and gives it such high replayability.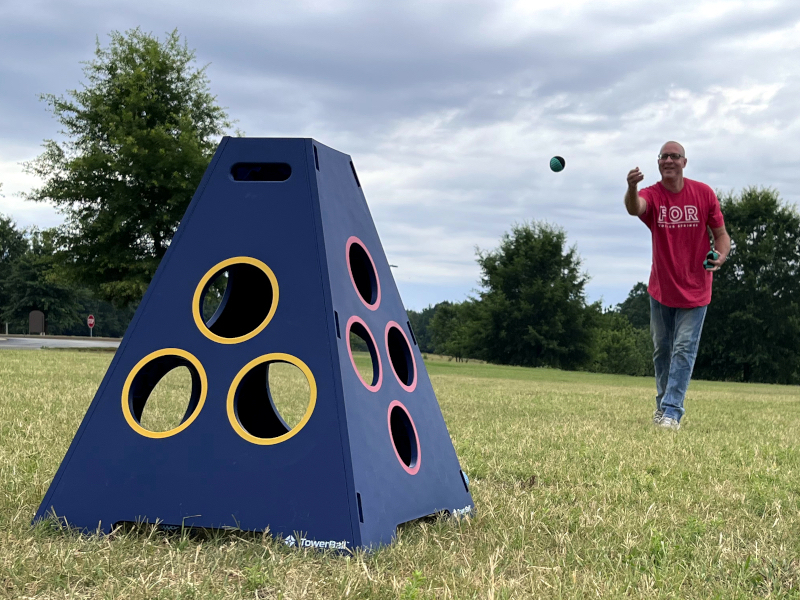 The current price of TowerBall is $190, which is admittedly rather steep, but there are two points to consider.  First, this set is both sturdy and durable; although the panels are easily scratched, it's the kind of gadget that could last a generation or two.  Second, it compares well to corn hole boards.  It's certainly true that TowerBall is a lot more expensive than bocce and croquet sets, either of which can be found for around $40.  Good quality, regulation-sized corn hole boards, however, tend to start around $150 and can go up to $350.  These points don't make the price any cheaper, but they do help to give some perspective.
What I like
Sturdy construction
Easy to carry and store
Flexible rules and game modes
Summer fun!
What I'd change
Put extra hacky balls for sale on the online store
Add a pocket on the carry case for the hacky balls
Final thoughts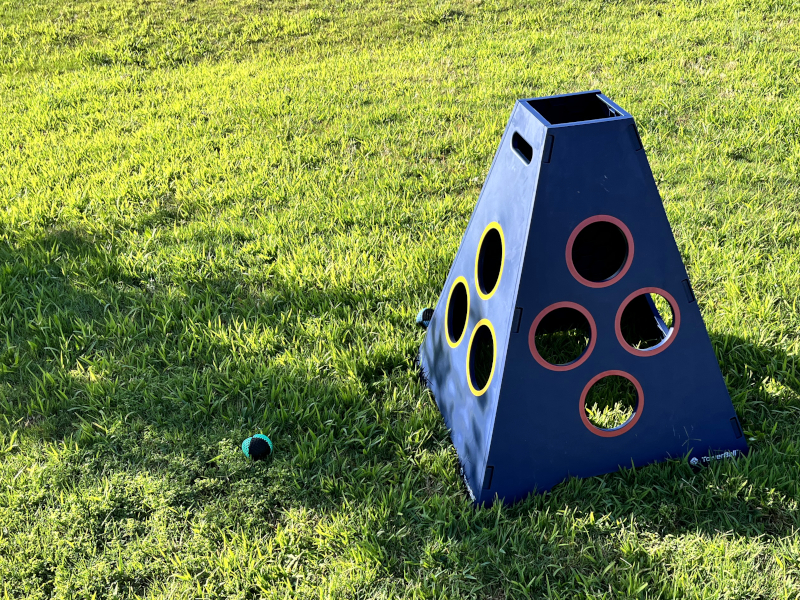 TowerBall is a group lawn game that's sure to bring fun to family and friends while picnicking or hanging out in the backyard.  Players toss small bean bags into various holes in the sides of the pyramid-like structure to earn points.  The game itself is both durable and portable.  While gameplay lacks the player interaction of other lawn games, it makes up for it in creativity and flexibility.  If you're looking for a new way to have some outside fun this summer, I recommend this game to you.
Price: $189.99
Where to buy:  Caliber Games' online store, Dick's Sporting Goods, and Amazon
Source: The sample for this review was provided by Caliber Games.