We use affiliate links. If you buy something through the links on this page, we may earn a commission at no cost to you. Learn more.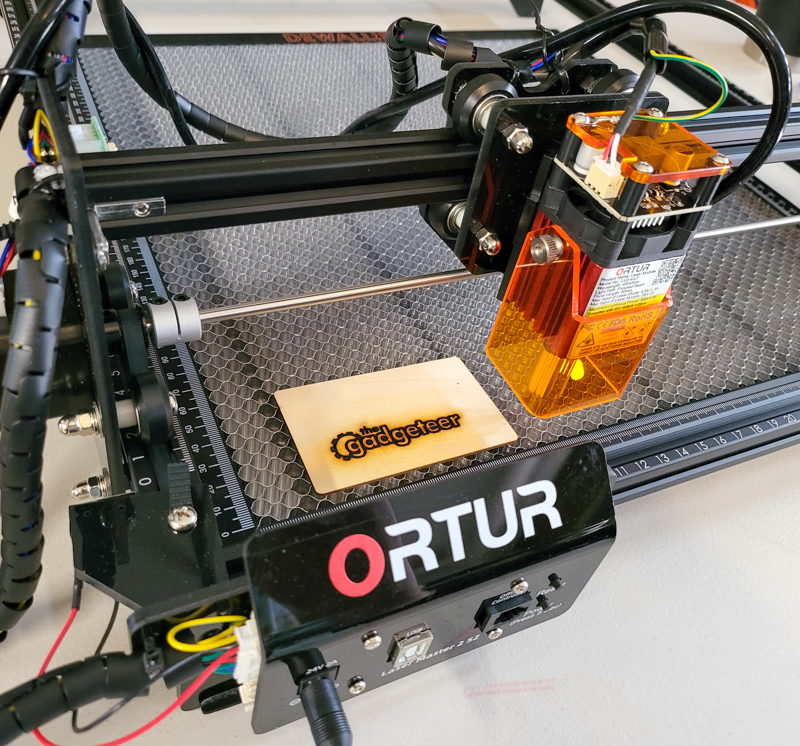 REVIEW – There have only been a handful of times in my life when I wished I had a laser cutter/engraver. It's the sort of tool that hasn't ever been at the top of my mind, but now that I've received the ORTUR Laser Master 2 S2 24V laser engraving machine to review, it's opened a floodgate of creative applications that I never knew I could do. Fry from Futurama on my coffee mug? Check. A new dog tag for the little mutt? Check. A butt-themed beer table? Check.
What is it?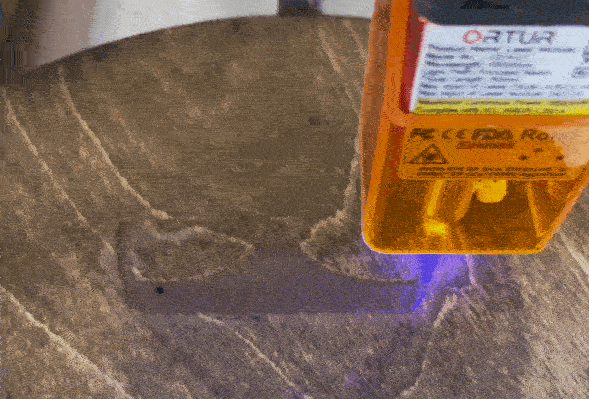 The ORTUR Laser Master 2 S2 24V laser engraving machine (that's a mouthful) is a laser cutter/engraver system. You can send designs or images to it and either cut or engrave those designs onto a wide variety of surfaces, including wood, metal, glass, stone, and much more.
What's in the box?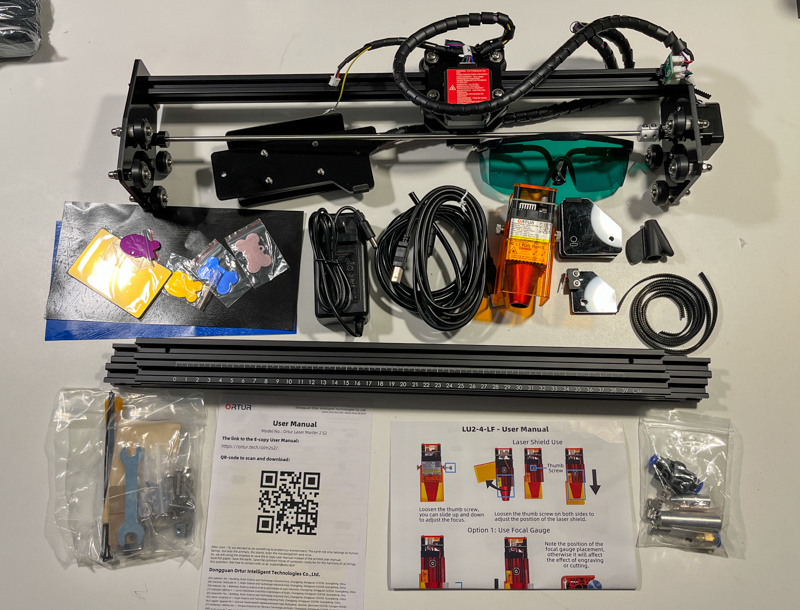 ORTUR Laser Master 2 S2 24V laser engraving machine
Safety glasses
User manual
Laser calibration guide
Test materials (wood, metal, acrylic)
Air tubing and nozzle (for optional air blower function)
NOT INCLUDED but pictured throughout this review and provided by Made the Best:
Hardware specs
Carving Area: 390mm x 410 mm (15.3″ x 16.1″)
Overall unit dimensions: 500 mm x 540 mm (19.7″ x 21.3″)
Carving Speed: Up to 5000mm
Wavelength: 445 nm
Motherboard: 32 bits MCU motherboard
Safety protection: Tilt/lift, lost connection, motor stopped moving, power disruption
Electrics: 24 Volts
Design and features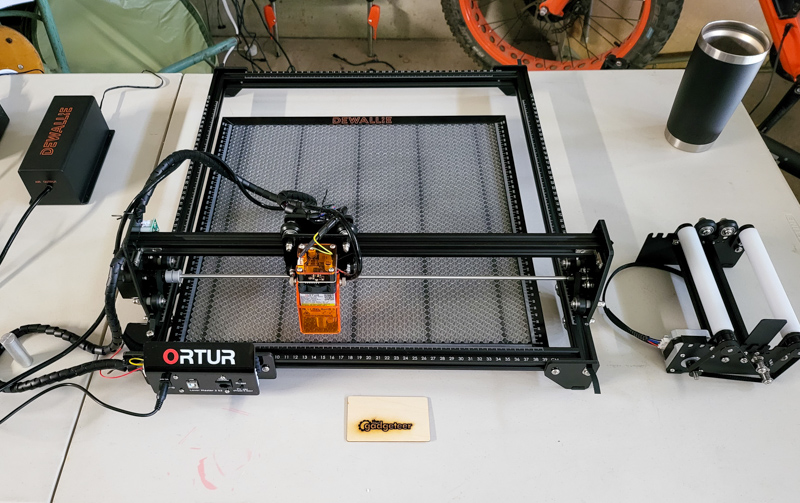 The ORTUR Laser Master 2 S2 24V laser engraving machine seems to be a fairly standard laser engraver/cutter design. A frame allows the laser head to move along the X and Y axis and a small control panel on the front includes power and USB connections as well as power and reset controls.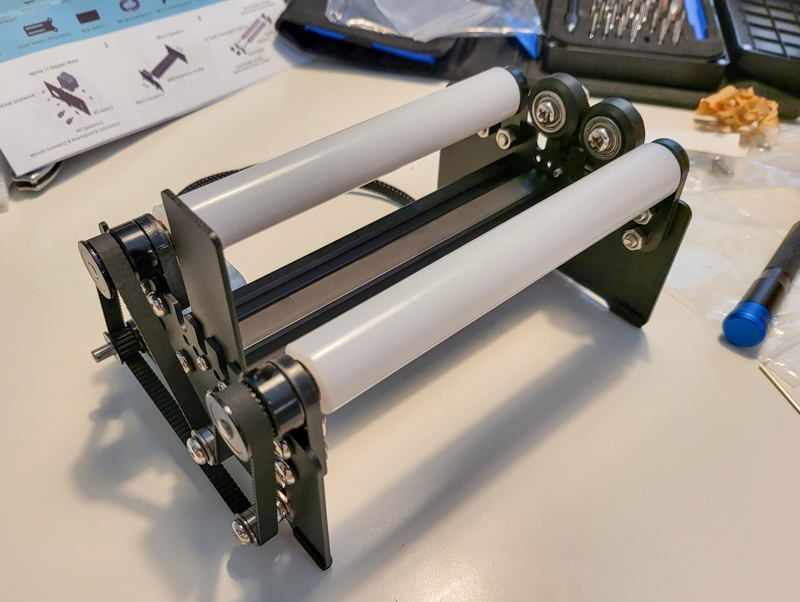 The optional Ortur Y-axis Rotary Roller 2.0 is shown above, this consists of two rollers that can be moved around to accommodate fairly large mugs, bottles, or glasses. This plugs into the control unit directly.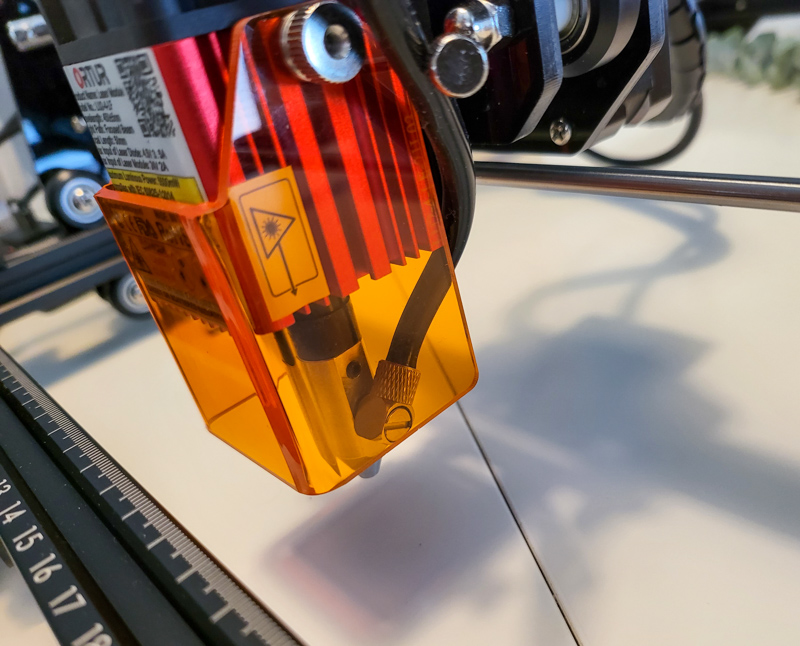 Made the Best also sent over an air pump, which I set up as shown above. This blows a steady stream of air onto the surface being lased, which keeps smoke away and results in less darkened edges due to smoke.
Installation and setup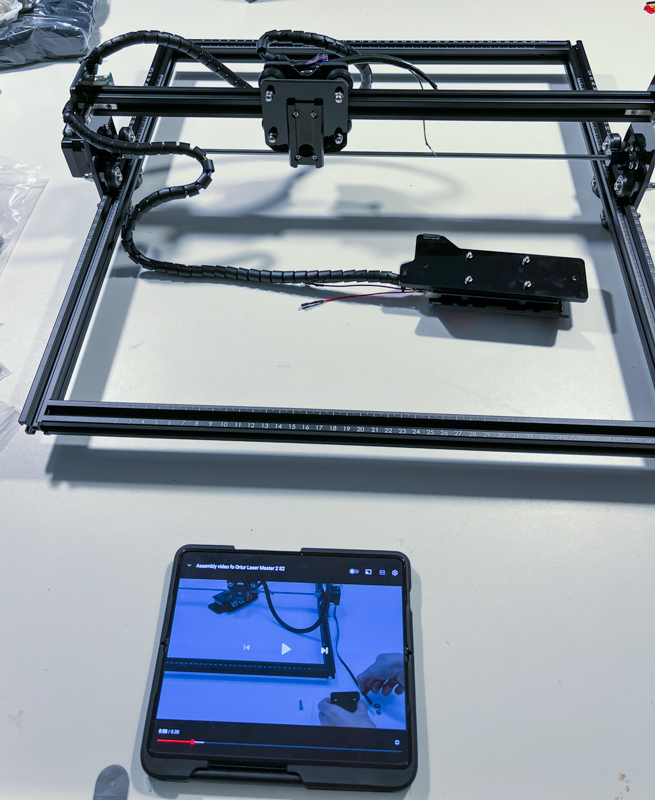 Setup consisted of quite a few screws and belts to be installed, but the tutorial video (a QR code in the manual leads to this) did a good job of clearly illustrating each step.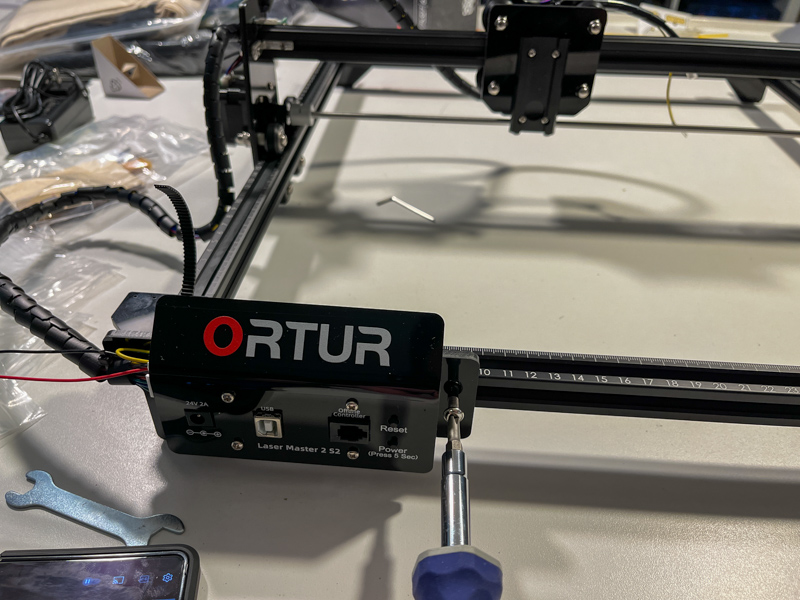 In the shot above, I'm putting the finishing touches on the installation. This all took less than 30 minutes start to finish, and only required a standard screwdriver and scissors or snips to remove excess belt material after installation.
Next, you want to make sure you have something below the object being engraved or cut, I opted for an old piece of a desk for my first test. If you don't have a safety material then plan on having whatever surface you are on to get scorched and possibly cut.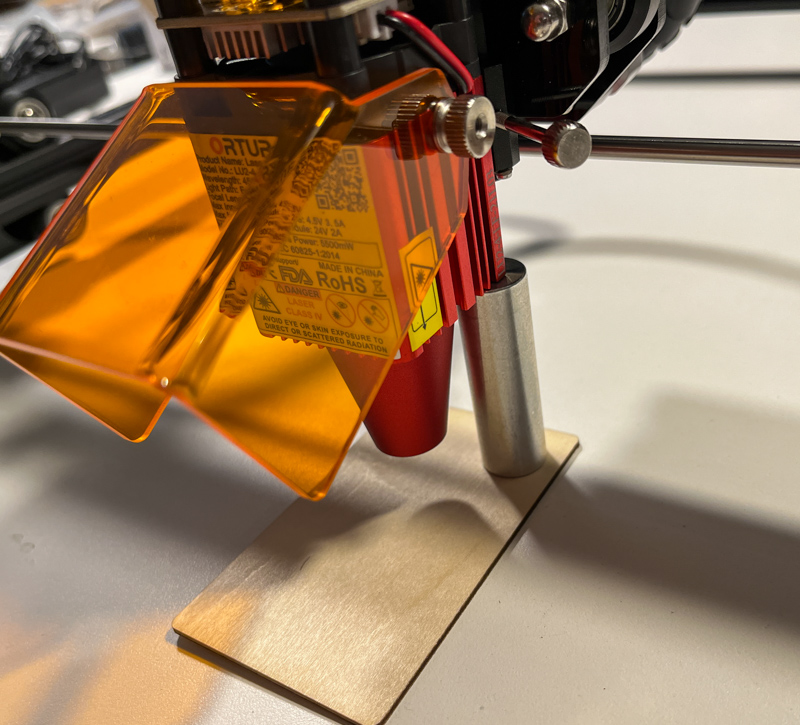 The included small metal cylinder pictured above is provided to adjust the laser height to the perfect position above the item to be engraved/cut. An easy thumbscrew loosens the laser head, and you can slide it up, set the metal cylinder on your object, lower the laser to gently rest on it, then tighten the thumbscrew to lock in that position.
Next up, you'll need to select software to convert images to cutting/engraving instructions. Made The Best suggests either LaserGRBL (free) or LightBurn (free 30 day trial then $40). Here's screenshots of both: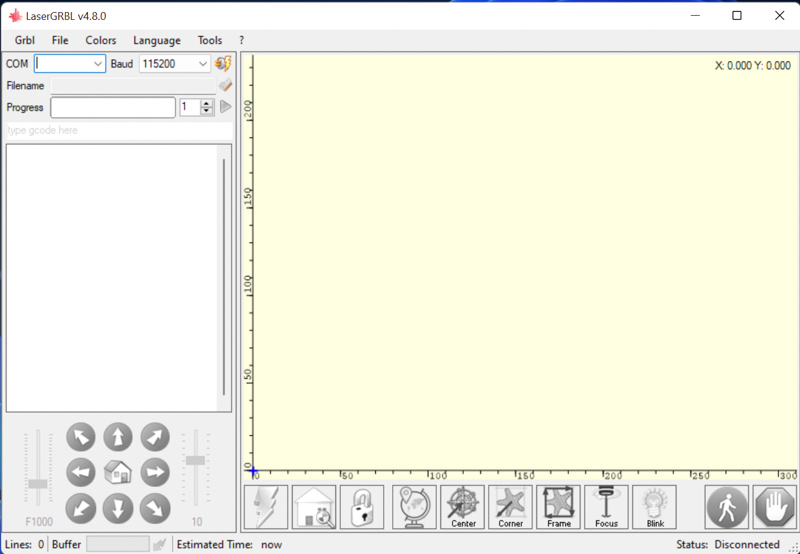 I found LaserGRBL to be fairly easy to use. It feels like 10 year old software, but it gets the job done. I was able to do my first few engravings after watching one or two tutorials.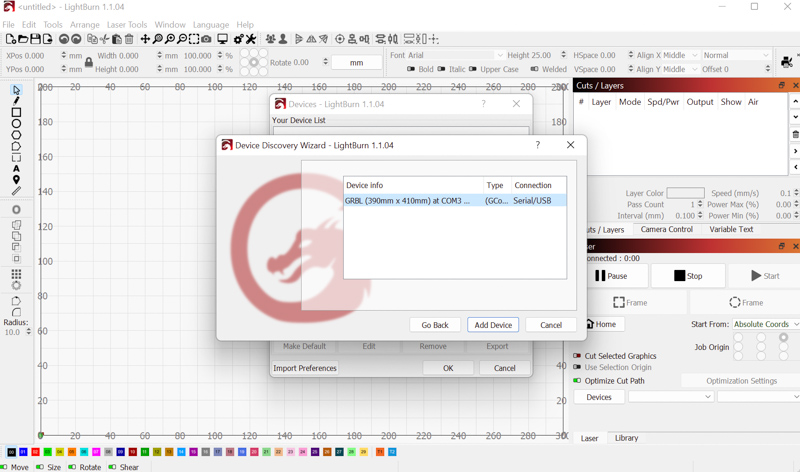 Lightburn (pictured above) is a more complex interface, but it feels like you'd be able to do more with it and it comes highly recommended by many of the creators I found while browsing laser engraving tutorials.
Regardless of the software you use, basically you import an image or design, choose how the software should interpret that to laser instructions, and decide variables like power and speed (which, depending on your material, affect how deeply the laser cuts or engraves).
Performance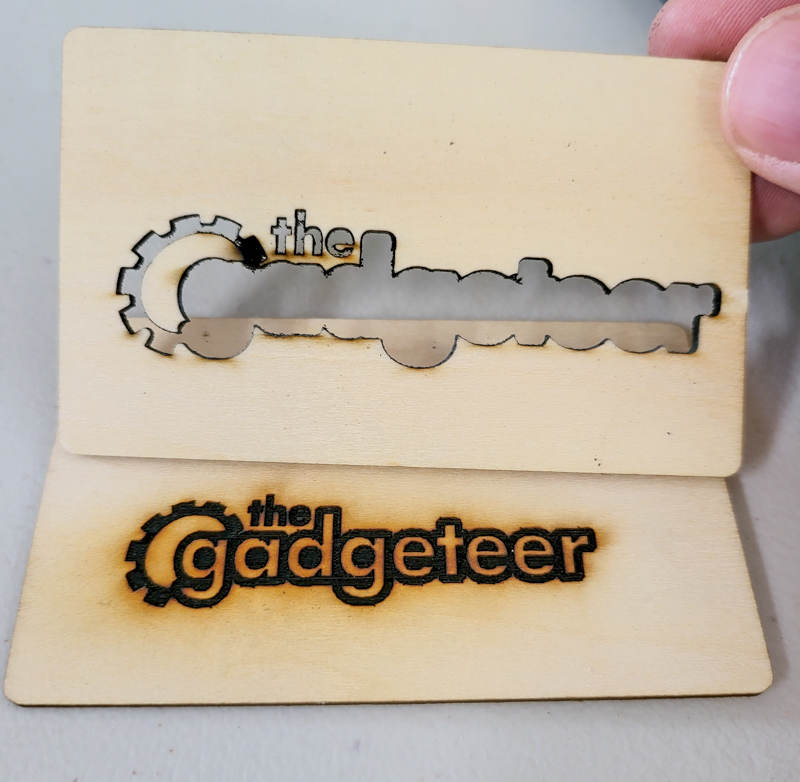 I started with our Gadgeteer logo (naturally), and as you can see above I learned some valuable lessons quickly about laser power and the need to have a safe surface behind whatever you're cutting. The power in the top one was at 100%, and easily and quickly cut right through the thin wood, while the bottom one was at a 20% setting. The speed you tell the laser to cut at also affects engraving versus cutting – more power and/or less speed will result in a deeper cut.
Once I'd mastered the basics of the settings and the software, I moved on to a more advanced project: cutting a picture of Fry from Futurama onto my coffee mug. I had to connect the Ortur Y-axis Rotary Roller 2.0 (which disables the Y axis motors and instead spins an object in place while the laser can still move along the X-axis). I also had to get creative and raise the whole unit a few inches with some spare wood beams.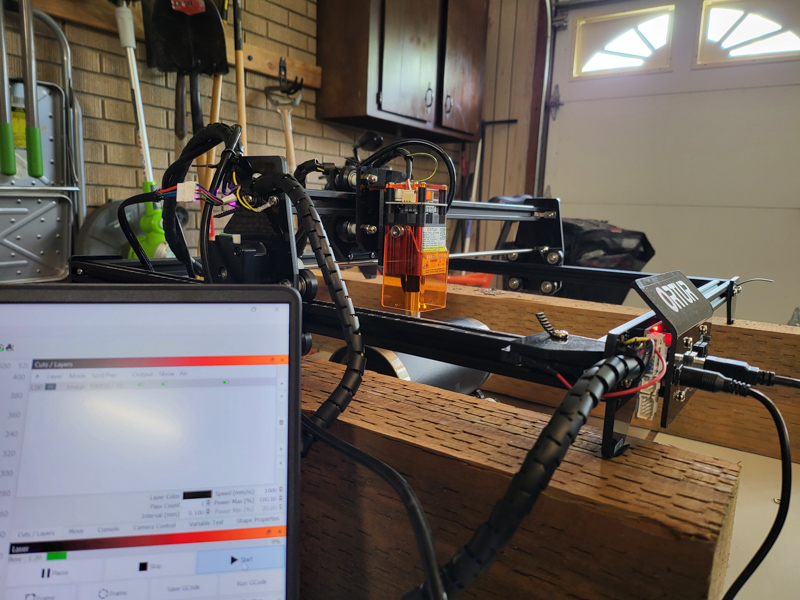 Pictured below: success.  Also pictured, an inadvertent test of the optional air blower attachment turned on partway through the engraving (the left side you can see is much darker, this is due to smoke from the engraving not being blown away during the process). I highly recommend getting a blower or using an air compressor with this unit, you can tell from my results what a difference it makes.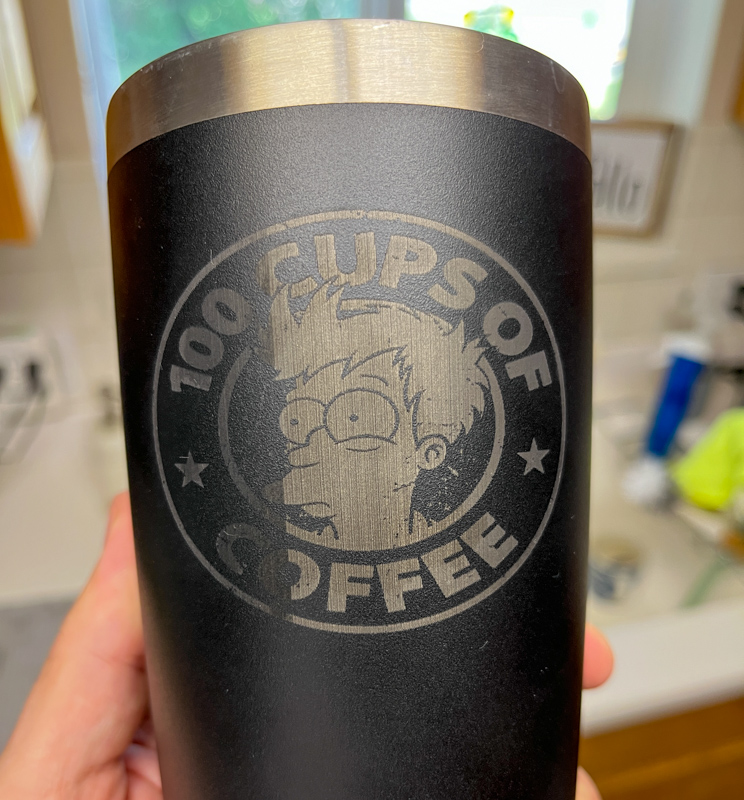 I was highly impressed with the accuracy and performance of the ORTUR Laser Master 2 S2 24V laser engraving machine. I have yet to push the limits of what it can do, specifically in engraving grayscale images onto various surfaces. This is not for lack of trying, but rather lack of experience, several tests resulted in too-light or too-dark images on different types of wood. You'll need to experiment to dial in a highly detailed image with higher contrast, but the laser is capable of 1000 different power levels (many competing models only have 255 levels). This theoretically could result in up to 1000 shades of grey in an image engraving.
Image resolution is also very high, over a fairly large cutting area (39 x 41 centimeters).
What I like
Impressive performance out of the box without the need for extensive calibration or previous experience
Wide variety of optional accessories for various projects
What I'd change
Software is not very user friendly, but not the worst that I've seen either. A bit of R+D here could go a long way to helping beginners
Very useful accessories like the air blower and Y-axis roller add cost quickly to the base price of the unit.
Final thoughts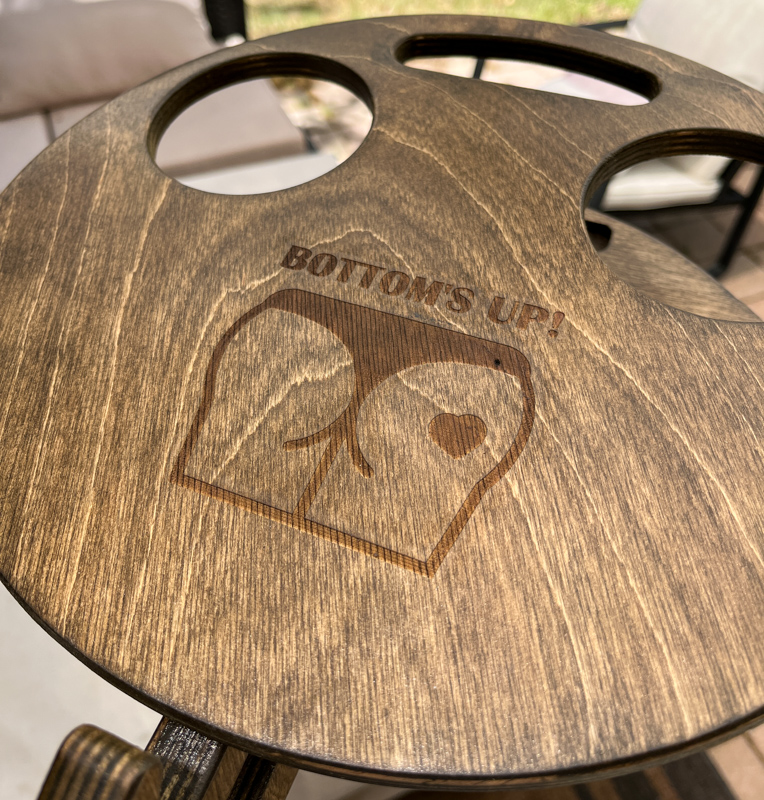 I think the image above sums up the value of the ORTUR Laser Master 2 S2 24V laser engraving machine to me more than any words could. This machine has opened up new worlds of cutting and engraving that I hadn't even dreamed of before, creative juices are flowing, and I'm excited for many projects in the future!
Price: $359.00
Where to buy:
ORTUR Laser Master 2 S2 LF LU2-4
Made The Best: https://www.madethebest.com/collections/engraving-machines-1/products/ortur-laser-master-2-s2?variant=42866699075800&aff=64
Made The Best Coupon code: M2S2 save $30
Amazon: https://amzn.to/3At1L1F
Ortur YRR2.0 Y-axis Rotary Roller
Made The Best: https://www.madethebest.com/products/ortur-laser-engraver-y-axis-rotary-roller-engraving-module-for-engraving-cylindrical-objects-cans?_pos=3&_sid=bbaaab738&_ss=r&variant=40259244753082&aff=64
Amazon: https://amzn.to/3bVdrji
Source: The sample for this review was provided by Made The Best