We use affiliate links. If you buy something through the links on this page, we may earn a commission at no cost to you. Learn more.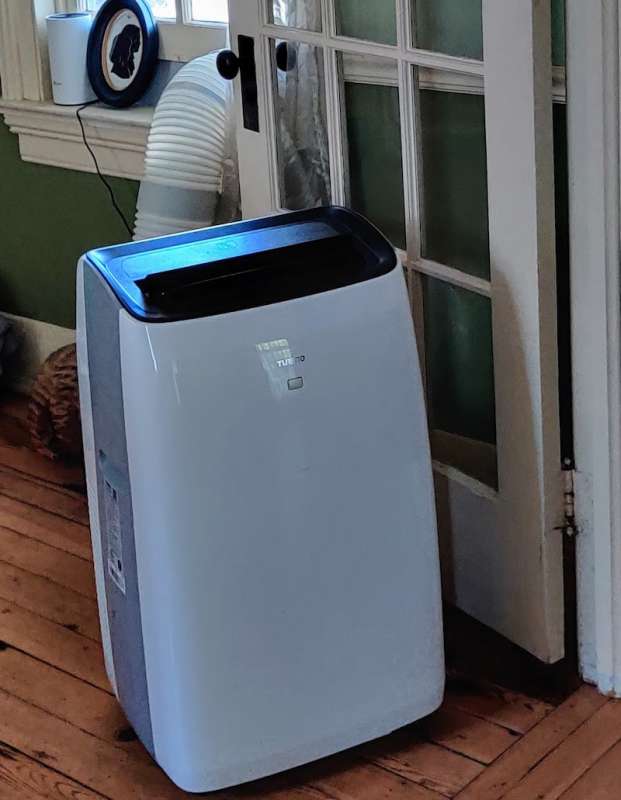 REVIEW – Our house was built in 1877.  So of course, it was not built with air conditioning.  It also was not built with any ducts or vents, so it would be next to impossible to install central air.  In our little mountain town, air conditioning is not often needed.  If it gets above 90 degrees, it's a pretty big deal.  We've been able to get by with window units in the bedrooms which make it comfortable for sleeping, but our living space is getting increasingly warm during the day.  I wasn't too excited about putting a window air conditioner in most of our first floor windows because our house has a historic look, so when the Turbro Greenland 14,000 BTU portable air conditioner and heater review offer popped up, it seemed like a great opportunity.  Plus, lugging window air conditioners up from the basement and installing them in the windows is no fun – those things are heavy! 
What is it?
 It's a portable air conditioner, heater, dehumidifier, and fan in one pretty large wheeled unit. It even has a remote control!
What's in the box?
Turbro Greenland 14,000 BTU portable air conditioner and heater unit

Remote control (with batteries)

Window panel kit for installing the exhaust hose

Exhaust hose

Drainage hose

2 foam seals

User manual
Hardware specs
Power Supply: 115V / 60Hz

Rated Input: 1380W

Cooling Current: 12A

Heating Current: 9.6A

Cooling capacity:  14,000 BTU

Dehumidifier capacity: 81 pints per day

Fan speeds: low, medium, high

Effective heating/cooling area:  600 square feet

Power Cord Length: 60 inches / 5 feet

Temperature Range: 64-90°F Cooling, 55-81°F Heating 

Safety Approval: UL Certification

Dimension: 17.7 x 15.6 x 29.3 inches

Weight:  75 pounds

Noise Level: ≤54db
Installation
The installation of the Turbro Greenland 14,000 BTU portable air conditioner and heater is not too hard.  Most portable air conditioners install in the window, and vent the heat directly out the back of the unit.  Since this unit does not install in your window like a traditional window air conditioner, it vents through an exhaust hose that still has to somehow leave your house.  It does this through a small panel that installs in the bottom of a nearby window, and is connected to the air conditioner through a hose that is like the world's largest bendy straw.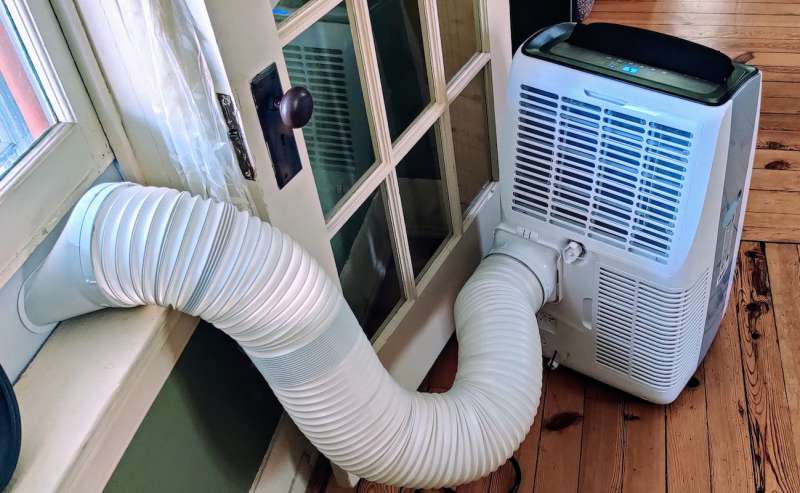 The only real challenge is sizing this panel to the appropriate width of the window (10-59 inches wide).  The window panel can install in a window that opens horizontally or vertically. The included instructions were very clear and everything needed was provided.  The nice thing is that the window panel is adjustable so it's easy to move from window to window, even if the windows are different sizes.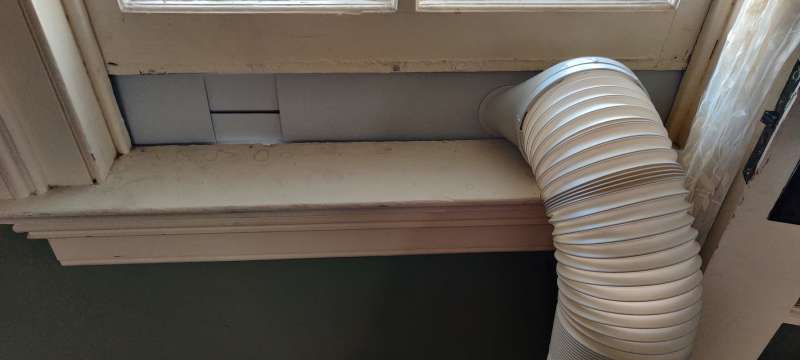 Design and features
The Turbro Greenland 14,000 BTU portable air conditioner and heater looks a bit like a droid from Star Wars.  It's about that height, width, and I would imagine, weight.  It has a simple control panel on the top, and the main vent is on the top as well. In the back is the exhaust hose, air intake, and power plug.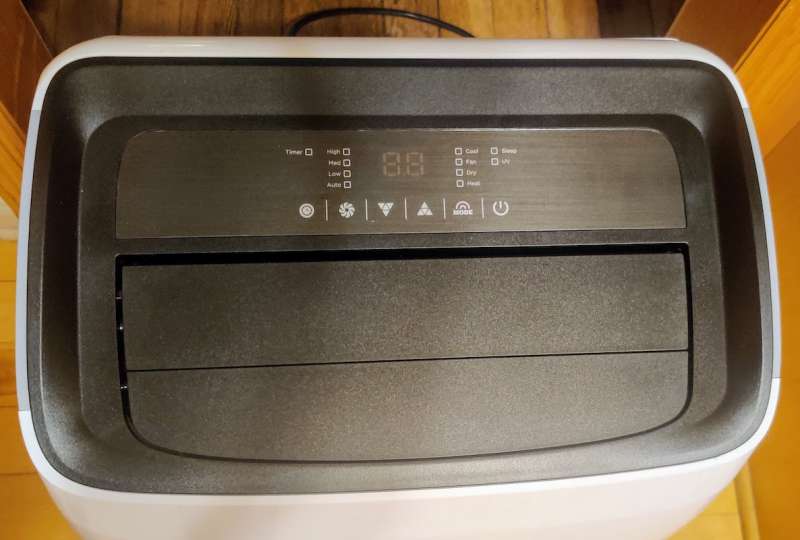 The rest is basically white plastic.  It's not unattractive, but it is not small either.  You definitely notice it, especially since it can't sit flat against a wall given the exhaust hose coming from the back.  It has nice swivel casters on the floor and molded handles on the side, making it easy to move – especially over hard floors.  That's nice since it's pretty heavy at 75 pounds.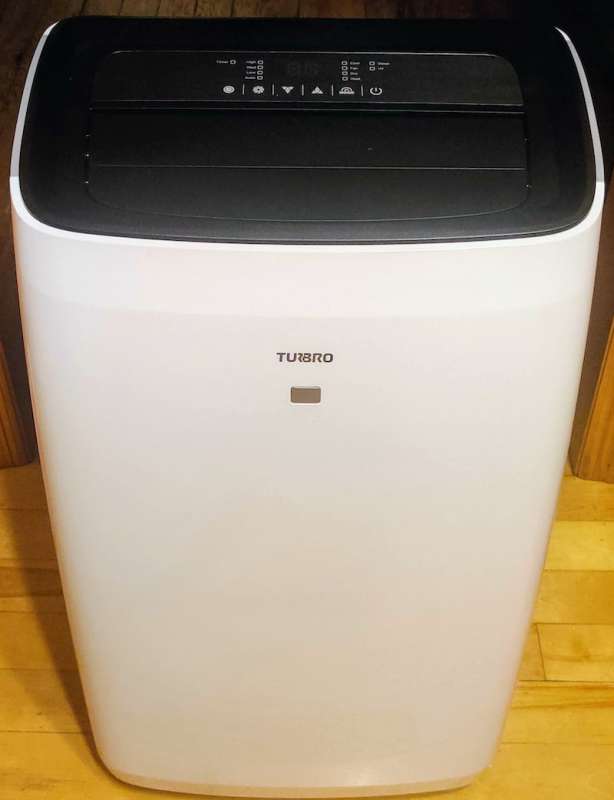 Feature-wise, it can function as an air conditioner, heater, dehumidifier, or just a fan (a really big fan).  The Turbro Greenland 14,000 BTU portable air conditioner and heater has a nice auto function that adjusts everything to whatever the conditions in the room are at that time. It has a full-function remote control with a large bright backlit screen. Oddly, a few buttons on the remote don't work for this unit.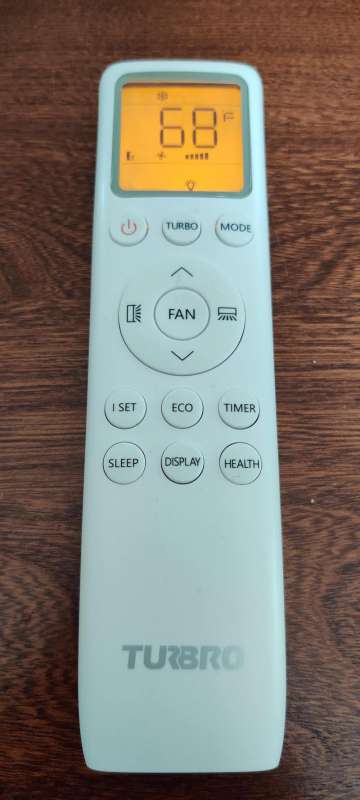 It has a built-in UV-C light to take care of any bacteria or viruses as the air passes through the unit. The louvers on the main vent actually move, helping to distribute the conditioned (cooled, dried, or warmed) air through your room. 
One aspect of air conditioners is that they also remove moisture from the air.  In a traditional window air conditioner, that moisture just drips out the back, outside of your house.  With the Turbro Greenland 14,000 BTU portable air conditioner and heater, that's impossible.  So the unit passes the warm air over the removed moisture, evaporating it.  But if there's too much humidity in the air, you'll need to drain the excess water through an easy drain plug on the back.  Of course, if you have a floor drain in your area, you can simply hook up the drain hose and not have to worry about it. 
Other useful features include a timer, a sleep mode, and a turbo mode for cooling a room down quickly (but it's loud). 
Performance
Ah, the joy of a cool living room!  It works.  Quite well, in fact!  In air conditioning mode. The air coming out of the Turbro Greenland 14,000 BTU portable air conditioner is a cool 56 degrees, while the air is vented out the back (and leaving the house) was about 93 degrees.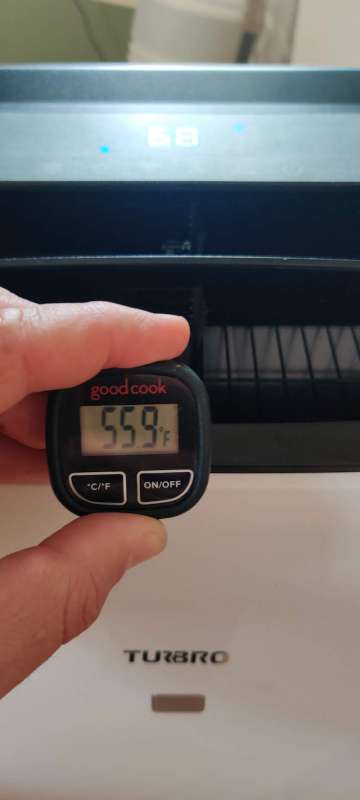 And it produces a lot of air.  Our living room is about 20 x 30 feet, and it cooled it from 83 to 72 degrees in about 30 minutes – without using turbo mode.  Once cooled, the unit kept the room cool using auto mode, adjusting the fan speed as needed.  It makes noise, but not any more than a window air conditioner, which isn't too bad. We watched a family movie with it in the room and no one complained, and we didn't have to turn the volume up too loud to overcome the noise.  
One of the joys of living in the mountains is the unexpected cold snaps.  While testing this unit, we had one.  One early June morning, an area not far from me had the coldest temperature in the continental US, 24 degrees.  While it wasn't quite that cold at my house, we did get to 36 degrees.  I wasn't expecting it and left all the windows in the house open.  Needless to say, it was quite chilly in the morning.  This gave me a perfect chance to test the heater function of the Greenland, instead of turning on the heat or lighting a fire in the wood stove.  The heat works!  And it works quickly!  Because it moves a lot of air, it was able to heat the living room to a comfortable temperature in about 15 minutes.  While I don't think this could replace the heat in my house in the dead of winter, it would be adequate for a small space or as a supplement.
My one gripe is with the remote control.  The main unit does not seem to like to respond to the remote.  I'm not sure if I'm aiming it at the wrong place (there is a remote receiver square in the middle of the air conditioner) or what, but pushing buttons on the remote often elicits no response on the air conditioner. 
What I like
It's effective

Installation is pretty easy

It's not too loud

It's easy to move around, despite being heavy

I don't have to worry about it falling out of a window
What I'd change
Don't' include buttons on the remote I can't use

The remote doesn't always seem to work

Draining the excess water in humid conditions can be a little messy
Final Thoughts
If you have a space that you'd like to control the climate in, that does not currently have any climate controls, the Turbro Greenland 14,000 BTU portable air conditioner and heater would be a great unit.  An apartment, office, dorm room, garage, attic, or the living room in an old house would be a great candidate for this portable air conditioner.  It's much easier to install than a window unit, but it takes up a bit more floor space.  However, a window unit doesn't usually also provide heat!  This truly is an "all in one" that is effective and easy to use.  
Price:  $599.99
Where to buy: Turbro or Amazon
Source: The sample for this review was provided by Turbro.