We use affiliate links. If you buy something through the links on this page, we may earn a commission at no cost to you. Learn more.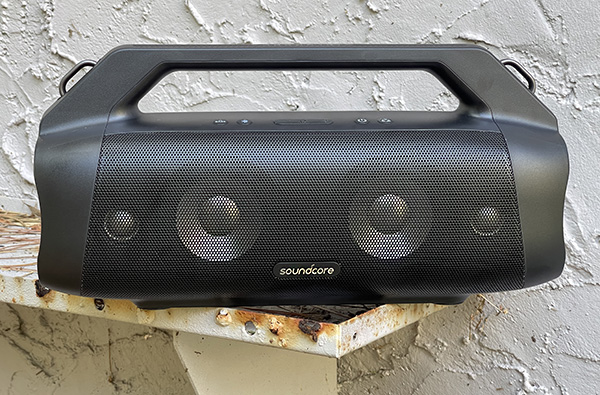 REVIEW – I will state up front that I love portable Bluetooth speakers. It doesn't matter how big or small they are, how expensive or cheap they are, or how good or bad they sound—well, scratch the bad-sounding part. I like them because I listen to music all the time. And so I use different portable speakers depending on what I'm doing. One of the more convenient speakers to carry around are boomboxes because they are perfect for taking to the beach or washing the car. They can get wet and dirty and like a Timex watch, take a licking and keep on ticking. 
One of the latest in the crowded Bluetooth speaker market is the Soundcore Motion Boom Plus. The name may be a mouthful, but the pedigree is solid. Soundcore is the audio division of Anker, which has branched out from making only chargers and cables.

What is it?
The Soundcore Motion Boom Plus Bluetooth speaker is an upgrade to the original Motion Boom portable Bluetooth speaker. It has the same form factor of speakers and a built-in handle, but the similarity ends there.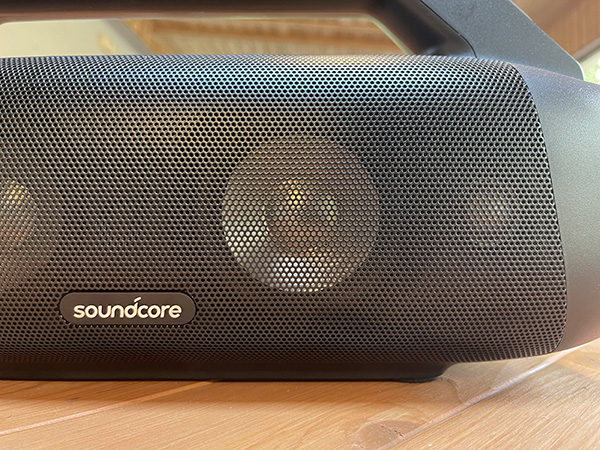 The Soundcore Motion Boom Plus has two matched 10-watt silk tweeters and twin 30-watt woofers (compared to only two 15-watt full-range speakers in the original Motion Boom) with passive radiators at each end. While its 5.5 lb weight makes it easy to carry, Soundcore has added a detachable carrying strap freeing up hands for carrying other items.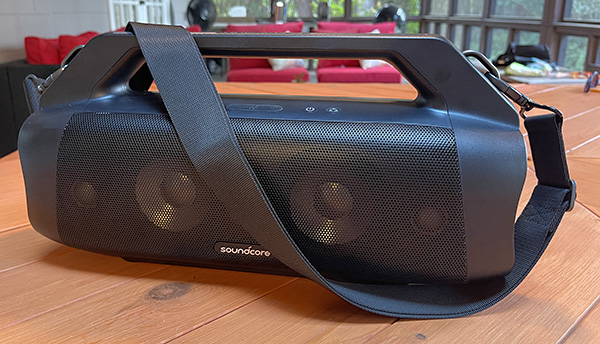 The Motion Boom Plus incorporates PartyCast which allows a limitless number (their claim) of other Soundcore speakers with PartyCast to play synchronized and stereo audio. PartyCast may be cool, but I have never actually witnessed a large number of people bring the same brand of speaker just to pair them all up for a wall of sound.
A waterproof rating of IPX7 means that the Motion Boom Plus is both dust-proof and can be submerged for 30 minutes in 3 ft. of water.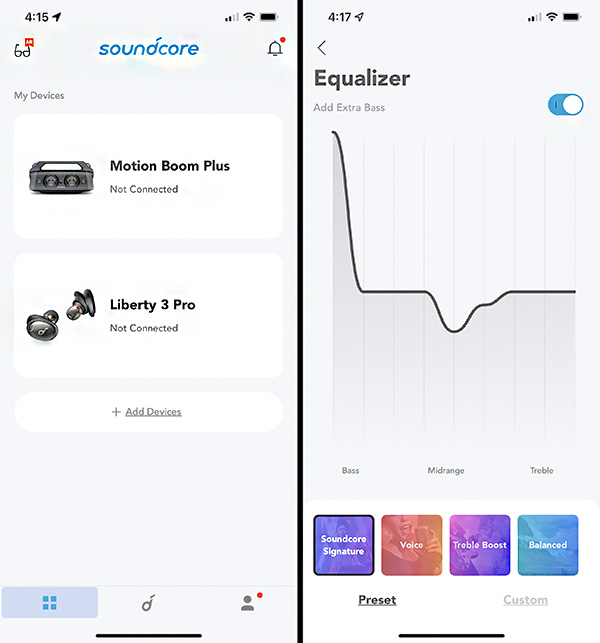 An included smartphone app lets you choose from preset equalizer settings or customize your own. The app can also perform firmware updates with other minor settings.

Specs
Size: 15.31 x 5.51 x 7.7 in. (LxWxH)
Weight: 5.29 lbs
Power: 80 watts total
10 watts tweeter (x2)


30 watts woofers (x2)

Passive radiators (x2)
Bluetooth 5.3
AUX
Strap
BassUp
PartyCast
13,400mAh battery
IP67 rating

Design and features
What's striking about the Soundcore Motion Boom Plus portable Bluetooth speaker is how far we've come from the mid-80s gargantuan cassette boomboxes that were carried on the shoulders of strong (and young) people. The Motion Boom Plus is way smaller, has way longer (lithium-Ion) battery life, and—going from memory, also sounds way better.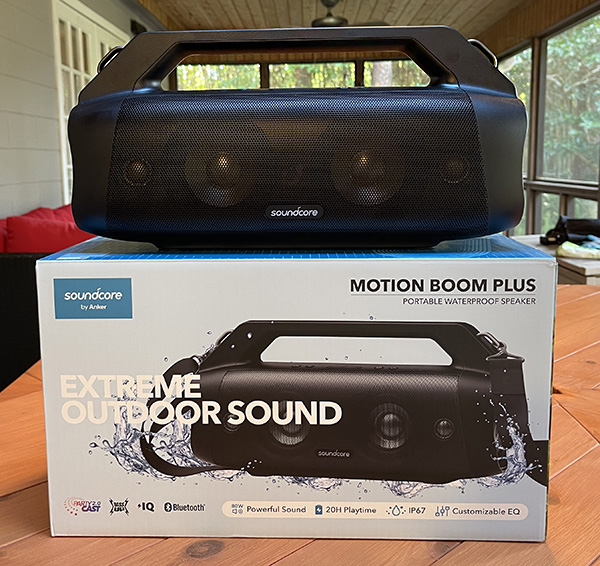 The Motion Boom Plus is fairly average-sized for a modern boombox speaker, but it sounds much bigger. Anker has obviously concentrated on bass response with powerful woofers and passive radiators. They also added what they call "BassUp Technology" which does what it says—it ups the bass. Increased bass indoors at a loud volume can sound boomy and tiring, but BassUp works well outdoors (or indoors if kept at low volume) because lower frequencies dissipate over distance. BassUp helps music sound richer and more alive at outdoor get-togethers.

Soundcore decided to promote their name and logo all over the Motion Boom Plus. You can't not know what this is. The shell is covered in a hard, tough black plastic with a black painted metal grill that protects the speakers. The handle is a part of the body with built-in anchors for attaching a strap. Non-slip feet help keep the speaker in place during loud, vibration-inducing dance music.

The top of the Soundcore Motion Boom Plus Bluetooth speaker houses volume/pause buttons surrounded by 4 lighted buttons: BassUP, Bluetooth pairing, On/off, and PartyCast connection. For some reason, the volume buttons are not lighted which makes no design sense because these buttons are used often during playtime. 
A 13,400mAh battery supplies 20 hours of playtime and will charge a smartphone, even while the smartphone supplies the music. It's a very handy charging trick.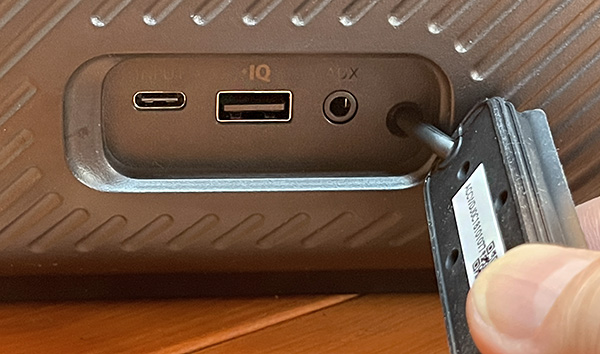 As with many other waterproof portable speakers, the Motion Boom Plus keeps its ports at the back protected by a thick rubber seal. The ports include USB-C (for charging), USB A/Power IQ for charging a smartphone or other device, and AUX for a wired connection to audio sources. A USB-C to USB-C cable is included. The included adjustable-length strap is a tough seatbelt-like material with snap hook connectors.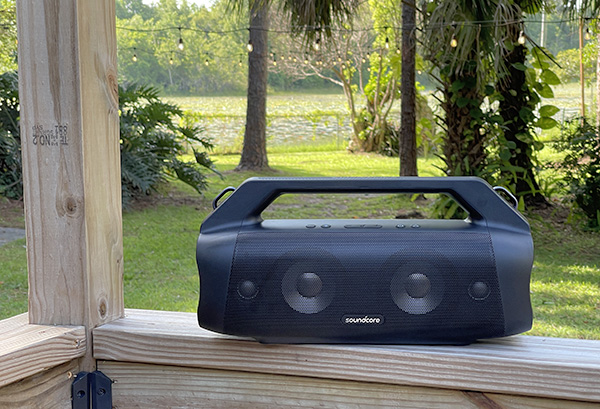 Despite its smaller size (for a boombox), it's clear that Soundcore wanted the Motion Boom Plus to sound big—and they succeeded. With the help of the aforementioned BassUp, the Motion Boom Plus is made to party outdoors. With the volume cranked loud, its 80 watts of total power can be heard clearly with little to no distortion yards away from the speaker. Audio at this distance sounds quite impressive from any boombox, let alone one this size. Whether I played retro music from the 80s or more modern music, as long as the emphasis was on the beat, the Motion Boom Plus delivered.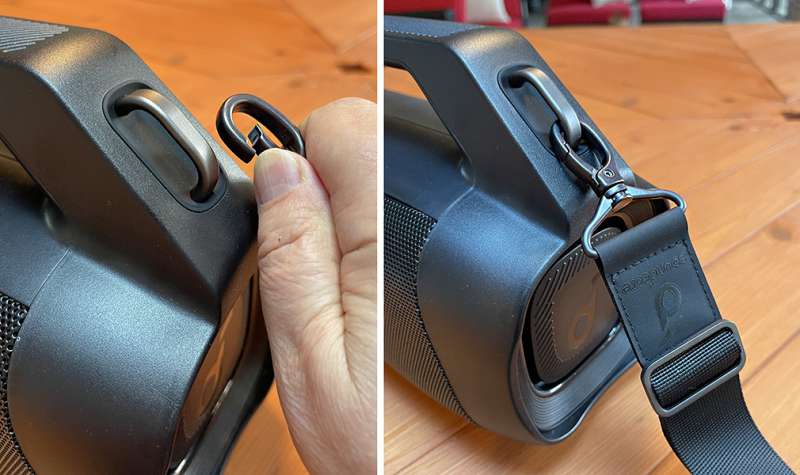 Having said that, the Motion Boom Plus also plays nice as a more personal speaker in a smaller space, such as a bedroom or bathroom—as long as you tame the bass output. Many other boomboxes sound their best at max volume, but the Motion Boom Plus has a warmth and intimate sound close up at lower volume.

What I like
Easy to carry
Sounds much bigger than its size
Comes with a handy strap
Will charge smartphone
Long playtime
Useful smartphone app
New Bluetooth 5.3
What I'd change
Volume buttons are not backlit

 

Final Thoughts
It's always fun reviewing a new or updated Bluetooth speaker that I think is going to be special as this one turned out to be. The Soundcore Motion Boom Plus Bluetooth speaker is a welcome improvement to their original Motion Boom. It doesn't disappoint.
Price: $179.99 US.
Where to buy: Amazon
Source: The sample of this product was provided by Soundcore.