We use affiliate links. If you buy something through the links on this page, we may earn a commission at no cost to you. Learn more.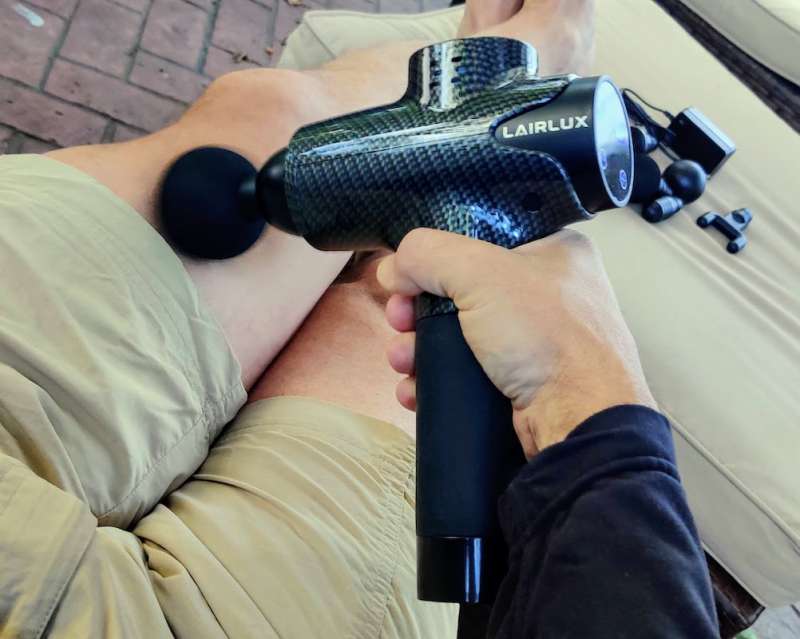 REVIEW – Sports and exercise are known for fads.  One big fad right now has to do with recovery from exercise, and specifically, for when you overdo it. If you follow the trends, sore muscles can now be relieved by everything from oddly-shaped foam rollers to percussive massagers, which use a combination of vibration and pressure to relieve soreness.  While the research on the effectiveness of percussive massage is mixed, many athletes swear by these massagers (commonly known as massage guns) to prevent and relieve delayed onset muscle soreness (DOMS).  If you're a runner, you know DOMS as what causes you to not be able to go down steps the day after a long run or race. The massage gun market has largely been dominated by one player, whose products are typically hundreds of dollars.  Recently, other brands have been creeping into the market, and today we'll be taking a look at the Lairlux Percussion Massage Gun.
What is it?
The Lairlux Percussive Massage Gun is a wireless rechargeable percussive massager that includes many attachments and a convenient case. 
What's in the box?
A sturdy zippered case

Lairlux Percussion Massage Gun

Charging brick with non-removable wire

5 interchangeable massage heads

Flat Head

U-Shaped head

Bullet Head

Small Ball Head

Dampner Head

Lifetime Warranty envelop

Very nice full-color manual in good English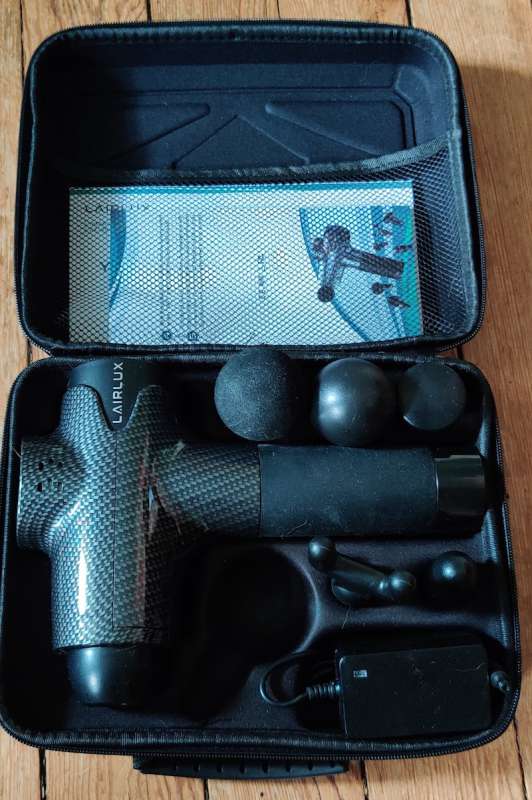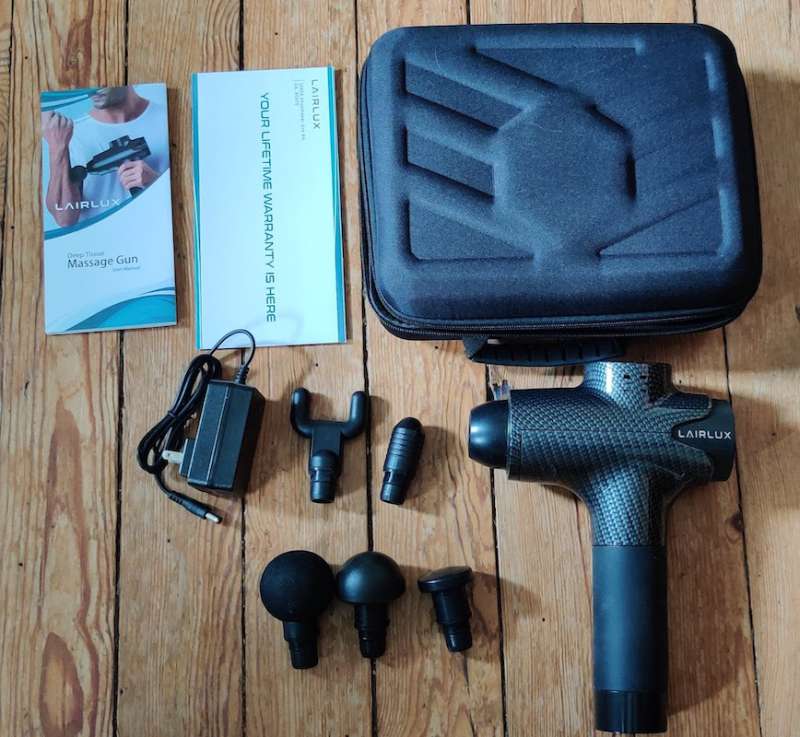 Hardware Specs
Battery Life: 

2-6 hours

Battery Size:

2500 mAh

Charge Time:

1.5 to 2 hours

Motor Speed:  1200-3200 RPM

Speeds:

20 different levels of percussion

Weight:

3.7 pounds
Design and Features
The Lairlux Percussion Massage Gun feels substantial in hand, with a bit of heft.  It's mostly black plastic with a faux-carbon fiber weave finish, and the handle is rubberized.  The charging port and on-off switch are on the bottom, and the speed controls and indicators for speed and battery are on the back.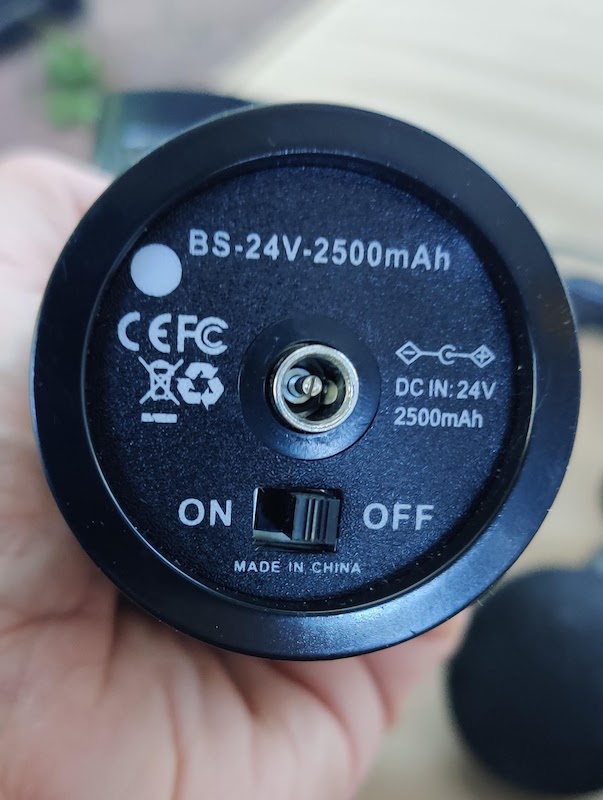 It features 12 levels of adjustable power, which really just adjusts motor speed. The strength of each percussive impact remains the same across the range.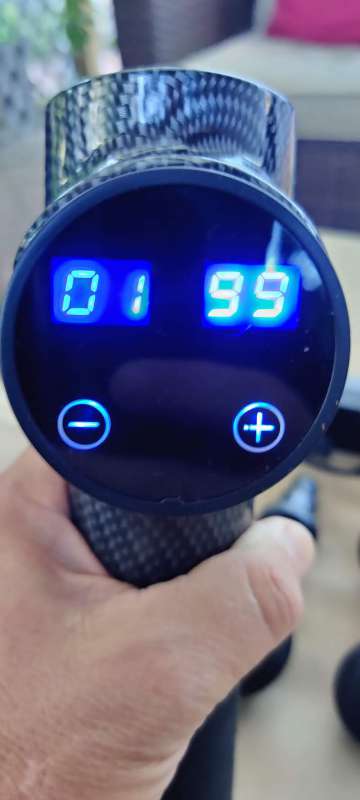 The Lairlux Percussion Massage Gun features a 10-minute timeout to prevent muscle damage.  After 10 minutes of use, the gun will shut down and need to be reset before powering up. 
It comes with six massage head and a high-quality manual that describes the use for each. The big ball head is for large muscles in the waist, abdomen, buttocks, and legs.  The flat head is for chest and other large areas.  The U-shaped head is for the shoulders, cervical spine and bilateral muscles. The bullet head is for soles, palms, achilles, and the back rhomboid muscles.  The small ball head is for the small muscles of the shoulders, neck, and legs.  Finally, the dampner head is tender or bony areas. 
The heads attach into the massager with a simple friction fit held in by a rubberized piece.  
The soft case includes a molded location for all attachments, the charger, and the gun itself.  There is a handy handle on the case which makes it easy and convenient to use on the go.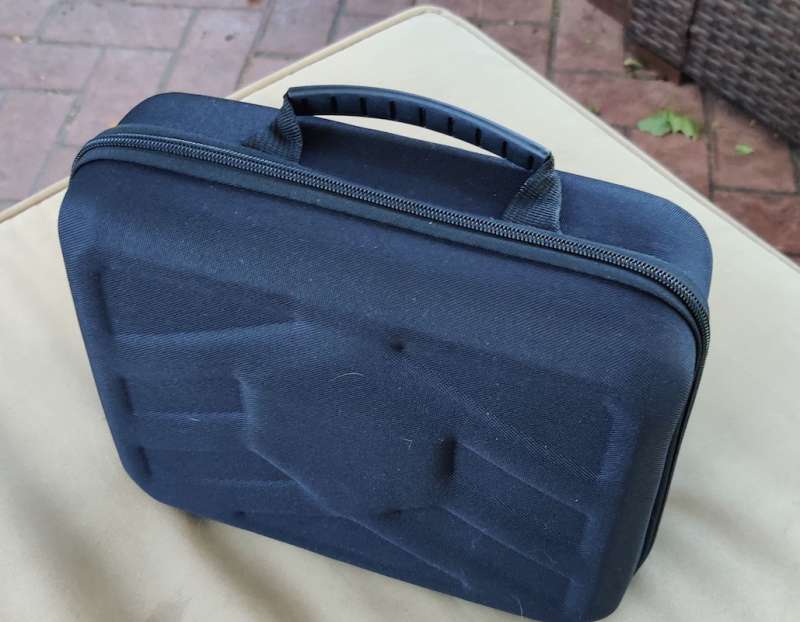 Performance
As a percussive massager, the Lairlux Percussion Massage Gun works very well. The battery life is amazing.  In my month or so of testing, I have never had to charge it.  The battery indicator still reads 99 (it will only read 99, 80, 60, 40, and 21%). For a massage gun that shuts off after 10 minutes, having a battery that lasts up to 6 hours is nice, but perhaps a bit overkill. 
The massage heads fit very securely into the gun, with a simple friction fit secured by a rubberized band on the head.  This fit is so secure in fact, that several times when using the foam heads, I pulled the foam off of the head before I pulled the head out of the gun. 
When you first pick up the gun, it feels substantial in your hand. After a few minutes of using it, two things emerge. First, it's heavy. Almost 3 pounds doesn't sound like much, but holding 3 vibrating pounds for up to 10 minutes is fatiguing.  Perhaps using a smaller battery could have made the gun lighter.  Additionally, there are no ergonomics built into the gun.  It's well balanced in the hand, and the area you hold is rubberized, but completely round.  I have large hands so it was not uncomfortable for me, but my wife noticed it became difficult to hold after a few minutes, with smaller hands.  Some attempt at an ergonomic grip could have solved this. 
The controls are adequate, but seem a bit dated. The main power switch is very basic and is on the bottom, far removed from the other controls, on the back of the unit.  The back controls include simple touch-sensitive buttons for increasing and decreasing the speed.  There are two numbers displayed on the back above these switches.  They are unlabeled but are for the power setting, and the battery indicator. 
The Lairlux massage gun is very quiet.  I was able to use it on my legs after a long bike ride while watching a movie with my family, and no one complained, aside from our dog, who for some reason, is terrified by the massage gun. 
I did use the gun after some long runs, when I would have likely been a bit sore the next day.  The gun is pleasant to use, although never really took it off of the lowest setting.  Does it work to prevent soreness? Who knows.  Without a rigorously designed experiment, it's hard to say for sure.  And even those have conflicting results.  But I do know that I was less sore the next day than I was expecting.  So maybe that's a win?
What I like
Incredible battery life (maybe too long?)

Very quiet

Very adjustable RPM range

Quality build and construction

Nice case
What I'd change
A smaller battery would have still been adequate while making it lighter

Include some ergonomics in the design

Move the power switch from the bottom to some place that can be operated by the hand holding the gun
Final Thoughts
Deep–tissue percussive massage may be helpful in recovering from exercise and in preventing delayed onset muscle soreness (DOMS).  Until recently, you had to spend several hundred dollars to experience that benefit.  But with the Lairlux percussion massage gun, you can thump your soreness away for much less, with a bunch of attachments, a huge battery, and a sturdy case to go along with it. 
Price:  $119 on the Lairlux web site, lower but the variable price on Amazon (look for coupons on the Amazon page)
Where to buy:  Lairlux or Amazon
Source: The sample for this review was provided by Lairlux.