We use affiliate links. If you buy something through the links on this page, we may earn a commission at no cost to you. Learn more.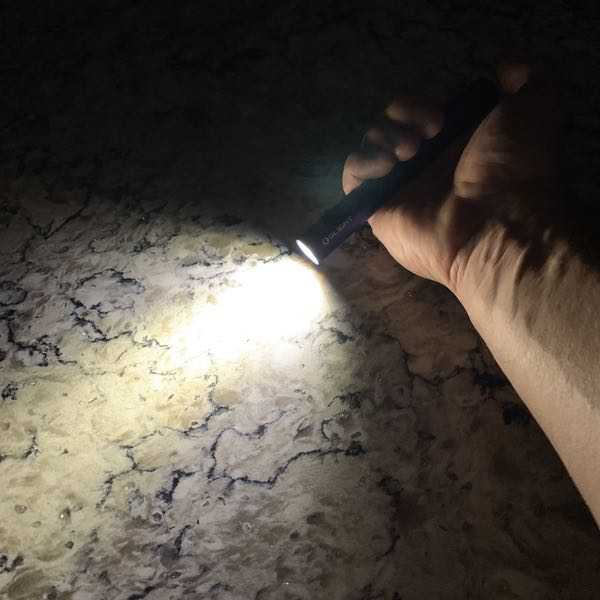 REVIEW – It's never a bad idea to have a flashlight in your EDC kit, and the Olight I5T Pebble Plus Flashlight is volunteering for duty. It's pretty, but does it do the job? Let's find out. To the review!
What is it?
The The Olight I5T Plus Pebble is an LED flashlight for your EDC gear collection.
What's in the box?
You'll get the Olight I5T Plus Pebble with 2 AA alkaline batteries.
Hardware specs
5.71″ long by 0.7″ wide
3.14 ounces including batteries
Compatible with rechargeable batteries
Available in 4 colors
Selectable brightness (550 lumens or 15 lumens)
Three available LED color temperatures: cool white (5700-6700k), neutral white (4000-5000k, or warm white (2700-3700k). My test model is the neutral white.
 IPX8 water resistance
Impact resistant to 1.5 meter drops
87 meter maximum range
Up to 54 hours of battery life at the low setting
Design and features
The official description of the Olight I5T Plus Pebble Flashlight uses the term "stylish" quite often. I think is an attempt to separate it from tactical-style EDC flashlights. And it does meet that criteria. It looks just fine and is available in four colors: blue (shown here), orange, black, and green.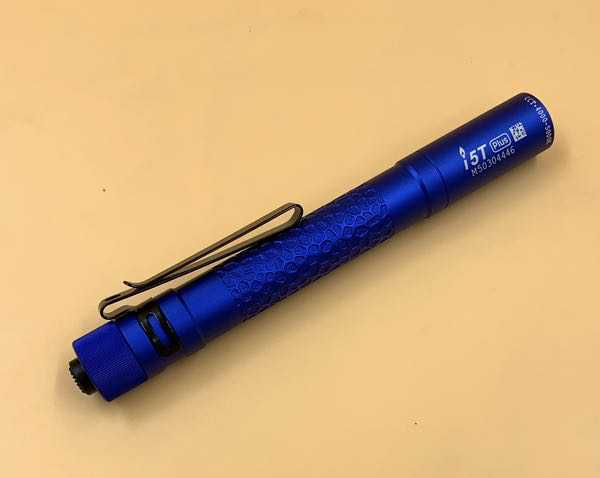 I believe the build is aluminum and features a pebbled texture on the barrel. I'll let you decide if it is "stylish," but the texture does help by adding a no-slip grip.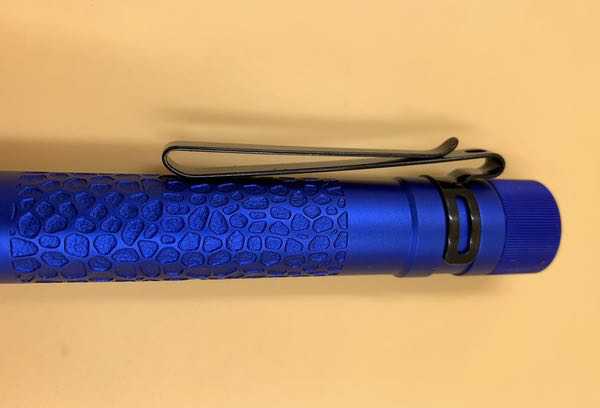 The Olight I5T Plus Pebble has some EDC-worthy functionality. The two-way clip allows you to clip it to your bag or on your bag multiple ways and adds a drilled hole to attach it to a lanyard. The flashlight is rated for IPX8 water resistance which means it can be submerged, and it has an impact drop rating of 1.5 meters. Not exactly mil-spec, but still durable enough to carry around for day-to-day usability.
The overall length is just under 6 inches, which is nice for handling… much better than those stubby EDC flashlights that disappear in your hand. It also weighs just over 3 ounces including the two required AA batteries.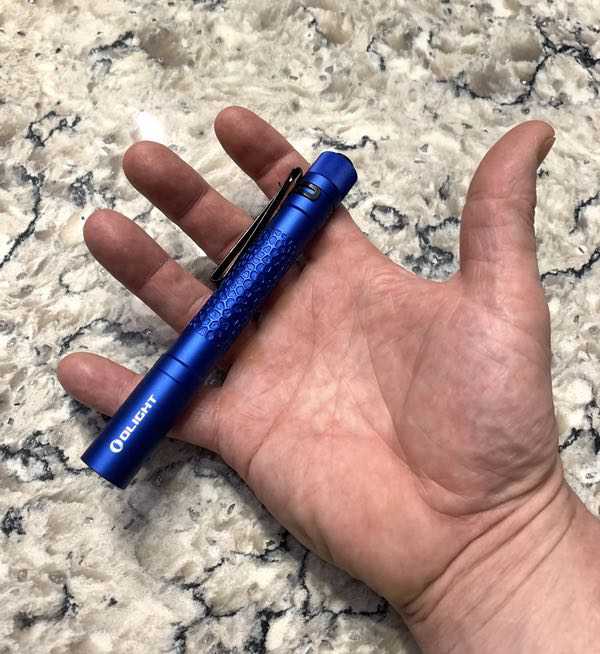 Your business end is an LED light that has two brightness modes. Note that there are three different LED color temperatures to choose from. My test model is the middle of the road neutral white (4000-5000k).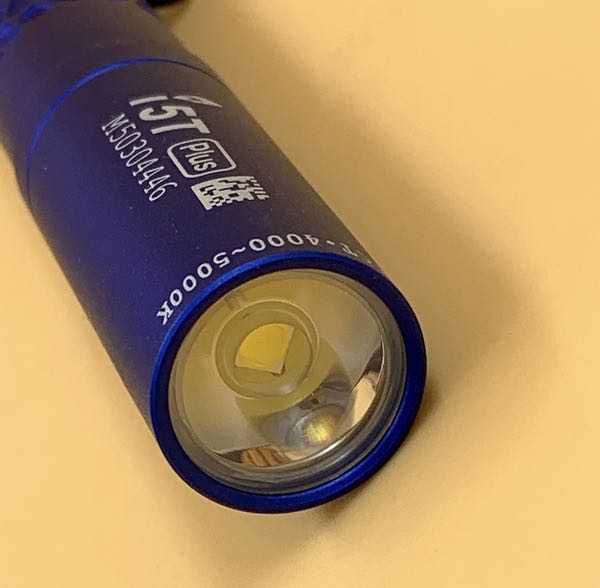 The light is activated by pressing the button on the opposite end of the barrel.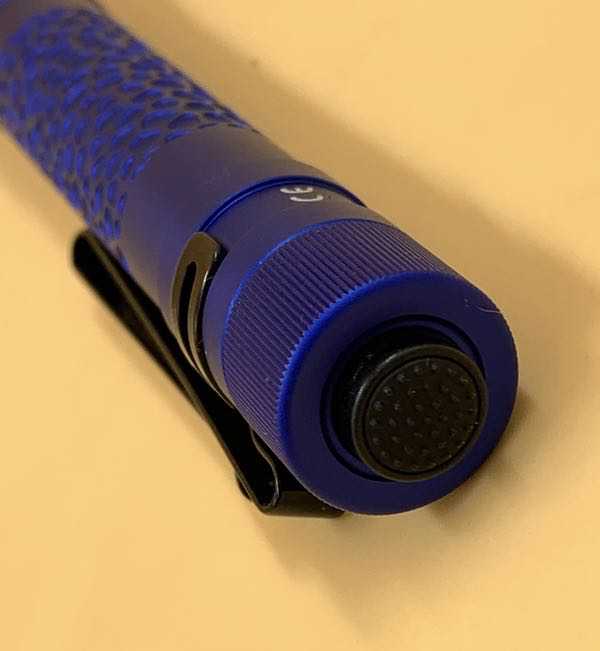 The button is big, rubberized and has a knobby texture with good tactile feel when you're clicking away. Operating this light with gloves on won't be a problem.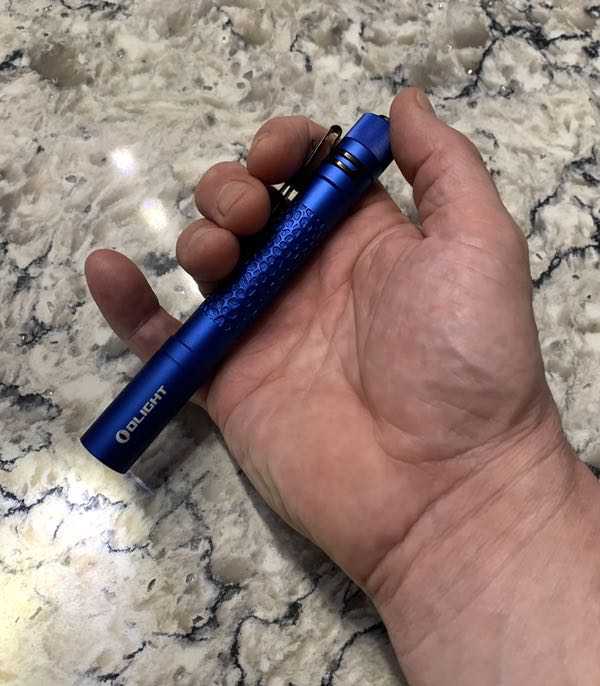 The Olight I5T Plus Pebble Flashlight offers two brightness levels. Click the button once and you'll get the low level (15 lumens) brightness.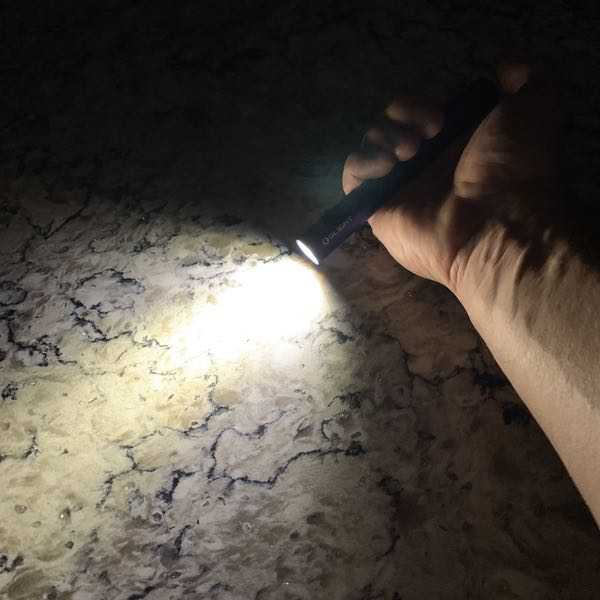 Click the button twice again in rapid succession and you'll get the high level (550 lumens) brightness.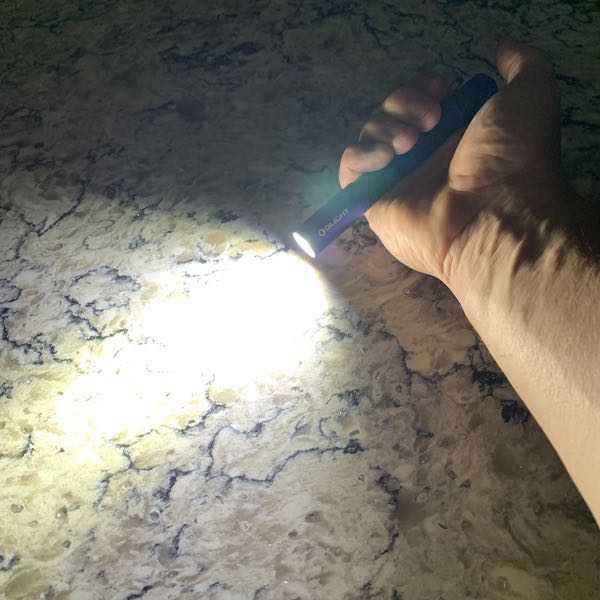 Here's another look at the difference, coming from my upstairs hallway. This is the low level brightness (kinda looks like I'm on one of those ghost hunter shows, doesn't it?).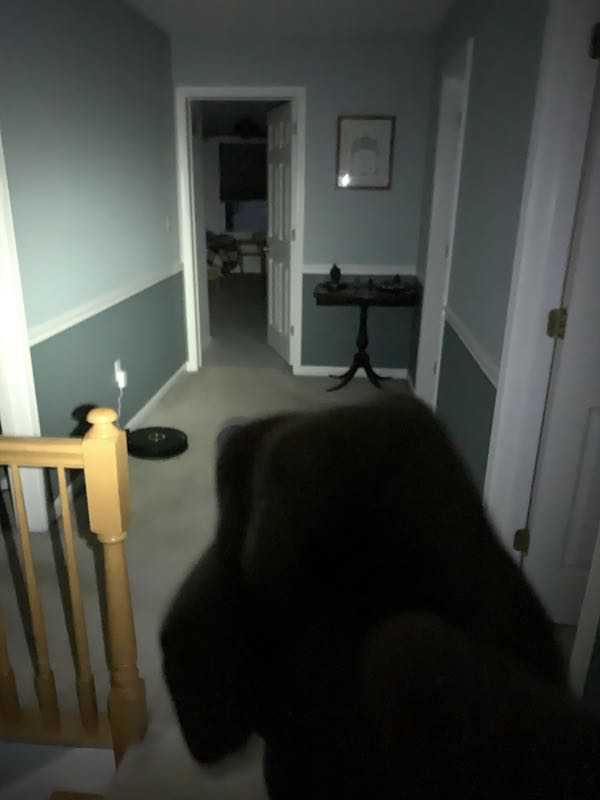 Now check out the high level brightness. Big difference there. The manufacturer claims that the max level has a range of 87 meters.
Olight states that the Olight I5T Plus Pebble flashlight will go for up to 54 hours of continuous use at the lower brightness level. High level won't last nearly as long. You'll get 3 minutes at 550 lumens, then it drops to 300 lumens for 30 minutes, then 55 lumens for up to 130 minutes. That's under continuous use, though.
I do like the ability to switch between low/high modes, and that the flashlight defaults to a low brightness setting with the option to crank it up. This makes it a bit more usable in my mind.
What I like
Lightweight & comfortable
Easy to handle with wet hands or gloves
Maybe not mil-spec, but durable enough for everyday use
2 brightness levels
What needs to be improved
A built-in rechargeable battery would be nice
Final thoughts
I think the Olight I5T Plus Pebble Flashlight makes for a solid addition to your EDC kit. It's comfortable to handle, has some reasonable durability/waterproofing, and has good life on a pair of batteries. I dunno that I'd call it "stylish," but it looks good and doesn't have that tactical vibe. It does the job.
Price: $39.95
Where to buy: Olight
Source: The sample of this product was provided by Olight.