We use affiliate links. If you buy something through the links on this page, we may earn a commission at no cost to you. Learn more.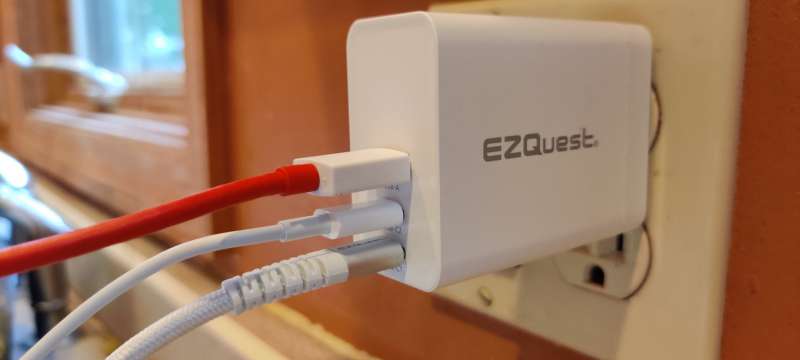 REVIEW – When I travel, I usually take a well-organized bag of chargers, adapters, and cords with me.  This bag used to be quite large and heavy, as each device usually needed its own charger, cord, and an adapter to make it work with any other device.  But now USB-C is becoming the norm.  Most of my devices use that standard (laptop, phone, ear phones, tablet), and chargers have gotten "smart" meaning they can easily adjust to whatever they are charging.  So that bag I used to travel with is now much smaller.  And with this EZQuest wall charger, I may be able to just about eliminate it.  
What is it?
The EZQuest UltimatePower 120W GaN USB-C PD wall charger is a portable charger with two USB-C ports and one USB-A port, capable of total charging of up to 120W, and adapting the charge to whatever it's charging.  
What's in the box?
EZQuest charger

European plug adapter
2M (6 ft) long USB-C cable
Manual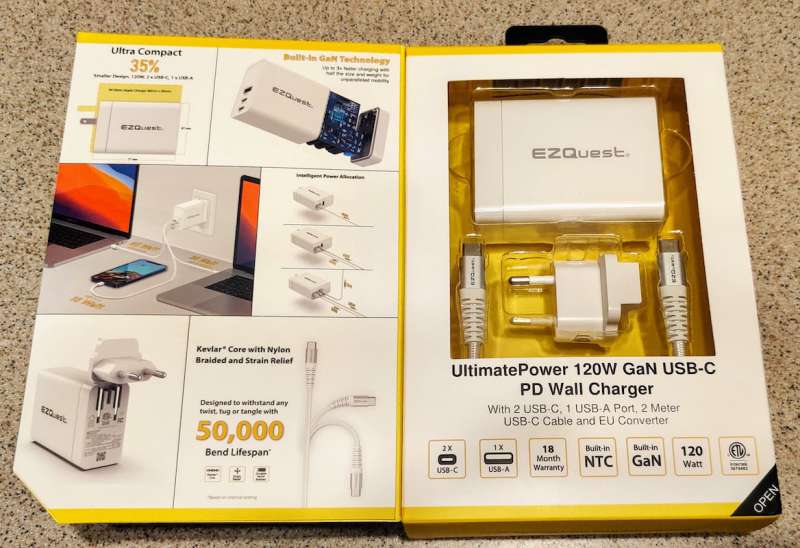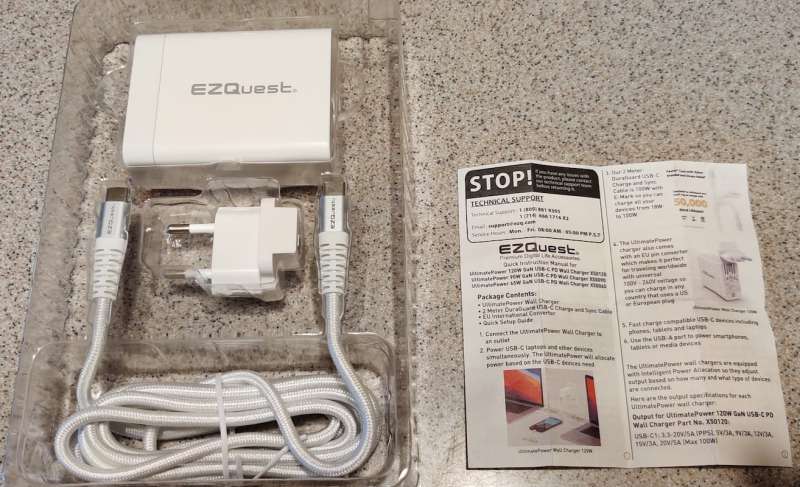 Hardware Specs
Input: 100-240V ~ 50/60Hz 3A

Output:




USB-C1: 3.3-20V/5A (PPS), 5V/3A, 9V/3A, 12V/3A, 15V/3A, 20V/5A (Max 100W)




USB-C2: 3.3-20V/5A (PPS), 5V/3A, 9V/3A, 12V/3A, 15V/3A, 20V/5A (Max 100W)




USB-A: 5V/3.5A, 9V/3A, 10V/2A, 12V/2.5A, 20V/1.5A (Max 30W)




USB-C1+USB-C2: 90W+30W/60W+60W/30W+90W (Max 120W)




USB-C1+USB-C2+USB-A: 65W+30W+18W/45W+45W+18W/30W+65W + 18W (Max. 113W)

Color: White

Weight: 214 g. 

Size:  77x57x30 mm

18-Month Warranty
Design and Features
The design of the EZQuest UltimatePower 120W GaN USB-C PD wall charger is by no means earth-shattering.  It's a white brick that plugs into an outlet and charges stuff.  What is unique is that it's very well built and capable of both charging and powering just about anything.  At 120W, this could power a macbook pro through the most power-intensive video rendering session.  It can quickly charge three devices at once through the three ports, but the total power out won't exceed 120W.  One thing to note about this power rating is that it's only 120W for the first 30 minutes. After that, output drops to 90W.  Still enough for most purposes, but if you for some reason have a need for continuous 120W, this might not be for you. 
It features a plug that folds easily into the brick, and includes a very nice 2M USB-C cable capable of delivering all of those 120W.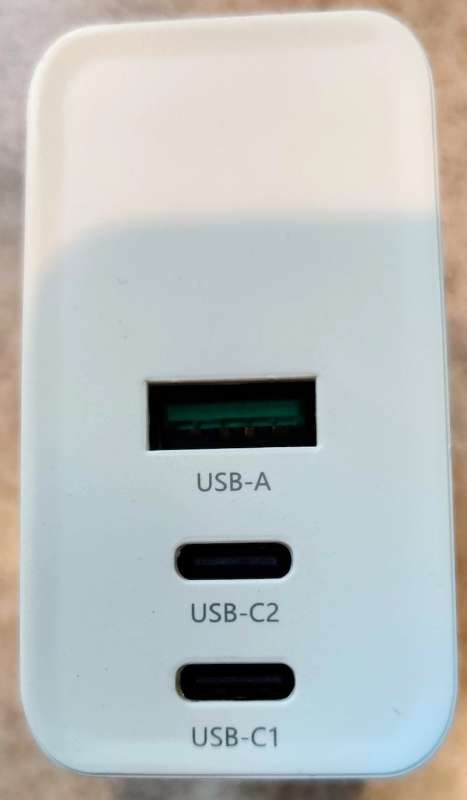 That cable is exceptionally well built, being sheathed in a beefy braided nylon, and with substantial plastic strain-relief bits on both ends.  The actual USB-C ports on the cable are of the higher quality one-piece type that generally makes for a longer lasting positive connection.  

And, it comes with an easy-to-use european adapter for you international travelers.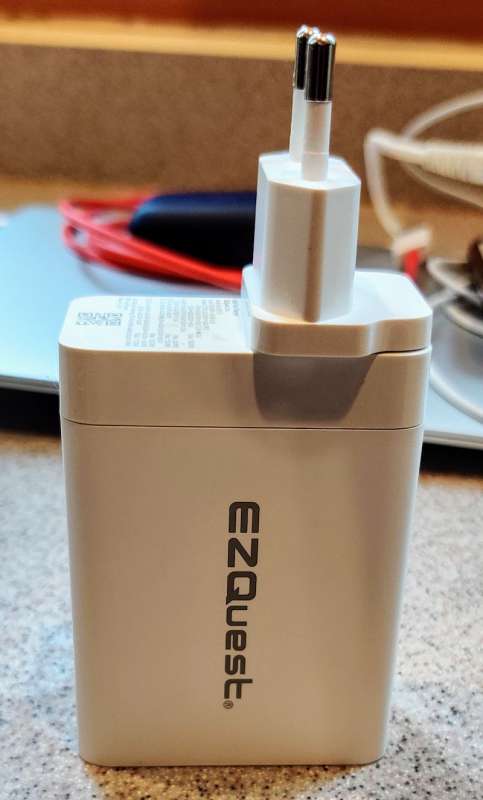 Performance
I've used this charger to power my work laptop during the day, and to charge my EDC devices at night. Performance has been flawless.  One really nice touch is that the plug placement on the charging brick is such that, when plugged into a standard US outlet, the other plug is still available.  Some other chargers I've used position the prongs to deliberately block the other plug on the wall socket.  This allows you to actually plug something else into the wall!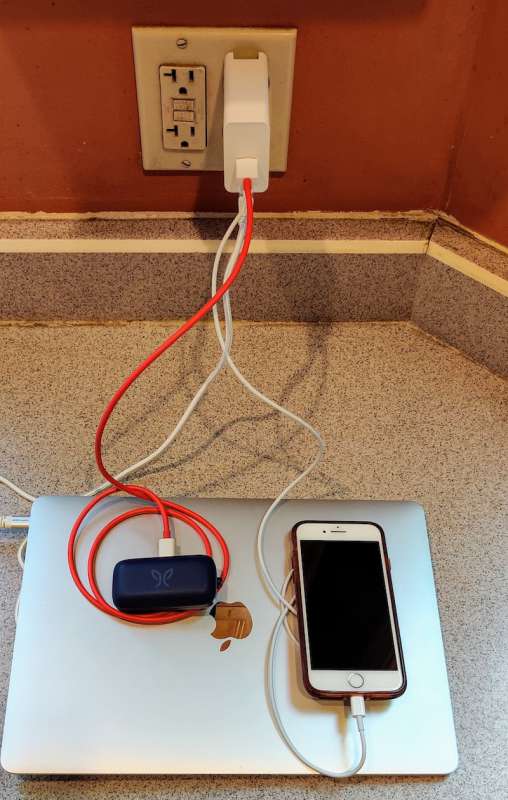 The EZQuest UltimatePower 120W GaN USB-C PD wall charger is not a lightweight charger.  Clocking in at 214g, it really does feel like a brick. It's substantial, which may be an issue for ultralight travelers.  One reason may be that the charger is filled with a thermally-conductive epoxy for heat management.  It must work because the charger never exceeded "warm" even under heavy use outside on an almost 90 degree day. 
What I like
Compact size

Charges everything

Smart technology

Capable of powering and not just charging

Very sturdy USB-C cable included

Still allows use of the other plug on a standard US outlet
What I'd change
Nothing, really. It's pretty good.
Final Thoughts
If you travel, or even if you don't, this is a solid charger that can handle multiple devices to both charge and run.  It comes with some nice extras like a high-quality 2m long USB-C cable, and a European adapter.  It's a bit on the heavy side, but not unlike any comparable charger. Robust construction and a decent price make this a good choice for anyone looking to add an additional charger at home, or simplify their travel kit of chargers and adapters.
Price:  $79.99
Where to buy: EZQuest or Amazon
Source: The sample for this review was provided by EZQuest