We use affiliate links. If you buy something through the links on this page, we may earn a commission at no cost to you. Learn more.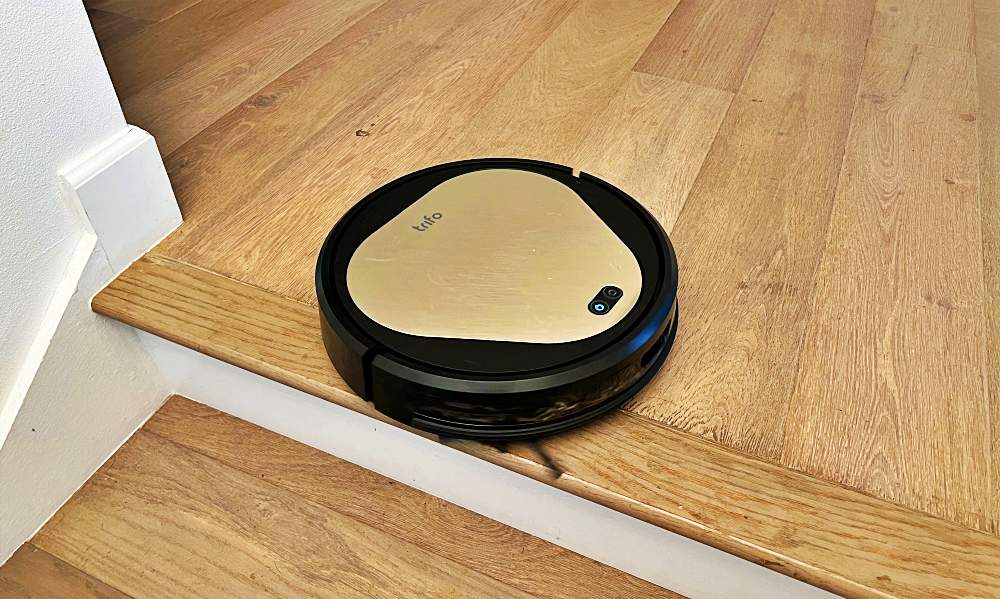 REVIEW – Think all robot vacs are the same? They certainly all seem round. Trifo's Ollie fits that mold but had a few surprises for me through the test period, and it's been reliable enough that it's definitely worth a look if you're thinking a robot vac is in your future.
What is it?
The Trifo Ollie is a robot vacuum with increased suction and brush specific to the needs of pet owners. Additional features include HEPA and charcoal filters, map management including no-go zones and an onboard video camera for live views while cleaning.
What's in the box?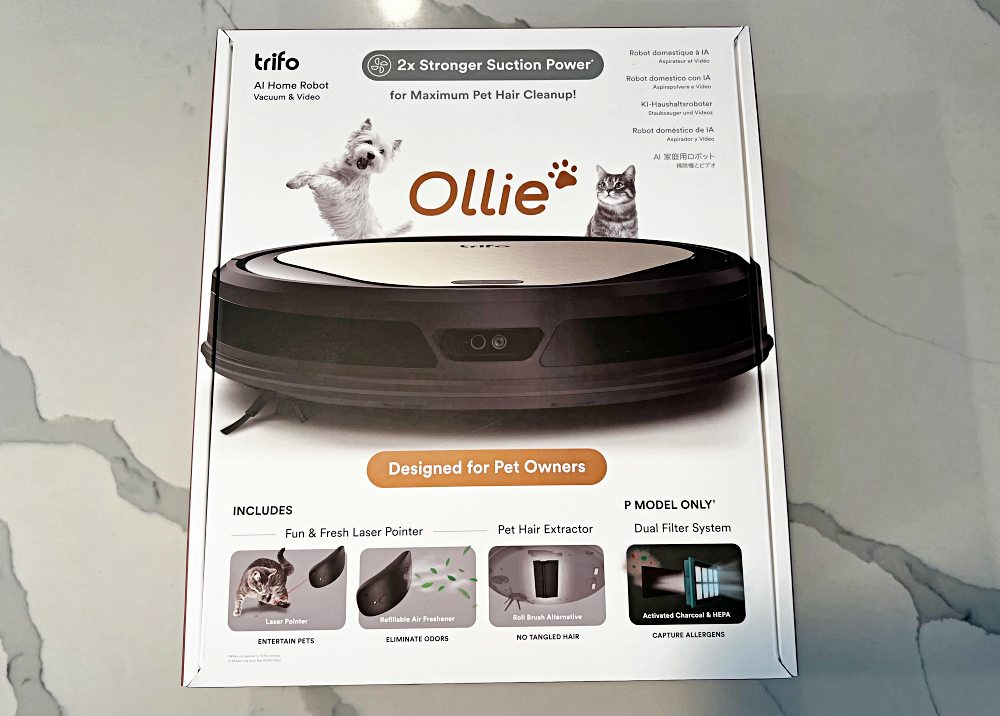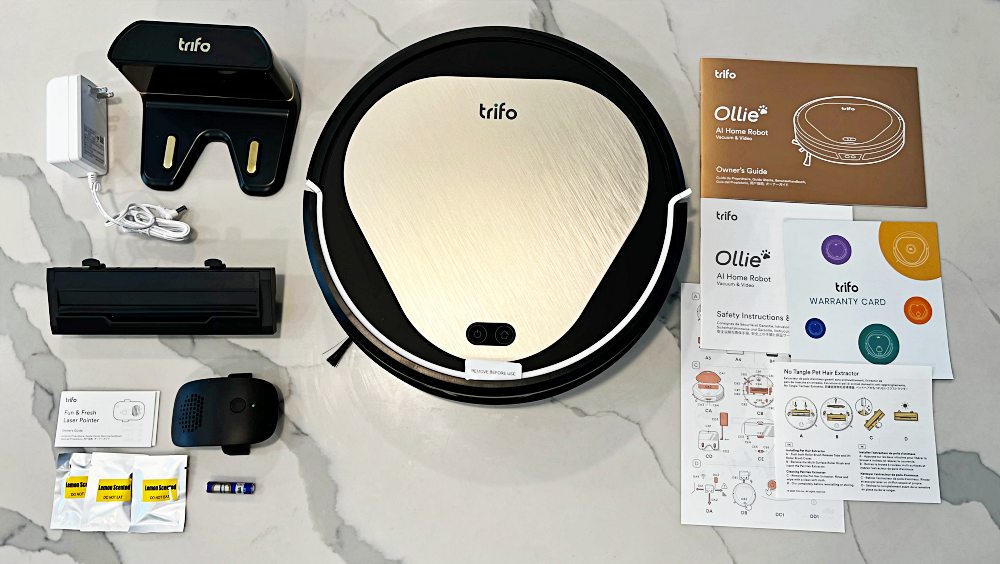 Trifo Ollie robot vacuum

Docking station

Power adapter

Pet hair extractor

Fun & fresh pointer w/ battery

Scent packs

User manuals and warranty card
Hardware specs
Suction: 4,000 Pa (Pet (P) or Ultra (U) models)
Dustbin Capacity: 600 ml
Runtime: 2 hrs on a full charge
Camera: 1080p true color camera with time-of-flight depth perception
Design and features
The Trifo Ollie is a somewhat stereotypical round vacuum that drives onto its own dock to recharge. Unlike some other robot cleaners, Ollie backs onto the dock and additionally is able to clearly talk to you in English (and 9 other languages) rather than tones or beeps you have to decode.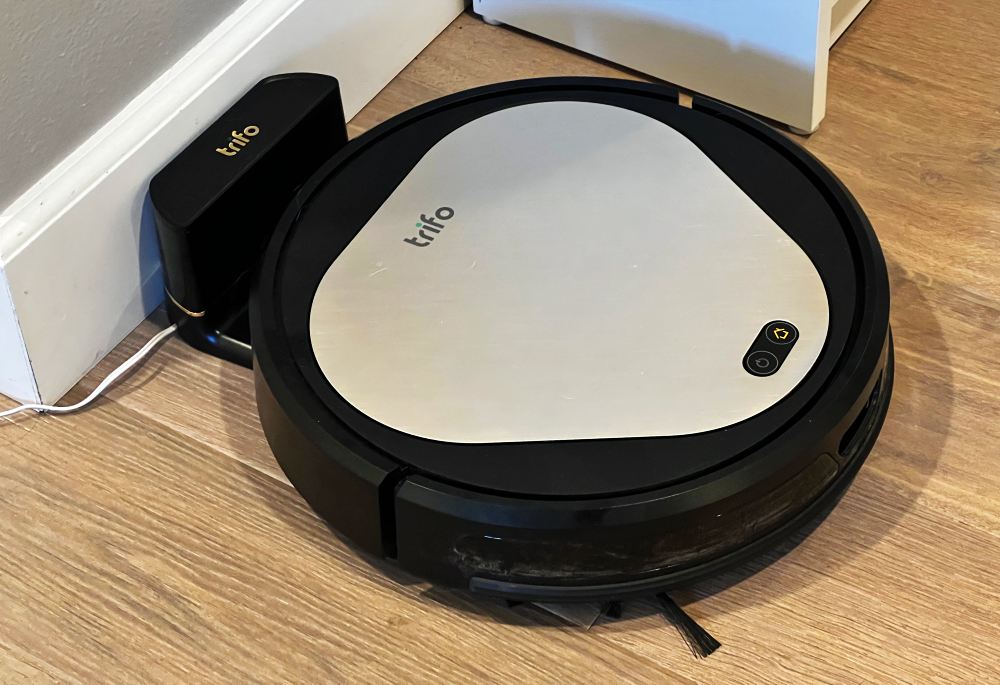 It has two main drive wheels, a front (shopping cart) wheel and a sweeper brush that pulls everything in the robot's path towards the larger hair extractor underneath. The two latches at the back edge of the intake make it very easy to open and clean out tangles which will inevitably happen.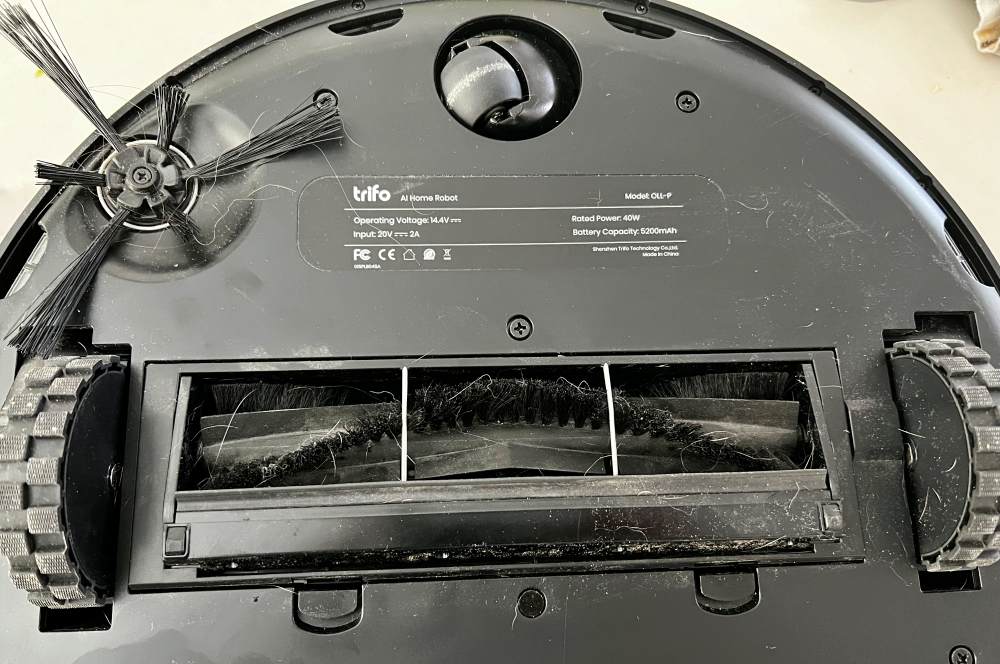 A separate laser pointer is included for tormenting your cat or dog. It's aimed about 30º behind and to the side of the direction the robot is heading to keep pets out of the cleaning path.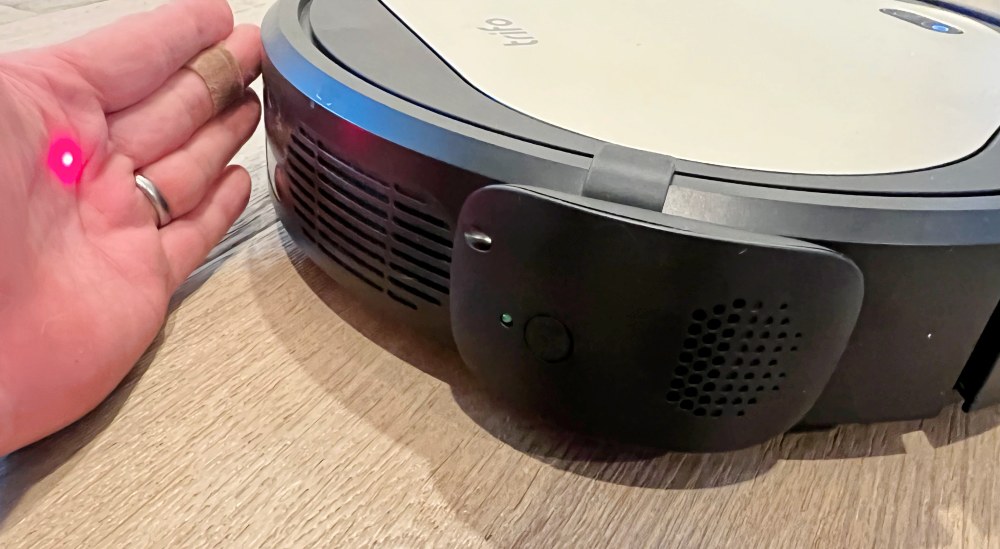 Setup
Connect the charging dock to a wall outlet near where you want to locate the Trifo Ollie and place the vacuum onto the dock so that the rear sits on the brass charging pads. I had to use an extension cable to have it reach the nearest outlet.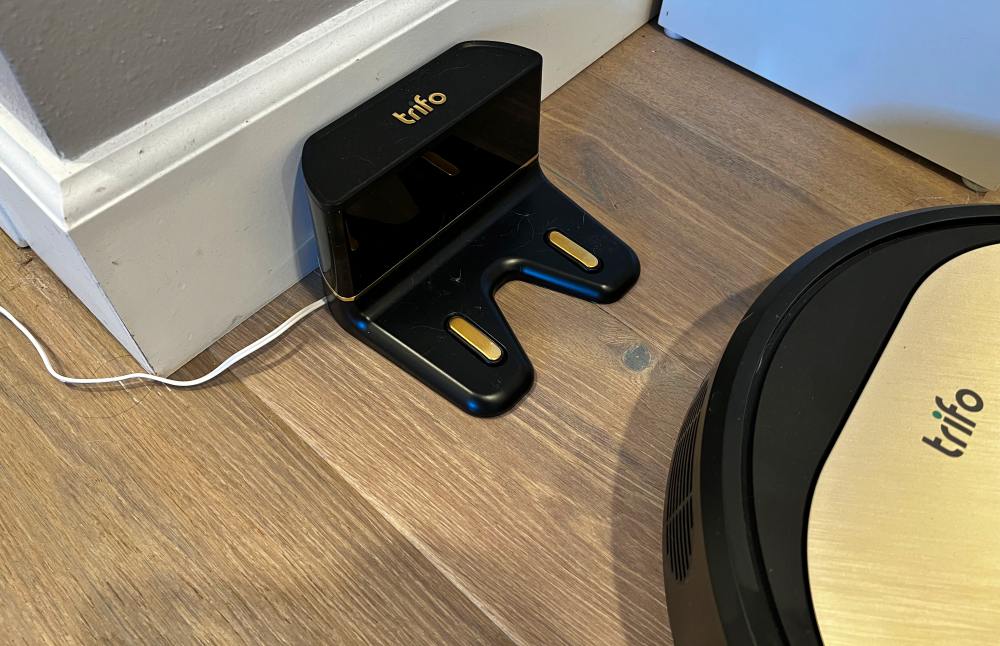 Download the app onto your mobile phone and follow the prompts to set up an account and get things started. This includes installing a couple of updates. You will have already heard the robot loudly tell you what it's doing a couple times by now and will form an opinion as to how you feel about that including how to find the volume levels in the app. There's also a silent mode which keeps things quieter.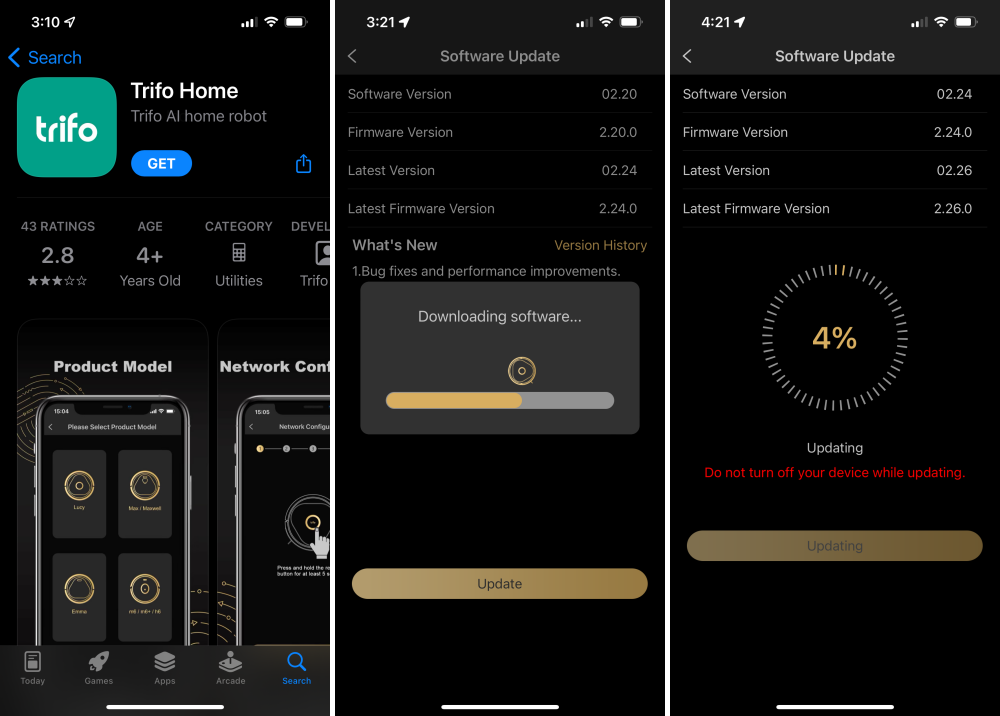 Once all the setup and updates are complete you can start your first cleaning. You can do that by pushing the clean button on the robot itself, but why would you when you can do it in the app from wherever you are?
Performance
This is Ollie (one of my two dogs) and he is a sweetie and a serious shedder.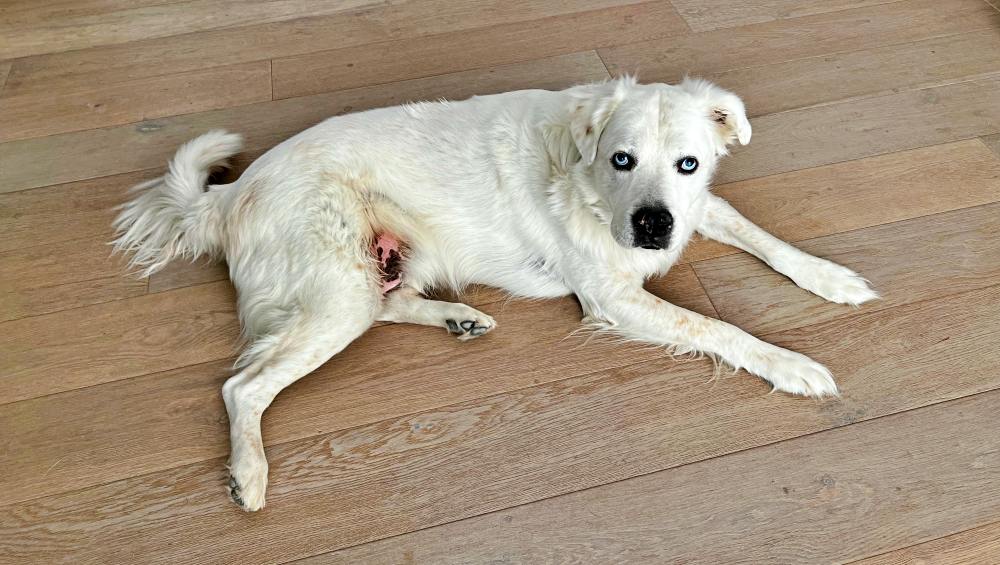 This is also Ollie. I can't say the two are best buds, but they get along just fine and this guy cleans up after the other one pretty darn well.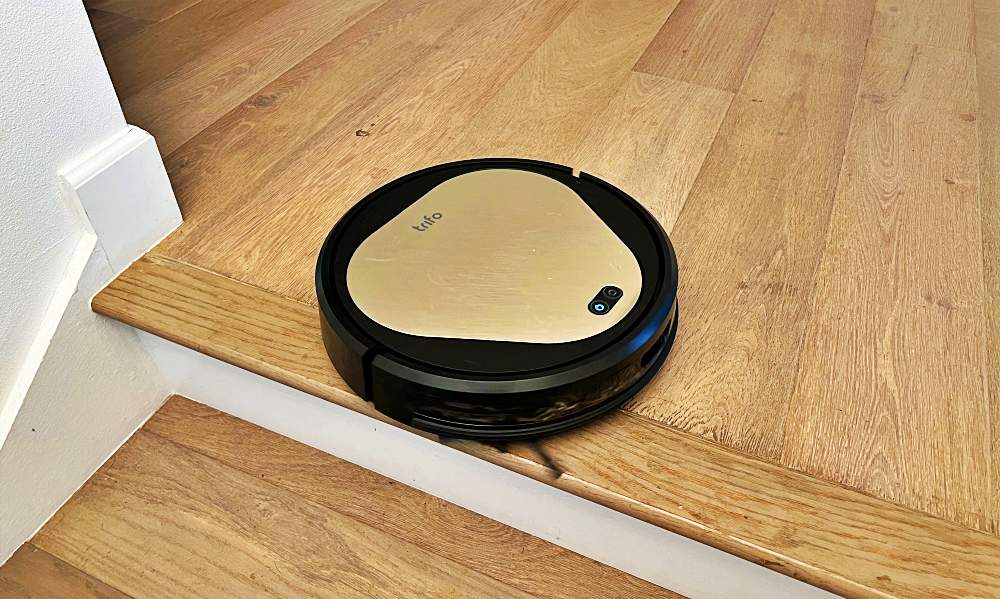 If you've ever used a robot vac, then you know there are some things that kind of come with the territory. Those can be obstacles, dangling cables, stringy rugs etc. All of those tend to require that you be somewhat present while the robot is cleaning. The Trifo Ollie robot vacuum has a few features that are game changers as far as I'm concerned.
First is obstacle avoidance. Sure it still has a bumper on the front that can tap a wall to tell the robot to turn around, but the onboard camera has depth perception that works so well it usually never makes contact with objects. It pauses just short and then changes direction and keeps cleaning.
Second, that camera has a live view which means you can keep an eye on it (or more accurately, see what it's seeing). Perfect if you've got one of those stringy rugs that like to get wrapped up in the collection brushes and hold vacuums hostage. When combined with the wonders of WiFi access, I was able to start a cleaning session at my home in CA while sitting at the kitchen table from my Mom's house in NY and watch for the troublesome rug in our bedroom. That rug is shown below. It shouldn't be an issue, but at just over 1″ tall, it's just high enough that Ollie won't climb it, but it has gotten stuck on one corner before. As a result, it doesn't get much past the entrance to our bedroom.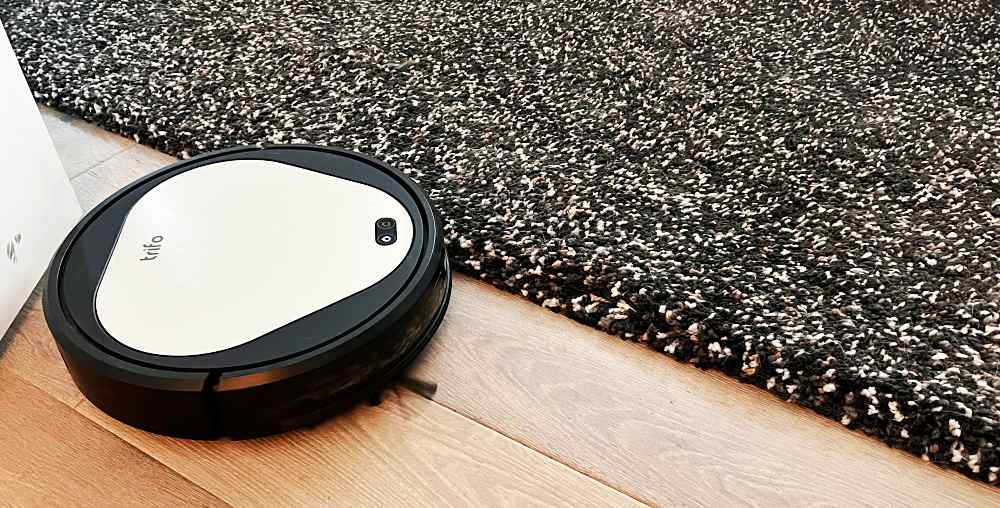 Third is the mapping and cleaning process. When you start the first cleaning with the Trifo Ollie robot vacuum, the map on your phone just starts to appear. Because of the camera, it appears in disconnected chunks where it's driving, but also what the camera is seeing ahead. So you'll start to see the path it's taking as well as a wall 20 ft away. The room then fills in as the cleaning continues. What's nice is that it's clear to see where Ollie has and has not been able to clean.
The first screenshot shows a downstairs room that is a normal rectangular shape. Ollie saw all the walls on its first 360 spin and then started cleaning which is shown in the tan color. It's a pretty good representation of how well the vacuum is able to hit the entire room. The right edge has wall mounted cabinets that float off the floor without enough room for the robot to get under, so that's why there's unfinished cleaning there.
The second and third screenshots show the upstairs where I've placed the charging dock and where Ollie usually operates. I had erased the map to let it start fresh. In the 2nd image you can see the location of the charging dock in the middle and that Ollie is in the guest room to the right. The master bedroom is on the left where it's only seen through the doorway so far. In the 3rd image, Ollie has made it just inside the master doorway a couple times so you're seeing fragmented walls and other obstacles.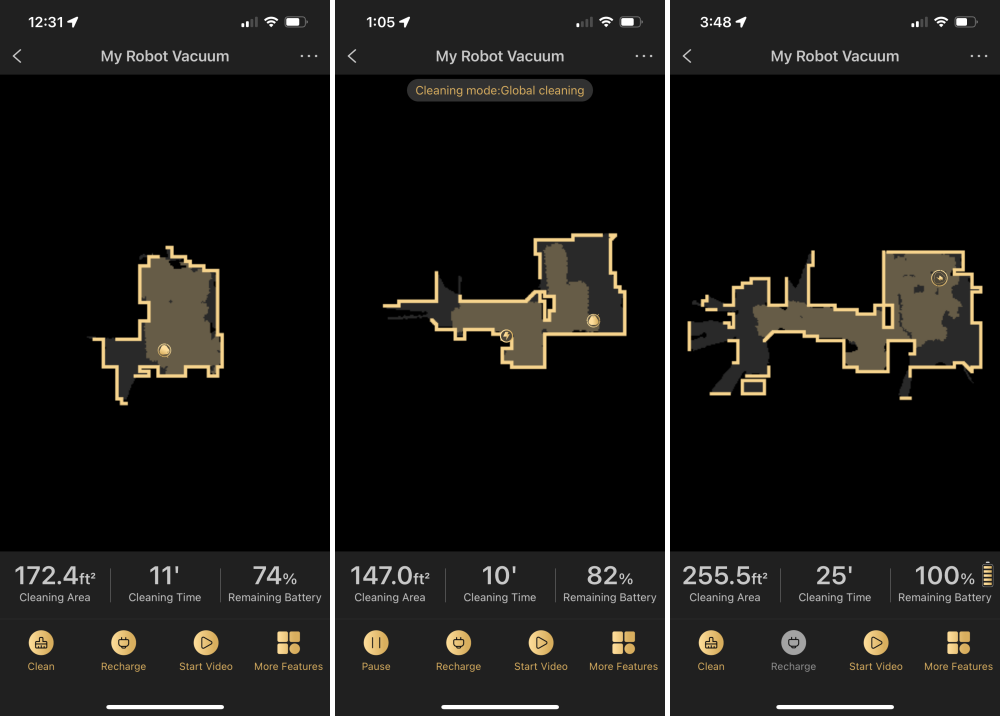 A couple of notes to pass along. You can adjust the volume of the speaking voice. It's pre-set at 50/100 and that's jarringly loud already. I turned it off all-together. You can also set up Ollie to work with Alexa or Google assistants. I don't use either of those so this isn't a feature I tested.
Cliff avoidance works well. There's a set of stair right outside our bedroom and Ollie sees it coming and hasn't had any issues avoiding it which is great as that has been a problem with previous robot vacs I've used.
As for cleaning, I've been really happy with both the coverage and power. I've had some previous robots where looking at the floor you might not be able to tell that cleaning had happened. Ollie's path management seems to work well, and it's really easy to empty the bin and detangle the sweeper and roller brush. Here's a shot of how full it can get with the amount of dual-dog shedding in our house.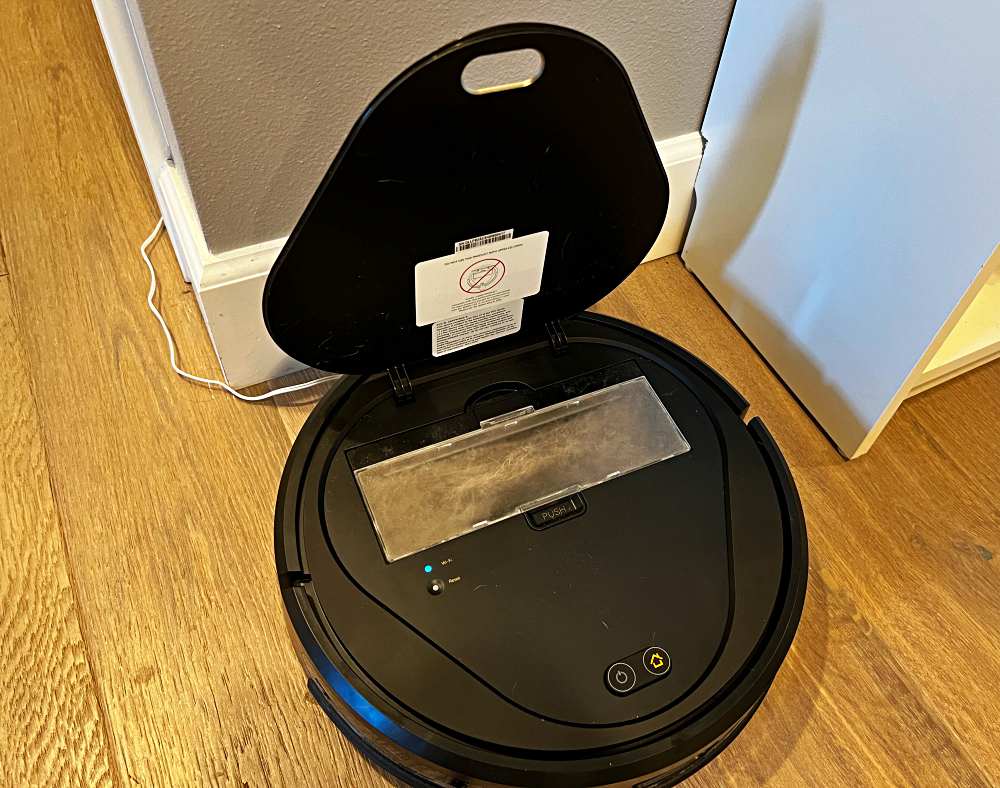 That push lever releases the bin, and then the bin flips open with its own latch.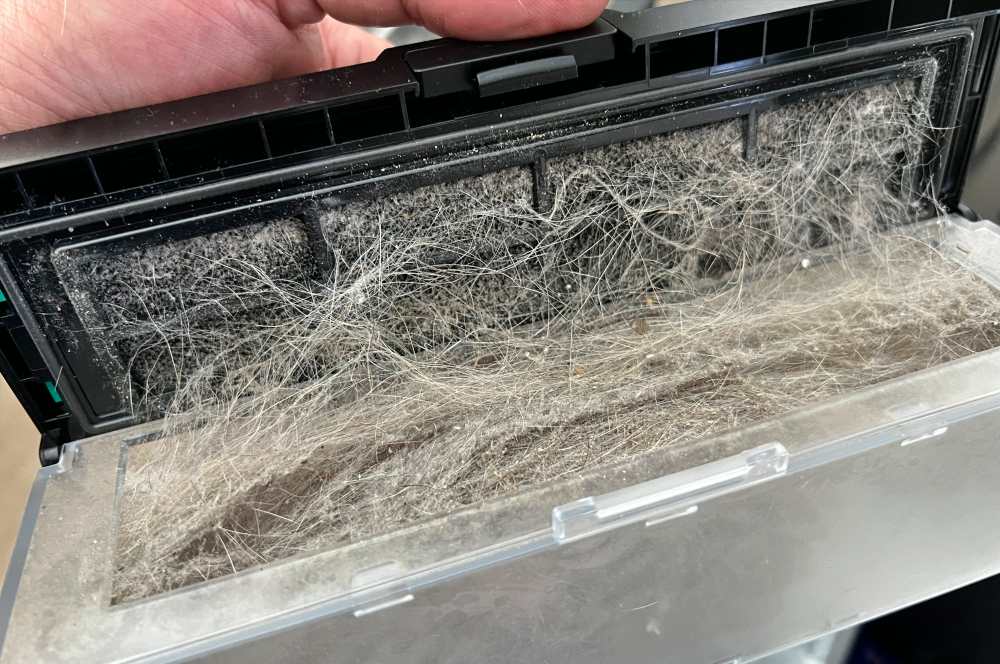 If the bin gets too full you end up with some extra hair in the roller, but I've yet to have clumps of hair on the floor left behind like with some other robot vacs. You can also see the tangle around the rotary sweeper. Takes all of about a minute to clean all this out. Pretty easy.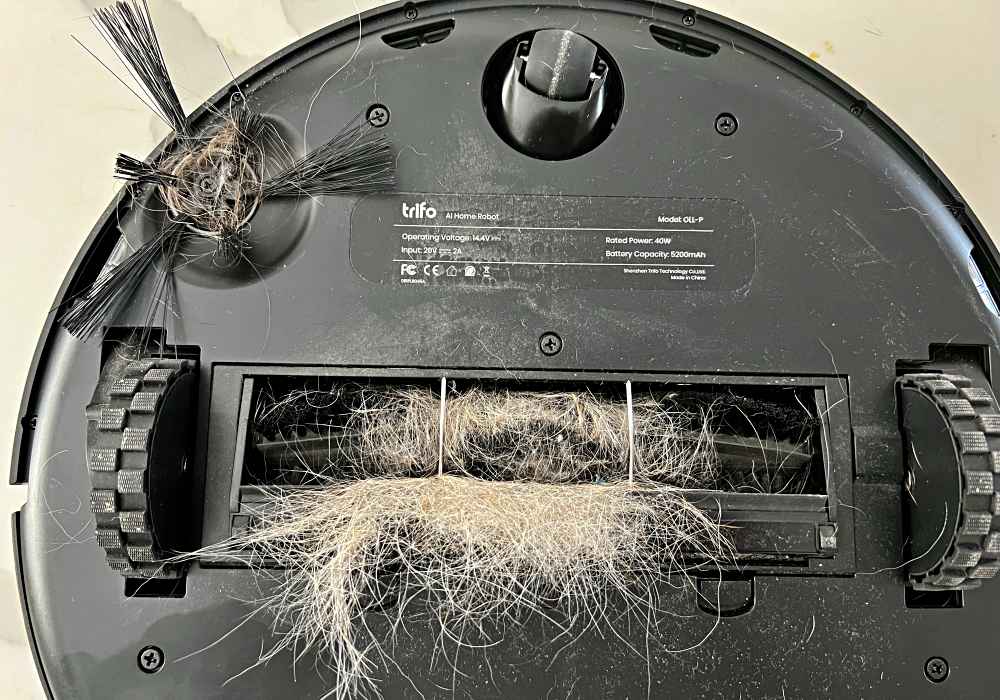 The laser pointer thing feels like a last minute addition that isn't worth it. It works, but it's completely independent of the robot and has no connection to the app, so you are either going to hold it in your hand to mess with your cat, or manually turn it on before cleaning and have the robot drive it around. The instructions for it are also super vague and didn't show how to mount it on the robot, so I was left to look at the pictures from their website and figure it out before taking it right back off.
Another setting that I didn't have the need to try out was motion detection. Because it has a camera and is connected to power when recharging, the app allows you to receive push notifications if Ollie detects motion. This is interesting, but you're likely to have a pet, which means you might get a lot of notifications. You're also able to talk to your pet through the app. My dogs could care less so it wasn't a useful feature for me.
I think the only time the depth perception on the camera hasn't worked was in the hallway on the initial cleaning where it kept ramming into a framed mirror that's leaning on the wall. My guess is the angle of the mirror prevents Ollie from reading it as a wall and the mirror above the frame might trick it into thinking the room was deeper than it is since it doesn't see its own reflection. That said, it's dealt with it properly after the first cleaning so it appears to be learning from its own findings.
Another nitpick is the map management. You're supposed to be able to edit the maps for a number of different reasons and I've had some trouble there. I haven't been able to breakup the hallway from the bedrooms and label them separately. I was able to set a no-go area, but not label it. I also wasn't able to set up a totally separate map for the lower floor, just remapped and obviously couldn't find its base station when finished as it was upstairs. The good news is that's all app-based editing, so hopefully the app will continue to get better.
The Trifo Ollie robot vacuum app already does a great job of showing you cleaning history, providing hours of use on brushes and filters so you can plan replacements accordingly, schedule control and even do not disturb settings to override any schedules you have set.
As I mentioned before, it really does clean well so the increased suction they mention definitely seems to do the job. Here's a quick video taken by the onboard camera and saved to my iPhone. It did not save audio which might be a privacy setting?
Here also is a really informative vid from their website which does a really good job of showing all the capabilities and it's worth a look.
What I like
Reliability and suction power
Mapping and general app capabilities
Camera view
Price!
What I'd change
Increase height limit for area rugs
Loose the laser pointer
Longer power cord cable
Final thoughts
I've been really happy with the Trifo Ollie robot vacuum's ability to clean and the generally low maintenance required to keep it running. Other than emptying the bin and some detangling, it's ready to go, I can start it from anywhere, tell it where and where not to clean and I can check in on it with video to make sure it isn't stuck on some rug or cable. Other than a couple of nitpick items, the main gripe is not being able to climb on to a slightly thicker rug. Solid value for the dollars.
Price: $299.99
Where to buy: Amazon (automatic discount and coupon provides significant savings over MSRP)
Source: The sample of this product was provided by Trifo