We use affiliate links. If you buy something through the links on this page, we may earn a commission at no cost to you. Learn more.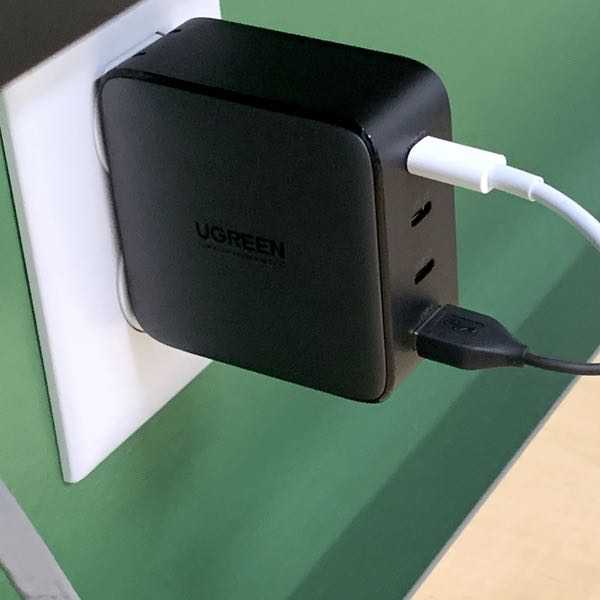 REVIEW – The UGREEN 100W USB C Wall Charger is designed to simplify your life by ditching all those extra chargers you need to haul around for your electronics. It's got all the right stuff: portable, 100 W power output, and four ports to plug in all the things. Does it do the job? Is my life simpler? To the review!
What is it?
The UGREEN 100W USB C Wall Charger is a travel-friendly 100W power brick that sports 3 USB-C ports, one USB-A port, and smart charging technology to juice up all your devices.
Hardware specs
2.7″ by 2.7″ by 1.3″
8 ounces
Fold-away plug
3 USB-C ports, one USB-A port
100W power
Temperature protection
GaN smart charging/fast charging technology
Design and features
The UGREEN 100W USB C Wall Charger is designed to replace that collection of power bricks you have to keep around to charge all of your stuff. It looks lovely with that metallic finish and black trim.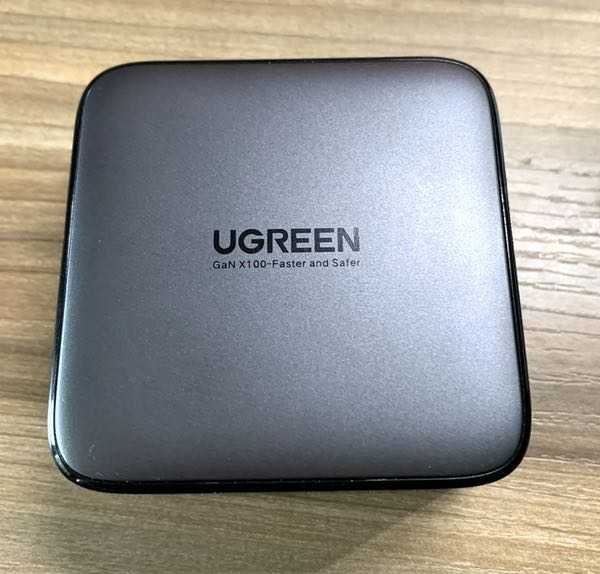 The charger weighs in at a chunky half pound, and it's bigger than your typical iPad/iPhone bricks. But it's smaller than the MacBook power brick and comes in at about the same weight. See pics for reference: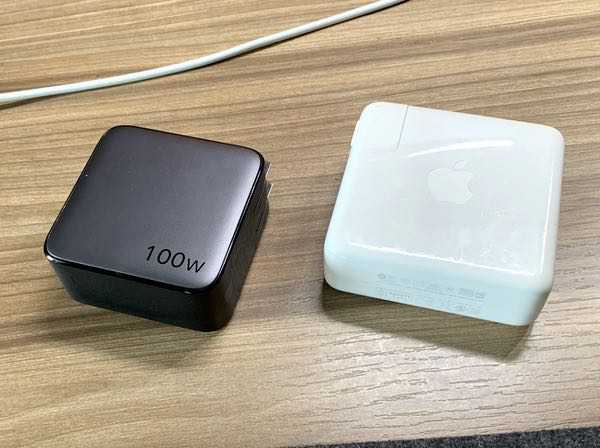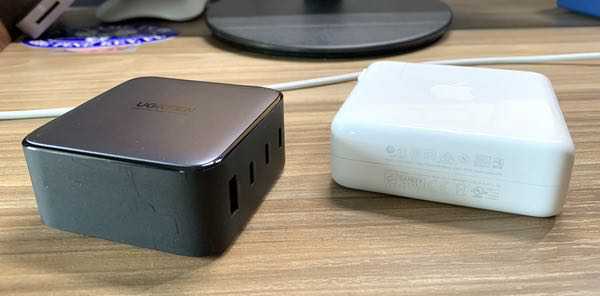 The power prongs on the charger fold into the body of the unit for packing and travel.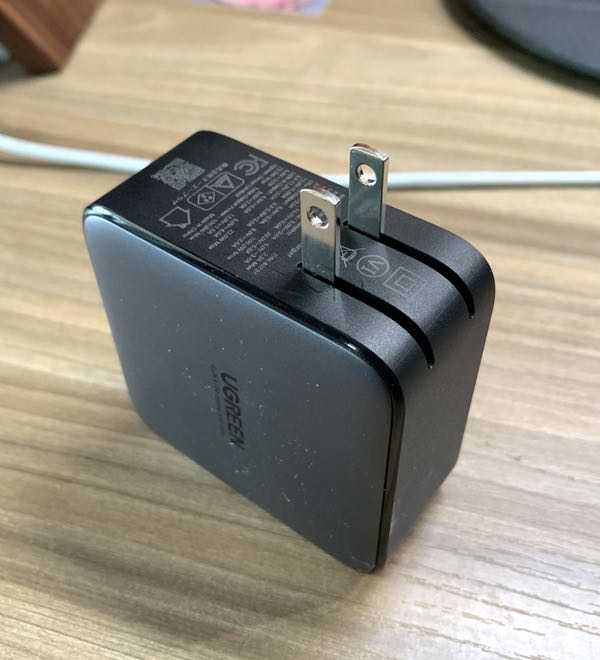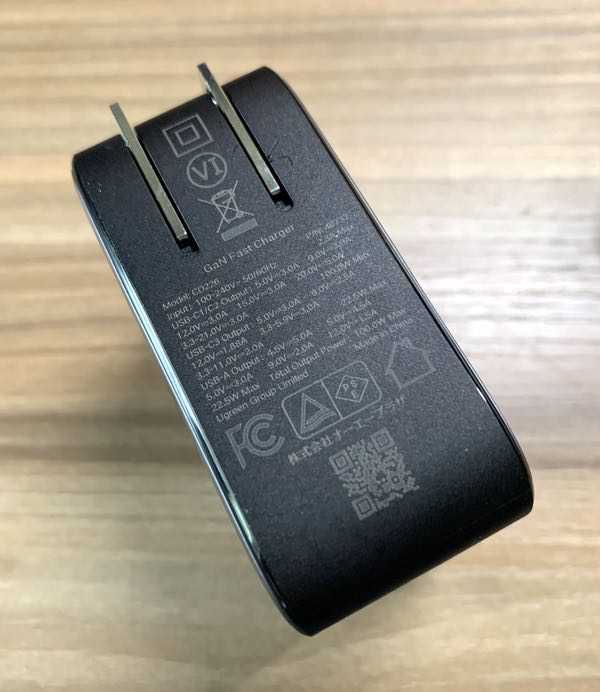 The business side of the UGREEN 100W USB C Wall Charger brick has three USB-C ports and one USB-A port for plugging in all the things.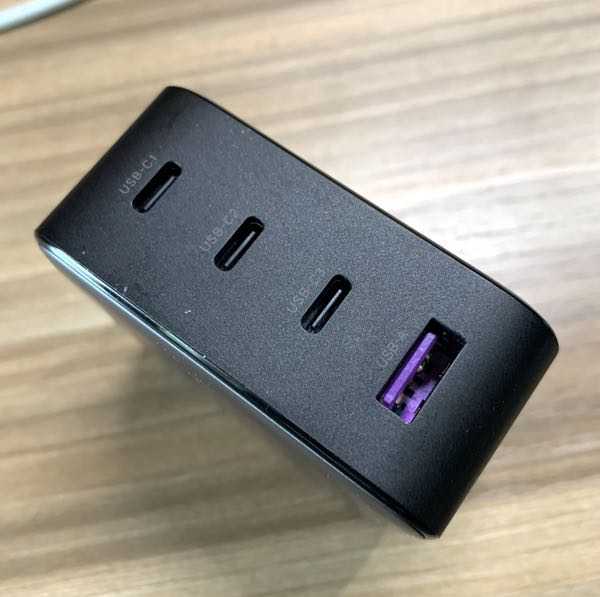 It's important to note that all of the USB-C ports are not created equal. The top two ports are rated to support up to 100W of power, while the third USB-C port and the USB-A port provide 22.5W of power. The UGREEN 100W USB C Wall Charger uses GaN smart technology for fast charging… but it also regulates the power to each port when you have multiple devices plugged in. It also continuously monitors the temperature of the charger to prevent overheating. We'll look at that in the next section.
Performance
The UGREEN 100W USB C Wall Charger is lovely for minimizing your EDC kit. Gone are the days of multiple bricks in my bag. I keep this guy in my briefcase to bust out whenever I need a charge on my MacBook, my work headphones, my iPhone, or any combination of the above. The USB-A port comes in handy for odd peripherals, like my earbuds.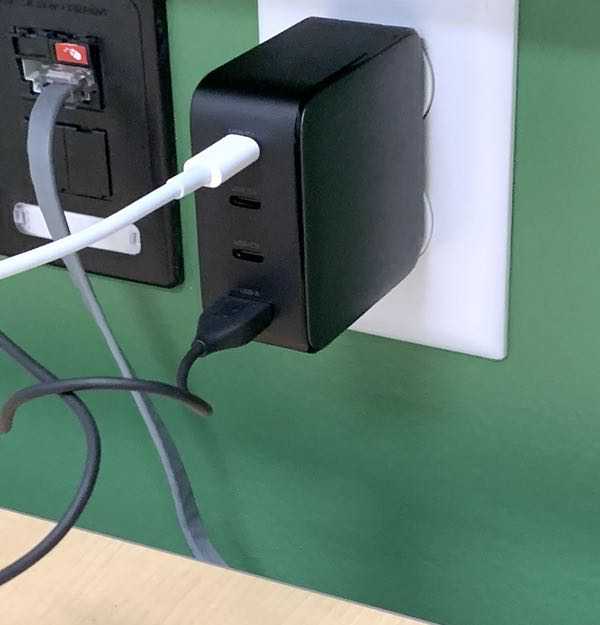 The charging situation takes some getting used to if you're using multiple devices. As mentioned above the charger sports two full-power USB-C 100W ports for laptops, one 22.5W USB-C port and one 22.5W USB-A port for phones/tablets/peripherals. Those are maximum power output ranges, however. Once you start plugging in multiple devices, the charger regulates the power to each port depending on use. Check out the chart below: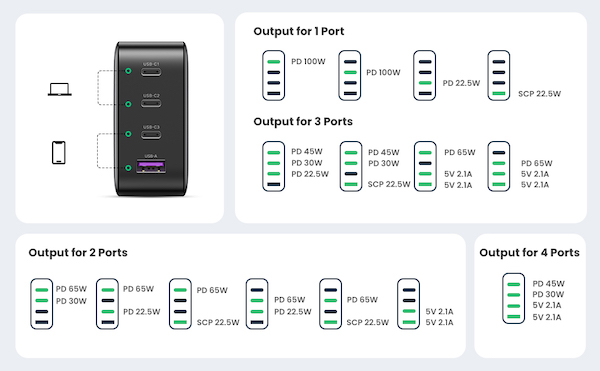 This all means that you won't get full charging juice to your MacBook Pro, for example, if you have the other ports in use. That also means that you may not be able to take full advantage of speed charging depending on what's plugged in.
Is this a problem? That depends on your situation. I took this brick on a recent vacation trip where my wife and I used it to keep our phones and tablets charged up between uses. The individual devices don't hit those higher thresholds, so we had no issues. If I have my MacBook and peripherals plugged in, however, it takes more time to get a full charge given the power requirements of the laptop. I did notice that the charger gets warm when the laptop is plugged in along with other peripherals and I'm doing heavy work on the laptop (like long video conferences), but not something I haven't seen from other chargers when demand is high.
One last note on overall use: you only get one USB-A port. Most of my stuff is USB-C now so this wasn't an issue for me, but you'll want to consider your gear's needs to determine if this is right for you.
What I like
Eliminates the need to carry multiple chargers
Great for EDC and travel, especially with that foldaway plug
Four ports give you lots of room to charge all the things
What needs to be improved
One USB-A port may not be ideal for all users
The more you plug in, the slower your overall charging performance
It can get warm with multiple devices, especially if one is a high-consumption device like a laptop
Final thoughts
I love solutions that downsize my kit, and the UGREEN 100W USB C Wall Charger delivers on that promise. It's mighty convenient for the daily EDC and travel, and I've been pretty happy with the performance in both situations. Just make sure you check your device requirements to make sure it can handle your power requirements.
Price: $79.99
Where to buy: Amazon
Source: The sample of this product was provided by UGREEN.