We use affiliate links. If you buy something through the links on this page, we may earn a commission at no cost to you. Learn more.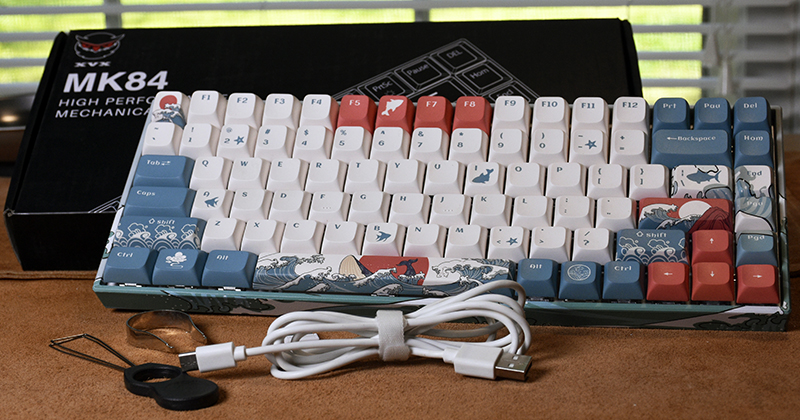 REVIEW –  This is XVX's new mechanical keyboard that according to their website fuses art and modern technology as one. It's an eye-catching piece that drew Ooo's and Ah's from my family as soon as I took it out of the box
What is it?
The XVX M84 is an 84 key, 75% wired or wireless mechanical keyboard wrapped up in their Coral Sea theme.
What's in the box?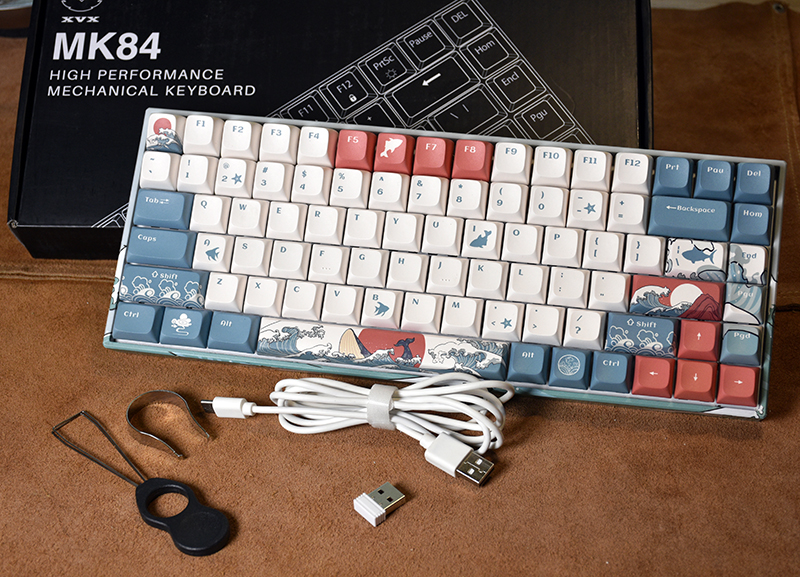 Royal Kludge RK89 keyboard
2.4 GHz USB receiver
Keycap puller
Key switch puller
USB A to USB C cable
Manual
Hardware Specs
Wired or 2.4 GHz wireless modes
84 Key layout (full rollover)
Hot-swappable switches
Gateron Red or Yellow switches
Customizable LED lighting
1850 mAh internal battery
PBT dye-sublimated keycaps
Windows/Mac Compatible
Design and features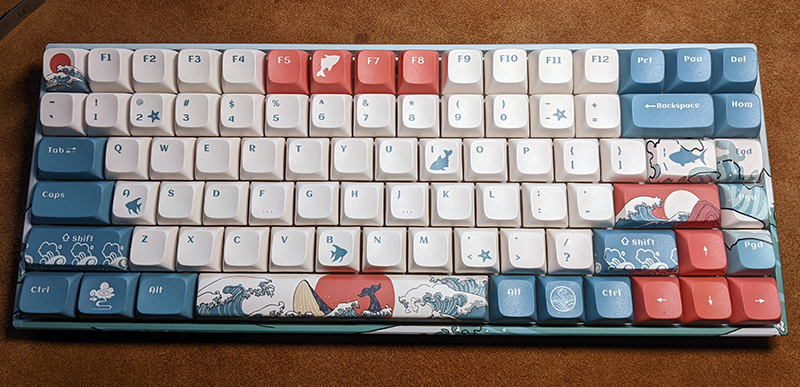 If you're a fan of anime, Japanese art, and mechanical keyboards that don't break the bank, you might just want to take a gander at this. This thing has what the XVX calls their Coral Sea theme that wraps around the entire thing. It's reminiscent of the Japanese painting, The Great Wave off Kanagawa, one of my favorites. So, it not only has themed keycaps but the case is also wrapped in artwork. I'm assuming it's hydro-dipped, but I couldn't tell you for certain. The XVX website doesn't divulge any secrets about how they did it. My kids and I really like the theme. We watch lots of anime and samurai movies so that probably has a lot to do with it.
The XVX M84 is a 75% tenkeyless keyboard using either Gateron Red or Yellow switches, depending on the one you choose. The review sample I received has the reds. As what I assume is becoming the de facto choice for mechanical keyboards, this one has the ever-popular hot-swappable switches along with PBT keycaps. Now Gateron is a popular switch manufacturer known for their Cherry MX clones which means you're getting some nice switches. Fair warning here: I do not like red switches of any OEM. I'm too heavy-handed and not that great a typist. I typically bottom out switches I use in my keyboards and reds have about the lowest actuation force out there. Needless to say, I bottomed these suckers out which tainted the experience for me. I don't know that the yellows would've been any better for me. I may have had a similar problem with them as both are linear-type switches and the yellows only have a slightly higher actuation force. If you're a touch typist or hardcore gamer looking for a fast response, you should love either.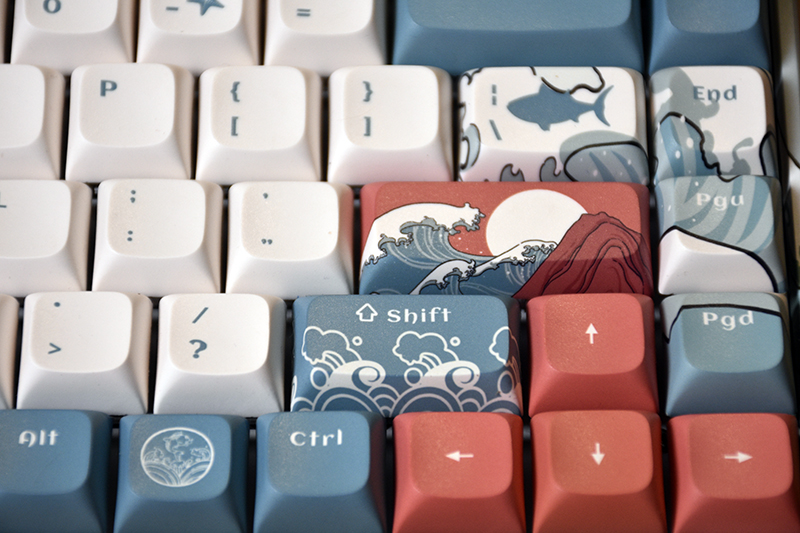 The keycaps have dye-sublimated artwork and legends on them. This is not as nice an option as double shot, but with dye-sublimation, you can get this type of artwork, without the worry of the waves and fish wearing away. And, since you can't get dye sublimated ABS keycaps, you get the quality and feel of PBT! I mean, just look at them! Don't you like them? I like them, my kids like them, my wife likes them. I even think my dog likes them, but he won't admit to it.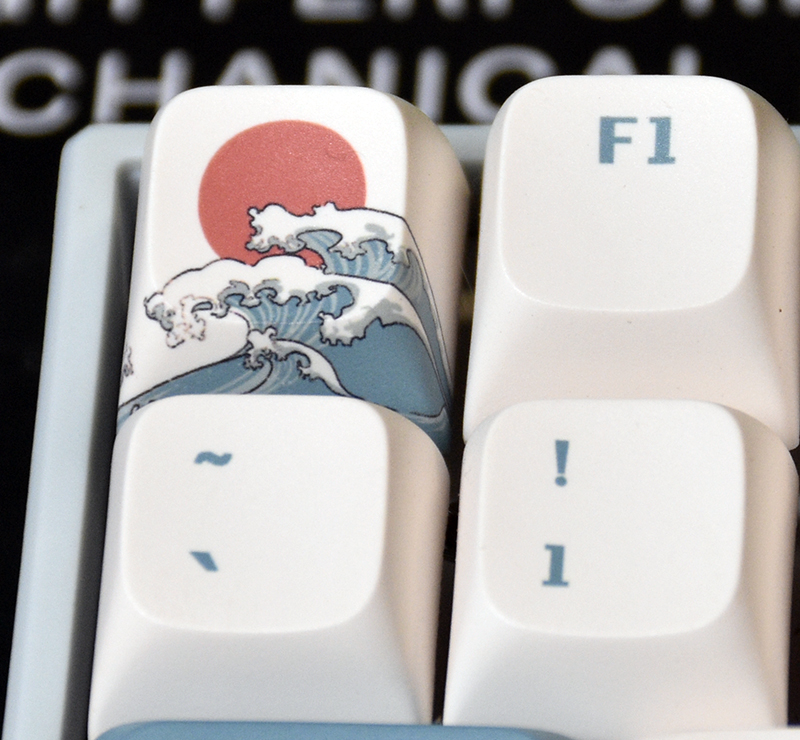 The keyboard case is plastic, keeping it more cost-friendly. On the outside, it looks great. The problem I had is when I took it apart to have a peek inside. Here's why I assume it's hydro-dipped. In the pics, you can see where the finish is wrinkled and missing in spots. I mean, it looks like a decal applied with water. Maybe that's how it's done? I have no idea.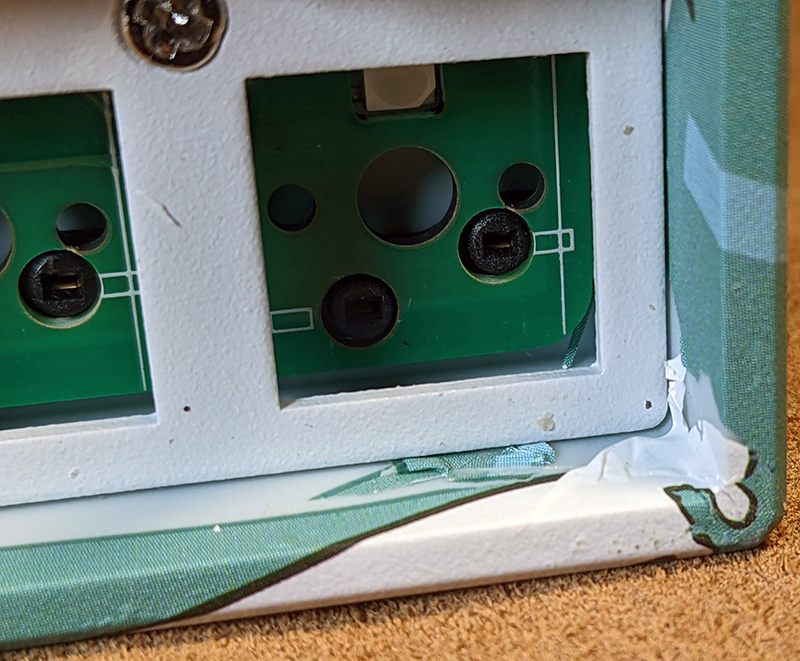 Here's another shot of the inside of the case showing some problems with the finish.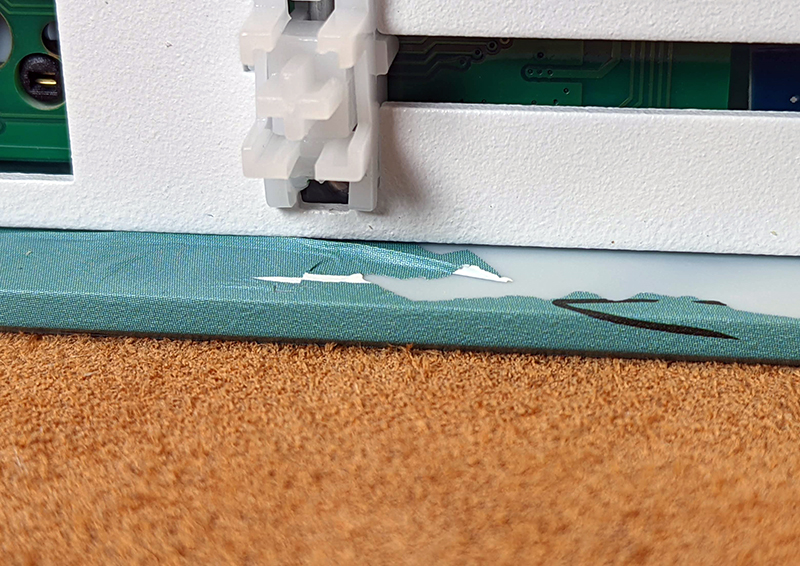 Again, the outside was flawless. My concern is if you commute with it, you may experience wear on the finish.


The next problem I saw is with the steel plate housing the switches. It's quite flexible and doesn't seem to bend all the way back once flexed. Remember, I'm a heavy-handed typist so that may not be an issue for you, just something to consider. The PCB also seemed a bit more flexible than others I've dealt with, which probably accounts for some of the squishy feel I experienced.



Does the XVX M84 have LEDs? Yep. It's got them. There's plenty of lighting options built-in and with XVX's software available on their website, you can customize them pretty much any way you want. The software available on XVX's website is not the most intuitive, but if you play around with it a bit, you'll figure it out.
The M84 supports both wired and wireless modes using either the included USB A to USB C or the 2.4 GHz dongle. Located on the rear, there's a switch to switch between them. It was a little confusing though. Instead of saying wired or wireless, or off and on, it was red or green. So, I had to check the manual to discover that Red meant wired and Green was wireless. Not a big deal, I just thought it was an odd choice. The final issue I had was the cable I received only worked to charge the battery. I couldn't get it to communicate with my PC. When I used another cable, I was off to the races.
What I like
The 75% size. It's a good middle ground that I find most comfortable
The use of quality manufacturer's switches even though reds are not for me
Hot-swappable switches
Internal battery allowing it to be wireless
I really like the artistic theme and quality keycaps
What I'd change
The build could be better. A thicker steel plate and higher quality PCB could be used to make this thing more solid
A better method for applying the artwork to the case. I'm concerned about it showing wear
Final Thoughts
A good, budget mechanical keyboard that could be a little better, and I think for the price it could be. Don't get me wrong, I like it, but I really wanted to love it.
Price: $86.99 as configured, $89.99 for Gateron Yellow switches
Where to buy: Amazon
Source: The review sample was provided by XVX