We use affiliate links. If you buy something through the links on this page, we may earn a commission at no cost to you. Learn more.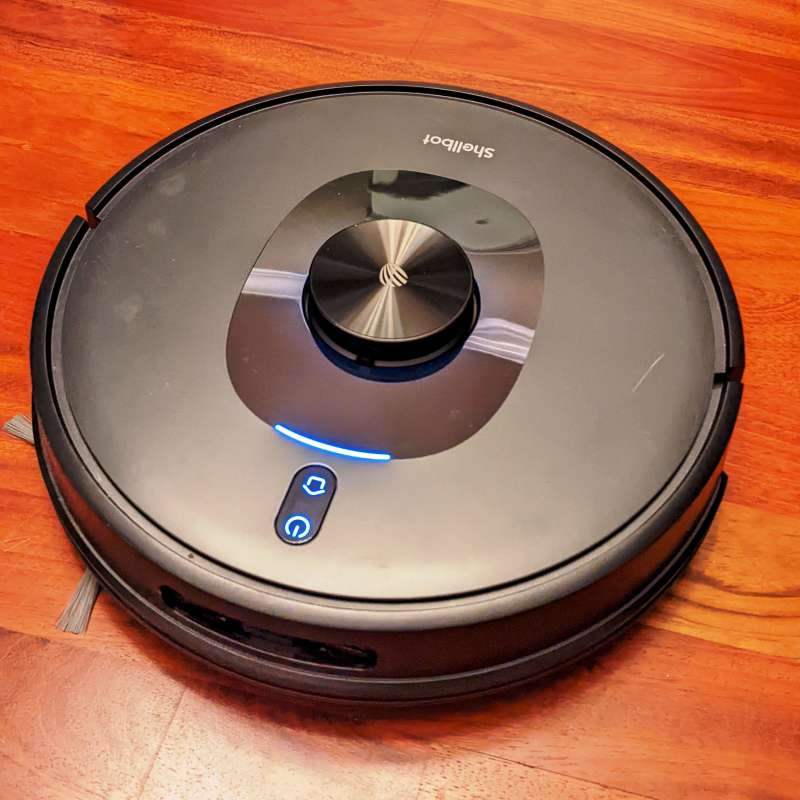 REVIEW – I have two cats, a son, and a spouse who sheds more hair than all of us combined so sweeping and vacuuming are daily duties in my house. I enlisted the Shellbot SL60 robot vacuum to help combat the waves of wayward follicles. Let's see if it can help me hold the line.
What is it?
The Shellbot SL60 is a small robot vacuum that uses a pulsed laser (light detection and ranging or LiDAR) to measure ranges. It is capable of mopping and vacuuming autonomously (although Shellbot recommends supervising when mopping). It has a 200 minute run time on the lowest vacuum setting and 4000Pa maximum of suction power.
What's in the box?
● Shellbot SL60 LiDAR robot vacuum
● Dust tank
● 2 in 1 water tank
● Charging dock w/ power adapter
● 2x mop clothes
● 2x side brushes
● Cleaning tool
● Remote control
● User manual
Specifications
Power: 45W

Suction power: Four speeds 800/1,600/3,000/4,000 Pascal (Pa)

Size: 14in wide x 4 in tall

Battery: 5,200 mAH

Rated input: 20V at 1.8A

Runtime: 200 mins

Charge time: 5 hours from empty

Weight: 8 lbs

Controller: Remote, buttons on vacuum, app, Alexa and Google assistant control

Maximum carpet height: 2 cm
Design and Features:
The Shellbot SL60 robot vacuum came neatly packaged and after looking through the manual and quick setup pamphlet I plugged the Shellbot SL60 in to charge. I was not expecting it to talk so when she (female voice) announced she was charged and powered on it was a little startling at first but now it is very convenient to hear her announcements (you can set quiet times so you won't hear a voice at 2am) on what she is doing. I then downloaded the app to set it up.
If you have ever set up a similar smart device you can expect the same process where you have to connect to your Wi-Fi, then connect to the device through Wi-Fi, then wait for it to transfer the info to the device and then it states successfully connected and it's ready to go. The prompts were a little mis-worded but I was able to glean what I needed to do and set up was pretty quick.  I was sent a confirmation email that was in Mandarin with a one time use numeric code. You have 60 seconds to enter the code or it times out so if the email goes to your spam folder you might miss the time limit but can try again.
After picking a name for the Shellbot (naturally I chose Shelly) and taking off a few stickers, packaging foam, and installing the spinning brush Shelly's first foray out into the wild was an exploratory one with no cleaning involved. It took about 12 mins to scan the 1st floor of my house which is about 1,400 square feet. You can map up to 5 floors in all but for this review I'm just sticking to the first floor. Also keep in mind you will have to move the base station to every floor when you want it to clean since it acts as its point of reference. It was pretty cool on the app to see it mapping out the floor the first time and I will say the LiDAR is very accurate. It was also neat to see Shelly as indicated by a white dot on the map going about her duty and seeing the path she traveled marked with a blue line.
Through the cleaning reports, I found she was not going on one of my thicker carpets. It can traverse an object with a max height of 2 centimeters and that carpet is pretty close so she keeps going around it. Our normal carpets and welcome mats are no problem. Not a big deal for me but something to consider if you have thicker carpets or big transitions between rooms. I also found splitting the bigger rooms into smaller chunks allowed it to complete a room a little quicker since it goes around the entire perimeter of an area and then works in a back-and-forth pattern to cover the designated area.
It took an hour and a half to vacuum my downstairs area depending on the cats and other impediments. Like with other smart devices it's a good idea to prep a little by picking up toys and placing shoes away to leave as much open floor space as possible to ensure maximum efficiency. It is wise to make sure the brush is kept free of tangled hair and that an errant nerf dart hasn't blocked the dustbin port.  If something bigger is in the way the Shellbot SL60 will mark it with a little shoe icon or plug icon to let you know there was something there that is a nifty feature. 
The vacuum has 4 levels of power which are Quiet, Standard, Mid-range, and Turbo. On Quiet or Standard power I could still hear the TV if it came in the room. Mid-range and Turbo was a little too loud so I had to pause and wait for it to leave before resuming my show. Standard is the default level but I found Quiet mode did just as well picking up pet hair and dirt so I leave it on that now. The LiDAR worked great even in the dark which is a big benefit over camera-based robots. I even stood in front of her to see if she would hit me and unlike my 7 year old pushing a grocery cart she never once bumped into my feet or ankles. I was super impressed to find a dime in the dust bin which it was able to pick up on the lowest setting and that is due to the rubber/silicon fins on the main brush.
I have hardwood floors so I only used the mopping at the lowest water setting. It worked great and I was able to get two mopping sessions in the kitchen area before the tank needed refilling. The 2 in 1 water tank is just that, it has a smaller dustbin for normal vacuuming and a separate water tank. When in mopping mode I found she would vacuum first and then mop the area after. The mop pad attaches to the water tank so the whole bin and pad can be removed at once.
The remote control is pretty basic and once I figured out how to set the time you can program a schedule using the remote and not have to download the app but it is limited. It doesn't tell you the battery level or tell you if the Shellbot is cleaning or charging so it is pretty much a set it and forget it device. However, it did provide a great distraction for my 7 year old and we made a game out of remote controlling it to pick up any dirt he could find. I found my two cats were very curious about Shelly and one blocked her exit after getting under our dining room table so she just kept going around in circles until I moved my cat. 
One issue I found that you can see in all the screenshots was the status bar of my Android phone was blocking the top row of information in the app including the battery level of the vacuum. I emailed customer service and did receive an email back stating the app was not yet optimized for Android 12 so using a tablet with Android 11 I saw it displayed correctly. I did notice that when I logged into the tablet it logged me out on my phone and vice versa so if you want to share an account with a significant other you will have to use a shared password. Unfortunately, I could not get the Alexa skill to work but found the app convenient to use so I don't see the need to try and get it to work with Alexa. Customer service was also very responsive and eager to help.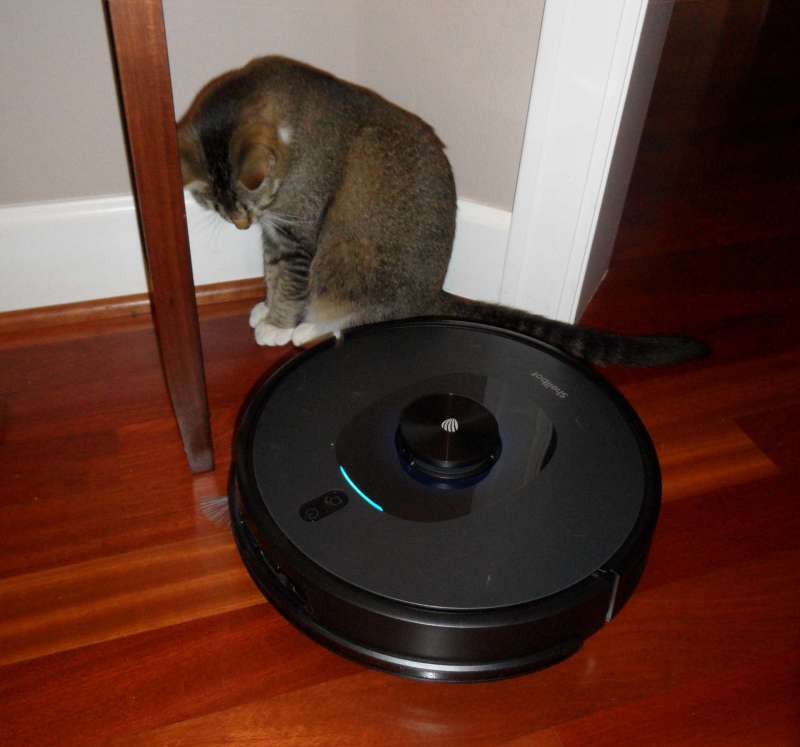 What I like:
Customer service was responsive to issues

Effective vacuuming power and battery life

Great sensors and LiDAR prevented bumping into objects and cats
What I'd change:
Web based interface option for use and setup instead of having to use an app

It would be nice to see the battery level on the remote control or even with a little display on the robot itself

An alert or display to let you know the water reservoir is empty and the dust bin is full would be convenient or make them see-through
Final Thoughts:
The Shellbot SL60 LiDAR robot vacuum does a great job vacuuming under furniture and in areas I would normally miss with my broom or cordless stick vacuum. It picked up a lot more pet fur than I thought it would and the mop function worked great without using too much water on the hardwood floors. At $259.99 after a $100 coupon I think it's a good buy if you are looking for help with keeping your floors clean. Their customer service was eager to help with my problems and at the end of the day, Shelly has definitely kept the pet fur at bay. 
Price: $399.99
Where to buy:  Amazon (save with a $100 coupon on the product page and save an extra $52 by using the coupon code: Shellbot which expires 5/30/2022 11:59 PM PDT)
Source: The sample for this review was provided by Shellbot.