We use affiliate links. If you buy something through the links on this page, we may earn a commission at no cost to you. Learn more.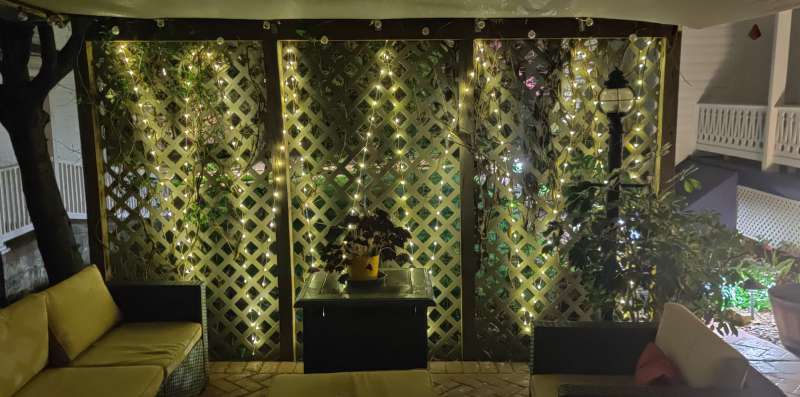 REVIEW – Fairy lights are all the rage.  You see them as backgrounds in Zoom meetings, in photos of Instragram-worthy patio shots, in catalogs of all types, in movies, and on just about every Pintrest board.  But not all fairy lights are created equal.  This is especially true for solar fairy lights.  Despite the low price, the Ollny LED 80ft warm white solar string lights set is pretty nice. 
What is it?
Ollny LED 80ft warm white solar string lights are a set of 240 fairy lights on an 80 ft string, powered by a robust solar panel with a pretty large built-in battery. The set has 8 light settings and 3 timer settings.
What's in the box?
80 ft string of lights of 240 LED lights

Solar panel / battery / controls

Panel mount

Ground spike 

Manual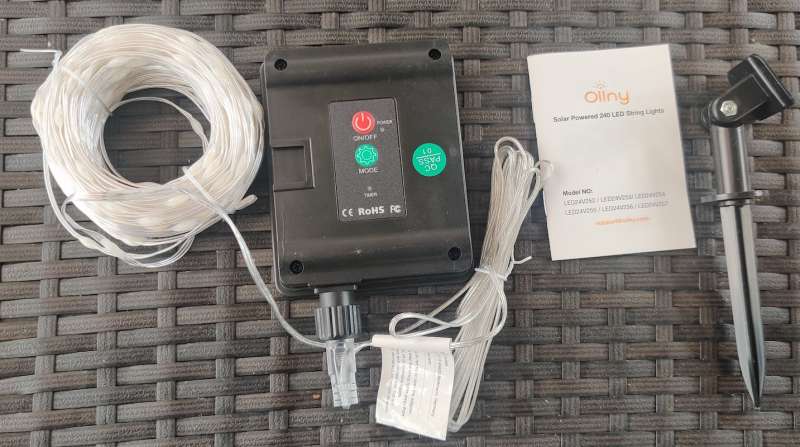 Hardware Specs
LED Qty: 240LED

Light Length: 80 ft

Power Lead: 6.6 ft

Solar Panel Size: 4.53 x 3.74 inch

Connecting Stake: 2.36 inch

Pointed Stake: 4.72 inch

Item Weight: 13.7 ounces

Color: Warm White

Wire Color: Clear

Waterproof Grade: IP67

Material: Copper+Plastic

Solar Panel Rotatable: 180°Rotatable

Rated Voltage: 5V Low Voltage Solar Power

Light modes:  8

Timer modes: 3
Design and Features
I've used a number of different fairy lights over the years, and they are largely very fragile and poorly made.  The Ollny LED 80ft warm white solar string lights set is different.  This light string is thickly insulated, making for a more robust set.  The slight downside of the thicker wires is that the lights don't disappear into the background during the day, like much thinner-wired sets do.  
The solar panel is large and fully recharges the battery in about 6 hours in sunlight.  Once fully charged, the battery powers the lights for up to 18 hours.  So you should be able to weather at least one cloudy day, or more depending on how the timer is set.  The solar panel houses the battery and has the controls on the back side.  The controls consist of a power button and a timer button, and a few LED indicator lights.  The power button also lights up to indicate function.  The controls let you scroll through the eight light settings, which are steady on, in wave, sequential, slo-glo, chasing flash, fade, twinkle flash, and combination.
The lights have a photo cell that turns them on at dusk, and the timer can be set to leave them on for 4 hours, 6 hours, 8 hours, or until the photo cell detects light again (dusk to dawn setting). The whole set is waterproof, and the light string is even submersible in water up to a meter. 
Performance
Installing fairy lights can be a chore. I installed the Ollny LED 80ft warm white solar string lights on a lattice wall with a bunch of honeysuckle growing on it.  I made every attempt to keep the roll of lights together as I ran them in and out of the lattice, but it inevitably came apart and then became a jumbled squirrel's nest.  This is unfortunately the fate of all fairy lights.  The heavier insulation on this set made untangling the jumble a bit easier.  The other thing that makes installation a minor challenge is that each LED acts like a mini grappling hook, grabbing everything in its path.  All that said, it took about 30 minutes to thread the 80 feet of lights onto the lattice.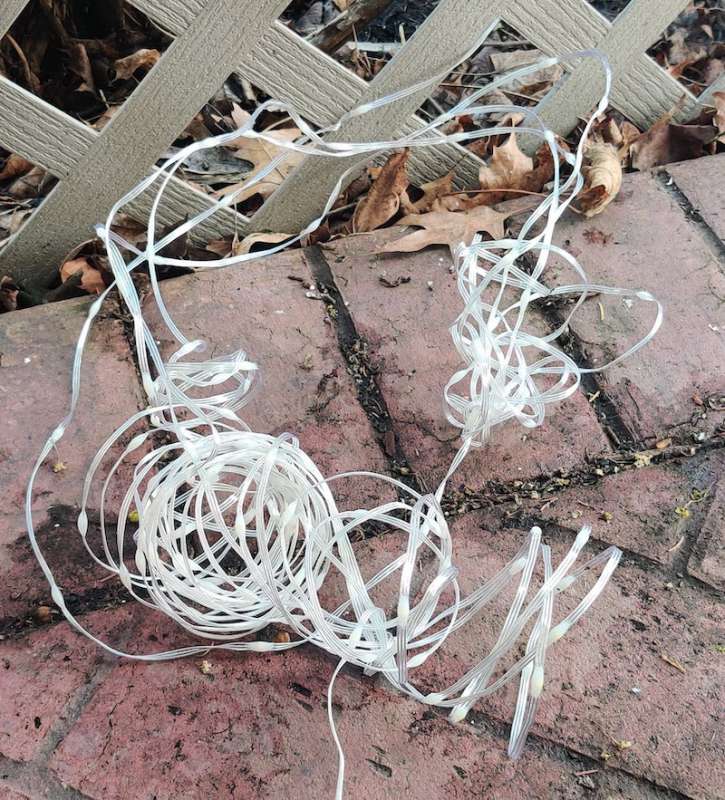 I installed the control / solar panel on the top of the patio roof where it would be in direct sunlight for at least 6 hours per day. The mount for the panel worked well, although no mounting screws were included.  I did not use the mounting spike, which would come in handy for a ground mount. I set the mode to steady on, and the timer to 6 hours.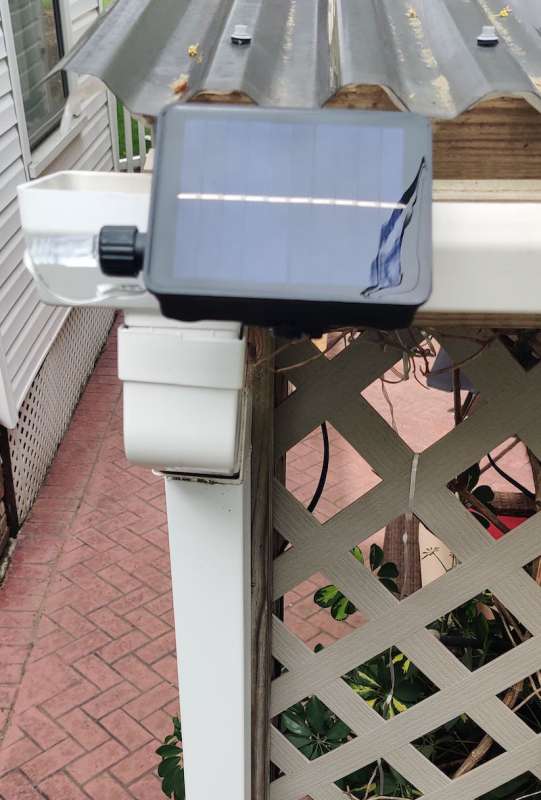 Just past dusk, the Ollny LED 80ft warm white solar string lights turned on.  Brightness was consistent throughout the entire time the lights were on.  The brightness was great for ambiance, but don't plan to use these lights for actual illumination.  They are considerably dimmer than some other fairy lights that I have used.  Of course, illumination can also depend on how spread out your installation is.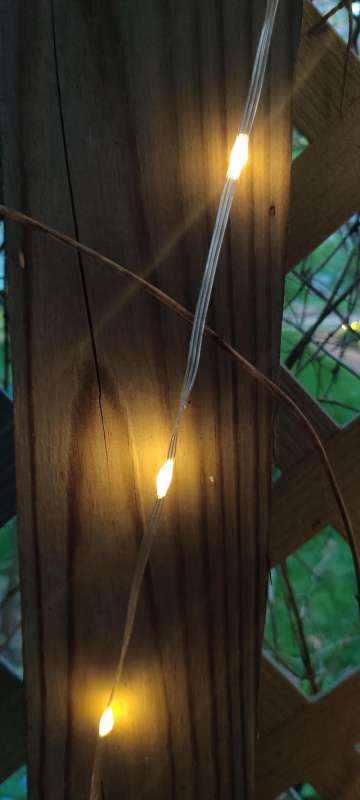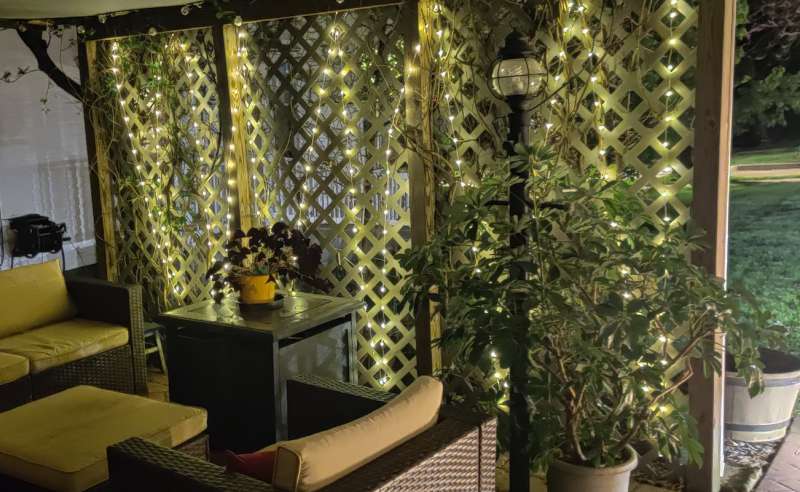 What I like
Large solar panel, large battery

Easy controls

Clear and well written manual, including color photos

Sturdy well insulated wire

Selectable timer function
What I'd change
Final thoughts
With most other sets of fairy lights I've owned, I considered them disposable.  The wires would break, the LED's would stop working, or the solar panel / batteries would corrode. I don't think that will happen with the Ollny LED 80ft warm white solar string lights set.  It seems to be much better built, for not much more money.  The increase in ambiance available for $23 is well worth a few minutes to straighten out a jumble of wires to install. 
Price:  $22.99
Where to buy:  Amazon or Ollny
Source: The sample for this review was provided by Ollny