We use affiliate links. If you buy something through the links on this page, we may earn a commission at no cost to you. Learn more.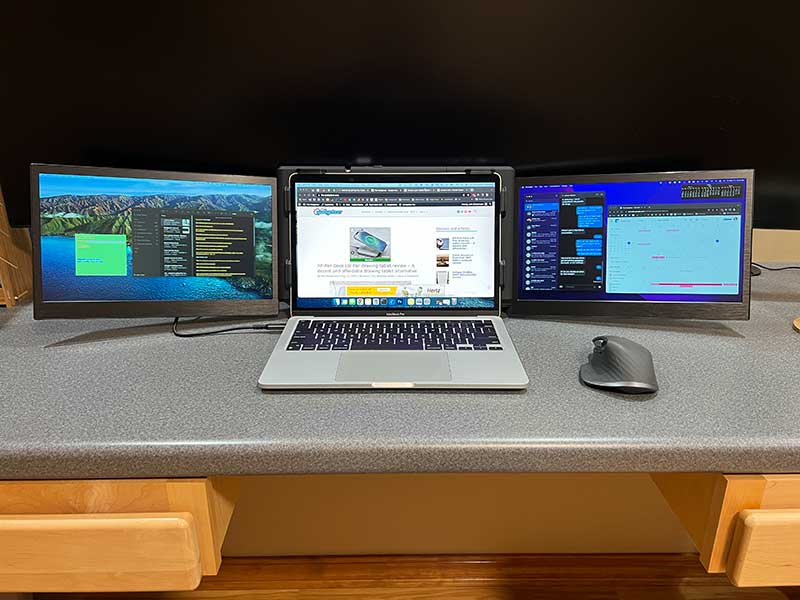 REVIEW – I've been using a MacBook as my main computer for many years now. It's a workhorse that I enjoy using on my lap and at a desk. But like all laptops, the screen can sometimes feel cramped when I am trying to compare two documents or open two browser windows. When I'm using my MacBook in my office, it's connected to a Dell Ultrasharp curved 49in monitor but when I travel I'm stuck with the stock 13-inch display. Or am I? Today I want to show you the Kwumsy P2 Pro 13.3″ Tri Screen protable laptop monitor.
What's in the box?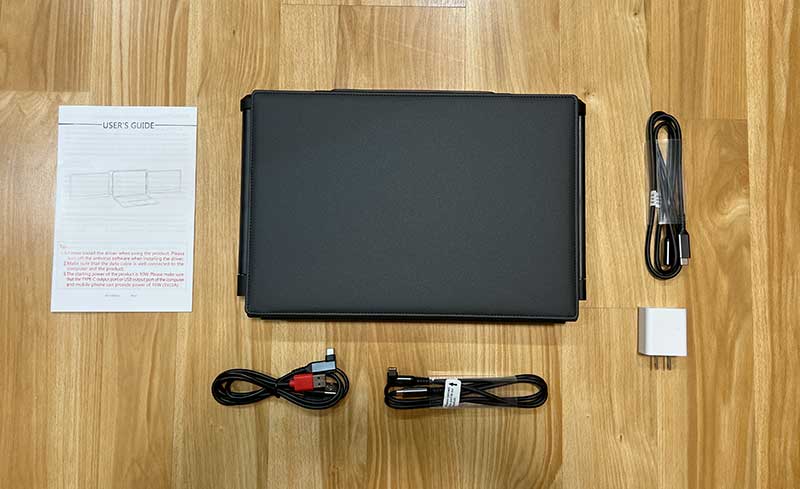 Kwumsy P2 Pro Tri Screen Monitor
USB-C to USB-C cable (2)
USB-C to 2 USB-A cable
AC adapter
User's guide
Hardware spec
For Laptops: 13.3 -16.5 inches size laptops(Maximum width 390mm)
For Operating System: Mac/Windows/Android
Screen Resolution: 1920*1080P Full HD, aspect ratio 16:9
Screen Dimension: 13.3 inches (length 12.36 x width 7.91 inches)
Monitor Panel: IPS wide viewing angle, 220 CD/m²
Port Version: 1xUSB-C 3.1version, 1xUSB-C 3.0version charging PD 60W(20V/3A)
Rotatable Angle 207°
For M1 Chip: Yes,even 2020&2021 M1 Macbook laptops
Material: Full Aluminum Alloy
Weight: 1.34 kgs
Design and features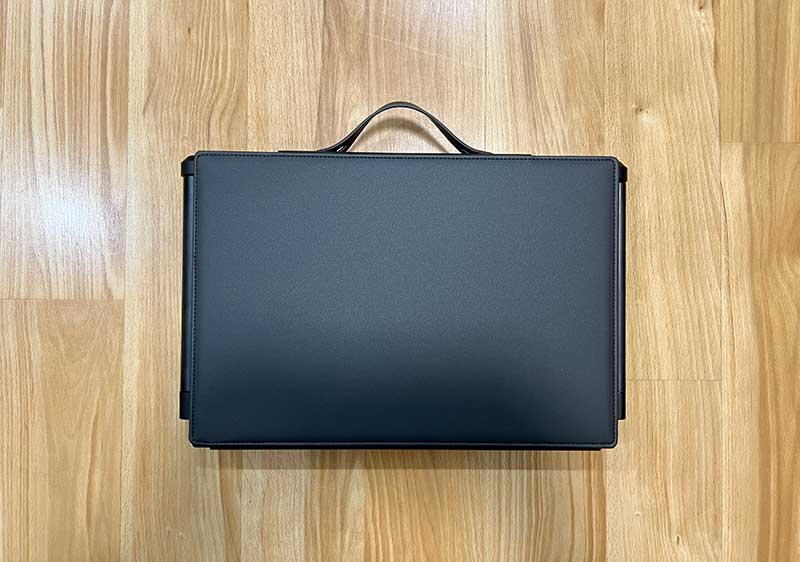 The Kwumsy P2 Pro 13.3″ Tri Screen portable laptop monitor is designed for travel. Included with the unit is a case.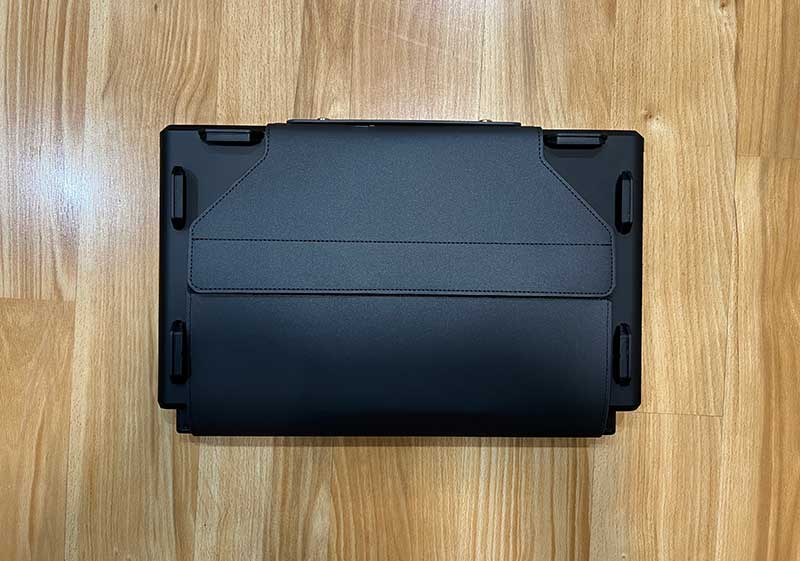 The case wraps around the unit and uses Velcro to keep it in place.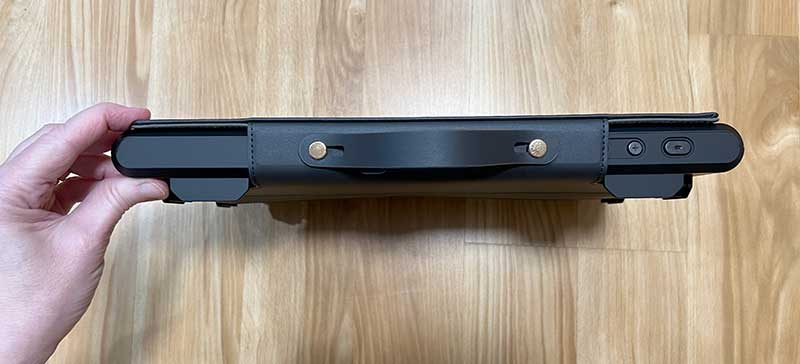 There's even a built-in handle for even more convenience.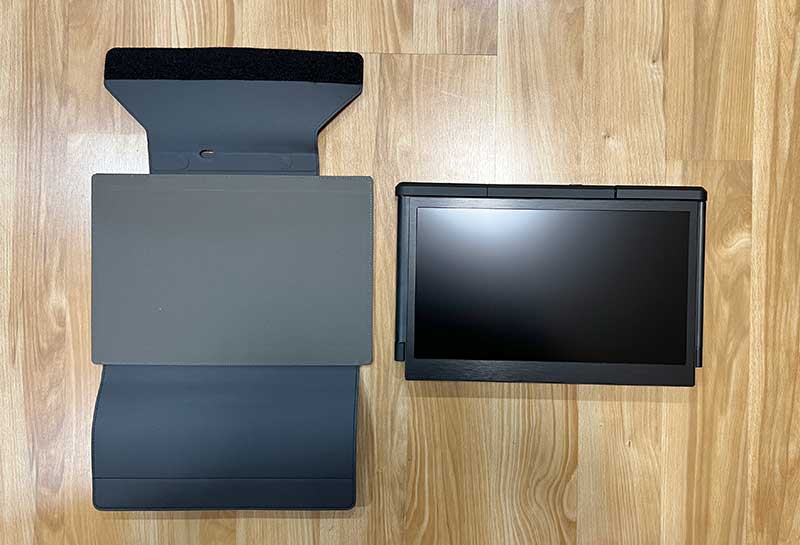 The Kwumsy P2 Pro Tri Screen folds up to look like one singular 13.3 inch monitor.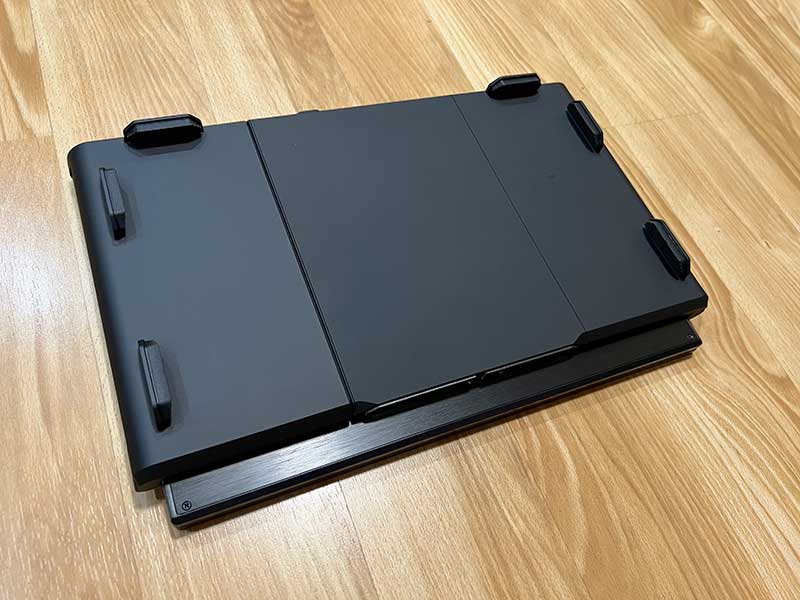 The back side has 6 rubber lined grips that are used to mount the monitor on your existing 13.3 – 16.5 inch laptop. I did all of my testing of the P2 Pro with my 13 inch MacBook Pro (M1).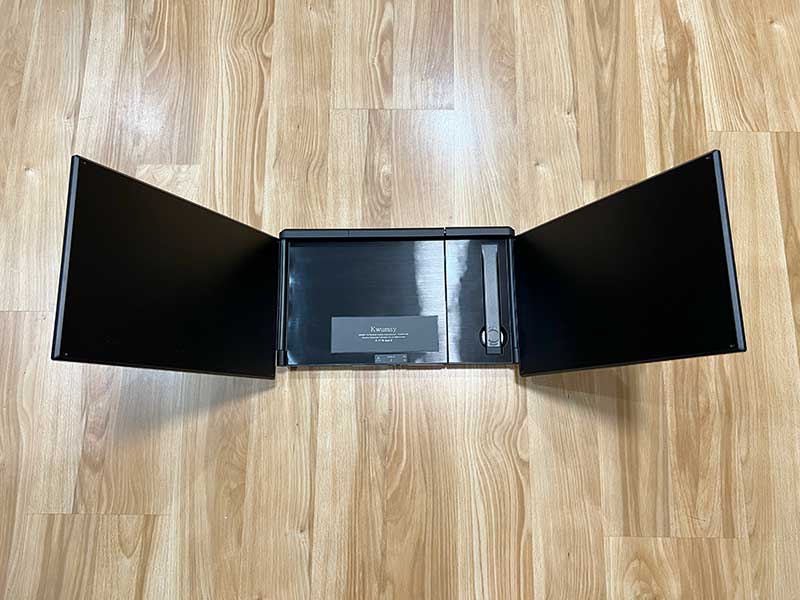 The P2 Pro unfolds like a butterfly to reveal two 13.3 inch 1080P monitors with a holder in the center.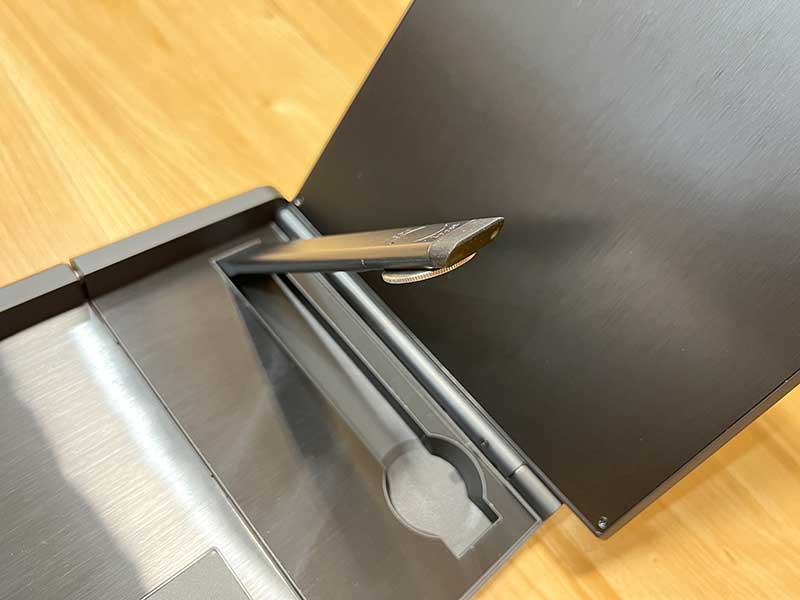 The back of the holder has an adjustable flip-out kickstand that provides stability to the existing laptop while the P2 Pro Tri Screen is attached.
Connecting the Kwumsy P2 Pro Tri Screen to my MacBook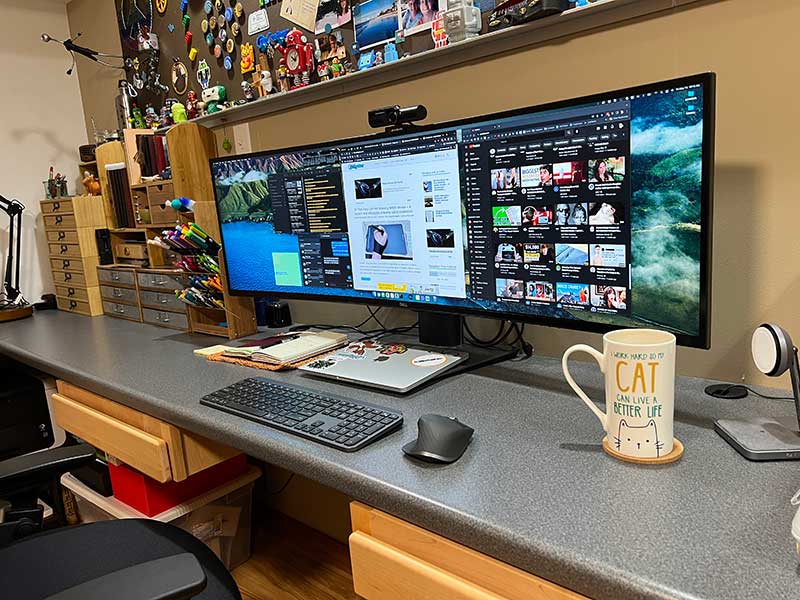 Let's start with a before image. This is my normal office setup. I have my 13 inch MacBook Pro (M1) connected to the Dell ultrawide monitor with a single USB-C cable. Let's see if we can create a similar setup for travel.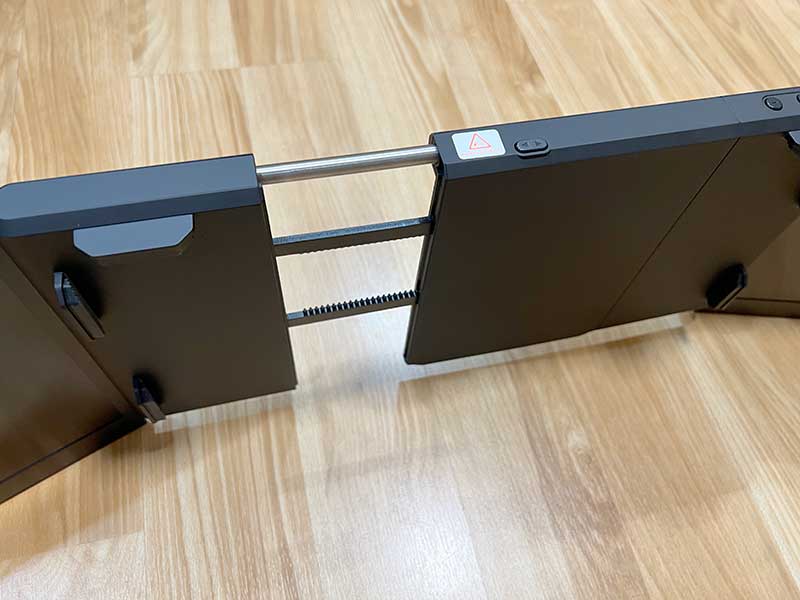 The edge of the Kwumsy P2 Pro has a button that when pressed, allows the two parts of the laptop holder to slide apart.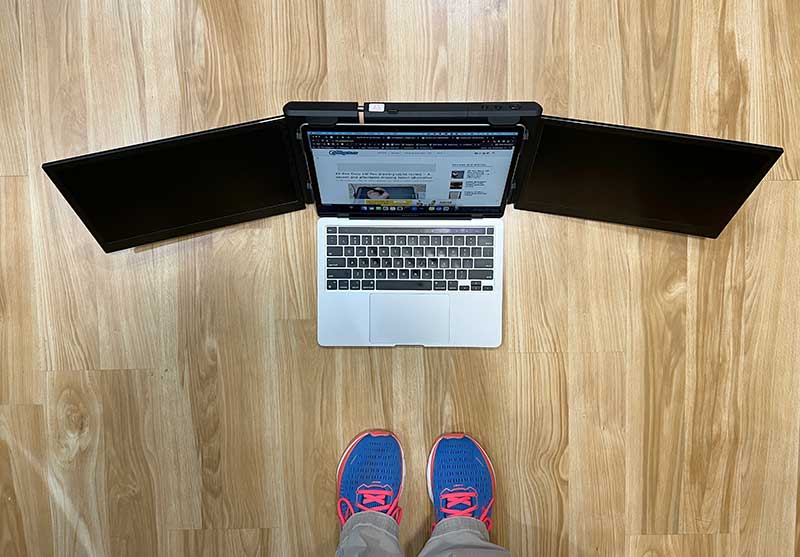 Then it's just a matter of placing the P2 Pro against the back of the MacBook Pro's display and then sliding the two parts of the holder together. The Tri Screen automatically locks securely in place when the fit is adjusted.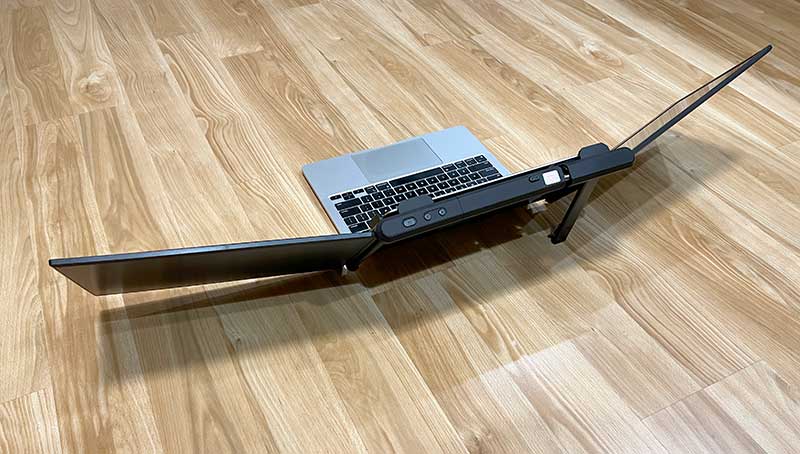 The kickstand can then fold out to provide stability.
In the image above, you'll notice that there are 3 buttons on the top edge of the P2 Pro. There's the power button and two up/down buttons that are used to navigate the OSD menu for adjusting the monitor's settings.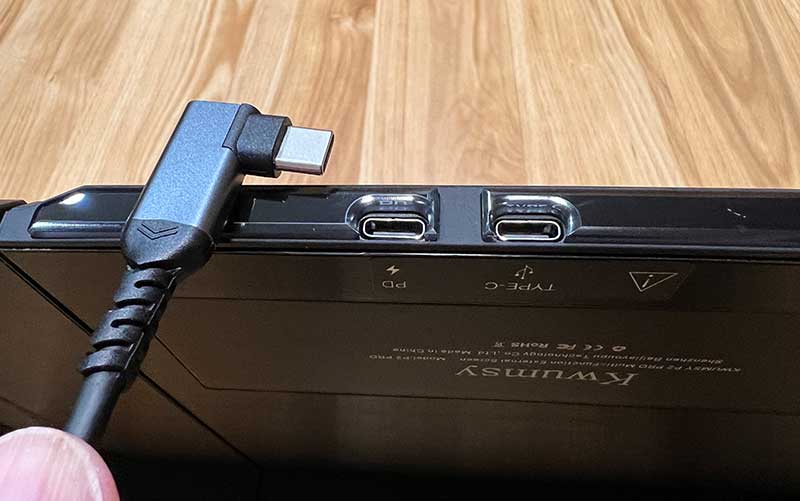 Along the bottom edge of the P2 Pro are two USB-C ports. For some strange reason, Kwumsy added plastic around the ports which makes it almost impossible to use USB-C cables with this monitor other than the ones included with this unit. When I tried some of my existing cables, they wouldn't completely seat in the ports due to the plastic around the ports.
When I connected the Kwumsy P2 Pro Tri Screen attached to my MacBook Pro with the included USB-C cable, the monitors would turn on but would quickly show a "no signal" message on the screens. A flip through the user manual showed that I needed to install a driver first.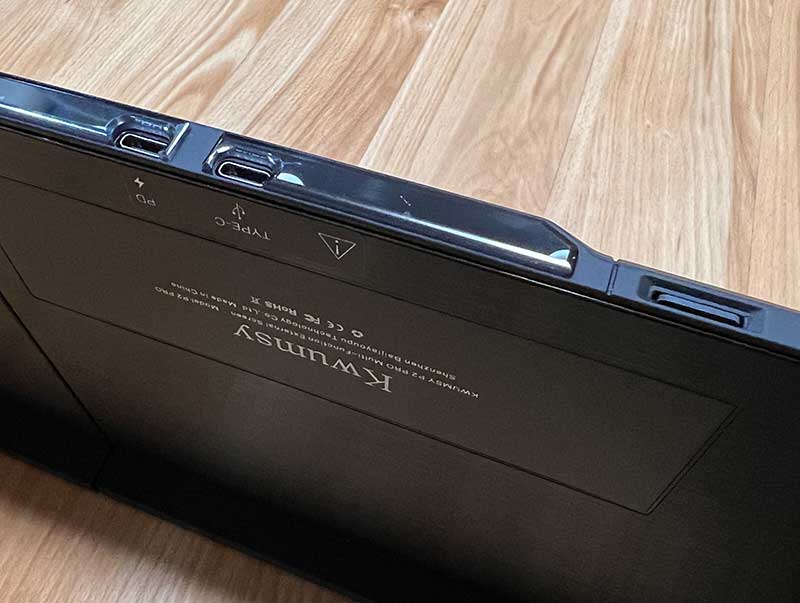 The P2 Pro Tri Screen actually has a built-in microSD card reader and comes with a microSD card inserted in the reader with the drivers.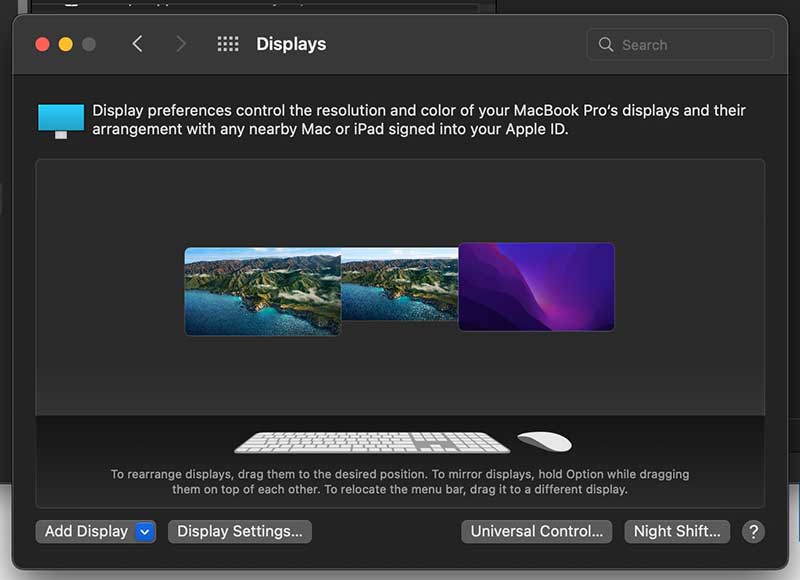 With the driver installed, the two new monitors showed up in the MacBook's system settings and allowed me to arrange the order of the displays.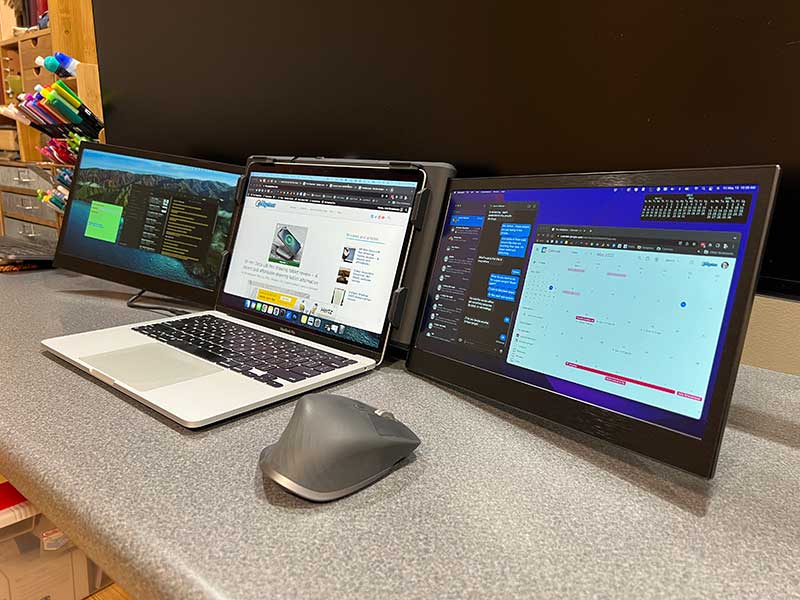 I think it's really cool to be able to add two additional monitors to my MacBook with only one USB-C cable.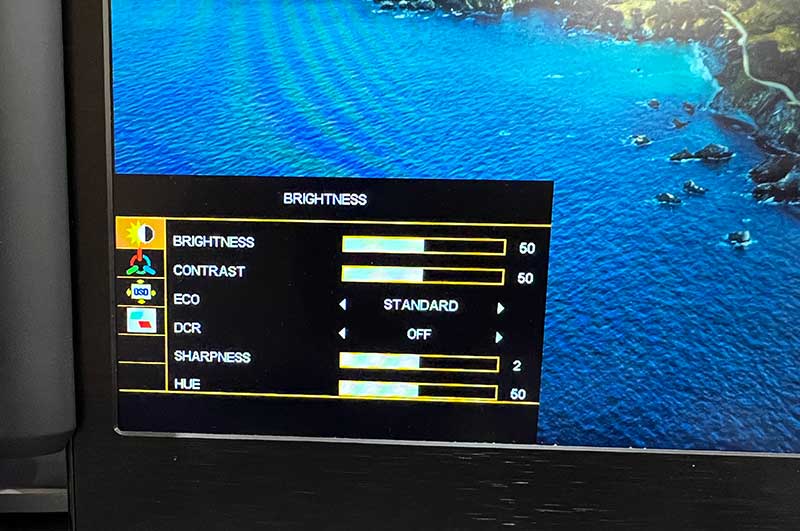 Using the built-in menus, I was able to adjust settings to somewhat brighten the display but I still found it to be noticably dimmer than my MacBook Pro's retina display. Even set to full brightness, the P2 Pro isn't as bright as the retina display but that shouldn't be a surprise.
The P2 Pro might not be as bright or have the same vivid colors as your built-in laptop's display, but the ability to easily add two extra screens to a laptop makes up for it. I can imagine taking the Kwumsy P2 Pro Tri Screen with me when I go on vacation because I obviously don't know what a vacation is 😉
I can also imagine this monitor would be great for students who share small dorm rooms because they could fold it up and store it away when not using it. It would even be useful at a library while studying.
I should mention that while you can use this monitor with your laptop using a single USB-C cable, it does draw its power from the laptop itself and that power draw will obviously drain the laptop's battery relatively quickly. For that reason, you'll need to make sure that you connect a cable to the PD port on the Tri Screen and plug it into power if you plan to use this set up for any length of time. Also, using the PD port in addition to the other USB-C cable, will improve the screen's brightness due to the extra power.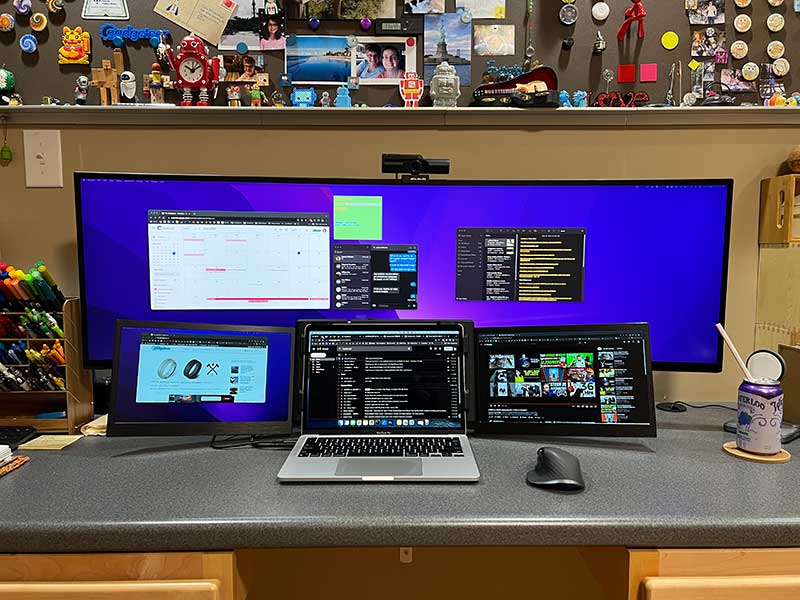 Here's a flex pic of the Kwumsy P2 Pro Tri Screen and the Dell Ultrasharp connected to the MacBook Pro (M1) at the same time!
What I like
More screen space – duh!
Folds for travel
Easy to attach and remove
Has a built-in microSD card reader
What I'd change
I wish the screens were brighter when just using one USB-C cable
Fix the USB-C ports so that other cables can be used with this monitor
Final thoughts
The Kwumsy P2 Pro Tri Screen laptop monitor really impressed me by how easy it is to attach and remove it from a laptop and that it only needs one USB-C cable to add two monitors to a laptop. Although the monitor has some issues namely with brightness and USB-C ports, I think this monitor would be useful for travelers and students.
Price: $549.00
Where to buy: Kwumsy and Amazon
Source: The sample for this review was provided by Kwumsy.