We use affiliate links. If you buy something through the links on this page, we may earn a commission at no cost to you. Learn more.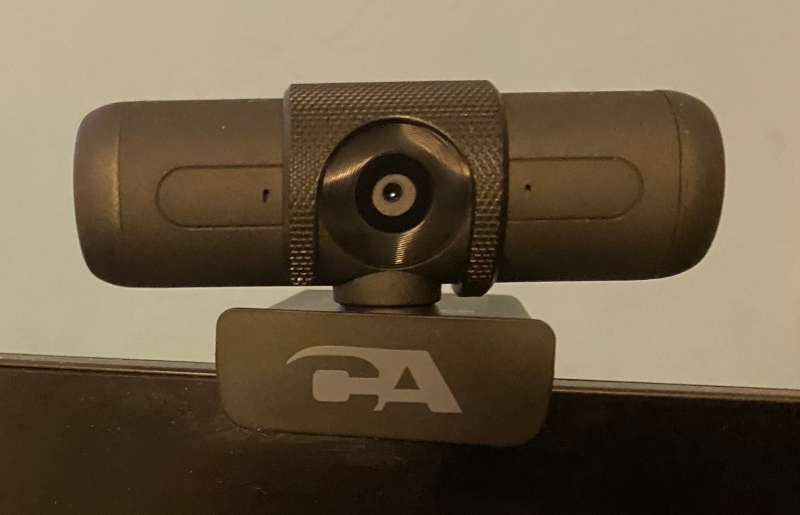 REVIEW – I'm always on the lookout for new webcams.  I'm currently looking for a good webcam to carry with me when I'm away from my desk and the webcam mounted to my monitor stand.  Let's see how the Cyber Acoustics Essential (WC-3000) webcam works and if it earns a place in my travel kit.
What is it?
The Cyber Acoustics Essential (WC-3000) is a 5 MP (2592 x 1944) Zoom-certified webcam with an integrated cable and monitor clip. The Cyber Acoustics Essential has two integrated microphones and a mechanical privacy shutter.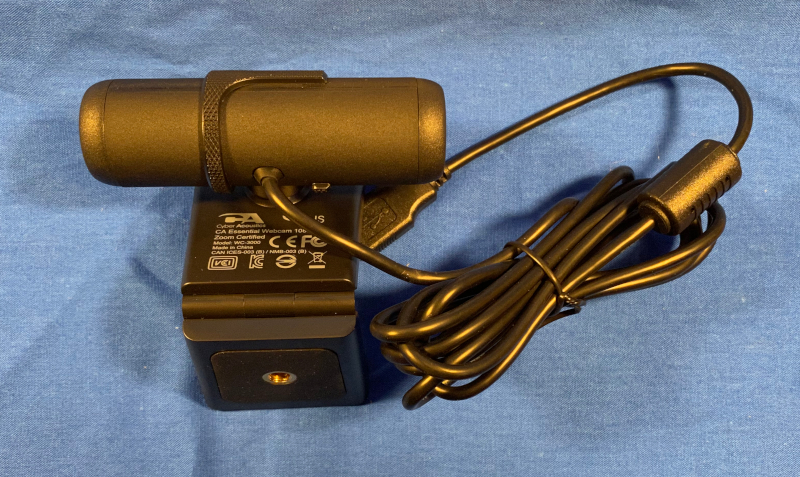 What's in the box?
The Cyber Acoustics Essential (WC-3000) webcam arrived with just the camera and a multi-page folded reference guide.  Nice, simple, and to the point.
Hardware specs*
* Quoted from Cyber Acoustics official documentation
 High Resolution HD Video (2592 x 1944 @ 30fps)
5MP
HD Auto Focus & Light Correction
Dual Omni-Directional Surround Mics
Wide Diagonal Field of View
Integrated rotating privacy shutter
Universal Monitor Mount
Plug and Play USB for easy operation
Automatic low light correction
 Video Resolutions:
2592×1944 @ 30fps
1920×1080 @ 30fps
1280×720 @ 30fps
640×480 @ 30fps
Zoom-certified
Design and features
Setup
Setting up the Cyber Acoustics Essential (WC-3000) webcam was as simple as clipping the camera to my laptop and plugging in the USB cable into a USB-A port on my computer.  Windows immediately recognized the camera and installed the appropriate generic drivers.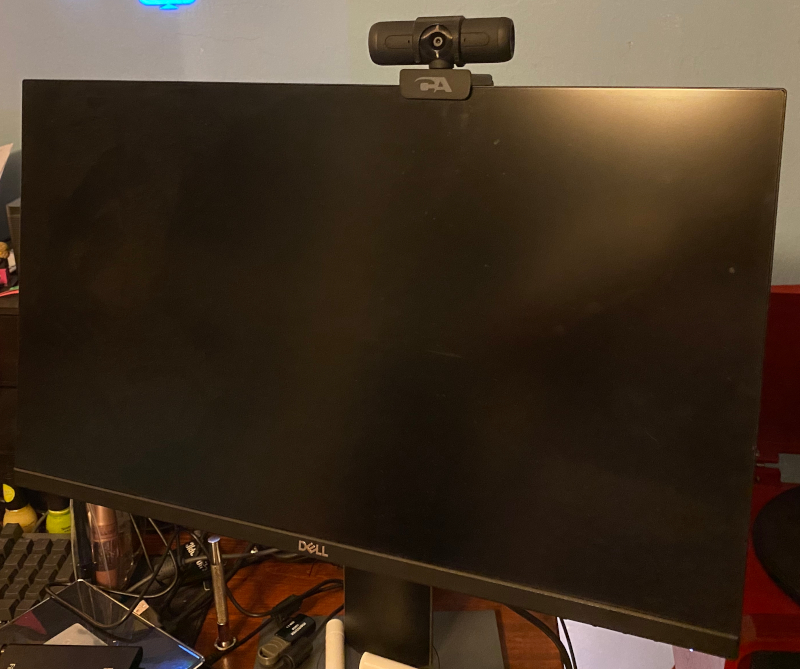 Astute readers will notice that this isn't a laptop.  I managed to delete the photos of the camera in use on my laptop. I had loaned the camera to my son because his camera had died, so I had to sneak into his room while he was at school and took a few candid photos while trying not to trip and break an ankle.
Never miss one of our posts again. Sent MON, WED, and FRI with the latest gadget reviews and news!
Performance
To actually use the camera, I had to simple rotate the privacy shutter back out of the way, and presto, I'm on not-so-candid camera.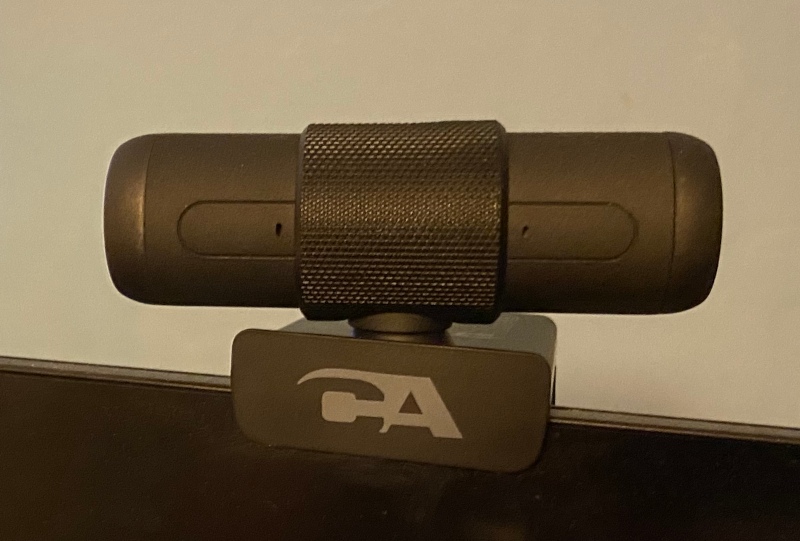 Closed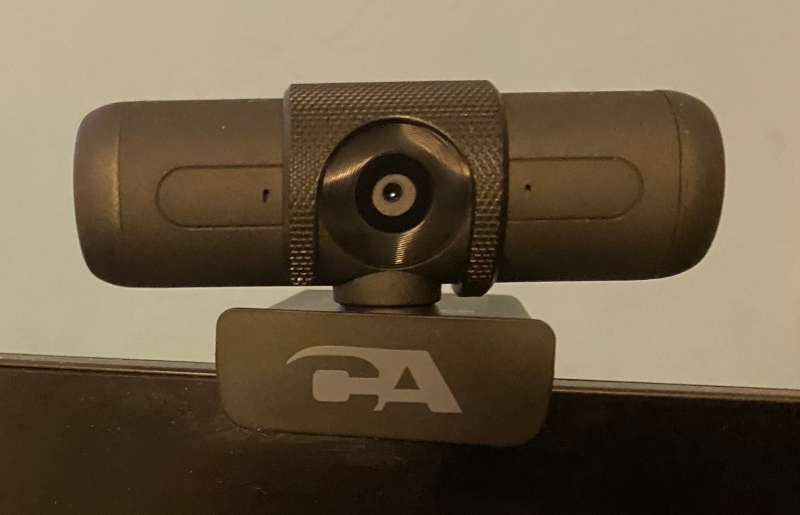 The Cyber Acoustics Essential (WC-3000) webcam performed better than some other cameras in the same price range that I have evaluated.  I have been using a camera with a wider field of view as my main camera for the past 18 months, so it was a little strange seeing myself in close-up.  This webcam performed well for basic business video calls and personal video conferences (certainly better than the camera integrated into my laptop). Even though the camera is 5 MP, I wouldn't want to use it for a large room, because of the standard field of view (people on the edges of the room get cut off).  I couldn't really assess the auto-white balance feature, but the auto-focus worked well.  I did have some issues when using the camera at my darkened work area (just vintage task lights), but the WC-3000 performed better than other cameras in this same price range.
I was able to successfully use the Cyber Acoustics Essential (WC-3000) webcam with Skype, Zoom, and Teams.  I spent the most time in Zoom because that is what I use when I tutor.
I captured a few video clips to test how it would work for recording educational videos, but I wasn't happy with the quality of the videos when compared to my current desk camera.
My only quibbles with the camera are the integrated cable (I can live with this) and the integrated (and non-removable) monitor clip.  I would prefer to see a removable mount so I can attach it to an arm using a standard threaded mount without having the have the universal monitor clip cluttering up things or replace the clip if it gets damaged (honestly, I'd probably just build a new mounting solution out of Lego bricks).
What I like
What could be improved
I'd like to see a removable monitor clip
Better low-light performance.
Final thoughts
The Cyber Acoustics Essential (WC-3000) webcam earned a place in my travel kit, but I had to give it up to replace one of the household webcams that met an untimely end.  This webcam is one that I can recommend as an entry level camera for people wanting something for individual use at their desk with traditional light levels (say in an office or well-lit room), but I did not find it to be well suited for low-light or conference room use.
Price: $54.99
Where to buy: Amazon
Source: The sample of this product was provided by Cyber Acoustics.