We use affiliate links. If you buy something through the links on this page, we may earn a commission at no cost to you. Learn more.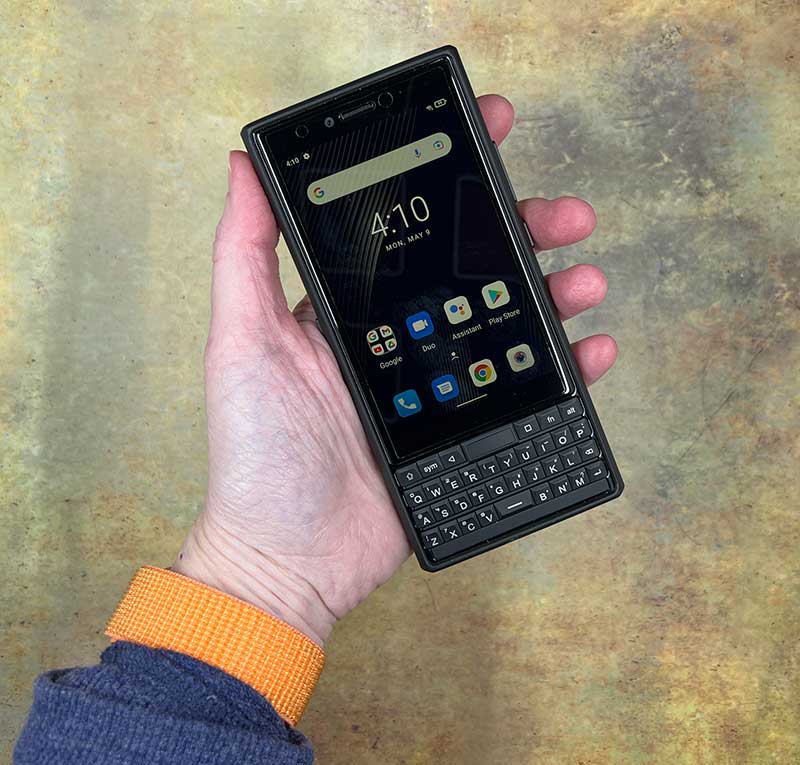 CROWDFUNDING REVIEW – One of my all-time favorite mobile phones was the Palm Treo 650 with its built-in tiny QWERTY keyboard. That was back in 2005, 2 years before the iPhone changed the entire smartphone landscape forever. I loved that little phone with the built-in keyboard. Would I ever want another phone with a physical keyboard? That's what I decided to find out when I was offered a look at the Unihertz Titan Slim Android Smartphone which is currently seeking funding on Kickstarter.
What is it?
The Unihertz Titan Slim is an Android smartphone that has a built-in physical QWERTY keyboard. It's a slimmer/narrower version of the Unihertz Titan Pocket that Julian reviewed last year.
What's in the box?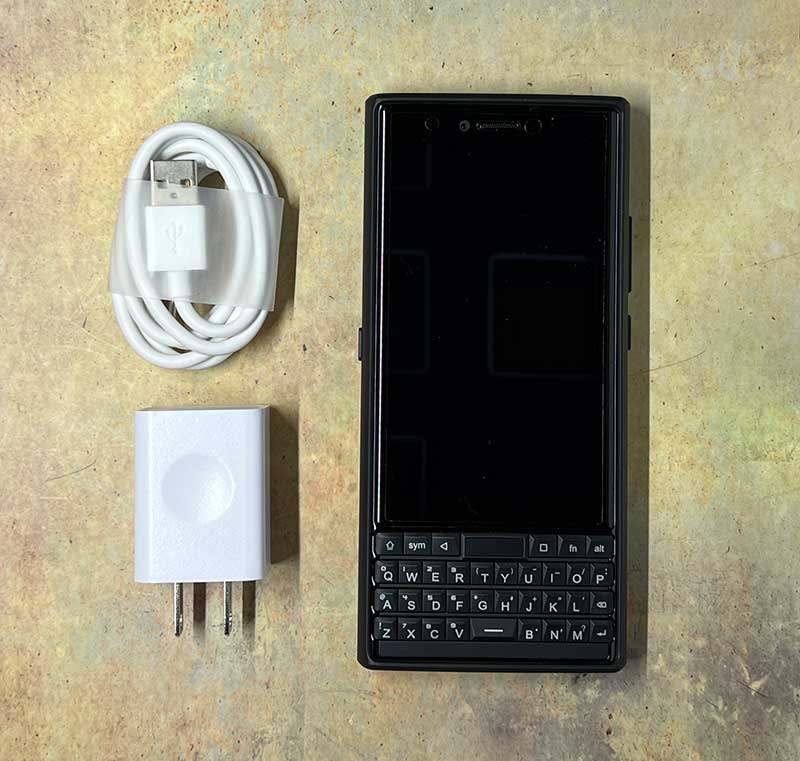 Unihertz Titan Slim smartphone
Screen protector (it was pre-installed on mine)
USB-C cable
Headphone 3.5mm to USB-C adapter
SIM tool
AC adapter
Design and features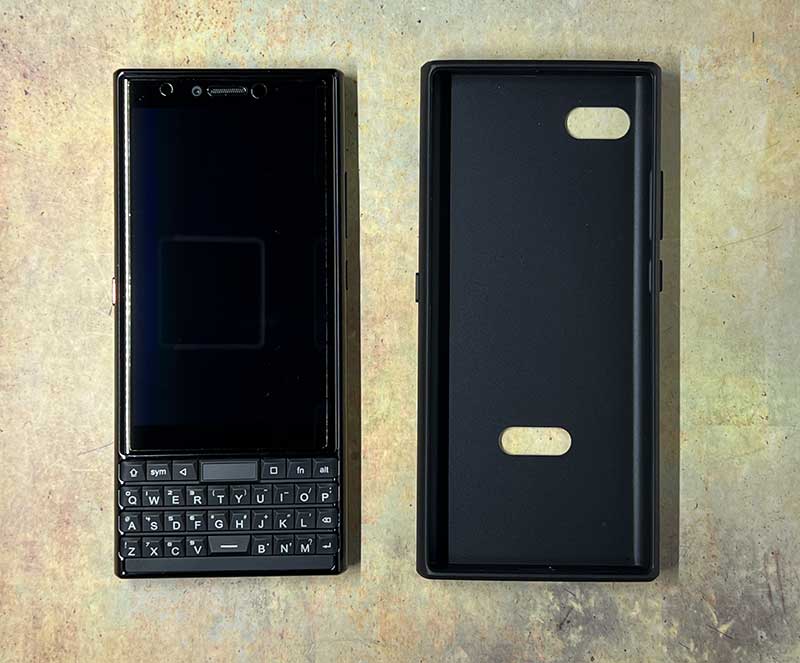 At first glance of the Unihertz Titan Slim Android Smartphone, you might think it's an old school Blackberry phone. This phone has a shape of a modern touchscreen smartphone, but the keyboard located below the display puts out strong retro vibes.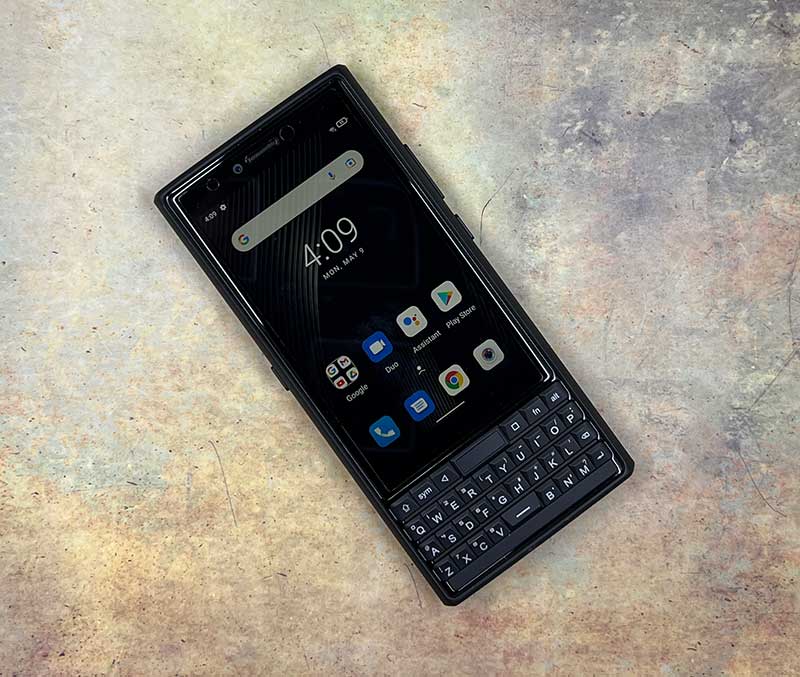 The phone's display might look large in the first image above where I'm holding it in my hand, but in reality, it's only 4.2″ (768 x 1280 resolution) and for someone like me who has been using a Max version of the past two iPhones, it feels small and cramped.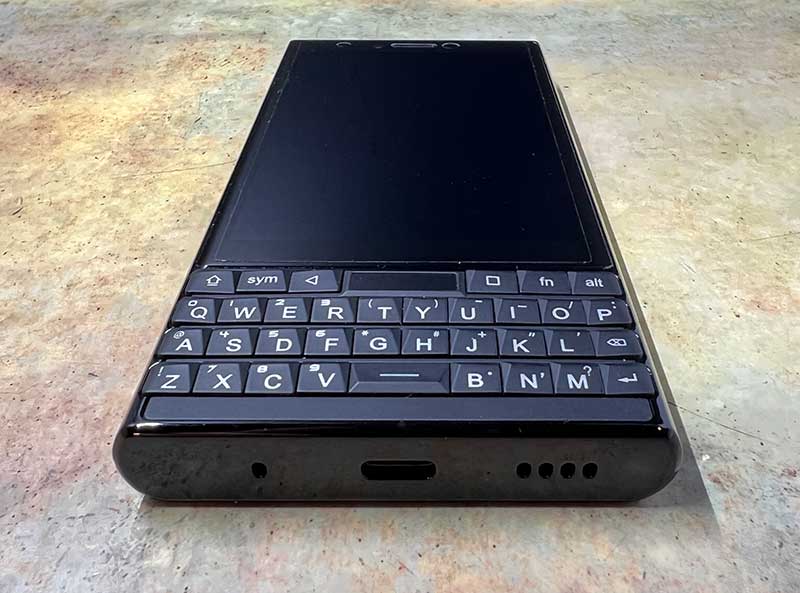 Never miss one of our posts again. Sent MON, WED, and FRI with the latest gadget reviews and news!
The keyboard is small too. Really small. I remember loving the Treo 650's keyboard but I must have had tinier thumbs back then. Can you type on the Titan Slim's keyboard? Sure. It works fine and it has great tactile feedback.
The keys have a faceted type of shape which helps your thumb feel the individual keys but there's no special bump on the F and J keys so your thumb knows the home row. Yes, I'm a touch typist.
In addition to the display and keyboard, the front of the phone also has a fingerprint scanner which is located above the T and Y keys. I have been really surprised by how well it works for me because I ALWAYS have issues with fingerprint scanners.
Note that the fingerprint scanner button doubles as a HOME button when you tap it.
The bottom edge of the Unihertz Titan Slim has a microphone, speaker, and a USB-C charging port.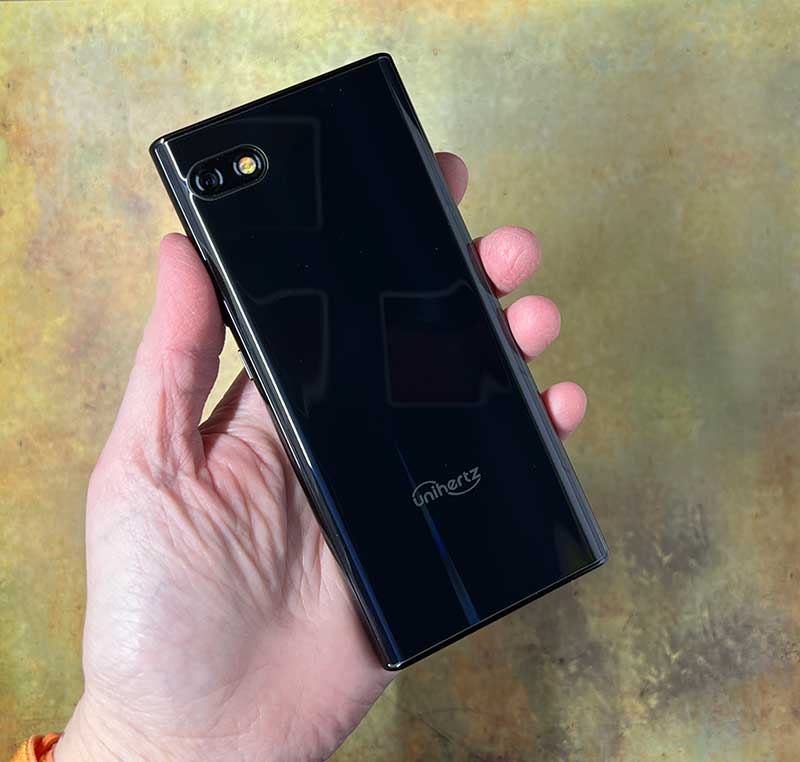 You'll find the 48MP camera lens and flash on the back of the phone along with the Unihertz logo.

The right side of the phone has a volume rocker button and power button.

The left side has dual-nano SIM card slots. The red button is a multi-function button. If you're in the camera app, it functions as a dedicated camera shutter button. When you're outside the camera app, holding down the button will toggle the flash to serve as a flashlight and a double-tap of the button will take a screenshot.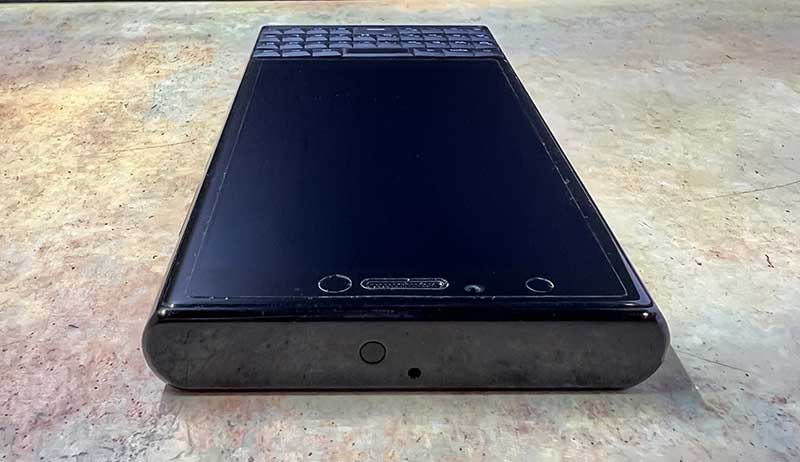 On the top edge of the phone, you'll find another microphone and an infrared port. Using the ZaZaRemote app that comes preinstalled on the phone, you can use the Titan Slim as a universal remote control for your IR compatible devices.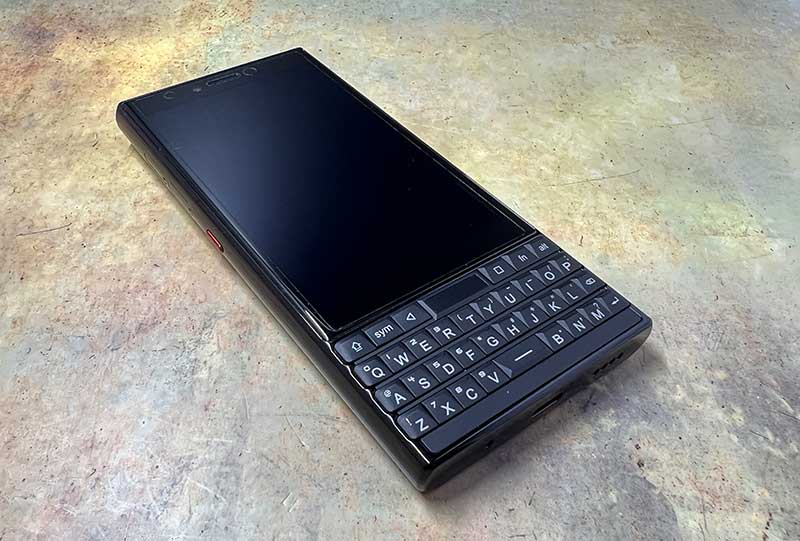 Although the phone has a plastic case (I think), it feels well made and solid. It doesn't creak, crack, or rattle when I squeeze and shake it. The narrow width is actually very comfortable in hand. But the screen and case are fingerprint magnets.
Android
The Unihertz Titan Slim runs on Android version 11 which is one version behind the current version. My review phone's last security update was from September. When I asked Unihertz about OS updates, I was not given a clear answer which means I would not expect this phone to get an update to Android version 12 at any point in its life.
I was happy to see that the phone has very little bloatware as far as extra apps. The only extras over stock Android are the IR app, NFC app, FM radio app, Notebook app, and a couple of others.
Camera
Don't buy the Unihertz Titan Slim for its camera. Here are some samples. Not terrible, but not excellent either.
Making and receiving calls with the Unihertz Titan Slim
This is not a 5G phone so there's that… but otherwise, I had no issues making and receiving calls on the T-Mobile network using my T-Mobile SIM from my iPhone. Speaking of T-Mobile, you need to be aware of which carriers you can use with this phone.
Titan Slim works fine with Verizon and T-Mobile network. But as it is not certified by Verizon, you may not be able to activate your new SIM card with it. You can activate a new SIM card with another Verizon certified device and then use it in Titan Slim. It proved to be effective by previous users of our products.
For AT&T users, there will be compatibility issues for some areas due to the carrier's recent policy change. Please consult your carrier before purchase, or switch to other carriers such as T-Mobile or Verizon.
Battery life and performance
With its 4100mAh battery, this phone has very good battery life.
The performance is ok. I wouldn't say that this phone is a screamer but for everyday normal tasks, the speed of opening and switching between apps felt fine to me.
What I like
Physical QWERTY keyboard for those who enjoy such things
Good fingerprint scanner
Multi-function side button
What I'd change
Make sure it will receive OS and security updates
Final thoughts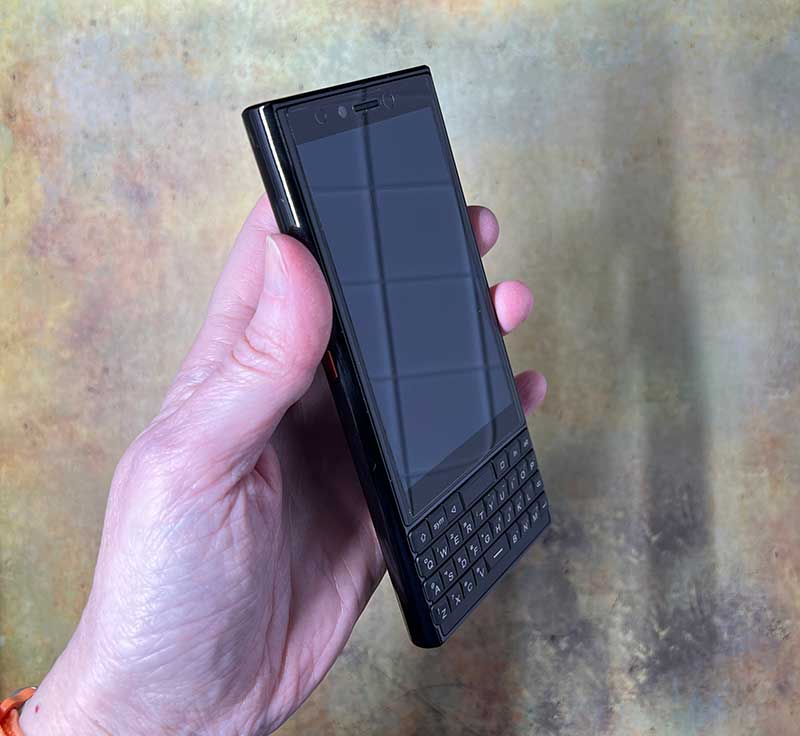 If you're looking for a budget smartphone that will make your friends do a double-take, the Unihertz Titan Slim could be an entertaining choice. I had fun playing with it but I'm not ready to go back in time and I am more than happy to stick with my iPhone 🙂
The Unihertz Titan Slim campaign ends on 6/9/22 and they have already passed their funding goal of $50,000. You can pre-order a Unihertz Titan Slim starting at $230. After the Unihertz Titan Slim campaign ends, rewards are estimated to start shipping in September 2022. Visit their Kickstarter page for all the details.
Price: $230.00
Where to buy: Kickstarter
Source: The sample for this review was provided by Unihertz.