We use affiliate links. If you buy something through the links on this page, we may earn a commission at no cost to you. Learn more.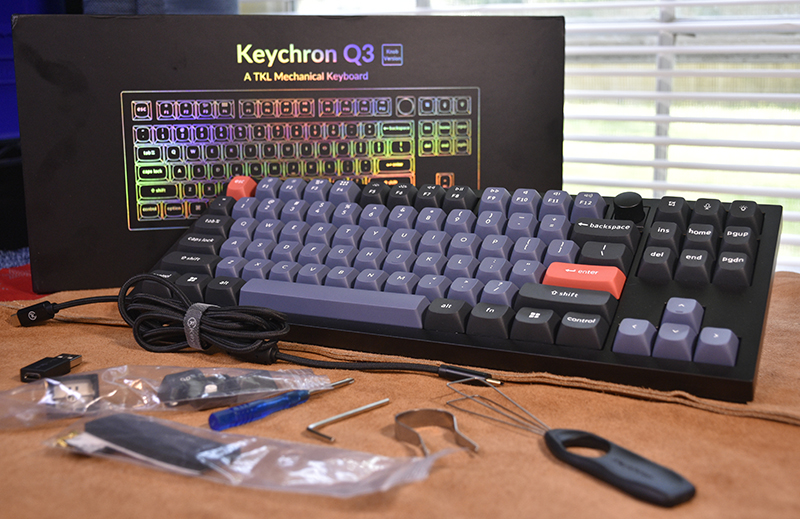 REVIEW – If you've ever wanted to build your own beautiful mechanical keyboard or wanted to buy one customized to your liking, I would highly recommend you take a look at the Keychron Q3 QMK Custom Mechanical keyboard. Since I have an unhealthy obsession with mechanical keyboards but not the budget to support it, I just HAD to review this beauty.
What is it?
Keychron Q3 QMK Custom Mechanical keyboard is a wired mechanical keyboard that can be ordered as a barebones kit or fully assembled with numerous options to make it your own. I received a Fully Assembled Knob unit for review, and I think I'm in love.
What's in the box?

Keychron Q3 QMK Keyboard, fully assembled includes:

Aluminum Case
PCB
Steel Plate
Sound absorbing foam
Case foam
Foam Gaskets for the frame
PBT double-shot keycaps
Choice of Gateron G Pro switches

Keycap puller
Key switch puller
Hex wrench
Small Philips Screwdriver
USB C to USB C cable
USB A to USB C adapter
User Guide
Quick Start Guide
Mac Options and Command keycaps
Windows and Alt keycaps
Baggie with extra foam strips and screws
A card with a friendly reminder to make sure switch pins are straight before re/inserting one
Hardware specifications
Width: 137 mm/5.4 in
Length: 1 mm/14.4 in
Front Height: 19.7 mm/.77 in (without keycaps)
Back Height: 32.6 mm/1.4 in (without keycaps)
Feet Height: 2.4 mm/.1 in
Angle: 5.2°
Weight: 2000 g ± 10g/ 4.4 lbs (Fully Assembled Version)
Body Material: Full CNC machined aluminum
Plate Material: Steel
Polling Rate: 1000 Hz
Keycaps (Fully Assembled Version): Double-shot PBT keycaps, not shine-through, OSA Profile (OEM height, SA shape)
MicroController Unit: Ultra-low-power Arm Cortex-M4 32-bit STM32L432 (128KB Flash)
Switches: Gateron G Pro (Fully Assembled Version)
Backlight: South-facing RGB LED
Switch Support: Hot-swappable (5 pin & 3 pin)
Stabilizers: Screw-in PCB
Connectivity: Type-C
Operating Environment: -10 C to 50 C / 14 F to 122 F
Design and features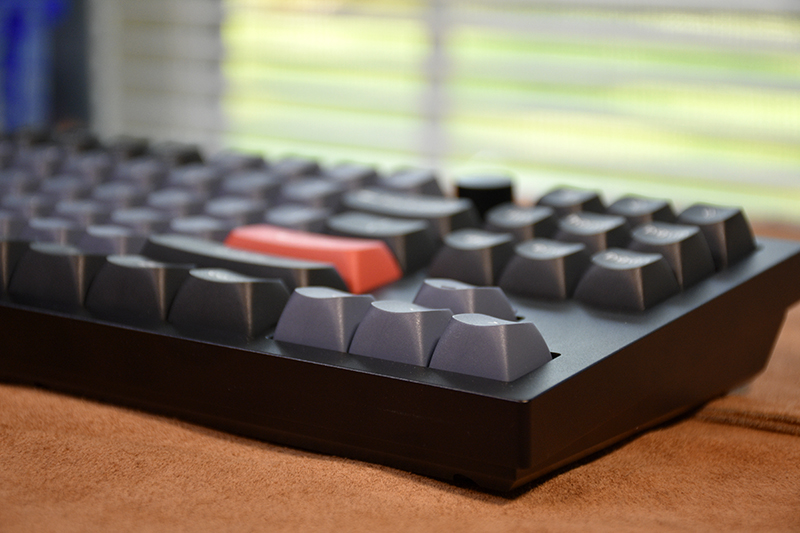 The Keychron Q3 QMK Keyboard is an 80% mechanical keyboard, so no number pad. It comes in several different variations. There's fully assembled with or without a knob and a barebones kit.  The fully assembled comes in your choice of an anodized carbon black, navy blue, or sliver grey two-piece, aluminum frame with color-coordinated PBT double-shot keycaps. Side note: If you don't know what PBT double-shot is, it means these keycaps are the GOOD ones. They're shine resistant and the fonts don't wear off because it's not a screen print. The characters are actually the secondary color the caps are made of.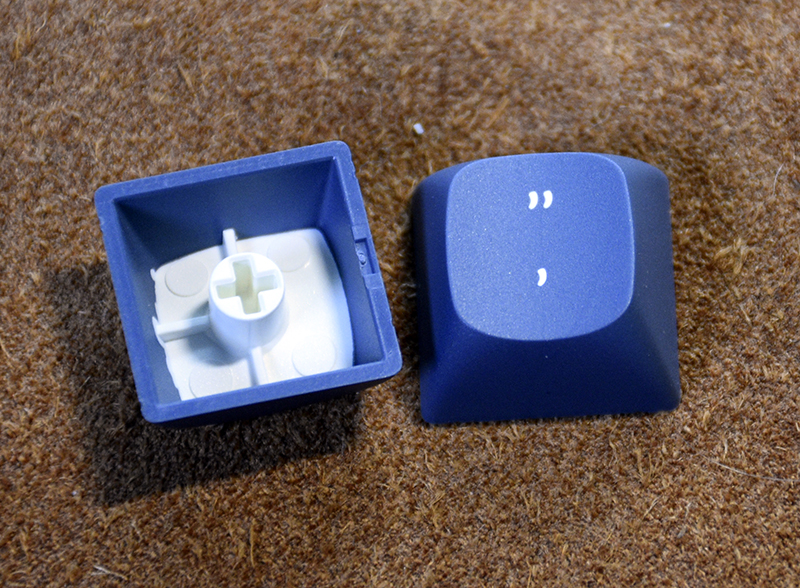 This version also comes with your choice of Gateron G Pro red or brown pre-lubed switches or non-lubed blue switches. I got the blue ones because they're clicky with a bump just before activation. All keycap stabilizers are screwed to the frame, so no worries about breaking tabs out of the underside of your caps. You can also get your choice of an ANSI or ISO layout.
The barebones kit is also available with or without a knob with the same three same frame color choices.  Other than the switches and keycaps, it includes everything the assembled version does in the box.  This could be a good choice if you have a different switch or cap preference.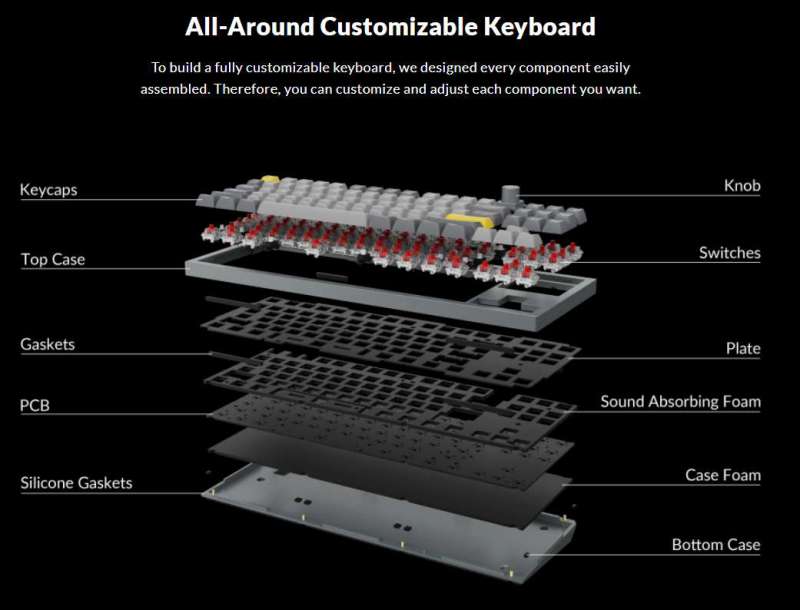 I've never had a keyboard with any kind of noise dampening before and was pleasantly surprised by how it affected the sound of the key clicks. There are 4, yes 4, separate layers of foam inserts. There are strips of foam between the top case and steel plate holding the switches in place.  There are more of these strips between the steel plate and the bottom case. There's another laser-cut foam sheet between the plate and the PCB.  And finally, there's a layer of foam between the PCB and bottom case. Keyboards without the foam can have, for the lack of a better term, a rattly feel and sound to them.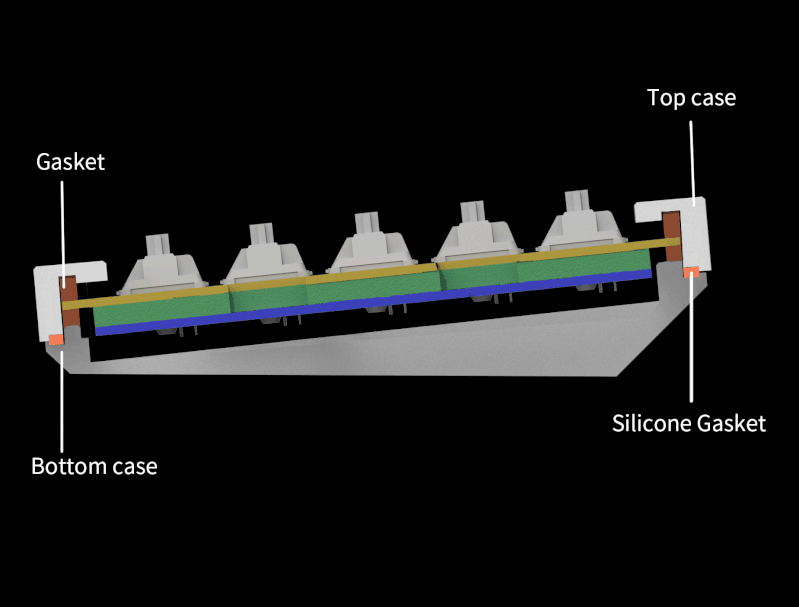 The Keychron Q3 QMK mechanical keyboard supports both Mac and Windows using a mode switch on the rear next to the USB-C port.  It comes with the appropriate Windows and Alt caps or Mac Command and Options ones. So, all your favorite keyboard shortcuts should work without issues.
The PCB supports hot-swappable switches so if you don't like the ones installed, either by Keychron or yourself depending on the model you choose, you can swap them out. No soldering or de-soldering is involved.  I will say the first time I removed the keys on this keyboard, it was difficult. The included switch puller dug into the side of my finger, so I used another one I had.  The switches were tightly fit into the steel plate, so I had to pull harder than I was comfortable doing. With that said, the next time I pulled one out, it was much easier. If you're new to replacing switches, be wary of bent pins. Make sure they are straight before inserting them.  If you don't, you could mangle one quite easily and not even know until you go to use the keyboard. Ok, yes, it was me. I did it. But it's ok.  I was able to straighten it out and it's working fine now.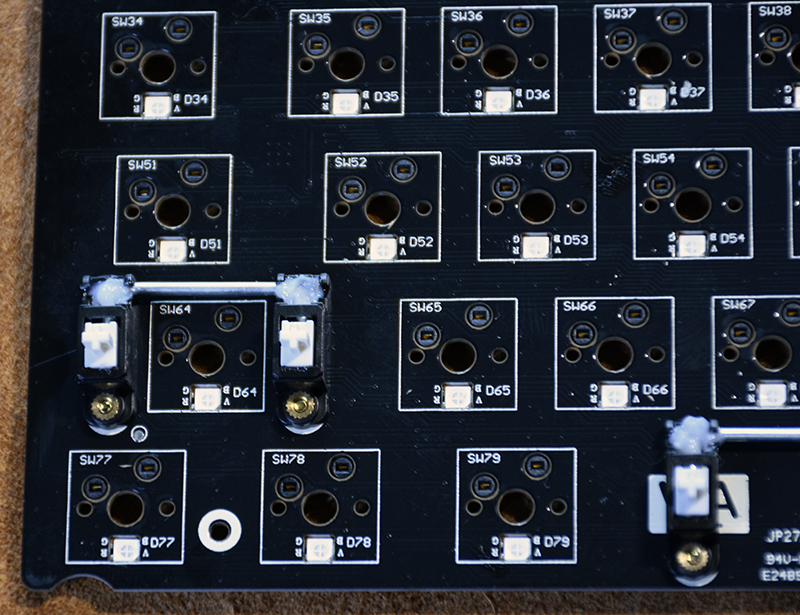 The PCB has south-facing LEDs.  Why does matter?  Well, I'll tell you. These keycaps do not allow the LEDs to shine through. So, to better see them and all the different modes of lighting, Keychron placed the LEDs at the bottom of the switch socket. Gamers, rejoice! There are keyboard shortcuts allowing you to choose one of 12 different modes, LED brightness, and speed. There's also one for those of us who don't necessarily want our keyboard to resemble the Vegas strip. Fn+Tab allows you to turn them off.
Let's talk about the case.  This thing has a top and bottom piece of CNC machined aluminum. And the machine work is fantastic. It looks striking in my honest opinion. Having said that, once it's completely assembled, it weighs almost 4 and ½ pounds! If you're of those unlucky souls who still have to go into the office, you'll want to think twice about lugging this back and forth. In case you were wondering what all is in an almost 5-pound keyboard, and I know I was, here it is completely disassembled.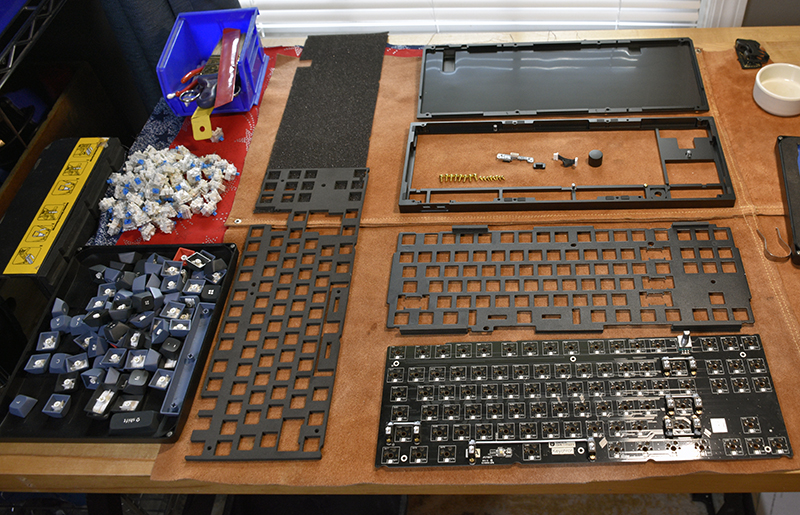 The knob.  I like knobs. Knobs are useful and fun.  Yeah. I know. I'm weird and I'm ok with that. The knob itself is aluminum and knurled. They didn't skimp out here.  And the potentiometer used is beefy. I don't think I'll have to worry about accidentally snapping the post on it. It also has very positive clicks or stops as you turn it. I do have a minor quibble about it though. The cap is a little short for my taste.  I have sausage fingers so the space between it and the surrounding keys is tight.  It's not that big of a deal but it's the only thing I could find to sorta, kinda dislike.

What I like
The build quality. It's above and beyond any other keyboard I've used or own
The key caps have the perfect shape, feel, and look
The aesthetics. Man, is it pretty
The size. Big enough to do the job and small enough so it doesn't take up the whole desktop
The sound and feel of the switches due to all the foam gaskets
Hot-swappable switches
Your choice of four different types of Gateron switches
What I'd change
Final thoughts
In case I haven't been clear about the Keychron Q3 QMK custom mechanical keyboard, I love it. I love the feel of it, the sound of it, the size of it, the look of it. Even if I don't decide to use it every day, I'm gonna hang this sucker on the wall so I can just look at it. Keychron's description of this keyboard as Refined Metal Art is dead on.
The version I have costs $174 which I think is a great price for the quality of keyboard you're getting for the money. If you're a mechanical keyboard enthusiast, I think you'll love it. If you've wanted to build your own but the price of all the individual parts makes you wince, the barebones kit could be right up your alley.
Price: $174 for the version I received
Where to buy: keychron.com and other models on Amazon
Source: The review sample was provided by keychron.com