We use affiliate links. If you buy something through the links on this page, we may earn a commission at no cost to you. Learn more.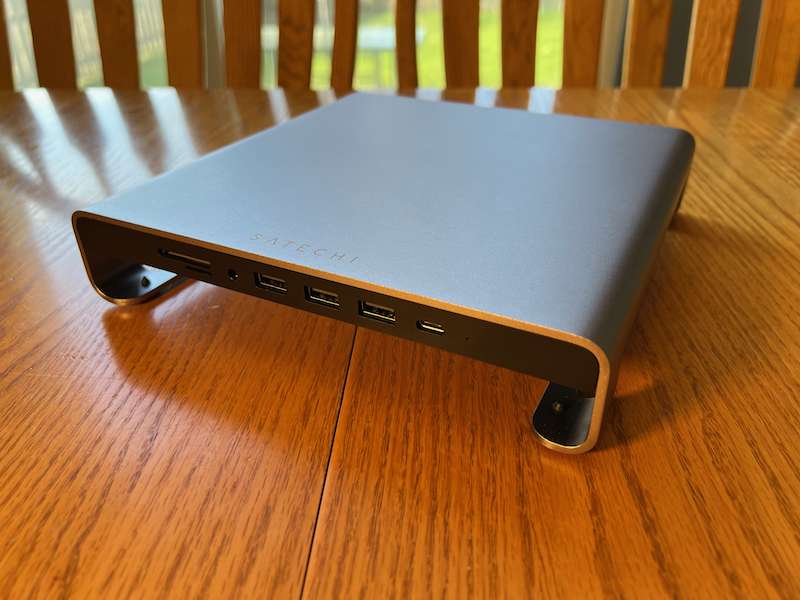 REVIEW – Do you keep your computer monitor flat on your desk or put it on a stack of phone books to get it to eye level? If the answer to either of those is yes it's time to fix that by getting a monitor stand. If you're sitting at a desk looking at a computer screen for hours at a time it's important to have it elevated to prevent strain on your neck. If you want your setup to look clean and be even more functional, Satechi's Type-C Aluminum Monitor Stand Hub gives you an elevated platform with an integrated USB-C hub.
What is it?
As the name implies, the Satechi's Type-C Aluminum Monitor Stand Hub is a stand for an iMac or similar sized monitor with an integrated hub, placing some of the most-used connections at the front, providing easy access when you need to get things done.
What's in the box?
Aluminum Monitor Stand Hub
USB-A to USB-C Adapter
Quick Start Guide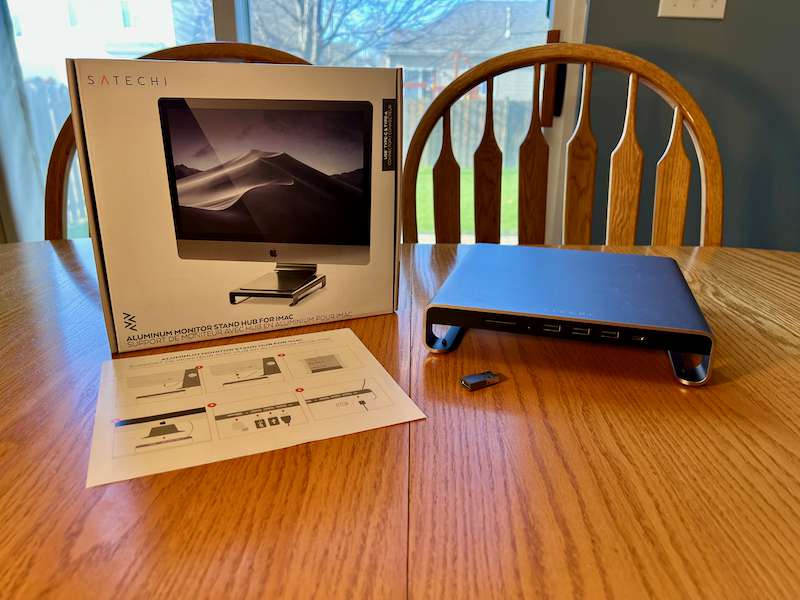 Hardware specs
Compatible Devices: Supports all Apple iMac models with our included Type-A to Type-C adapter.

 

Speed

1 x USB-C data port – up to 5 Gbps (does not support charging/video)

 

3 x USB 3.0 ports – up to 5 Gbps

 

1 x Micro/SD card slots – UHS-I, up to 104 Mbps

Max loading weight: 50 lbs.
Weight: 19 Ounces
Dimensions: 10.04 x 8.82 x 2.17 inches (255 x 224 x 55 mm)
Color: Silver or Space Gray
Design and features
The Satechi Type-C Aluminum Monitor Stand Hub for iMac is a stand, just over two inches tall, and almost square, with an integrated USB-C hub. The stand is built with unibody construction and a brushed aluminum finish. Under the shelf is an integrated USB-C cable, which is clipped to the stand and folded at several points, providing a built-in cable management solution.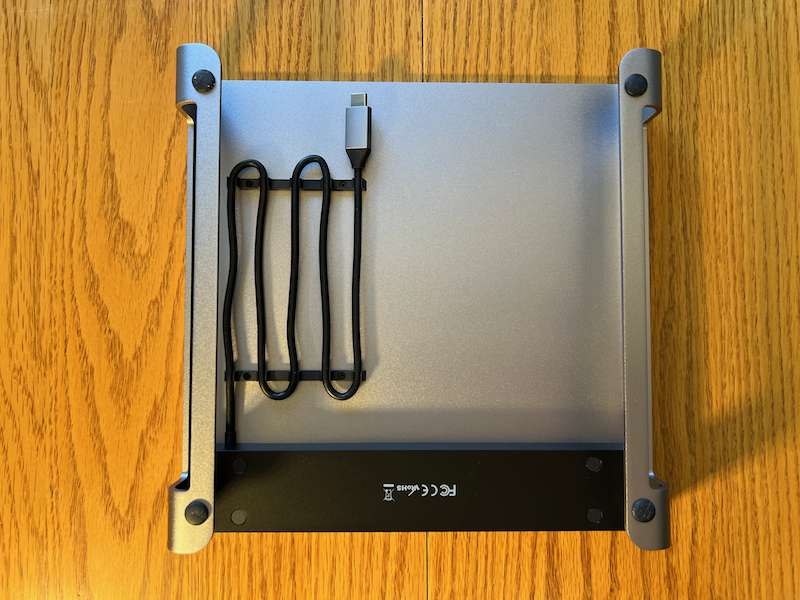 Installation and setup
All that needs to be done is to take the stand out of the box, pull out as much of the USB-C cable as you need, place the stand on the desk, place your computer or monitor on top of the stand, and plug it in. You can plug it in directly with the USB-C cable or use the USB-A to USB-C adapter if you don't have a USB-C connector available.
In Use
I'm a big fan of multi-function devices. I've carried a Leatherman or similar tool on my belt every day for decades, I like to buy USB chargers with multiple ports so I can charge my phone and tablet at the same time, and I even make sure that the battery banks I buy have a flashlight built it. This stand hub is no different. Raising the monitor or iMac off the desk and using some of that space for a hub is a great idea. 
Satechi has chosen a good mixture of ports in this case – MicroSD and SD card readers, three USB-A ports, and a USB-C port. While there are other connectors that are used on a regular basis (ethernet and HDMI come to mind), some of them are connectors that you normally wouldn't want coming out the front of a device, where all of these connectors are ones that you want up front for convenience but won't necessarily have something connected to the all the time so you don't always have cables in the way.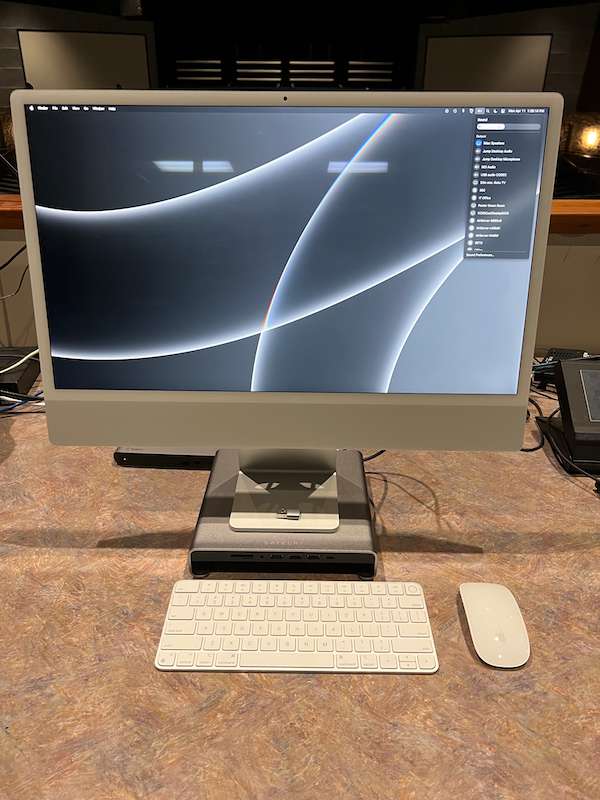 The convenience of having these ports in the front, right below your display, can not be overstated. With iMacs having all the connectors in the back and most tower computers being on the floor, a way to reach necessary connectors like this is so convenient. Having the connectors (and the monitor) elevated off the desktop is nice, too, compared to a standard hub where it might not be facing the way you want or might be a mess with a whole bunch of cables sticking out, or you need to figure out where to place it on your desk. With the Satechi stand hub, this is not a problem. The connectors are front and center and always in the same place.
Similarly, having a monitor raised off the desktop puts it where it's easier to see and interact with as well as being less of a strain on your back and neck muscles. This stand hub also gives a little bit of storage space underneath, although it would be nice if it was wide enough to accommodate a keyboard, saving desk space when you're not typing. I would like to see this stand be a little taller, as well. Two inches is not a lot of difference. I have other monitor stands that are 4 – 5 inches tall; that seems to be a better height for me at least.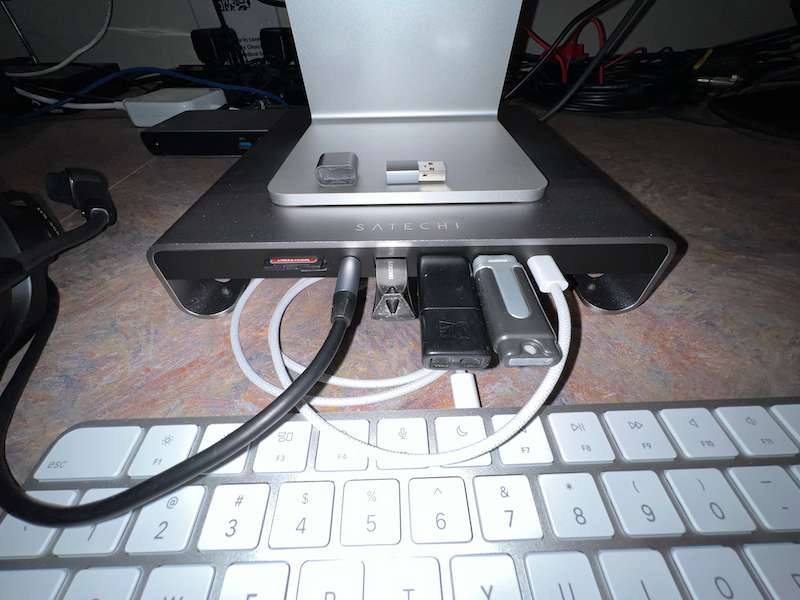 Transfer speeds were what I would expect from a USB-C hub. I got up to 95 MB/s read speeds on an SD card, 45 MB/s on a MicroSD card, and up to 179 MB/s read speed on my fastest USB 3.0 flash drive. Write speeds were significantly slower for all of them, but that's to be expected for these kind of drives and doesn't indicate to me that there's anything wrong with the hub. I was not able to use the SD and MicroSD card slots simultaneously. With two cards inserted it only showed one so don't expect to transfer files directly from one SD card to another. 
The headphone jack also works as a microphone jack so you can use headphones with an integrated microphone as long as they use a 3.5mm TRRS connector. Both the input and output showed up in the Mac's menu as iMac Stand Audio. Selecting either made it the default input or output device on the mac and audio worked exactly as expected.
The hub portion of the stand hub is bus powered, meaning there is no external power supply needed for it to operate. This makes it a convenient one cable solution. Satechi does have a warning on their site that you should only have one bus-powered device plugged in to this hub at a time, meaning you can charge a phone but not multiple phones or other rechargeable devices. Satechi also states that the USB-C connector is not for charging or video output. 
The stand hub is great as it is, a simple way to elevate a monitor or iMac and a convenient hub for some of your most-used connections, but I'd like to see an expanded version that offers more connections. It would be nice to have a version with ethernet and HDMI connections at the back, as well as a few more USB-A and USB-C connections. I would expect this would need to be a powered hub, not relying on the bus power from the USB-C connection on your computer. For something that sits on a desk all the time, another power adapter isn't really a big deal for the added connections this would provide. This could also allow you to charge more bus-powered devices simultaneously.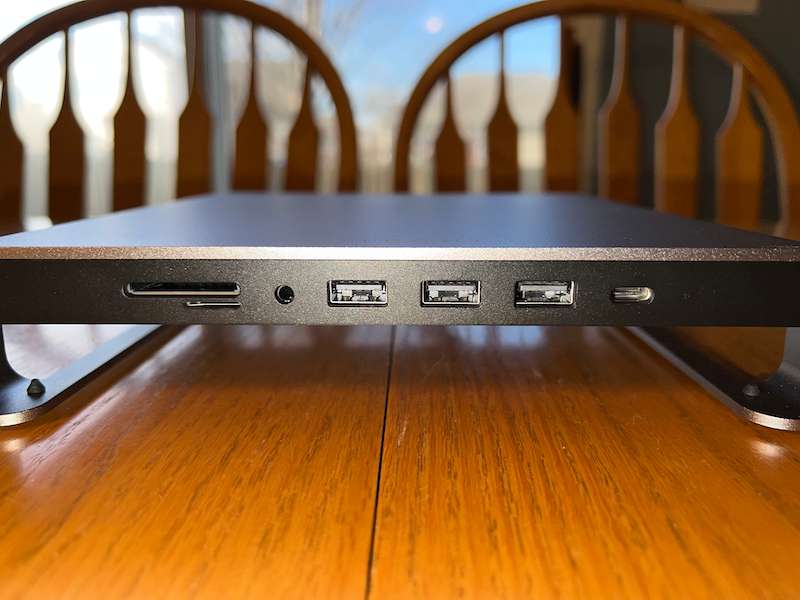 What I like
Integrated USB-C cable
USB-C cable storage
Included USB-A to USB-C adapter
Better ergonomics for monitor use
What I'd change
I wouldn't change anything for this version but I'd like to see an expanded version with ethernet and HDMI connections on the back, external power for charging more devices simultaneously, and a little taller and wider to raise the monitor even further and accommodate keyboard storage underneath.
Final thoughts
Satechi is well-known for its Mac and mobile accessories and the tradition continues with the Type-C Aluminum Monitor Stand Hub. It doesn't do everything a separate hub and monitor riser can do, but it's a good compromise with the most-needed features of each device with a decent price tag.
Price: $89.99
Where to buy: satechi.net or Amazon
Source: The sample for this review was provided by Satechi. For more information visit their site.