We use affiliate links. If you buy something through the links on this page, we may earn a commission at no cost to you. Learn more.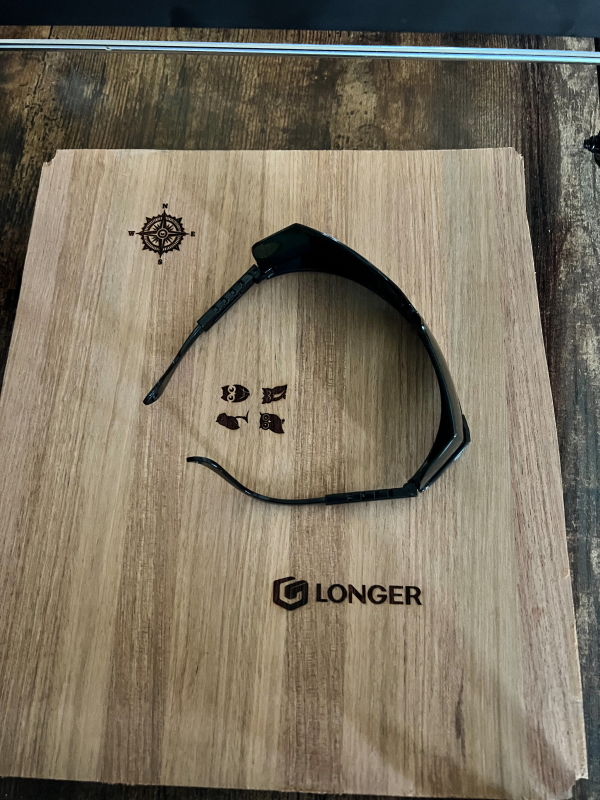 REVIEW – For several years I have been using 3D printers to make and model several items and have enjoyed doing so, especially for decorative items. Machines like 3D printers fascinate me and I find that they allow me to bring my imagination to reality. I am so excited to now get the chance to test and review a laser engraver for the very first time. Let's see how the LONGER RAY5 Laser Engraver works!!
What is it?
The Longer Ray5 laser engraver features a built-in 3.5" touch screen, a TF Card Slot, and built-in WiFi. In addition, it has a built-in controller, and no computer is required to be continuously connected to the laser engraver. The Ray5 can be used for engraving or cutting.
What's in the box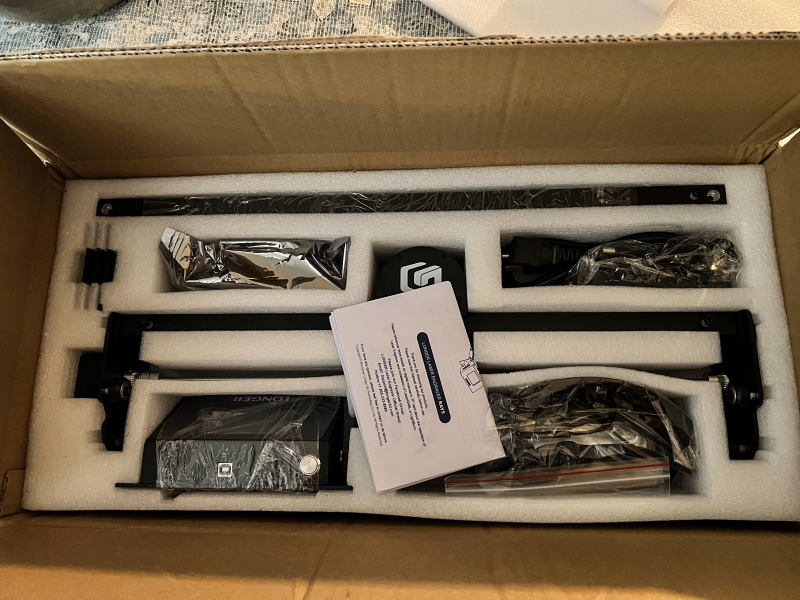 1 x LONGER RAY5 Laser Engraver
1 x Hardware and Accessories including Eye Shades
1 x User Manual
Design and features
Features
Touch Screen & Offline Carving: LONGER RAY5 laser engraver has a built-in 3.5" touch screen with a friendly user interface. This allows us to cut multiple pieces of plywood or images to be engraved without tying up your computer to run it. The Longer Ray5 has a built-in controller and no computer is required to connect the laser engraver all the time. Save your file to a TF card, and use it to run the Ray5 for engraving or cutting.
Ultrafine Laser Point & Powerful Laser Module:

This laser engraver comes with the latest FAC laser technology for compressed laser points, the size of the point is 0.08*0.08mm; The smaller size of the point, the more focused the energy. This allows the engraving or cutting to be much stronger. The output power of the laser module reaches 5-5.5W.

32-Bit Chipset & WIFI Connection:

RAY5 is built with an ESP32 chipset and includes a WIFI connection for the engraver to the router. This 32-bit chipset is running at 240MHz. That means it is faster and more powerful than comparably equipped machines with 8-bit chipsets. As a bonus, the RAY5 supports WIFI connections through the web page or App to control engraving or cutting.

Safety Protection:

LONGER RAY5 is designed with move protection and thermal protection functions. If the machine is moved while in use, Move protection will initiate auto-shutdown for personal safety. Thermal protection initiates an auto-shutdown if it detects a flame or the engraving area overheats.

Compatible with Windows/MAC/Linux System:

RAY5 is compatible with free engraving software LaserGRBL and paid LightBurn software. It supports import with BMP, JPG, PNG, DXF, AI, SVG, etc file format.

Power Button & Eye Protection:

The engraver comes with a power switch to turn the power on or off. The laser module has an acrylic cover. This shields the laser light to help protect the eyes. You will want to wear eye protection for laser scatter as well.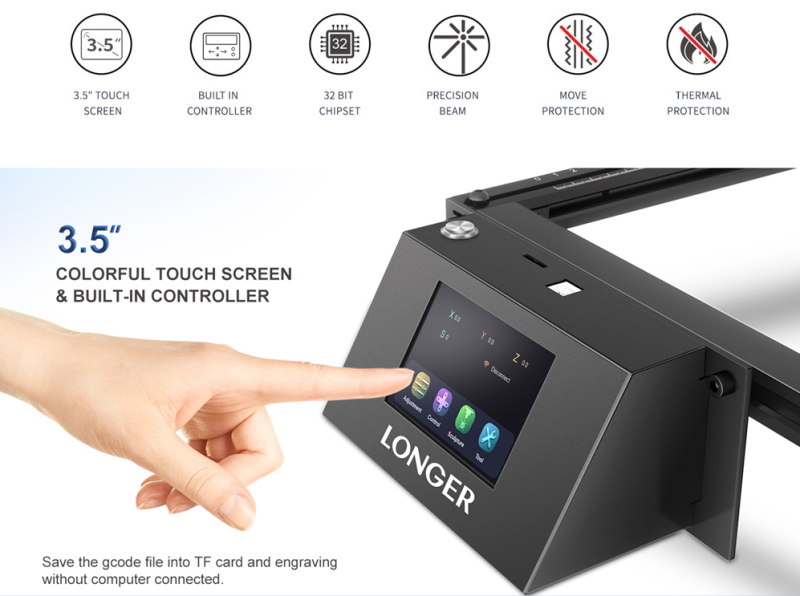 Specifications
Laser Technology: Diode Laser
Working Area: 410 x 410mm (16.14 x 16.14inch)
Laser Wavelength: 450nm
Focus Type: Fixed Focus – 30mm Focal Range
Spot Size at Optimal Focus: 0.08 x 0.08mm
Optical Output Power: 5.5W
Z Axis-Height Range: Up to 65mm
Engraving / Cutting Speed: 40 – 10000mm/min
Engraver Output: DC12V 5A
Engraver Input: AC110 – 240V
Software: LaserGRBL, compatible with LightBurn
Connection: USB / TF Card / Wifi
Laser Engraver Size: 61 x 67 x 20cm (24 x 26 x 0.79inch)
Carving Objects: All wood, paper, plastic, leather, PCB board, aluminum oxide, non-reflective plating and lacquered metal
Cutting Objects: Cardboard, non-woven fabric, light wood, Acrylic material, thin plastic board
Package Weight: 6.5 kg
Package Size(L x W x H): 59 x 30 x 12.7cm
The Longer Ray5 Laser Engraver is made of what feels like aluminum. It is lightweight but strong. Assembly is required, but it is easy. The laser has a shield on it and shades are included. Also included are a USB micro SD card and adapted. a USB cable and the Allen wrenches to tighten the screws.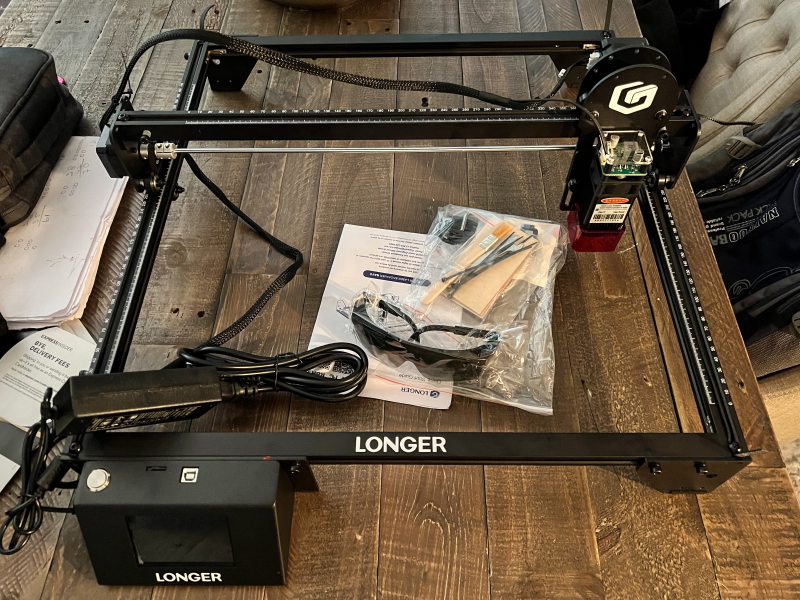 Performance
The first step was to assemble the engraver. It is quite easy as long as you take your time. The instructions in the manual are not very good, but there is also an instructional video on the included micro SD card. However, I did not need the video. The following are some photos of my process: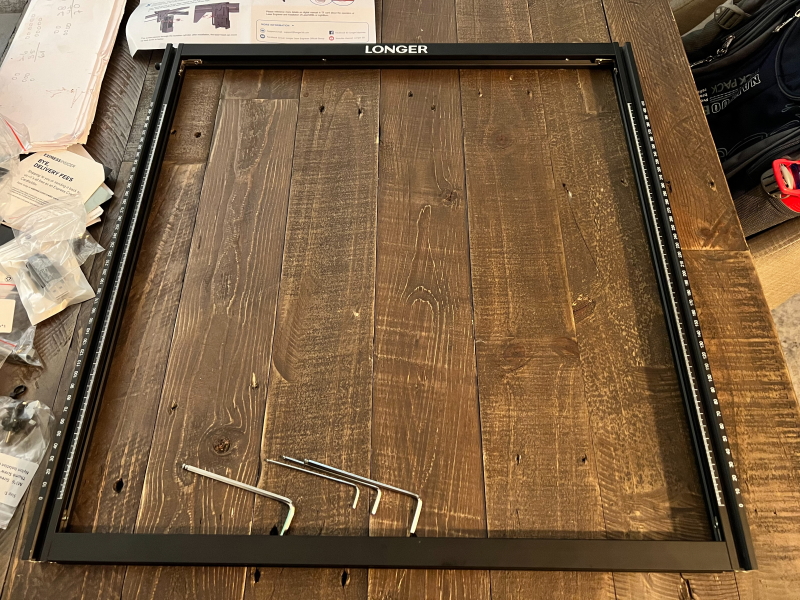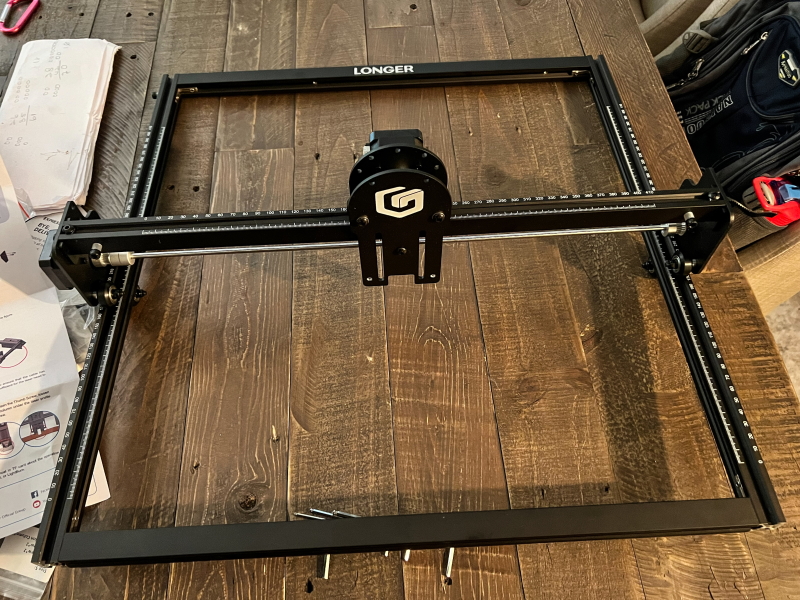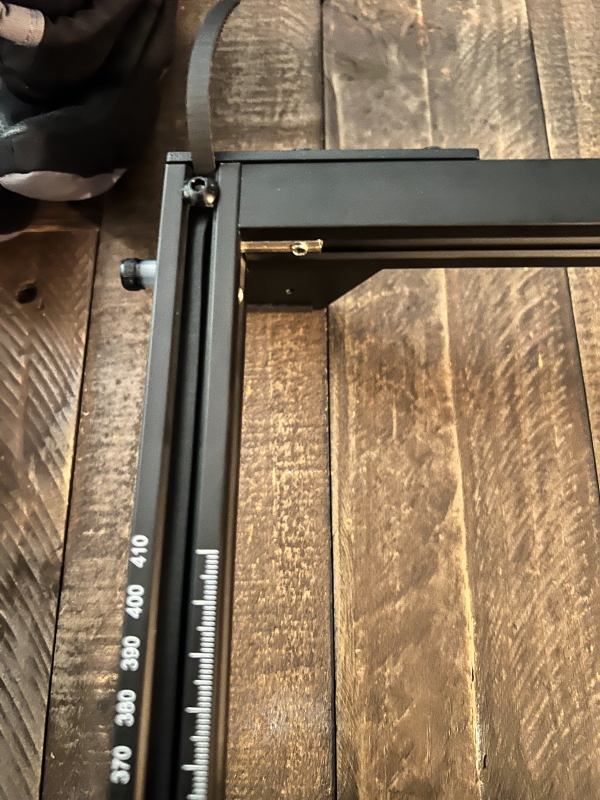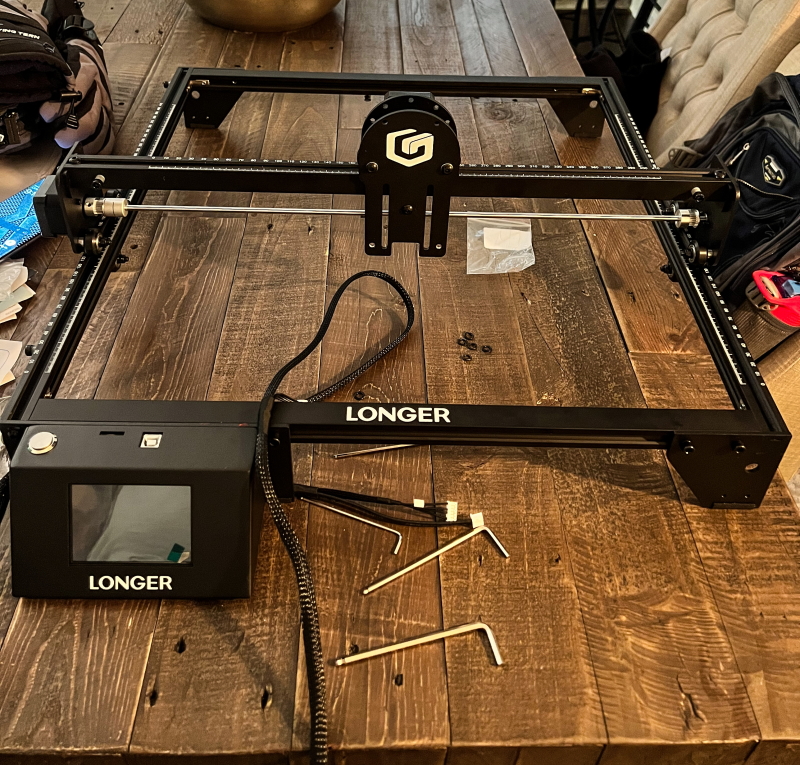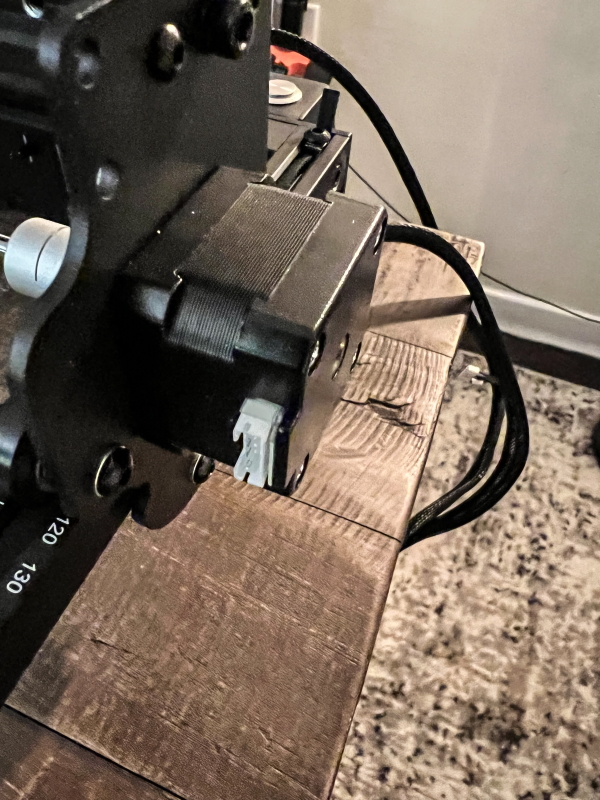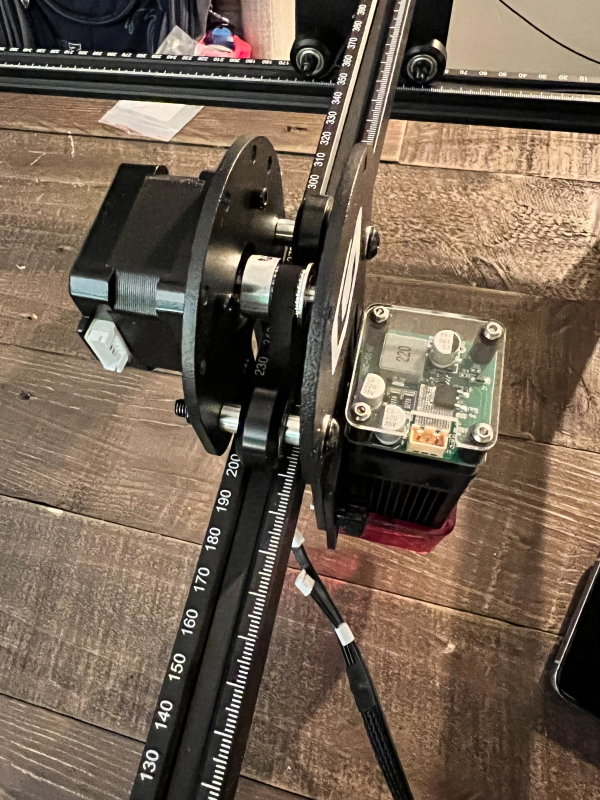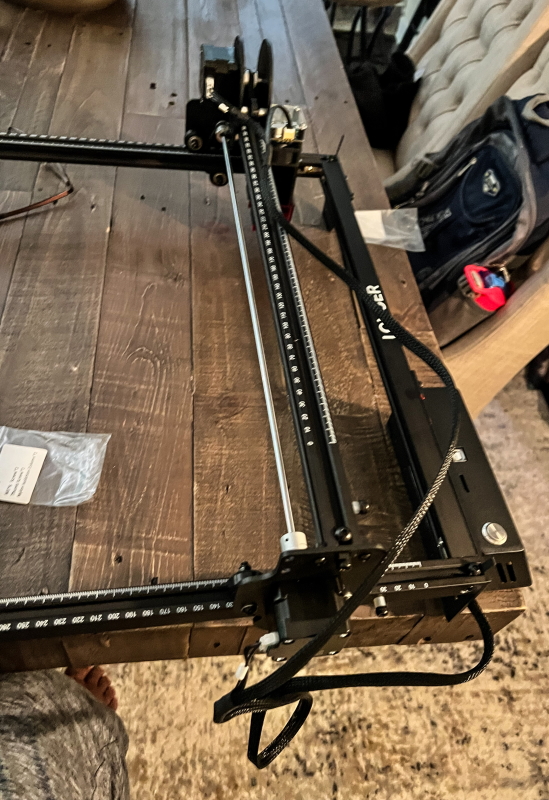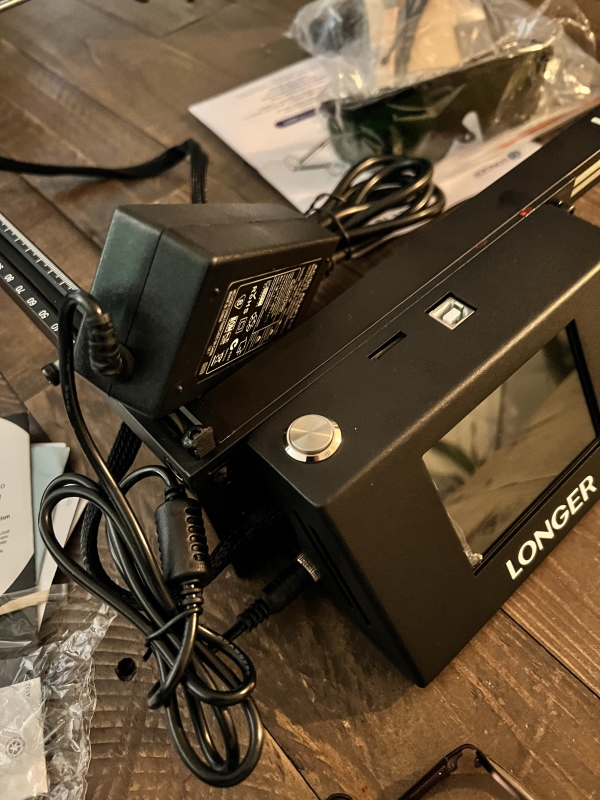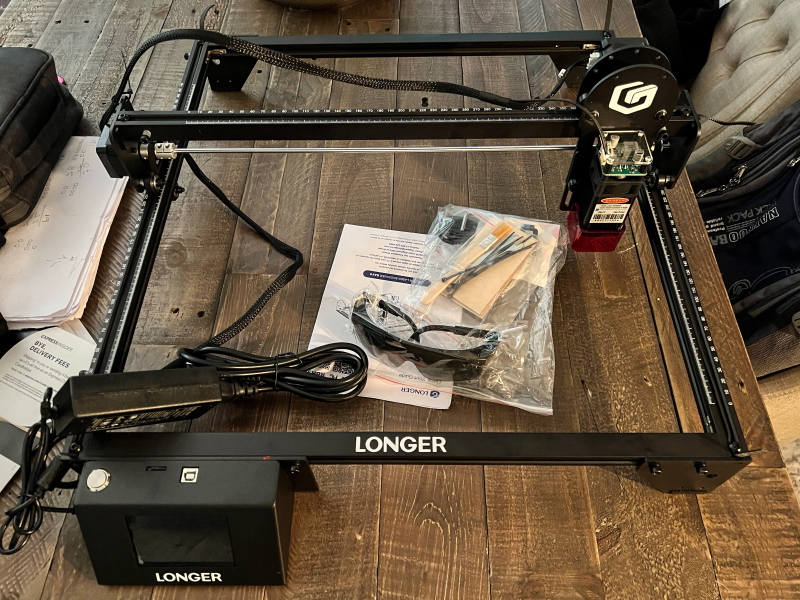 Once the engraver is assembled, I used the micro SD card that was included with the USB adapter to test the device. The card came with 3 sample files for engraving. There is additional software on the memory card including manuals, firmware, an instructional assembly video, and 2 design applications. There is a metal cylindrical tool that is used to set the height of the laser above the material that you want to engrave: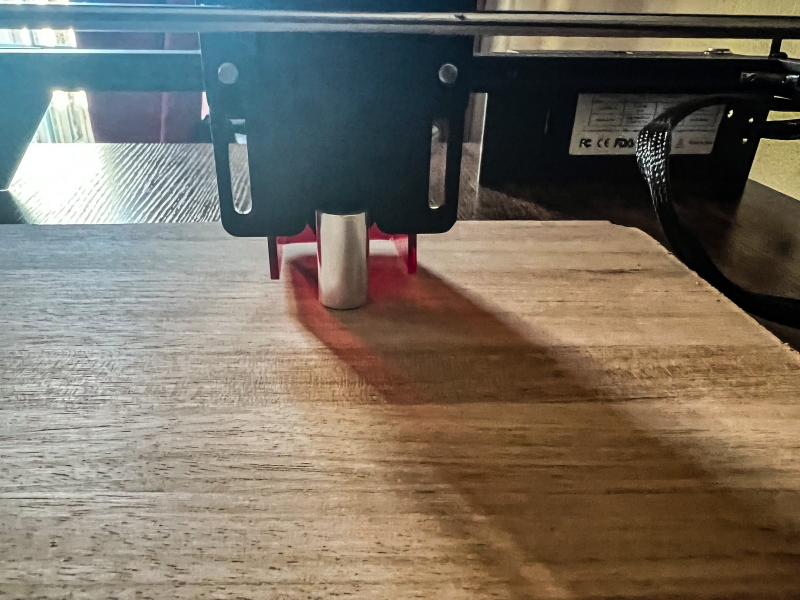 Once the height is set, it is time to insert the micro SD card and get to engraving. A USB cable is included if you want to use an external hard drive or a direct PC connection. In the photos below I have also included some of the screens on the touch control screen: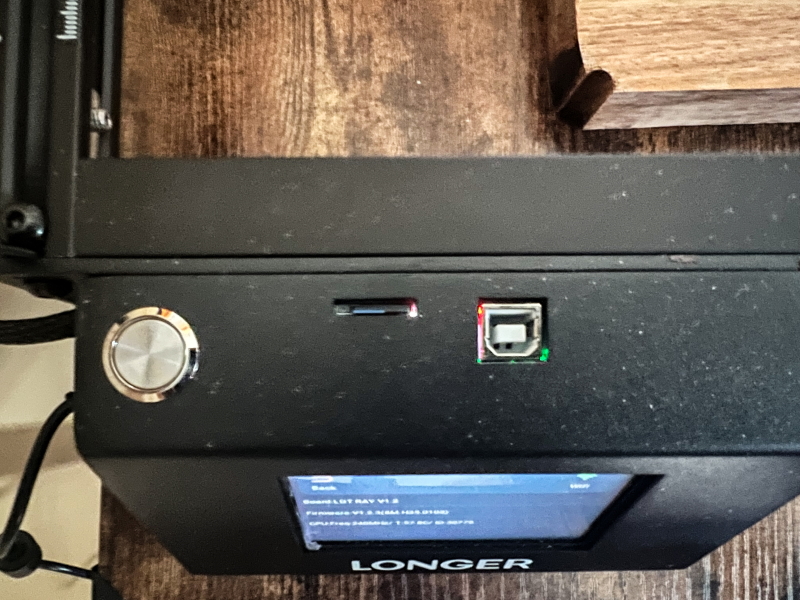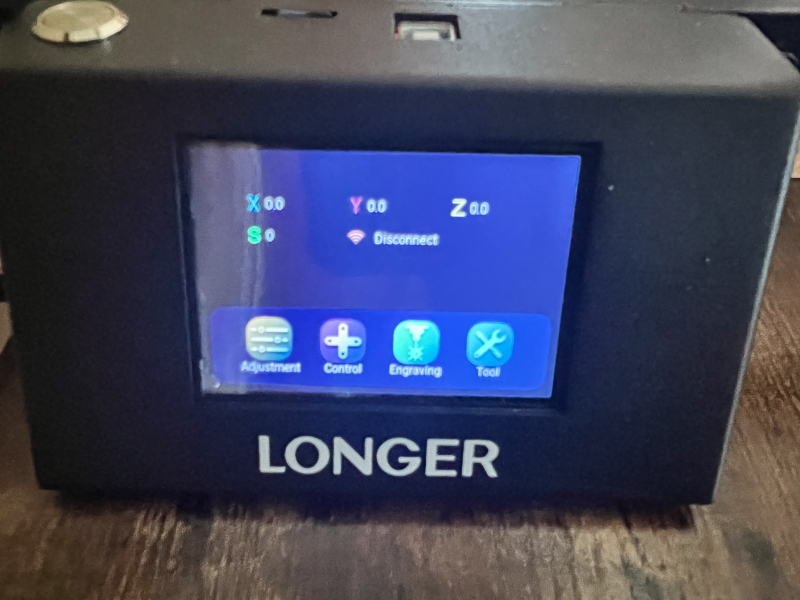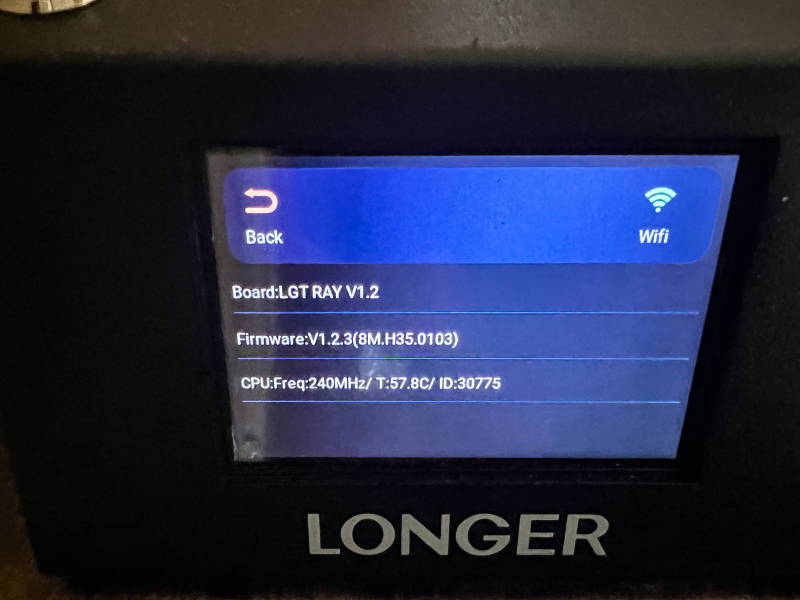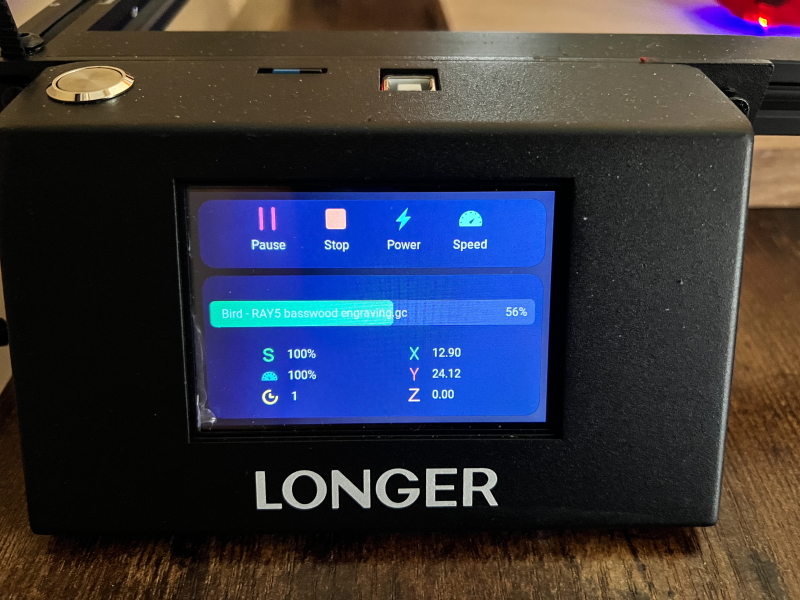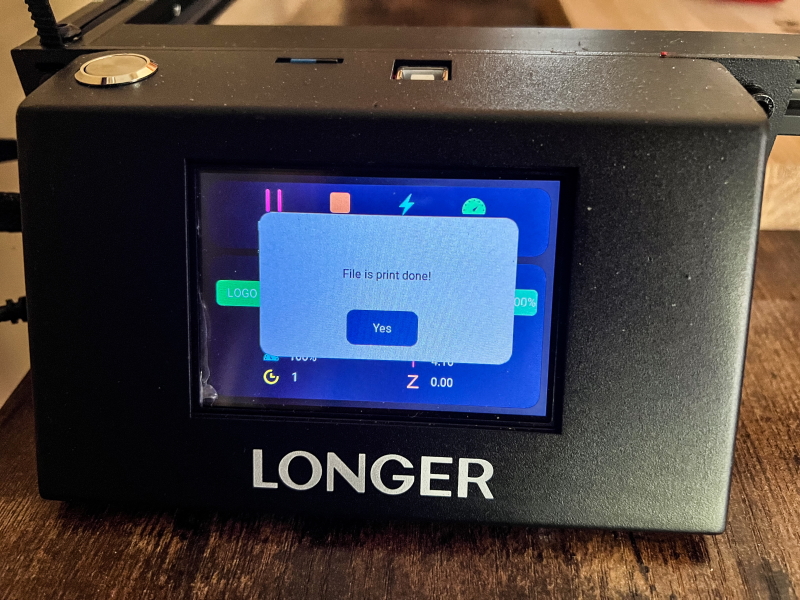 See it in action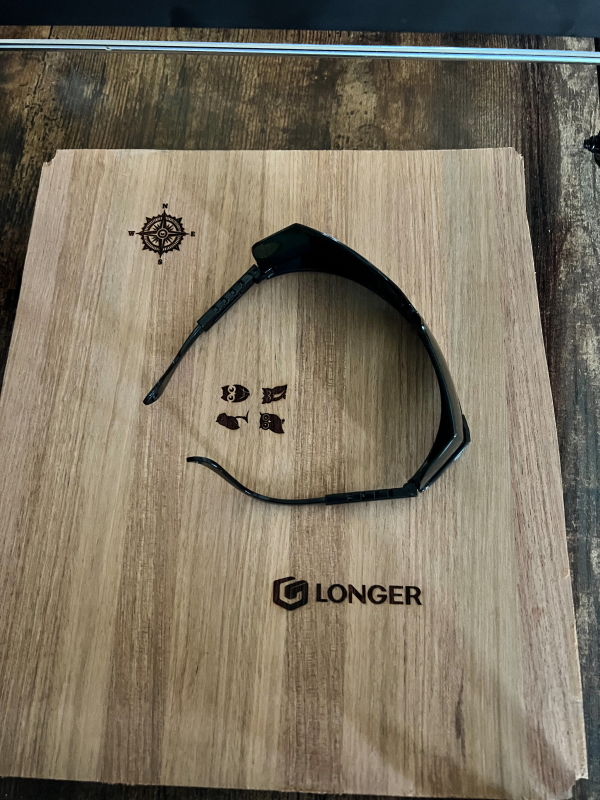 Watching the Longer Ray5 Laser Engraver is very enjoyable and much like when I watch my 3D printers print. However, this device causes quite a bit of smoke and of course the smell of the material you are engraving. The included shades are necessary if you want to look at the laser to see what it is doing. I would recommend using this outdoors or at least in a workshop. Also, I did not test the cutting capability because I currently do not have a proper surface to place underneath the material I cut. If an enclosure is included along with some material to restrict the depth of the laser, the device would be even better. The way the engraver works you can select how many passes you want it to make when carving, and with each pass, it cuts deeper. I have to assume that it would take some hours to cut through the 1-inch think board that I was using to test. overall, this is still a really nice engraver, and the large printing area makes it very versatile.
What I Like
The build quality
The relative ease of assembly
The site of the printing area
That software to design and print is included
The quality and speed of printing
What I'd change
There should be an enclosure for the smoke/fumes that the printing causes and some protective plate/material to place under the material that is being engraved
Final thoughts
This is the first time that I am testing a laser engraver, and I must say that I really like the Longer Ray5 Laser Engraver for the quality, relatively quiet operation, and the quality of the engraving it produces. Since it is not enclosed, in the future I will have to use it outdoors, maybe in my garage. It gives off quite a bit of smoke while engraving, and then there is also the smell like the smell of burning wood if that is the material you are engraving. I tested it indoors and the fumes were the unpleasant part. However, the experience was great for me, and this engraver is very capable, especially because of the larger build area. I give it a well done!!
Price: $335.00
Where to buy: geekbuying.com
Coupon Code: NNNALL3DPLR5U
Expiration Date:2022-08-21
Discount price:$325.99
Ships from: US
-or-
EU customers can buy the EU version.
Coupon Code: NNNALL3DPLR5U
Expiration Date:2022-08-21
Discount price:€301.44
Ship from: DE
Source: The sample for this review was provided by Geekbuying.