We use affiliate links. If you buy something through the links on this page, we may earn a commission at no cost to you. Learn more.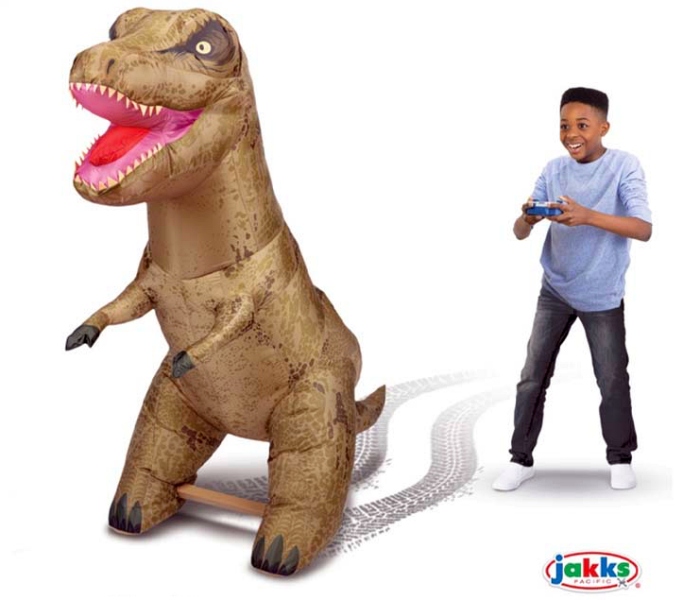 NEWS – When I was a kid, I loved dinosaurs. Heck, I'm 54, and I still love them. But, back then, we didn't have the type of toys kids have today. And we certainly didn't have anything like the JAKKS Pacific AirTitans Jurassic World Massive Attack T. Rex. The Attack T. Rex is a constant air inflatable remote-controlled prehistoric beast that is over 6 feet long and fully inflates in 20-seconds. The giant inflatable can be moved around the room using a 2.4 GHz wireless remote control. It also has over a dozen dinosaur sound effects, including multiple T. rex stomps and roars. You can even trigger an attack mode that temporarily disables the remote allowing the T. Rex to terrorize the room all on its own. Where was this thing when I was a kid?!
The AirTitans Jurassic World Massive Attack T. Rex from Jakks Pacific will be coming to online retail in Spring, ahead of the theatrical release of the new Jurassic Park flick, Jurassic World Dominion, in June 2022. The inflatable is made for ages 8 and up and will sell for $129.99.
If you don't want to wait and have a friend (who probably won't be one for long after this…) you can buy this inflatable adult-sized costume and have him or her be your dinosaur toy. The inflatable costumes are $67 on Amazon.