We use affiliate links. If you buy something through the links on this page, we may earn a commission at no cost to you. Learn more.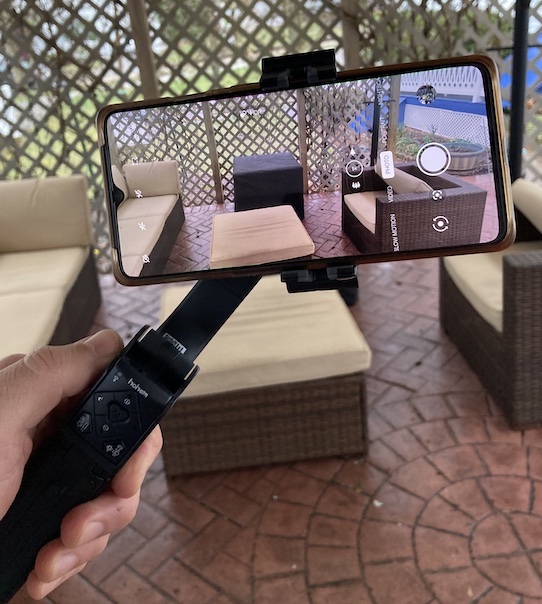 REVIEW –  It usually seems like a great idea to increase value by taking several products and building them into a single innovative and well-constructed package, which is what the Hohem iSteady Q gimbal is.  It does what it does very well.  But in my experience with it, I kept coming back to the same question:  Who's it for?
What is it?
The Hohem iSteady Q is a lot of things!  It's a phone tripod. It's a selfie stick.  It's a single-axis gimbal.  It's a wireless remote control. It's an integrated app for your phone. It's a great value. Taken together, it's a low-cost compact tool for making high-quality videos with your phone.
What's in the box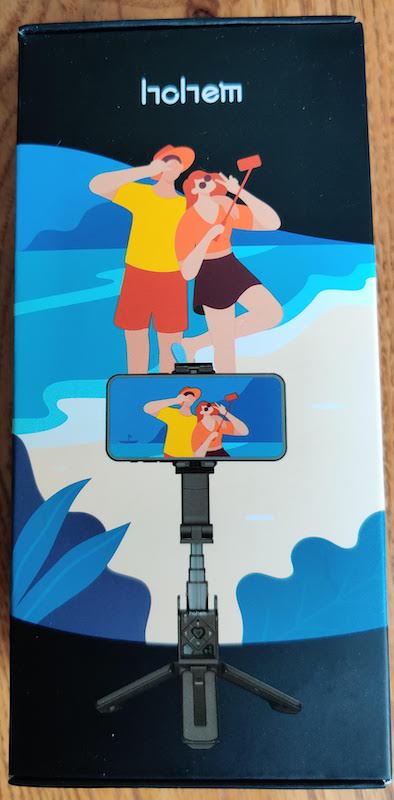 Hohem iSteady Q Gimbal with integrated wireless remote

Quick-start guide (built right into the packaging)

Storage bag

USB-C charging cable

Instructions booklet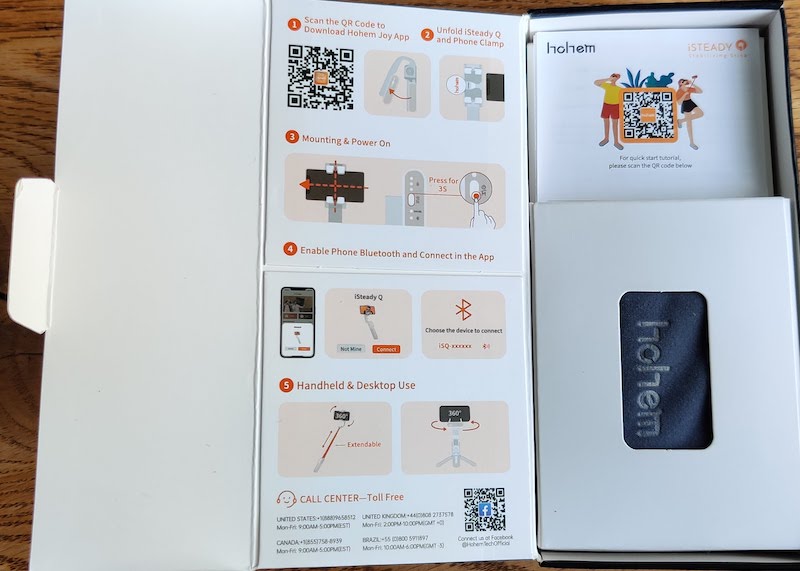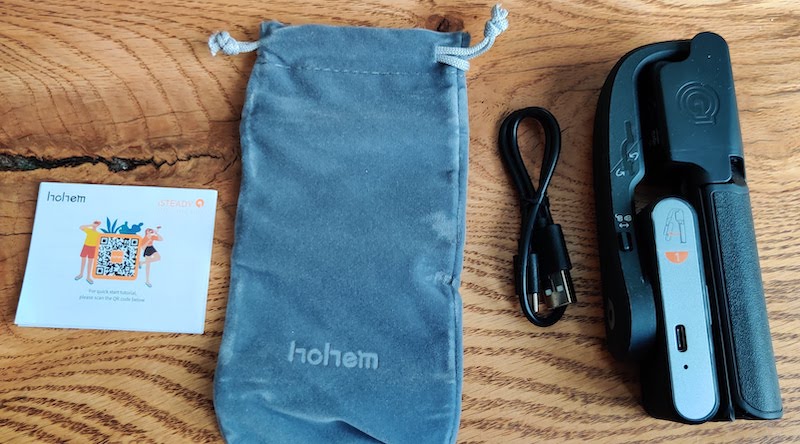 Hardware Specs
Product Type: stabilizing selfie stick

Weight:  195 g

Materials: high quality plastics, ABS, and aluminum

Size:  140mm x 54mm x 36mm (folded)

Color:  Black or white

Phone compatibility:  <280g weight, <11mm thickness, 55.5-100mm wide

Wireless:  Bluetooth 3.0 and Bluetooth 4.0

App compatibility:  IOS 10 and Android 6 and later
Design and Features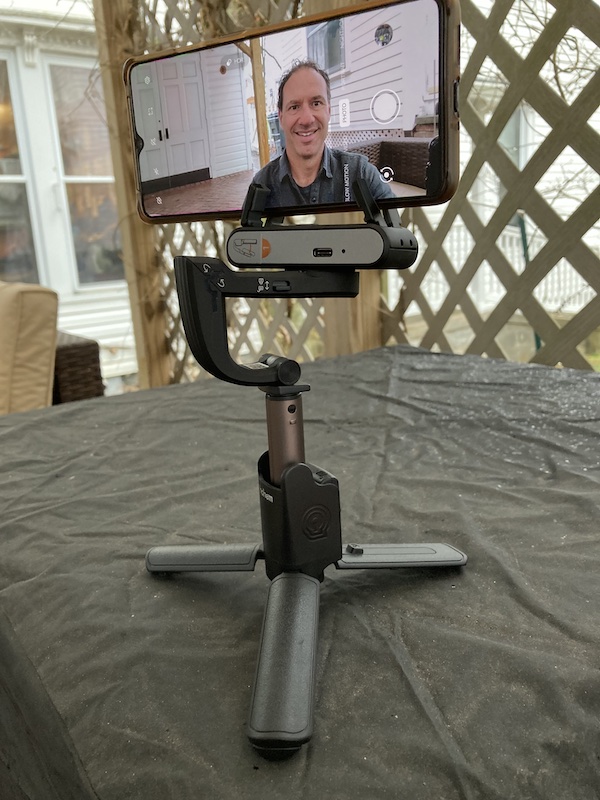 The design of the iSteady Q is quite impressive.  For such capability, it folds into a very small package that can fit inside of a pocket (maybe not the pocket of your tightest jeans, but definitely a jacket pocket!). It's robust and well made, with high quality materials.  The iSteady Q is a standard selfie stick with a wireless remote control, a single-axis gimbal, a tripod, and a 360 degree motorized face-tracking tripod. These features work well together and independently.  
Installation and Setup
The Hohem iSteady Q has an integrated app that expands the capabilities.  The quick-start guide provides a QR link to a web page that has links to the Apple App Store and the Google Play Store.  When clicking the link for the Google Play Store, the page directs you to download a direct .apk file for the app, and does not actually link to the Play Store.  I found this to be misleading and somewhat dangerous, as most phones will reject these types of apps without changing some settings.  This was even more confusing because I was easily able to find the app in the Google Play Store, so linking directly to it there would have prevented confusion.  
Once I installed the app on my phone, connecting the iSteady Q to the app through Bluetooth was easy.  What was slightly less easy was installing my phone in the iSteady Q. The phone I tested this device with is a OnePlus 7T, and by specifications, it should work.  However, the placement of the power and volume buttons on the phone caused some issues. The Hohem iSteady Q gimbal works best when the phone is balanced centrally in the phone clamp.  Doing so with this phone meant the clamp was actually hitting either the volume or power button.  So I had to install the phone somewhat offset from center.  Most functions still worked fine, but the phone could not make the full motorized 360-degree rotation in "selfie stick" mode, because the lower end of the phone would not clear the frame of the iSteady Q. Not a big deal, but something to be aware of if your phone has buttons on the sides.  
Performance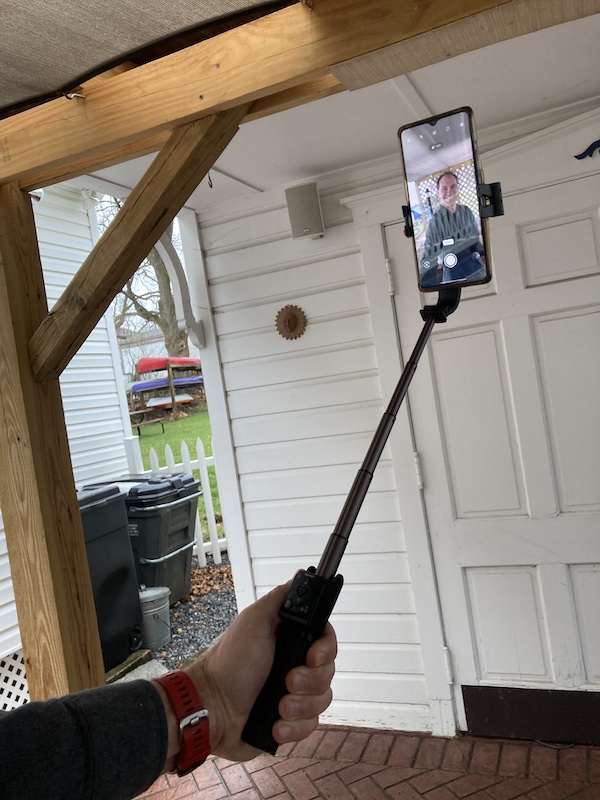 The single-axle gimbal world very well.  Unfortunately, people don't move in a single axis.  To truly create a very steady professional-looking video, a 2-axis gimbal is preferred, and a 3-axis is best.  I honestly don't see much need for just a single-axis gimbal – you still have to walk very awkwardly to get a smooth shot.  But the design does lend itself to some other neat features. 
Perhaps the most interesting is the 360-degree "follow me" feature when the device is in "desktop mode" which basically means using it as a tripod.  When used with the app, the iSteady Q will use its gimbal motor to rotate and follow your face as you move around (only left and right – it can't move up and down, meaning your face must remain at about the same level.  Remember – single axis.).  This feature was well executed and created an interesting effect. 
As a selfie stick, the Hohem iSteady Q gimbal is a bit overbuilt.  This is largely due to the gimbal motor that is not used in selfie-stick mode.  If you just need a selfie stick, there are smaller, lighter, cheaper options. If you really need a gimbal, you probably don't need a single-axis one.
What I like
The Hohem iSteady Q is well designed, well built, and very compact. It does a lot in a small package, and there's a lot of value.  The 360 degree follow me feature is interesting, and the app adds a lot of functionality.
What I'd change
I'm not sure it's possible to create a truly universal mounting system that works for all phones, but I know it didn't work well for mine.  That said, I tried it for an iPhone SE and it worked fine.  The mounting is solid and pretty easy to use.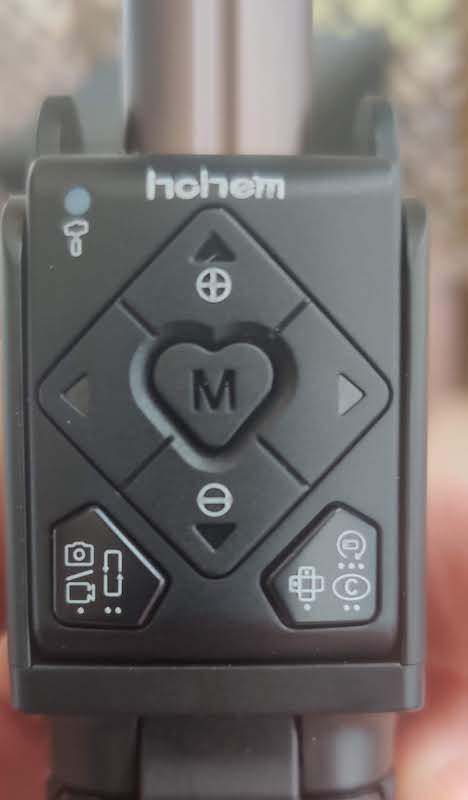 The buttons on the remote (and the remote itself) are tiny and not very intuitive.  Many buttons have different functions with one click, two clicks, etc.  This creates a steep learning curve.  Finally, I'd fix the quick-start website so the google play button goes to the google play store instead of a direct .apk file that would need to be sideloaded.
Final Thoughts
The Hohem iSteady Q gimbal is well built and well-executed, but I'm not sure who it's for.  If you need a gimbal, you probably need a 3-axis one.  If you need a selfie stick, you probably don't need one with a motor in it.  Same with the tripod.  In an attempt to make a high-value low-cost product, Hohem has created the iSteady Q.  While it's well done, I ultimately think most users would be more satisfied with one of Hohem's higher line products like the 3-axis iSteady X gimbal at a slightly higher cost.
Price: $38.00
Where to buy: Hohem Store or Amazon
Source: The sample for this review was provided by Hohem.