We use affiliate links. If you buy something through the links on this page, we may earn a commission at no cost to you. Learn more.

REVIEW – Tower fans all about the noise—or lack of it. Our household has three tower fans in different rooms. What we were missing is a fan for the spare bedroom. We wanted something effective, but quiet. Tower fans fit the bill quite well. They are tall and skinny, so they can be tucked in a corner or against a wall. They are usually more attractive than a box fan, and they are quiet. We also wanted something not overly complicated—no ALEXA, no wifi, nothing that requires a PHD to operate. When the Dreo Pilot Max Tower Fan was offered for review, I thought, Why not?"

What is it?
The Dreo Pilot Max Tower Fan with Remote (that's a mouthful) is an attractive bladeless room fan that comes with a small remote and performs basic as well as some additional functions. 

Specs
Power Adapter: 120V, 60Hz
Power: 36W
Noise level: 25dB-48dB
Oscillation Angles: 30°/60°/90°/120°
Weight: 10 lbs.
Dimensions: 42.5 x 12.7 x 12.7 inches (HxWxD)

In the box
Pilot Max tower fan
Fan base
Remote control
Power cord
User manual

Design and features
At slightly over inches tall, the Dreo Pilot Max tower fan is tall. Its sleek black design looks good in any room without demanding attention like a Dyson fan would. It's kinda invisible which can be a good thing.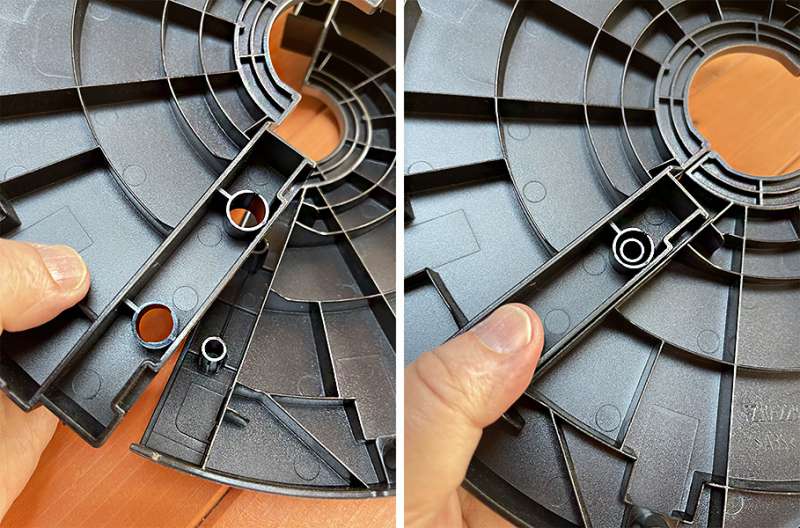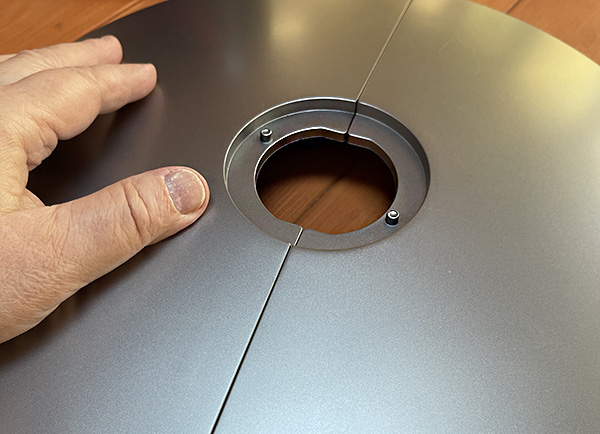 I have had tower fans before that require some assembly—attaching front and back grills followed by the base—requiring screws and screwdrivers. Not the Pilot Max fan. True, you still need to attach the base (it comes in two halves) to the tower. However, no tools are needed. You just snap the pieces together and screw the base to the tower with a large, red removable knob. I didn't even need to look at the manual—it's that simple.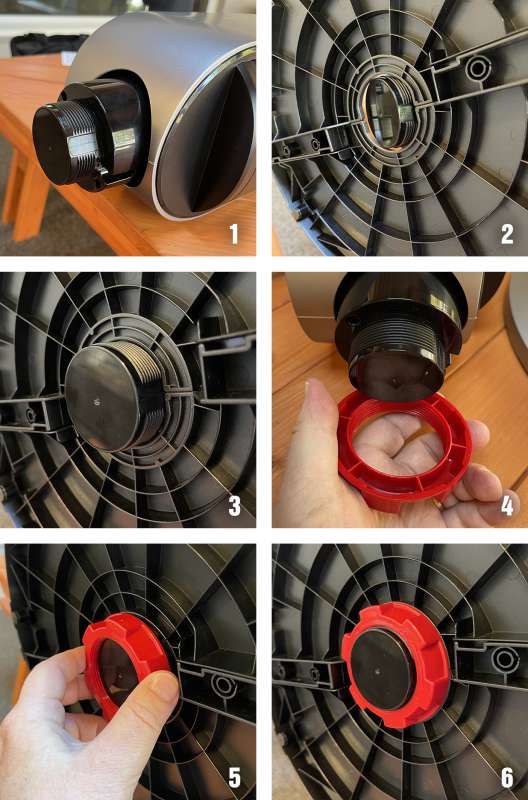 When you first turn the fan on, what you notice is what you don't notice–the noise. There is no mechanical sounds. All you hear is the movement of air and even that is whisper quiet. This is a fan you can leave on all through the summer and not think about until the weather cools. Again—kinda invisible.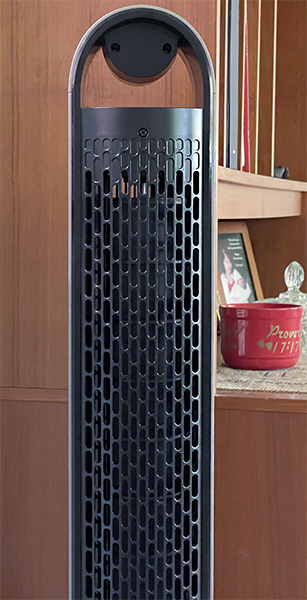 Like any tower fan, the Pilot Max (I have no idea why it's called Pilot or Max) sucks in air from the rear and blows it out the front. Pretty basic tech. The fan has a brushless DC motor that runs as quietly as 25 decibels—barely audible. Without going into geeky detail, know that brushless motors will last longer than an older brush design.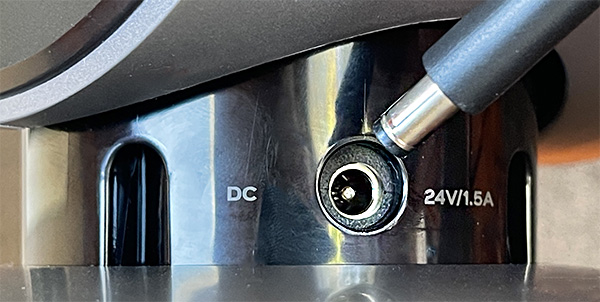 Of course, that 25dB noise rating is at the lowest level. As the airspeed is increased, noise also increases. Even so, with the setting of 9 (out of 12), cooling airflow can still be felt feet away and the room remains fairly quiet at 48dB (a typical refrigerator is louder).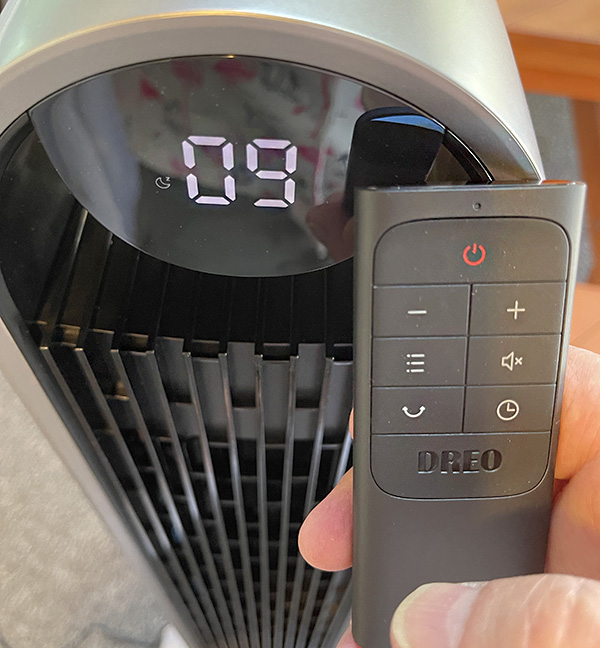 The top section of the fan has a small, monochrome screen that shows all the info settings. These settings can either be set using the buttons on the top (mentioned below). An included remote features the same button functionality, however, there is no screen on the remote, so you need to look at the fan screen to see what settings have been chosen.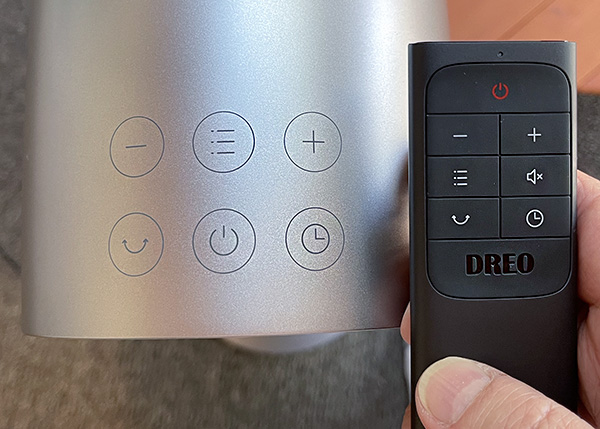 The top of the Pilot Max fan contains the functions in flush, soft-touch buttons. It's elegant looking. The buttons are: Up and Down Airflow, Working Mode, Rotation, On/off, and Timer.
Airflow: The airspeed is divided from 1 to 12. Setting 1 is a soft breeze while 12 can be felt across a room. It's a great setting for a quick cool-down after a hot day of sports or yard work. 
Rotation: Pushing this simply turns rotation on or off. Pressing and holding Rotation allows the angle of rotation to be set in 4 different rotation arcs; 30, 60, 90, or 120 degrees. While I'm not a fan (get it?) of rotation, there are some who always leave rotation on. 
On/off: This is self-explanatory.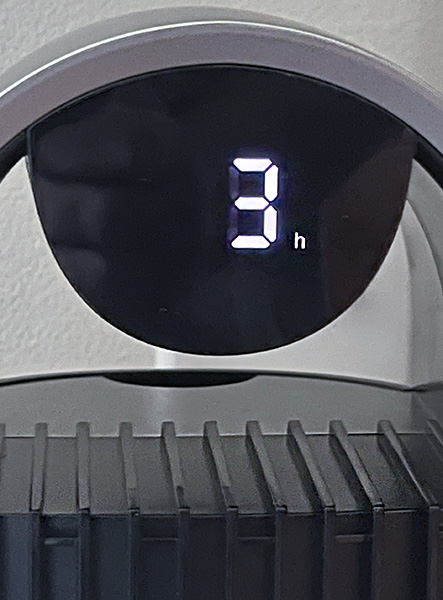 Timer: The fan can be set to run for 1 to 12 hours in hourly increments, meaning a setting of 1 equals 1 hour, 3 is 3 hours, and so on. It's all basic and easy to grasp.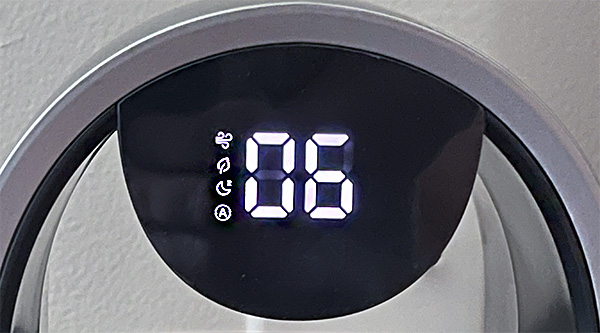 Working Mode: Here is where things get a bit more involved. On-screen icons display each setting:
Normal: This simply means the fan is running at a constant pre-set speed.
Natural: The fan will run at alternating speeds
Sleep: The fan can be set to speeds that drop every 30 minutes—up to three-speed levels. For instance, if the fan is set at speed level 10, it will drop to 7 after 90 minutes and remain there for the rest of the night. 
Auto: This one is cool (the puns are too easy). The fan adapts to the ambient temperature of the room and adjusts airspeed accordingly. As innovative as Auto mode is, I don't use this setting because I prefer a set speed I control.
Note that the Working Mode icons are quite small. For my eyes, they are hard to see without placing my face close to the fan screen. Plus, the brightness of the screen's numbers and icons are auto with no user control—not good if there is any light in the room.

What I like
It's quiet
Uncomplicated settings
No wifi or Alexa (if you want privacy)
What I'd change
Auto brightness
No wifi or Alexa (if you like Alexa)

Final Thoughts
The Dreo Pilot Max tower fan can be a useful addition to a room if you want a "breezy" feel as opposed to a direct blast of air that a box fan will provide. Because of the softer airflow, I like to use tower fans as I sleep. The low-volume white noise from the softly moving air helps me sleep. And that's always a good thing.  
Price: $129.99 US
Where to buy: Amazon
Source: The sample of this product was provided by Dreo.