We use affiliate links. If you buy something through the links on this page, we may earn a commission at no cost to you. Learn more.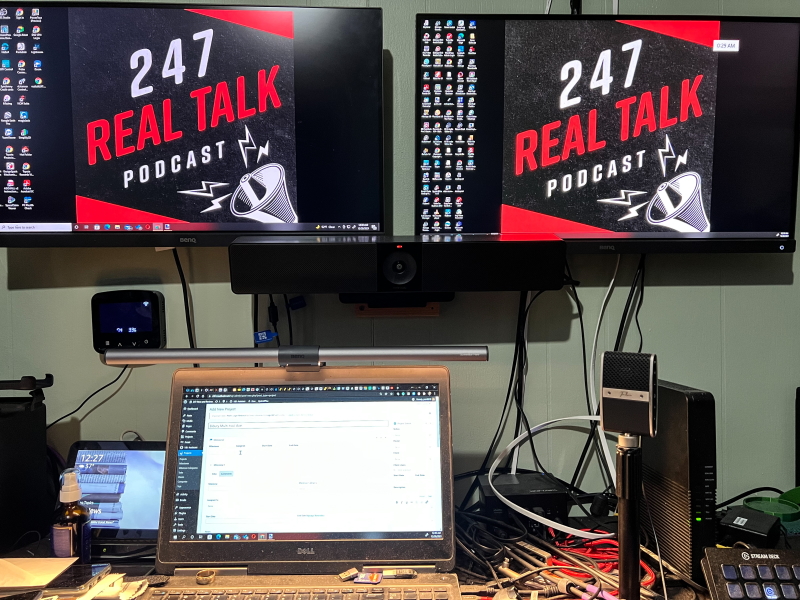 REVIEW – The setup that you see in the opening photo of this review is one I have used for many years. Over the years I have swapped out monitors and mics and other equipment, but the "glue" that allowed seamless connectivity and access has always been a dock. For the past 3 years, I have been using a dock that performed quite well but recently started to fail, and as of 2 days ago, before I received this VisionTek VT7000 Triple 4K Display USB 3.0 & USB-C Docking Station with 100W Power Delivery, it seems like it gave up and dwindled my setup down to one monitor. So, you can imagine that I was relieved and excited to get this device right on time. Let's see if testing made me happy, sad, or frustrated!!
What is it?
The VisionTek VT7000 is a triple 4K display docking station that has 100W power delivery and allows you to easily connect your Windows™, Mac™, or Chrome™ laptop up to three 4K displays and up to 8 accessories and peripherals through a single USB connection.
What's in the box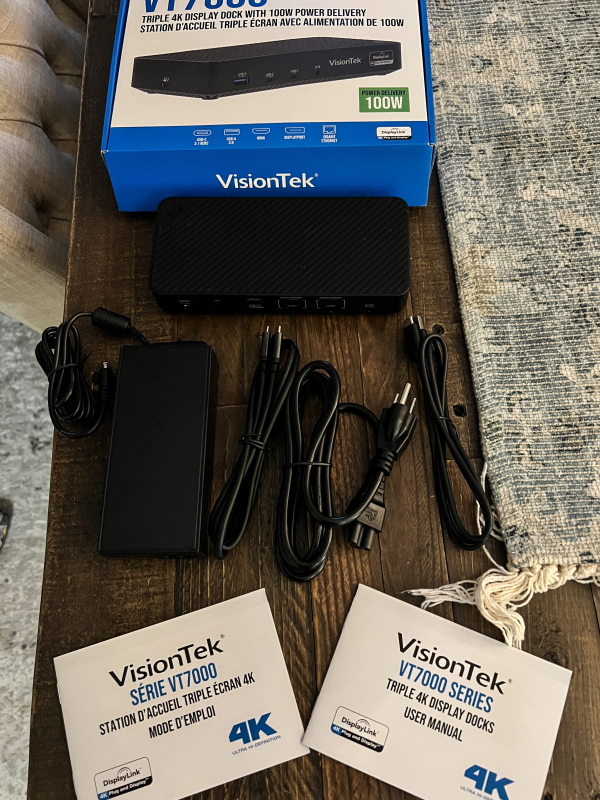 1 x VisionTek VT7000 Dock
1 x 130W – DC 20V/6.5A Certified Power Adapter
1 x USB-C to USB-C Cable
1 x USB-A 3.0 to USB-C Cable
1 x User Manual
Design and features
Features

Universal Compatibility for USB 3.0 & Type-C

Fully Compatible with M1 Mac

Supports up to 3 external displays

Up to 100W USB-C Power Delivery

2 x USB-A 3.0 Ports 5Gbps

1 x USB-A 3.1 Gen 2 Port 10Gbps

1 x USB-C 3.0 Port 5Gbps

1 x USB-C 3.1 Gen 2 Port 10Gbps

2 x DisplayPort 1.2

3 x HDMI 2.0

RJ45 Gigabit Ethernet Port

Enterprise Features
o Wake on LAN
o MAC Address Pass-Through
o PXE Boot
Specifications



Dock Connection: USB-C, USB 3.0
Display Technology: DisplayLink, DP Alt Mode
Power Adapter: 130W – DC 20V/6.5A
Power Delivery: Up to 100W
Displays Supported: 3
Maximum Resolution Supported: 3 x 4K @ 60Hz*
*Max resolution from DP Alt Mode HDMI is host system dependent
Video Interfaces: (2) DP 1.2 (DisplayLink), (2) HDMI 2.0 (DisplayLink),(1) HDMI 2.0 (DP Alt Mode)
Ports: (2) USB-A 3.0 (5Gbps), (1) USB-A 3.1 Gen2 (10Gbps), (1) USB-C 3.0 (5Gbps), (1) USB-C 3.1 Gen2 (10Gbps), (1) 3.5mm Audio/Microphone Combo Port, (1) RJ45 Gigabit Ethernet
Cable Length: 1.0m – USB-C, 1.0m – USB-C – USB-A
Operating Systems: Windows 10, Windows 8.1, Windows 7, macOS 10. x and later, Chrome
Dock to System Connection: USB 3.0 Type A, USB-C 3.1, Thunderbolt™ 3
*System with USB-C 3.1 Gen2 port that supports USB-C Charging and DP Alt Mode recommended for best performance
The VisionTek VT7000 dock is built within a plastic case but it is well built. There are ports on the two long sides and the power port and the lock slot on the shorter sides. There is a power button on the top flat surface


Front Ports:
1 x USB-A 3.0 Port
1 x USB-C 3.0 Port
1 x USB-C 3.1 Gen2 Port
1 x 3.5mm Audio/Microphone Combo Jack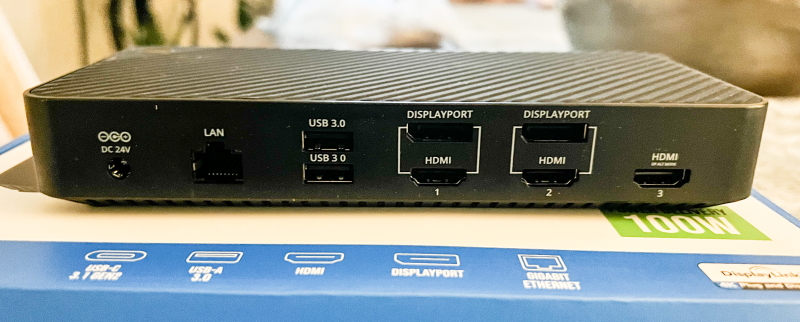 Back Ports:
DC 20V/6.5A Power Supply Port
Gigabit Ethernet Port
2 x USB-A 3.0 Ports
2 x HDMI Ports (DisplayLink)
2 x DisplayPort Ports (DisplayLink)
1 x HDMI Port (DP Alt Mode)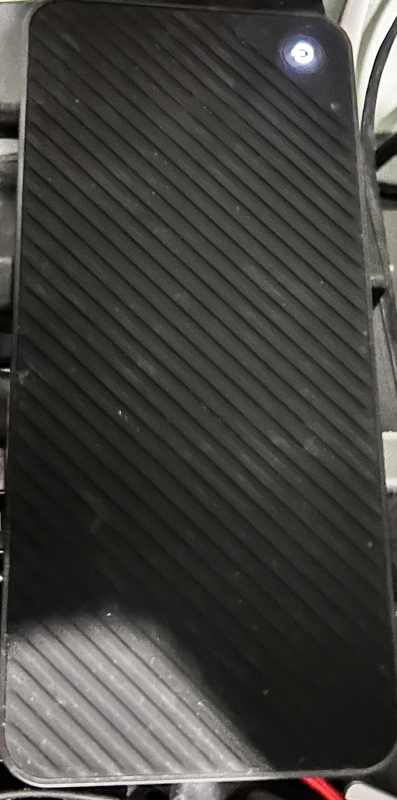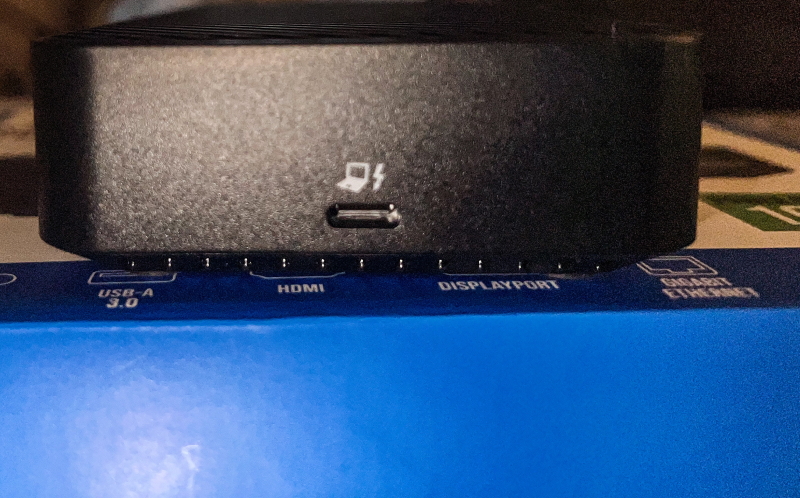 Side Ports:
USB-C to System
Kensington™ Security Lock Slot
Power Button (Top)
Performance
I work on a lot of photo editing, video editing, and audio editing. It is really important for me to have access to as much screen real estate as possible. I also use numerous USB devices that are connected either to a USB hub and then to the dock, directly to any available ports on my computer, and the rest from the device directly to the dock. As I mentioned earlier, the previous dock that I had been using for several years, began to severely malfunction 2 days prior to receiving this dock. My previous dock also used the DisplayLink driver, so as soon as I swapped it for the VisionTek VT7000 dock and plugged in my devices, everything worked seamlessly. I have the VisionTek VT7000 dock placed in a bit of an awkward position because of the cables on 3 out of 4 sides. My previous dock had all of the ports on one side which worked much better for my personal use.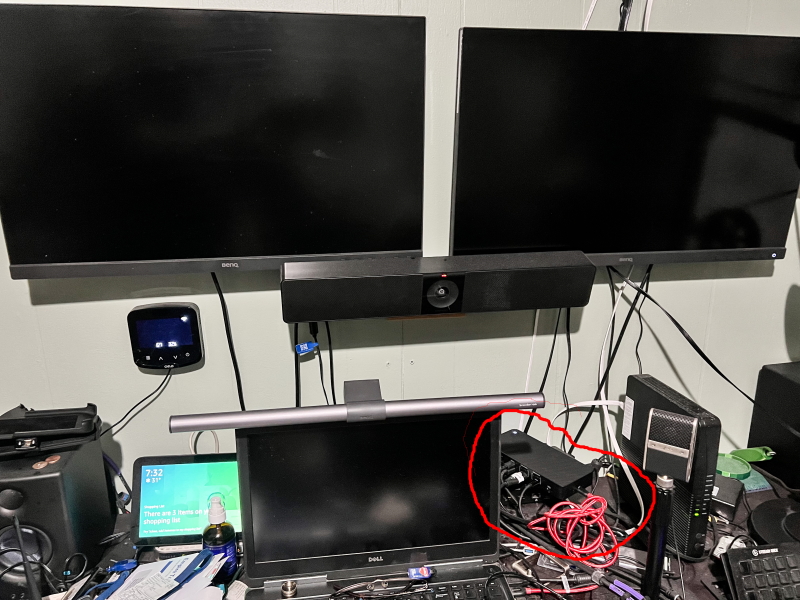 As you can see from the photos below, I have USB and HDMI cables connected on one side. The red USB cable that you see is mine that I swapped out with the cable that was included to connect to the computer. My cable is longer and braided and works well. In the second photo, you can see that I have more USB-A devices than ports. I used 2 USB _C to A to connect my USB-A devices. They work well with the adapters with no issues.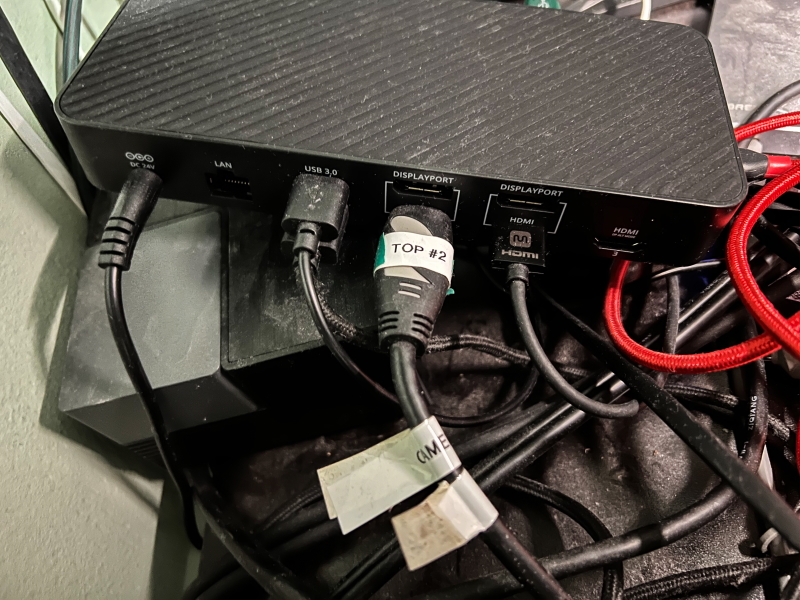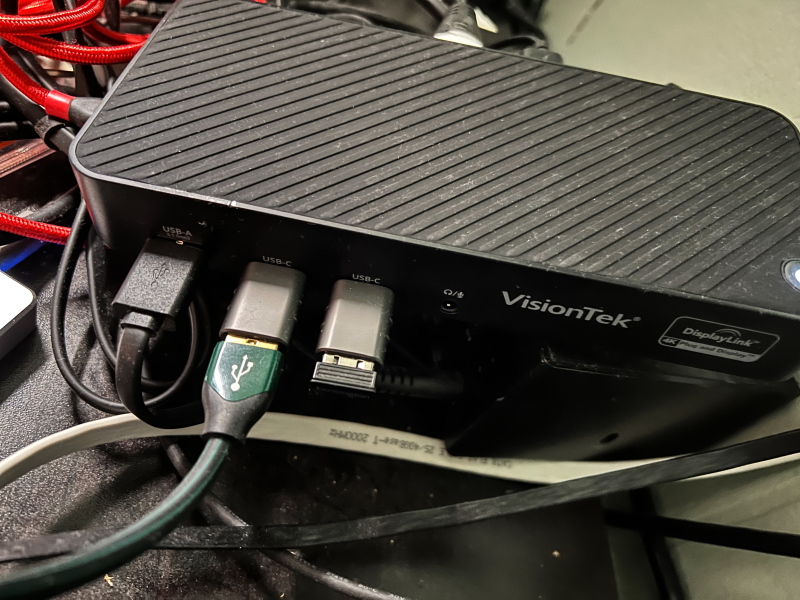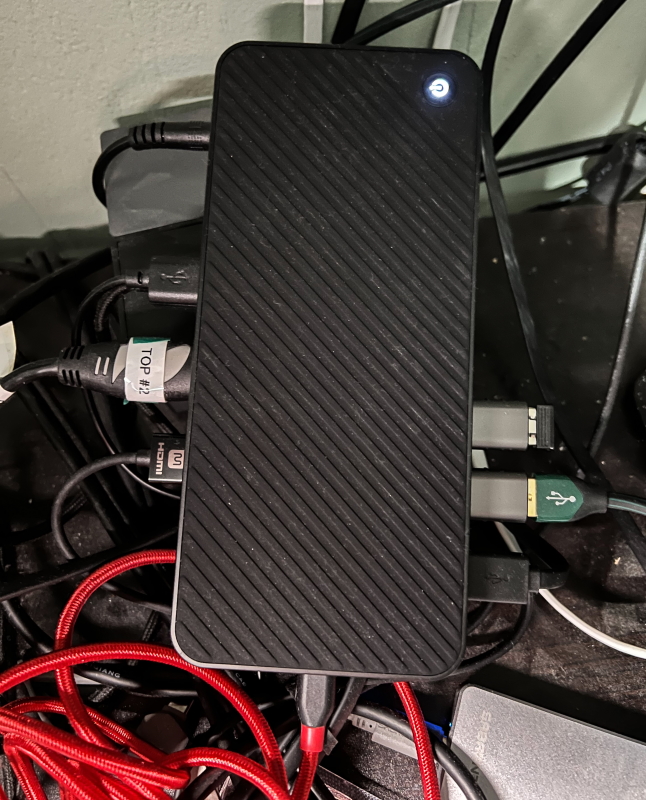 Overall, I really like the VisionTek VT7000 dock. It has all of the ports I need and for the connections that I have that are not USB-C, a simple and cheap adapter solved the challenge. It is actually now and future proof and some of my accessories need to catch up. I love how my 4K monitors look and even though the previous dock was supposedly 4K, this dock makes them look so much better. My monitors can use both HDMI and Displayport, but since I have them mounted already and they are a pain to move, I stuck with the HDMI cables. I did try the DisplayPort with another monitor I have laying around and it works well. The ethernet port also works well, but I changed back to a direct connection from my router since the laptop that I use has a built-in gigabit ethernet port. Just FYI, my internet connection is 1GB/1GB. The dock also offers an audio port that works well, but since I use an external DAC, I stick with that for my audio needs.
What I like
The build quality
The number of ports
The variety of ports
the quality and consistency of the connections
What I'd change
My personal preference would be for all of the ports to be on just one side of the device. This design works well and is most convenient when using this type of device as a permanent dock on the desk in my home office.
Final thoughts
The VisionTek VT7000 dock showed up at just the right time and has performed flawlessly. The connections have been solid and considering that I have a USB hub attached to the dock with several drives plugged in, there have not been any hiccups which is great. The displays work well and the PD ability is a great bonus. I give this dock a well done and two thumbs up!!
Price: $369.00
Where to buy: VisionTek website and Amazon
Source: The sample for this review was provided by VisionTek