We use affiliate links. If you buy something through the links on this page, we may earn a commission at no cost to you. Learn more.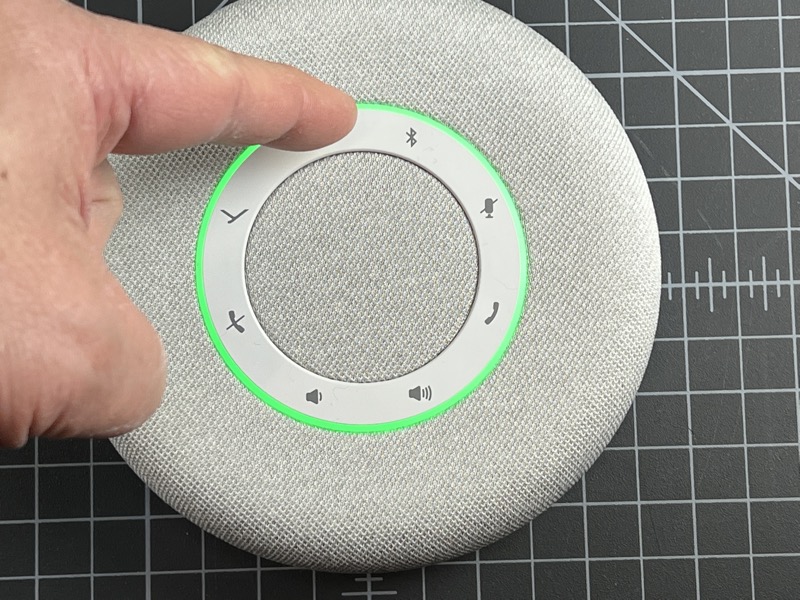 REVIEW – I really don't like using the speakerphone on my iPhone, because I don't like how others sound when THEY'RE using a speakerphone. I don't want to sound like I'm "in a cave" or distant. Maybe the Beyerdynamic SPACE speakerphone will put those concerns to rest for me.
What is it?
I know Beyerdynamic for their headphones, but not for speakerphones. The SPACE is a rechargeable Bluetooth speakerphone featuring four microphones for 360 degree coverage. It's available in Nordic Grey, Charcoal and Aquamarine.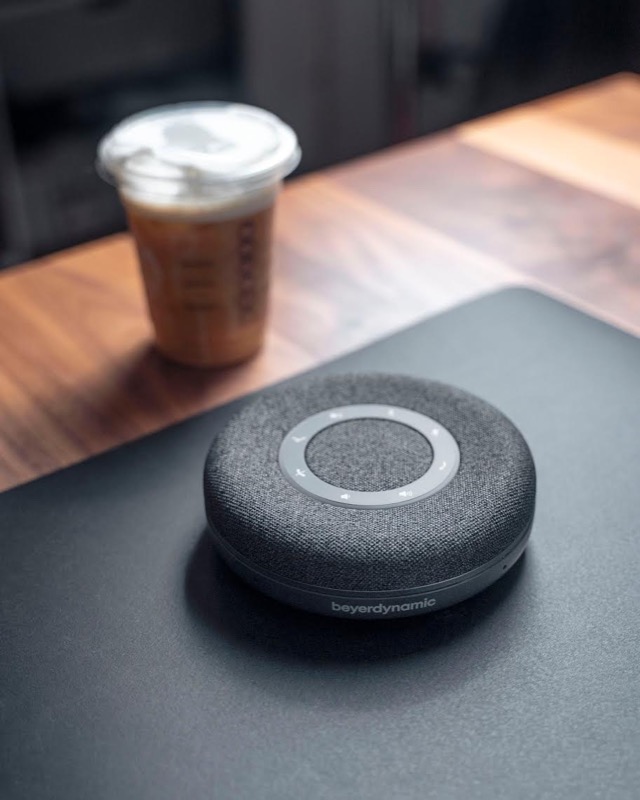 What's in the box?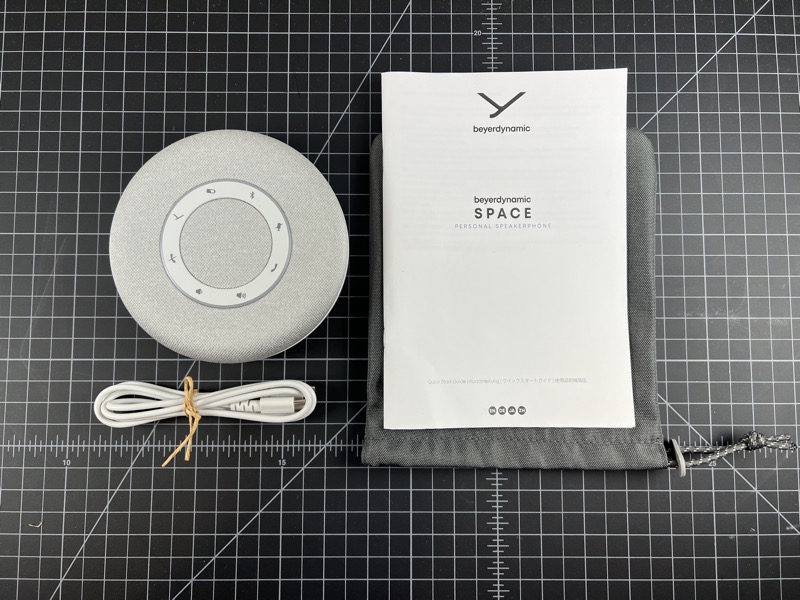 Beyerdynamic SPACE Bluetooth speakerphone
USB-C cable and USB-A adapter
Drawstring bag
Instructions
Hardware specs
Loudspeaker type: 1.5″ full range speaker with two passive radiators
Maximum loudspeaker output: 5W RMS
Sound pressure level: 73.8 dbA (pink noise), SPL max = 81 dB @ 1kHz
Microphone type: 4x MEMS
Microphone frequency range: 100 Hz – 10 kHz
Loudspeaker frequency range: 90 Hz – 10kHz (-10dB)
Supported profiles: HFP, A2DP
Transmission: Bluetooth and USB-C
Bluetooth version: 5.0
Battery technology: Lithium-Ion
Battery life: 20 hours
Charge connector: USB-C
Charging time: 2.5 hrs (5V/1.5A)
Firmware updates possible: Yes
Voice control assistant: Activation and control of Siri, Google Assistant, etc. is possible via the Beyerdynamic SPACE
Dimensions (LxWxH): 132 x 132 x 40 mm
Weight: 354 g
Design and features
The Beyerdynamic SPACE Bluetooth speakerphone measures just over 5 inches across, covered in a nice fabric cover. On the top are eight touch sensitive icons arranged around a ring. The ring glows blue near the Bluetooth icon when paired.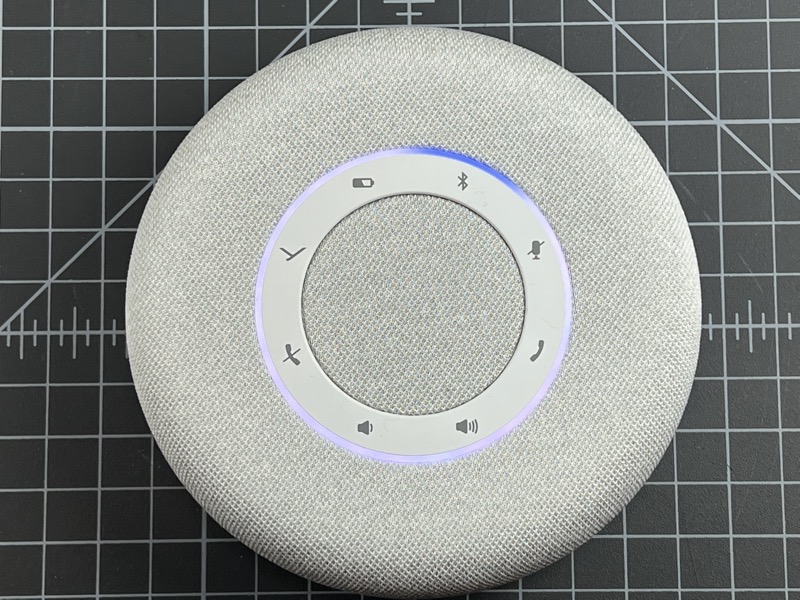 I found a USB-A adapter in the package, and I discovered it fits neatly into a slot on the back. Also, note the tripod thread. Four rubbery feet help keep the SPACE from sliding around.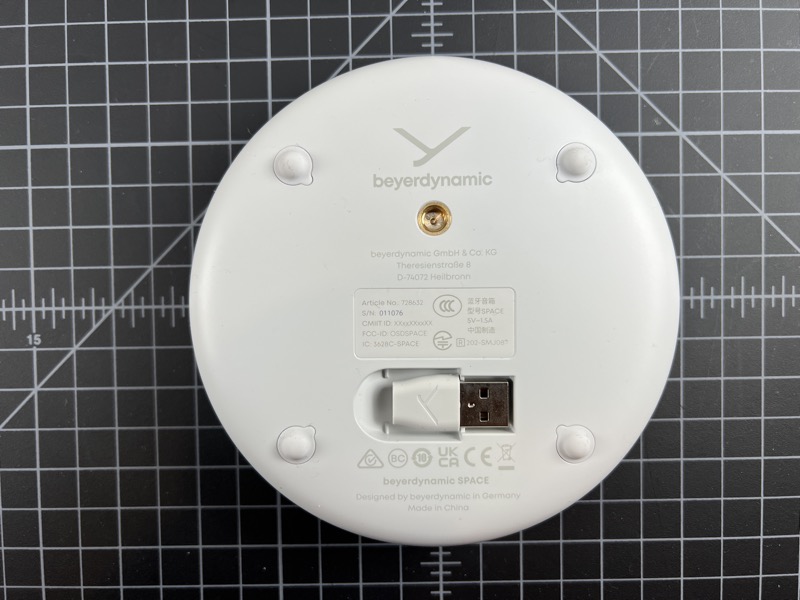 On one edge are the lock slot, USB-C charging port, and the power button.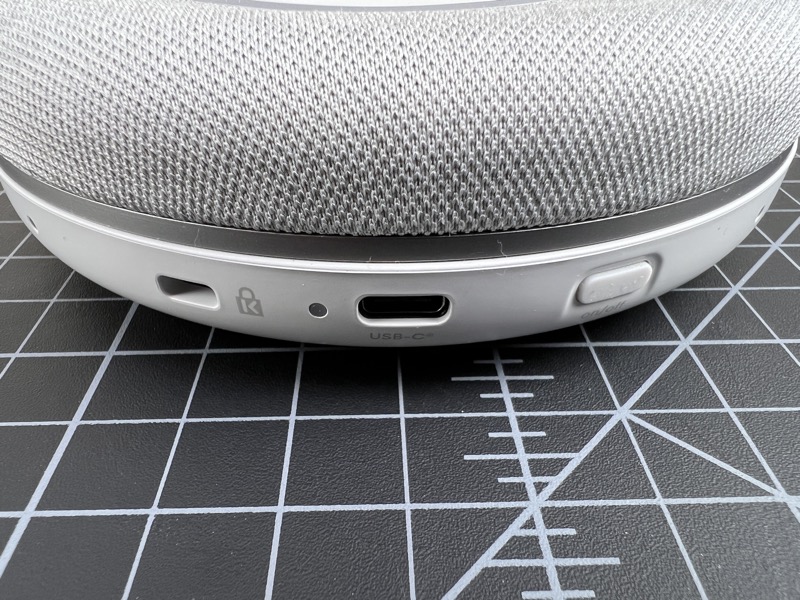 When powered up, you can press the battery icon to check the battery level. Green means full. The ring will turn yellow when the battery is between 25%-62.5% full, and red when between 0% and 25%.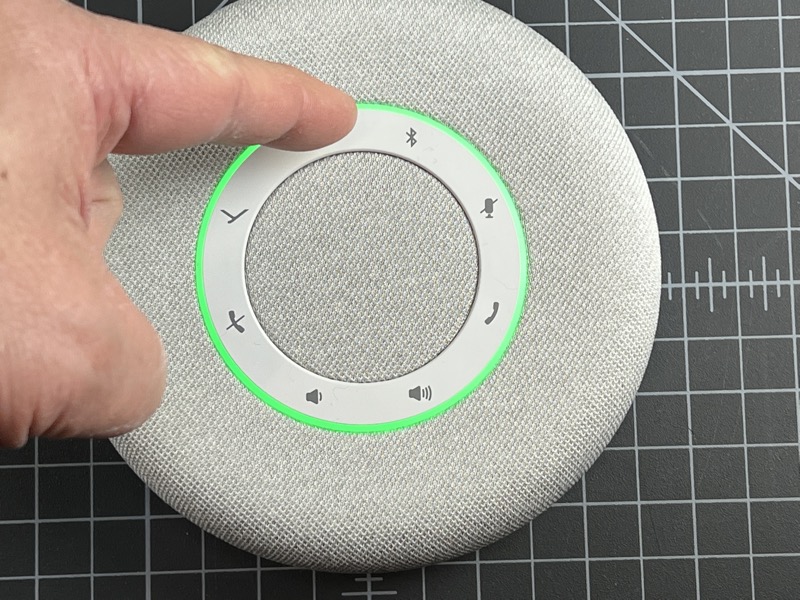 Performance
The first surprise I got was on power up of the Beyerdynamic SPACE Bluetooth speakerphone was the startup greeting sound is startling, like something from an action movie. It conveys power, for sure.
Compared to other speakerphones I've tested, the SPACE sounds more like a music Bluetooth speaker first, and a speakerphone second. The two passive radiators give this little speaker a lot of "boom" in such a tiny space. I would not be disappointed listening to music from this wee speaker.
But how do I sound to the caller on the other end? In informal tests, I discovered the SPACE did better than the iPhone's built-in microphone for echo cancellation. After a few seconds, the SPACE appeared to learn, and background echoes became less obvious.
The four microphones also played a part. There's no "bad seat" if you're speaking into the SPACE. You will be heard. With the iPhone's built-in microphone. I sounded more distant versus facing the microphone at the bottom.
Listen for yourself!
What I like
Excellent sound incoming and outgoing
USB-C rechargeable
Your choice of colors
What I'd change
Final thoughts
I have yet to find a small Bluetooth speakerphone that has impressed me. The Beyerdynamic SPACE speakerphone is the first to do so. I'm definitely putting this one to use.
Price: $179
Where to buy: Beyerdyamic online store and Amazon
Source: The sample of this product was provided by Beyerdynamic.