We use affiliate links. If you buy something through the links on this page, we may earn a commission at no cost to you. Learn more.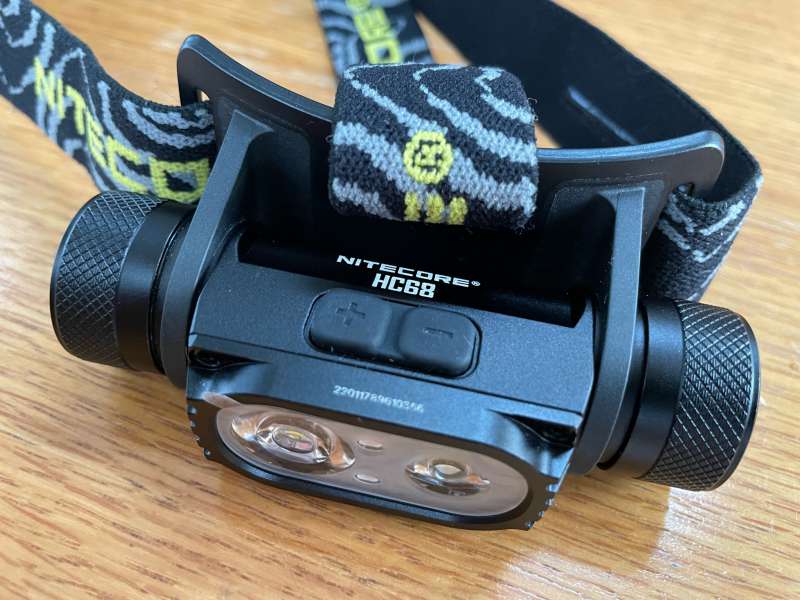 REVIEW – I don't camp much, but a recent experience trying to troubleshoot a problem under my daughter's Suzuki SX4 inspired my need for a good headlamp. The Nitecore HC68 High-Performance Dual Beam E-Focus Headlamp definitely doesn't disappoint!
What is it?
Nitecore's model HC68 is a rechargeable flashlight incorporating variable brightness wide and narrow beam LEDs that can be worn as a headband.
Hardware Specs
2,000-lumen max brightness
Peak projection distance: 220 yards
Peak Beam intensity: 10300 cd
IP68 rated
2-meter impact resistance
Continuously adjustable spotlight and floodlight
USB-C rechargeable with battery
Auxiliary red light
800 hrs runtime on lowest settings
2 meters waterproof
L-3.6″ x W-1.37″ x H-1.04″
4.18oz
What's in the Box?
Nitecore HC68 Headlamp
Nitecore NL1835HP 18650 Battery
Spare O-ring
USB-C Charging Cable
Headband
Bracket
Instruction manual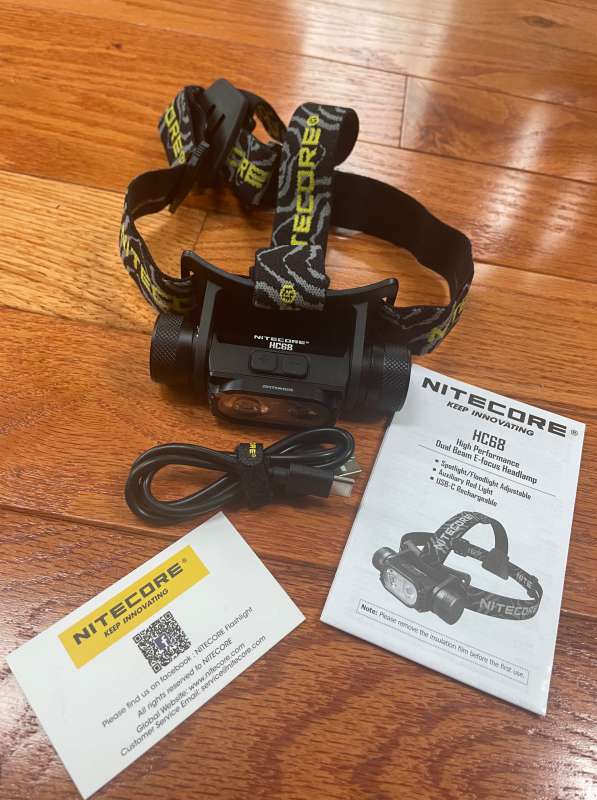 Design and Features:
As with all Nitecore products, the HC68 headlamp arrived in suitable packaging.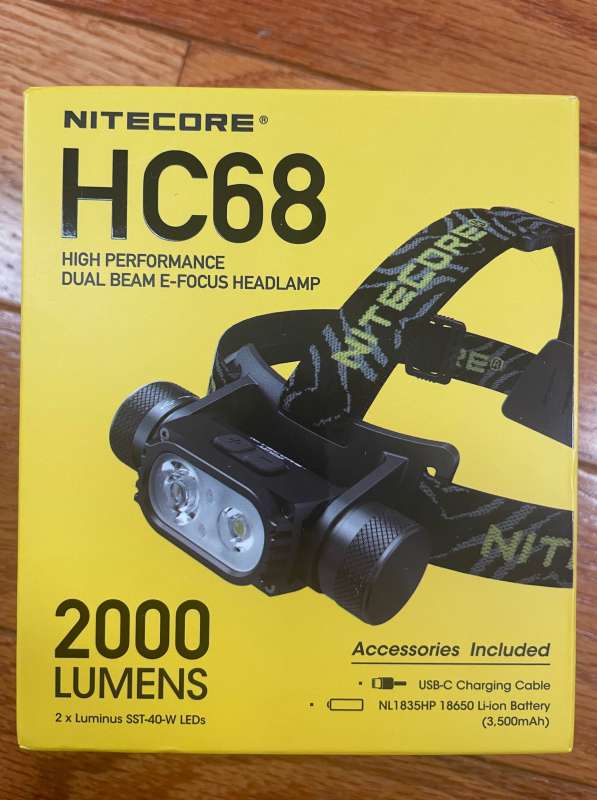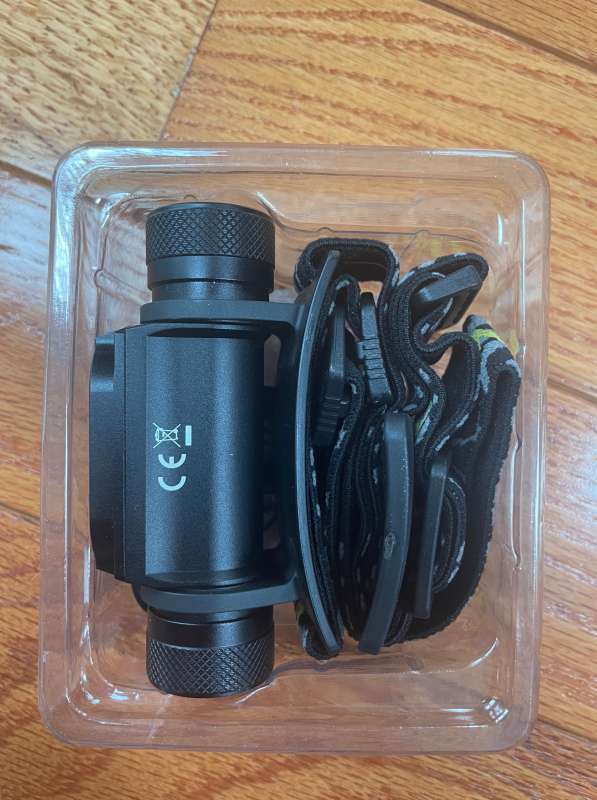 The manual has teensy-weensy print.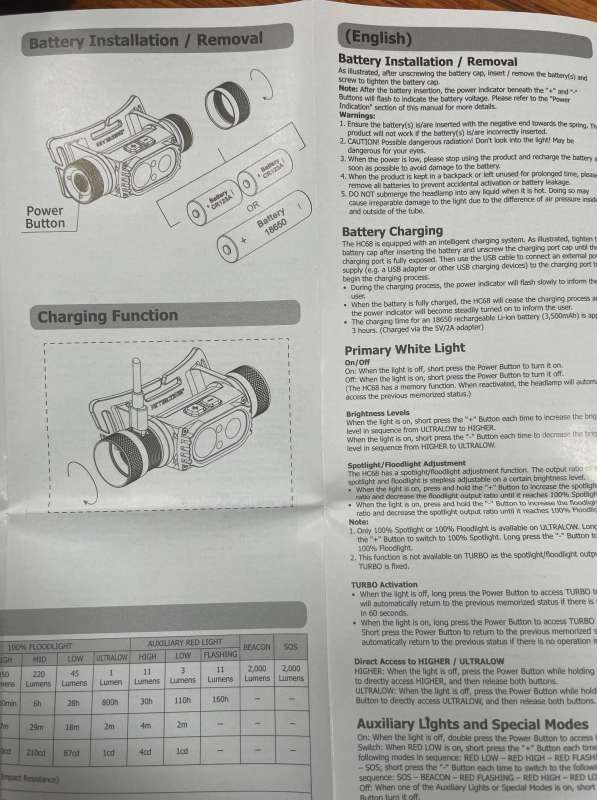 For starters, a paper disk must be removed from the battery compartment. The battery arrived partially charged. After fully charging, battery life ranges from 30 minutes on the highest settings to a whopping 800 hours at the lowest setting.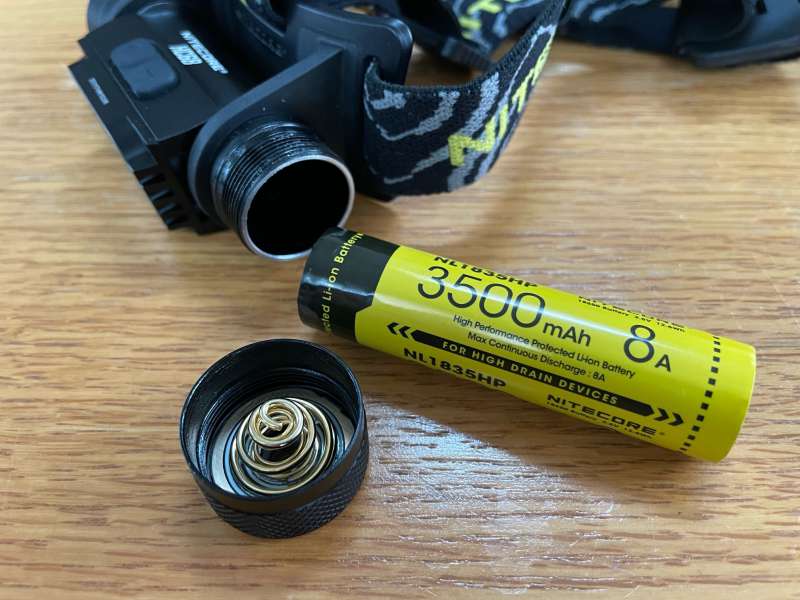 A USB charger is not included, but a short USB-C cord is supplied.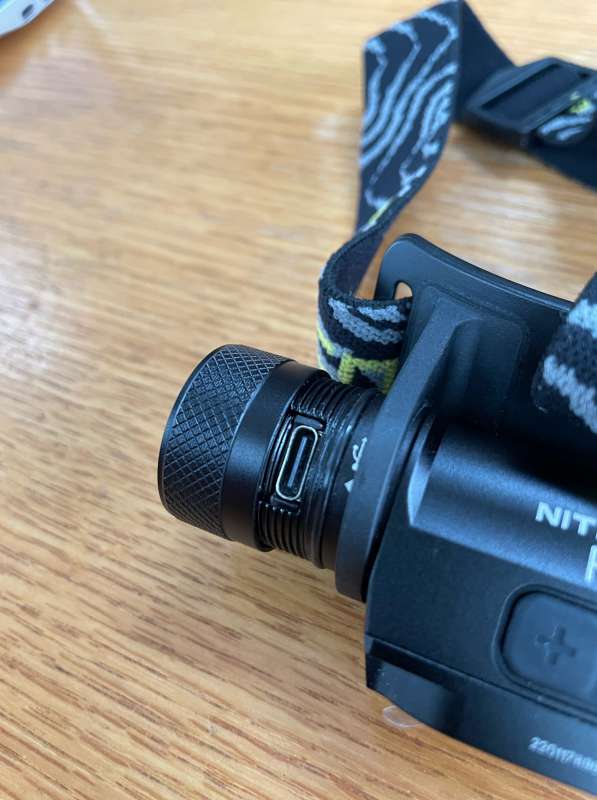 To access the charging port, this sleeve is unscrewed. Don't worry – it stays captive so it won't get lost. The threads and o-rings for the battery cap and switch/charging cover are satisfyingly smooth with a bit of resistance and feel sealed the internal components are well protected from water and dirt.
The Nitecore HC68 headlamp accepts rechargeable 18650 batteries (except for flat-top cells), but can accept a pair of CR123 batteries if needed.
A blue LED under the (+) and (-) buttons illuminates to indicate charging. With the light turned off and untethered to the charger, clicking these buttons flashes the same LED to indicate the current battery level.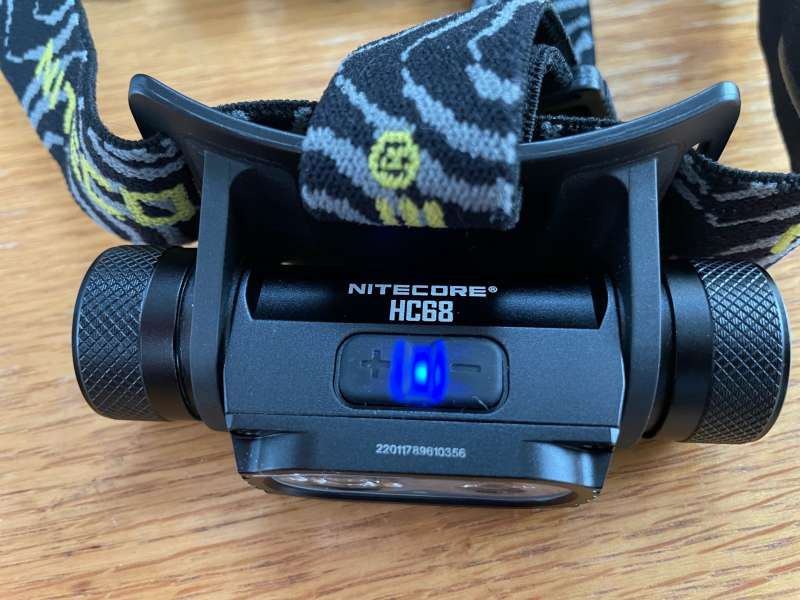 The flashlight housing pivots in the headband to allow for different working angles and to prevent blinding fellow campers.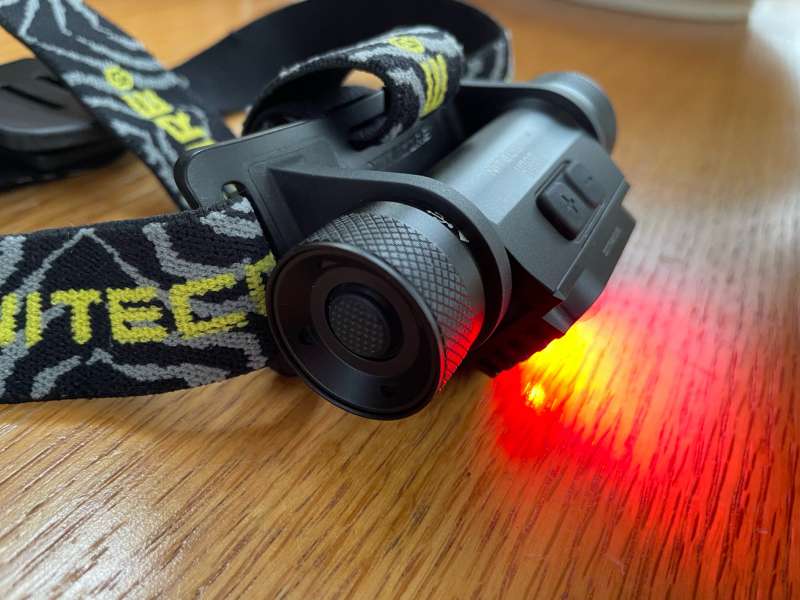 The comfortable headband is fashioned with buckles for easy adjustment to fit the smallest or largest noggins.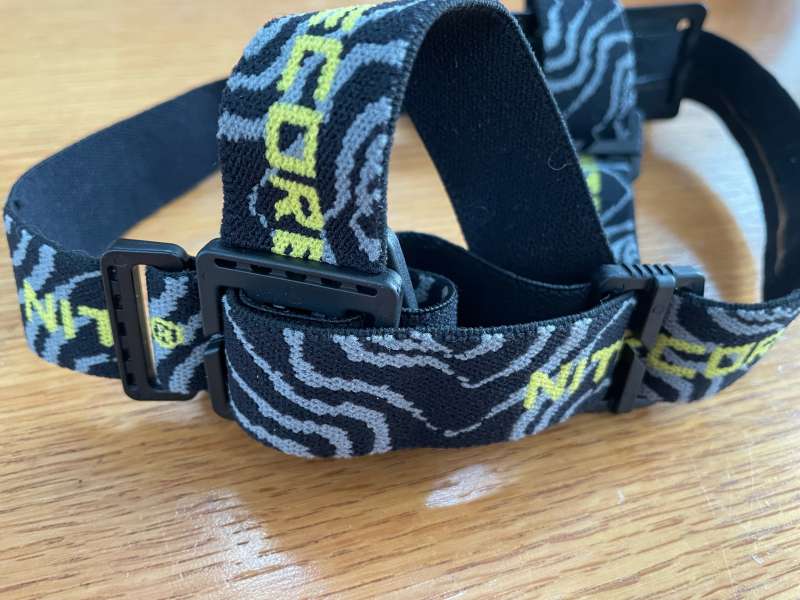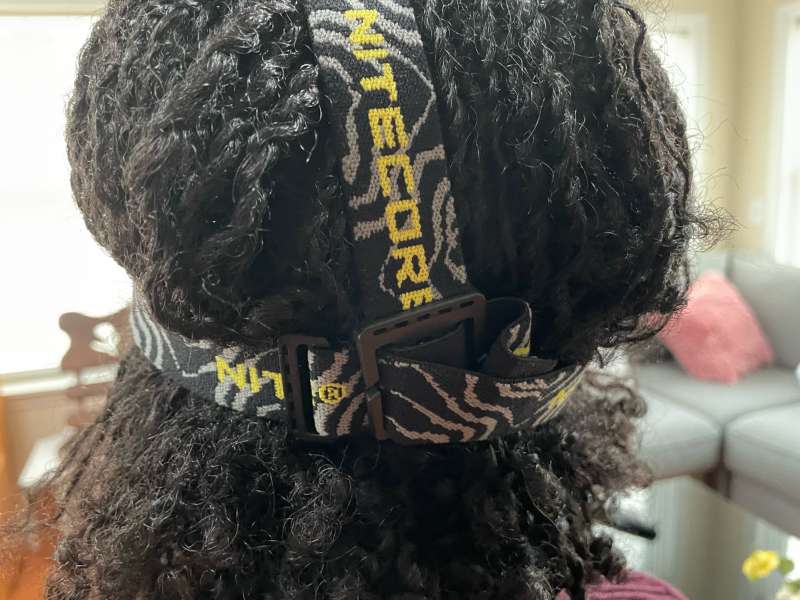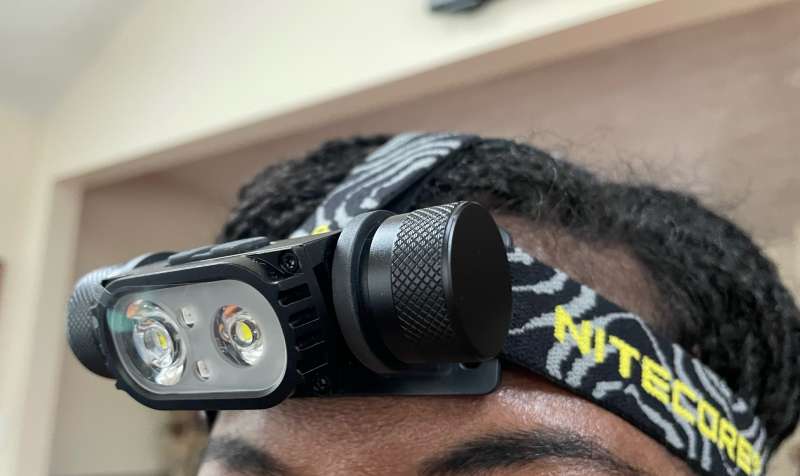 If it's not needed, it can be removed and the light can be hand-carried or does a dandy head-or tail-stand.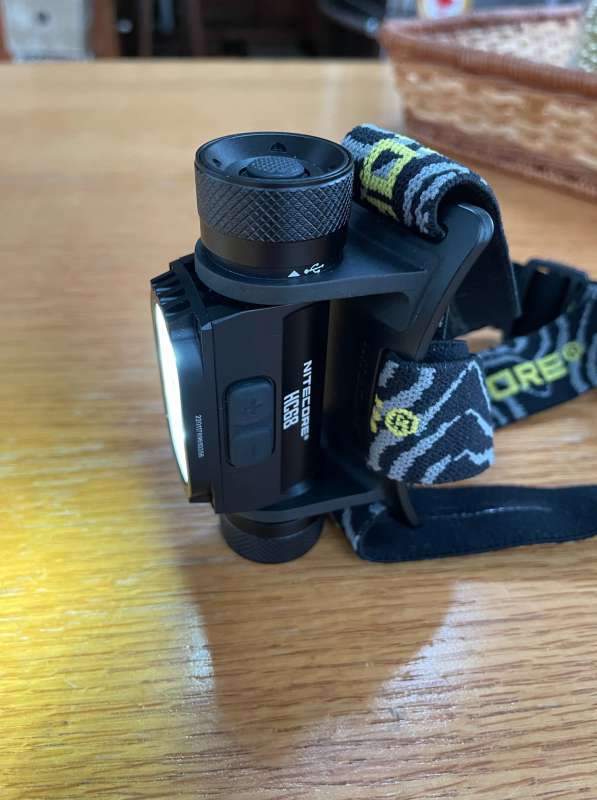 A button with pleasant tactile feedback controls many of the light's functions.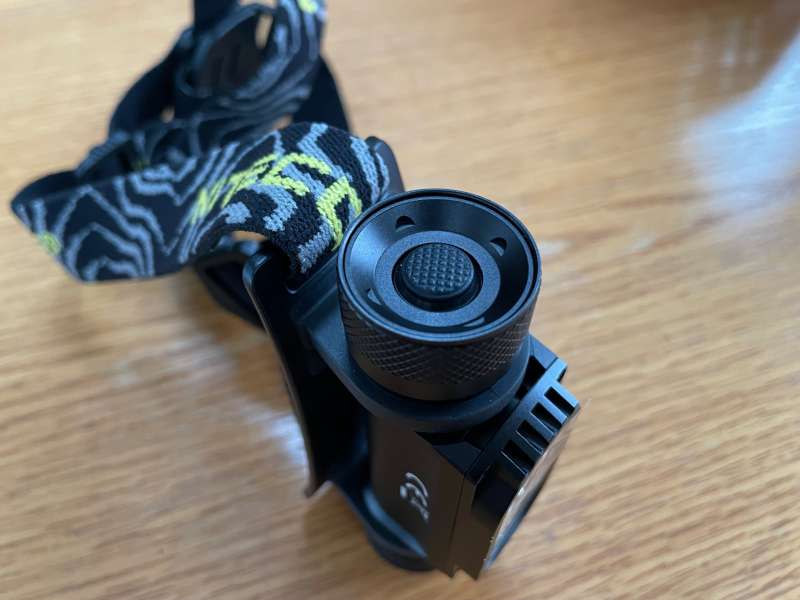 Dual lenses provide wide and narrow beams. The level brightness levels of each lens can be adjusted using the buttons. The result is that the focus of the light can be adjusted from very wide and even beam to a narrowly focused beam.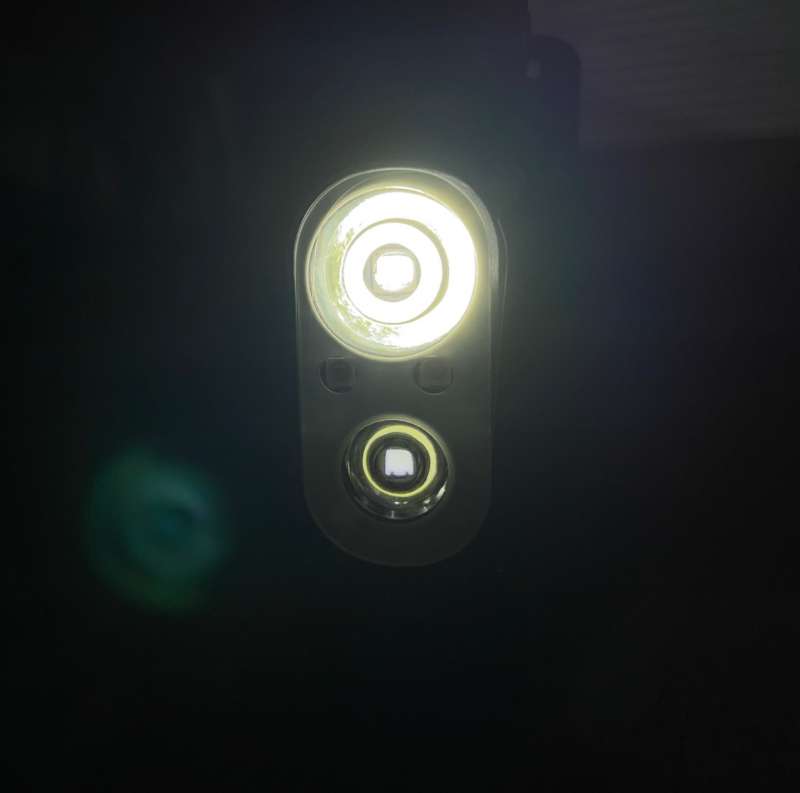 The Nitecore HC68's user interface has lots of options but takes a bit of practice to be proficient. A click button on one end turns the light on and off. The light remembers the current mode and will turn on where it left off. Brightness and wide/spot settings are controlled with the (+) and (-) buttons.
Double-clicking the power button accesses secondary functions starting with low red. Subsequent clicks step through the other functions – bright red, flashing red, beacon, and SOS.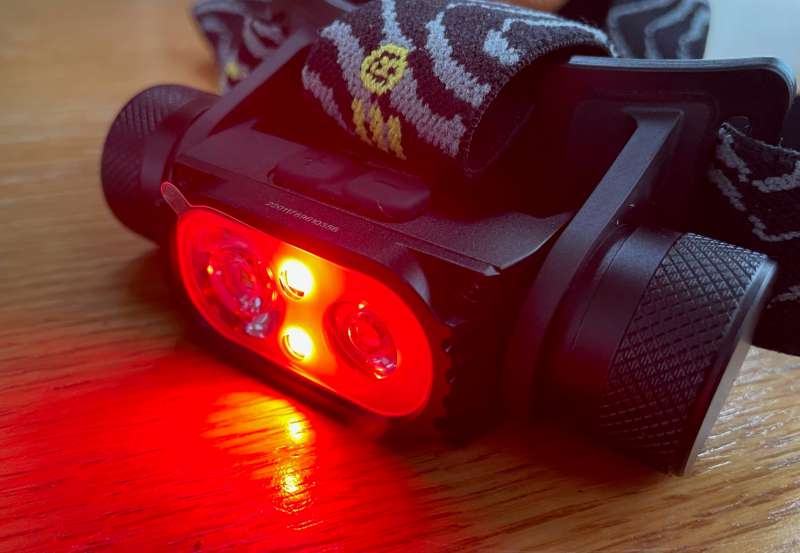 When the light is off, a long press of the power button engages turbo mode which turns both the wide and narrow beam LEDs for 60 seconds. Turbo is dazzlingly bright and had no trouble chasing the shadows away from my entire 1/3-acre back yard! Avert your eyes, boys and girls!
Of course, it has lower settings too. Here are beam shots showing the wide and narrow lenses in operation.
Wide beam…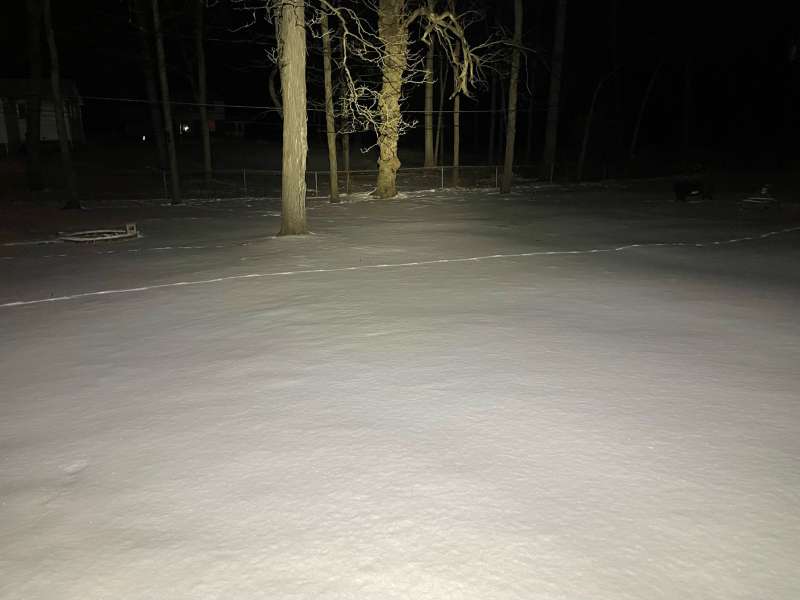 Narrow Beam…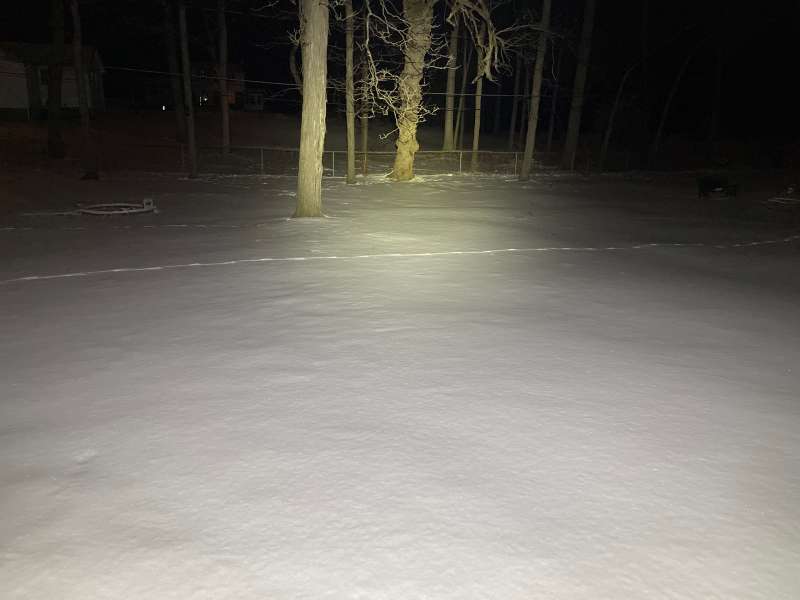 Low…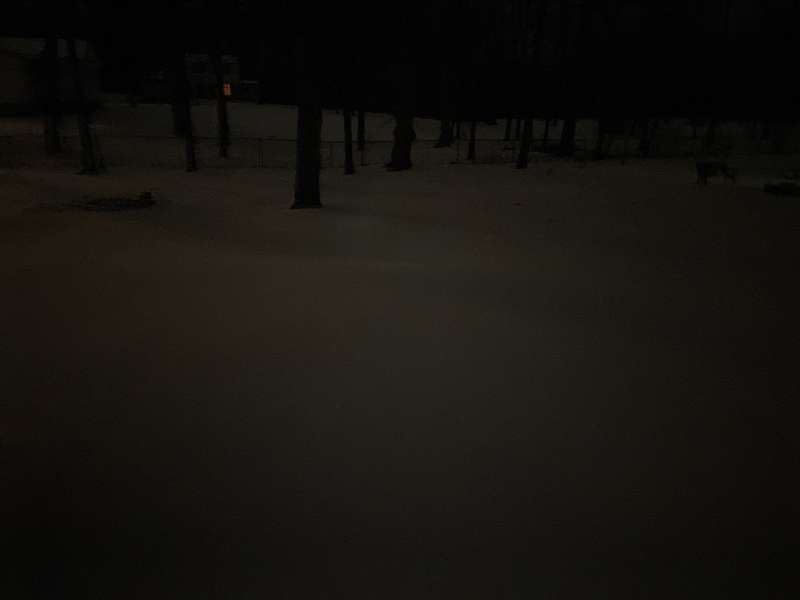 Medium…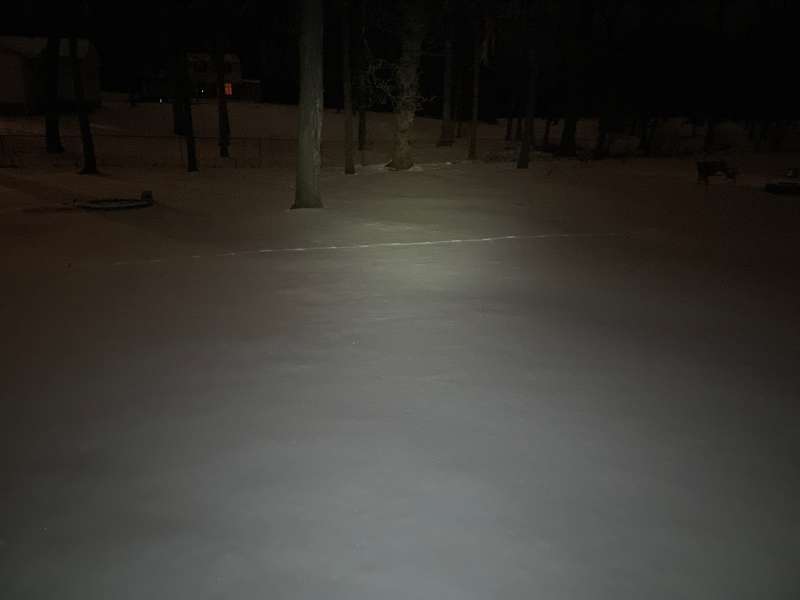 High…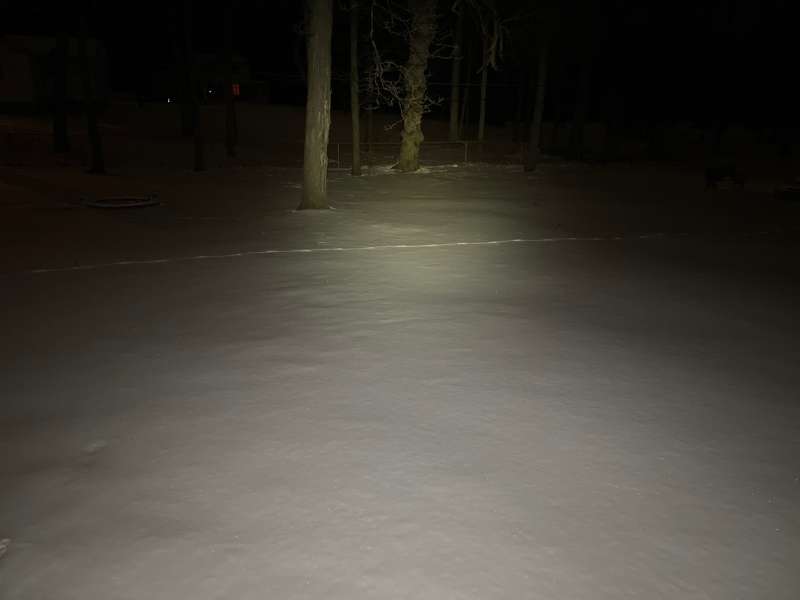 Brightest (turbo is brighter than this)…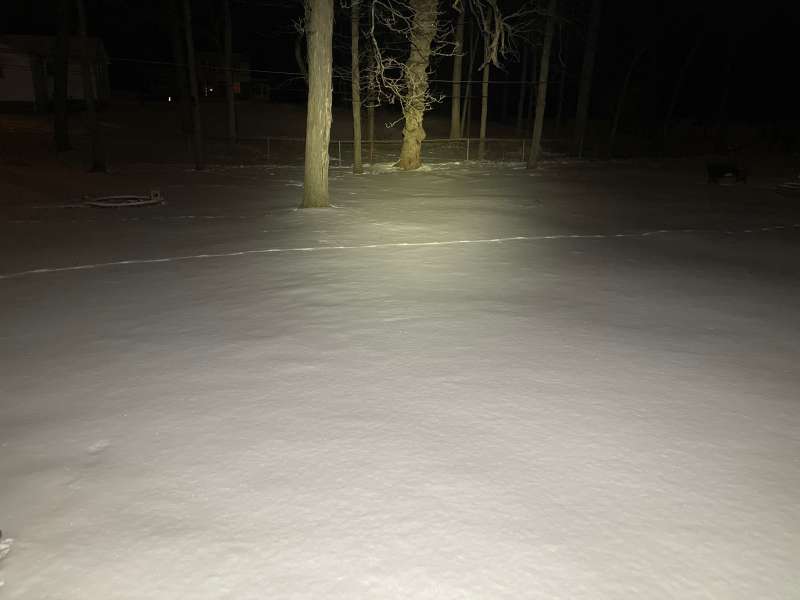 Much to the amusement of my wife, I proceeded to walk around the house fiddling with the Nitecore HC68 in all manners of practicality and silliness. I appreciated the ultra-low setting that kept me from losing all of my night-adjusted vision. The two-level red LED is fantastic for negotiating the dark with even less impact on night vision.
I imagine this light would appeal most to campers and backpackers that need to have their hands free, but for me, the greatest appeal is when working on cars. It's fantastic for peeking into the tiny cracks where wayward bolts try to hide, and far more practical when trying to hold a part in place with one hand, starting the bolt with the other hand, and holding the flashlight with my teeth! I had previously been using a hand-held or floor light when working on cars, but while working on my daughter's car, the utility of a headlamp like the HC68 became apparent. The car's secondary oxygen sensor wiring is buried above the exhaust and almost impossible to see or access without adequate light. I wish I had the HC68 while working on this car because it surely would have saved me a headache!
What I Like
Crazy bright
Variable brightness and selectable beam width
Rechargeable via USB-C
Long run time
Comfortable
Waterproof
What I Would Change
Final Thoughts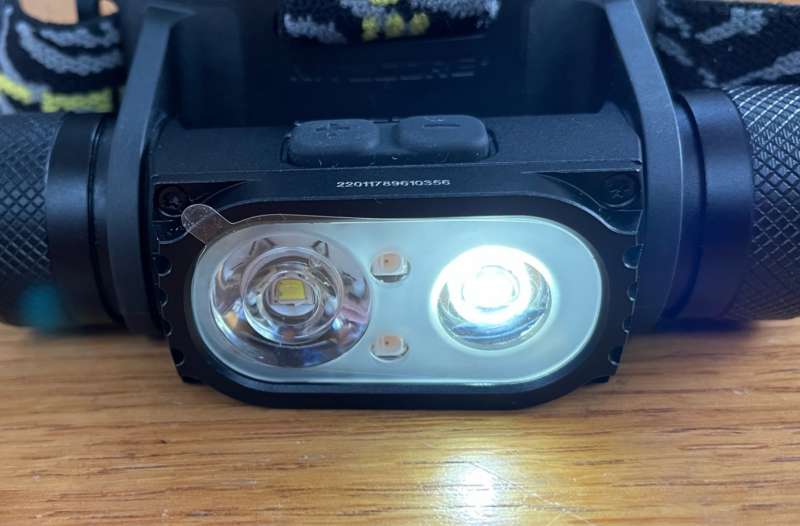 I am a huge dork and I love flashlights. I've owned a few headlamps, but the Nitecore HC68 headlamp takes the cake. Its crazy brightness, rechargeable batteries, abundant interface, and comfort are sure to please anyone that appreciates fine tools. It's not inexpensive, but the quality is first-rate and utility is unmatched to any headlamp I have ever used. Bravo, Nitecore!
Price:  $99.95
Where to buy:  Nitecore and Amazon
Source: The sample for this review was provided by Nitecore.