We use affiliate links. If you buy something through the links on this page, we may earn a commission at no cost to you. Learn more.

REVIEW: There are few things in this world harder to find than the perfect keyboard. When you find "the one" you hold on to it with a loyalty usually reserved for dogs and cola-flavored soft drinks.  For me and my desktop, that's the Logitech G-915 wireless mechanical. I am still on the hunt for my tablet, though, and that brings us to the Dierya DK61E mechanical keyboard.  Is this the one? Let's find out…
What is it?
The Dierya DK61E is a wired mechanical keyboard that comes in a 60% form factor.  Basically, it is a near full-sized keyboard without the number pad.  This particular keyboard is backlit (colors and patterns can be changed through the keyboard itself, not software), and it is very lightweight given that everything lives in an aluminum frame.  It uses Gateron switches (some of the most performant switches at a reasonable price) and is available with blue, brown, red, silver, and yellow switch sets – the color of the switch set will determine your keyboard experience with blue being the traditional mechanical clacky sound to the nearly silent yellow.  My review keyboard uses the brown switches which is a fair compromise in the clack department.
 What's in the box?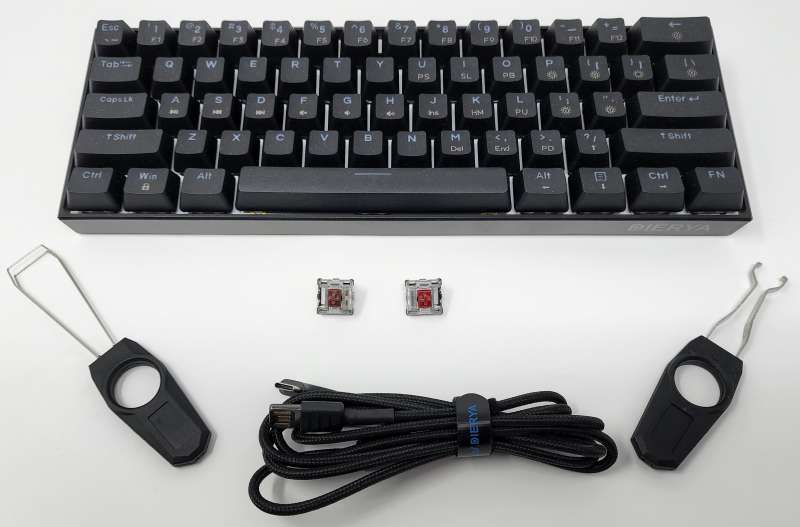 Dierya DK61E mechanical keyboard
A USB-C to reversible USB-A cable
A keycap puller and switch removal tool
Two spare switches
How does it work?

Plug the USB-C end of the cable into the port on the back of the keyboard.  Plug the reversible USB-A plug into any standard USB port on your computer. Because I wanted to use this with my Samsung Galaxy Tab S7+, I substituted a standard USB-C to C cable and plugged it into the tablet.  I also plugged it into my laptop, and in both cases, there were no drivers to install or extra software to download.  Plug and type.  Simple.
Is it the one?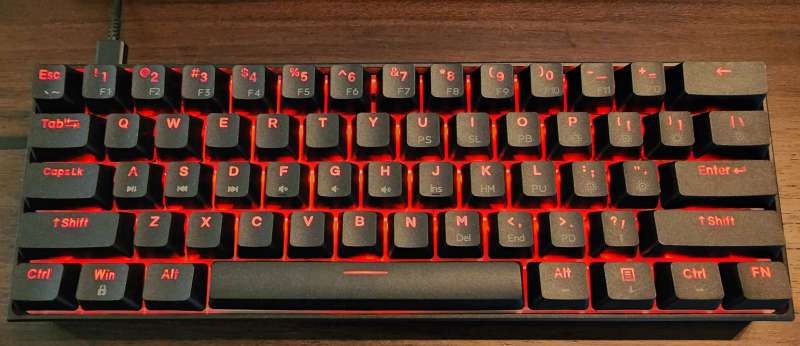 The Dierya DK61E mechanical keyboard provides a fantastic typing experience – great key travel allowing me to type at nearly full speed, and just enough of the clack to satisfy my mechanical keyboard fix without making my wife want to beat me about the head and shoulders with the keyboard.  I can't recommend this keyboard enough for a wired scenario.  As a matter of fact, I have this connected to my home theater computer and couldn't be happier with that.
The only oddity I found is the cable Dierya chose to include. I hadn't seen a reversible USB-A cable before, so I was fairly confused until I did some research and learned how to use the opposite end of the USB-C plug.  Basically, it doesn't matter which way you plug this into a USB-A port, it just works.  What I find odd, though, is that in an increasingly USB-C centric world Dierya didn't include a C to C cable.
Is this "the one"? Almost, but not quite, and that's nothing at all to do with the keyboard. For me, the better use case for this is as a permanent resident on my Ergotron Mobile Sit/Stand Desk and my Satechi tablet stand. Plugged into this tablet hub means I always have an excellent keyboard that is always ready when I bring my tablet to work. I want Bluetooth for when I am on a trip, and I used to think that a backlit mechanical wireless keyboard was a myth like a unicorn or Elon Musk. Turns out while I was digging around on the Dierya site for info on the DK61E I ran across the DK63 which ticks all of the boxes.  So maybe the DK61E isn't "the one", but she introduced me to her wireless sister and that has to count for something.
With analogies like that you can understand why my therapist is on speed dial.
What I like
Practically everything – build quality, keyboard performance, lighting effects, low sound levels (for a mechanical keyboard)
Size and weight is perfect for travel
What I'd change
Include a USB-C to C cable
Mention in the instructions that the supplied cable has a bi-directional USB-A  plug (to stop people like me from spending an hour down that particular rabbit hole)
Final Thoughts
At $49.99 the Dierya DK61E mechanical keyboard is the perfect keyboard for your home theater PC, your Mac Mini, a Raspberry Pi, and just about any other place you'd want/need a small-sized but high-quality mechanical keyboard.
Price: $49.99
Where to buy: Amazon (Use coupon code: X6X9UJ7Q
from 3/10/22 00:00 – 3/16/22 23:59 to save 20% + 20% off on Amazon = total 40% off)
Source: The sample of this product was supplied by Dierya