We use affiliate links. If you buy something through the links on this page, we may earn a commission at no cost to you. Learn more.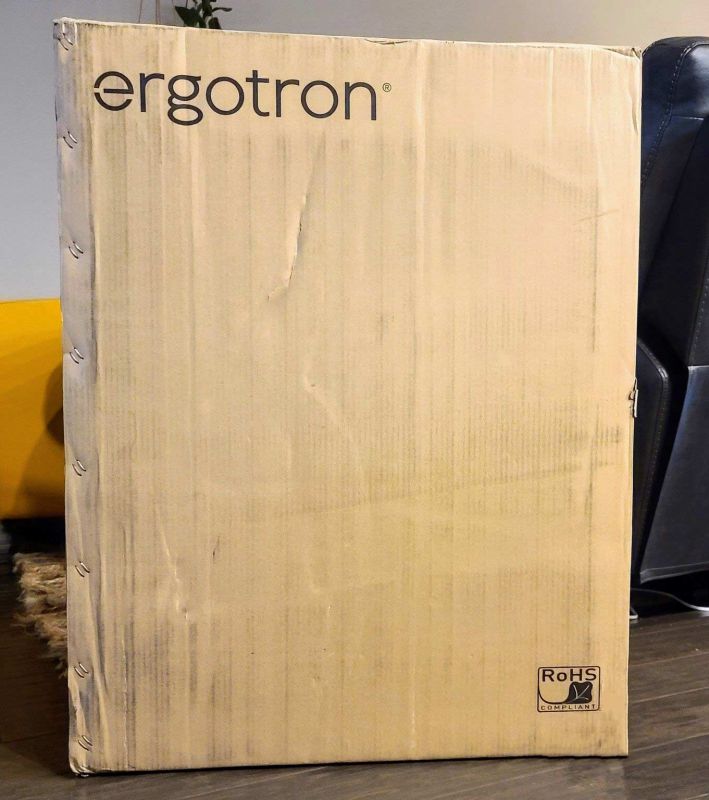 REVIEW: Good things come in plain packaging.  At least, that's what I've been told.  With the crazy state of the world today, I have been looking for a work at home solution that frees me from my desk – the mostly immobile desk.  A mobile desk would allow me to work outside in the morning (when the temperature is not 10 degrees shy of the surface of the sun) plus would give my wife a workstation when she needs one (one that isn't the kitchen island, that is).  Pretty basic requirements, but will the Ergotron desk be up to the task?  Of course, read on to find out…
What is it?
The Ergotron Mobile Sit/Stand Desk is just what the name says it is – a desk you can move wherever you like and can either sit or stand (or anything in between) when working on it.
What's in the box?
The desktop
A four-wheel set of casters mounted on a base
The adjustable upright that connects the base to the desk
An instruction manual
Build Quality and Assembly
If you've ever owned anything from Ergotron, you'll know right off the bat that the build quality is outstanding.  All pieces are solid metal (except the desktop) and feel like they can take the worst you can throw at them without damage.  The Mobile Desk is no exception – the pieces are all solid, the base is not chrome painted or plated sheet metal, and the desktop feels like a substantial piece of wood.  You know that the assembled desk is built to last.
Speaking of building, the Mobile Desk assembles in just a few minutes with absolutely no tools required.  Yeah, there are a lot of self-assembled furniture companies that make this claim and you find out when you open the box that the only tool necessary is the small sheet metal wrench included which is designed to remove the skin from your knuckles.  Not so with this desk – to start off with, there are just 3 pieces: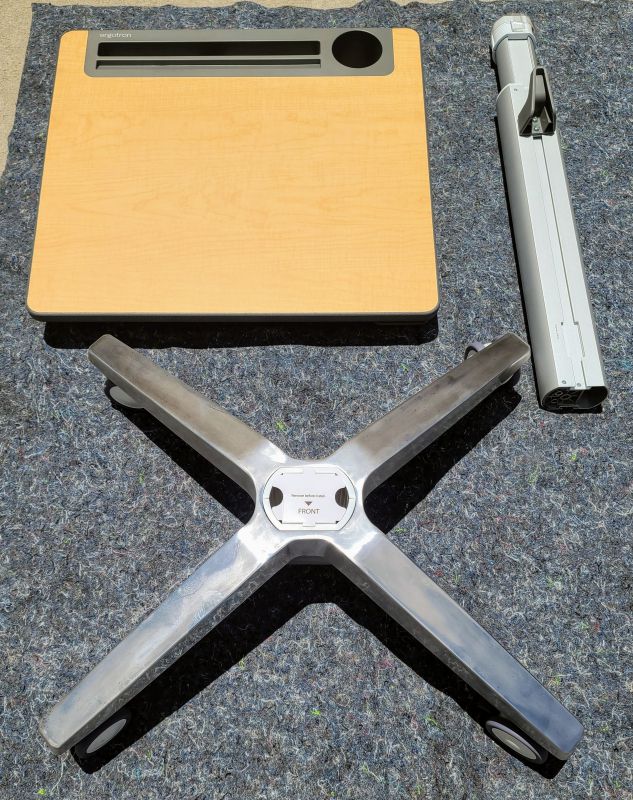 This is exactly what you find when you open the box: the desktop, the upright and the base.  Remove the cardboard covering on the base and insert the upright into the base: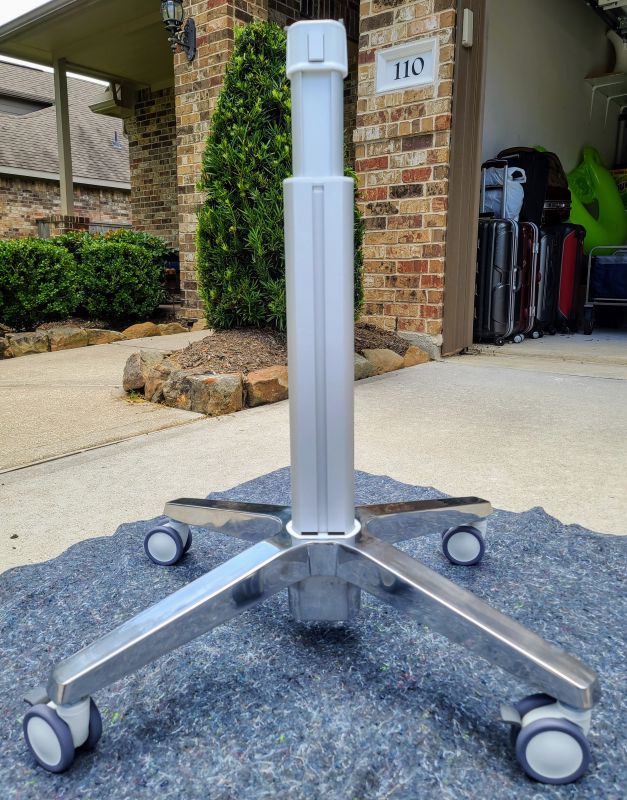 And then set the desk surface on the base: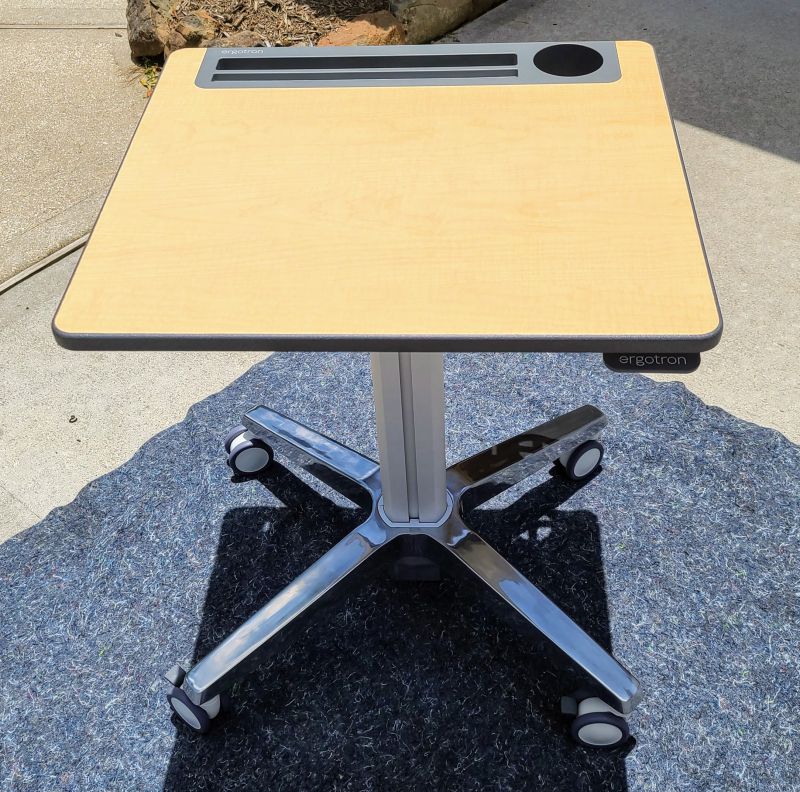 That was it.  No tools, everything fit together precisely and, assembled, it feels very sturdy and not at all wobbly like you might think a no-tool product would assemble like.  Start to finish, taking time out to take 2 pictures, about 3 minutes.
Design Considerations
The desk surface is about 22 inches front to back and just shy of 24 inches side to side.  This is plenty of room to hold my Surface Book 3, a big Logitech mouse, a power brick (if I needed it).  At the back of the desk, there is a slot to hold a tablet, a pen tray and a wide drink holder.  The drink hold won't handle something massive like a Yeti container, but it was big enough for most anything people without an unquenchable thirst would have around the house.
There are 4 wheels on the desk, but only the two front wheels have locks to prevent the desk from moving.  The height of the desk is controlled by a flapper paddle under the right side – easy enough to get to, but not likely to cause a sudden change in height by accident.
So, speaking of height, how far up and down does the desk go?  At its lowest, the desk surface is about 29 inches high.  For most people, this makes something like sitting on your sofa while using the desk a little uncomfortable.  The desk surface is just a tad too high to feel right.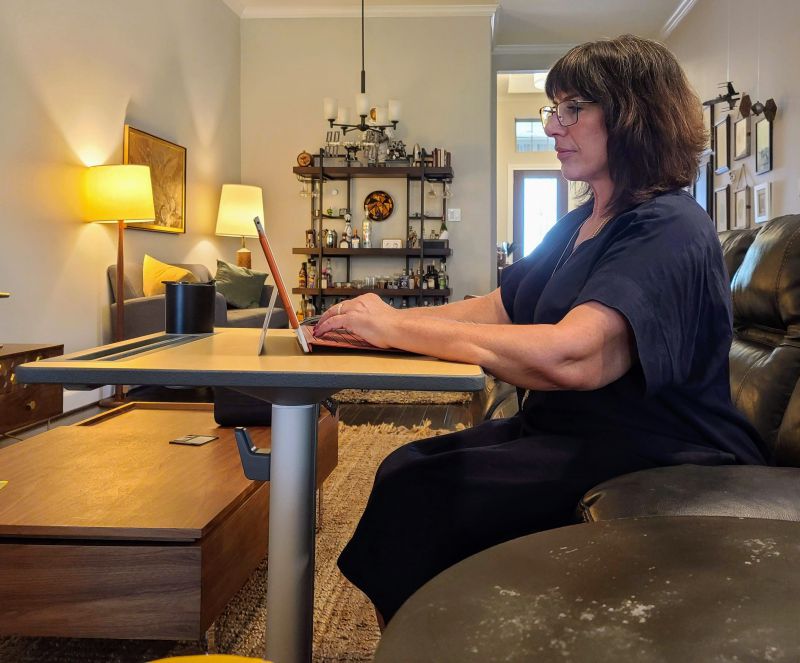 But, get a desk chair or dining room chair and the lowest height is as close to perfect as you can get.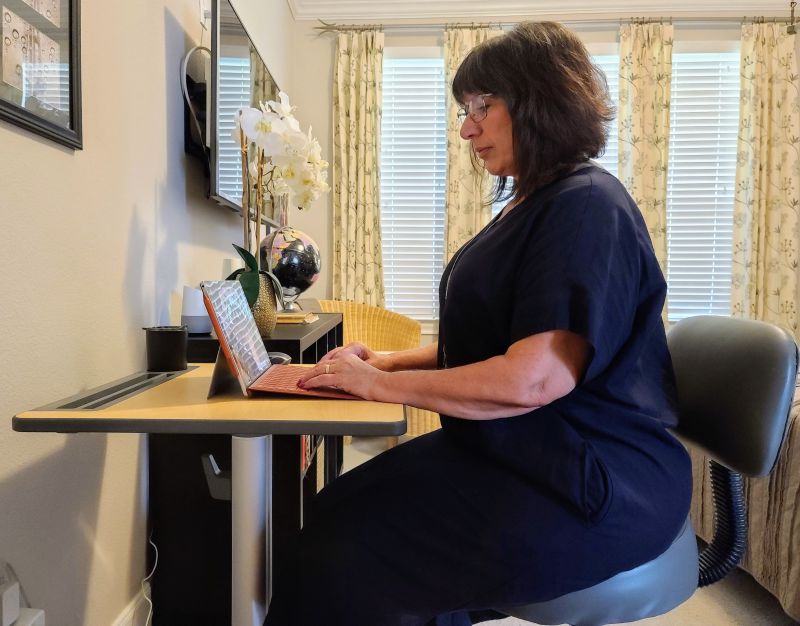 Should you want to stand (either for health reasons or to keep your toddler or dog off your computer), the Mobile Desk adjusts up to 45 inches.  For all but the tallest among us, this is near-perfect height for a standing desk.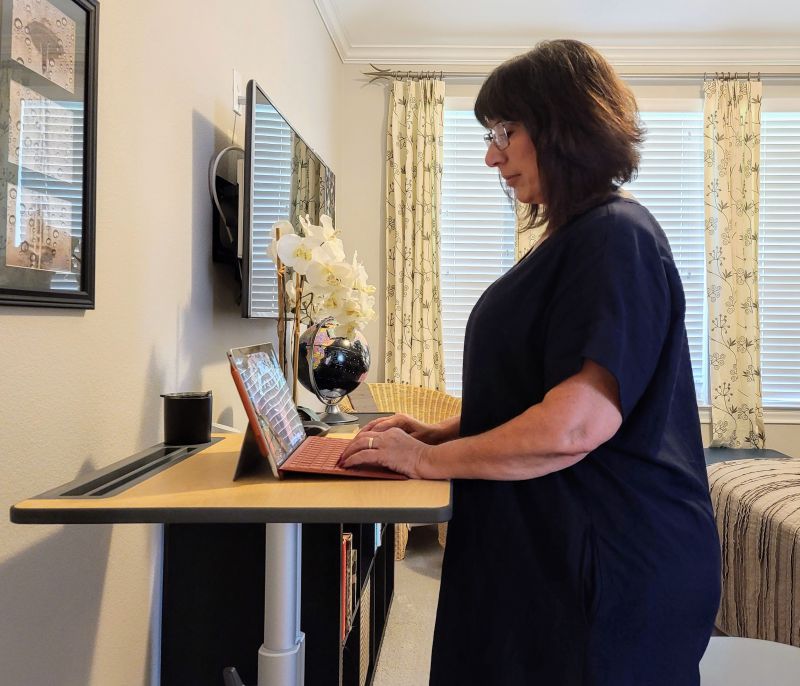 You could take this desk to the next level – the base has enough weight and the whole rig is very sturdy.  I imagine you could use your favorite desktop monitor arm on this to mount a larger monitor permanently and at the right viewing height.  A clamp-on monitor arm would probably do the trick.  I did eventually mount a power strip under the desk (cords can run through holes already present in the tablet tray) just to make sure I had plenty of power for all of my devices without creating a dangerous octopus cable collection hanging off the side.  And there is a backpack hook on the back side of the upright that keeps your back off the floor – probably another good reason the base is so solid.
The price.  This is probably where a lot of you are going to gasp.  It ain't cheap at $392.  But here's some food for thought – in these uncertain times, simply sitting on your sofa with a laptop on a coffee table might seem like a good idea.  Ergonomically, not so much, not to mention the potential danger of damage to your laptop when your dog spits a tennis ball at it, signaling he wants to play.  Getting a new laptop or parts to repair what you have are not all that easy right now, so it seems like taking the extra step to have a dedicated workspace is a prudent decision.  Plus, your family will thank you when they get their dining room table back and your workday will feel ever so slightly shorter when you are done because you just roll your workstation into a closet until you need it again.
What I like
This feels incredibly sturdy and well-built with a solid utilitarian design
Assembly takes just minutes
There are plenty of ways you can make this your own desk
What I'd change
Final Thoughts
I am surprised by how essential this desk has become in such a short time.  While I was waiting for this to arrive I thought it would be nice, but unnecessary.  In the short time I have been living with it, I know I would miss it if it was gone.  Being able to sit on my front porch in the morning to get some work done makes me feel more connected to the real world than sitting in my home office.  These days this is nothing to discount.  And at $392 (less on Amazon), I feel it is an elegant solution to a problem I didn't know I had – or, for that matter, that I thought I would ever have to live with.
Price: $392
Where to buy: Direct from Ergotron or at Amazon
Source: The source for this review was provided by Ergotron